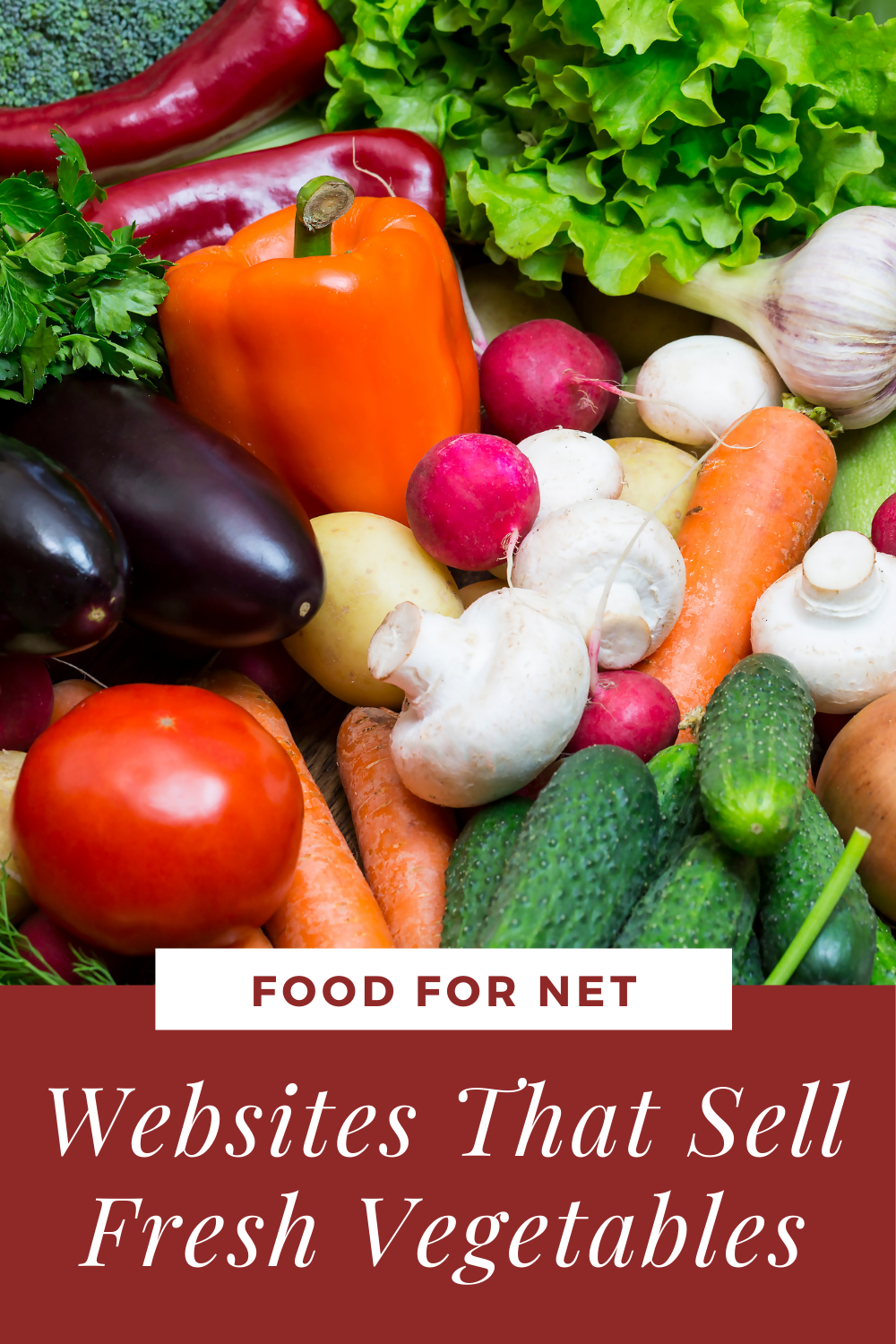 Vegetables are a staple in anyone's diet, whether they like it or not. This means that you need to keep a steady supply of them in the house. It's easy enough to pop down to the grocery store and pick some up, but that doesn't make doing so the best option.
For starters, it's sometimes hard to know where the veggies came from or how long they've been sitting there. It's also difficult sometimes to find anything other than the most common basics.
This is why many look for where to buy fresh vegetables online. Not only do you get much more information on the source of your food, but the convenience of delivery and even subscribing is huge for many people.
It's also easier to get them as fresh as possible this way. There is no distribution or wholesale middle man, you get them right from the farm! And, while you're at it, why not check out fresh fruit or perhaps seafood?
Where to Buy Fresh Vegetables Online
Fresh Direct
Farm Box Direct
Desi Basket
The Fruit Guys
Pea Pod
Misfits Market
Hungryroot
Imperfect Foods
Hungry Harvest
Full Circle
1. Fresh Direct

Fresh Direct is an amazing grocery delivery service that offers a huge range of basic grocery items as well as a solid variety of rare, harder to find, and specialty food items. Their selection includes exotic fruits and vegetables, specialty seafood, veal and other specialty meats, and more.
When it comes to vegetables, their selection is especially vast. They have everything from basic carrots and celery to more specialty things like eggplants, okra, rhubarb, and even something called baby knucklehead pumpkins. You can pretty much get whatever vegetables you need while also completing your regular grocery shop if you want. They don't deliver everywhere but they cover several states. Specific delivery areas are outlined on the website.
2. Farm Box Direct

Farm Box Direct focuses on getting local, farm-fresh fruits and vegetables in the hands of as many customers as they can throughout the continental United States. The company was founded by a mom who wanted to be deliberate about what she was feeding her children.
With a full-time job, though, getting out to local farmer's markets was hard sometimes. So, she created Farm Box Direct which delivers right to your home. They work hard to source only the freshest, highest-quality produce and deliver it to you while it's at its peak freshness.
If you're ever wondering what to do with all your fresh food, their blog has some interesting recipes you can try.
3. Desi Basket

Desi Basket is a primarily Indian grocery store located in the United States. Their goal is to provide quality Indian food and other products to those in America. They make it easy to get specific ingredients and specialty foods that may otherwise need to be sourced from overseas. They do the legwork for you.
In addition, they have a great produce section with plenty of fresh fruits and veggies available to add to your order so you can get everything done in one place.
They don't stop at food, either. They have a great selection of home, kitchen, jewelry, health, and beauty items for sale as well. They help you cover all your bases.
4. The Fruit Guys

The Fruit Guys started in 1998 when the founders were working out of a small apartment. Their initial goal was to help companies bring healthier food to employees to stay fueled for the workday. They are still family-owned and operated to this day, but they have grown quite a bit and have expanded into home delivery as well as businesses.
Unlike a typical grocery store, they offer pre-made boxes of fruits and vegetables. They have plenty of options to choose from, however, so you'll be able to find something that works for you. Choices include things like basics, staples, a random mix, seasonal, and more.
5. Pea Pod

Pea Pod is a simple grocery delivery service with a mission to provide good quality, healthy food. In addition to great products they also want to make the process as easy and seamless as possible for you. Their products can be filtered by dietary needs, brands, preferences, and food categories.
Once you're done shopping you can have it shipped right away and have it by the next day or the same day in some areas. Or, you can schedule a different delivery date that works better for you. They take pride in their exceptional customer service and their ability to "get it right, every time." Their reviews speak for themselves.
In addition to regular groceries, they also have a selection of pre-prepared meal kits available for days when you don't have time to cook. You can enter your zip code on the website to see whether you're eligible for same day or next day delivery.
6. Misfits Market

Misfits Market is the perfect resource for those that want to get their hands on some great products, but have a tight budget to stick to. Misfits Market takes "misfit" foods that regular grocery stores reject for cosmetic reasons – meaning there is nothing actually wrong with the food.
So as long as you don't mind weird shapes and abnormal sizes, you can pay up to 40% less than grocery stores for the exact same stuff. The direct partnerships that Misfits Market maintains with local farms and their willingness to accept all rejected produce allow them to keep prices very low.
You can build your box to include anything you like, including several pantry staples they also have available. Once it's ready you can sign up for recurring shipments so you don't even have to think about it. If you want to change things up you can always make changes between deliveries.
7. Hungryroot

Hungryroot is a grocery delivery service that caters to your exact preferences and helps you make the most of your order. Each week they deliver groceries based on parameters you set, with recipes to accompany everything.
You can set preferences based on dietary needs as well as likes and dislikes – they cater to everything. You can let them choose things for you based on these preferences or you can make your own selections. The recipes they include are always nutritious and ready in ten minutes or less. It's the perfect system for eating healthy with a busy schedule. They ship anywhere across the continental United States.
8. Imperfect Foods

Imperfect Foods is another service that offers discounted produce and other groceries that have been rejected by stores for cosmetic reasons. This includes oversized or misshapen fruits and vegetables as well as pasta that's the wrong size or nuts that have a little scratch. They also offer products with closer expiry dates than a grocery store would want. As long as you think you'll use it up in time, you can get it at a great price.
All you have to do is create your order from their shop of available produce and grocery items and it will be delivered to your door. They do operate on a subscription basis but you can cancel or change your order at any time.
9. Hungry Harvest

Hungry Harvest is a produce delivery service with a mission: to eliminate food waste and do their part to end hunger. They work with farmers and "rescue" food that no one else wants. They gather this and use it to fulfill their customer's orders, while they enjoy great prices on otherwise rejected food.
They also work hard to end unnecessary hunger in their area and as far as they can reach. They routinely donate food to communities and organizations in need, and their food delivery service, in part, supports a program they've put in place to offer affordable and discounted produce to families in need.
They currently deliver to homes in Maryland, Washington, Virginia, New Jersey, Delaware, South Florida, North Carolina, and the Detroit area.
10. Full Circle

Full Circle has been committed to organic farming since 1996, delivering the best produce to your door each season. Their goal is to make it easy and affordable to eat healthy food.
To keep things simple, they deliver the same box to all customers. It's always filled with a variety of what's currently in season. However, you still have plenty of control over your subscription when it comes to box size and delivery frequency.
It's a fantastic service if you want to keep things simple but aren't picky about what you get. You never even have to think about it. The box will just arrive on time each week.
Things to Consider When Buying Fresh Vegetables Online

There's a lot to think about when you buy fresh vegetables online. It doesn't have to be terribly complicated, but it's important to do a little research before making a decision.
Options
The first thing you should check is what kind of variety they have. Of course, availability will vary by season but do they only have the basics, or is their selection more interesting?
It's also worth asking yourself if you want to do all your grocery shopping in one place, or if you're just looking for a vegetable source.
Service Type
Fruits and vegetables are something most people include in their diet regularly, so you'll never be done buying them. Many online companies offer subscription services these days, meaning deliveries are automatically recurring. If you have an order you like to repeat, this type of service can save you a lot of time and even money.
The Source
Lastly, consider where they're coming from. Do you want organic or traditional? Are you hoping to buy local? How does the farm grow and harvest their food? These are all good questions to ask when looking for a place to buy veggies online.