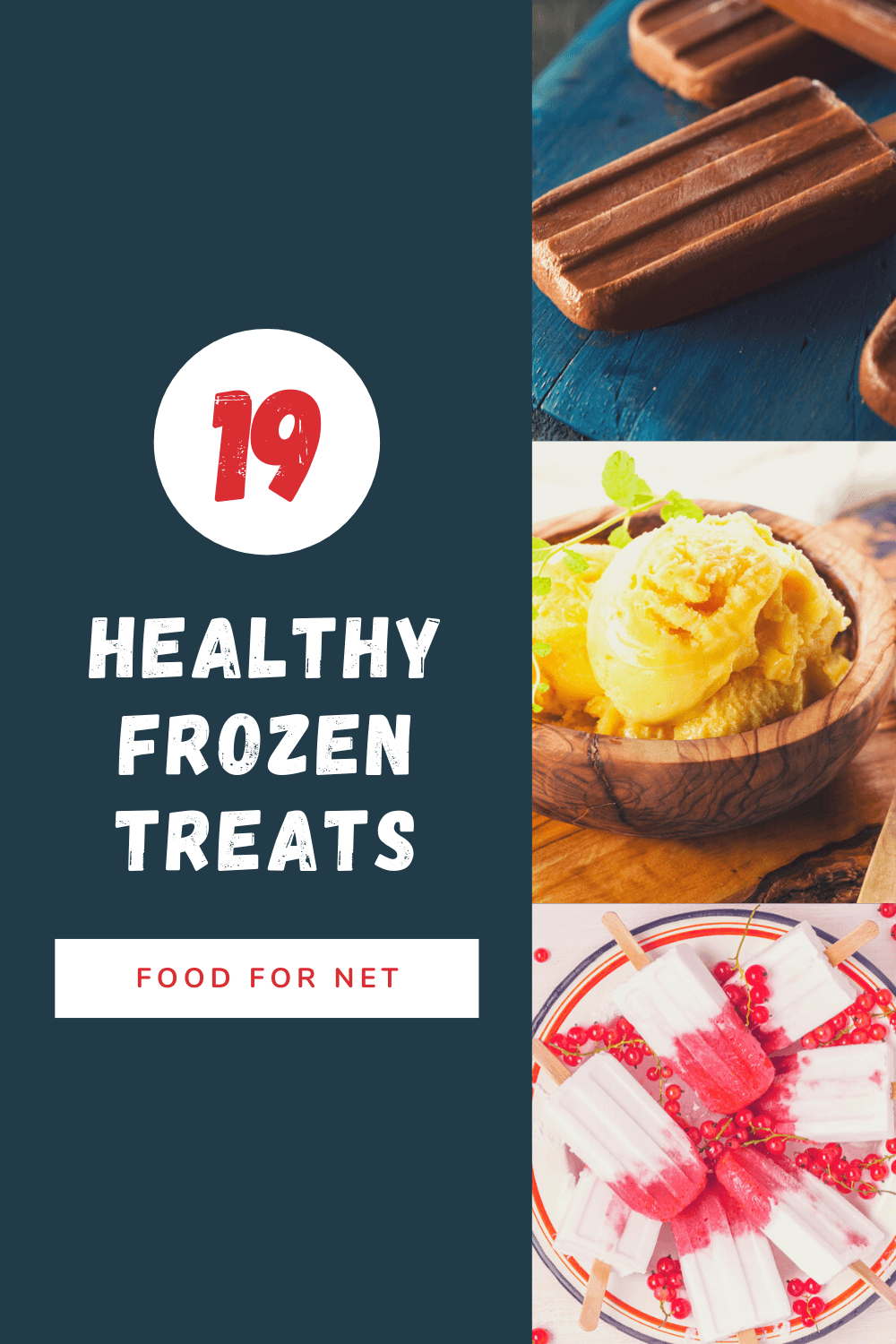 Frozen desserts can be delicious, especially in the warm months. Unfortunately, most of the classics aren't that good for you at all. Many are highly processed and loaded with sugar and fat. Still, there are healthy frozen treats too. You can buy some of these, while others are easy to make at home.
The first thing is to think about what you want. How do you define healthy for you?
For some people, healthy will mean finding products that are as natural as possible, ones that haven't been processed and use few added ingredients. Others will be looking for products that are low in fat, sugar, and/or calories, or simply products that are healthier than ice cream.
So, in this post, we're including treats from those areas. You can choose the desserts that sound the best to you.
Just remember that these are all treat foods. Even the healthy ones need to be enjoyed in moderation. You shouldn't go nuts with your serving size simply because these treats are healthy.
Healthy Frozen Treats
Frozen Grapes
Frozen Yogurt
Frozen Yogurt Popsicles
Dairy Free Ice Cream
Banana Ice Cream
Watermelon Slushie
Chocolate Chia Pudding Pops
Other Chia Pudding Pops
Homemade Popsicles
Coconut Milk Popsicles
Whole Fruit Popsicles
Frozen Berries
Avocado Popsicle
Creamy Fudge Pops
Chocolate Covered Banana Pops
Homemade Sorbet
Halo Top
So Delicious
High-Quality Ice Cream
Frozen Grapes

It's hard to get easier than frozen grapes. You can even just throw a bunch of grapes in the freezer, stems and all, then pick the grapes off when it's time to use them.
Or, you can take the extra steps of washing the grapes, letting them dry, and spreading them out to freeze. This process takes more effort, but you have less work to do when it's time to use the grapes.
Frozen grapes are fantastic because they don't fully freeze. Their sugar content is too high for that, so the grapes are still slightly soft. You can easily eat them straight out of the freezer. Their sweetness makes them delicious, especially if you have grapes where the skin is a little tart.
Frozen Yogurt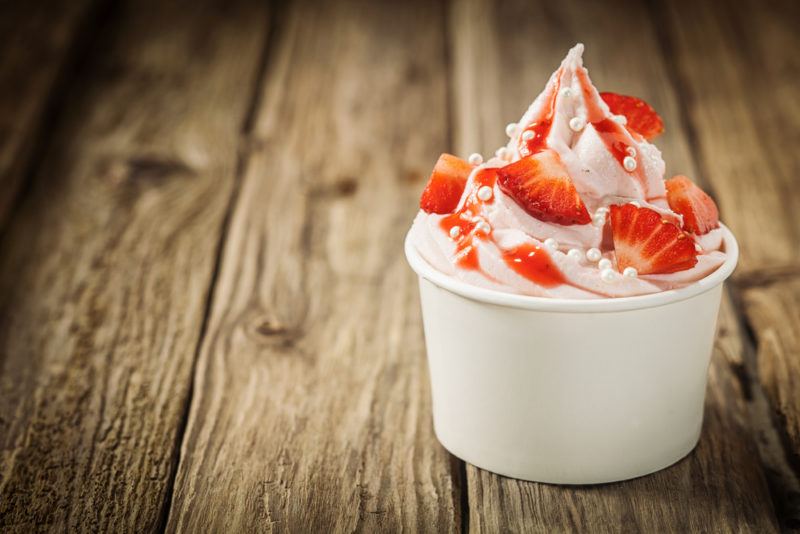 Frozen yogurt is usually seen as a healthier treat than ice cream. This is partly because frozen yogurt may offer some probiotics and contains less fat than ice cream. Some products will have fewer calories than ice cream too.
However, the brand you choose matters here – a lot.
Frozen yogurt often contains added sugar. While this helps to offset the yogurt's tanginess, the sugar isn't great for your health. So, if you're buying frozen yogurt, look for short ingredients lists and for products that aren't adding too much sugar in.
You can make your own frozen yogurt too. This is easiest if you have an ice cream maker, but an ice cream maker isn't essential.
One way is to combine fresh fruit with full fat Greek yogurt. You might add some sweetener in too, depending on how sweet you want the final dessert. The recipes from A Sweet Pea Chef are a fantastic place to get started. They should give you all the information you need to start creating your own recipes.
Frozen Yogurt Popsicles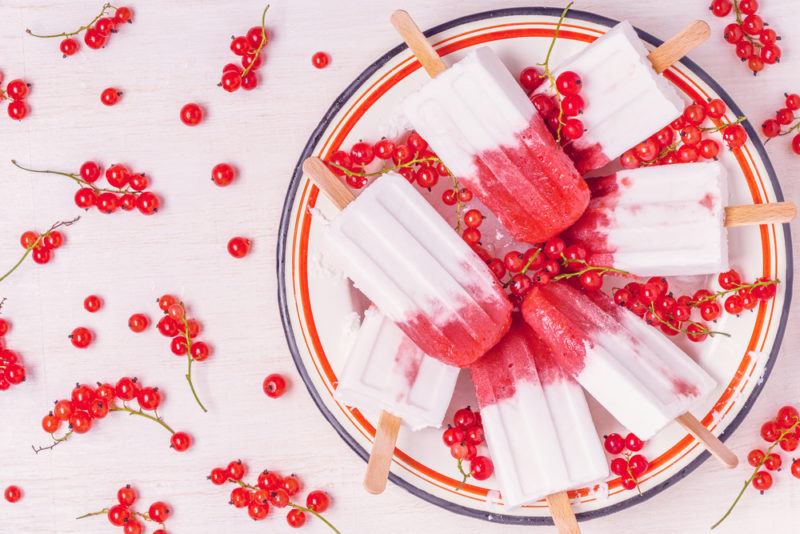 You can make some easy and delicious popsicles using frozen yogurt. You don't need many ingredients either, simply the yogurt, some fruit, and perhaps some sweetener.
The healthiest recipes focus on using unsweetened Greek yogurt. If you get a good brand, this type of yogurt has plenty of nutrients, contains probiotics, and doesn't use much sugar.
Your popsicles might be sweet enough with just the yogurt and the berries, but most recipes add at least a little sweetener in too. You can use a natural option like honey as the sweeter. Because you're making these popsicles yourself, you get to control the amount of sweetner you use.
If you blend the ingredients together when making these popsicles, you should get a consistent color and texture. If you mix them instead, the fruit will stand out more, giving you splashes of color and flavor. Both approaches are delicious. Why not experiment with them and see which version you enjoy more?
Dairy Free Ice Cream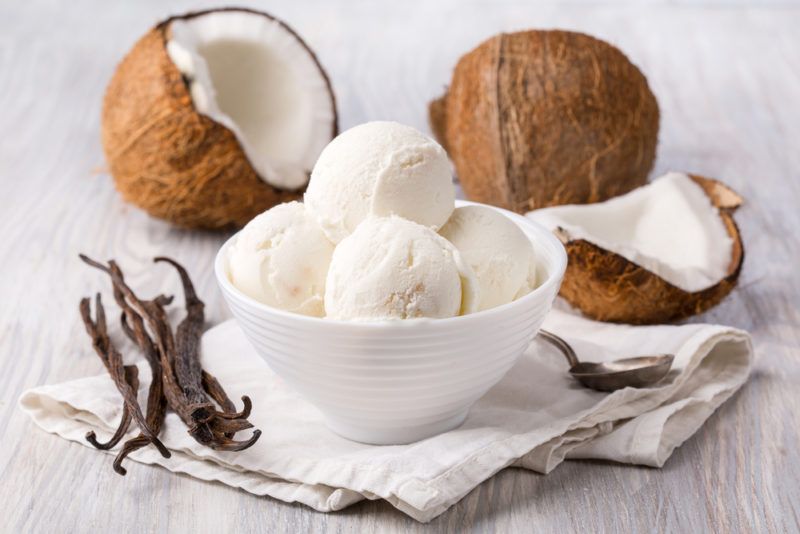 Some types of dairy free ice cream can be much healthier than regular ice cream. But, once again, you'll need to pay close attention to the products that you buy.
One problem is processing. Dairy free ice cream is often heavily processed. Some brands try to mimic ice cream as much as possible. This can involve using many additives, including artificial flavors and colors, not to mention far too much sugar.
The ice cream mightn't be that great nutritionally either. For example, coconut milk ice cream tends to be higher in calories and fat than frozen yogurt, but offers fewer nutrients. Both options can be packed full of sugar and flavorings too.
If you're planning to buy dairy free ice cream, look for products with a short ingredients list. For example, Cado ice creams are made using avocado fat. They only contain 12 grams of sugar per serving and avoid the additives that plague other brands.
You can skip the trouble and make your own dairy free ice cream too. This way you know exactly what to expect and can control the ingredients. There are many delicious approaches. For example, this post shows you how to make coconut ice cream and highlights some flavor variations to try.
Banana Ice Cream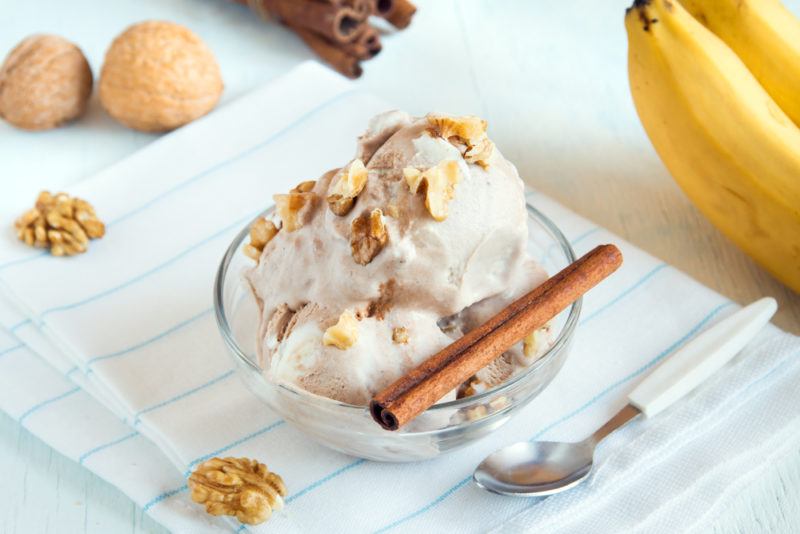 Banana ice cream is one of the easiest options out there. To make the basic version, you're literally just throwing frozen banana chunks in a blender. Blend them until you get a soft-serve texture.
You can eat the ice cream like that or freeze it again for around 30 minutes. Freezing it will give you a firmer texture that you can scoop out using an ice cream scoop.
If your blender has problems with the frozen bananas, you can add some liquid to help them along. Any type of milk or plant-based milk will work perfectly.
You don't need to stick to regular banana ice cream either. It's easy to add in extra flavors. Sometimes you'll even end up with a dessert that tastes like regular ice cream. For example, you could include a cup or so of berries and a little vanilla extract to create berry ice cream.
For that matter, many types of fruit would combine well with the banana. You could try other additions instead, like Nutella or cocoa powder to create chocolaty ice cream.
Watermelon Slushie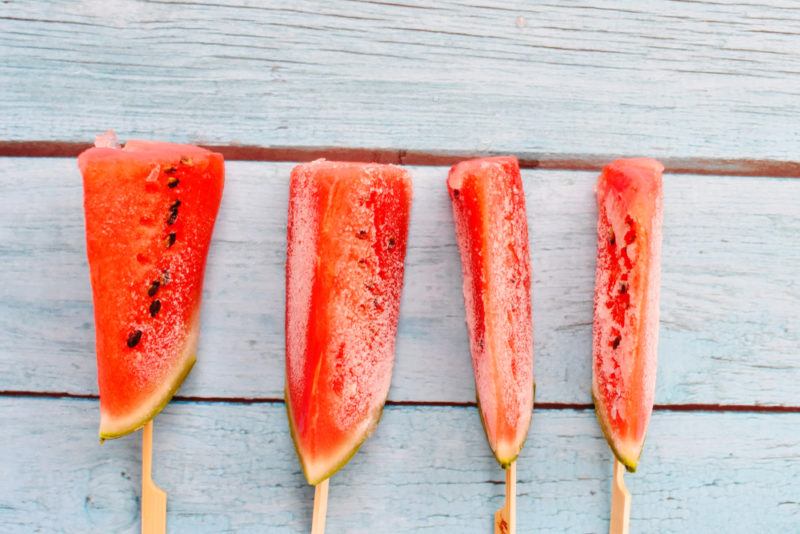 Here's a simple one that you can make at home. All you need to do is puree watermelon and freeze it. This is enough to give you a sweet treat with a slushie-like texture.
The effect isn't too surprising either, as the sugar content of watermelon stops the fruit from freezing all the way. You could also simply freeze watermelon and eat it as-is.
Chocolate Chia Pudding Pops

Chia pudding can be more than just a sweet dessert. You can also use it as the base of a frozen treat, like this one. The recipe tastes much like a chocolate fudgsicle, but it's much healthier than anything you'll buy from the store.
For that matter, chia seeds are often called superfoods because of their nutritional profile. What could be better in a frozen treat?
The pops are fantastic for kids because chia seeds don't have much flavor at all. They're simply used to provide the pudding-like texture of these popsicles.
Other Chia Pudding Pops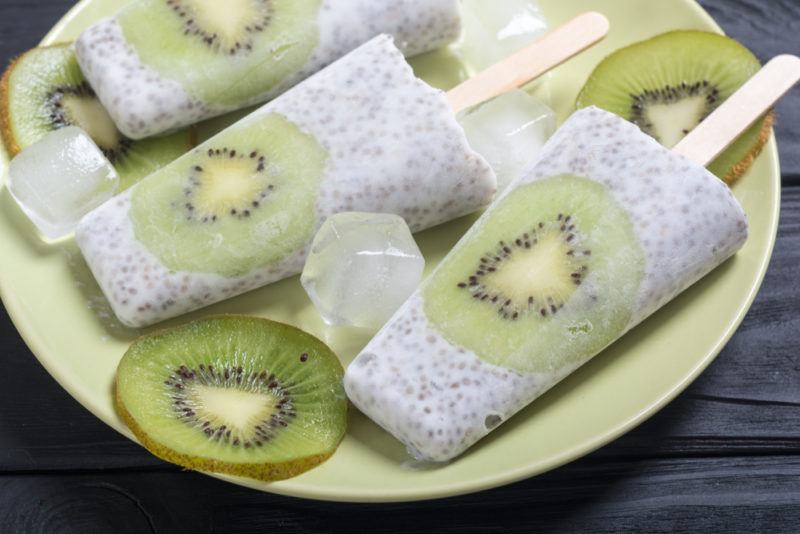 If you're making treats for adults, then there's no need to try and hide the chia seeds. Instead, you can make delicious popsicles like the ones in the image.
Once again, you're using chia pudding as the main ingredient. Kiwis are the fruit of choice, although honestly, you could turn to any type of fruit that freezes well.
Homemade Popsicles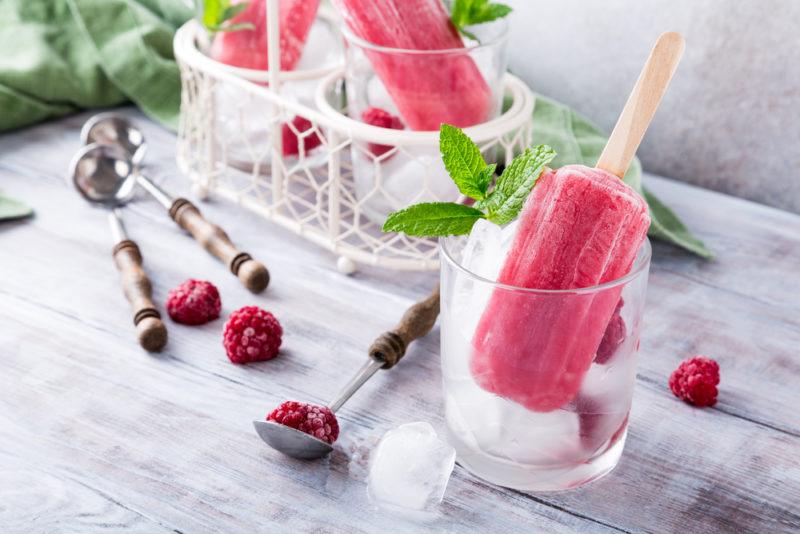 Making your own popsicles is one of the best ways to have healthy frozen treats. This way you get to choose the ingredients and flavors. You control the sweetness too, so it's easy to avoid too much sugar.
Most homemade popsicles rely on fresh fruit. While they're not sugar-free, you can easily rely just on the sugar that's in the fruit. The popsicles should be lower in sugar than anything you buy from the store and avoid any additives.
The simplest approach is to take fresh fruit, blend it up with a little liquid, and then freeze the mixture in a popsicle mold. If you use water or coconut water as the liquid, the texture should be similar to a regular popsicle. If you use a creamy liquid instead, you'll end up with a richer popsicle.
Coconut Milk Popsicles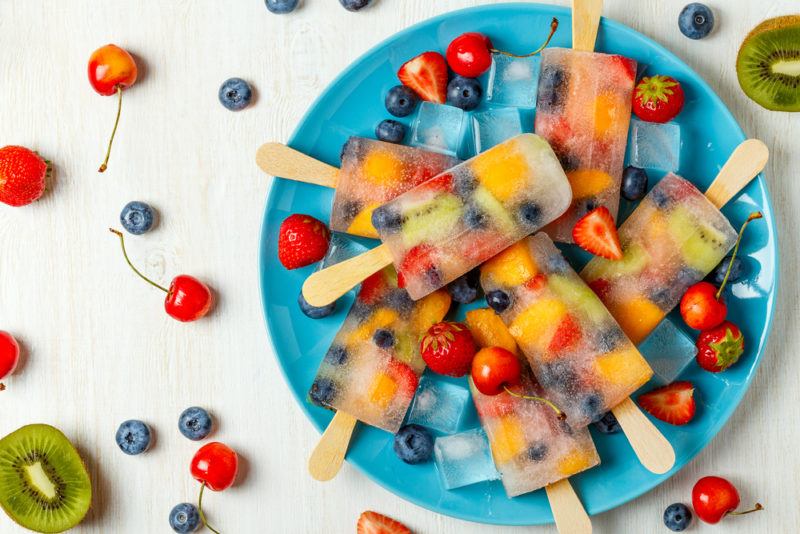 Here's another type of homemade popsicle to try. This time you're relying on coconut milk as the main ingredient rather than water. Doing so gives you a creamy popsicle.
There are two general styles here. One is to blend the coconut milk with other ingredients, like berries. This creates a consistent texture and flavor across the entire popsicle.
Or, you could create a layered version, like in the image. The coconut milk part of the popsicle will be creamy, while the fruit part will be icier. Either approach works well. The difference in textures between layers can even be appealing.
There's no shortage of recipes for this type of popsicle. This one from Fork Knife Swoon is an ideal place to begin. The author even provides instructions for the layered and blended styles, so you can choose which approach you try.
Whole Fruit Popsicles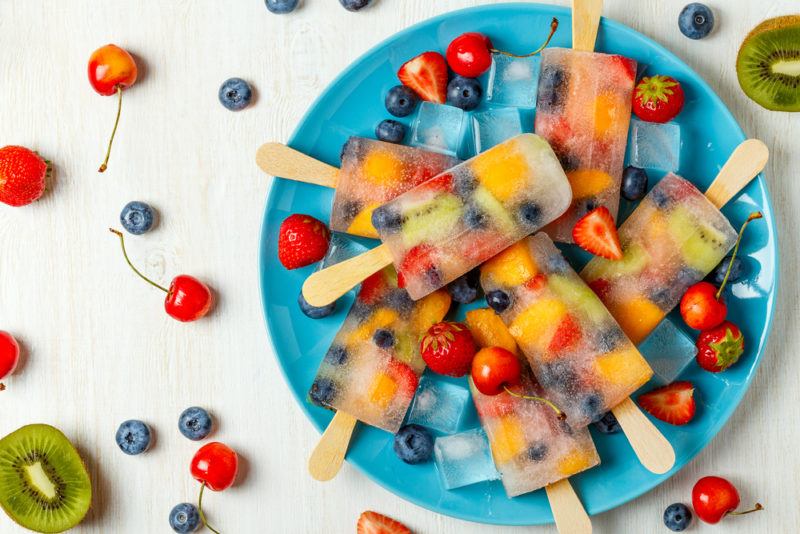 This treat deserves a special mention. It's another homemade popsicle, but one that needs much less work.
This time you're using fruits as they are, rather than blending them together. You just need to stick the fruit in the mold and pour over coconut water.
You don't get a single consistent flavor like you would with a traditional popsicle. Instead, you're different bursts of flavor as you work your way through the frozen treat.
Frozen Berries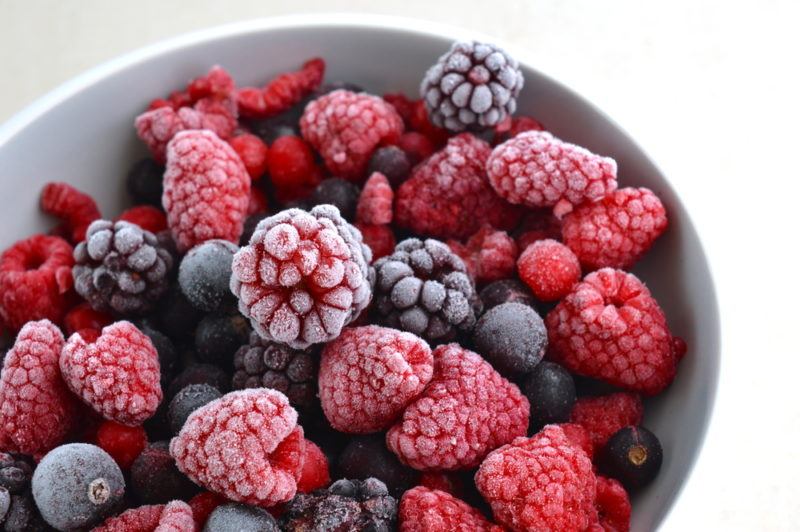 Dessert doesn't need to be complicated. You can keep things simple by just pouring frozen berries into a bowl and adding some milk. The berries should slightly thaw after a few minutes, making them soft enough to be delicious and easy to eat.
You can use any type of milk or milk alternative here, like coconut milk, almond milk, or even half and half. If the berries still feel too solid to you, you could always run the mixture through a blender. It doesn't take much to give you a delicious easy-to-eat treat.
Plus, frozen berries can be found all year round in grocery stores.
Avocado Popsicle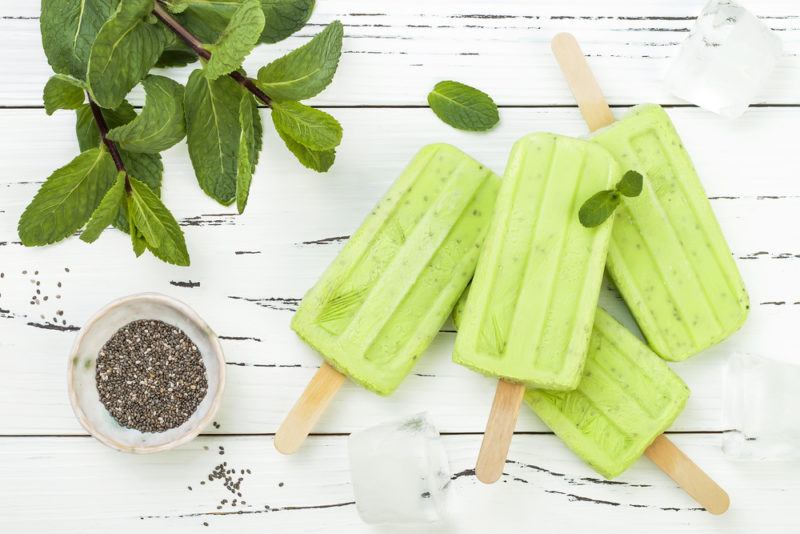 If most frozen desserts are too sweet for you, then avocado popsicles might be perfect. As the name suggests, these use avocado as the main ingredient. You're also adding in a few other items to give you a good flavor and texture. For example, many recipes use coconut milk and lime juice as extra ingredients. You could add either condensed milk or condensed coconut milk too.
You can create combinations too, like an avocado berry popsicle. The idea here is to use alternating blobs of avocado and berry mixture to create a fun pattern.
Or, how about dipping the avocado popsicle in chocolate? This is a fantastic way to make it a little more exciting. Using dark chocolate would be the healthiest option. Still, even milk chocolate could be okay if you don't have the treats very often.
Creamy Fudge Pops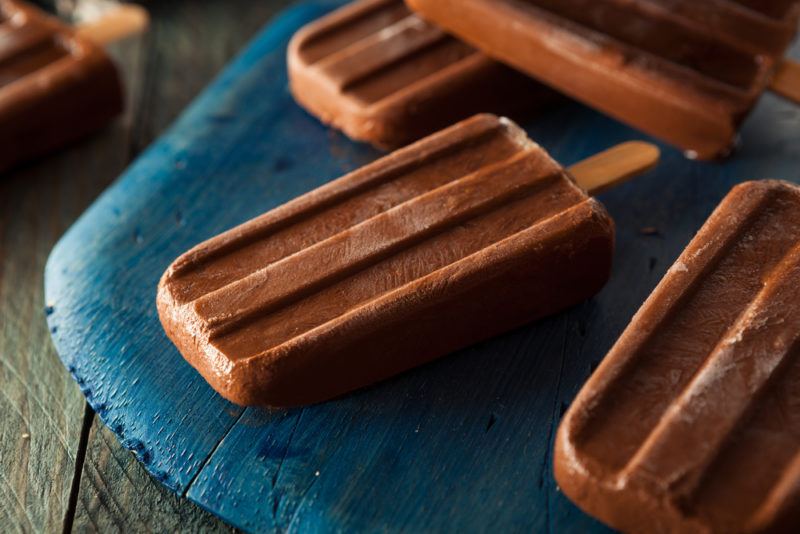 These popsicles give you all the flavors of a chocolate fudgsicle, but in a much healthier way. They're a little like the chia pudding pops from earlier in the list, except that these are simpler and use different ingredients.
In particular, these popsicles rely on avocado. The avocado creates a creamy texture that you don't get with other fruit popsicles.
You then just need some cocoa powder to give these popsicles an intense chocolate flavor. The chocolate almost completely masks the taste of the avocado, making these perfect treats for kids.
You'll see a similar pattern with other chocolate avocado desserts too, like chocolate avocado brownies or mousse.
Chocolate Covered Banana Pops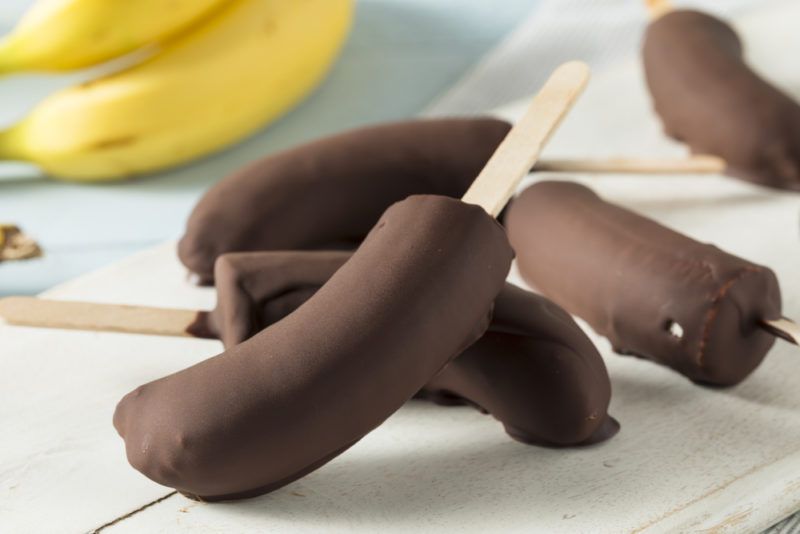 You can't get easier than this. You're simply chocolate dipping bananas and freezing them. You can choose whether to dip the entire banana or just part of it, along with whether you add any sprinkles or toppings to the treat.
This frozen treat isn't low in sugar, as bananas contain a decent amount of sugar (not to mention the sugar from the chocolate). Still, the bananas are much healthier than ice cream. They offer plenty of important nutrients too, including potassium.
Homemade Sorbet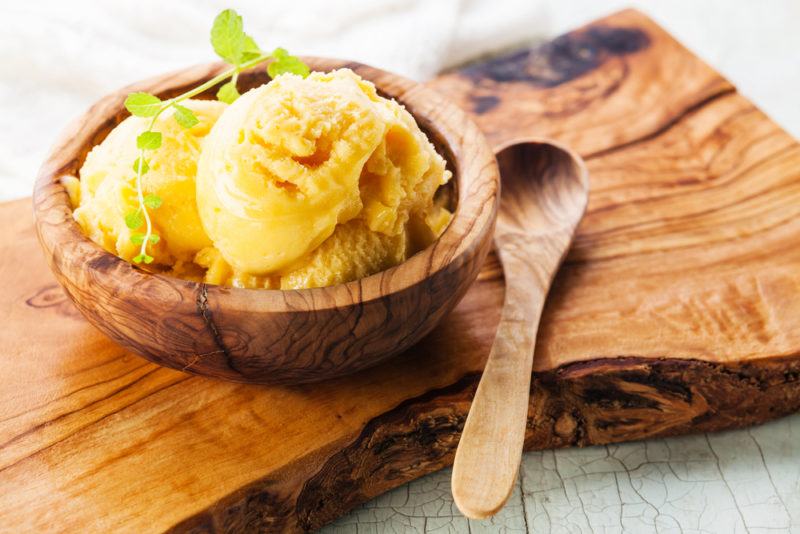 Sorbet isn't creamy like ice cream or yogurt, but it can still be a delicious dessert. And, while sorbet is often sweet, it's still a pretty healthy treat. After all, if you make it yourself, there aren't any additives. You can even make homemade sorbet without using any extra sweeteners at all.
You can often do so by freezing the fruit and pureeing it in a blender. You might need to add a little water or coconut water to loosen things up a little, but that's all.
If you don't mind some extra sweetener, you can also simply dump the contents of a can of fruit into a container (syrup and all), freeze the mixture, and blend it. This should give you easy homemade sorbet.
Of course, for most types of homemade sorbet, ice cream, or frozen yogurt, you're going to need a decent blender. A low-powered one won't be able to handle large chunks of frozen fruit.
Halo Top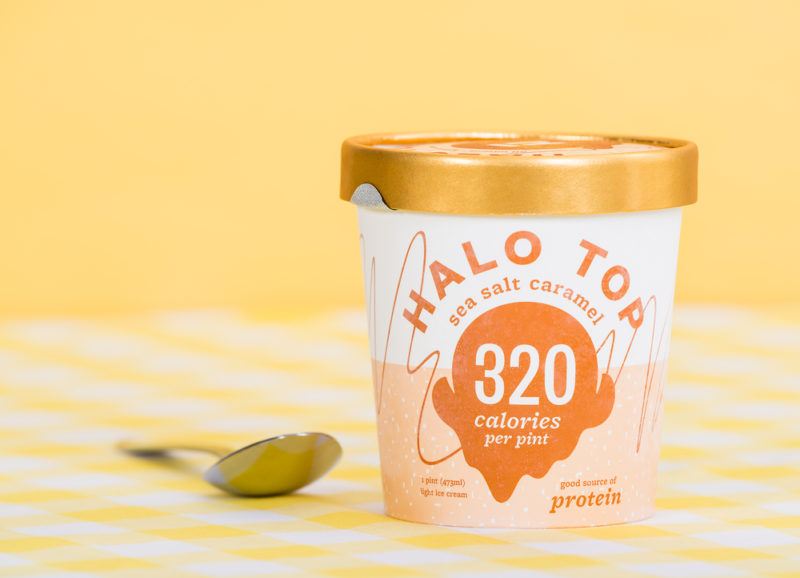 Halo Top focuses on making ice cream and ice cream alternatives that are a bit better for you. They tend to use whole food ingredients and avoid additives as much as possible.
Their dairy free versions are delicious. Most rely on coconut milk as the base. There is some added sugar, but much less than other brands. While their products mightn't be as healthy as something you make at home, they're pretty good for a store-bought item.
So Delicious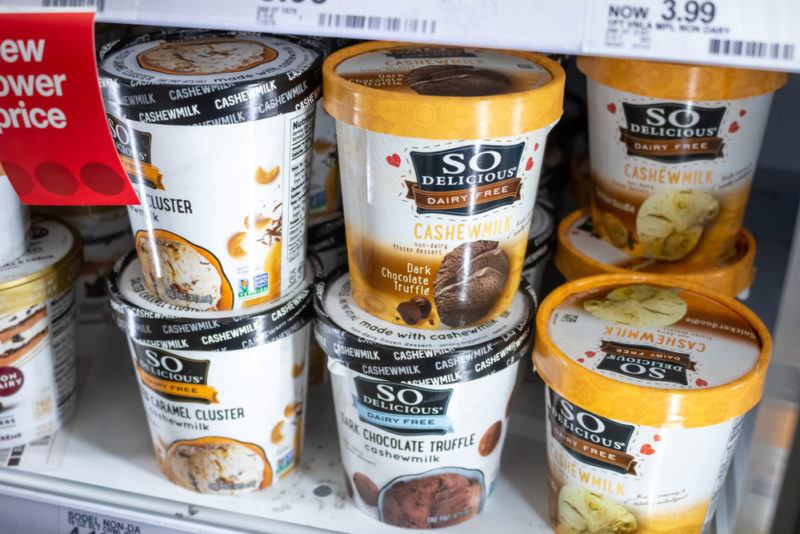 So Delicious is another exceedingly popular brand for dairy free ice cream. They now offer ice cream in small tubs, chocolate dipped ice cream on a stick, and other items like ice cream sandwiches and fudge bars. There are styles too, including almond milk, cashew milk, coconut milk, soy milk, and oat milk products.
They also have a range called Light, where the calorie count is less than 330 for the entire pint. That's impressive. These desserts are whipped, so they don't have the same texture as other ice cream alternatives. Still, the texture difference isn't necessarily bad.
It's easy to see these products as healthier alternatives to regular ice cream, especially if you get the versions without added sugar.
However, you'll still need to pay close attention to the ingredient labels. Many So Delicious products are heavily processed and use many additives. Watch out for almond milk and cashew milk products, as both plant-based milks mostly rely on water, so companies need to use thickeners to create a creamy product.
If you still want to try So Delicious, focus on the simple flavors. Products like their Coconut Milk Cookie Dough ice cream are loaded with concerning ingredients, in an attempt to make the treat taste like regular cookie dough ice cream.
High-Quality Ice Cream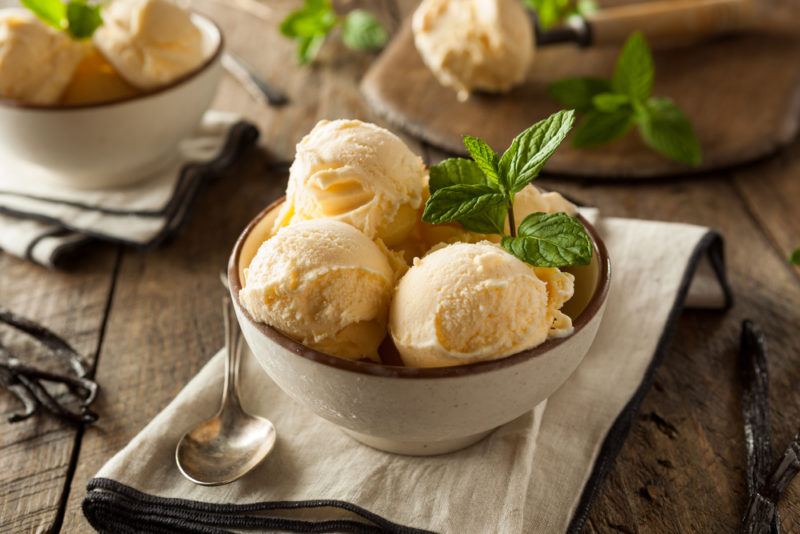 Ice cream isn't good for you. It's packed with fat and sugar, but the same is true for most of the healthy treats on this list. We are talking about desserts after all. You can only healthify them so much before they stop being enjoyable.
With that in mind, your best approach could be to simply focus on high-quality ice cream and keep your portion sizes small. Ice cream lovers might get more enjoyment from half a cup of the good stuff than a much larger serving of healthy alternatives.
Making your own ice cream will give you the best results, especially if you have an ice cream maker. If you want a more straightforward approach, look for brands that focus on quality. These will often be small businesses that don't focus on mass production. The best products will have a short ingredients label and will avoid artificial ingredients.