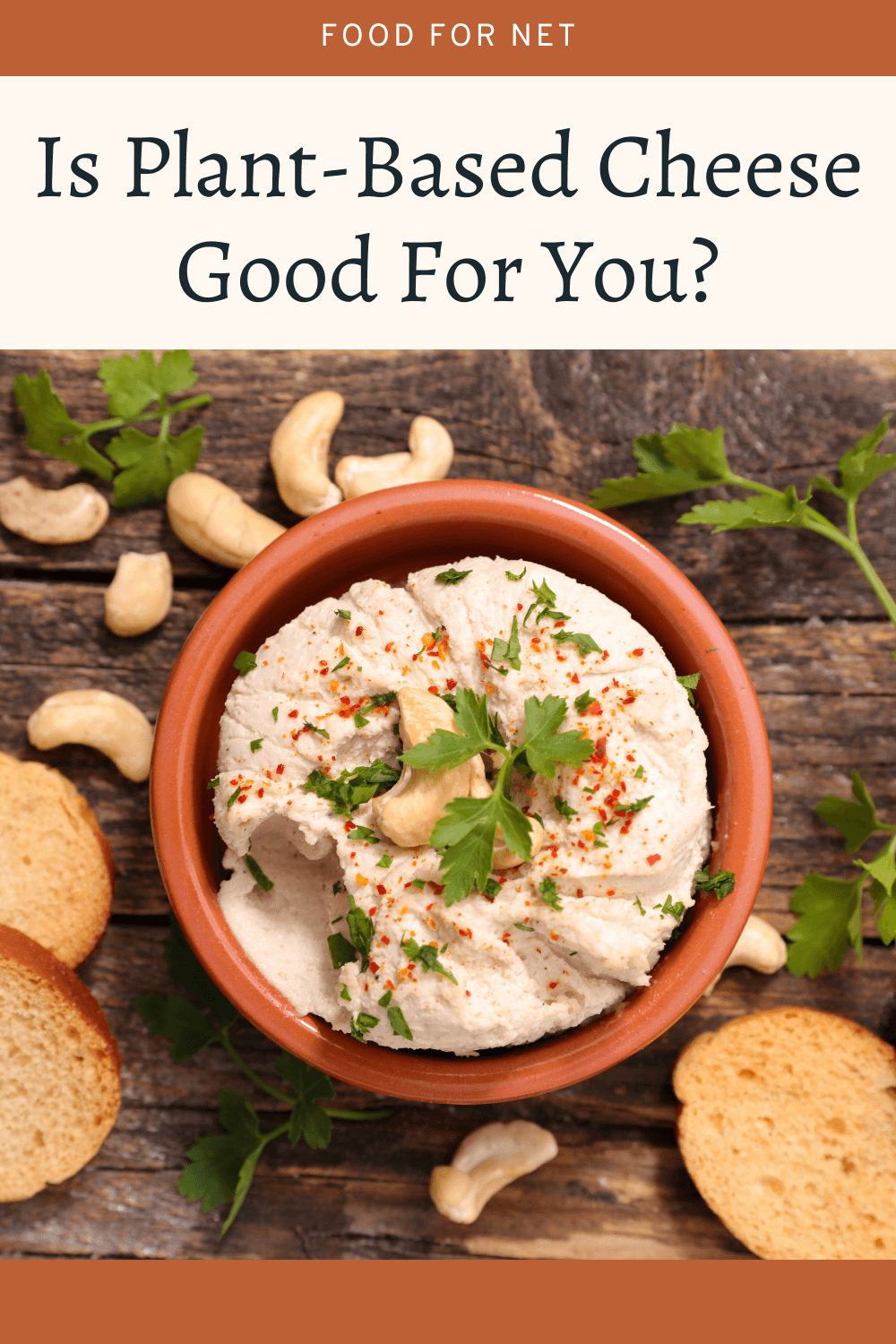 Plant-based diets are becoming increasingly popular, with many people turning away from meat and dairy, to get their nutrients from plants instead. The benefits are easy to see, given that animal-based foods are notoriously bad for the environment and can be seen as unethical as well. So is plant-based cheese good for you?
Many authors say that dairy foods, including cheese, are bad for you. Their high calorie content is thought to contribute to weight gain, while the saturated fat may also increase the risk of obesity and heart disease.
What about plant-based alternatives? Is plant-based cheese good for you?
It would be great if it were, given there are now plenty of plant-based cheese brands out there. Some of them produce amazing products without relying on a single animal-based ingredient. However, plant-based cheeses have their own issues too, ones that need considering.
Is Plant-Based Cheese Good For You?
What Is Plant-Based Cheese Anyway?
What Is The Cheese Made From?
Benefits Of Plant-Based Cheese
Problems With Plant-Based Cheese
What About Homemade Plant-Based Cheese?
Vegan Cheese Recipes
Final Thoughts
What Is Plant-Based Cheese Anyway?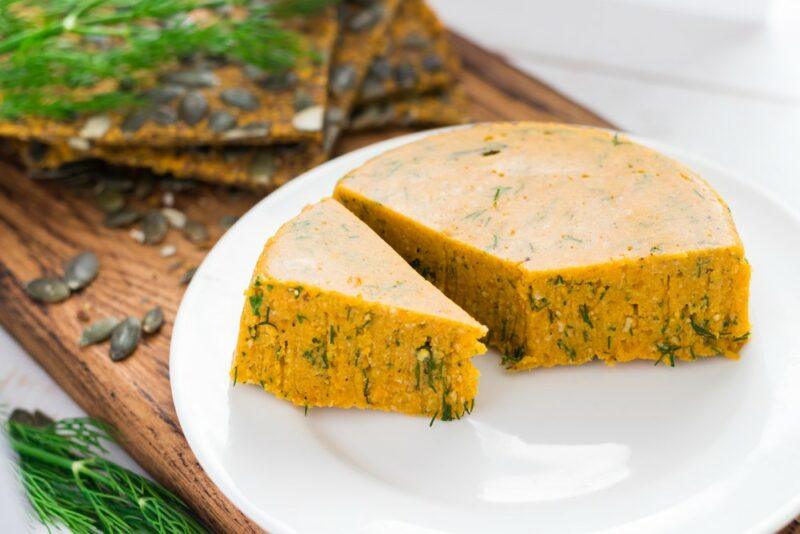 As is the case for milk, plant-based cheese isn't technically cheese. It's a cheese analog instead – a product that is designed to have a similar flavor and texture to cheese, without using any animal-based ingredients at all.
While the products vary in style and texture, they're often designed to mimic the flavor and texture of specific dairy cheeses. For example, you can find cheese shreds, slices, taco cheese, and even hard cheese that can be grated.
The cheese isn't as new as you might think, as it was first made in China, back in the 16th century. Since then the field has expanded dramatically, with vegan products becoming ever more like real cheese.
What Is The Cheese Made From?
Soy-based cheese is a common style, often using soy protein or tofu as a base. Other ingredients are used to help with the texture and flavor of the cheese.
Nuts are another popular choice, including cashews, macadamia nuts, almonds, pecans, and pine nuts. Nut cheese allows you to avoid soy entirely, plus the cheese is often minimally processed. The main steps involve soaking and blending the nuts, then fermenting them using a similar process to dairy cheese.
You can even make this type of plant-based cheese at home. It's not all good news though, as a nut-based cheese isn't going to work for anyone with a tree nut allergy.
Coconut products can be used to make cheese as well. The high fat content of coconut helps here, but extra ingredients are needed to overcome the coconut flavor of the ingredients and give you the desired texture.
Beyond these options, you'll sometimes see flour, root vegetables, aquafaba (the liquid surrounding canned chickpeas), and agar-agar used as ingredients to create plant-based cheese. Nutritional yeast is popular too because it has a natural cheese-like flavor.
Benefits Of Plant-Based Cheese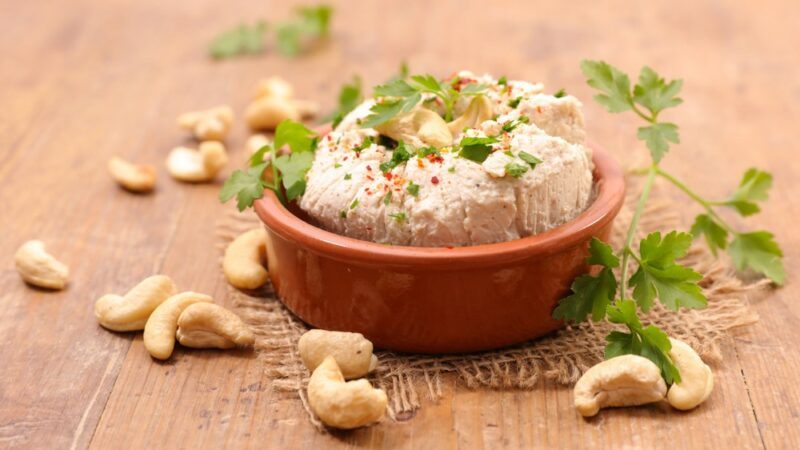 Perfect For Vegan Diets
First, plant-based cheese is nearly always vegan friendly. This makes it an easy choice on a vegan diet. You can simply swap regular cheese for plant-based cheese instead. Many products can even be used in the same way.
Doing so could be ideal when you're first getting started with being a vegan. After all, the process of cutting out many of your favorite foods and finding entirely new recipes can be a bit overwhelming. Having an ingredient that mostly looks, tastes, and behaves like cheese makes things so much easier.
Increases Your Intake Of Plants
Regardless of your diet, choosing plant-based cheese instead of a dairy product is an easy way to rely more heavily on plants. This effect is powerful, as plants contain many important compounds, including vitamins, minerals, and antioxidants.
It's also clear that a diet rich in plants offers many benefits, helping to decrease your risk of disease and obesity, to lower your cholesterol levels, and help with your blood sugar levels.
A Good Source Of Healthy Fats
While regular cheese tends to be high in saturated fat, plant-based cheese typically relies on healthy fats instead, including monounsaturated fats. These fats are much better for you and may help to protect your heart.
Avoids Most Of The Issues With Regular Cheese
While plant-based cheese does offer some health benefits, this isn't the main reason that people buy it. Instead, the most appealing thing is that you're decreasing your intake of regular cheese.
In particular, plant-based products have the following benefits over regular cheese.
Lower In Cholesterol And Saturated Fat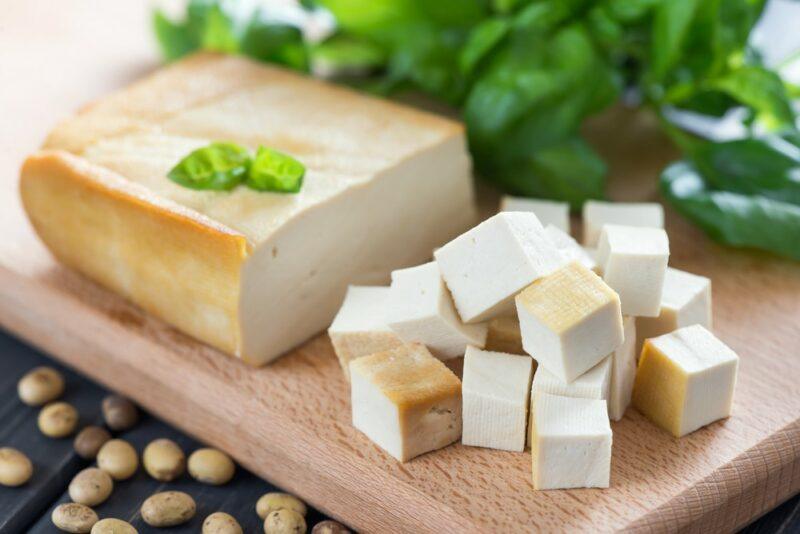 The saturated fat and cholesterol in cheese make it sound incredibly unhealthy. We're often told that consuming too much of these increases our blood cholesterol levels and raises heart disease risk in the process.
Indeed, you might have been told to drop down your saturated fat intake. If so, plant-based cheese is a natural choice.
Naturally Lactose Free
The lactose in cheese is another concerning feature, as many people can't digest it well. If this is the case for you, you may experience side effects like stomach cramps, gas, and diarrhea after eating cheese.
Plant-based cheese is an easy alternative, as it should be completely free from lactose.
More Ethical And Environmentally Friendly
The dairy industry is notorious for causing harm. The process of breeding and raising cows is intense, leading to considerable greenhouse gas emissions and agricultural runoff.
There's the ethical side to consider too. Obtaining milk (which is used to make cheese) is arguably more humane than meat, as you don't need to kill cows to get their milk. Even so, the process is far from kind. Cows produce milk for their calves, so to create a viable industry, farmers need to impregnate cows regularly and then separate them from their calves.
While some farms are more humane than others, milk production is never going to be harm-free. In contrast, plant-based cheese doesn't harm animals at all and is much better for the environment.
Contains Fewer Calories
The fat content of cheese means that it's often high in calories. This isn't a big deal if you have a small serving size. But, if you eat large amounts of cheese, it could easily lead to weight gain.
Plant-based cheese can help, as it's often lower in calories than dairy cheese.
However, you'll check the ingredients label, as plant-based cheeses vary dramatically. While most are indeed lower in calories than dairy cheese, a few products are more calorie-dense than you might expect.
Helps You Enjoy Your Favorites Again
Finally, plant-based cheese is an easy way to still enjoy your favorite dishes, even if you're following a vegan diet. This may make it easier to stick to your eating plan. After all, it's always easier to eat healthy when you enjoy the meals you prepare.
Problems With Plant-Based Cheese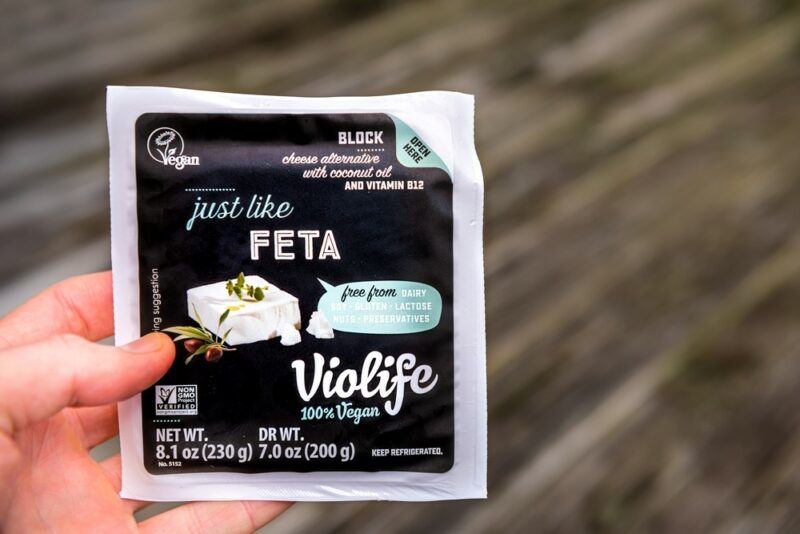 Often Lower In Nutrients Than Dairy Cheese
Plant-based cheese can be made in plenty of ways with a wide variety of ingredients. This variation leads to many differences in the nutritional profiles.
Still, many products aren't amazing for nutrients and are often lower in calcium, zinc, and vitamin B12 than dairy cheese. The problem is even worse for highly processed vegan cheeses, which may not contain many nutrients at all.
Minimally processed cheeses, particularly those that you make yourself, are a much better choice. These may offer more of some nutrients than dairy cheese and less of others.
Generally Low In Protein
Plant-based cheese will often be lower in protein than dairy cheese as well. This isn't a serious problem if you're getting plenty of protein elsewhere in your diet.
Still, some vegans struggle to get enough protein, especially as many high protein vegan foods rely on legumes and need some prep work before they can be enjoyed. If your protein intake is limited, you might need to focus on protein rich plant-based cheeses or make sure you get your protein elsewhere.
Often Relies On Soy
Soy is a common ingredient in plant-based cheese. It helps to create the texture that you're looking for and can be processed in a variety of ways.
Still… soy is controversial. Two problems stand out – phytoestrogens and antinutrients.
Phytoestrogens are estrogen-like compounds that may influence estrogen levels in some situations. Their effects on health are unclear, especially as they can increase or decrease estrogen levels, depending on the situation.
Antinutrients are famous because they decrease our absorption of some nutrients. While antinutrients aren't normally a big deal, they can start to be more significant if you're having antinutrient rich foods often.
Some people choose to avoid soy because of these problems. Others eat soy regularly, as the legume has been linked to plenty of health benefits too.
Even if you're not too worried about soy, it's worth keeping an eye on the amount of it you use. After all, soy is used in countless plant-based products, so it's very easy to go overboard with it.
Can Trigger Nut Allergies
Soy-free plant-based cheese allows you to avoid the problems with soy. However, many such cheeses use nuts instead, which can trigger nut allergies.
There are antinutrients in nuts as well, but these should be fairly low in nut-based vegan cheeses, as such cheeses are often fermented. Fermenting helps to lower antinutrients and make nuts easier to digest.
Can Be Highly Processed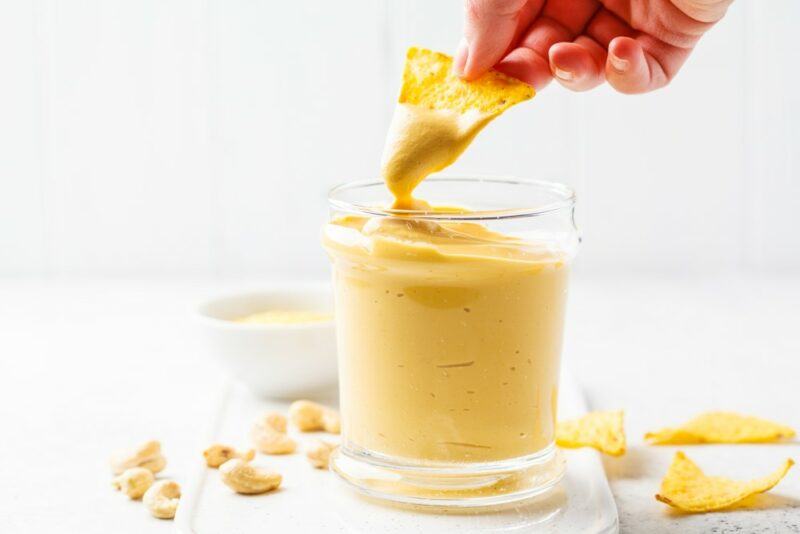 Processing is a serious issue with plant-based cheese.
After all, the base ingredients include soy, nuts, and sometimes vegetables. None of these naturally look or taste like cheese. A decent amount of effort and extra ingredients are often needed to create a cheese-like product.
Even more steps are needed if you want something that melts like regular cheese and can be used in the same recipes. Basically, the more cheese-like the finished product is, the more heavily it has been processed.
Additives are often used as well, including preservatives, refined oils, flavoring ingredients, and colors. These additives don't do your health any favors at all. Some might even put you at risk if you're eating large amounts regularly.
Plant-based or not, ultra-processed foods are never a wise choice for your health. It's much better to choose minimally processed cheeses instead. These should contain more nutrients and fewer concerning compounds than highly processed ones.
May Be Unsafe If Fermented Poorly
Fermentation is sometimes used to make vegan cheese. This isn't a bad thing. In fact, fermented foods can be helpful for your gut bacteria.
However, fermentation also comes with risks, especially if it's been done at home. You need to make sure that everything is kept hygienic, so that you're not introducing harmful bacteria into the cheese.
Doesn't Taste Like Cheese
While plant-based cheese is an excellent alternative to regular cheese, it's never going to taste quite the same. Part of the problem is that vegetable proteins don't bond in the same way that animal proteins do, so you don't get the interesting flavors that you find in regular cheese.
Some products do get surprisingly close to regular cheese, although unfortunately these are often the highly processed ones. You may need to shop around and experiment to find cheeses that you enjoy, hopefully ones that have a good nutritional profile as well.
It Isn't Always Vegan-Friendly
Plant-based food implies that no animal ingredients are used at all. However, this isn't always the case. Some companies use the term plant-based to refer to foods that heavily rely on plants, but may still contain small amounts of animal products.
Some plant-based soy cheese, for example, may still use a little milk to help with the texture or casein (a milk protein) to improve the meltability of the cheese.
Pressure from customers means that such products are becoming less common. Even so, it's worth closely checking the ingredient label of any plant-based cheese you buy to make sure it is what you're expecting.
What About Homemade Plant-Based Cheese?

Many of the issues we've highlighted relate to heavily processed plant-based cheeses, particularly those that rely on additives. You can avoid most of these issues by making your own plant-based cheese instead.
Doing so has multiple benefits. Not only do you get to avoid additives, but you also know exactly what ingredients are going into your cheese.
Plus, you can choose a recipe that fits your needs. For example, if you need more protein, you might look for a high protein product or if you're allergic to nuts, you might look for a nut-free recipe. With so many recipes out there, finding a perfect one shouldn't be too difficult.
Vegan Cheese Recipes
Want some ideas for making your own cheese? This Chickpea Flour Cheddar Cheese is an excellent place to begin. The recipe is free from oils, nuts, grains, and soy, but still manages to be high in protein. What could be better than that?
Or, what about vegan cottage cheese? This recipe relies on tofu and dairy free yogurt, making it an easy one to prepare.
This Grateable Vegan Cheese is perfect if you want something that behaves much like real cheese. It even melts, so you can use it to make grilled cheese sandwiches. There are a few unusual ingredients in the mix, but the finished product is well worth the effort.
Final Thoughts
Plant-based cheese gives you access to nutrients and antioxidants from plants, while also being lower in calories and saturated fat than dairy cheese. It also avoids all the ethical and environmental concerns that come with the dairy industry, making it a powerful idea.
Still, as you've seen, there are some notable issues too – as the products are often highly processed and can contain concerning additives.
Whether plant-based cheese is healthy or not really comes down to the type you choose. An ultra-processed version will never be that good for you, especially not if you're using it regularly.
Look for minimally processed products instead. Or, better yet, make your own.
Pay attention to the ingredients label too, as some products mightn't be what you expect. For example, plant-based cheese that heavily rely on coconut oil end up being surprisingly high in saturated fat.
Frequently Asked Questions
Does Vegan Cheese Melt?
Vegan cheese lacks the casein found in regular cheese, so most products won't melt – no matter how hard you try. There are exceptions though. A few products have been cleverly designed so that they will melt. These tend to be the most highly processed and are the closest you'll get to the flavor and texture of real cheese.
Thankfully, melting vegan cheese should be easy to find. This is a desirable feature, so products that do melt will normally promote this feature heavily. The package may even state that the cheese melts.
Is Plant-Based Cheese Gluten Free?
Vegan cheese is typically gluten free, as companies rarely need to use gluten containing ingredients. It's still important to check the ingredients label though, as there are exceptions. Keep a particular eye out for any vegan cheese that use oats as an ingredient, as oats can be contaminated with gluten.
Can You Freeze Plant-Based Cheese?
Many types of plant-based cheese will freeze and thaw without an issue. However, it's important to check the instructions on the product, as there are exceptions.
Before freezing the cheese, think about how you plan to use it later. Most of the time you'll want to either grate or slice the cheese before freezing it, as a frozen solid block won't help you much at all. Also make sure the cheese is kept in air tight containers. This reduces the risk of freezer burn and helps to maintain quality.
Finally, remember that the texture of food often changes after freezing. Because of this, some products might not be good on their own after freezing and should be used in cooking instead.
Can Diabetics Eat Plant-Based Cheese?
Diabetics can eat plant-based cheese, especially if they focus on low carb and low sodium products. However, you should be be cautious, as plant-based cheese is highly processed and often isn't all that healthy.
You may find it better to skip cheese like products entirely. After all, there are plenty of delicious healthy ingredients out there that don't try to mimic cheese.
Is Plant-Based Cheese Always Vegan?
Plant-based cheese is normally created for people avoiding animal products, so it tends to be vegan friendly. Still, there are exceptions, as the term plant-based doesn't guarantee that the product is exclusively made from plants.
You may even sometimes find products that are mostly made from plants but use a little whey or an egg for texture. Keep an eye out for the word vegan on the product packaging. This is the easiest way to see whether the company follows vegan values.