Apple cider vinegar generates plenty of buzz. It's often seen as a powerful way to detox and promote weight loss. Some celebrities even claim that apple cider vinegar gives you a flat stomach in a week. So, the drink sounds amazing, but is apple cider vinegar good for you?
For that matter, should you be drinking vinegar regularly as a health supplement?
The idea might sound strange. Vinegar is something you cook with or use in salad dressings, right? It's not normally seen as a health tonic. While that's true, apple cider vinegar has some features that make it stand out. It may even have a slight alkaline effect in your body, despite being acidic.
So, without further ado, let's separate the hype from the facts and see what apple cider vinegar really has to offer.
Is Apple Cider Vinegar Good For You?
What Is Apple Cider Vinegar?
Why Apple Cider Vinegar Could Be Healthy
The Problems Of Apple Cider Vinegar
How Much Apple Cider Vinegar Is Safe?
How To Drink The Vinegar
Using Apple Cider Vinegar As An Ingredient
Do You Need Organic Apple Cider Vinegar?
What About Supplements?
Final Thoughts
What Is Apple Cider Vinegar?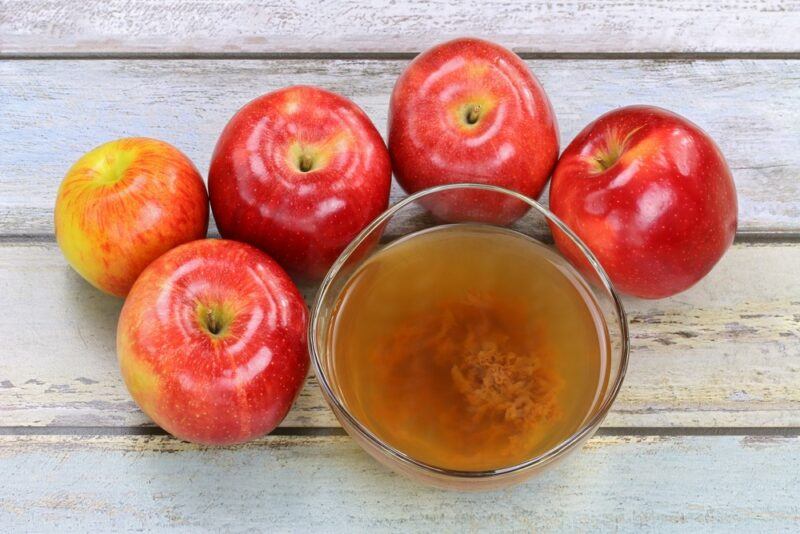 Apple cider vinegar starts off as apple juice that is then fermented. The fermentation process turns sugar into alcohol, which is then converted to acetic acid. That acetic acid is responsible for the distinct smell and flavor of vinegar. It could contribute to the health benefits too.
Production of the vinegar relies on a microbial culture called the mother, which is thought to be excellent for health. Cultures like this aren't often used for other types of vinegar, making apple cider vinegar quite unusual.
The apple cider part of the name comes from the way that the vinegar starts off as apple juice. So, don't be surprised that the vinegar tastes very different than apple cider. It also has very different health implications.
Why Apple Cider Vinegar Could Be Healthy
Can Be A Source Of Probiotics
Organic unfiltered apple cider vinegar tends to be murky or has a strange-looking mass in it. This mass is known as the mother and is made up of beneficial bacteria, along with proteins and enzymes.
The mother may be responsible for many of the proposed health benefits. It may help with the balance of bacteria in your gut too, which could lead to improved digestion, weight loss, and other impacts on your health.
May Promote Weight Loss
Weight loss is one of the most common reasons for drinking apple cider vinegar. The vinegar is thought to help you to lose abdominal fat, while also increasing your metabolism and helping to lower your appetite.
There is some evidence for these outcomes too. For example, one study found that people who consumed apple cider vinegar with bread felt a little fuller than those who did not and had better blood glucose responses.
Such effects could easily promote weight loss. They'd be most powerful for people who pay close attention to their physical responses. After all, a slight decrease in hunger won't matter much if you eat roughly the same amount regardless of how hungry you feel.
Could Help With Digestion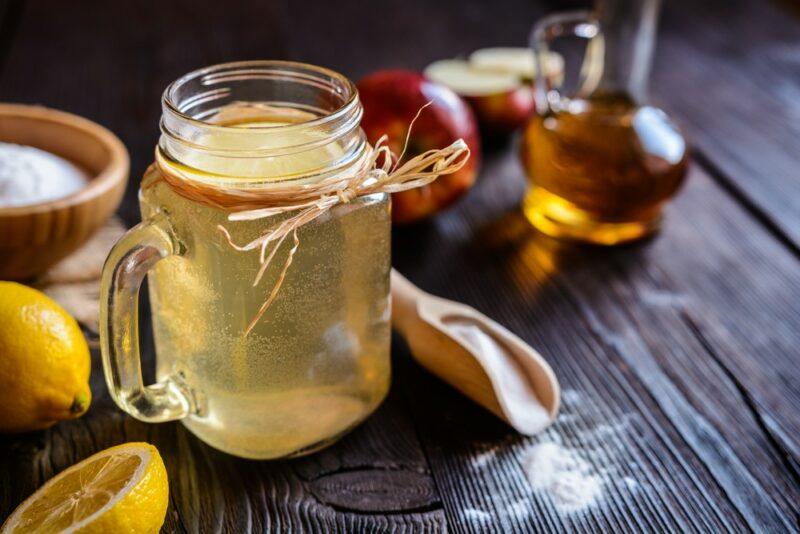 Apple cider vinegar could improve digestion for some people. It might even be relevant for treating conditions like reflux and irritable bowel, although the effects appear to vary from one person to the next.
You'll need to keep an eye on how your body responds here, as apple cider vinegar could easily make some health conditions worse rather than better.
Is Relevant For Diabetes Too
Some of apple cider vinegar's effects could be relevant for diabetes. For one thing, the vinegar may influence insulin, which is an important effect for anyone with diabetes. By influencing insulin, apple cider vinegar may improve blood sugar control, making diabetes easier to manage.
You could experiment with this one yourself. Try having a tablespoon of apple cider vinegar each day (diluted, of course) and keep an eye on your blood sugar levels. See if they're more stable with the vinegar in your diet than without it.
May Contain Trace Elements
Advocates of apple cider vinegar sometimes suggests that there are trace elements in the vinegar too, including some that you don't see in other types of vinegar. Such trace elements could easily provide health benefits, especially if your diet is lacking in some areas.
Has Been Linked To Other Health Benefits
Research into the effects of apple cider vinegar for humans has been extremely limited. The studies that have been conducted often aren't that good or they focus on animals rather than humans.
Even so, there's a little evidence for other potential effects of the vinegar, like decreased LDL cholesterol and triglyceride levels, better insulin sensitivity, reductions in PCOS symptoms, decreased blood sugar, and more.
Such effects might even decrease your risk of some diseases and perhaps improve your immune response.
The Problems Of Apple Cider Vinegar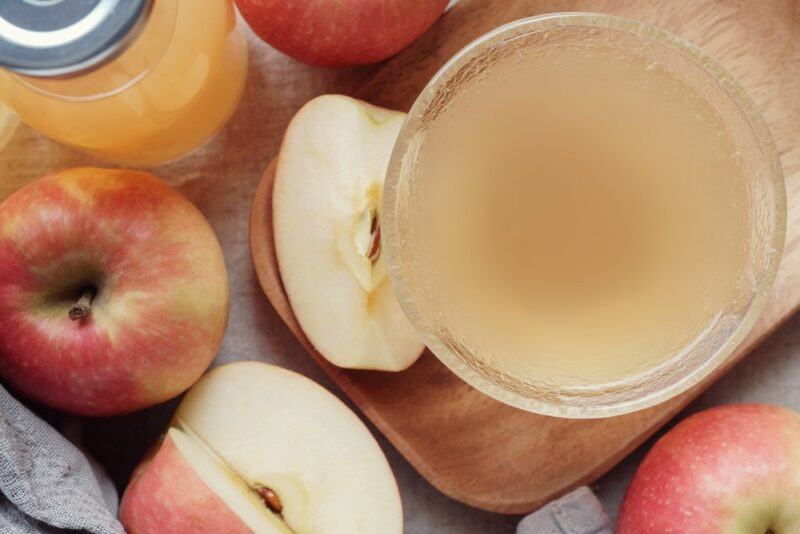 If you look online, you'll find dozens of articles claiming that apple cider vinegar can do amazing things. The benefits that we talked about earlier will probably be featured, along with many others. Yet, apple cider vinegar has some serious limitations too.
The Research Is Incomplete
While the idea that apple cider vinegar promotes health has some support, the evidence isn't strong. Research studies have often been small in scale and some haven't even found much effect at all from the vinegar.
Even if benefits like weight loss are true, the effect of apple cider vinegar is probably subtle. You won't suddenly start losing a pound or two every week because you are drinking a little bit of apple cider vinegar each day.
You'll see more benefits by focusing on vegetables, legumes, and whole grains, while decreasing your calorie intake.
Could apple cider vinegar help in some areas? Possibly. We simply don't know yet.
If you can drink the vinegar safely without the side effects discussed below, then it might be worth it. But, if apple cider vinegar makes you feel sick or causes side effects, then it seems like a poor choice.
Side Effects And Interactions
Apple cider vinegar is highly acidic and can easily irritate your throat. Diluting the vinegar with water can help, but you might still get this effect if you're drinking apple cider vinegar regularly.
The vinegar can also decrease potassium levels. This can be a significant effect if your potassium levels are already low.
People taking digoxin are particularly vulnerable. If this is the case for you, talk to your doctor before using apple cider vinegar regularly.
Be careful about drinking apple cider vinegar if you're using a diuretic of any type too, as diuretics lower your potassium levels as well. To avoid the problem, make sure you're consuming enough potassium rich foods and perhaps even healthy electrolyte drinks.
Finally, anyone with gastroparesis may have extra problems with apple cider vinegar. This condition means that your stomach doesn't empty itself as well or as quickly as is normally the case. Because apple cider vinegar can delay stomach emptying, it can make gastroparesis worse.
Might Be A Bad Idea During Pregnancy
For most people, unpasteurized apple cider vinegar is safe – as the vinegar is slightly acidic anyway, which kills bacteria. But, if you're pregnant or have a compromised immune system, the vinegar could be a problem.
Talking to your doctor and obstetrician can help you decide whether unpasteurized apple cider vinegar is a good idea.
How Much Apple Cider Vinegar Is Safe?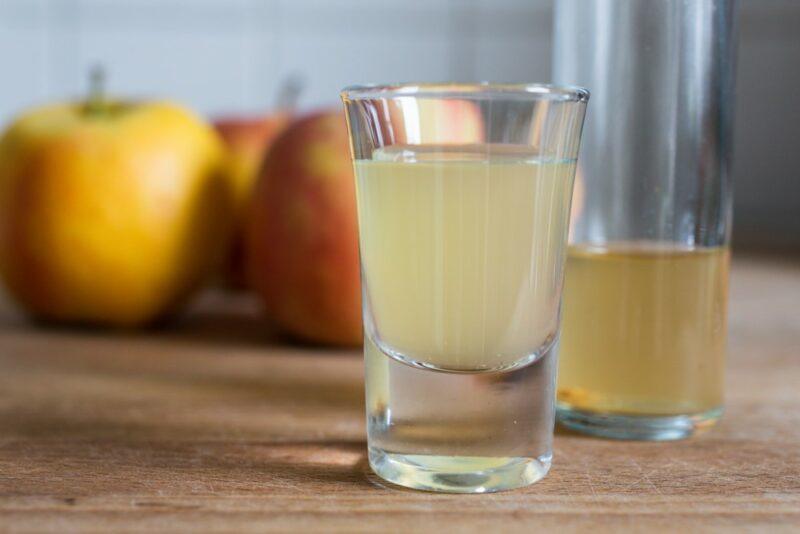 While there's no official dose for apple cider vinegar, most people are drinking small quantities – just a tablespoon or two per day. This is enough to provide the potential benefits while keeping the risk of harm low.
More apple cider vinegar than this isn't a good idea. You could easily make yourself sick, especially if you're drinking it regularly.
Many people spread their apple cider intake out, having small doses multiple times during the day. This reduces the risk of nausea and any other side effects.
Should You Try Apple Cider Vinegar?
While most of the benefits of apple cider vinegar haven't been proven, small quantities of apple cider vinegar appear to be safe for most people. As such, you could try apple cider vinegar for yourself and see whether it helps your health.
Doing so is almost always the best approach, as the effects of food and drink vary from one person to another. While research can point you in the right direction, it can't prove whether or not a product like apple cider vinegar will benefit you specifically.
If you're trying the vinegar, pay close attention to how your body responds. Keep an eye out for any digestive symptoms, like nausea, which could mean the vinegar isn't helping you.
How To Drink The Vinegar
Apple cider vinegar is strong, so there are a few tricks for drinking it.
First, it's best to dilute the vinegar somewhat. This makes it less intense and reduces the risk of damage to your teeth and esophagus. The simplest approach is to mix the apple cider vinegar with a little water and drink it light a shot.
You can add other ingredients if you want. For example, honey makes the vinegar easier to drink, while cinnamon is a common addition too. You might even use a variety of ingredients to create an apple cider vinegar detox drink, like these ones.
The product you choose matters too. Most apple cider vinegar advocates suggest focusing on unpasteurized and unfiltered apple cider vinegar. This type of product has the mother intact and should offer the most health benefits.
Make sure to rinse your mouth out once you've had your apple cider vinegar. Just swishing some plain water around can make a huge difference.
Don't brush your teeth though. Brushing your teeth after eating or drinking something that weakens your enamel just makes things worse, not better.
Using Apple Cider Vinegar As An Ingredient
Drinking apple cider vinegar isn't your only option. You can also use it as an ingredient. For example, The Kitchn offers 28 recipes that rely on apple cider vinegar. Common techniques include using the vinegar as part of a salad dressing or a glaze for meat.
Using apple cider vinegar with food might reduce the risk of side effects. You might find this approach more enjoyable too. After all, a shot of apple cider vinegar isn't the tastiest drink, even once you've diluted it.
Do You Need Organic Apple Cider Vinegar?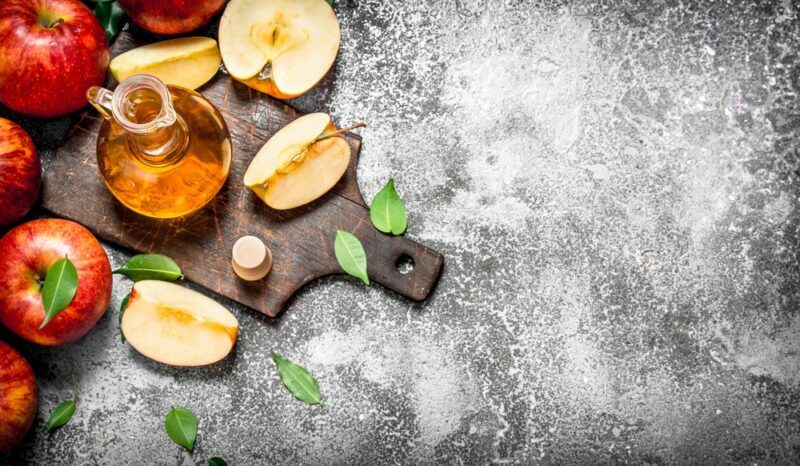 Pesticides are often used when growing apples, making organic apple cider vinegar a wise choice. It's difficult to know whether this type of apple cider is truly healthier, but organic companies tend to focus on quality anyway, so you should get a good product no matter what.
One of the most popular apple cider vinegar brands is Bragg, which happens to be organic anyway, making life easy.
What About Supplements?
You can find apple cider vinegar in a supplement form too. The pills can be as simple as the vinegar that has been dried and placed into a capsule. Some may contain other ingredients too, like cayenne pepper in supplements designed for weight loss.
Such supplements theoretically give you the same benefits as apple cider vinegar, without the risk of harming your teeth and throat.
However, there are risks.
One problem is the dose. Some of the supplements are strong, which increases the impact on your blood sugar levels and could lead to more side effects. Supplements can also be inconsistent, making it difficult to predict the dose or how it will impact you.
Then there's the supplement industry.
This is notoriously underregulated, where companies are responsible for the safety of their own products. You can't be certain that a supplement is well made and contains the ingredients that it claims to. Some include unexpected ingredients, while others may be contaminated instead.
There's also the risk that the capsule gets stuck and burns your throat or stomach. While that effect is rare, it has happened before.
For most people, apple cider vinegar supplements just aren't worth the risk. If you're going to try apple cider vinegar, it's much better to focus on the vinegar itself and choose a reliable brand.
Final Thoughts
While apple cider vinegar can cause a few side effects and interactions, it appears to be safe for most people. Still, the vinegar clearly isn't the health tonic that it's said to be. Most of the proposed benefits haven't been proven at all. If the vinegar does have effects for your health, they're probably small.
Does this mean you should avoid it? Not necessarily.
As with most ingredients, the trick is to pay attention to your body. Start off with just a little apple cider vinegar each day, perhaps a teaspoon, and see what effect this has. You can increase the dose over time, up to around 2 tablespoons a day.
If you see benefits and no side effects, then the vinegar could be a good choice. If your body reacts poorly to the vinegar, then it's easy to simply stop taking it again.
Frequently Asked Questions
Does Apple Cider Vinegar Help You Lose Weight?
Many advocates suggest that apple cider vinegar is amazing for burning fat and improving your metabolism. Yet, this is mostly just hype. The most you can hope for is that the vinegar will slightly suppress your appetite.
But, even the appetite suppressant effect hasn't been proven. At best, the apple cider vinegar will have a minimal effect. Otherwise, it might do nothing at all.
Is Apple Cider Vinegar Good For Acid Reflux?
Despite being a popular home remedy for acid reflux, there's no evidence that apple cider vinegar actually helps. It could even make matters worse, as apple cider vinegar is very acidic.
If you're going to try apple cider vinegar anyway, it's best to start with a tiny amount and pay close attention to your body's responses. If your reflux gets worse, it's best to step away from apple cider vinegar entirely.
How Is Apple Cider Vinegar Made?
Like all vinegars, apple cider vinegar is made using a two step fermentation process. The first step takes apple juice and ferments it to create an alcoholic beverage. A second fermentation step creates vinegar from this liquid.
Is Apple Cider Vinegar Good For Your Liver?
Apple cider vinegar is often promoted as a detox aid and is thought to be particularly powerful for helping with a fatty liver. However, this is another claim that comes with very little evidence.
In practice, we really don't know how regularly drinking apple cider vinegar affects the human body. The vinegar could potentially help your liver, but it's just as likely to have no effect at all.
Is Apple Cider Vinegar Good For High Blood Pressure?
Some evidence does link apple cider vinegar to decreased blood pressure. But, most of the research has been conducted in animals rather than humans, so there's a lot we don't know.
Even if apple cider vinegar does have this effect, it's likely to be much less powerful than blood pressure medications. Because of this, it's important to keep taking any prescribed blood pressure medications, rather than using apple cider vinegar instead.