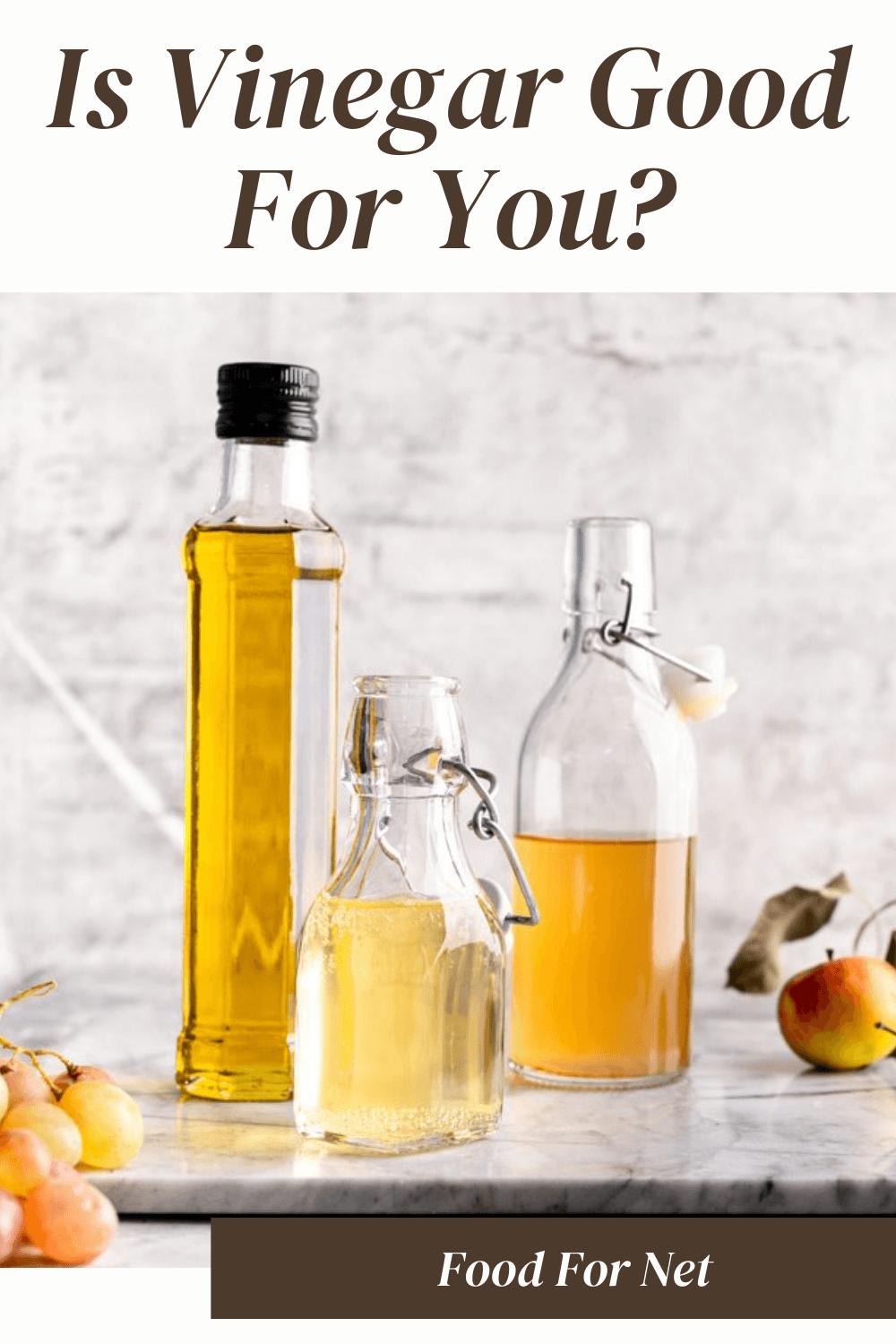 Vinegar is widely used as an ingredient for cooking or even a way to clean your house, especially when combined with baking soda. Using vinegar for health, then, might seem like a strange idea. Is vinegar good for you?
Surprising as it might seem, vinegar could be. It has some interesting properties, which could provide benefits for your blood sugar levels and even your waistline.
Then there's apple cider vinegar, which is often promoted as being an amazing health tonic. This has the same properties we're talking about here, except that apple cider vinegar can also contain the probiotic 'mother', so it may offer some benefits that regular vinegar doesn't.
Vinegar is also highly acidic, so we need to think about the risks as well, along with how you can use vinegar safely. After all, any health benefits are irrelevant if vinegar ends up eroding your teeth and giving you cavities.
Is Vinegar Good For You?
What Is Vinegar?
Benefits Of Vinegar
How Vinegar Could Be Harmful
Does Vinegar Alkalize You?
Is Vinegar A Probiotic?
How Do You Use Vinegar?
How Much Vinegar Should You Use?
Other Ways To Use Vinegar
Types Of Vinegar
Final Thoughts
What Is Vinegar?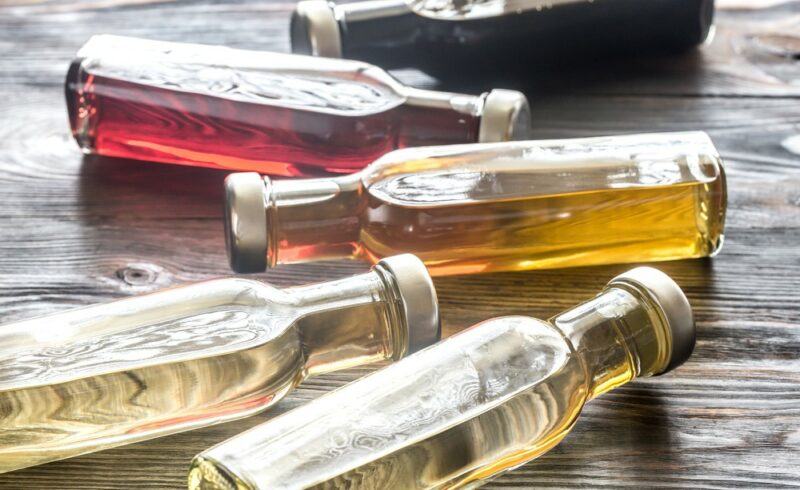 Vinegar is a common ingredient throughout the world and styles vary depending on where you are. The basic idea, however, is that vinegar goes through two fermentation steps.
The first takes a source of sugar, like apples, and creates an alcoholic product. The second fermentation step then takes this alcohol and turns it into an acid. Most types of vinegar end up being sour, although some do have a slight sweetness to them.
There are plenty of options for making vinegar, as almost any source of sugar can be used, including grains and fruit. We'll talk more about the different types of vinegar later in this post. The fermentation processes strip away many, although not all, of the unique properties of the original ingredient – so the benefits of vinegar are roughly the same regardless of the ingredients used.
Benefits Of Vinegar
Helps To Control Blood Sugar Levels
The first benefit of vinegar might be unexpected – it can help to decrease blood sugar spikes. The acetic acid is a key reason for this effect, as it slows down stomach emptying. This effect essentially draws out the time it takes to digest your food, meaning that glucose reaches your blood more slowly as well.
To take advantage of this effect practically, try having some vinegar at the same time as a meal. You could do so by using a vinegar-based salad dressing or simply having a glass of vinegar and water with your meal (not too much vinegar though, just a tablespoon or two).
The blood sugar impact has been most heavily studied for apple cider vinegar. However, the effect is linked to acetic acid, which is found in other types of vinegar too, so you should see the same effect for whatever vinegar you choose.
This is an area you'll need to experiment with for yourself, as research produces varied outcomes. The effect of vinegar on blood sugar is likely to be influenced by your current blood sugar levels, what you're eating, your genetics, and other factors.
Protects Your Heart
Some studies show that vinegar helps to decrease some key heart disease risk factors, including blood pressure and cholesterol. These effects are important, as heart disease is still one of the most common causes of death in the United States.
These effects may be strongest if you're consuming vinegar at the same time as a meal, rather than between meals. More research is still needed, of course, but what we know so far looks promising.
Even if vinegar only helps with your heart disease risk a little, every bit helps. Focusing heavily on heart healthy ingredients like this could be the key to living a long and healthy life.
Could Help With Weight Loss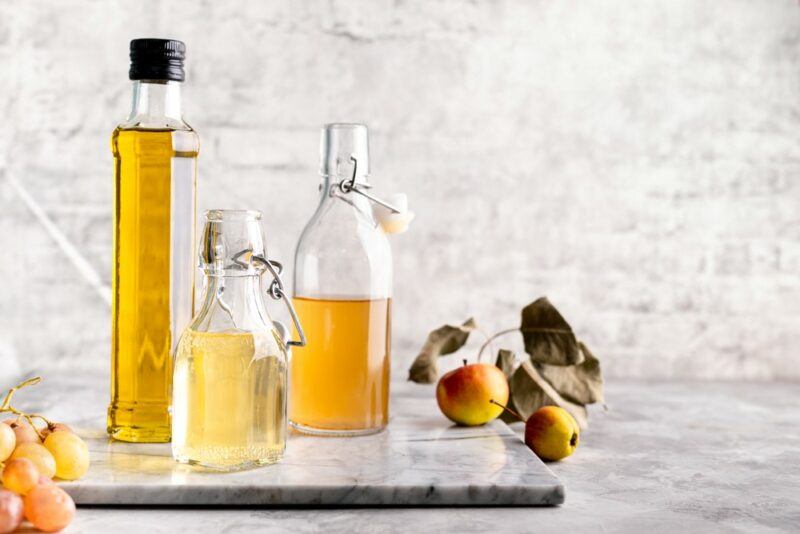 Vinegar is surprisingly effective for weight loss too. The blood sugar effect is one reason for this, as stabilizing blood sugar can help to keep your appetite in check as well.
Some research even shows that having vinegar at the same time as a meal can increase satiety and decrease the amount of calories that people consume. Using vinegar in a salad dressing could be a particularly powerful approach, as doing so tastier than making a vinegar-based drink.
A Source Of Antioxidants
Vinegar also provides a decent number of antioxidants, particularly if you focus on darker kinds of vinegar, rather than light-colored ones. These antioxidants are very important, as they can decrease oxidation throughout your body, potentially lowering disease risk in the process.
There are many other antioxidant rich foods, of course, but vinegar is powerful because it contains barely any calories. It's easy enough to add more vinegar to your diet as well, especially if you use it in cooking or as part of a salad dressing.
It Offers Some Minerals
Vinegar isn't nutrient dense at all. Still, there are a few important minerals present, including potassium, calcium, and magnesium. You need all of these minerals to keep your body functioning well.
How Vinegar Could Be Harmful
Damage To Your Teeth
Not surprisingly, vinegar is highly acidic. This acidity isn't great for your teeth and can easily cause significant damage. Consuming too much vinegar might even weaken your tooth enamel and lead to cavities.
This issue is true for most acidic foods, but can be even more significant for vinegar, as it can be up to 7% acetic acid.
Avoiding the worst effects is simple – don't drink vinegar straight. Diluting the vinegar first or using it as an ingredient should reduce the intensity of the vinegar and protect your teeth.
Be sure to rinse your mouth with water after consuming vinegar as well. This way none of the acidic solution sits on your teeth.
Digestive Side Effects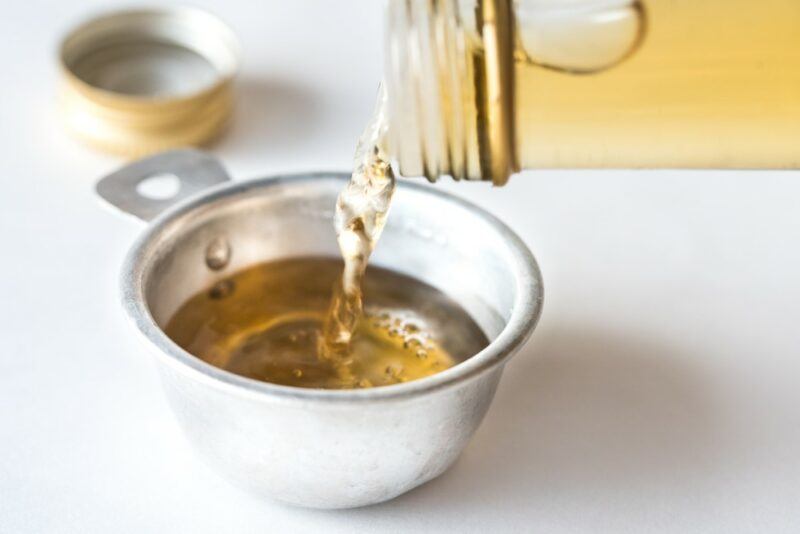 Vinegar isn't always kind on your digestive system either. It can easily make some conditions worse, including indigestion and heartburn.
Even people who don't have digestive conditions might experience side effects from vinegar.
Because this effect varies from person to person, you'll need to experiment with vinegar for yourself. You could try apple cider vinegar too, as this has more alkaline components than other types of vinegar and might not give you as many side effects.
Could Lower Blood Sugar Too Far
Vinegar's ability to decrease your blood sugar levels isn't always a good thing. If your blood sugar levels are already low (perhaps due to diabetic medications), then vinegar could drop your blood sugar down to dangerous levels.
Thankfully, this shouldn't be an issue in most situations. Just be cautious if you're consuming a large amount of vinegar or are taking diabetic medication.
Does Vinegar Alkalize You?
Despite being highly acidic, vinegar is thought to have an alkalizing effect in the body (much like lemon juice). This is why you'll sometimes see apple cider vinegar included on alkaline diets.
But, does the vinegar help?
That's a highly debatable idea. For one thing, vinegar tends to make the pH of your urine more acidic, rather than less. Apple cider vinegar does have more alkaline components than regular vinegar, but not enough to change this effect.
Plus, even if vinegar could change the pH of your urine, the effect wouldn't mean much for your health at all. Our bodies tightly regulate pH, making sure that our pH levels are always where they need to be.
Any change to the pH level of your urine is simply a result of your body making this adjustment. Alkaline diets themselves may improve your health, simply because they focus on natural plant-based foods. Despite focusing on alkaline foods, such diets aren't likely to influence your pH much at all.
Is Vinegar A Probiotic?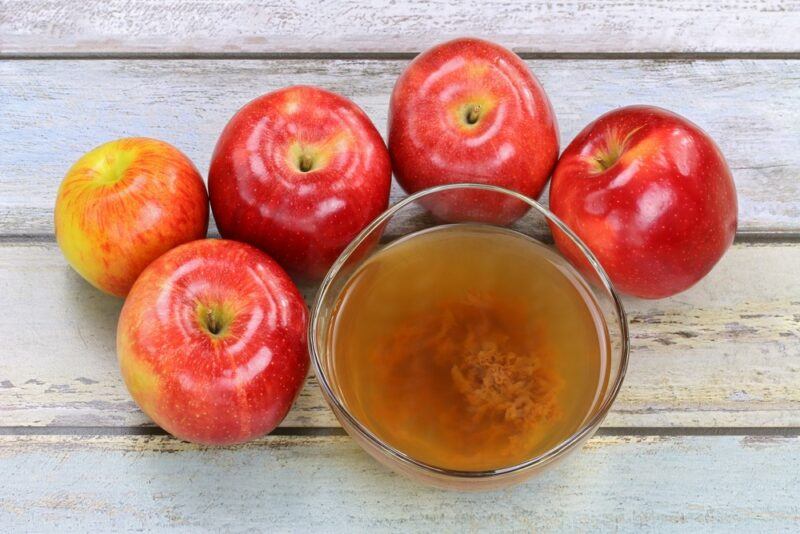 You've probably seen discussions that say vinegar is a probiotic and can promote gut health. The idea makes sense, as vinegar is fermented.
Despite this, vinegar isn't considered a probiotic. This pattern is true for some other fermented drinks as well, like many types of beer. Basically, for food or drink to act as a probiotic, a significant amount of live cultures need to remain in the finished product (enough to be relevant to humans). This is true for many fermented foods and drinks, but not all of them.
How Do You Use Vinegar?
The simplest way to get benefits from vinegar is to drink it straight, but this isn't a good idea. Vinegar is far too acidic for this and it could easily damage your tooth enamel and burn your esophagus.
At the very least, it's worth diluting the vinegar with water or some juice. This makes it safer to drink.
You can take things further too and create your own vinegar-based drink or shot. Combining hot water, vinegar, ginger, lemon, and honey, for example, gives you a sweet-tart drink that is full of benefits.
Drizzling vinegar on top of meals or using it in a salad dressing works well too. Don't be afraid to experiment with different types of vinegar either. They all offer similar benefits, but their flavor profiles vary and some may work better with your meals than others. You can even infuse vinegar with herbs to create your own flavored vinegar.
How Much Vinegar Should You Use?
We also need to talk about quantity. How much vinegar should you consume to see the most benefits and fewest risks?
There aren't any easy answers here. Most studies that look at supplementing with vinegar only focus on the short-term, often just a few weeks or a month or two. So, we have no idea what happens if you stick to those doses year after year.
Common recommendations, however, suggest sticking to just one or two tablespoons of vinegar per day. You should also pay close attention to how your body reacts. If you start to see side effects, you might need to cut down your vinegar dose or even get rid of it entirely.
You can protect yourself even more by just using vinegar as an ingredient, rather than treating it as a supplement. Vinegar has been used in food for a long time and this use appears to be completely safe. Plus, the other ingredients in your meals will help to offset the acidity of the vinegar.
Other Ways To Benefit From Vinegar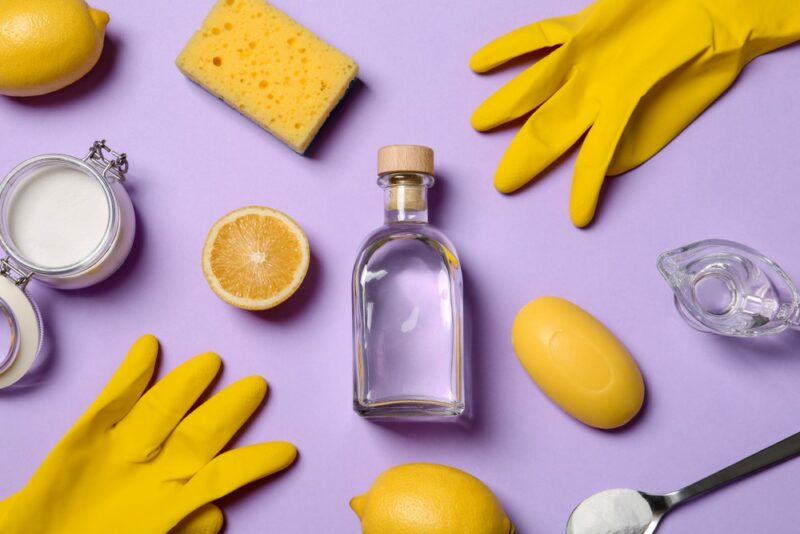 Consuming vinegar isn't the only way to get benefits from it. The most common alternative is to use vinegar as a cleaning agent.
This is a fantastic approach, as commercial cleaners are often full of concerning chemicals, ones that might have unexpected impacts on our health. Making your own natural cleaner helps you to get around this issue. Vinegar is an easy addition here, as it's a natural disinfectant. You don't even need to add much to it.
The simplest approach is just to dilute vinegar with water and use the resulting liquid in a spray bottle. Doing so gives you an easy and very natural disinfectant.
Some other approaches include the following:
Use a cup or so of vinegar in the rinse compartment of your dishwasher to remove soap scum
Dilute vinegar with water and use this to clean no-wax linoleum (don't do so with wood floors though, as the vinegar will leave marks)
Use undiluted white vinegar in toilets, shows, and tubs, let sit for a little, then scrub to remove difficult marks.
If vinegar isn't enough on its own, try combining water, vinegar, and dish soap. The dish soap helps to tackle scum and difficult jobs that vinegar on its own won't be able to.
If you don't like the odor of vinegar, try adding a few drops of an essential oil. Citrus-scented oils are particularly good.
Types Of Vinegar
Despite their similarities, there are a few differences between the various types of vinegar.
In general, the lighter vinegar is, the more heavily it has been refined and the fewer healthy compounds remain. Light colored vinegar also tends to have a mild taste, which can be perfect for cooking.
Some specific types to look for are as follows:
Red wine vinegar. This vinegar may give you some of the antioxidants that you find in red wine and grape juice. It also has a bright red flavor and a tangy flavor, which work well in many recipes.
White vinegar. This type of vinegar is very common in the United States. It's often distilled from grain and tends to be clear, with a sharp flavor.
Balsamic vinegar is made differently from other types of vinegar, as traditional versions go through an aging process, rather than double fermenting. Commercial balsamic vinegar, on the other hand, is often simply wine vinegar with additives.
Malt vinegar has a rich toasty flavor and tends to be orange or orange-brown in the bottle.
Black vinegar is as dark as you can get. It's a Chinese product that is sometimes aged and often offers a complex flavor profile. Both black vinegar and balsamic vinegar are excellent ways to make your meal taste better without adding salt.
Apple Cider Vinegar
There's also apple cider vinegar, which deserves a special mention. As the name suggests, this is made from apple juice, which has gone through the same two fermentation steps. Some of the healthy compounds from apples remain in the vinegar.
Apple cider vinegar tends to have more nutrients than regular vinegar as well, although the difference isn't dramatic.
There's also the chance that apple cider vinegar contains probiotics, especially if you choose a version with the 'mother'. This version of the vinegar may be even better for you, as probiotics can improve the balance of bacteria in your gut, an effect that promotes your health in a variety of ways.
Final Thoughts
Vinegar is incredibly versatile. It can be used as an ingredient, a cleaning agent, or even part of a health tonic – and there's plenty of evidence for each use.
However, vinegar is also incredibly acidic, so you need to be cautious with it. It's best to stick to no more than one or two tablespoons of vinegar at a time. If you plan to drink the vinegar, rather than using it as an ingredient, be sure to dilute it first. This way you don't risk damaging the enamel on your teeth or burning your throat.
Also remember that vinegar is far from a cure-all. It's an ingredient that can be helpful in some situations, but it won't dramatically change your health overnight. You'll still need to make wise decisions about your diet and lifestyle.
Frequently Asked Questions
Does Vinegar Go Bad?
Because vinegar is incredibly acidic, it never really goes bad. You can safely use it long after its best before date.
However, the acidity level does decrease over time. This makes it less effective and may mean you need to use more vinegar to get the same effect.
Is Vinegar Acidic Or Basic?
Vinegar is always acidic, as it's basically acetic acid and water. Most of the time it comes it at a pH of around 2 to 3 (where 7 is neutral and anything above 7 is basic/alkaline).
Apple cider vinegar is a little more alkaline, often with a pH of 3.3 to 3.5. It is thought to have an alkaline effect once it has been fully digested, although there are some debates about whether this is the case.
Is Vinegar Good For Acid Reflux?
The acidic nature of vinegar makes it a poor choice for acid reflux. Apple cider vinegar is a possible exception, but any alkaline effect only occurs after digestion, so the vinegar might still trigger acid reflux symptoms.
If you want to try vinegar anyway, it's generally safe to do so. Just be cautious, as it could make your symptoms worse.
Is Vinegar Good For Diabetics?
Vinegar, particularly apple cider vinegar, could help to improve blood sugar levels for diabetic patients. One approach is to take a little apple cider vinegar with water before a meal.
How Is Vinegar Made?
Vinegar is made by fermenting a liquid that is already alcoholic. It often starts with a regular grain mash or fruit juice, which is then fermented once (anaerobically) by yeast, then fermented again (aerobically) by fungus.
Vinegar can be made from many substances, including apples, grapes, oats, alcohol, sugars, rice, and even beer. The base substance does influence the finished vinegar, but you always end up with a highly acidic liquid.