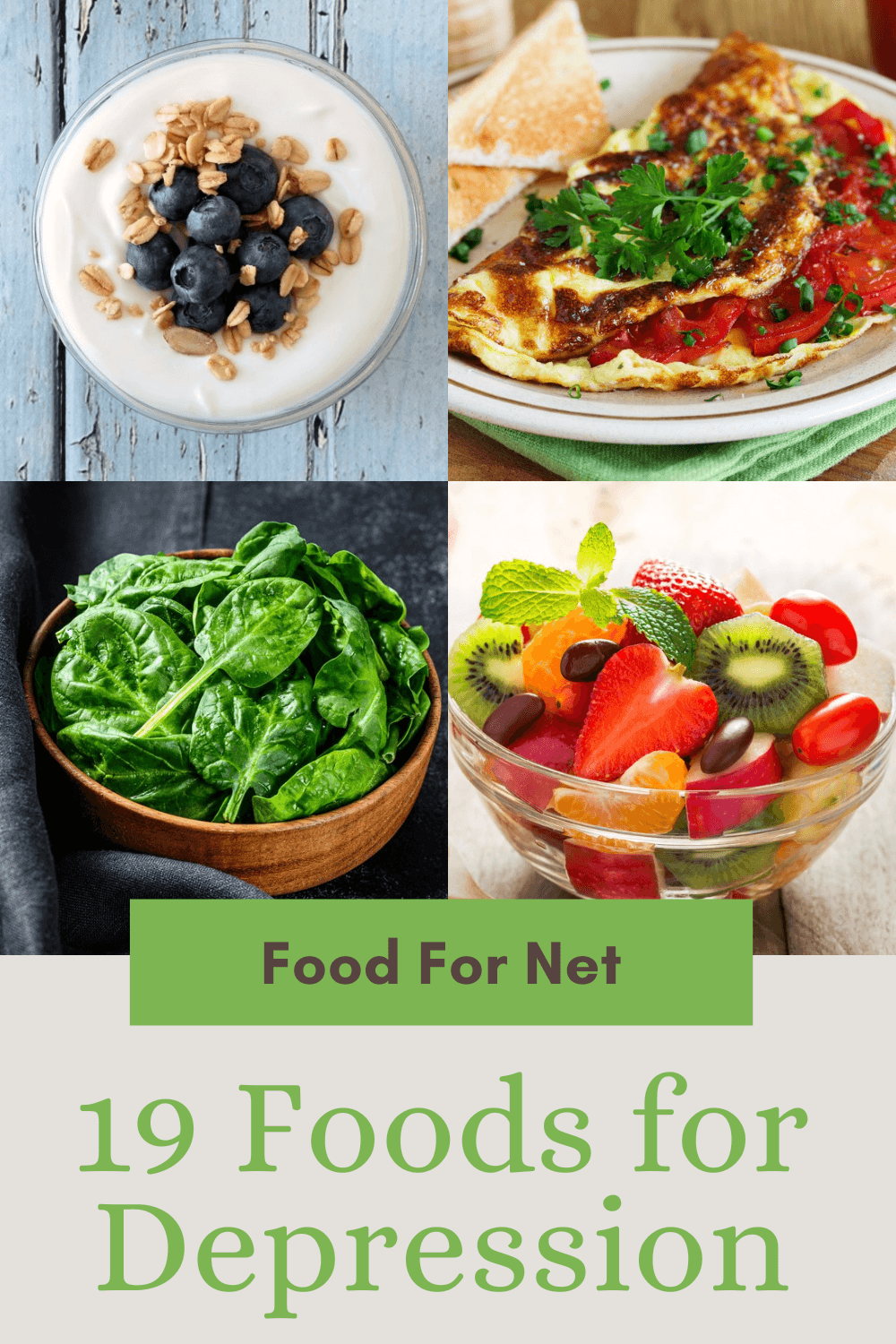 There seems to be a strong link between diet and mental health. The food we eat directly impacts our brain chemistry, making us feel better or worse. This makes food very relevant for long-term food disorders like depression and means there are crucial foods that help with depression.
We don't mean that the right diet will cure depression. That might be true for some people but for most, a good diet is one part of the puzzle. You'll generally need to focus on a variety of healthy decisions and behaviors. Many of them will have subtle impacts, but this doesn't make them any less valuable.
In fact, seeing depression treatment as a series of small, but crucial, changes in your life can make things feel less overwhelming.
Now, the relationship between food and depression is always challenging. When you're depressed, you often don't want to eat anything at all. The idea of cooking something can feel almost impossible. Yet, eating healthy food can make a dramatic difference in the long-term.
So, what do you do?
Relying on meal kits or cooked delivered meals can help reduce the effort involved in eating well. You can also 'break the rules' with eating. If you're struggling with food, don't worry about making full meals. Tricks like eating cereal out of a box, scooping pieces of bread into peanut butter, or eating pieces of meat on their own all help you get healthy food into your body.
Don't stress too much about meal times either. Depression can really mess with your appetite. If this happens for you, just eat what you can when you're hungry – even if that means you're making dinner at 2 am.
The other trick is to simply be kind to yourself. Seriously, the goal is to eat healthy food more often and unhealthy food less often. The world won't end if some days all you can manage is some ice cream or ramen.
Food For Depression
Fatty Fish
Chocolate
Frozen Vegetables
Lean Meat
Poultry
Yogurt
Fresh Fruit
Eggs
Walnuts
Nuts and Seeds
Leafy Greens
Cheese
Asparagus
Oysters
Whole Grains
Bell Peppers
Legumes
Probiotic Foods
Whole Foods
Bonus Item: St. John's Wort Tea
Fatty Fish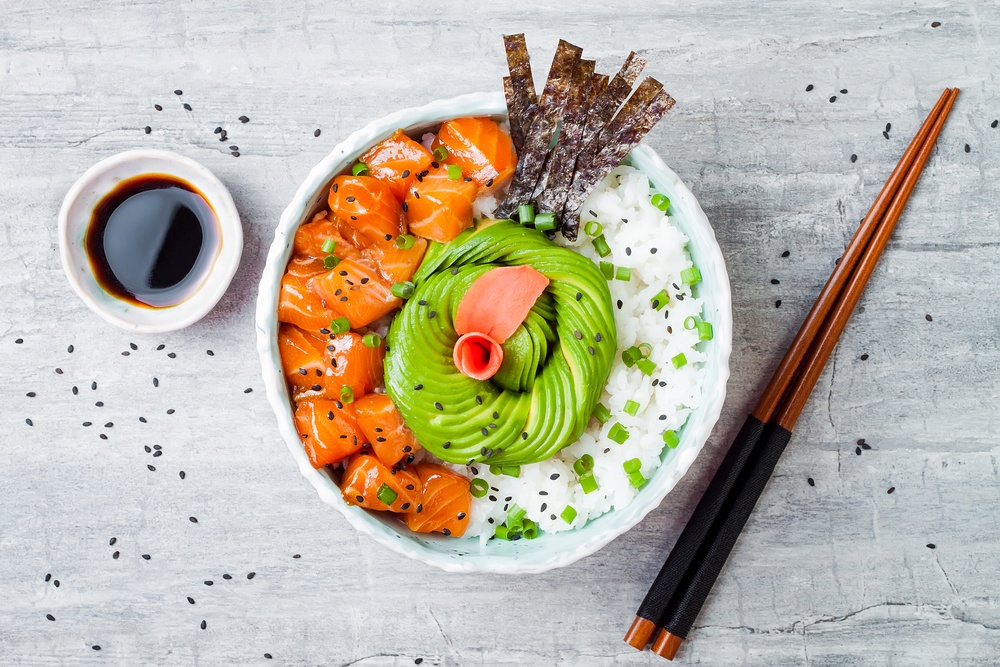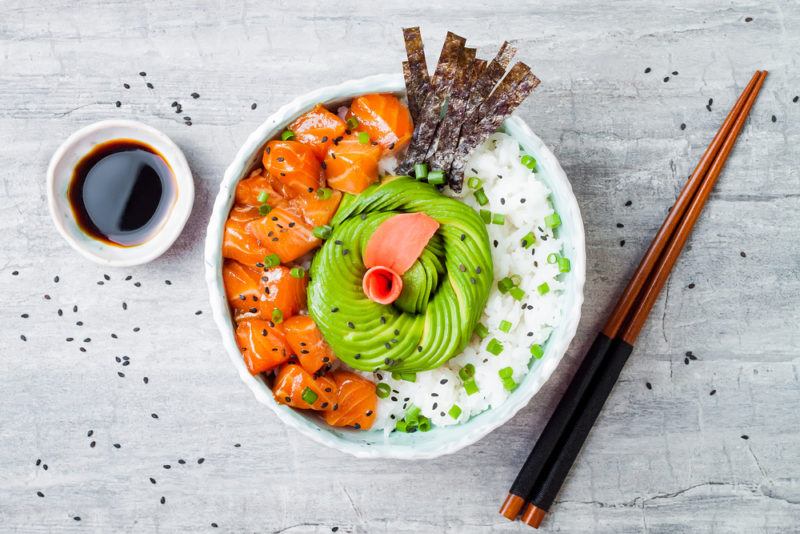 Let's begin with fish. After all, the advantages of fish are well known. They contain many essential nutrients and protein, along with omega-3 fatty acids. The omega-3 fatty acids are particularly interesting, as they've been linked to countless benefits.
Some studies have also shown that depressed people often have low levels of omega-3 in their diets. There are even theories that the modern rise in depression is partly linked to not getting enough omega-3 fatty acids. This suggests that having more omega-3 fatty acids could help to decrease depression symptoms.
There are multiple sources of omega-3 fatty acids, including flaxseeds, canola oil, and some nuts. However, fatty fish remains one of the best sources.
It's always important to be careful with the types of fish that you choose. Some species of fish contain more mercury than others. The best types of fish are low in mercury and high in omega-3 fatty acids. These include salmon, sardines, anchovies, and pacific mackerel. Smoked salmon and canned salmon might be attractive choices if you're struggling with meal prep, as these don't need to be cooked.
White fleshed fish, like cod, still offers some omega-3 fatty acids, along with plenty of other nutrients and protein. But, such fish tends to be low in fat, so it isn't an amazing source of omega-3 fatty acids.
Chocolate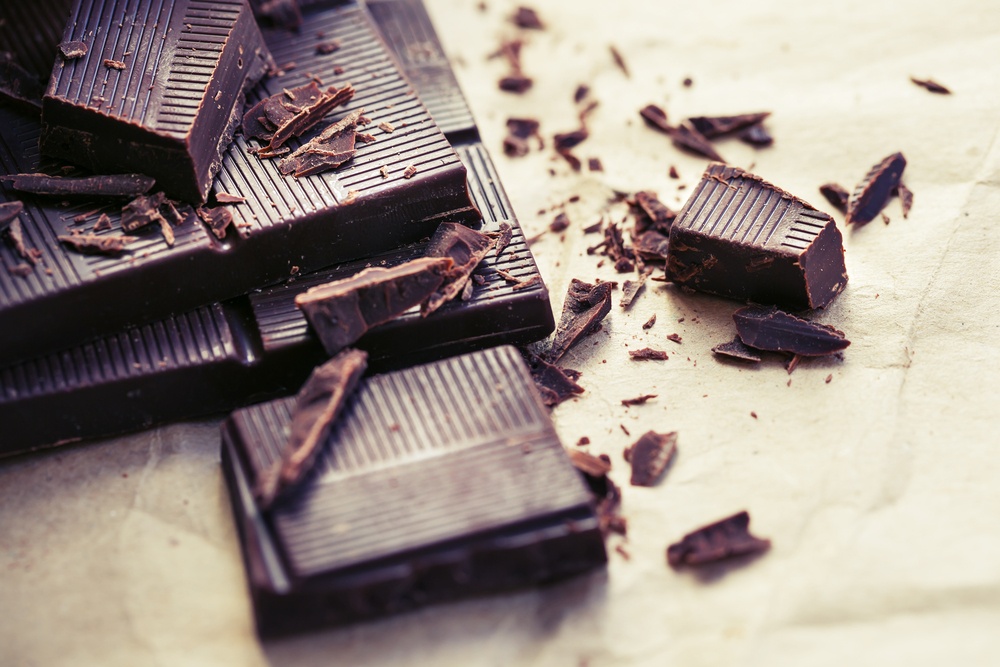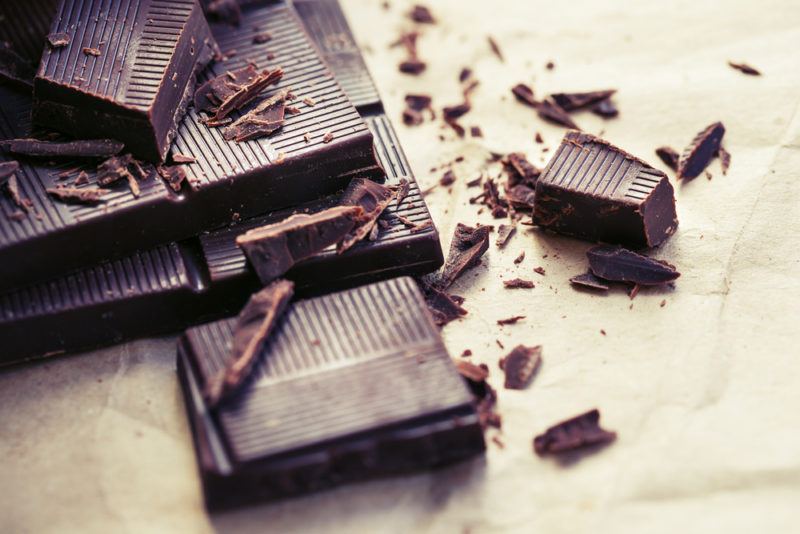 Chocolate, particularly dark chocolate, is a potent choice. It contains plenty of nutrients, along with phytochemicals. The compounds in chocolate can also interact with various neurotransmitters. Such interactions can help you to feel better, especially in times of emotional stress.
Besides, most of us already see chocolate as a feel-good food. This means that chocolate will sometimes make you feel better simply because you expect it to. How perfect is that?
However, you do need to be careful. Chocolate is high in calories and it's easy to eat too much. Focus on dark chocolate whenever you can, as it is higher in antioxidants than milk chocolate. The intense flavor of dark chocolate also makes it hard to eat too much in one serving.
If you struggle with emotional eating, try portioning out your chocolate and only have small servings readily available. This should decrease the risk of overdoing it.
Frozen Vegetables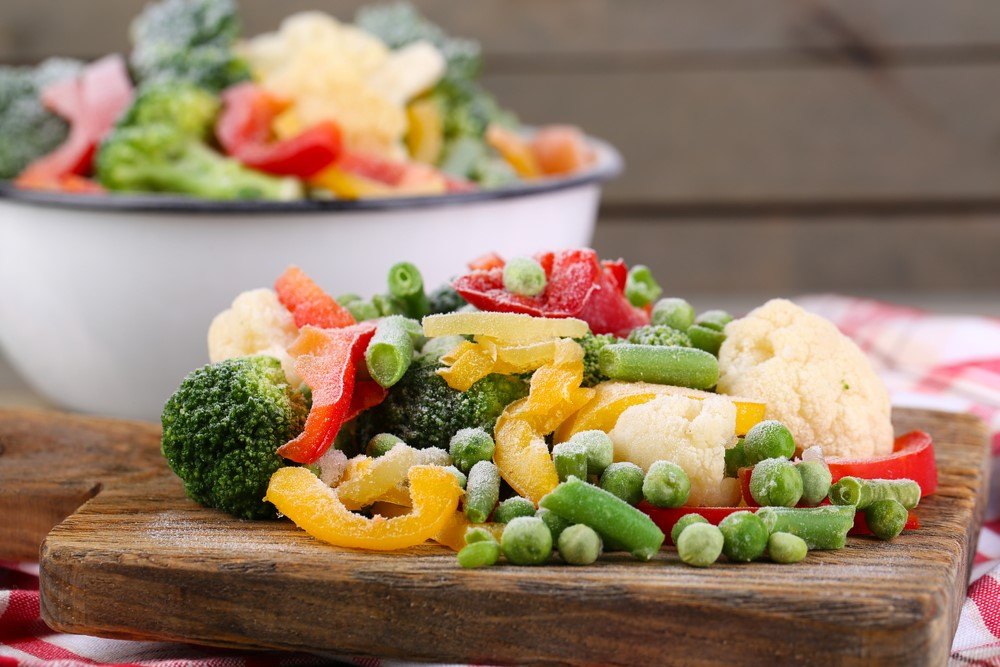 This one might sound strange, but please hear me out. Eating nutritious food is one of the most important things that you can do for depression. While fresh ingredients are often seen as the best possible choice, frozen vegetables can sometimes be more helpful.
For one thing, frozen vegetables can be just as nutritious as fresh ones. The freezing process does cause some chemical changes, that's true. Fresh food, on the other hand, deteriorates over time. Unless you're using fresh ingredients as soon as they've been harvested, then the nutritional value of fresh versus frozen vegetables will be much the same.
And even if frozen vegetables aren't quite as good as fresh ones, they still contain plenty of nutrients – and are much better than nothing.
The more important thing is that frozen vegetables are easy. They last for a long time, don't require much prep work, and can often even be cooked from frozen. This combination of features is perfect for anyone with depression who struggles to eat.
Lean Meat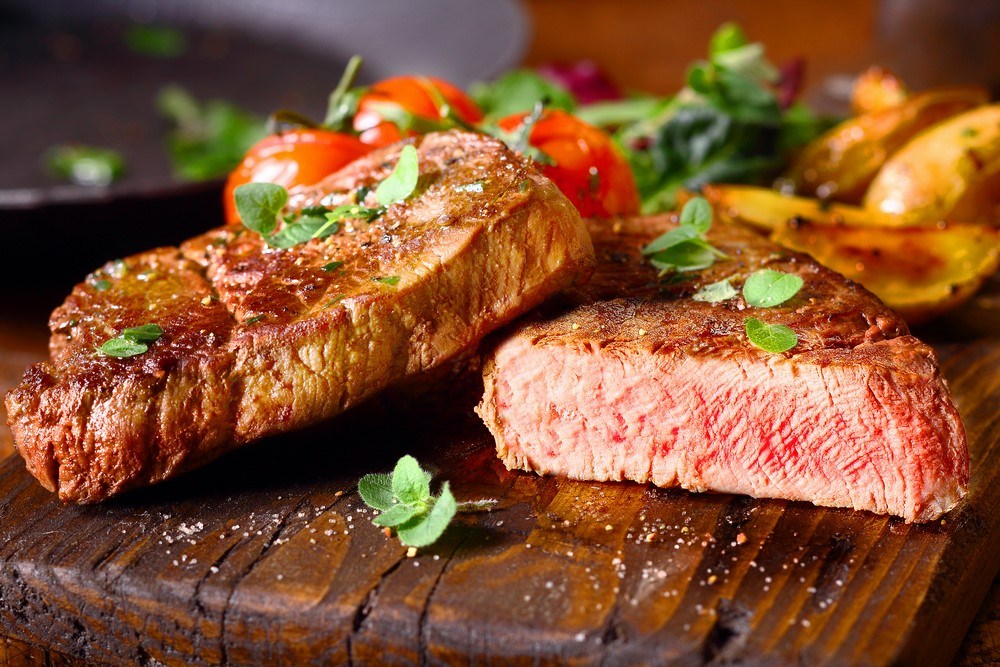 Meat isn't just a good source of protein. It also contains plenty of amino acids and many other nutrients. The mineral selenium is one example. Being deficient in selenium has been linked to low moods, so getting more in your diet could help improve depressive symptoms.
The nutrient density of lean meat is significant too. Your body needs all of those nutrients so that it can function well. If it's missing key nutrients, then things can easily get out-of-balance.
You can, of course, get similar advantages from fatty meat. However, the higher calorie content of fatty meat is generally a bad idea. You get a better ratio of nutrients to calories with lean meat compared to fatty meat. This is crucial if you're struggling with your weight at all.
Poultry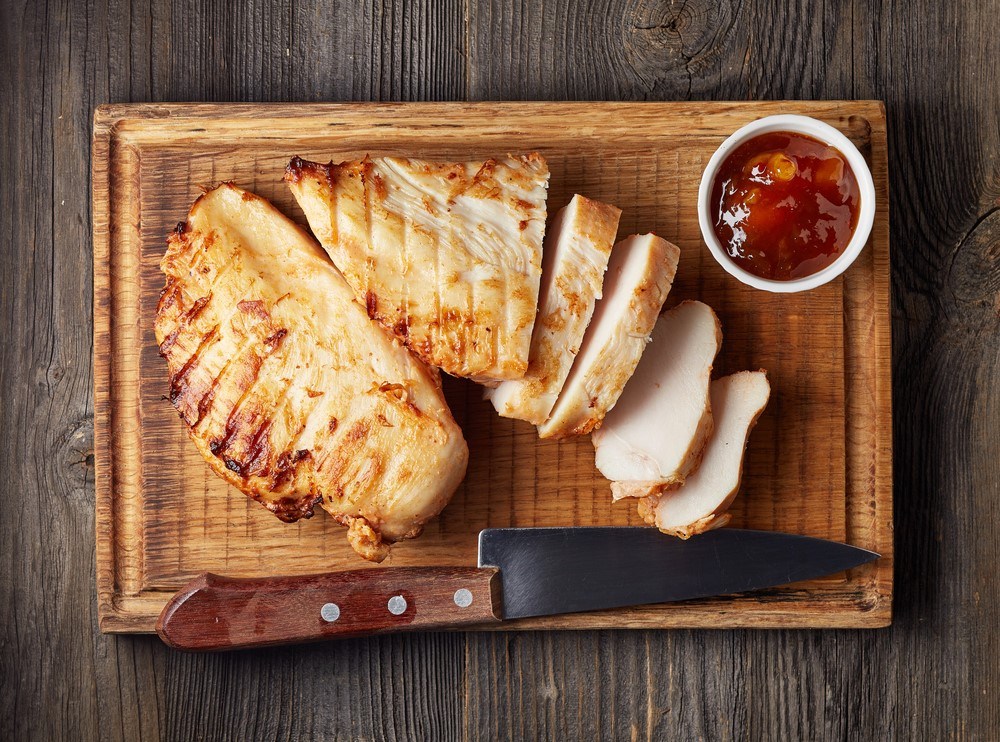 Turkey and chicken both can be highly relevant. They contain a decent amount of the amino acid tryptophan. Our bodies can convert tryptophan into serotonin, which can then help with your mood.
Besides that, turkey and chicken are other lean types of protein. They also provide you with plenty of nutrients and keep your body functioning well. This is why foods like chicken can also help kids to grow taller.
Yogurt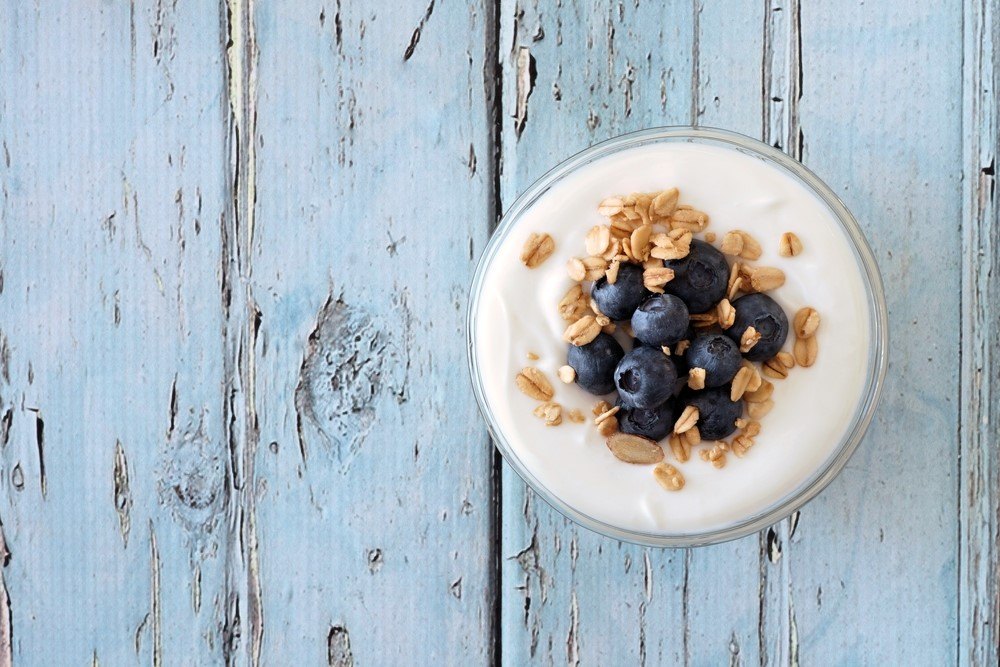 Yogurt has a few advantages, but we're mostly interested in one – the probiotics that yogurt contains. Probiotics consist of live bacteria that we use to improve our gut health. This might sound scary, but don't worry, we're talking about healthy bacteria.
Probiotics has become a hot topic in recent years, as we're starting to recognize that the bacteria in our gut can influence health in many ways. A good balance of gut bacteria could even be crucial for improving mental health and protecting against depression.
To get the most benefits, you'll need to choose your yogurt carefully.
Look for brands that keep sugar levels low and don't use too many added ingredients. Unflavored Greek yogurt is often the best choice. This strained yogurt contains more protein than most other choices. You can easily add some flavor yourself by mixing in cocoa powder or fresh berries.
Yogurt has another serious benefit for depression – it's easy. You can even eat yogurt straight from the container or put it in a bowl with fruit or granola. And honestly, when you deal with depression, it's essential to have a few easy meals on hand.
Fresh Fruit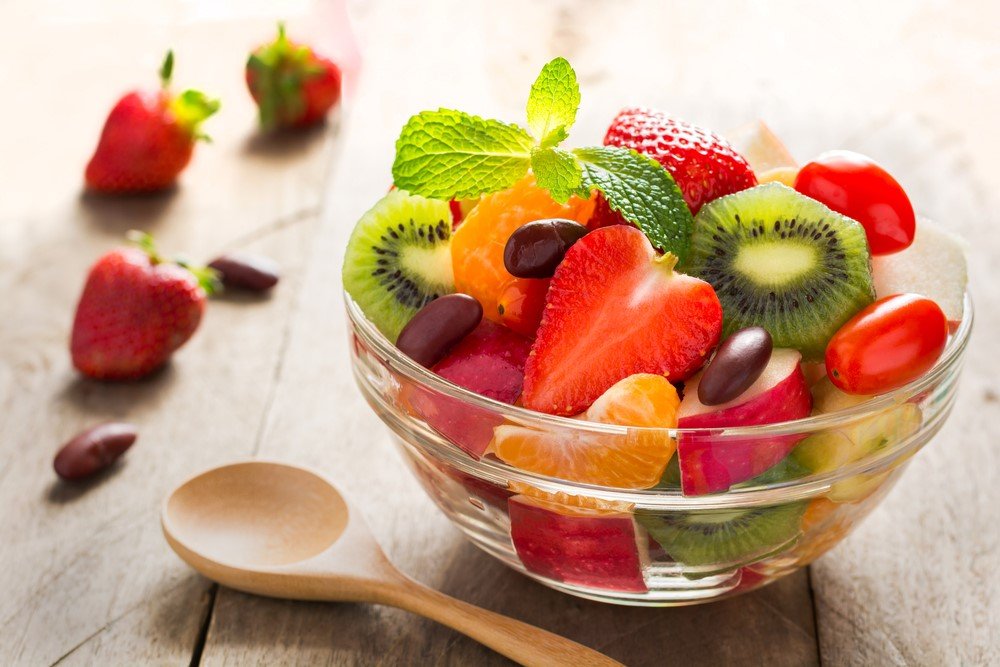 Fruit often contains a decent amount of sugar, but this doesn't mean that you should avoid it. The sugar is still better than anything you find in refined commercial products anyway. You're also getting fiber at the same time. This fiber helps to reduce the impact on your blood sugar.
Some of the phytonutrients in fruit are important for depression too. One of these is beta-carotene, which is common in orange fruits (and vegetables), including apricots and peaches.
Vitamin C is relevant too. This isn't just present in citrus fruits. You can find it in kiwis, blueberries, and plenty of other fruit too.
We can't forget about antioxidants either. A diet rich in antioxidants may promote health in a variety of ways. This includes helping with mental health and even reducing depression symptoms.
Berries are potent choices for antioxidants, starting with blueberries. Once again, variety is key. You'll get the most benefits by having many types of berries in your diet, along with other fruits.
Eggs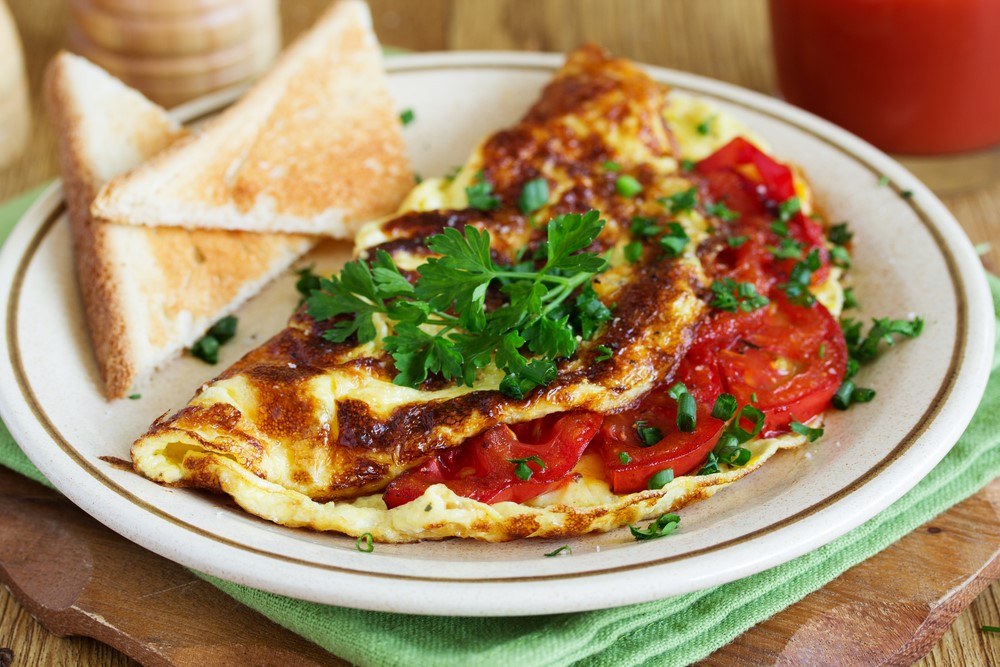 Eggs are another ingredient that checks multiple boxes at once.
The first big advantage is that eggs are full of nutrients. They're even a reliable source of protein. Plus, they're a breeze to cook. Think about options like poached eggs, scrambled eggs, or an omelet. These can all be prepared in less than 10 minutes without much effort at all.
It's also easy to add extra ingredients to give yourself a hearty meal. Chopped bell peppers, spinach, tomatoes, and cheese as all good choices. If you get really stuck, why not fry an egg and serve it on toast?
Eggs are also one of the few foods that contains vitamin D.
Why is that important? Well, people with depression often have low vitamin D levels as well. There's a feedback loop in here too, as low vitamin D levels might make you feel more depressed and depression makes you less likely to go outside (you need to be in the sun for your body to make vitamin D).
This is why vitamin D supplements and food with vitamin D might help improve your symptoms. The effect might not be noticeable initially, but stick with the idea, as most depression treatment approaches work gradually.
Walnuts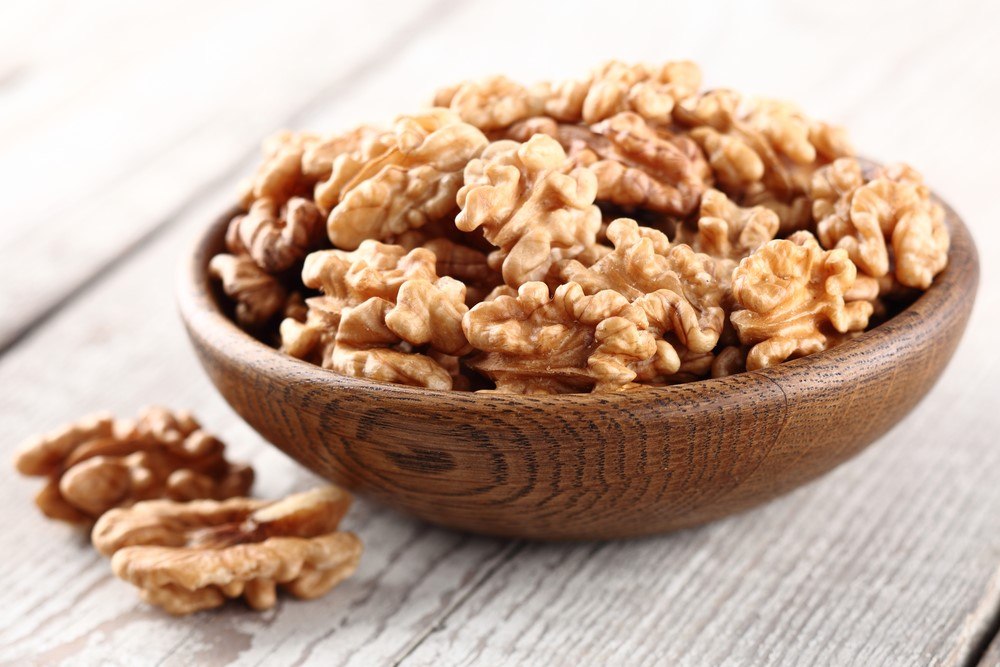 The different types of nuts share key advantages, including acting as good sources of protein and healthy fats, while also being easy to eat. Having a handful or two of nuts can be a perfect solution when you're struggling to get food into you.
Nuts also provide you with plant-based omega-3 fatty acids. While these fats aren't as powerful as those you find in fish, you're still getting plenty of benefits. Besides, it's often easier to eat nuts than fish.
Of all the options, walnuts may be especially relevant for the brain. They've been linked to an improved ability to concentrate, more energy, better memory, and more optimism.
Nuts and Seeds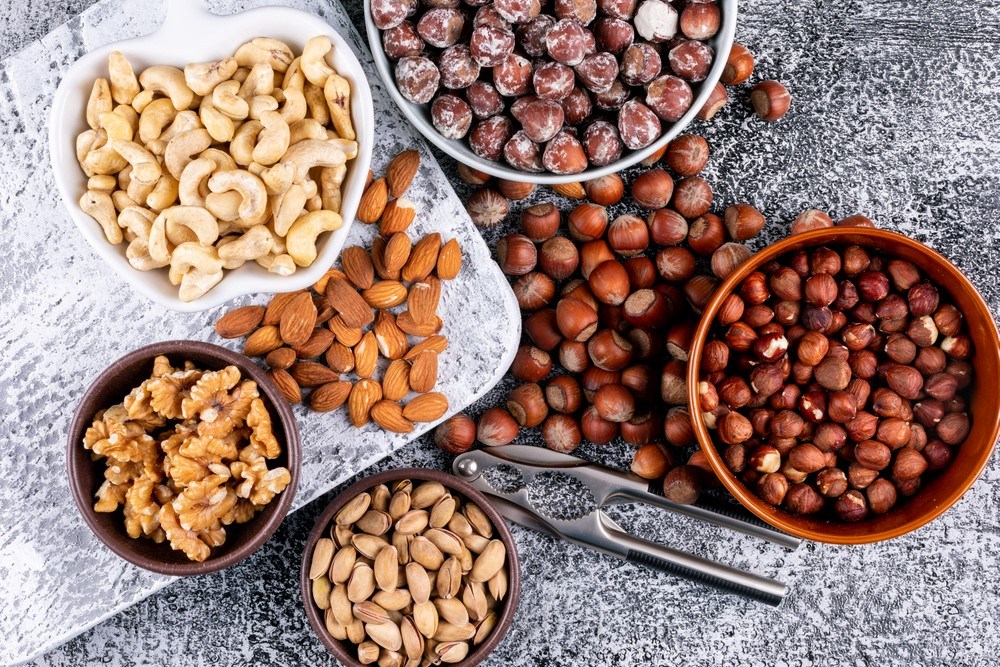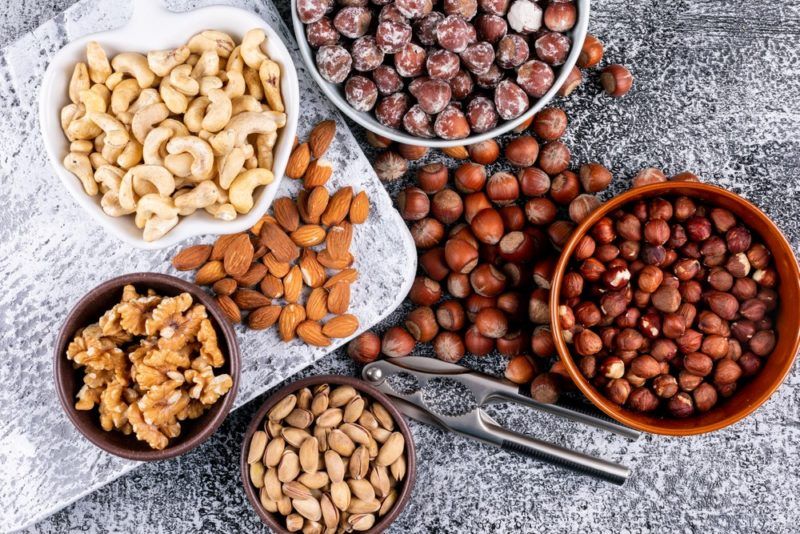 Walnuts aren't your only choice. Other types of nuts provide advantages too, as do various types of seeds. The benefits vary depending on the type of nut or seed that you choose. This is one reason for having a diverse diet.
For one thing, nuts and seeds will provide you with vitamin E, which is an important nutrient that also acts as an antioxidant.
Some seeds, like flax seeds and chia seeds, are rich sources of plant-based omega-3 fatty acids.
Then you have almonds. They're sometimes seen as the healthiest type of nut, due to their nutrient balance. They're also delicious and make an easy snack.
Leafy Greens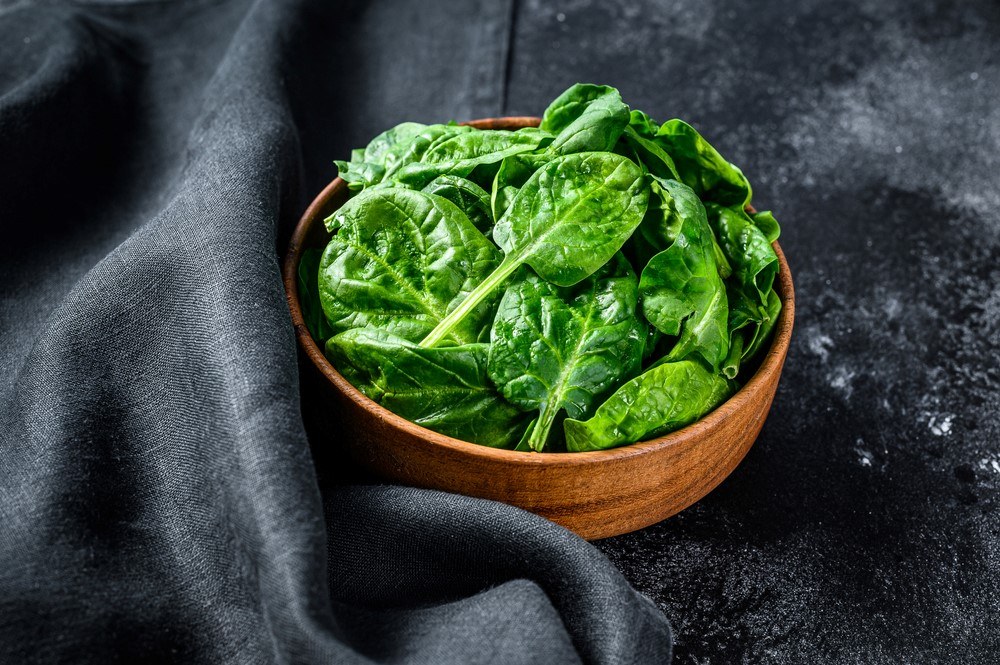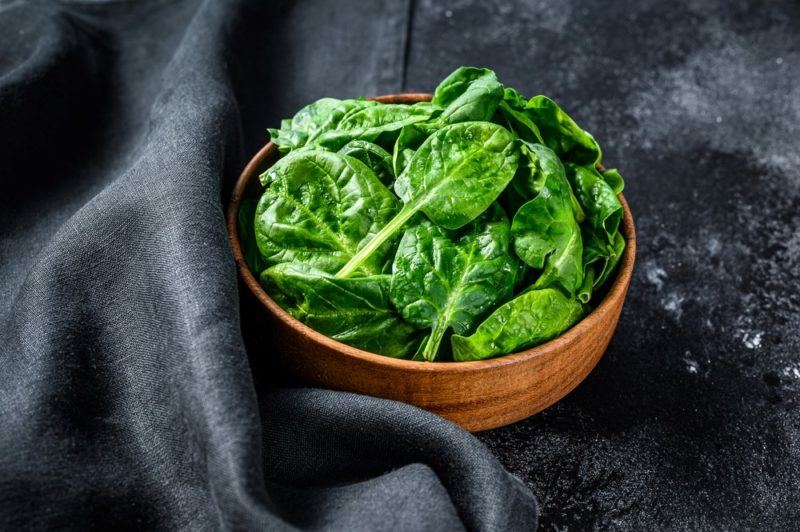 There's no doubt that leafy greens are good for you. They're absolutely packed with nutrients and have been associated with many health benefits.
Leafy greens can be surprisingly easy to use too. If you're stuck for ideas, try including a handful or two in a fresh smoothie, a sandwich, or even an omelet. Some people even choose to munch on a handful or two of raw spinach every so often.
You can also look for premade salads and salad mixes. These give you many healthy ingredients all at once, where all of the prep work is done for you. This can be crucial when you're not in the mental space to prepare food.
Cheese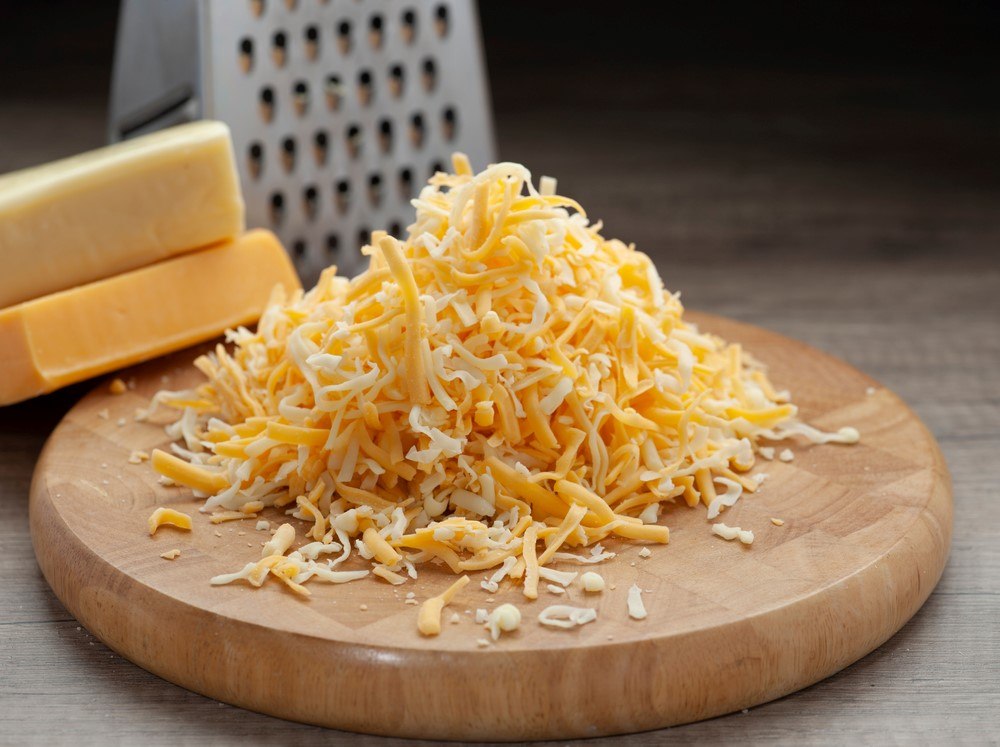 You need to be a little careful with cheese, as it's high in calories. Still, it is a fantastic choice for nutrients and the flavor of cheese makes any meal taste better. Cheese offers some protein and fat too, making it a more filling snack than a handful of chips.
There are plenty of types of cheese to try. Just make sure you focus on real cheese rather than something heavily processed and packed full of preservatives. The ingredients label should tell you everything you need to know about the product.
If you are focusing on real cheese, then pre-shredded and pre-sliced cheese is perfectly fine. This might not taste quite as good as if you grate the cheese yourself, but sometimes you need shortcuts when your mood is low. If buying cheese already shredded is what you need to do, then so be it.
Asparagus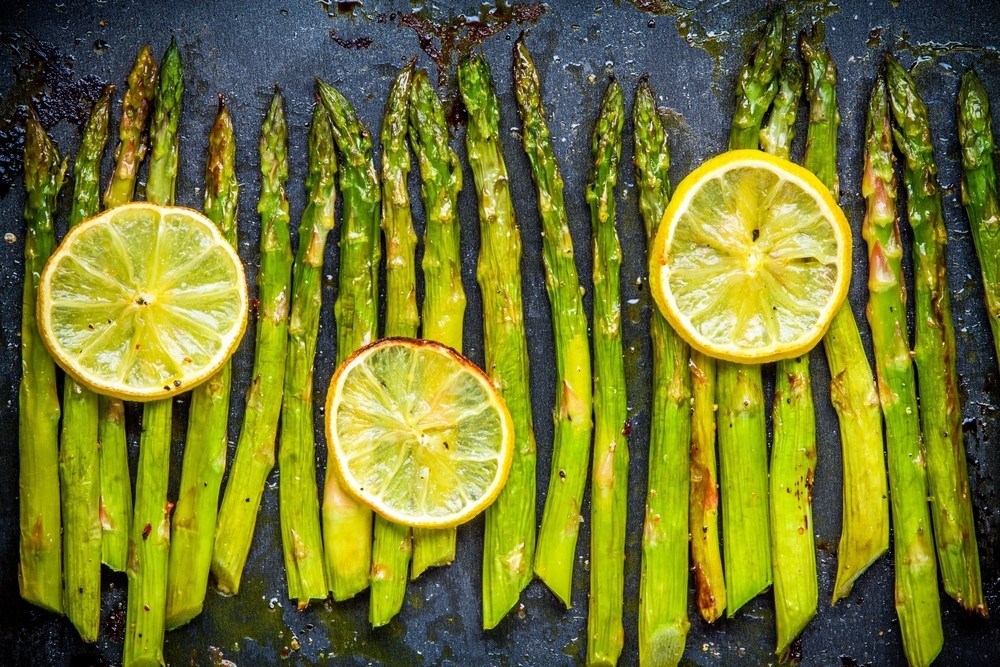 Our interest in asparagus comes from the folic acid that's present in the green vegetable. Depression is sometimes linked to low levels of folic acid, so increasing your intake could help with depression symptoms.
Asparagus is popular for its flavor anyway (even if it can make your pee smell weird). So, the folate is just more reason to include it in your diet.
Oysters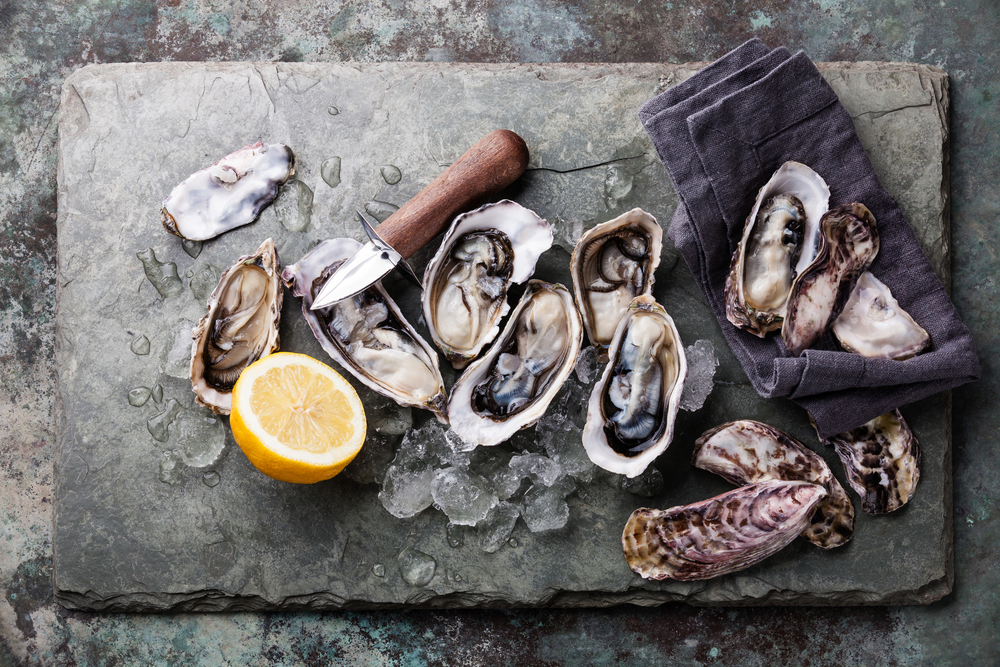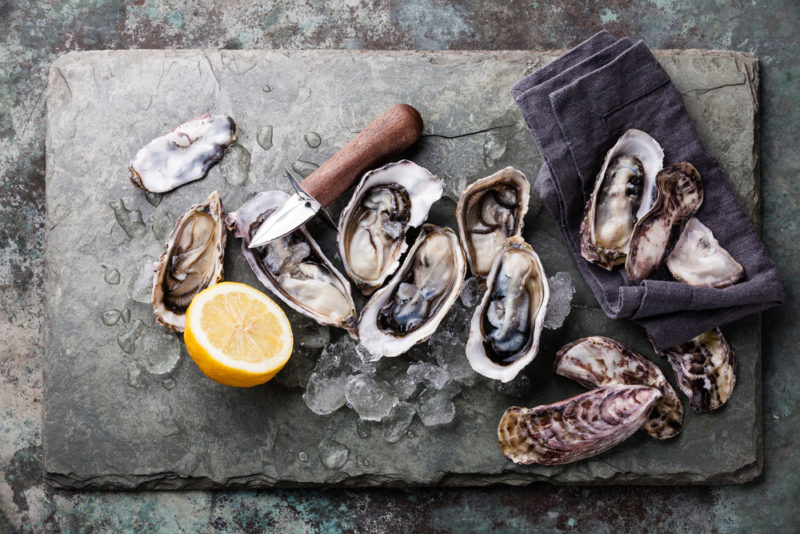 Any seafood will have some advantages for depression. They all contain some omega-3 fatty acids and no shortage of nutrients.
Oysters are particularly powerful. They're rich sources of vitamin B12 and zinc. Both of those nutrients are highly relevant to depression, especially if you're deficient in either of them.
Whole Grains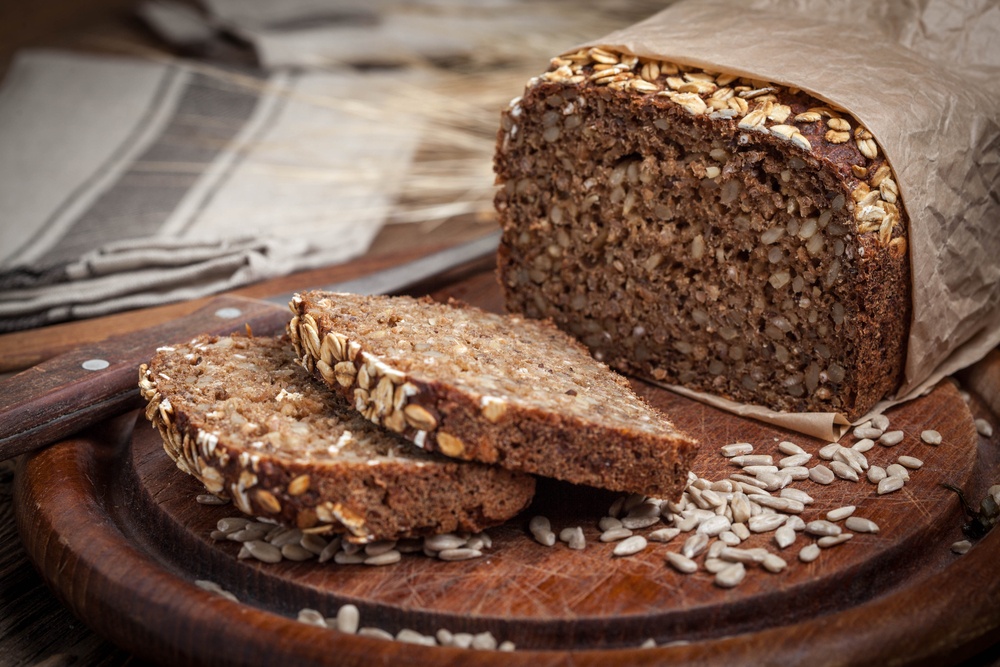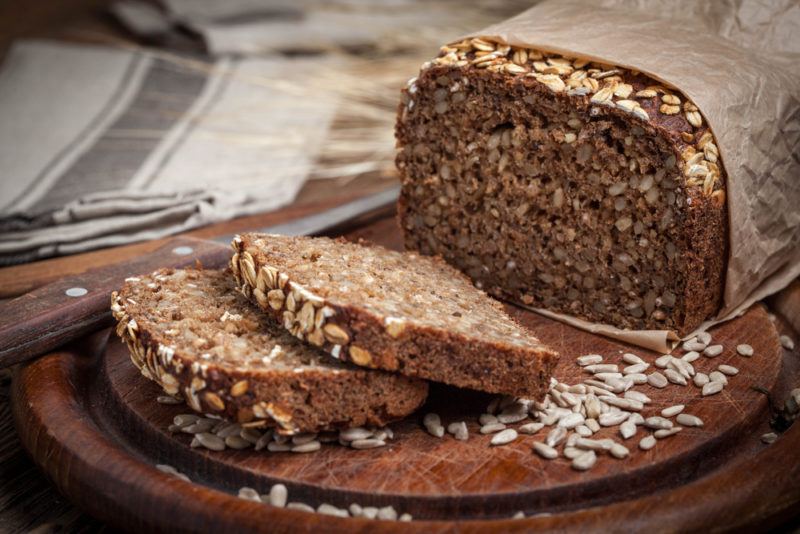 While there's much concern about carbs these days, you don't need to avoid them entirely. Some carbs provide many advantages. The goal is to focus on complex carbs. These release their energy slowly, so you don't get a spike in your blood sugar.
Besides, it's clear that diets rich in whole grains, lean meats, vegetables, legumes, and other whole foods have many health benefits.
Whole grain products are one fantastic source of complex carbs. This includes brown rice, oatmeal, whole grain bread, and whole grain crackers.
But, you'll need to do more than just looking for the term 'whole grain' on packaging. Some whole grain products are heavily processed. Here the grains might have been ground up to make flour and you might see various additives and extra ingredients.
You'll get more benefits by focusing on natural products that keep the grains whole, such as sprouted bread. Don't forget that you can make whole grain foods yourself, perhaps by using a cookbook as a guide. This way you get to control the ingredients.
Bell Peppers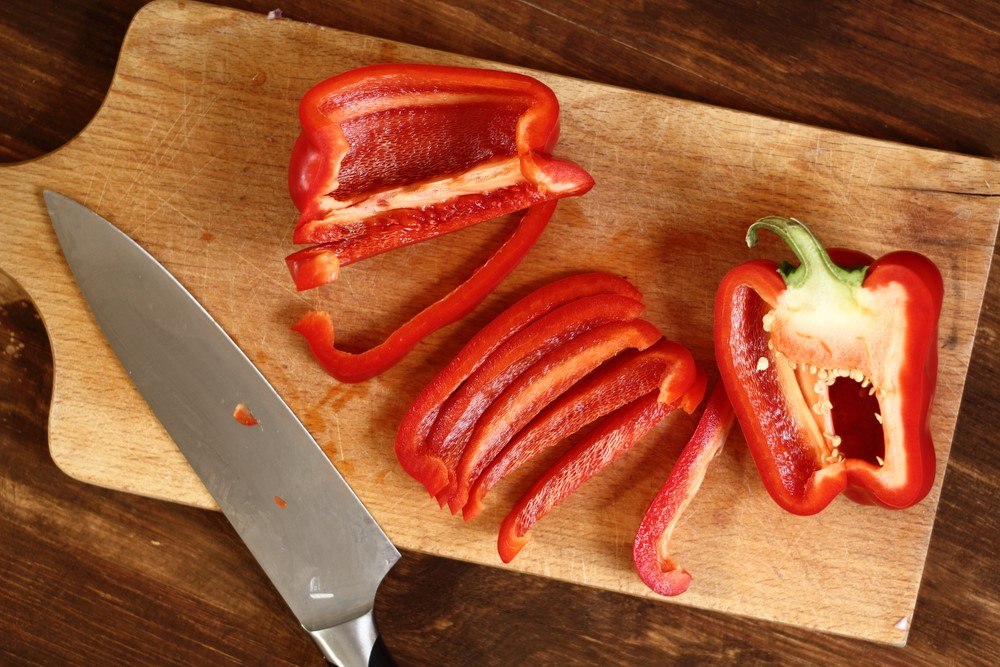 It's easy to assume that fruit is the best choice for antioxidants. Yet, some vegetables are just as powerful. Vegetables are useful too, as they contain less sugar than fruit. The lower sugar content makes it easier to keep your calorie intake in check.
Bell peppers are also very easy to eat. You can slice them into strips and enjoy them as-is. They have just enough sweetness to make them delicious. They're nice and crisp too. The ability to eat them raw is perfect if you don't have the energy to cook.
Of course, if you are making a meal, there are countless ways to use bell peppers. Why not chop them into cubes and use them in an omelet?
Legumes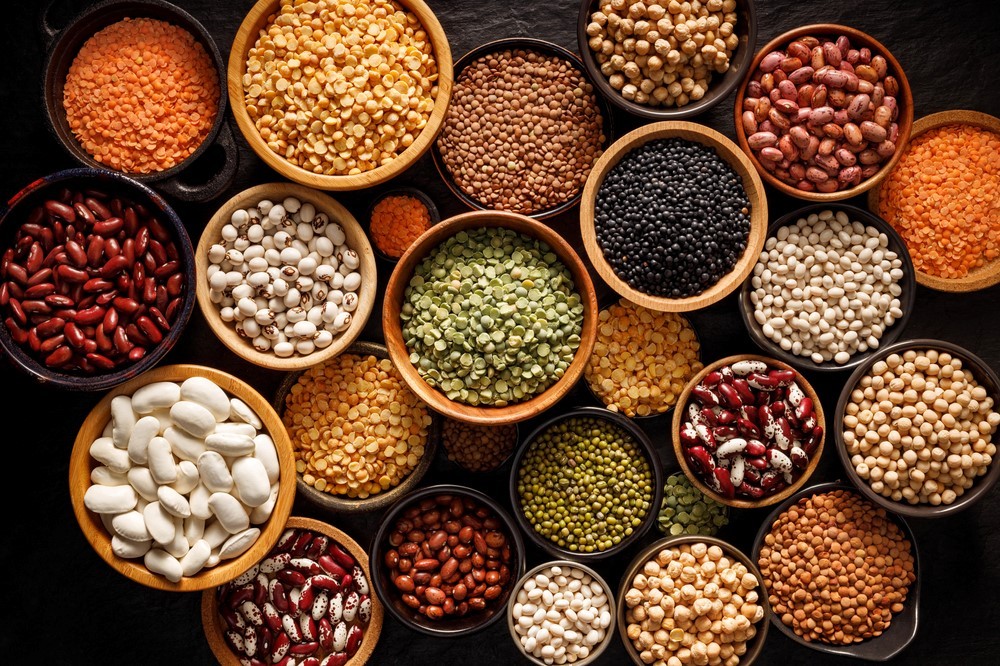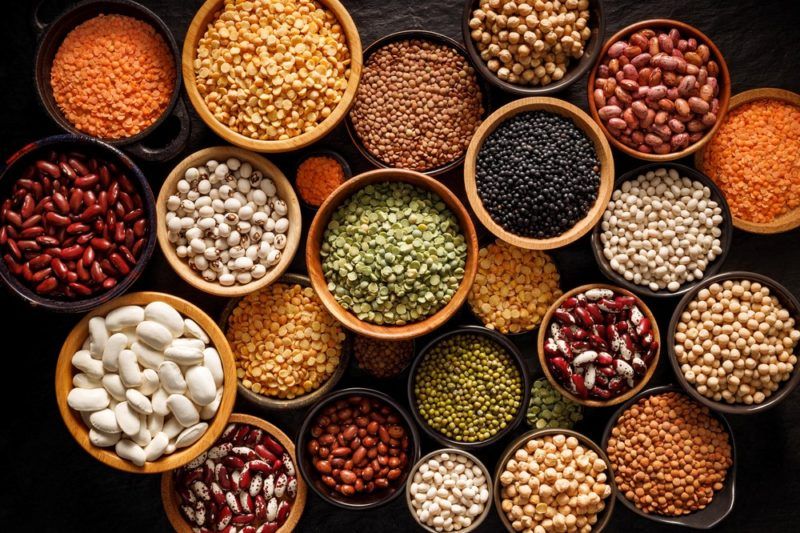 Legumes are fantastic sources of plant-based protein, along with fiber, nutrients, and antioxidants. This is a potent combination, especially as many legumes are inexpensive and easy to use.
Take beans as an example. There are countless types, each with its own nutrient balance. You can buy them dried or canned, then use them in a variety of recipes. It's best to soak dried beans before using them, while canned beans just need to be rinsed instead.
Chickpeas and pinto beans can be especially good. Both types contain a decent amount of folate, making them very relevant for depression.
Probiotic Foods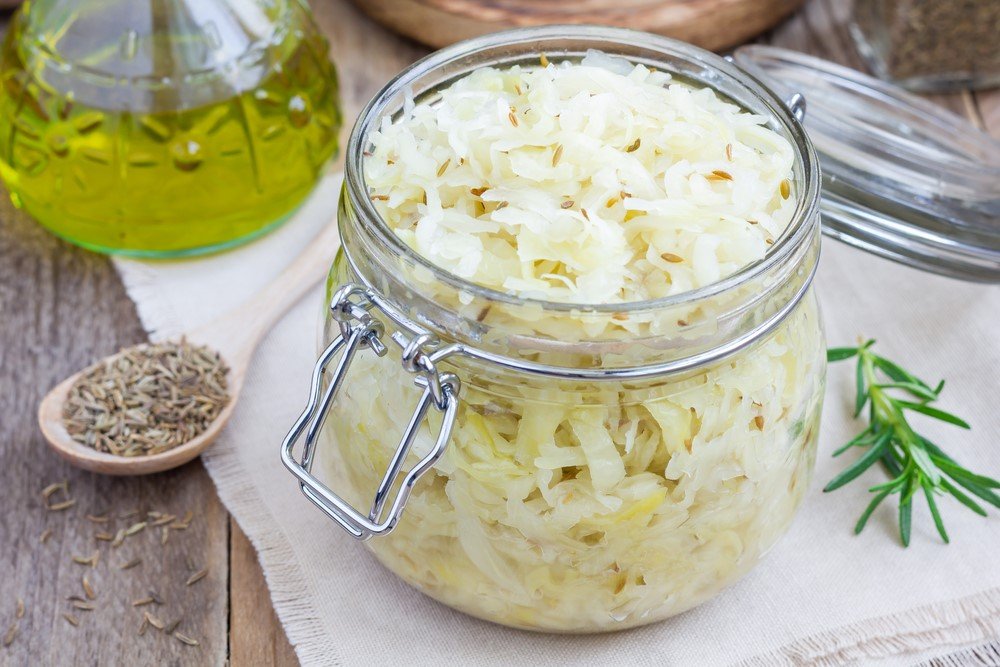 We've already mentioned one type of probiotic food on this list – yogurt. There are many others too, including sauerkraut, kimchi, and fermented vegetables (not to mention all the fermented drinks out there too).
In essence, probiotics are live microbes that can promote our health. While you can find probiotics in supplements too, fermented foods can be better for you, as you're getting nutrients from the food at the same time.
The power of probiotics comes from the idea of the microbiome in our gut. We now know that the balance of microbes in our gut can influence health in many ways. Unfortunately, our gut microbiome can quickly become unbalanced, especially if we take antibiotics.
Gut health is still a new field and there's much to learn. The link between probiotics and depression isn't well-established either, but promoting improving gut health does seem to help some people. If nothing else, this is a new and useful angle to try.
Whole Foods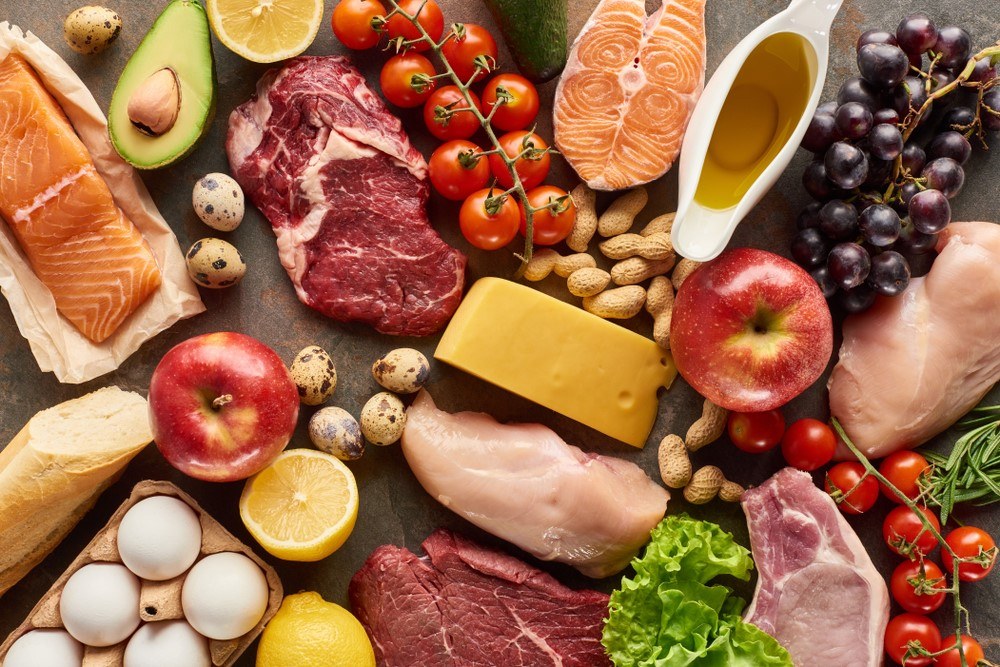 We've featured a broad range of foods on this list and they can all help with your depression. But, specific foods are only part of the equation. It's also important to focus on the overall quality of your diet.
Ideally, you should be focusing on whole foods. This includes fruits and vegetables, whole grains, legumes, lean meat, and healthy sources of fat. Eating like this regularly helps to keep your weight and blood sugar levels stable. You're also getting all the nutrients that your body needs.
On the other hand, processed foods tend to be high in calories and often rely on simple carbs. Those carbs can easily lead to blood sugar spikes, which can mess with your emotions. The calorie content could make it hard to keep a healthy weight too. This is a serious issue, as being overweight can lead to worse depression symptoms.
As we mentioned earlier, eating well when you're depressed isn't as easy as it sounds. Some days eating anything at all can be difficult – and if you live alone, you need to prepare the food too.
Finding a balance is crucial. Beating yourself up emotionally for not eating well isn't going to help your depression. Instead, focus on doing the best that you can, even if that means relying on frozen vegetables and sometimes eating handfuls of healthy ingredients rather than a meal.
Bonus Item: St. John's Wort Tea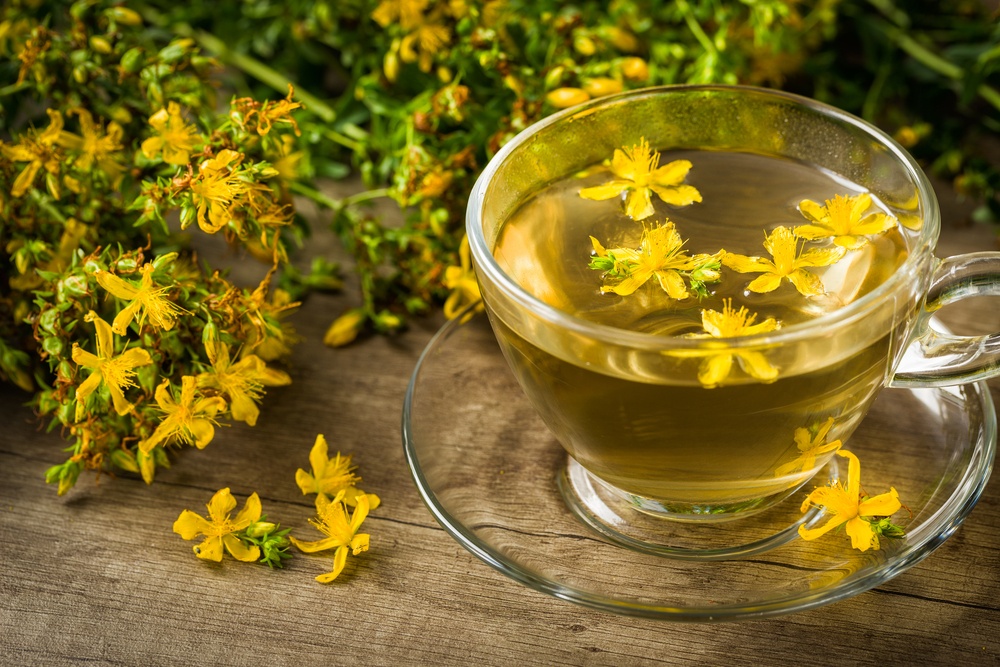 While this is a drink rather than a type of food, St. John's wort is too important to skip. The herb is often promoted as a natural way to treat depression, with many people using St. John's wort supplements instead of prescription medication.
St. John's wort can also be found in a tea form. This can be less concentrated than the supplements, offering a less intense way to treat some symptoms of depression.
Research into St. John's wort has been mixed. Some studies have found that the herb helps with depressive symptoms, while others didn't find an effect at all. Still, there's no shortage of positive anecdotal reports, suggesting that the St. John's wort can help some people.
Be sure to talk to your doctor before trying the tea. St. John's wort has a surprising number of interactions with other medications and can come with side effects. Pay attention to how your body reacts to make sure that the tea is helping you rather than making things worse.