Were you thrilled when news stories first started saying that dark chocolate was healthy? I know I was. It seemed like such a fantastic thing to hear that a popular treat wasn't as bad as we'd long assumed. But, why is dark chocolate good for you?
One reason is the antioxidants, including a group of them called polyphenols. Dark chocolate ranks 8th on a list of the top 100 foods for polyphenols. In fact, there are hundreds of natural chemicals in dark chocolate, many of which can influence your health.
That's not all though. There's also plenty of research that links dark chocolate to health benefits. Some theories even suggest that chocolate helps with aging, decreases heart disease risk, and has plenty more effects.
Chocolate also has a long and rich history, going back 4,000 years ago to Mesoamerica. It's been seen as a precious food, one that's been part of countless myths and legends. These days chocolate is more widely available than ever before. You can even find chocolate liqueur, while chocolate subscription boxes bring the best chocolate straight to your door.
Yet, chocolate retains some of those mythical qualities. It's still seen as a special food that is almost beyond compare.
Is Dark Chocolate Good For You?
Health Benefits Of Dark Chocolate
Is Dark Chocolate Really That Amazing?
Should You Eat Dark Chocolate?
How To Choose The Best Dark Chocolate
Is Dark Chocolate Keto Friendly?
Final Thoughts
Health Benefits Of Dark Chocolate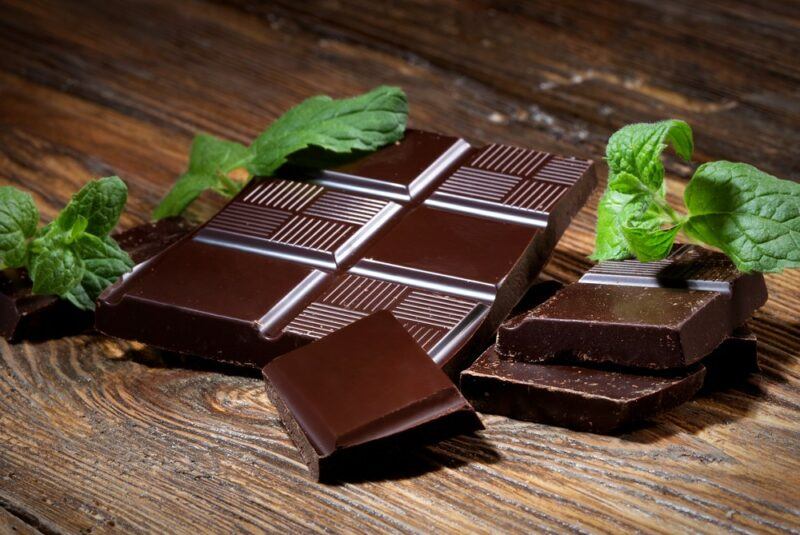 Decreased Heart Disease Risk
The flavanols in dark chocolate have been linked to two different heart disease risk factors – cholesterol and blood pressure. By improving both of these, dark chocolate should decrease the risk of heart disease as well.
In particular, one study found that dark chocolate increased HDL cholesterol levels (the 'good' cholesterol), while another found that it decreased blood pressure for patients with diabetes. Indeed, a recent study even found that chocolate of any type is associated with lower heart disease risk.
There has also been plenty of research linking antioxidants, including flavanols, to decreased heart disease risk. This further strengthens the potential of dark chocolate to help with heart disease.
There are other potential benefits too. Some studies suggest that dark chocolate can decrease stroke risk, improve blood circulation, and decrease the risk of atrial fibrillation (a heart rhythm problem).
May Decrease Inflammation
Dark chocolate doesn't just contain antioxidants. It also has anti-inflammatory effects. This outcome may be strongest for dark chocolate products with a high cocoa percentage and little sugar (as sugar can increase inflammation).
This effect on inflammation is crucial, as chronic inflammation could contribute to many serious diseases. Indeed, inflammation could be a key reason why modern societies are experiencing such a problem with disease.
Improved Mental Outcomes
There's also an association between dark chocolate and better brain function. This includes the potential for dark chocolate to improved cognitive function and perhaps to responding after trauma.
Here's another interesting effect. Some of the compounds in dark chocolate have been linked to better moods. Okay, so that one's not too surprising. We already know that chocolate makes us feel better. Why should dark chocolate be any different?
There Are Important Minerals Too
Dark chocolate also contains some important minerals, like copper, iron, calcium, zinc, and magnesium. These are all essential nutrients that our bodies need to function well.
The iron is one of the most important ones here, given that many people are deficient in iron. While dark chocolate isn't the best source of any of these minerals, it still stands out as an easy way to get more of them each day.
Is Dark Chocolate Really That Amazing?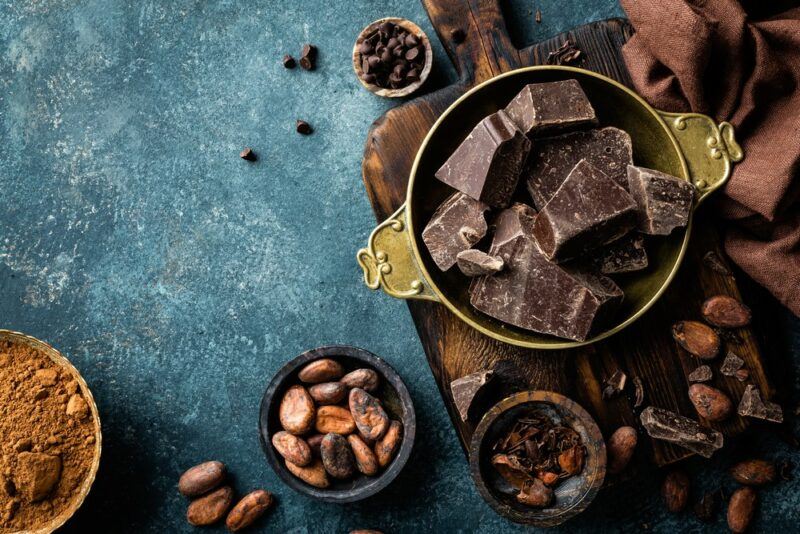 It's easy to get hooked into the idea of superfoods like dark chocolate and see them as being amazing ways to promote your health. While there's no denying the benefits of dark chocolate, no one is suggesting that you eat it as regularly as dark leafy greens or other nutrient dense vegetables.
After all, it's the antioxidants in dark chocolate that appear to promote health benefits, including the polyphenols. Important as these compounds are, we have little idea about the ideal dose of antioxidants or whether going above the idea does you any good at all.
In fact, if you already have an antioxidant-rich diet, dark chocolate mightn't help you that much at all.
There are also other limits to dark chocolate, reasons why it's not as powerful as you might expect.
Many Studies Focus On High Flavanol Dark Chocolate
Part of the problem is the way that dark chocolate is researched. Many studies use supplements or high flavanol dark chocolate. Through these, the authors can show that the flavanols in dark chocolate have clear health benefits.
But, here's the catch, the flavanol levels are often far higher than you'll ever find in commercial dark chocolate. Sometimes you'd need to eat close to a dozen bars of dark chocolate to get the flavanols that the study provided (and, if you did so, your calorie intake would be way higher than in the study anyway).
In fact, many of the benefits we talked about earlier are associated with flavanols, not with dark chocolate specifically. Dark chocolate could be a good way to get those flavanols and see the same benefits, but we don't know that for certain yet.
The Flavanol Content Varies
There's another problem with dark chocolate and flavanols – you never really know how many flavanols you're getting. The flavanol content can vary dramatically. They may be influenced by where the cocoa is grown, how it's processed, the cocoa percentage, the other ingredients, and a variety of other factors.
Choosing high-quality products with a high percentage of cocoa should help to maximize the flavanols, but there's still no guarantee.
Companies don't tend to provide details about flavanol content either, so you can't directly compare between brands.
Dark Chocolate Is Calorie Dense
While dark chocolate does contain plenty of antioxidants, it's also high in fat (including saturated fat). Some products contain a decent amount of sugar too. Even if you pick a low sugar product, the fat content gives you a calorie dense snack.
For example, a serving of Green & Blacks 85% Dark Chocolate contains 190 calories, along with 15 grams of fat. You only get 4 grams of sugar in that serving size, which is pretty good. Still, 190 calories is a lot.
The exact calorie content varies from product to product, but it's never low. This means you need to watch your portion sizes. Having too much could easily lead to weight gain and other health issues.
There Are Risks Too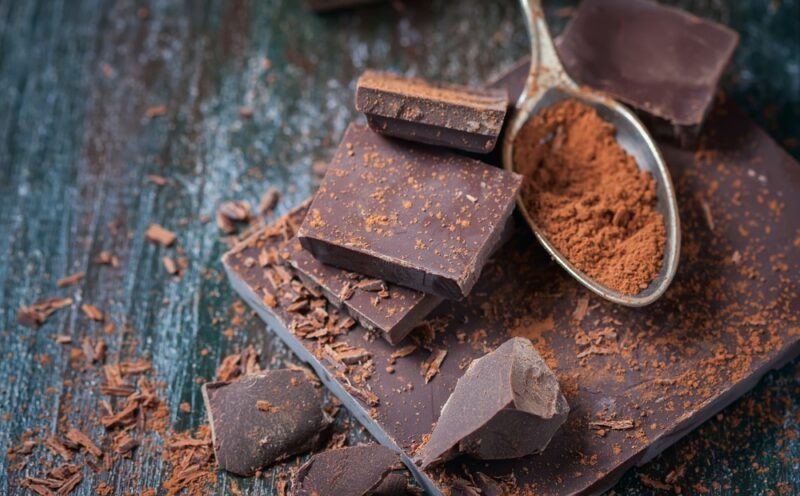 Dark chocolate can even be harmful in some situations.
One problem is the caffeine content. Dark chocolate contains more caffeine than milk chocolate and white chocolate. We're not talking about an incredibly high amount of caffeine. Still, it's enough to cause problems for anyone who's sensitive to it.
Too much caffeine can increase heart rate, make people feel more anxious, increase their blood pressure, and make sleeping at night difficult.
Dark chocolate also contains oxalates. These compounds can increase kidney stone risk, particularly if you don't drink enough water or have had a kidney stone in the past.
The oxalates in chocolate come from the cocoa bean, so the oxalate content increases as the cocoa content does.
We can't forget about the calorie content either. The high number of calories makes it easy to overeat dark chocolate. Doing so would increase the risk of obesity, diabetes, and various other health problems.
And honestly, the more we call dark chocolate a health food, the higher the risk that people will overdo it.
Finally, dark chocolate contains tyramine. This amino acid is relevant for our blood pressure, but it isn't always a good thing. Tyramine can interact with some anti-depressant medications and may lead to migraines. You may need to avoid dark chocolate if you're vulnerable to migraines or are taking MAOI-type antidepressants.
Nutrition Is Complex
As many authors point out, nutrition is complex. Foods contain hundreds of different chemicals, which interact with our bodies in countless ways. We can't ever hope to untangle all the effects for any good, even if we did hundreds of large-scale, well-designed studies.
This means that there's a lot we don't know about dark chocolate – and may never know.
Right now, for example, studies do show links between dark chocolate consumption and improved health. But, most are observational and don't prove that dark chocolate causes those health benefits. All they do is show a correlation, which isn't the same thing as cause and effect.
Studies don't always agree either.
If you do a little digging around, you'll often find studies that contradict each other, like one that shows how dark chocolate helps with cognitive function, while another suggests that it doesn't.
The lack of agreement could be because of the study design, the population they were looking at, or something else entirely. Regardless, this is a reminder that we can't hope to know it all.
Should You Eat Dark Chocolate?
While headlines often over-hype dark chocolate, making it sound much more wonderful than it truly is, there is still some evidence for dark chocolate benefits. We also know that there are plenty of antioxidants present, along with compounds that can boost our mood and ones that may improve heart health.
If all that wasn't enough, let's not forget that chocolate tastes good.
That combination of factors is reason enough to add dark chocolate to your diet regularly. Who knows, you may see some health improvements.
As always, the trick is to be sensible. Dark chocolate is still calorie-dense and any health benefits are likely to be subtle. This means that you should be cautious with your portion sizes.
How To Choose The Best Dark Chocolate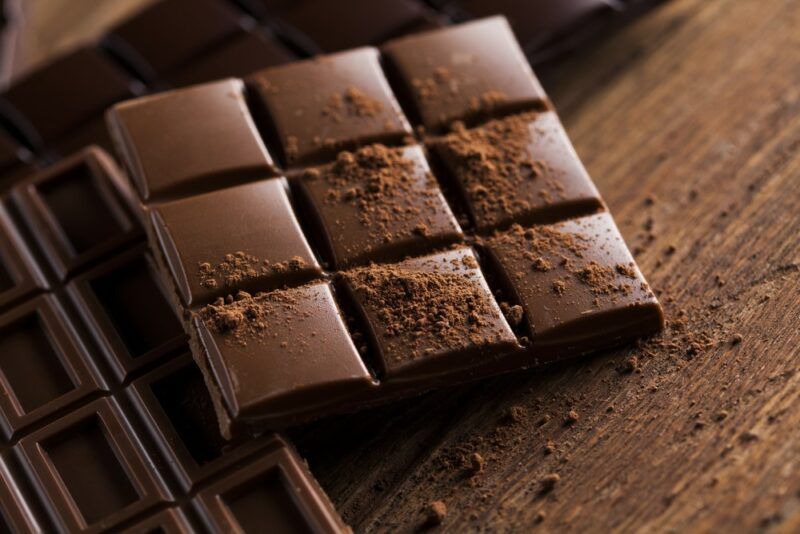 So far, we've been talking about dark chocolate like it's a single uniform group of products. Except, you know that isn't true at all. There are countless dark chocolate products out there – and they can be quite different from each other. Some of them really do offer the benefits we've talked about on this list, while others are basically junk food in disguise.
Thankfully, there are some tricks you can use to find the good products and avoid the awful ones.
Look For The Cocoa Percentage
First tip. If the product just says 'dark chocolate' and provides no extra details, give it a hard pass.
This is particularly true if you're in the United States, as the legal definition of dark chocolate is surprisingly limited. The product just needs to have 15% chocolate liquor to be called dark chocolate. This is why you'll some dark chocolate brands have a cacao content of between 15% and 34%.
Companies with high cocoa percentages, like 70% or above, tend to make this clear on their packaging. If the information isn't immediately obvious, the product probably doesn't contain much cocoa at all.
Don't worry if the label says cacao rather than cocoa (e.g. 85% cacao). The terms are used interchangeably and mean roughly the same thing.
Remember, the benefits of dark chocolate mostly come from the cocoa, so brands with a low percentage just aren't worth the effort.
Choose At Least 70% Cocoa
Buying dark chocolate often means balancing benefits with flavor. Because cocoa provides most of the benefits, the higher the cocoa percentage, the more healthy compounds you'll be consuming.
But, the cocoa also provides a bitter flavor. This is why dark chocolate gets harder to enjoy the higher you go with cocoa percentage. Try a 90% or 95% piece of dark chocolate and you'll see what we mean.
Many people start off with 60% cocoa, as this type is sweet enough to still be enjoyable. You can then increase the cocoa percentage gradually over time. Doing so gives your tastebuds the chance to adjust to the bitterness.
Sooner or later you'll land on a cocoa percentage that works well for you. Try to make it at least 70%. Anything lower than this just doesn't contain enough polyphenols.
Check The Ingredients List
High quality dark chocolate will have a short ingredients list and rely on natural ingredients. For example, the 85% cacao dark chocolate from Green & Blacks contains:
Organic chocolate
Organic cocoa butter
Organic cocoa
Organic raw cane sugar
Organic vanilla extract
That's it, five ingredients. Plus, sugar is the fourth item on the list, after all of the cocoa-containing ingredients. That's always a good sign.
Other brands aren't nearly as appealing. Sugar often features higher in the list and there will be various additives and flavoring ingredients. The additions might make the chocolate taste better, but they're not great for your health. Whenever possible, look for products with just a handful of ingredients.
Avoid Anything Processed With Alkali
Some types of chocolate include the note 'processed with alkali' on their ingredients label. This processing approach is also called dutching. It reduces the acidity of the chocolate, gives it a darker color, and may improve the flavor.
This processing method isn't unsafe, not at all. The problem is that processing cocoa like this destroys some of the natural chemicals, so you get fewer flavanols in the chocolate.
Is Dark Chocolate Keto Friendly?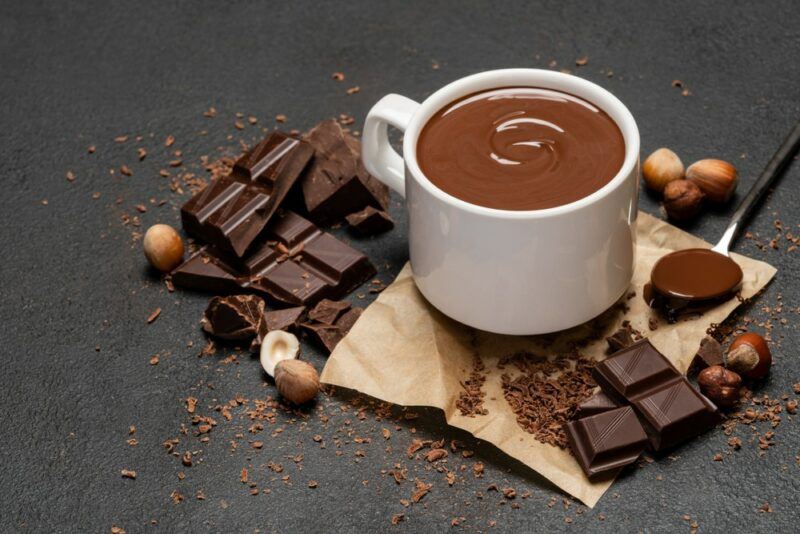 Dark chocolate is one of the few sweet treats that can easily fit onto a keto diet – as long as you choose the product well. After all, dark chocolate often contains much less sugar than milk chocolate. Some brands add barely any sugar at all.
Plus, the bitterness of dark chocolate makes it easy to stick to small portion sizes. You could easily add a square or two of dark chocolate into your keto diet without derailing it at all.
If you find dark chocolate too bitter, you could try a product that uses a keto friendly sweetener, like monk fruit, stevia, or erythritol.
Final Thoughts
Dark chocolate has plenty of benefits. It can also be a tasty treat that's less processed than many other options. But, honestly, calling it a health food is a stretch. We're still talking about a calorie-dense treat that's high in fat and doesn't contain that many nutrients (some nutrients, yes, but there are many more nutrient rich foods out there).
The main selling point of dark chocolate is the flavanol content. And yes, those compounds may improve health in plenty of ways – if you get enough of them.
Here's the thing though, commercial dark chocolate isn't exceptionally high in flavanols. Even high-quality brands with a high cacao percentage won't have as many flavanols as the chocolate used in many of the research studies. Plus, if you're getting plenty of antioxidants in your diet, the flavanols mightn't mean much for your health.
This doesn't mean you need to avoid dark chocolate. It's still a delicious treat, one that might offer some benefits (and you could certainly do worse).
The trick is to remember that dark chocolate is still a treat. It should be seen as one and not as a health food.
Frequently Asked Questions
Is Dark Chocolate Dairy Free?
Dark chocolate can be made completely without milk, making it perfect for vegans and anyone with a dairy allergy.
Don't just rush off and buy some, though, as dairy is a permitted ingredient in dark chocolate. You'll need to carefully check the ingredients label for milk-related ingredients or the term 'contains milk products'.
Even if the product avoids dairy ingredients, dairy contamination is still possible. This can happen if the dark chocolate is processed on the same equipment that is used for milk chocolate. Even the dairy free label isn't a guarantee that there's no contamination, as many companies don't actively test for this.
The best way to avoid dairy entirely is to look for companies that are passionate about being dairy free. Vegan companies are a fantastic choice, as they won't use milk in their products, so your chocolate should always be completely dairy free.
Is Dark Chocolate Good For Diabetics?
Actually, yes, dark chocolate could be helpful for diabetics. For one thing, it's lower in sugar than milk chocolate and is less processed than many other treats.
Some of the compounds present are also good for your blood sugar levels and insulin sensitivity. These effects could help you manage your condition and may reduce the risk of diabetic complications.
Is Dark Chocolate Good For Weight Loss?
Yes and no. Some people find dark chocolate helpful because a small serving is enough to satisfy their sweet tooth. The flavor intensity also reduces the chance that you'll consume too much. In contrast, it's easy to eat a full bar of milk chocolate in a sitting (or perhaps even more).
If dark chocolate does decrease your calorie intake, it could be helpful for weight loss. But, it's still a high calorie treat and those calories add up.
In fact – dark chocolate is slightly higher in calories than milk chocolate, so you still need to watch your portion sizes.
Is Dark Chocolate Low FODMAP?
Dark chocolate is low in FODMAPs, particularly if you look for products that keep additives to a minimum and don't rely heavily on sugar.
Portion sizes matter here. You often need to stick to just an ounce or even 2/3rds of an ounce of chocolate to get stay within low FODMAP parameters.
When it comes to plant-based compounds, the darker the chocolate, the better it is for you. This isn't true for FODMAPs, as the fiber content increases along with the chocolate percentage. Around 60% or 70% cocoa could be the sweet spot, but you'll need to experiment to find the best cocoa percentage for you.
How Much Dark Chocolate Should I Eat A Day?
Most recommendations suggest sticking to around one or two ounces of dark chocolate. This gives you plenty of antioxidant benefits without too many calories.
You still need to be cautious though, as you're often getting around 150 calories in a two-ounce serving of dark chocolate. Some dark chocolate bars are higher than this, especially if they contain sugar.
If your diet is already fairly high in calories, you might need to cut this serving size down much lower. This is true if you're trying to lose weight as well.