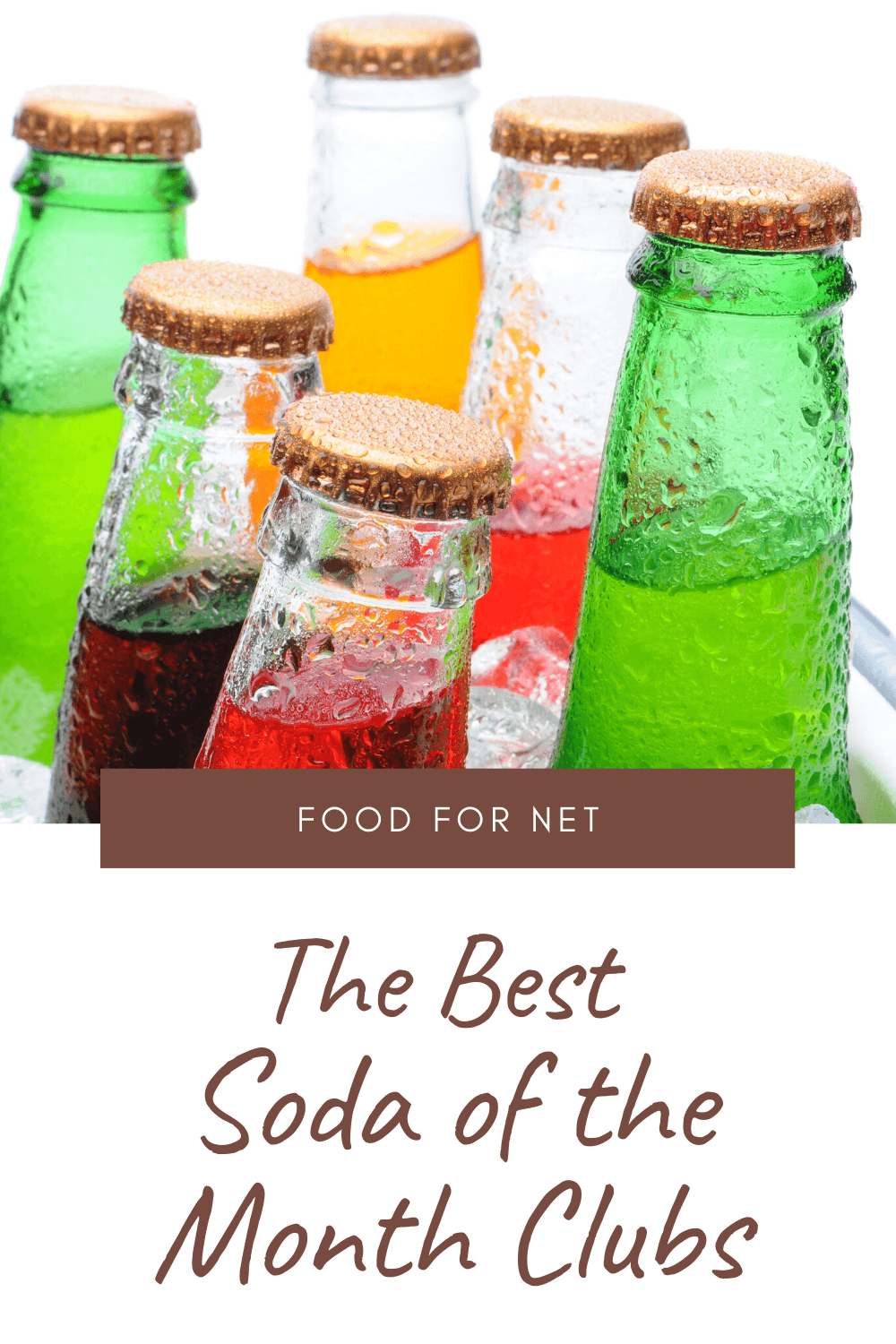 For the soda lovers of the world, a soda of the month club is a perfect choice. A soda subscription allows you to experience unique flavors and artisan sodas from all over the world, in the convenience of your own home.
There is an array of soda subscription options including single flavors, single brands, or even the ultimate mystery variety packs.
But if you are looking for the perfect one time gift for the soda enthusiast in your life, you can always order them a gift box of their favorite and have it shipped directly to their door. You could even use some of these sodas to make alcoholic drinks – including root beer cocktails and Sprite cocktails.
Before we dig into the various clubs that you can try, let's talk about soda itself. The first soft drink, lemonade, was invented in Paris in 1676 by Compagnie de Limonadiers. The company sold and distributed their soft drink in tanks carried by vendors.
Since then, soft drinks have evolved both in nature and in the name. Today, soft drinks are more commonly referred to as soda or pop, depending on the region.
And though the first soft drink was lemonade, today most are carbonated and available in every flavor imaginable and few quite unimaginable recipes.
Soda has changed from the small soda fountains to large corporations like Coca-Cola. However, as many things in our world do, soda has circled back to small soda companies that create small-batch artisan soft drinks.

Soda of the Month Clubs
Beverages Direct
Apothecary Soda
Specialty Sodas
The Root Beer Store
Gift Box
Beverages Direct

Beverages Direct, located in Wheaton, IL, specializes in offering beverages that are unique, classic, hard to find, and regional favorites. They provide a wide array of beverage options:
Sozo coffee beans
Juice, both carbonated and regular
Iced tea
Water
Soda
Beverages Direct offers over 150 different drinks. Some are familiar brands such as A&W, classic ones like Tab, and interesting ones like Frostie. Plus, they have every imaginable flavor, including:
Green apple
Birch beer
Chocolate fudge
50/50
Salted caramel
Whatever your favorite soda is Beverages Direct has you covered. You can purchase their different beverages as a 12-pack one time option. But if you have a favorite pop, they do offer over 20 different brands in their subscribe and save section.
For single flavor sodas, they offer delivery from every week up to every eight weeks. Each shipment includes 12 bottles of your preferred pop.
For the more adventurous, Beverages Direct offers an Ultimate Soda Sampler subscription. Every month you will receive a 12-pack consisting of a variety of brands or flavors depending on that month's theme. Some examples of what you can expect:
Cream sodas
Grape
Orange
Ginger beers
Mexican sodas
Deadworld zombie sodas
Birch, sarsaparilla, colas & more
There is no commitment to any of their subscribe and save soda clubs. You can cancel or skip a month at any time. However, shipments go out at the end of each month. So you must cancel before that month's order is processed.
The Ultimate Soda Sampler costs $41.97 per month and includes shipping. Prices for other subscriptions vary on the soda, but all orders over $35 will receive free shipping.
Apothecary Soda

Apothecary Soda, located in Long Beach, California, was founded by April and Ed Gomez. It is their goal to bring unique, small-batch, old fashioned bottled soda to fellow soda enthusiasts like themselves.
April and Ed Gomez started making hand-made sodas in 2011, from the comfort of their home. As time went on and they began to research new recipes and other small soda companies. During their research, their love for making soda turned into Apothecary Soda.
Amongst the different sodas they offer, they do sell their artisanal pops made with natural sweeteners. At this time, Apothecary Soda does not sell any of its soda flavors exclusively. Instead, Apothecary Sodas are found amongst other sodas in their variety packs.
Apothecary Soda offers four different soda ten packs each for $30 plus shipping:
Assorted Flavor Collection
Mixer Box for Cocktails
Curated Collection of Fruit Flavors
Root Beer Collection
In addition to their flavor collection boxes, they also have two different subscription boxes.
3 Months $85
6 Months $170
Both plans are payable in advance, and there is no additional billing. These subscription boxes include ten bottles of artisan, unique, or small-batch sodas. Each month will be a soda surprise that will contain ten different flavors.
And if you enjoy mixing things up, check out their website for great soda recipes. Not all of the recipes are beverages; one is even for a soda cake. Plus, if you are interested in learning more about soda, Apothecary Soda has a blog with various fun facts and even more recipes.
Specialty Sodas

Specialty Sodas offers some of the most unique sodas you will ever find. They source their beverages from all over the world to bring you the best selection possible. Specialty Sodas offer more than just pop, they also have:
Water
Coffee
Tea
Juice
Energy drinks
Though just like their sodas, the brands and flavors available are extraordinarily unique. Some of the novel flavors they sell are:
Beefdrinker Teriyaki Beef Jerky Soda
Rocket Piss Bitterscotch Soda
Empire Bottling Works Spruce Beer
Kickapoo Joy Juice
Dr. Brown's Cel-Ray Celery Soda
Swamp Pop Ponchatoula Pop Rouge
But for those looking for classic less wild flavors they do have:
Crush
Goose Island
San Pellegrino
Stewart's Fountain
All of Specialty Sodas' beverages are sold as a one time purchase or subscribe and save. The subscribe and save choice can save you up to 10% per 12 pack.
For those looking for more variety in their life, the beverage of the month club is the perfect option. It is $29.69 a month plus shipping when you sign up for the subscribe and save.
Each month you receive an exclusive selection of 12 sodas. Because each shipment contains different drinks, there is no concern about receiving duplicates.
The Root Beer Store

The Root Beer Store started as a family tradition, making homemade rootbeer together. However, as the founder, Corey Anderson, got older, he decided to turn his hobby into a career.
Corey left home to shadow an industry leader in the root beer world so that he could better develop his root beer company, the James Caliber Soda Company. However, through a series of events, Corey's goals changed, and instead of becoming a producer of root beer, he decided to become a distributor.
Today The Root Beer Store has both a retail and online presence. The retail store is located in Sandy, Utah. But if you are not in the area, The Root Beer Store offers its 100+ varieties online.
And if you are looking for more than just root beer, they offer other sodas too, including diet and fruit-flavors like:
Cream soda
Ginger
Sarsaparilla sodas
Berry
Grape
Foreign brews
Black cherry
Lime and citrus
The Root Beer Store sells its soda in variety packs, starting with six-packs and going up to 72 packs. The soda variety packs are based on the different flavors available.
For the root beer lovers, The Root Beer Store has four different root beer subscriptions available.
6-Pack Root Beer of the Month Club: $15.95/month

A single root beer brand is sent each month with a letter with information about that month's root beer company

6-Pack Variety Root Beer of the Month Club: $18.95/month

6 different root beers each month

12-Pack Root Beer of the Month Club: $24.95/month
12-Pack Variety Root Beer of the Month Club: $29.95/month
Each subscription is available as a month to month or prepaid option with a set number of months chosen. Root beer shipments sent out on the 15th of each month are billed on the 5th. However, the first month is shipped immediately.
Gift Box
Northern Soda Company

Northern Soda Company, located in Arden Hills, Minnesota, was founded by a group of former educators looking to bring the joy of soda to the community. The Northern Soda Company has both an online store and a factory taproom.
The taproom is open on the weekends, Friday – Sunday. Their soda is available for purchase in:
Northern Soda Company's taproom is attached to the soda making factory. So when you stop in, you have the opportunity to see how soda is made and canned. The taproom also offers you the chance to try samples before going home with your favorites.
Like most taprooms, you can always just hang out with friends, play a board game, and enjoy your favorite soda.
For those not conveniently located near the Twin Cities, you can order soda online. They offer a mix and match case for $36 plus shipping.
The mix and match case is customizable. You can choose from any of their 18 flavors in whichever quantities you decide to make up your 24 cans.
Some of the flavors available are:
Cream soda
Black cherry
Cherry citrus
North Coast cooler
Mango citrus
Pontoon punch
Minnesota apple
Ginger pop
Due North
And if you are heading to the Twin Cities area, you can always order ahead and pick up your mix and match case of soda.