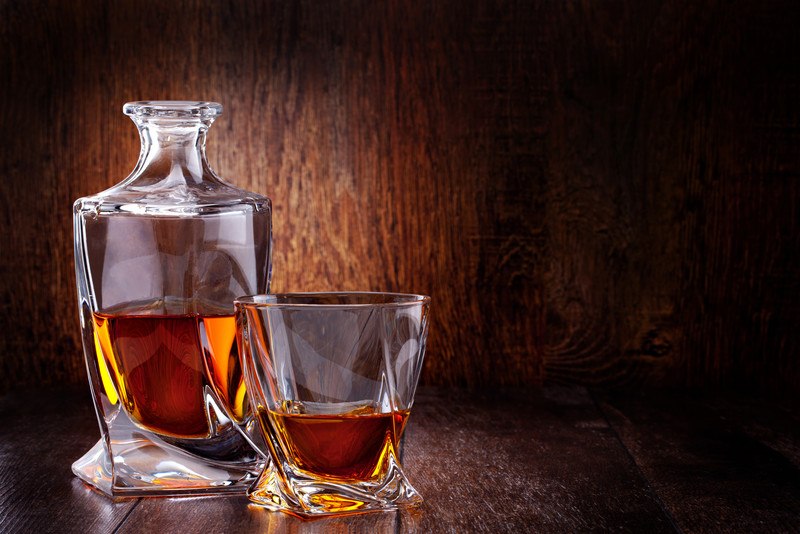 Whiskey decanters are popular gifts, but what do you do when the person isn't going to use a decanter or if they already have one? Whiskey glasses are one solution. It's hard to ever have too many whiskey glasses, as they no one really knows how much company they'll have at a time.
The unusual whiskey glasses featured in this list are all particularly good ones for gifting. They're fun for the recipient and can make for great memories. You could also combine them with other alcohol-related gifts, like a whiskey club subscription.
Also, don't forget that Flaviar makes a great gift. They are a "spirit of the month club", where you can taste and try a huge variety of styles and brands of spirits, including hard to find whiskeys and other rarities.
Whiskey Etched With A World Map
Diamond Whiskey Glasses
Posh Five Whiskey Glasses Set
Lowball Whiskey Chemistry Glass Set
Personalized Whiskey Label Glass
Rocking Whiskey Glasses
Personalized Rocks Glass
Glencairn Personalized Scotch Whisky Glass
Stainless Steel Whiskey Glass
Double Old Fashioned And Cigar Holder Glass
Rocks Glasses For Whiskey
Handmade Wooden Whiskey Glass
Corkcicle Whiskey Wedge Glass
Diamond Shaped Whiskey Glass
Smoky Brown Double Old Fashioned Glass
Engraved 9.75-Ounce Whiskey Glass
Six Shooter Whiskey Glass
Small Batch Whiskey Glass
Whiskey Glasses With Diamond Band
Whiskey Glass Soccer Ball
Star Wars Whiskey Glass
Millennium Falcon Whiskey Glass
Guitar Pick Embedded In A Whiskey Glass
Basketball Shaped Whiskey Glass
Rainbow Whiskey Glasses
Set Of 4 Rocking Whiskey Glasses
Skull Whiskey Glass
Storm Trooper Whiskey Tumbler
Dugger Crystal Whiskey Glass
Hauptstueck Whiskey Glasses
Carre Square Whiskey Glass
Large Skull Face Decanter Set
Knight Whiskey Glass
Emperor Whiskey Glass
Rock Whiskey Glass
Tornado Whiskey Glass
Majestic Whiskey Glass
Mosaic Whiskey Glass
Caesar Whiskey Glass
Teal Stainless Steel Rocks Glass
Deer Head Antler Rocks Glass
Jameson Irish Whiskey Glass
Old Fashioned Fish Whiskey Glass
Matterhorn Cool Whiskey Glass
Wax Seal Whiskey Glass With Gold Stem
Whiskey Etched With A World Map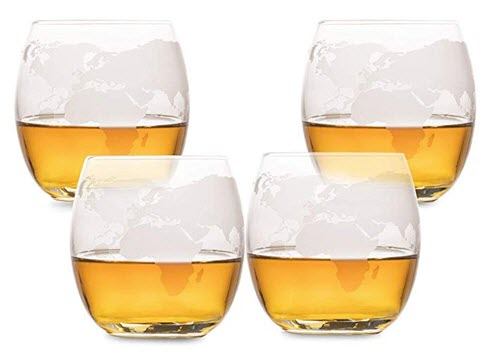 The etched world map on these whiskey glasses really does make them stand out. The design looks particularly good against the dark color of whiskey when the glasses are full. You can find them in a set of 2 or of 4.
Diamond Whiskey Glasses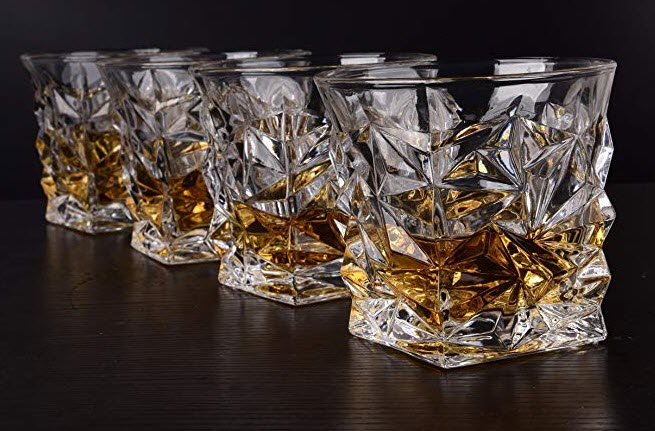 These Diamond Whiskey Glasses do have an interesting style to them. Even with this appearance, the glasses manage to be easy to hold. The listing also comes with 4 free coasters. Coasters are always useful and could be a perfect addition if you planned to use these glasses as a gift.
Posh Five Whiskey Glasses Set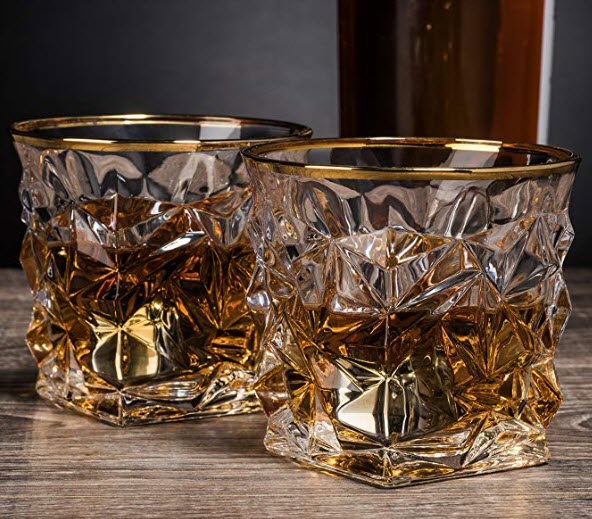 This set of Posh Five Whiskey Glasses have the same diamond type shape as the previous entry. The gold rim helps to set these ones apart, making them much more interesting. The set also comes with 4 stainless steel whiskey stones. These offer a way of keeping whiskey cool without diluting your drink in the process.
Lowball Whiskey Chemistry Glass Set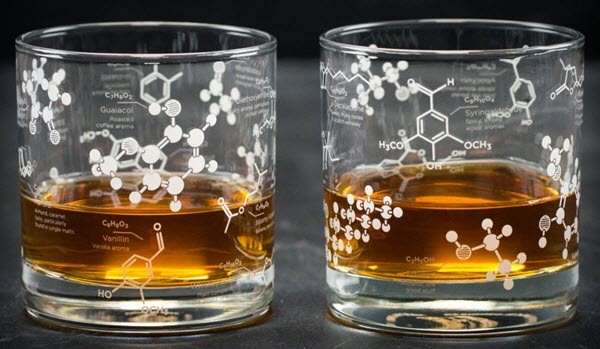 Elegant isn't the only approach to take with whiskey glasses. This Lowball Whiskey Chemistry Glass Set focuses on the engraving instead. The glasses don't just show random chemical compounds either. The molecules depicted are all related to the taste and aroma of whiskey.
Personalized Whiskey Label Glass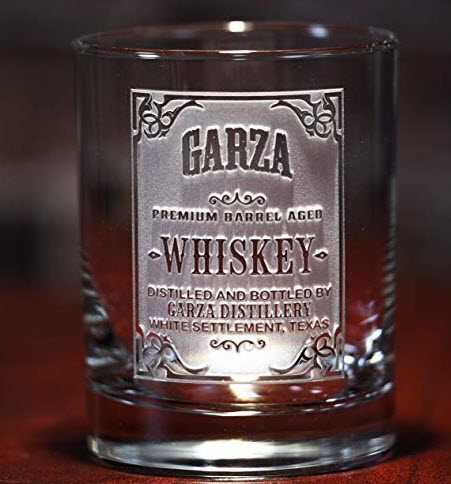 Items like this Personalized Whiskey Label Glass are great if you want a gift that will stand out. The label can be personalized with the details of the gift recipient, creating a glass that won't be found anywhere else. The style of engraving is also unusual. A deep engraving style is used. This carved out parts of the background, leaving behind raised lettering.
Rocking Whiskey Glasses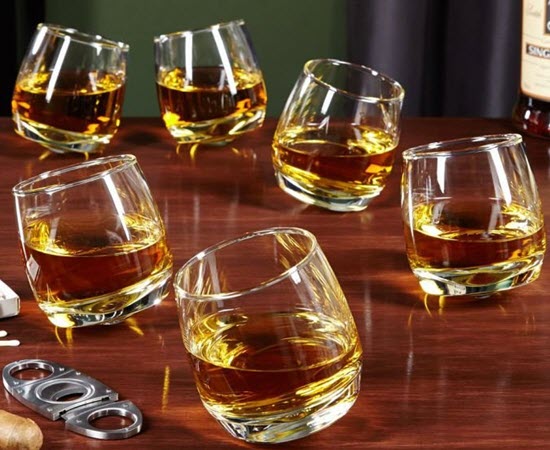 If you want something fun, what about these Rocking Whiskey Glasses? These glasses simply don't sit how you would expect them to. The design even means that they will roll in place, without spilling any of the drink.
Personalized Rocks Glass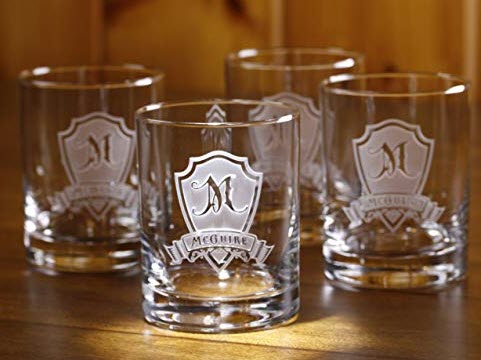 These Personalized Rocks Glasses are another option that relies on a deep engraving technique. You're able to choose the name and the main letter that is engraved on the glass. The 4 glasses do need to all be the same, but that's should work well for most situations.
Glencairn Personalized Scotch Whisky Glass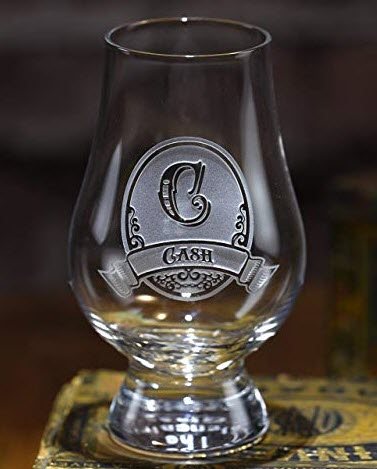 Speaking of deep engraving, what about this Glencairn Personalized Scotch Whisky Glass? This is another glass where you can choose the name and initial to be engraved. The difference is in the shape of the glass. The shape is particularly relevant for Scotch whisky, hence the name of the product.
Stainless Steel Whiskey Glass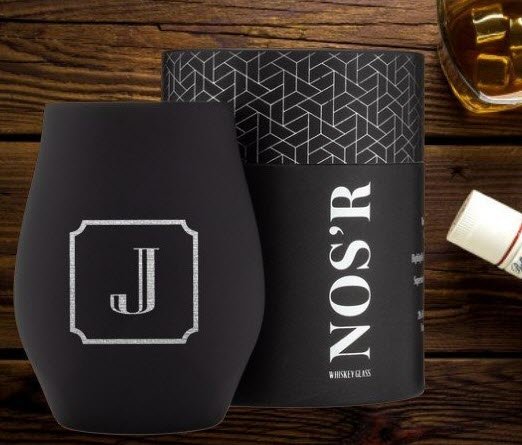 There's no reason that whiskey glasses need to be made of glass. There are alternatives out there too, like this Stainless Steel Whiskey Glass. There's more to the piece than just being practical too. The black and silver style makes the 'glass' appear elegant. You can personalize it with a monogram or a name too.
Double Old Fashioned And Cigar Holder Glass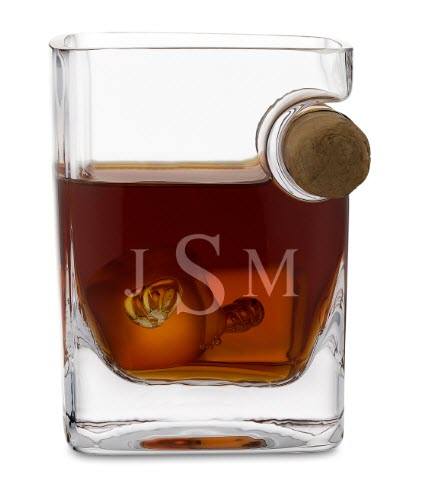 This Double Old Fashioned and Cigar Holder Glass is ideal for anyone who drinks whiskey and smokes cigars. The piece can also be personalized. You can add up to 6 lines of text on each side of the glass. Unfortunately, the glass doesn't come with a cigar. You'll need to buy that separately.
Rocks Glasses For Whiskey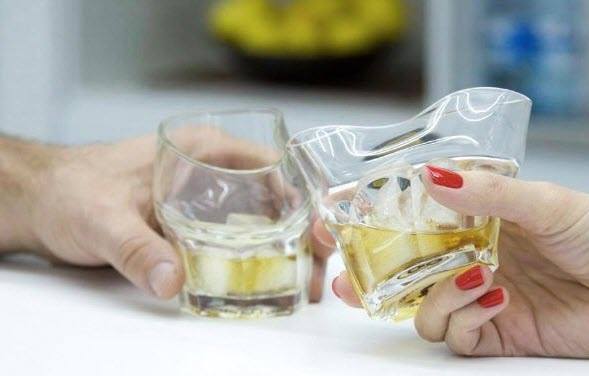 These Rocks Glasses for Whiskey are nothing if not unusual. The style would make them fun to drink out of, especially as the glasses are hand produced and are unique. You might find the glass style particularly good at a party or as a gift.
Handmade Wooden Whiskey Glass

This Handmade Wooden Whiskey Glass isn't what you would normally expect from a whiskey glass. The piece is made from elm wood and can be personalized. Because this is made from wood, each glass will have its own distinctive markings.
Corkcicle Whiskey Wedge Glass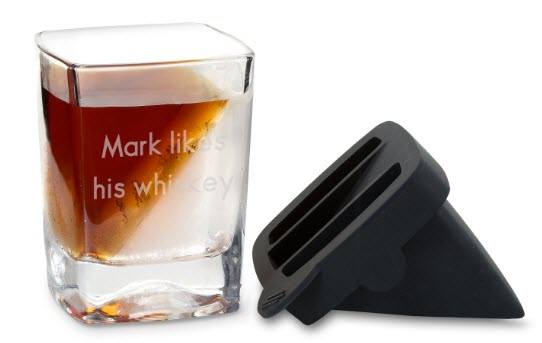 This Corkcicle Whiskey Wedge Glass might look a little boring at first, as the glass itself is simple. The interesting part is that the glass comes with a silicone mold. Using this allows you to create a perfect wedge of ice in your glass, leaving more than enough space for the whiskey. The glass can also be personalized with the text that you want.
Diamond Shaped Whiskey Glass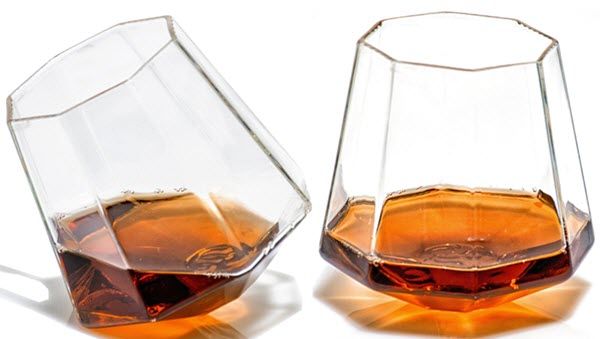 Calling this a Diamond Shaped Whiskey Glass doesn't feel entirely accurate, but that hardly matters. The glass has a fun style to it, especially as it can sit on an angle or flat.
Smoky Brown Double Old Fashioned Glass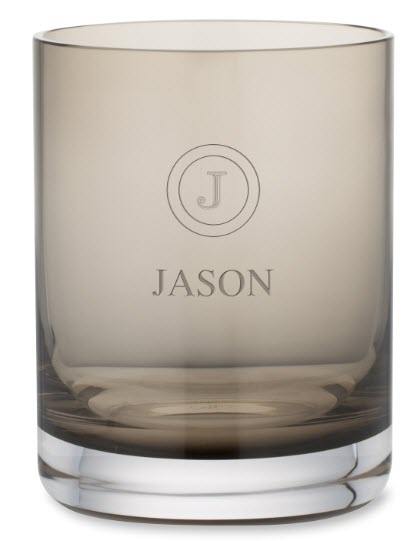 There's no reason that whiskey glasses need to be a particular color. This Smoky Brown Double Old Fashioned Glass is a good example of how changing the color can make a glass look so much better. You can also personalize the glass, with up to 6 lines of text on the front and another 6 on the back.
Engraved 9.75-Ounce Whiskey Glass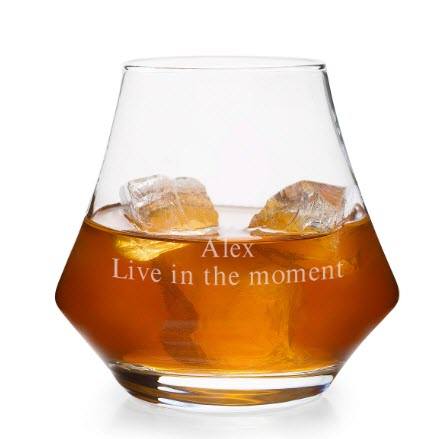 The shape was the first thing that I noticed about this Engraved 9.75-Ounce Glass. The style is different than most other whiskey glasses. When you combine this with the ability to add your own message, you end up with something that makes a very good gift.
Six Shooter Whiskey Glass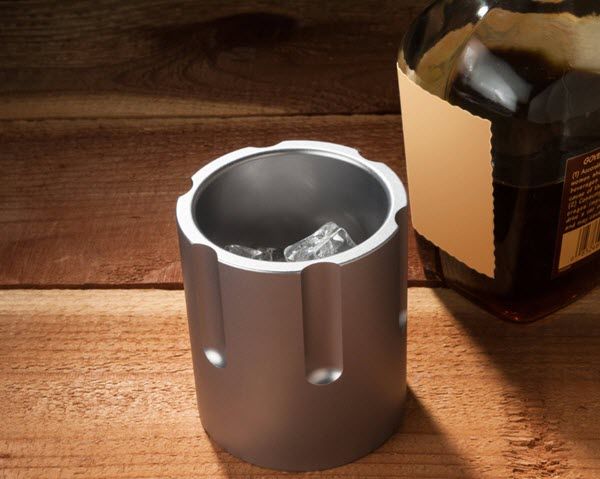 Don't worry, this Six Shooter Whiskey Glass isn't made of plastic. It's a metal whiskey glass that holds 10 ounces of your favorite whiskey. It can also be engraved with the text of your choice in 1 of 8 different fonts.
Small Batch Whiskey Glass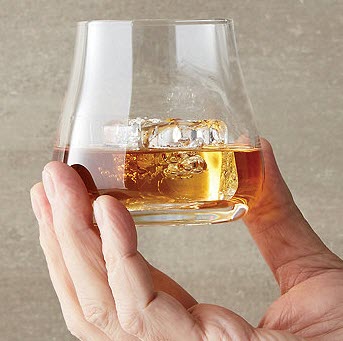 The design of this Small Batch Whiskey Glass is unusual enough to draw attention, while still being easy to recognize. The etching of a whiskey barrel is a nice touch. You're able to choose the name that is written over the top, along with the featured year.
Whiskey Glasses With Diamond Band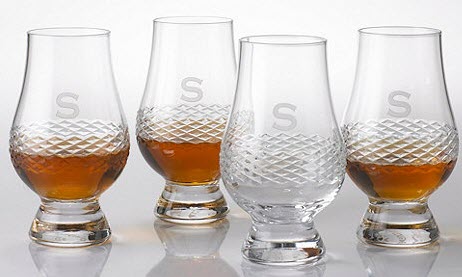 These Whiskey Glasses with Diamond Band are well-designed. The band helps to make them stand out a little, as does the single initial engraving. The shape makes them ideal for Scotch whisky, helping to bring out the flavor nuances.
Whiskey Glass Soccer Ball

Here's a completely different style – a Whiskey Glass Soccer Ball (or football, if you prefer that term). The entire design of the glass has been chosen to mimic a soccer ball, while making sure that the glass is very practical.
Star Wars Whiskey Glass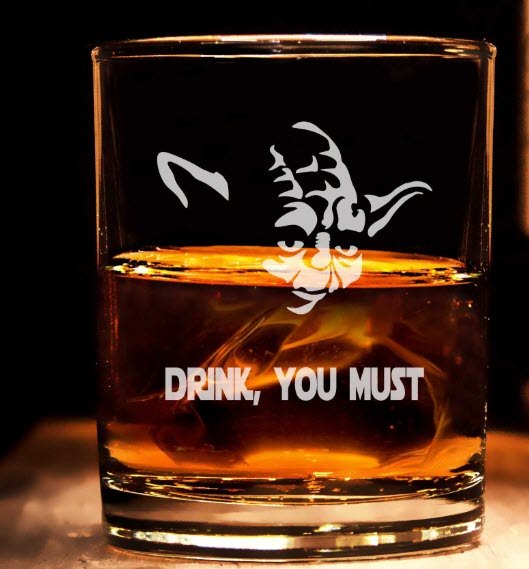 This Star Wars Whiskey Glass is simpler than most. The main focus is the image of Yoda and the quote. Of course, this also means that the glass is inexpensive. Even then, the image is high-quality, as it has been engraved onto the glass.
Millennium Falcon Whiskey Glass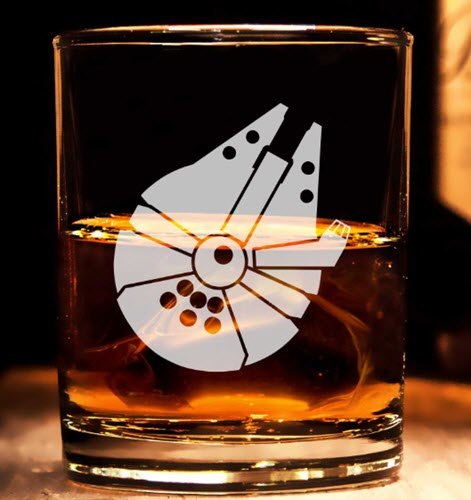 If you're not a fan of quotes on glasses, what about this Millennium Falcon Whiskey Glass? The style is similar to the previous example, except that it has an engraved image of the millennium falcon instead of Yoda.
Guitar Pick Embedded In A Whiskey Glass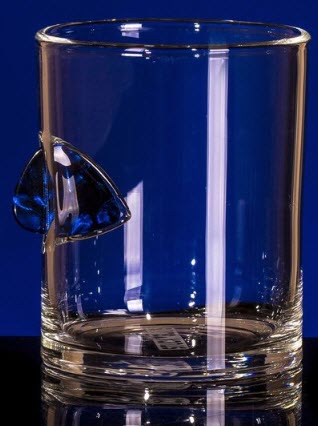 Having a Guitar Pick Embedded in a Whiskey Glass is an unusual style, but why not? The manufacturing approach means that there is no risk of leaks as a result of the embedding. There are also multiple pick colors to choose from. You're not limited to guitar picks either. The same seller has various other items embedded in glasses, like a poker chip, a ninja star and a fly fishing hook.
Basketball Shaped Whiskey Glass

This Basketball Shaped Whiskey Glass follows the same general style as the soccer glass from earlier in the list. The main difference is the type of sport that they focus on. The seller has many other whiskey glasses, decanters and accessories
Rainbow Whiskey Glasses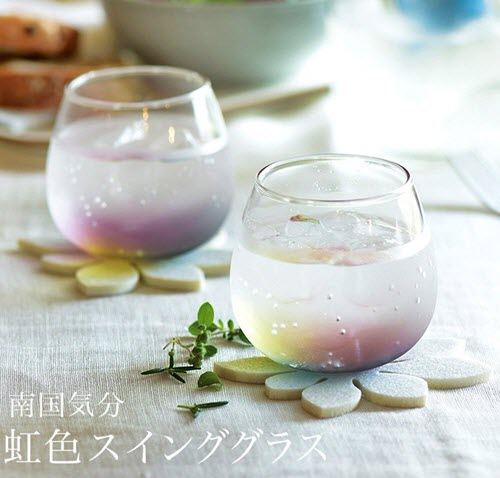 These Rainbow Whiskey Glasses have a surprisingly subtle style. The glass has a rainbow effect at the bottom. The impacts vary depending on the type of liquid in the glass and the lighting. Even with dark whiskey in the glass, the rainbow color should make everything a little bit more interesting.
Set Of 4 Rocking Whiskey Glasses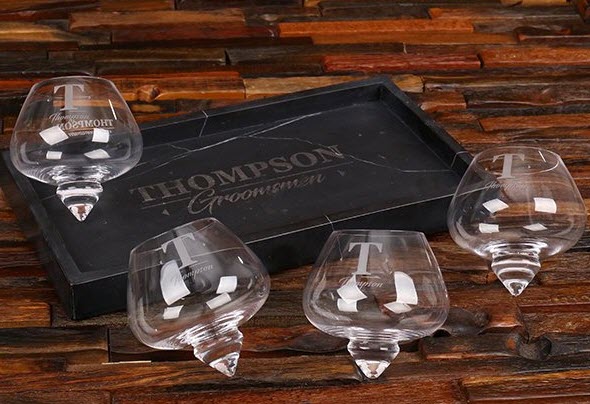 Rocking Whiskey Glasses is a good name for this set. The glass spike in the middle means that the glasses will roll around on the table, without ever spilling a drop. There's even a benefit. The rocking approach helps to get air into the whiskey, improving the flavor.
Skull Whiskey Glass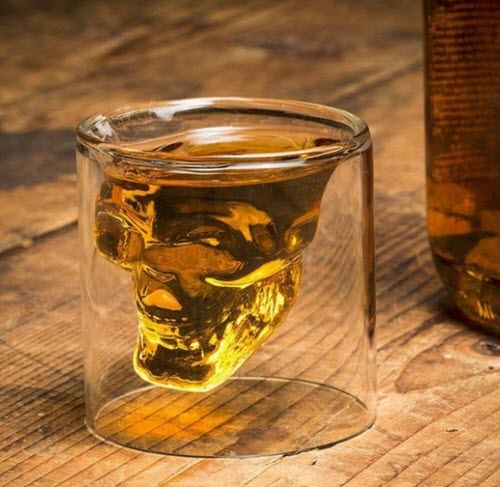 This Skull Whiskey Glass would be a fantastic way to surprise someone. While the design is visible even when the glass is empty, it becomes much more noticeable when you fill it up with whiskey.
Storm Trooper Whiskey Tumbler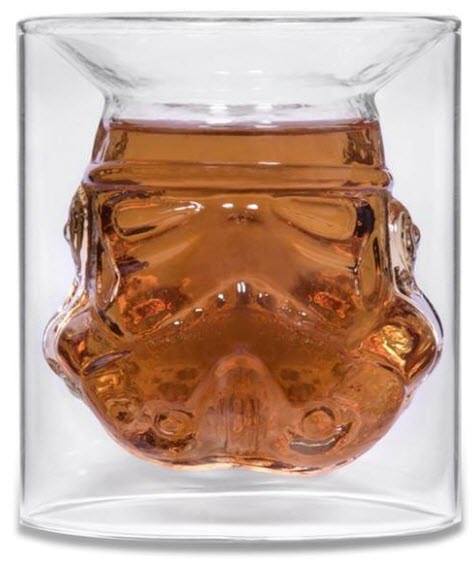 If you're uncomfortable with the idea of drinking from a skull, what about a Storm Trooper Whiskey Tumbler instead? The same store has some other Star Wars whiskey merchandise too, like a Storm Trooper decanter. Why not? The cool toys are half the fun of being a geek to begin with.
Dugger Crystal Whiskey Glass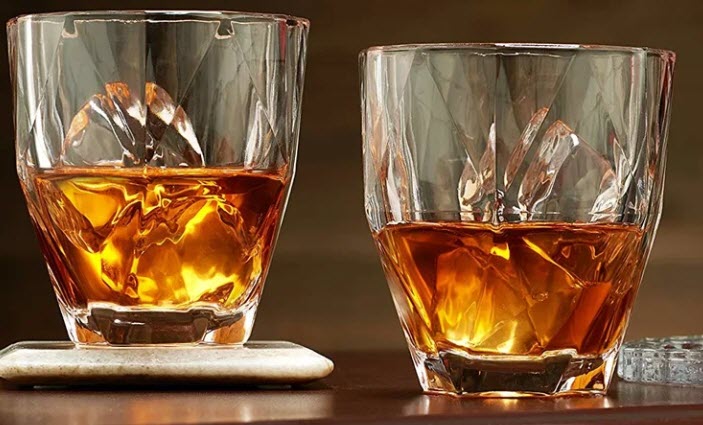 I love this Dugger Crystal Whiskey Glass. The angles on the side help to make the glass look distinctive, without affecting how practical it is. The whiskey glass isn't low-quality either. You can be sure that it will be a joy to drink out of and will stand the test of time.
Hauptstueck Whiskey Glasses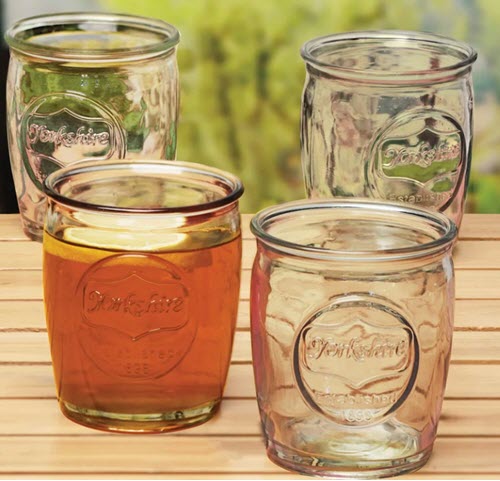 These Hauptstueck Whiskey Glasses mightn't be what you initially expect. Their style is somewhat rustic and old-fashioned, which is entirely a good thing. As some reviewers mention, the glass is thick and the pieces are very resilient. That's much better than thin whiskey glasses that break when you try to wash them.
Carre Square Whiskey Glass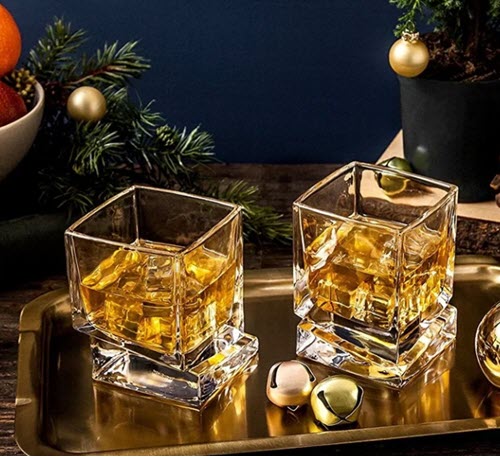 Most glasses are circular, which immediately makes this Carre Square Whiskey Glass something special. An even more intriguing aspect is the slant at the base, along with how the 2 parts of the glass appear somewhat distinctive. The style makes the glass stand out. They also have a decent weight to them. That's perfect for any serious whiskey drinker.
Large Skull Face Decanter Set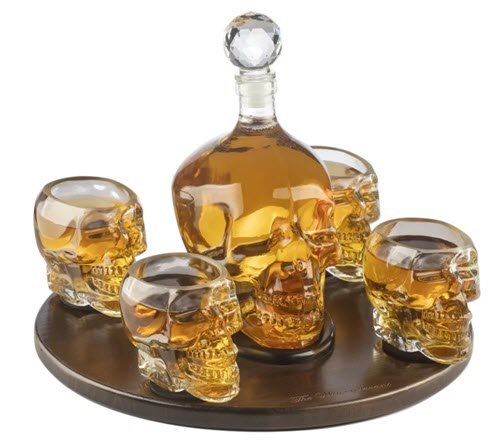 This Large Skull Face Decanter Set gives you 4 interesting whiskey glasses, along with a decanter in the same style. Even if you don't need a decanter, the piece is worth buying for the glasses alone – surprisingly few places offer this style of whiskey glass independently.
Knight Whiskey Glass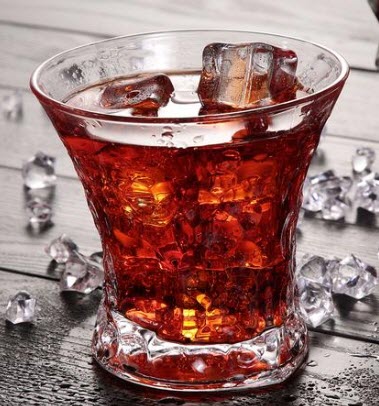 I love options like this Knight Whiskey Glass because it is just a little unusual, rather than being entirely out of left field. The style of the glass would work well with any type of liquid, although it is ideal for whiskey drinking. Besides, a glass like this is always a good way to impress.
Emperor Whiskey Glass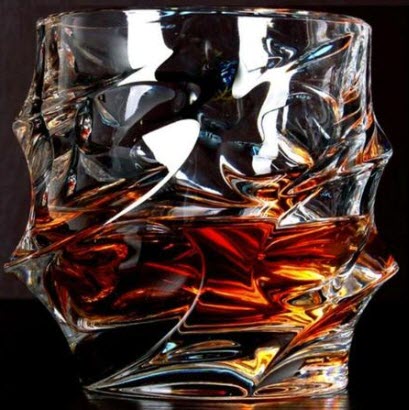 This Emperor Whiskey Glass is certainly going to get noticed by your guests. Despite the unusual design, the piece will still easily fit into your hand. There is also a decanter in the same set if you are looking for items that match.
Rock Whiskey Glass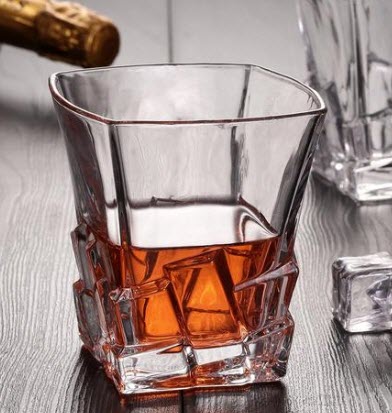 This Rock Whiskey Glass comes from the same company as the previous 2 glasses, a site called GlassFellas. The glassblowers there have a knack for creating extraordinary pieces that are both original and familiar at the same time.
Tornado Whiskey Glass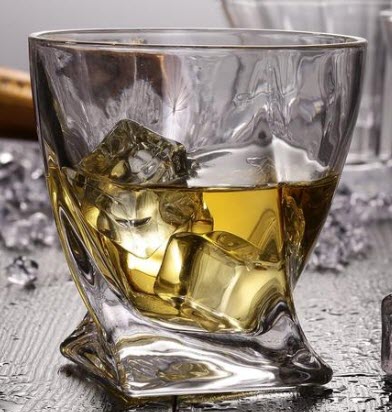 This is called a Tornado Whiskey Glass and it's easy to see where that name came from. The twist style of the glass looks really cool, especially once you place whiskey and ice in there.
Majestic Whiskey Glass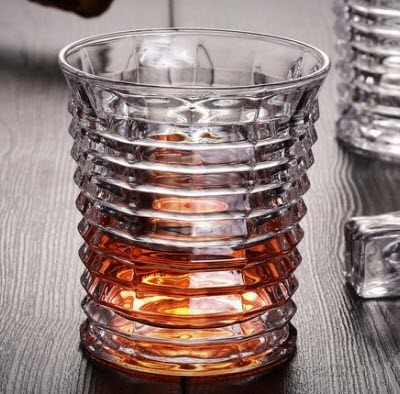 Here's another interesting choice – the Majestic Whiskey Glass. This is one of those glasses that doesn't quite seem to fit the name, but I guess naming whiskey glasses gets a little tough after a while. Regardless, the glass itself is appealing and looks amazing when it is filled with whiskey.
Mosaic Whiskey Glass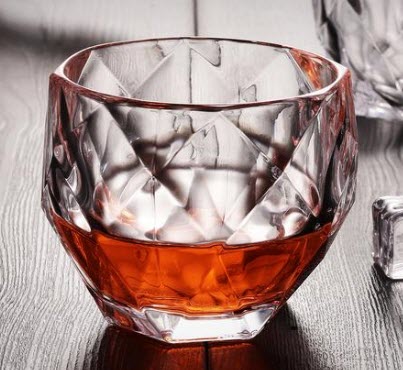 This Mosaic Whiskey Glass is an appealing choice. The visual style makes it stand out, without the piece seeming like it is completely out of place. The short and squat style of the glass should make it more difficult to knock over too (in theory anyway).
Caesar Whiskey Glass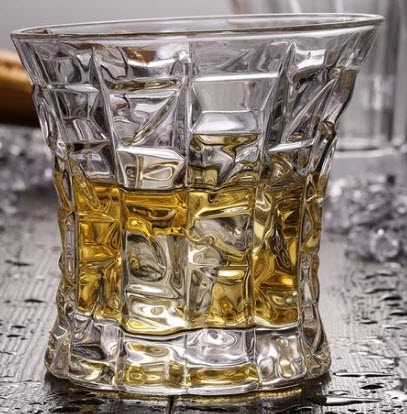 There are many art-style glasses out there, but the last one we're going to feature is this Caesar Whiskey Glass. The design is a little bit like stained glass. It also looks amazing once there is whiskey in the glass. In fact, any colored liquid would look good.
Teal Stainless Steel Rocks Glass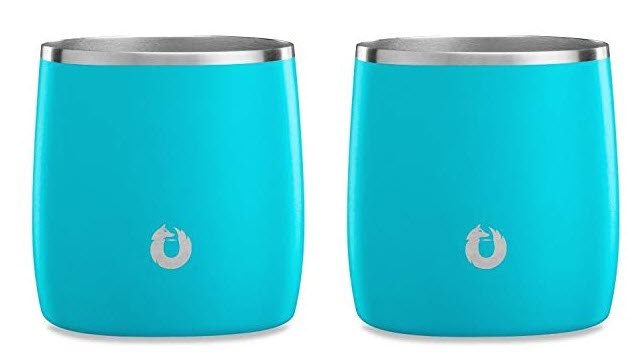 This Teal Stainless Steel Rocks Glass is another non-glass example. The piece is insulated, helping to keep your whiskey at exactly the right temperature. The colored finish means that you won't get fingerprints over it all night. You're not limited to teal either. There is a selection of colors to choose from.
Deer Head Antler Rocks Glass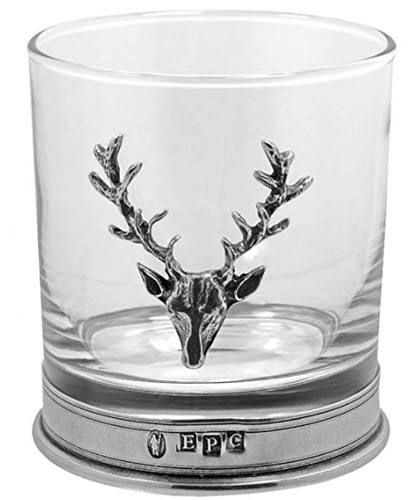 This Deer Head Antler Rocks Glass is a handmade product. That aspect alone makes it worth considering. The piece uses a heavy glass that has a pewter base, providing just the right weight in your hand. Then there's the deer head mounted onto the outside of the glass. All-in-all, the glass is simply stunning.
Jameson Irish Whiskey Glass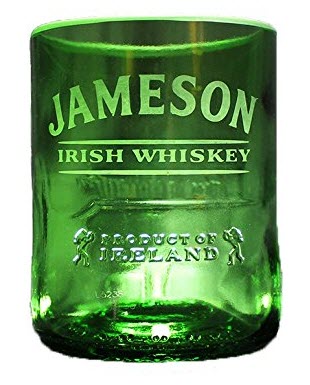 You don't need to guess what this Jameson Irish Whiskey Glass is made for. The glass isn't just for looks either. It includes an unusual rolled rim that helps to make it extremely easy to drink from. What's more, the glass is actually made from a Jameson Irish Whiskey bottle, so it really is out there.
Old Fashioned Fish Whiskey Glass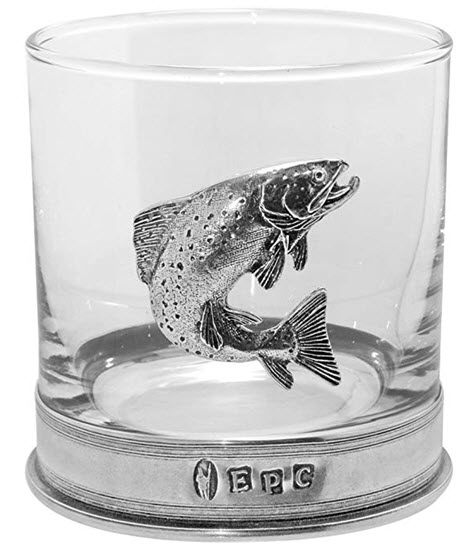 This Old Fashioned Fish Whiskey Glass follows the same general style as the deer head basket from before. The pewter base to the glass and pewter fish creates a distinctive style that won't soon be forgotten.
Matterhorn Cool Whiskey Glass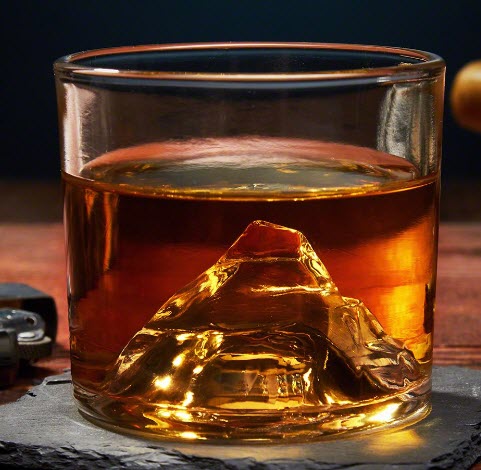 Matterhorn is a famous mountain for explorers, making this Matterhorn Cool Whiskey Glass appealing as a gift. The mountain shape within the glass is a stylish idea and creates an interesting glass. The glass can be customized with a monogram containing up to 3 letters.
Wax Seal Whiskey Glass With Gold Stem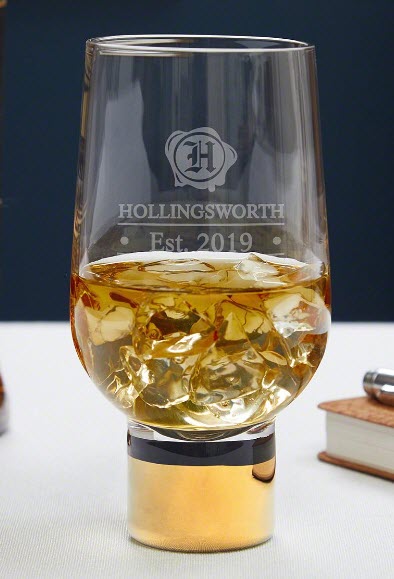 This Wax Seal Whiskey Glass with Gold Stem isn't very complex, but that doesn't stop the style from working well. The glass looks particularly good when there is some ice and whiskey in there too. You're also able to personalize the name, initial and year that is engraved on it.