Yoga wasn't always common in the United States. These days, however, just about every gym has some yoga classes and other venues are popping up regularly. The pattern isn't surprising either, as yoga is often linked to a variety of health benefits. So, why is yoga good for you?
After all, yoga is much less intense than most forms of exercise and mightn't seem all that powerful. You're just stretching, right?
Actually, that's not the case at all. Yoga is just as much about your breath as what you're doing with your body – and it can have some surprising benefits. Read on to learn more about how yoga might be helpful, along with the risks.
If you're already sold on the idea of yoga, why not check out our list of activewear subscription boxes? Those boxes give you the gear you need for many types of exercise, including yoga.
Is Yoga Good For You?
What Is Yoga
Benefits Of Yoga
How Yoga Can Be Harmful
How Do You Reduce The Risks?
Can Christians Practice Yoga?
Final Thoughts
What Is Yoga?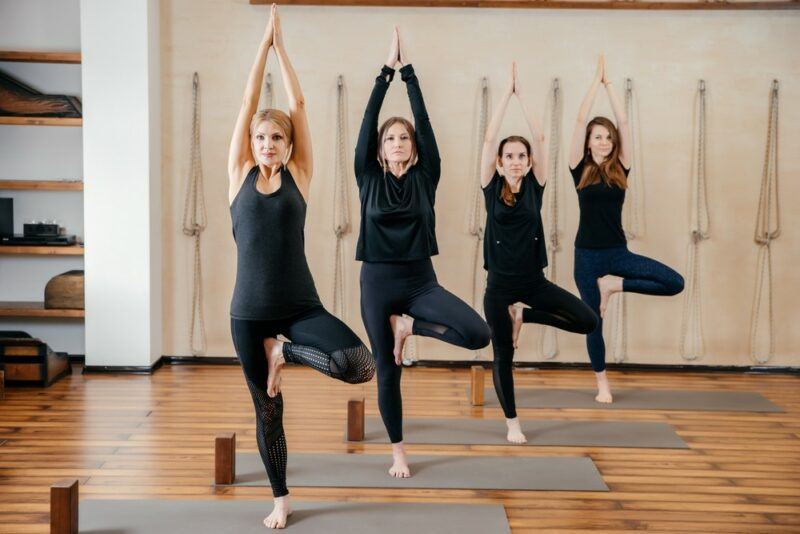 Yoga has a long history. The practice itself has existed for more than 5,000 years and it's not just a form of exercise. Instead, yoga has three distinct aspects: the physical, the spiritual, and the mental.
These aspects give yoga a more whole body approach than most other types of exercise. Indeed, the name yoga can be translated as "to join", highlighting the idea that you're bringing different parts of yourself into alignment.
The underlying idea is simple – movements paired with breathing. Focusing on the breath is a key part of the practice, which gives yoga a mindfulness component as well.
Unlike many other types of exercise, yoga also tends to be slow and steady. You spend a decent amount of time in each pose, while transitions from one to the next tend to be smooth.
There are multiple branches of yoga, with different features and their areas of focus. Jnana yoga, for example, has an emphasis on wisdom, while hatha yoga focuses on both the body and the mind.
While yoga has its roots in Hinduism, many yoga classes in the United States and other countries have little to no spiritual focus.
With so much variation, it's easy to shop around and find the right type of yoga class for your needs.
Benefits Of Yoga
Promotes Wellbeing And Mental Health
Yoga is well-known for its mental benefits. The practice helps people to rebalance within themselves, to become less stressed, and to become calmer in our hectic world. It's easy to see how those effects lead to improved mental health.
Yoga could help with emotional management too, as practicing yoga gives you the chance to experience yourself and your emotions without judgment.
There's even the chance that yoga could help with significant mental health issues, including depression and anxiety.
However, yoga is best seen as a complementary treatment for these conditions. That means that yoga works best when used in conjunction with other mental health interventions, rather than independently.
Can Reduce Pain
Yoga has been linked to pain reduction too. This effect may be partly due to how yoga helps with stress. After all, carrying a lot of tension can easily lead to headaches and perhaps back pain – and yoga offers an easy way to decrease that tension.
You're also stretching and strengthening your muscles throughout your yoga practice. Both effects could be useful for decreasing pain.
It Might Help You Lose Weight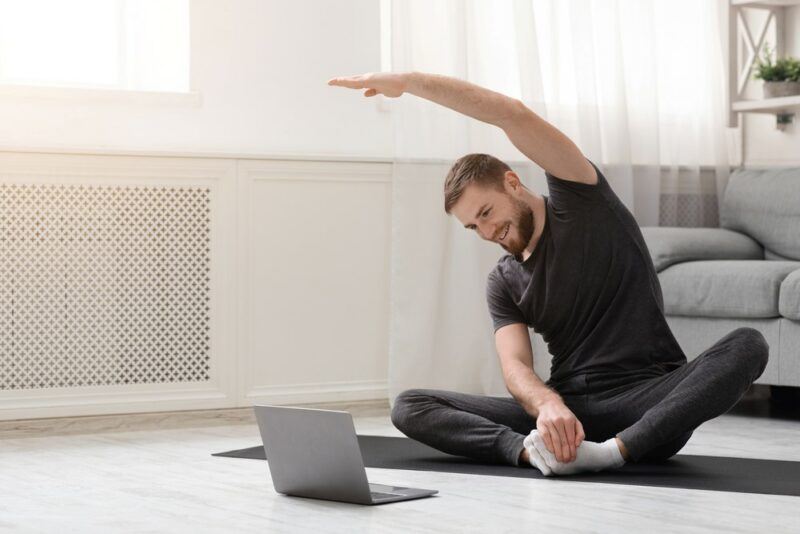 When we think of weight-burning exercises, most of us imagine intense cardio at the gym, long runs, or something similar. There's this idea that weight-burning exercises always involve sweating up a storm.
Yet, this isn't necessarily the case.
Many people do find that yoga helps them to lose weight. The main reason is simple – you are burning calories. You mightn't be burning as many as during an intense exercise class, but certainly more than if you weren't exercising at all.
Plus, yoga is a fantastic exercise choice for anyone looking for something that isn't intense. After all, doing a full workout might be better for weight loss than yoga, but only if you're going to do the workout regularly. For many people, yoga is a much easier habit to stick with.
There's also another reason for the weight loss effect – yoga helps you to become more mindful, more centered in your body. This effect may impact your eating too. For example, if you're feeling better, you may be less likely to eat junk food. You may also find yourself enjoying the taste of healthy food more than you did before.
Improves Balance
Yoga appears to improve balance over time. This isn't surprising, as you do need good balance for some of the poses (which can be difficult in the beginning).
The effect is an important one, as many of us don't get many opportunities to improve our balance. Other exercises help with balance too, but few are as accessible as yoga.
Increases Flexibility And Strength
Similarly, yoga has been linked to increased muscle strength and flexibility. You may see more improvements in these areas than other types of exercise offer – as yoga involves some pretty out there stretches.
It's Inexpensive
Yoga is one of the easiest types of exercise to get into (after walking), as you just need yourself and a yoga mat.
Yoga classes are often cheap too, especially if you can find one that operates independently, rather than out of a local gym.
If classes are out of your price range, you can easily find instructional videos online. However, it's best to start off with a teacher if at all possible, so you can be certain that you're getting the poses right.
How Yoga Can Be Harmful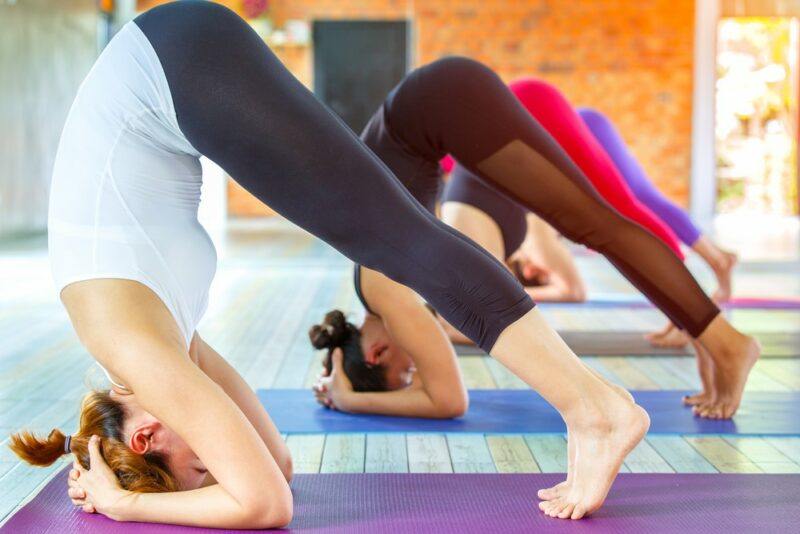 The list of benefits above clearly shows why yoga is so popular. Yet, as with every type of exercise, there are some issues with yoga too. While most people can still practice yoga, you might need to modify your approaches to protect yourself.
You Can Hurt Yourself
Despite the gentleness of yoga, injuries are common. Problems with the lower back, wrists, neck tightness, hamstrings, and rotator cuff are all particularly common problems.
Injuries often happen because people aren't doing poses correctly, but this isn't always the case. You may also be injured or cause pain because of the amount of time that you spend in a given pose or because of an underlying weakness in your body.
There's also the risk that some yoga poses could contribute to strokes, partly due to extreme head and neck movements.
To make matters worse, yoga participants are often unaware of the risk of injury. They may assume that everything they are being taught is safe because yoga is so popular.
Being unaware of the risks makes people even more vulnerable. After all, it's harder to spot indications of a problem when you don't know that you need to look for them.
Injury Risk Can Be Higher In Some Situations
Yoga can be a safe and gentle exercise, even for seniors. However, the risk of yoga-related injuries does increase with age.
This means that seniors need to be even more careful when practicing yoga. Trained instructors should already take this into account, but it's still worth checking whenever you start a new class.
Some health conditions may make injuries more likely too. For example, people with high blood pressure may need to be careful with some poses. Similarly, anyone who has had a significant wrist or knee injury may find many poses difficult.
Most yoga poses can be modified to reduce their impact or to change the part of your body that takes your weight. But, it's important to check in with your instructor, as you don't want to make a modification that puts you at even more risk.
Hot Yoga Has Additional Risks
Hot yoga is more vigorous than other forms of yoga. It's also performed in a warm studio. This combination of features promotes sweating and is thought to give your body and lungs a much better workout.
While the approach might provide more benefits than regular yoga, the risks are higher as well. You'll need to drink plenty of water to avoid dehydration.
There's also the risk of heat exhaustion and heat stroke, so it's always important to leave the room if the heat is getting too much. Don't try to force your way through the experience, as you could put yourself at risk.
How Do You Reduce The Risks?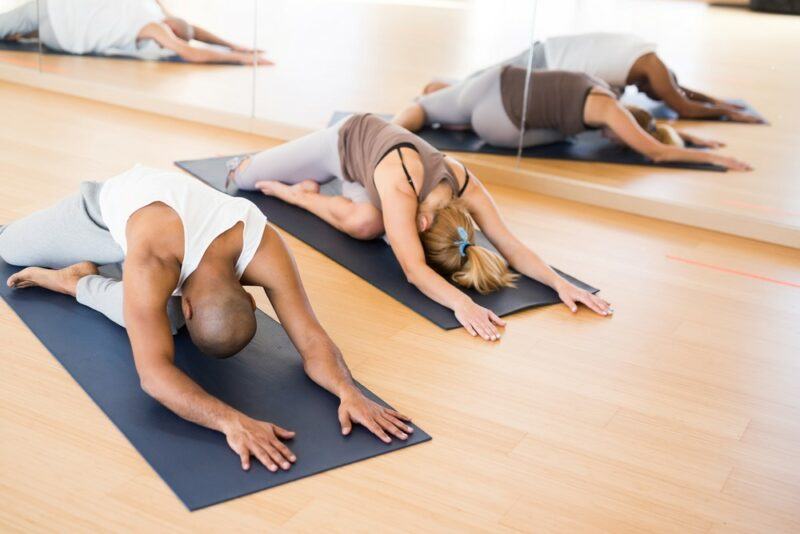 The most important thing is to practice yoga with a qualified instructor, especially when you first begin. This way you have plenty of guidance and can learn the forms correctly.
Taking this approach really is crucial. It's easy to get some of the poses wrong when you're learning on your own, especially if you're trying to see a video and get into position at the same time. The last thing you want is to be regularly using the wrong pose.
Take It Gently And Pay Attention
It's always best to start yoga slowly and gently. Despite how gentle yoga seems, some of the poses can be challenging and a strain on the body.
You may need to start new poses gradually, deepening them over time, rather than trying to match the instructor right from the very beginning.
Pay attention to your body too. If something doesn't feel right, don't do it. This is crucial, as it's easy to get lost in the group focus of a yoga class and simply follow along with what everyone else is doing. Yet, we all have different needs. What's safe for one person may not be for you.
Keep It Simple
Yoga poses vary. Some are simple and can be easily held, while others are much more difficult, including the various inversion moves.
Most people would do well to stick to the simple poses, rather than trying more complex ones. This is because the risk of injury goes up with the complexity of the move.
And honestly, most of the benefits of yoga come from the combination of movement and breathing. Even the simplest poses will give you those benefits.
Keeping it simple is important for another reason too – many of us have some underlying physical issues that increase the risk of injury and we're often not aware of them. For example, if you didn't know that your wrists were sensitive, the wrong yoga move could cause some serious issues.
Look For Modifications, If Needed
You can also talk to your yoga teacher about ways to modify some of the poses to make them safer for you.
For example, people with knee injuries, balance problems, high blood pressure, a spinal condition, or osteoarthritis may not be able to use the same positions as others.
Make Sure Your Teacher Is Well-Trained
Before starting a yoga class, it's always wise to check out the teacher's credentials, including the amount of training they actually did. This matters because some teachers do the bare minimum and may not know enough to keep you safe.
Can Christians Practice Yoga?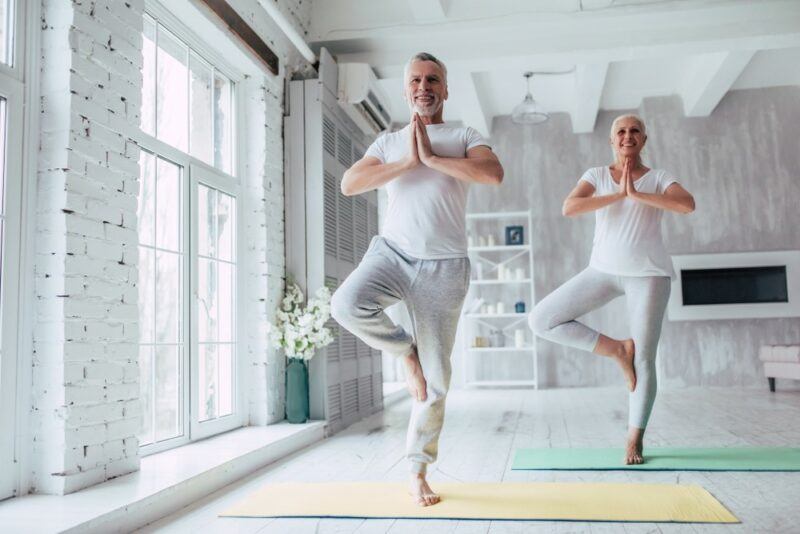 While asking whether Christians can practice yoga might seem a little strange – the question comes up a lot. It's an important area too, as yoga is as much about emotional and spiritual health as it is about physical health. There isn't an easy answer to the question either, as churches and pastors vary in their stances here.
The complexity comes from the fact that yoga is associated with Hindu spiritual practices. While our modern version of yoga has become very Westernized, that spiritual history is still somewhere in the background.
Some Christians claim that, no matter how it's practiced, yoga retains a connection with Hinduism. This isn't such a shocking claim either, given that yoga studios often have spiritual imagery and chanting is sometimes used as part of the practice. There's even the chance that yoga is akin to Hindu worship.
Interestingly, Christian versions of yoga are now popping up – sometimes called Holy Yoga. These attempt to re-orient yoga and give it a Christian focus instead, where yoga becomes a tool for getting closer to God. Some churches even offer yoga classes.
Other Christians see yoga as being non-religious at all. Despite yoga's history, they argue that yoga is simply a breathing practice, one that stretches the body and can improve health.
In the end though, if you want to practice yoga as a Christian, you'll need to decide for yourself. Many Christians do practice yoga, either Christian-focused versions or simply by joining a class at the local gym. Others call yoga satanic and avoid it entirely.
Final Thoughts
Yoga has many benefits, helping with your flexibility, your energy, and even your mental health. It's often seen as a powerful practice, one that's quite different than how most of us normally exercise.
Still, like every activity, yoga comes with its risks too. Some people even hurt themselves badly, perhaps by getting some of the poses wrong or by not listening to their bodies.
Because of this, you should always approach yoga gently. Give yourself the time to learn each new pose and really become familiar with it. Pay attention to how you feel as well, both physically and emotionally. This way you can identify any problems early on.
Finally, remember it is just one of many exercise approaches. If it doesn't work well for you, that's okay, there are countless others out there for you to try instead.
Frequently Asked Questions
Is Yoga Good For Weight Loss?
While yoga isn't a very intensive exercise, you are burning some calories. What's more, yoga has been linked to improved mental health, better mood, and decreased stress. Those effects can all decrease emotional eating and make it easier to lose weight.
Does Yoga Build Muscle?
Actually, yes. Yoga means you're still stretching your muscles, particularly when you're holding a challenging pose. This effect helps to build your muscles and increase your strength.
Is Yoga A Religion?
Yoga isn't a religion on its own. However, it is associated strongly with Hinduism. It also has some links to both Buddhism and Jainism.
This connection means that some people are uncomfortable practicing yoga. If this is the case, you can look for teachers who take a more secular approach to yoga. Some actually cut out all potentially spiritual aspects and treat yoga just like any other type of workout class.
Is Yoga An Aerobic Exercise?
Most versions of yoga aren't aerobic, as you're not dramatically raising your heart rate. Don't let this concern you though, as you're still getting many health benefits. In fact, regular yoga could be just as good for you are cardio exercise.
That said, some versions of yoga are more intense than others, including power yoga. This variation can be counted as a form of cardio exercise.
Is Yoga Strength Training?
Yoga has some characteristics of strength training and does help your muscles get stronger. However, it isn't the same as true strength training, so you can't use it as a direct replacement.
Because of this, anyone serious about muscle development may still need strength training on top of their yoga practice.