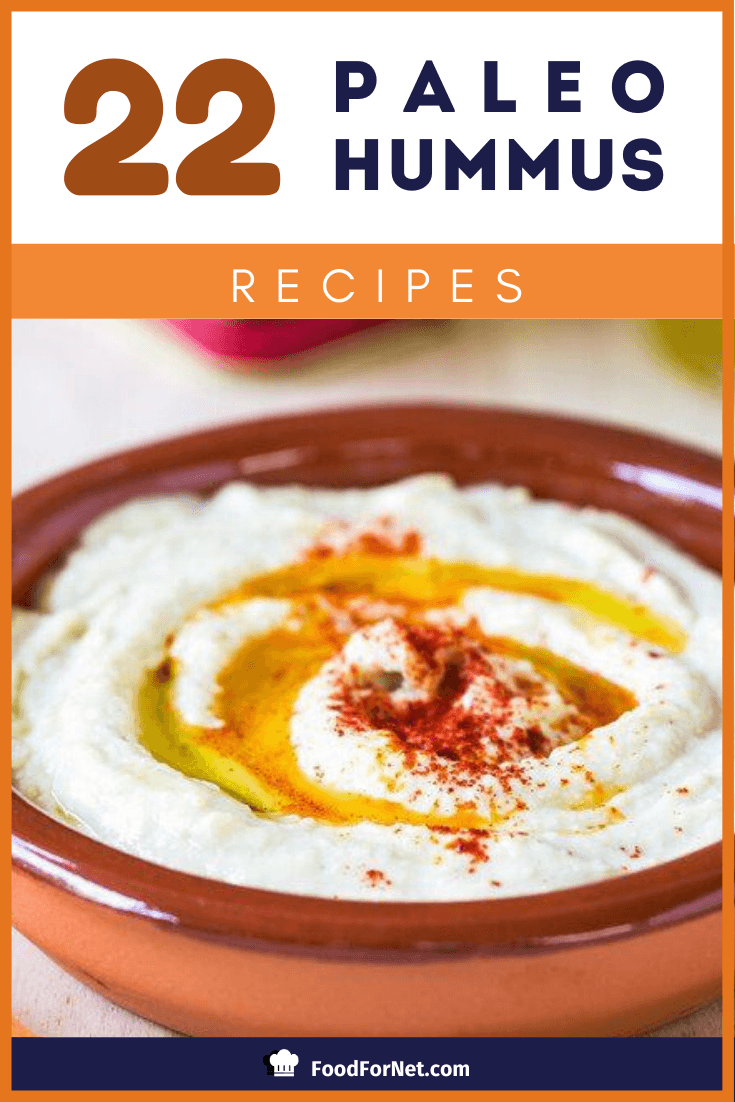 Hummus is one of the all-time greats. When you're in need of a snack or a light lunch (or just something to eat off a spoon…), sometimes only hummus will do. But just because you're a paleo eater, it doesn't mean you have to miss out on eating this delicious stuff! Whatever the texture or flavor, there is a paleo hummus recipe to suit every craving.
And with the ideas we have for you here, you'll be your own hummus-making machine in no time! Eat with raw chopped carrots or broccoli, or with sweet potato or vegetable chips. It also makes for a great sour cream substitute for a salad. Here are our favorites from around the web.
Paleo Hummus Recipes
PS. If you're making party favors, try these 30 paleo appetizer recipes.
Looking for a good basic hummus recipe? Want to add in your own flavours? Give this recipe a go. Just put all the ingredients in your food processor and blitz to your heart's content!
If you ask us, you're always on to a winner if you can include fresh veg in anything you make. This recipe uses raw fresh zucchini (with the option of adding avocado too!) to create a tasty and satisfying hummus.
Like your hummus nice and green? Then this is the one for you! Raw spinach and zucchini make for a brightly coloured hummus experience that's packed with everything good for you.
Get that smooth and creamy texture by using sweet potato instead of chickpeas. For a colourful, warming and comforting hummus, this recipe is perfect.
Using roasted cauliflower in this recipe gives a subtle sweetness that you just don't get from chickpeas. And with only six ingredients, it couldn't be simpler to make.
If you love garlic and haven't tried roasting it before, now is the time! We all know garlic for its strong smell and even stronger flavour. But roasting almost caramelizes it (we've dipped carrot sticks straight in before…) and it's a real treat to add to hummus. But don't get us wrong, as it says in the recipe you still need to make sure you're amongst garlic lovers when you eat this…
As I'm sure you're beginning to notice, a popular choice in paleo-friendly hummus recipes is the humble cauliflower! Cauliflower and curry spice is a match made in heaven, and with only seven ingredients, there's no excuse not to give this recipe a try.
The interesting thing about cashew nuts is that when you soak them (for a few hours or overnight) and then whiz them up in a blender, they turn wonderfully creamy! Combined with the honey-sweetness and slight acidity of the roasted tomatoes it makes for a fun paleo take on traditional hummus flavours.
We think walnuts are great. They're tasty and versatile, and a great source of omega-3. We know we should be eating more of them. And now we definitely will with this gem of a recipe!
This simple and healthy recipe uses a jar of roasted red peppers, taking the hassle out of having to roast your own (which, let's face it, can be hard going!).
If you make your own nut milks, and don't know what to do with the left over pulp, this is the answer! This recipe uses cashew nut pulp with fab results.
We know not everyone is a fan of beets, but this recipe is definitely worth trying! It's a real treat for your body, full of vitamins and antioxidants. And what a great colour too!
Avocados really do pack a nutritional punch. For an easy way to add them into your diet (or if, like us, you bought way too many and need to work out how to use them up quickly) give this hummus recipe a try. We think you'll love it. And if you don't like it spicy, just leave out the cayenne!
When parsnips are cooked, they take on a delicious creamy texture. Perfect for hummus, in fact! Combine with a drizzle of homemade, metabolism-boosting garlic chili oil and you've got yourself a perfect dip to eat right out of the bowl scoop up with raw veg batons.
This is a bit of a twist on the standard hummus. Toasted walnuts, roasted red peppers and pomegranate molasses really pack this dip with flavour! And as an added bonus, it can also be used as a sauce for meat and fish. Perfect!
This recipe is all about making the most of the humble carrot. Many of us already have them lurking in the depths of the refrigerator, and roasted carrots are delicious, so why not put them to good use in this hummus recipe!
This recipe has a zucchini base, so it's not too heavy. And the addition of squeezed lemon and garden herbs gives this hummus a real freshness.
Butternut squash is the most popular squash in the country! And with good reason too. It's tasty, low in fat, contains plenty of fibre, and is jam-packed full of vitamins. You really can't go wrong with this hummus recipe!
It's a squash free-for-all in this recipe – throw in whichever type you like! The use of smoked paprika and chipotle gives you all the smoky flavour without needing an actual smoker in your kitchen. Sounds good to us!
Although perhaps not a title for the faint-hearted, this is a green superhero of a recipe! Raw broccoli can be slightly bitter, but this recipe tames it with zucchini and nutritional yeast so it doesn't send your taste buds into shock.
Like Mexican food? Us too. This low-carb green bean hummus uses peppercorns, ancho and guajillo chillies, and cumin to really pack a Mexican flavour punch.
The combination of edamame beans and pistachio nuts in this hummus is divine. It blitzes up into quite a thick mixture, so if a thinner hummus is more your thing, try adding a tablespoon of water to loosen things up a little!