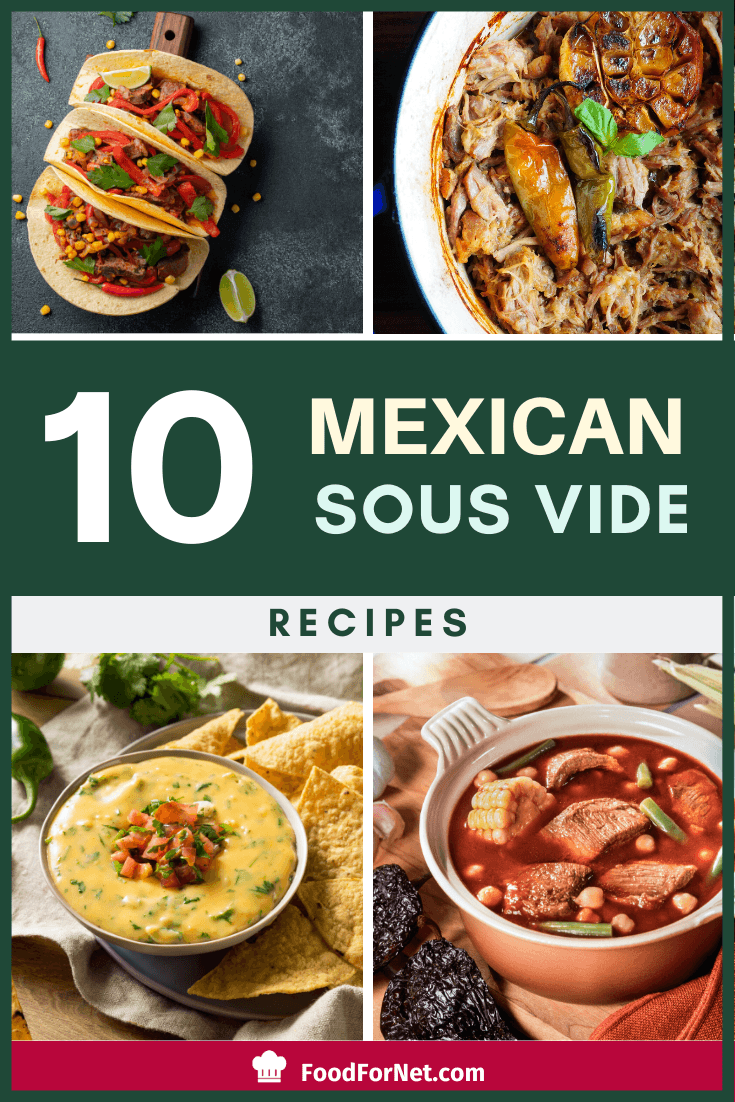 Sous vide is often used for cooking meat, particularly steak. But, the technique is so much more versatile than most people assume. As a result, it can be used for many different types of dishes, including Mexican meals and dishes that use Mexican flavors. For that matter, many Mexican-inspired dishes use ingredients that naturally work with a sous vide setup anyway, including beef and pork.
Some of these 10 sous vide Mexican recipes are fairly traditional, while others take advantage of Mexican flavors to create something entirely different.
Regardless of the overall style, the recipes are all powerful in their own right. Besides, it's always good to introduce some new meals into your repertoire.
I even prepared some sous vide pork carnitas while playing Top Golf all day yesterday, and came home to tender pork, ready to shred and serve when I got home!
Mexican Sous Vide Recipes
Check out our top recommended immersion circulator! If you have an older circulator or sous vide water oven, you might be surprised at how much the technology has improved over the years.
Just a couple years ago, it would cost $500+ for a water oven, and $1,000+ for an industrial grade circulator. Now, you can get an awesome circulator for just a hundred bucks, and our top recommended device even comes with an app so you can prepare sous vide while away from home.
Carnitas Sous Vide
Sous Vide Shrimp and Chile Queso
Sous Vide Pork Tamales
Sous Vide Chicken Burrito Filling
Sous Vide Tacos de Lengua
Sous Vide Pulled Pork Tacos
Sous Vide Carnitas for Tacos
Sous Vide Steak Quesadillas
Wicked Good Sous Vide Pulled Pork Shoulder
Sous Vide Mole Bitters Infusion
Carnitas Sous Vide

This Carnitas Sous Vide recipe from stefangourmet.com is very different from the traditional Mexican approach. For one thing, he has altered the type of pork used, relying on pork belly, rather than pork shoulder. At the same time, using sous vide inherently changes the end result.
Those differences aren't a bad thing though, especially as you still end up with a tasty meal overall. The recipe is also clever, as Stefan takes steps to ensure his meat is still crispy, despite the use of sous vide.
Sous Vide Shrimp and Chile Queso
Meat-based dishes are the obvious choice for Mexican sous vide meals. However, options like this Shrimp and Chile Queso from amazingfoodmadeeasy.com can also work very well. The recipe itself has three components, each of which involves different steps. However, it is worth trying out for the shrimp alone and the entire recipe is easy to follow, even for beginners.
Sous Vide Pork Tamales

These Pork Tamales are another option if you like Mexican food and the recipe comes from stefangourmet.com, again. With dish recipe, the pork is cooked in the sous vide, while the rest of the components are prepared separately. The end result is worth the effort, especially as the tamales look very authentic.
The recipe itself also contains a large number of images, including photos of every step in the process. That aspect could be essential if you've never made tamales before or if you're not confident.
Sous Vide Chicken Burrito Filling

With this recipe, from almost-kosher.net, the focus isn't on an entire Mexican meal. Instead, the information provided is just for the chicken filling of a burrito.
But honestly, that's all the details you need and the meat is the most critical component anyway. After that, you can choose the rest of the ingredients based on what you have at hand, along with your personal favorites.
Sous Vide Tacos de Lengua

This Mexican recipe, hosted at seriouseats.com, may not look or sound too unusual, unless you know that the meat in question is tongue. As a result, this recipe won't suit everybody – not by a long shot. But, if you've ever been interested in tongue, the dish is a great way to try it out. For that matter, sous vide makes it so much easier to cook the tongue and the recipe itself is basic.
At the same time, the other ingredients used are fairly strong in their own right. That could be an advantage if you haven't tried tongue before, as there are many other flavors present too.
Sous Vide Pulled Pork Tacos

Tacos can be simple or complex and these Pulled Pork Tacos from bigspud.co.uk are on the basic side. That's never a bad thing, as recipes like this let the flavor of the meat shine through. The key idea here is to use the sous vide to create Mexican-style pulled pork. Doing so works well, as the sous vide offers a better balance of tenderness and flavor than other techniques (like slow cooking).
Sous Vide Carnitas for Tacos

I've always found that seriouseats.com offers amazing recipes and this Sous Vide Carnitas recipe is no exception. For one thing, the dish comes with some amazingly intense flavors that can make your tacos taste that much better.
Additionally, there is also information about various cooking times and temperatures that you can use – along with the outcomes that these produce. That type of information is important if you prefer a specific texture to your pork.
There's a lot of talk about using pork for tacos, but I think you could also cook up some really good flank steak too!
Sous Vide Steak Quesadillas
I found these Steak Quesadillas at amazingfoodmadeeasy.com and they're perfect if you want something different than basic tacos. The recipe mostly focuses on cooking the steak via sous vide and you can then assemble the quesadillas from there. Doing so gives you juicy and flavorful steak, which basically cooks on its own. Nevertheless, the recipe does cover the rest of the steps too, including every aspect of putting the quesadilla together.
Wicked Good Sous Vide Pulled Pork Shoulder
This Wicked Good Pulled Pork Shoulder, from www.chefsteps.com, isn't specifically designed for Mexican cooking and doesn't even use Mexican spices. However, the recipe is a very easy way to make pulled pork, especially as you can choose which spices you use. This approach would make the pork perfect for including in tacos.
After all, the quality of your tacos often simply comes down to the meat you're using. So, if you can find a great recipe for that meat, the rest of the dish is bound to be amazing.
Sous Vide Mole Bitters Infusion
To round off this list of Mexican recipes, here's one from amazingfoodmadeeasy.com that is a little unusual. The recipe here is for Sous Vide Mole Bitters Infusion, where you are using sous vide to bring smoky and spicy Mexican flavors into vodka. By doing so, you have the chance to create a wide range of Mexican-style drinks, many of which wouldn't normally be possible. Plus, the idea is fun if you want something different.
Sous vide infusions are actually quite common, and it's a great way to get new, exciting flavors into foods you never thought possible..