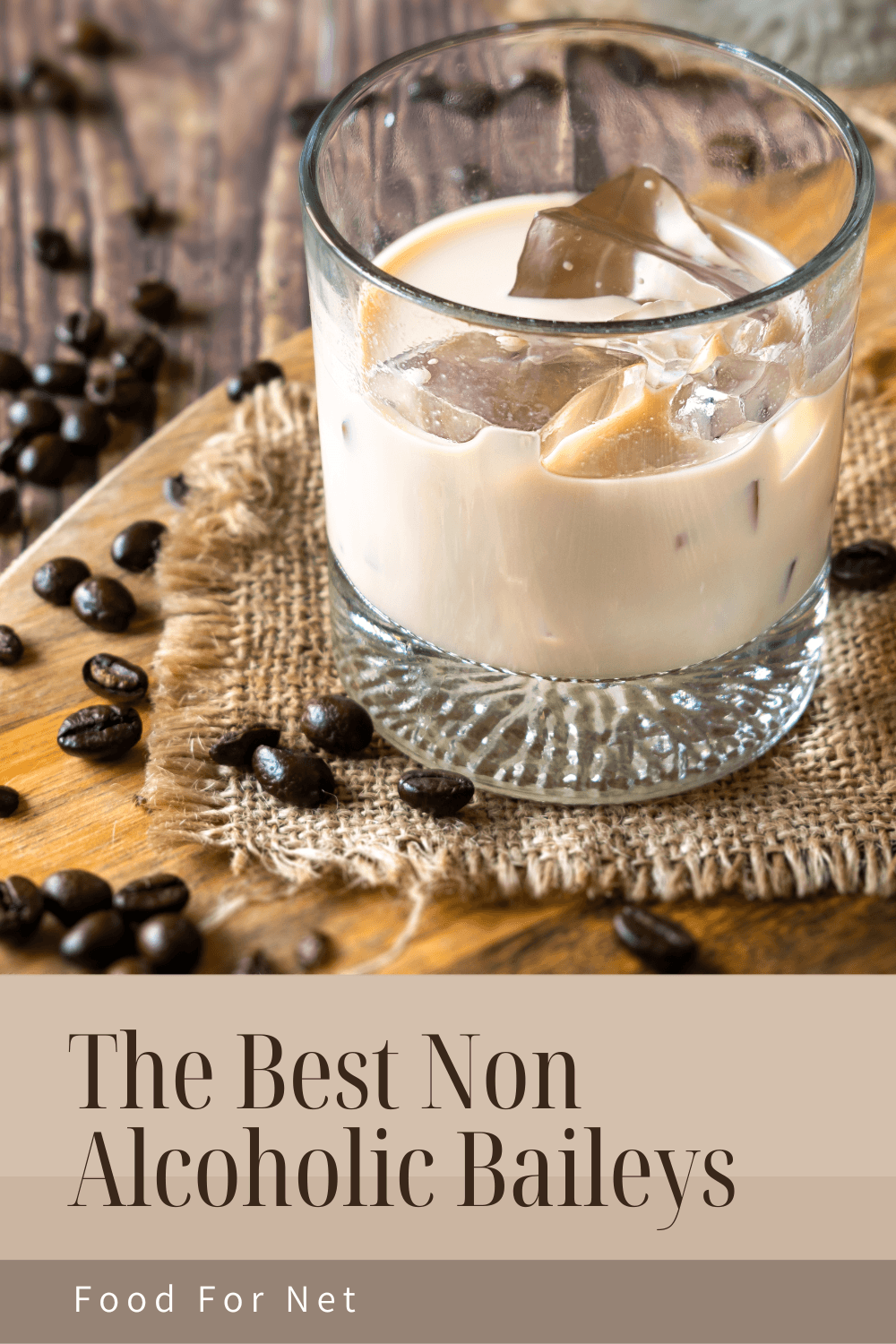 Baileys is a rich, creamy, and incredibly delicious liqueur that makes an excellent dessert drink. Plus, you can drink the liqueur on its own or use it in a cocktail. But, Baileys is made using whiskey and comes in at around 17% alcohol by volume. This makes it unsuitable if you're trying to avoid alcohol. What about non alcoholic Baileys, then?
Ideally, such a product would be just as creamy as true Baileys and have the same Irish cream flavor profile. Baileys itself doesn't produce an alcohol free version of their product, so we must look further afield. This also means that we're looking for the term Irish cream, rather than Baileys.
There are some interesting products out there, but as you'll see, the field is very mixed. You'll need to get a little creative to find a true substitute for Baileys.
P.S. If the products below don't meet your needs, why not experiment with regular non alcoholic cocktails or alcohol free spirits? Alcohol free drinks have come a long way since they were first developed and there are now some surprisingly complex and nuanced drinks.
Non Alcoholic Baileys Brands
Twisst Non Alcoholic Irish Cream

Twisst is a UK brand that offers ready to drink mocktails, including a virgin bloody Mary, a pina colada, a mojito, and an Irish cream. While their products don't look exciting and are relatively expensive, their Irish cream is one of the only non alcoholic Baileys products on the market.
What's more, reviewers say that the flavor profile is incredibly close. You mightn't even be able to distinguish between this and Baileys, which is an impressive feat.
There's a big catch though – availability. Twisst doesn't ship to the US and there don't appear to be any American sellers. There don't even seem to be any versions on Amazon. So, this product might not be an option if you're in the United States.
Official Baileys Products

While Baileys liqueur is always alcoholic, the company does produce some non alcoholic products, particularly Baileys flavored coffee drinks. What these are will depend on where you live.
For example, in America you can find Baileys Iced Coffee Latte, but this still contains 4% alcohol. You may also find Baileys Coffee Creamer, which is typically non alcoholic. This doesn't taste exactly like real Baileys, but it still gives you some of the same flavors.
Other countries take different approaches, with products like Non Alcohol Iced Coffee Mochaccino and Non Alcohol Iced Coffee Butter Caramel.
Monin Irish Cream Syrup

Monin is well known for producing tasty syrups that perfectly replicate the desired flavors. Their Irish Cream Syrup is a fantastic example, as this product highlights the chocolate, vanilla, and slight nutty flavors found in Baileys.
Plus, because this is a syrup, you can use it in whatever way you see fit. This could include mixing it in a mocktail or adding it to your coffee. Honestly, the syrup ends up being even more versatile than Baileys itself.
There's a regular version of this syrup and also a sugar free one. The sugar free option means you can still enjoy the flavors of Baileys, even while trying to lose weight.
Amoretti

Amoretti is another company that offers an alcohol free Irish Cream Syrup. This is a clear and light syrup, with just 32 calories per serving.
The syrup has been carefully designed to combine easily with milk or milk-based drinks, without any curdling. This is fantastic if you're hoping to use the syrup in a cocktail or even just in a milky coffee.
The syrup could be relevant for anyone with a lactose intolerance too, as it is made without using any milk. That said, it is produced on equipment used for milk, tree nuts, and soy, so it could be a problem for people with severe allergies.
Interestingly, the company has a second Irish cream syrup, called Creama di Irish Cream. This appears to be a creamier product that features caramel flavors as well as Irish cream. It could be an excellent addition to desserts, especially when you're looking for color as well as flavor.
Torani Irish Cream

Torani is a famous syrup company, offering a huge selection of different flavors. Their products are well-reviewed too and generally match the desired flavor profiles.
Torani's reputation makes this one of the best options for Irish cream syrup. After all, you never know what to expect from obscure companies.
Plus, Torani has a few different versions of their Irish cream syrup. One follows the traditional style and contains 23 grams of sugar per serving. The Irish cream taste comes from natural flavors and there aren't many other ingredients.
There's also a Puremade version. This focuses on more natural ingredients, although it still relies on sugar.
For those worried about sugar, there's also a sugar free version from Torani. While this does use some artificial ingredients, the flavor profile should still be familiar.
Upouria

The Irish cream syrup from Upouria is darker than the version from Torani, which could mean that the flavor is richer as well. The product itself is promoted as a coffee syrup, but you could easily use it in other situations as well.
While the brand isn't as well-known as Torani, the syrup still gets good reviews.
That said, not everyone agrees about the flavor profile. Some people claim that it captures the essence of Irish cream perfectly, while others say it's way off the mark.
This difference in opinion isn't shocking. After all, some of the flavor profile of Baileys comes from whiskey. Any attempt to recreate the flavor without whiskey is likely to be incomplete.
DaVinci Irish Cream

Here's one final example of an Irish cream syrup. This one comes from the DaVinci brand and follows the same pattern as previous examples.
The biggest thing to note is that the syrup uses a combination of natural and artificial flavors, rather than just natural ones. Artificial flavors aren't ideal and could be worse for health than natural ones.
Still, you're only using small quantities of the syrup at a time. The artificial flavors could also help bring the flavor profile closer to what it should be.
Lyre's Irish Cream Cocktail

Lyre's is a fantastic brand, with a huge selection of alcohol free spirits. While the company doesn't offer an alcohol free version of Baileys, they do have an exciting Irish cream cocktail recipe.
This recipe is different than most others, as it relies on Lyre's American Malt as a key ingredient. Their American Malt is basically an alcohol free version of whiskey. This can then be mixed with condensed milk, cream, espresso, and a few other ingredients to create a creamy Baileys alternative.
Of course, you don't need to stick with Lyre's American Malt. Another type of alcohol free bourbon would work just as well in the cocktail.
Homemade Alcohol Free Baileys

So far, we've highlighted a variety of syrups and a couple of spirit alternatives, but these aren't ideal. Most of them rely heavily on additives, including artificial flavorings, which have questionable health impacts.
Plus, each of these Baileys alternatives uses their interpretation of what the liqueur tastes like. Their interpretation might be the same as yours or it could be vastly different. This is a serious problem, as you don't know what a given product tastes like until you try it – and then you have a whole bottle of the stuff.
The alternative is to make your own Baileys at home using familiar ingredients. There are many recipes out there, like this one from BBC Good Food, which uses cream, evaporated milk, maple syrup, espresso, cinnamon, and vanilla extract as the main ingredients.
Making your own version is exceptional, as you get full control over the flavor profile. For example, you could drop out the espresso entirely if you don't like the taste of coffee or add more of it if you want a significant coffee and caffeine hit.
Less Conventional Alternatives To Baileys
While Baileys has an amazing flavor, it's scarcely your only option. Some other alcohol free spirits and mixers can be delicious in many of the same situations and ways as Baileys.
Coffee Originale by Lyre's

We mentioned an Irish cream cocktail from Lyre's before, but the brand does also have another interesting spirit – their Coffee Originale. As the name suggests, this isn't a Baileys knockoff at all. Instead, it's a non-creamy alcohol free coffee liqueur. You could even mix it with a little cream and use it instead of Kahlua.
Reviews for this drink are fantastic. Many people say they can't taste the difference between this and an alcoholic coffee liqueur, which is very impressive.
Arkay Coffee Liqueur

Arkay is a fascinating brand. They create a large selection of alcohol free spirits, ones that attempt to mimic the flavor and even texture of classic spirits.
While their products aren't as refined and complex as those from other brands, Arkay does use what they call a W.A.R.M. molecule. This is meant to mimic the 'bite' you get with alcohol, a sensation that's missing in most alcohol free drinks.
You could use one of Arkay's alcohol free whiskeys to create your own alcohol free Baileys, but why not experiment with Arkay Coffee Liqueur instead? This is one of the few non alcoholic liqueurs on the market, so it should have a different flavor and mouthfeel than most other products.
Think of this as an alcohol free replacement for Kahlua. While the flavor profile is quite different than Baileys, this spirit should still be delicious, particularly when mixed with a few creamy ingredients.
Dhōs Orange

Dhōs Orange might seem like a strange alternative to Baileys, as it's an orange flavored liqueur that isn't even very creamy. However, while the market is saturated with alcohol free wine, whiskey, gin, and alternative spirits, alcohol free liqueurs are few and far between. As such, products like Dhōs Orange are incredibly valuable.
You could even make your own creamy drink by mixing this together with cream or condensed milk, plus a few other ingredients. The liqueur should also work well in any recipe that calls for triple sec.
Curious Elixir No. 5

Curious Elixirs has some of the most exciting premixed non alcoholic cocktails on the market. This is partly because they're not trying to mimic the flavors of regular cocktails at all. Instead, the flavors are all completely unique and exciting.
The drinks aren't that similar to Baileys at all, but they do have one called Curious Elixir No. 5. This is a limited release version that includes flavor tones of chocolate and smoked cherries, plus various herbs and spices to help improve your health.
While this isn't a creamy cocktail, you are getting a chocolaty flavor tone. Besides, it's often nice to try something completely different.
Final Thoughts
There's only one precise substitute for Baileys – Twisst and this isn't easy to find outside the UK. The lack of options is disappointing, but isn't so surprising, as there aren't many creamy alcohol free substitutes anyway.
If you're looking for an easy option, the Irish cream syrups on this list should work well, giving you a familiar enough taste that you can mix into your drinks. However, they rely on natural flavors, so they're never going to be exactly right.
You can get much closer by making homemade Baileys – ideally with alcohol free whiskey as an ingredient. These whiskeys have often have rich and complex flavors. Some, including American Malt from Lyre's, get surprisingly close to the real thing.