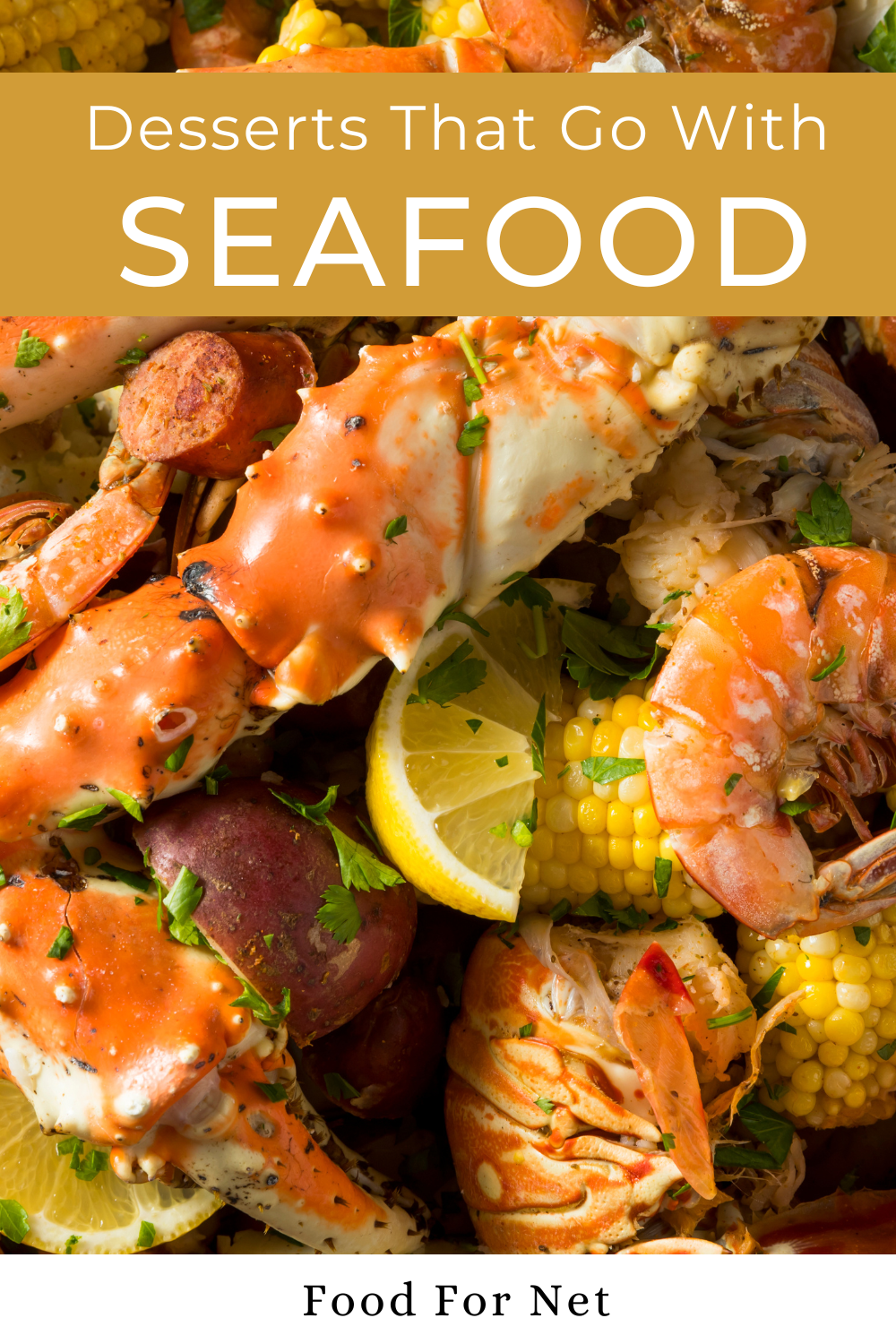 Seafood is delicious and incredibly healthy. It can also be tricky, as it has such distinct flavors. This means that you need to put thought into your desserts and sides, to find the right flavor combinations. Thankfully, there are plenty of desserts that go with seafood.
There's no hard and fast rule about the best type of dessert to serve. You could even join a dessert of the month club and most, if not all, of the desserts would be fine with your seafood. Honestly, even unique desserts often work well with seafood.
But, we're aiming for more than just fine. We're looking for desserts that complement your seafood and elevate your meal to an entirely new level.
Some desserts achieve this because they have bright citrus flavors, which always work well with mild fish. Plus, citrus may already feature in your meal, so you get an amazing continuation of flavors.
Other times, the dessert may contrast your seafood in some way, like giving you rich chocolatey flavors. There are plenty of excellent choices, so even the pickiest eater should find a few that they love. There are even a few healthy desserts on the list.
P.S. If you want more ideas, check out our other posts on pairing desserts, like desserts that go with pizza and those that go with chili. You can even take a different approach and pair your desserts with drinks instead.
Desserts That Go With Seafood (With Pictures!)
Key Lime Pie

Fish and citrus naturally pair well. That's why we use lemon juice on fish so often.
You can also bring this same theme into your dessert, starting with key lime pie. The key limes provide a bright and delicious flavor, one that will help you feel refreshed after your meal.
Key lime pie isn't just for fish either. You could serve it after almost any seafood-based meal.
Don't worry if key limes are hard to find. Plenty of recipes use regular limes instead and they taste just as good.
Sorbet

Fruit sorbet is a brilliant dessert, as it's easy to eat and is very refreshing. It's also an egg free dessert, which can be helpful. Sorbet works even better if you pair the flavors with your meal.
For example, if your fish uses mango as a garnish or some type of mango sauce, mango sorbet could be excellent as your dessert. Or, you might choose a bright lemon sorbet to pair with baked white fish.
Lime is also powerful. You might choose this if you're serving a rich meal, as it helps to cleanse the palate afterward.
Mango Sticky Rice

Why not break the mold a little with mango sticky rice? This popular Thai dessert simply pairs sweet glutinous rice with fresh mangos.
You can easily make it at home by using rice, coconut milk, sugar, and mangos. The mangos have a perfect refreshing quality, while the rice is sweet, but not overly so.
Some Types Of Cheesecake

Cheesecake is decadent, so it's often too much with seafood. However, if your seafood dish is also rich, then cheesecake would be perfect.
The trick is to choose your flavors well. Plain cheesecake is an excellent choice or perhaps a simple one that uses berries. Keeping the flavors simple means your dessert won't overpower the dinner. This matters – as you're trying to create a cohesive experience, rather than two entirely separate meals.
Lemon cheesecake is also fantastic, as this provides a fresh vibrancy that naturally contrasts against seafood.
Fresh Fruit

Fresh fruit isn't particularly exciting, but it's still an excellent dessert after seafood. It works well because it's naturally refreshing and sweet. There are also plenty of types to choose from, each with their own distinct flavors.
You can make fruit much more interesting by changing how you present it. For example, mango can be cut into all kinds of different shapes, including a rose flower.
Don't forget about fruit salad either. This allows you to serve multiple types of fresh fruit together, creating a flavor packed dessert. You could use fruit juice or a light syrup to make the treat tastier still.
Cooked Fruit

We talked about fresh fruit before, but that's not your only option. You can also try poaching fruit. Poached pears with a little ice cream is an ideal choice here, as the pears have a subtle flavor that is easily balanced by the ice cream.
It's not just pears that can be poached, though. Almost any type of fruit can be cooked this way, even if you don't have a recipe.
Or, what about baking your fruit instead? Baked apples always work well. You can even stuff them to make the dessert more interesting still.
Grilling fruit is another option, especially if your event is outside. While pineapple is the logical starting point, don't be afraid to try other types of fruits. Just make sure they're firm, as the fruit needs to hold its shape as it is being grilled.
Angel Food Cake

Light desserts always work well after seafood, which makes angel food cake ideal. After all, the cake is airy and spongy, making it very easy to enjoy.
You can make it even more exciting by serving it with fresh berries and perhaps a little cream.
Lemon Tarts

Lemon tarts are another fruit-centered dessert that helps to cleanse the palate. They're also easy to make, even more so if you use pre-prepared dough or shells.
It's important to watch the sugar content though. Some lemon tart recipes overdo it with the sugar and end up extremely sweet. This isn't ideal, as overly sweet tarts won't work as well with seafood.
White Chocolate Mousse

The texture of mousse is perfect after seafood, but most versions have an intense chocolate flavor that is a bit too much. White chocolate mousse is a perfect way around the problem, as it has a lighter flavor.
You could even try a more complex version, like white chocolate raspberry mousse. The raspberries provide an extra hit of flavor and some much needed fruitiness.
Bananas Foster Pudding

Bananas foster is a fun dessert in its own right and could easily pair with seafood. But, why not mix things up a bit?
Like the traditional dessert, a bananas foster pudding still gives you bananas in a butter-based rum sauce. However, the bananas aren't served with ice cream. Instead, they're layered with some type of cake or mousse to provide a parfait-like dessert.
You could even make a cheesecake version by using graham cracker crumbs at the bottom, topped with a cheesecake filling and then the bananas foster.
Coconut Lime Tart

Coconut is an excellent flavor to pair with seafood, especially if your meal was already Thai-inspired. A coconut and lime tart just takes things to the next level, giving you a refreshing citrus hit.
A coconut and lime tart isn't overly intense either. It certainly isn't as decadent as ice cream or chocolate cheesecake, so it won't overwhelm your senses.
Ice Cream

Ice cream is a hit after almost any type of dinner, regardless of whether you're serving adults or kids. This is partly because of the flavor and richness.
Ice cream also has the benefit of being cooling. As such, it helps you to feel satisfied and refreshed, even after a heavy meal.
Lighter ice cream flavors, such as strawberry or vanilla, tend to be best after seafood, as they don't overwhelm the main choice. But, you're not limited to just these. Almost any ice cream flavor will be popular after seafood. It's often simply best to choose your favorite type, rather than trying to match the ice cream to your dinner.
If you don't know where to start, try an ice cream of the month club. These ship ice cream to you regularly and often include some obscure flavors in the mix.
Chocolate Fondue

Fondue could be just the ticket if you're trying to make an impressive dinner and dessert experience. When done well, fondue brings your event to a new level, giving guests the chance to dip plenty of fruits and snacks into the chocolate.
While milk chocolate is the most common style, you can make fondue with dark chocolate or milk chocolate instead. You could even have multiple fondue pots and allow your guests to mix and match.
Raspberry Semifreddo

Despite looking like ice cream, semifreddo is a distinctive dessert. It has more air in it than ice cream, which gives it a lighter texture. Other ingredients are often mixed in to make it even more impressive, just like with this raspberry semifreddo.
The style is perfect after seafood, as you have a cooling and refreshing dessert that doesn't go overboard with flavors. Besides, who doesn't love raspberries on a warm day?
Coconut Chia Pudding

This coconut chia pudding proves that dessert can be healthy. The base relies on coconut milk and chia seeds. The seeds become gelatinous when they're soaked in liquid, so they quickly develop a pudding-like texture. You can add other flavoring ingredients or some sweetener in as well.
Then, it's all about the toppings. Fresh fruit always goes down a treat, giving the dessert plenty of vibrancy. You might also use some grated chocolate or perhaps shredded coconut.
Tiramisu

The coffee and chocolate flavors of tiramisu make it an easy dessert choice after a rich seafood meal. This is a familiar dessert that relies on ladyfingers soaked in espresso and surrounded by plenty of cream and mascarpone.
Of course, there are plenty of ways to make the dessert. The coffee you choose and the variety of ladyfingers will strongly impact how the dessert turns out, so it's best to focus on quality products. If you're only serving one or two people, you could make tiramisu in jars, rather than as a full-sized dessert.
Shortbread

You could really serve any type of cookie after seafood, including some of the complex gourmet cookies on the market now. But, shortbread may be one of the best choices, as it has a mild flavor and is still quite decadent.
You can even make lemon herb or rosemary parmesan shortbread. These versions are less sweet than normal, yet are still excellent as dessert.
Whiskey Salted Caramels

These treats work well with seafood largely because they're different. The contrast of flavors between whiskey, sea salt, and caramel works amazingly well. The caramels are even better when guests don't know what to expect.
You could serve the caramels on their own if you just want a light and simple dessert. Alternatively, serve a larger dessert first, then end with these.
Sorbet

If ice cream isn't the right fit for your dinner, sorbet could easily be. It has the same cooling properties as ice cream, but rather than being rich and creamy, it's sweet and refreshing instead.
Sorbet is also very easy to make at home. You can even make a single ingredient version by freezing a can of fruit in syrup. Or, you could use a few more ingredients and make sorbet using fresh fruit.
Any flavor is going to contrast well with your seafood. Citrus sorbet and raspberry sorbet are particularly good, as they both provide a strong flavor hit.
Orange Rolls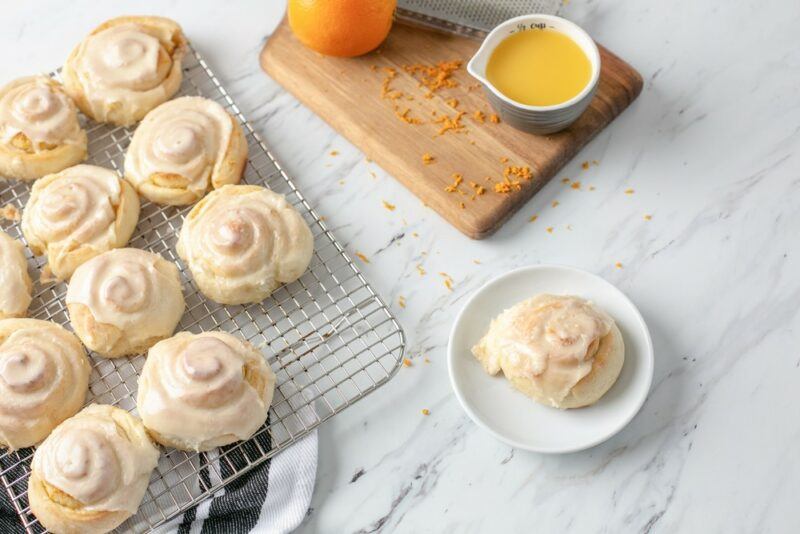 Cinnamon rolls are famous, but who says you need to stop there? Plenty of other desserts can be made in a similar style, just with different flavorings.
These orange rolls are one example. The focus on orange makes them subtler than regular cinnamon rolls, while the citrus easily complements any type of seafood. Besides, isn't it nice to try something a little different?
Chocolate Dipped Fruit

For an easy and delicious dessert, what about dipping pieces of fruit in chocolate? Strawberries dipped in milk chocolate are the most common style, but they're just scratching the surface.
You could choose white chocolate or even dark chocolate, plus a completely different type of fruit. Plenty of fruits can be dipped this way, including bananas, pineapple, grapes, raspberries, and mandarin pieces.
You can play with garnishes too. Sea salt, chopped nuts, freeze dried raspberry pieces, and drizzled white chocolate are a handful of options. There are plenty of others too. Really, you're just limited by your imagination.
Frozen Grapes

While we've already talked about fruit, frozen grapes deserve a special mention. They're exceptional, as they can be eaten straight from the freezer.
They work so well because of their sugar content. This stops them from freezing entirely, giving them a sorbet-like texture instead.
Seedless grapes are particularly good here, although you could use seeded grapes in a pinch. A few other fruits follow a similar pattern, including frozen raspberries.
Greek Yogurt With Berries

Greek yogurt is usually served as a healthy breakfast or perhaps a snack. However, it can easily be used as dessert instead – you just need to add a little sweetness and flavor.
Topping the yogurt with fresh berries is a fantastic way to do this. The berries are fresh, delicious, and packed with antioxidants, giving you a treat that's actually good for you.
You could even use frozen raspberries rather than fresh ones. Breaking the frozen raspberries into small pieces helps here, meaning that you get cold bursts of flavor as you enjoy your yogurt. You could also mix a little cocoa powder into your Greek yogurt (especially if the yogurt is unflavored). The cocoa powder adds a rich chocolatey taste, without many extra calories.