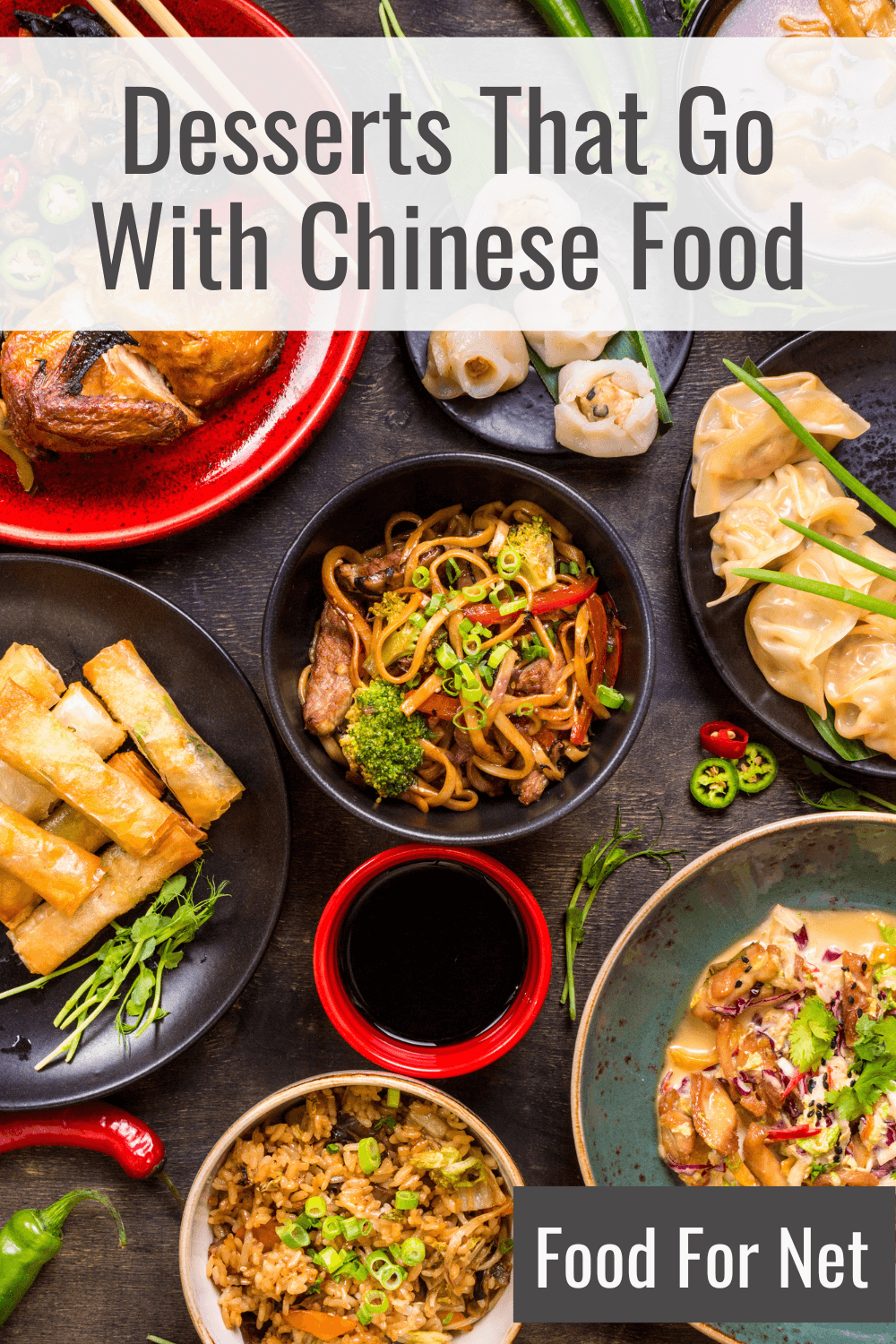 Chinese food is now incredibly popular throughout the United States. Some dishes are authentic, while others are Westernized riffs on Chinese meals. Regardless of the type or where you're enjoying your meal, you still need to find desserts that go with Chinese food.
Chinese desserts are the most obvious choice and there are plenty of these to choose from. These often have different flavors and textures than desserts here in the West. They're usually lower in sugar too. These features aren't bad. In fact, Chinese desserts are designed to go with Chinese food, so they'll always be a good match.
You could turn to Western desserts too. These are sweeter and more familiar, which could be exactly what you need.
We'll cover both styles in this list – desserts from China and ones from closer to home. There are plenty of desserts to choose from and it might take some experimenting to find exactly the right fit for you. After all, the best dessert will be influenced by the exact meal you're eating and your flavor preferences.
You could serve these desserts in other situations too, like after pizza or chili. Why not? Many also pair well with many drinks.
P.S. If you don't want to cook, why not try a dessert of the month club? These do all the work for you, shipping out fully prepared desserts every month. Some even send you a box with a selection of different desserts. With a mixed box like that, you're never short on variety.
Desserts That Go With Chinese Food (With Pictures!)
Mochi

Mochi is one of the most familiar Chinese desserts. It's made using a shell of pounded glutinous rice that often surrounds some type of filling. Red bean paste is one of the most traditional fillings, but it's not the only option. Some versions use fresh fruit instead. This is then surrounded by bean paste before the mochi layer.
A modern version features a pastel colored rice layer around ice cream. This style is perfect for dessert, as the ice cream is both refreshing and creamy.
You can now even find prepackaged mochi ice cream in American supermarkets or order it online. As a result, it's now one of the easiest Chinese desserts to try at home.
Mug Cakes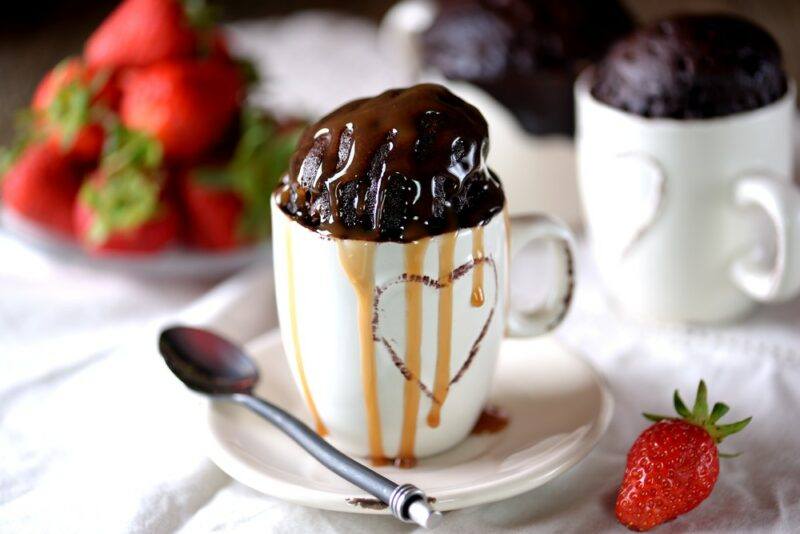 Mug cakes are fantastic after almost any meal. They work well because they're easy to prepare and give you a single serving. Plus, they can be varied in plenty of ways.
You could even play around with Chinese flavors. In particular, there are plenty of recipes for matcha mug cakes. The matcha makes these green, so they look amazing in the mug. Some versions also keep the sugar content low, making them even more like Chinese desserts.
Grilled Fruit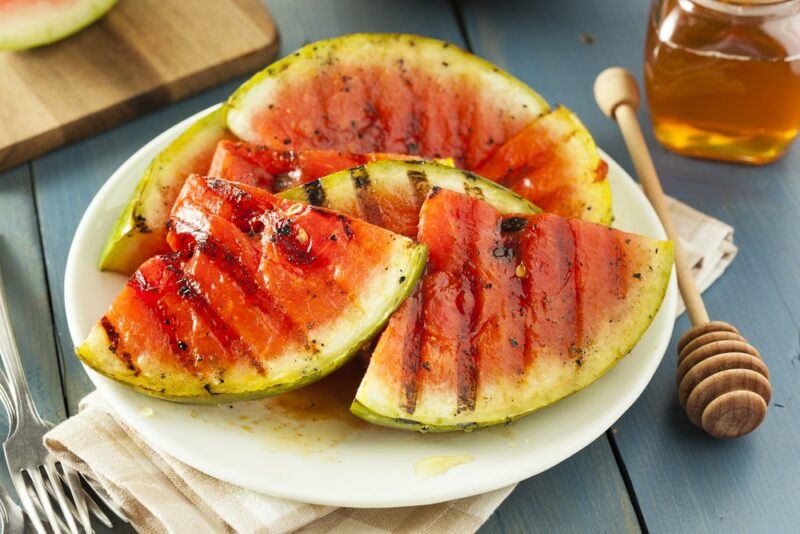 Cooking fruit on the grill is a great way to make it tastier and much more exciting. You can do this with most types of fruit, as long as it is firm enough to hold up during grilling.
Grilled fruit is excellent after Chinese food as it's so refreshing. You could even serve a few different types or add some fresh cream to make the dessert even more impressive.
Lemon Bars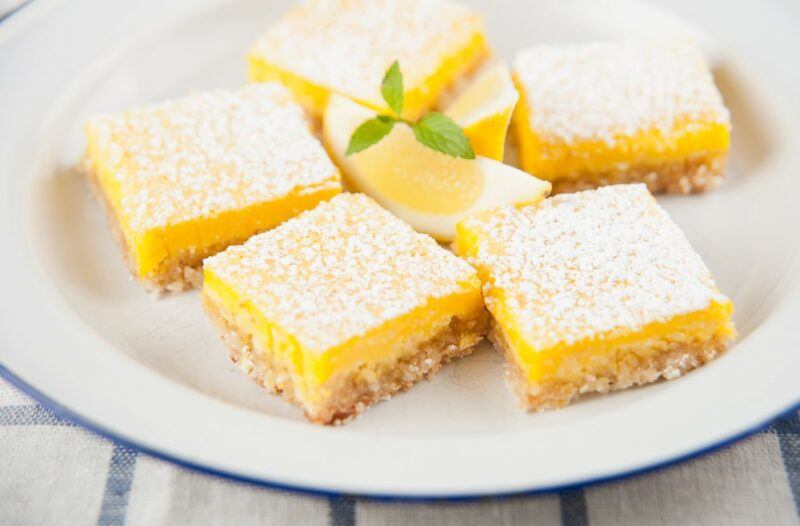 Lemon bars are bright and often tart, giving you a refreshing treat that contrasts against any greasy meal. They're particularly good if your meal uses lemon zest or lemon juice in any way. This way flavors carry over between the meal and the dessert.
That carry over isn't essential though. You can still serve lemon bars even if your main meal doesn't use lemon at all. You could also play around with other lemon-flavored desserts.
Cherry Panna Cotta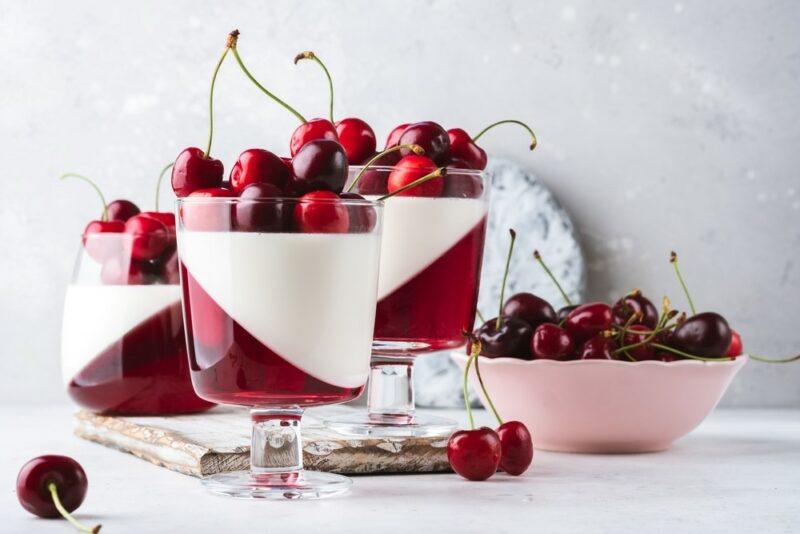 This summer panna cotta dessert is truly a delight. It uses the traditional panna cotta base that includes heated heavy cream, but it isn't presented in the regular way.
Instead of being made into a mound, the panna cotta mix is poured into glasses with a wedge of cherry jelly. The desserts are then topped with plenty of delicious cherries. The dessert looks amazing and should taste even better than it looks.
Almond Jelly

Almond jelly is a traditional Chinese dessert. It's also easy to make and familiar, making it a tough treat to ignore.
The main feature is almond flavored jelly, which relies on gelatin (or agar-agar), plus ground almonds, water, and milk. That's it. The rest of the dessert just relies on fruit salad and sweet syrup.
The flavors are pretty light, so it ends up being a very refreshing dessert. This is perfect, as Chinese food is often incredibly rich, so you need something milder to wind everything down.
Egg Cake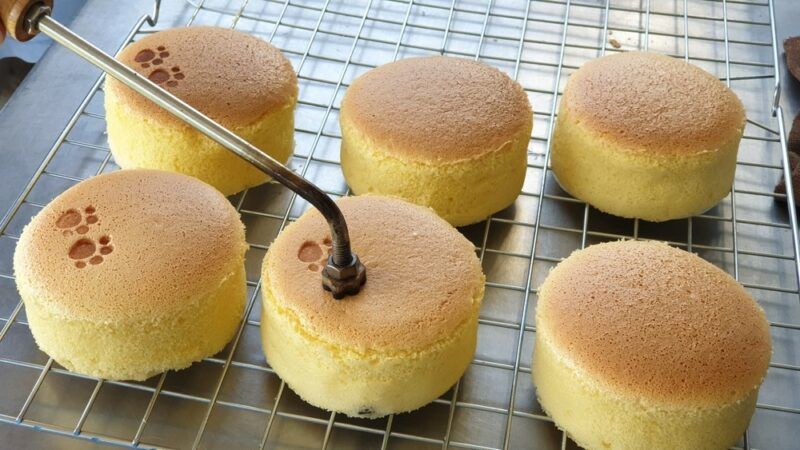 This Chinese cake gets its name from the eggs it uses, but it's basically just a mini sponge cake. It relies on simple ingredients, including eggs, flour, and sugar, yet it's surprisingly rich.
This could be the perfect dessert if you want something that's familiar and exciting at the same time.
Interestingly, the cake is steamed, rather than being baked. This contributes to its texture and flavor balance. You'll see this pattern with other Chinese desserts as well.
Apple Pie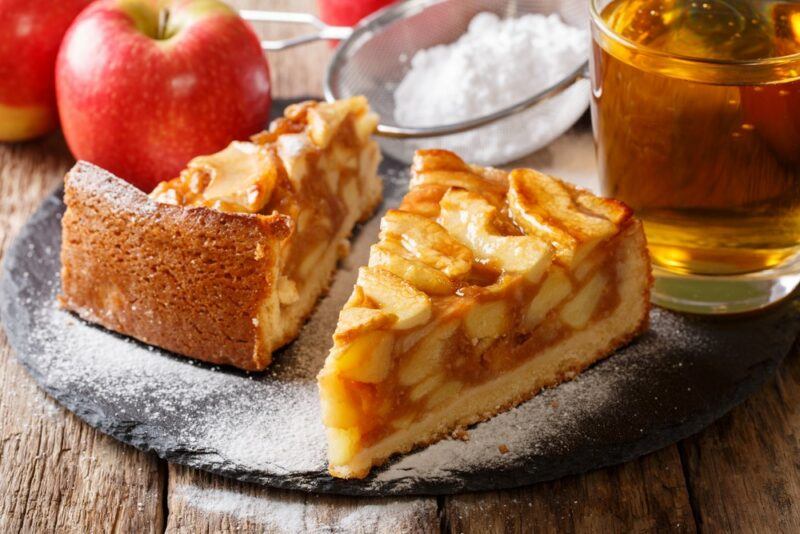 Apple pie is rarely ever served with Chinese food, but why not? Serving such a classic American dish with a Chinese meal gives you a fantastic contrast of flavors and ideas.
This could be the perfect dessert if your guests don't eat Chinese food often – as they're at least getting a familiar dish to finish the meal off. Plus, apple pie is so commonplace that it should be very easy to prepare. Most families already have a go-to recipe that turns out perfectly every time.
Rolled Ice Cream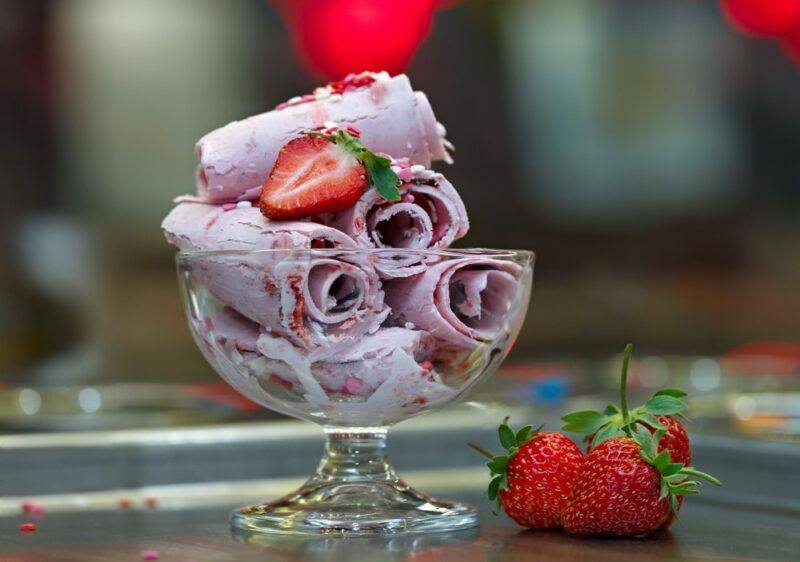 This dessert is also known as stir-fried ice cream, as it is essentially fried using a large metal plate that's frozen rather than hot. The flavors are similar to ice cream, although it may be served with different toppings and mix-ins.
The fun thing about this treat is the style. It's nice to have something that looks and feels different than normal. You can even make a variation on rolled ice cream at home without too much effort.
Egg Tarts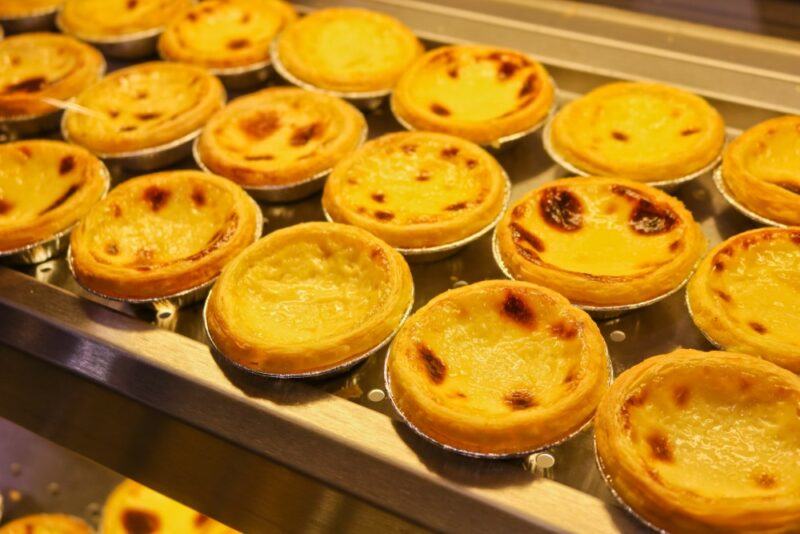 Chinese egg tarts tend to be small, with flaky pastry and a slightly sweet egg custard. The smoothness of the custard makes the treat seem decadent.
Plus, the combination of texture and flavor is perfect if your meal was very salty or spicy.
Mooncakes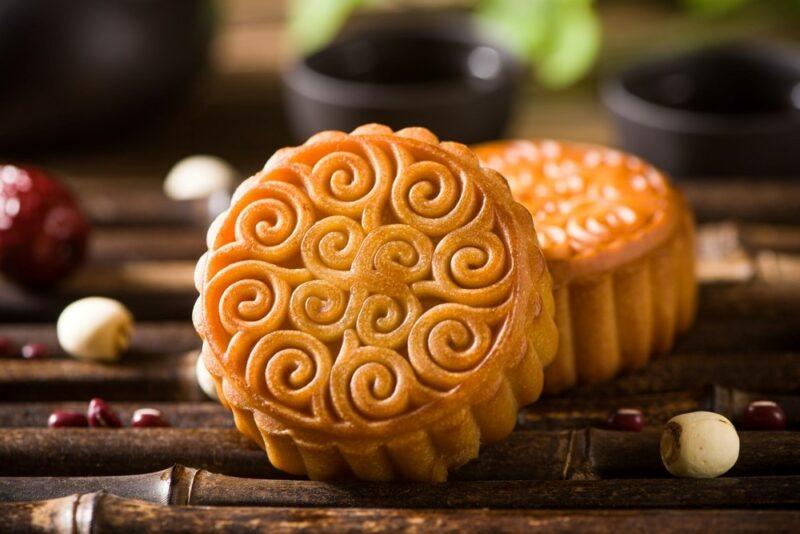 Mooncakes are special. They're traditionally made to celebrate the Chinese Mid-Autumn Festival.
They're not your traditional Western cakes though. They're actually made using dough, filled with red bean paste, and placed in patterned molds. The molds give the cakes a distinct shape that's easily recognizable.
While mooncakes are specific to mid-Autumn, you can eat them at other times of the year as well. However, you might need to make them yourself, as the companies that produce them normally only do so as the festival gets closer.
Thankfully, there are plenty of recipes out there. Some of them use different fillings, such as salted egg yolks. Others tweak the traditional recipe to give you unusual that's just as tasty.
Fortune Cakes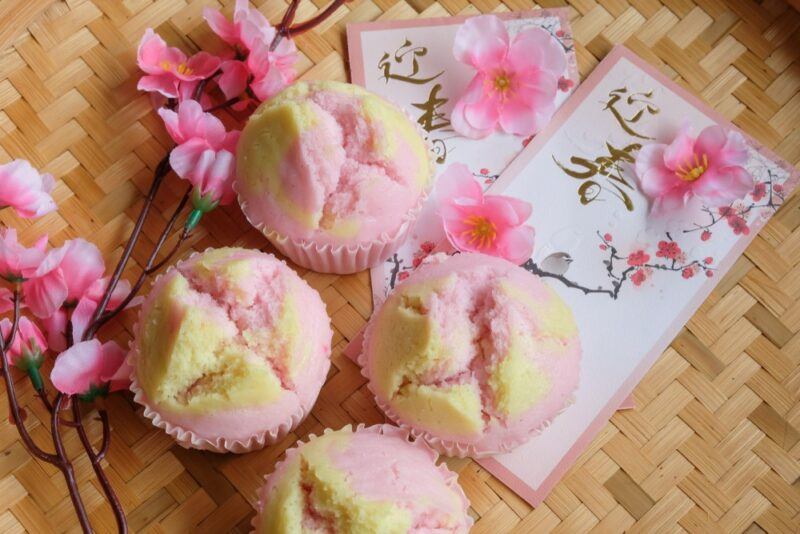 These dense cakes feature during Chinese New Year and are thought to provide good fortune to anyone who eats them.
Once again, these cakes are steamed rather than being baked in the oven. The ingredients and cooking technique gives the cakes a fantastic spongy texture.
The cake tends to split while cooking. This split sometimes looks like a smile, which reinforces the name and makes the cakes look cool.
Keto Chocolate Truffles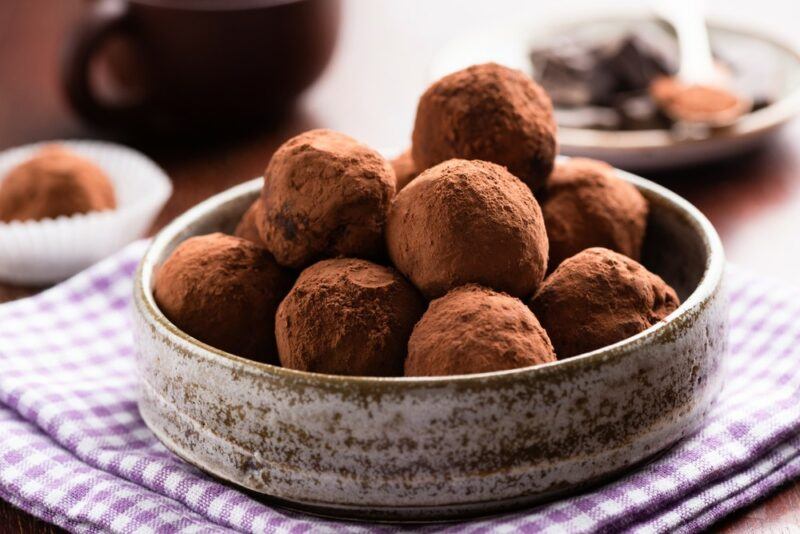 Sometimes you just want something that's rich and packed with chocolate. Keto chocolate truffles are the perfect solution, as these can be quickly made at home.
These desserts aren't just for keto dieters. They can be delicious for anyone, as they're low in sugar and carbs, which is perfect if your dinner was carb heavy.
If the truffles aren't quite right, you could experiment with keto chocolate almond fat bombs. These also keep the carb content low and have a similar focus on chocolate.
Keto Fat Bombs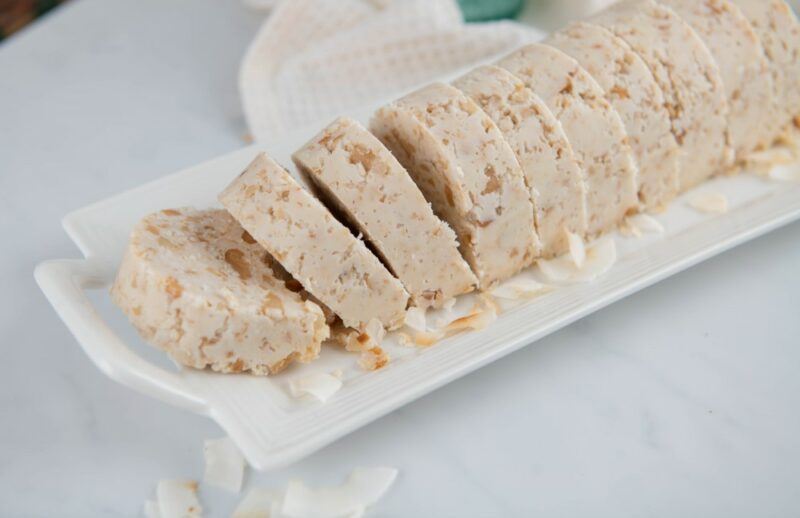 While we're talking about keto desserts, why not play around with other keto treats? Many fall into the category of fat bombs. These treats are rich in fat and help keto dieters to keep their macros in check.
There are plenty of flavors and styles of these, including matcha tea fat bombs and pumpkin fat bombs.
Soy Milk Pudding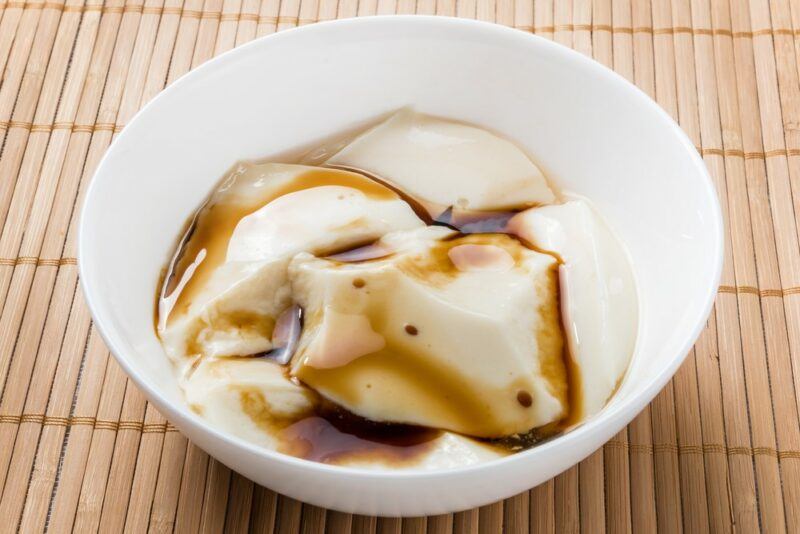 This is another Chinese dessert. It's also a simple one that mostly relies on gelatin, soy milk, and soy bean flour. The gelatin gives the treat a delicate smooth consistency.
Other ingredients may be added for flavor, like fresh ginger juice or lemon juice.
Of course, you don't need to stick to the Chinese version. It's easy to tweak the dessert to include other flavors and ingredients, like chocolate or matcha. Some people even use black sesame paste to make the pudding darker and more exciting.
Chinese Walnut Cookies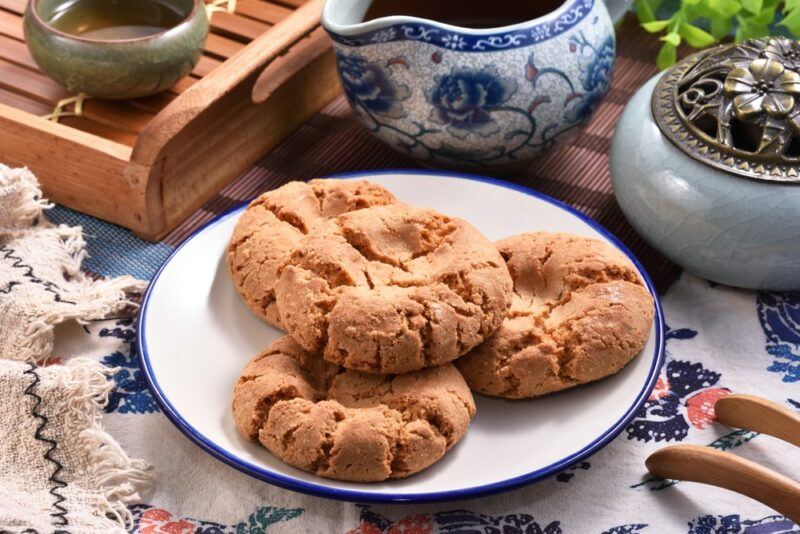 These walnut cookies are unusual, as they're not sweet like American walnut cookies. They have a savory quality instead, partly because they're fairly low in sugar.
And, sometimes, having a savory-style dessert is perfect, especially after a rich dinner.
Fruit Kebabs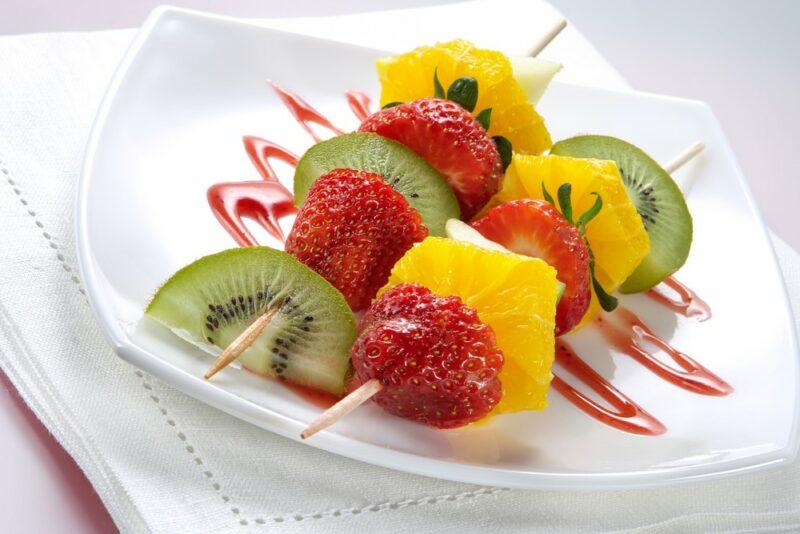 Fruit kebabs are a fantastic way to make fruit much more interesting. The simplest version involves picking a few types of fruit and threading them onto skewers.
Plenty of fruits work well for kebabs, including grapes, blueberries, apples, strawberries, and melon balls. However, you will need to look for semi-firm fruit. If the pieces of fruit are too soft, they're just going to slip right off the skewers.
You could make this dessert even more amazing by using grilled fruit rather than fresh fruit.
Bananas Foster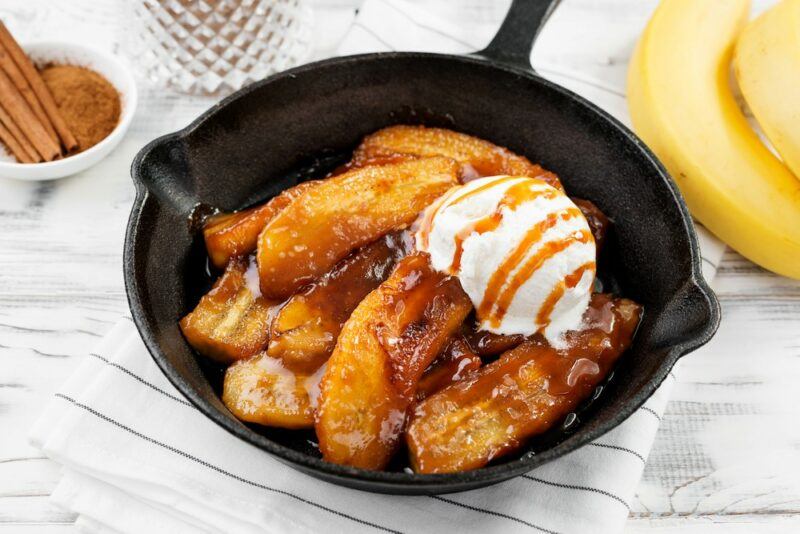 This is another distinctly Western dessert, but does that really matter? After all dishes don't need to come from the same country to pair well together.
Bananas foster has a lot going for it too, as the bananas get caramelized in a combination of butter and sugar. There's some rum as well, which makes things even more exciting. Serving it with a scoop of vanilla ice cream is the perfect way to round things off.
Fried Milk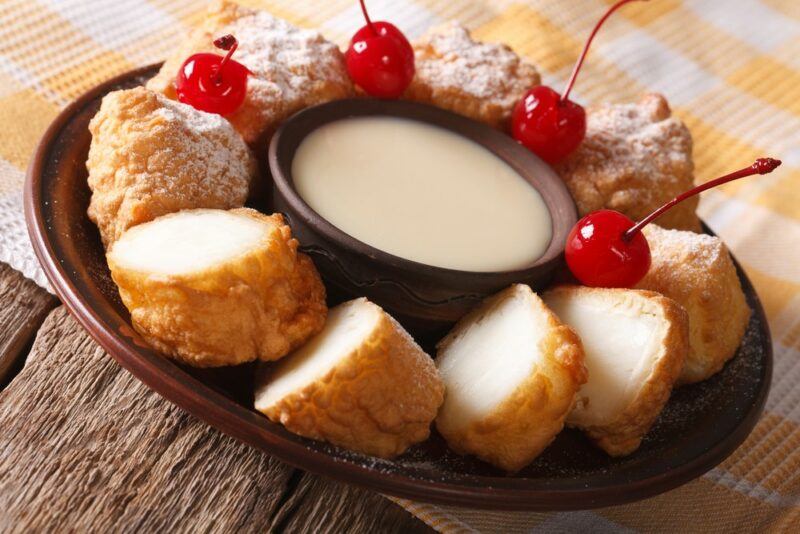 Yes, fried milk really is a thing. The dish involves mixing milk with cornstarch and leaving the combination in the fridge. Doing so firms up the milk, to the point that it can be sliced, dipped in breadcrumbs, and then deep fried.
Some versions use flour and eggs as well, which make the texture slightly more complex. While this isn't a particularly healthy dish, it is a tasty one. It is also a fantastic talking point at a dinner party.
Sachima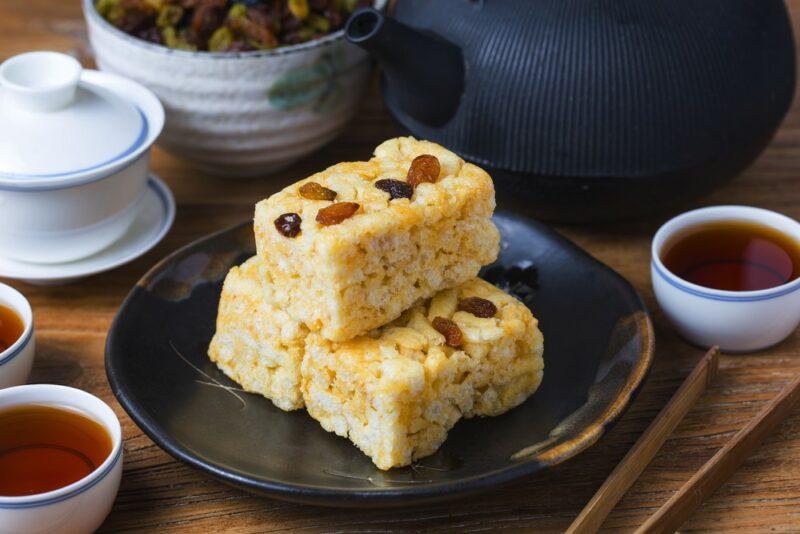 This is another unusual dessert to experiment with. It's made using sliced pieces of flour batter that are tossed in egg, deep fried, and coated in syrup. We're essentially talking about a deep fried egg noodle cake.
While the idea is odd, the finished dessert is much like the more familiar Rice Krispies treats. Even the consistency is surprisingly similar.
The syrup recipe is often tweaked to add or remove different ingredients. Doing so can change the texture and flavor profile, but the dessert ends up tasty regardless.
Popsicles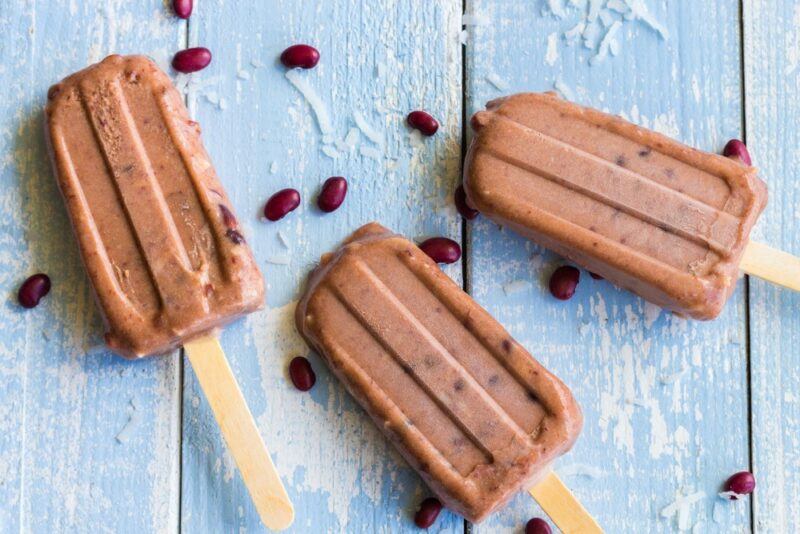 Popsicles are a perfect dessert during the summer months, as they're vibrant, icy, and refreshing. The sweetness also helps to contrast any salty meal.
The best popsicles are those you make yourself. These could rely mostly on fruit juice and ingredients like coconut water. Or, they may be creamy instead. There's no end to the popsicle recipes and flavor combinations that you can experiment with.
For something authentic, why not try red bean popsicles? These are surprisingly popular in China and some other countries. They tend to have a mellow flavor, some chewiness, and are slightly sweet. While the style mightn't suit everyone, it's fantastic when you want something just a little different.
Chocolate Chinese Five Spice Cake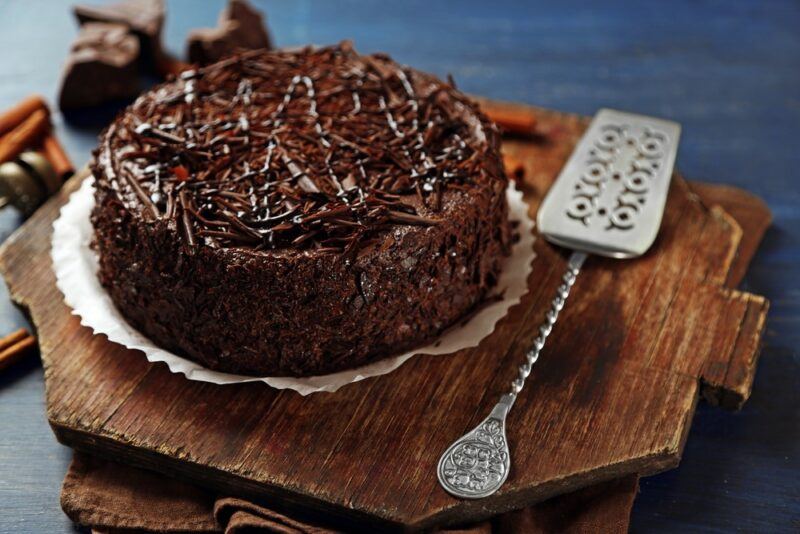 This dessert is a twist on the traditional chocolate cake, as it includes spices like fennel, pepper, cloves, and star anise. These might be unexpected, as the spices are normally used in savory treats, not sweet ones.
However, the savory nature of the spices actually works well. They help balance out the sweetness of the cake, giving you a more nuanced treat than normal.
Mung Bean Cakes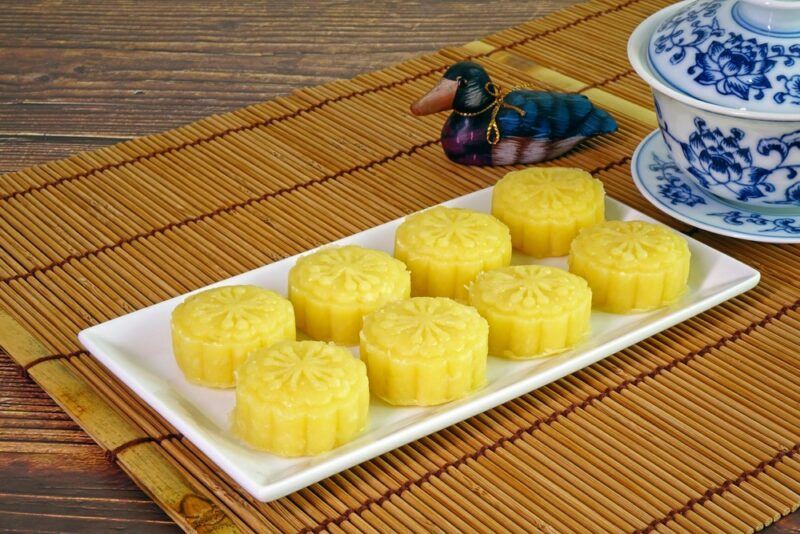 Mung bean cakes may look familiar, as they're similar to mooncakes and have a sweet filling. However, the dough relies on mung beans. This means the cakes can have different colors, depending on the type of mung bean that's used.
Fortune Cookies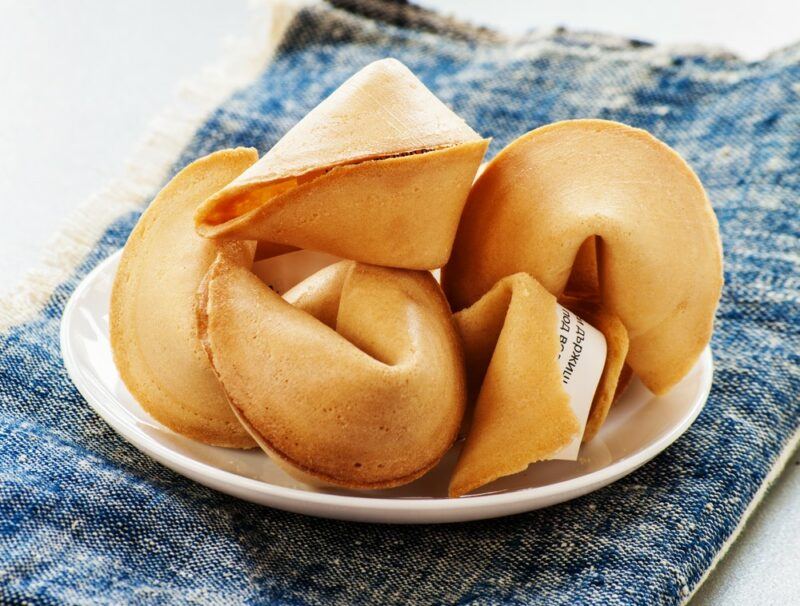 Let's round this list off with a famous entry – fortune cookies. They're incredibly common at Chinese restaurants, but you can also make them at home.
Making the cookies yourself takes a bit of work. Still, this gives you a chance to add your own messages. You might prefer the taste of the homemade version anyway.