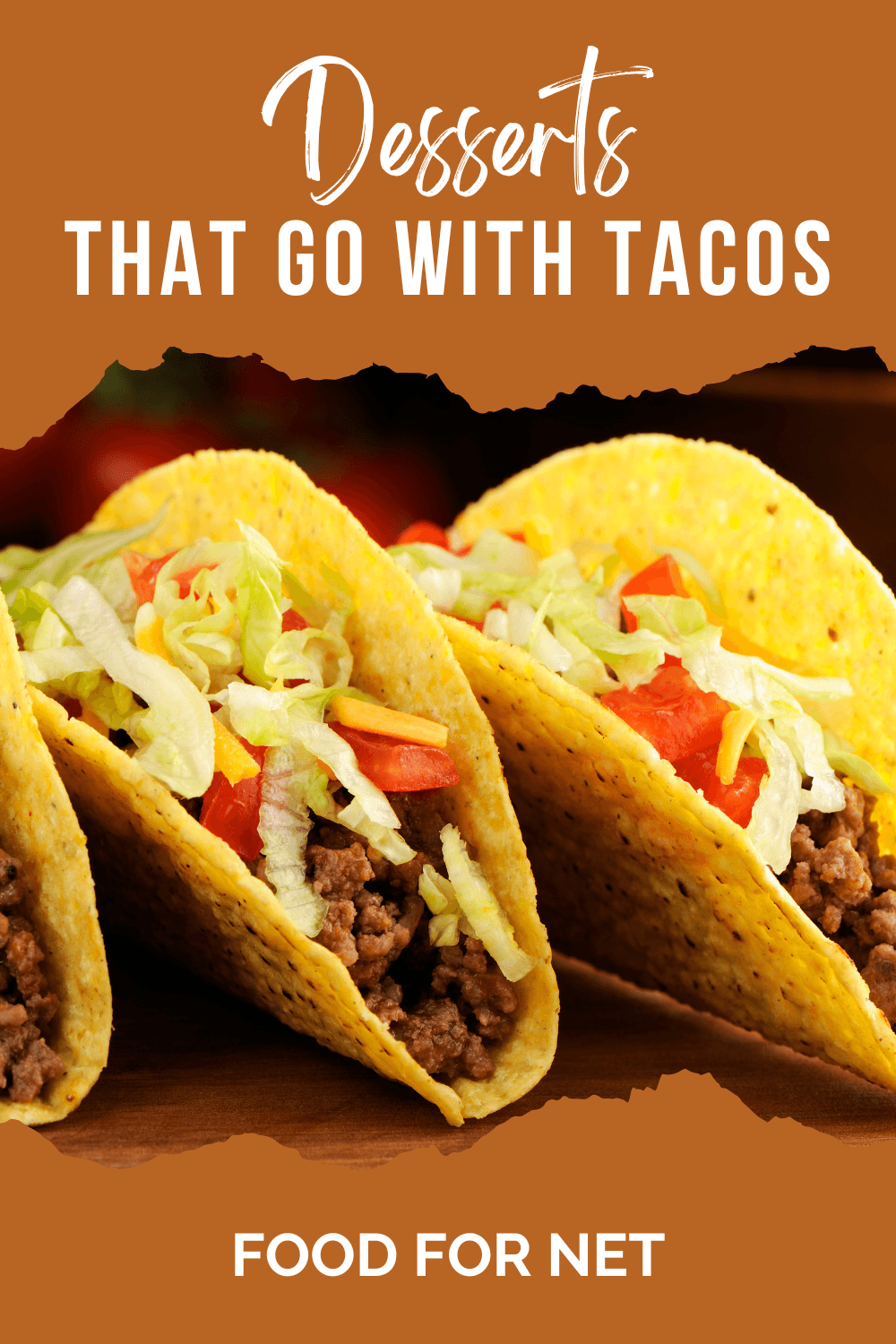 What could be more familiar than tacos? This Mexican dish has taken on a life of its own in the United States, spawning countless variations, including the ever-popular hard taco shells with cheese as a topping. Plus, because tacos can be customized in so many ways, it's easy to find or create a version you love. So, what about desserts that go with tacos?
Thankfully, there are plenty of these too. Some can even be found in dessert of the month clubs. Others are Mexican or Mexican-inspired desserts. These add to the theme of your meal, while giving you some amazing flavors to enjoy.
Which of these desserts is best? None of them, really. The best dessert will always be the one that most closely matches your preferences. Finding this perfect match shouldn't be difficult though, as there are so many options to choose from.
For something completely different, why not try desserts from other countries? Many Russian desserts or South American desserts could be interesting with tacos.
Desserts That Go With Tacos (With Pictures!)
Churros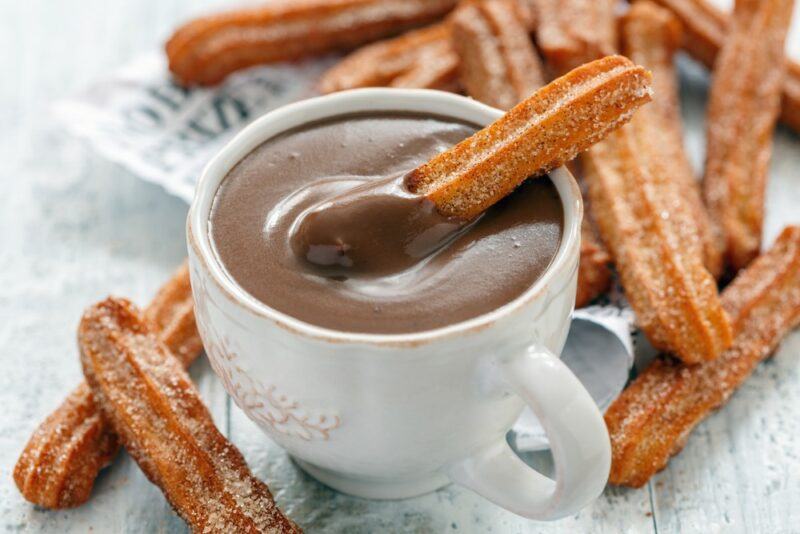 Churros are always popular. These Mexican treats are a little like a donut, as they're made from deep fried dough and sprinkled with sugar. They're long with ridges, which makes them perfect for dipping into sauce. This style honestly makes them taste even better than actual donuts.
Churros are a little difficult to make at home, but not impossible. You can even find churro makers that allow you to bake churros rather than deep frying them. And, if you don't want to make them, there are plenty of places to buy them.
Ice Cream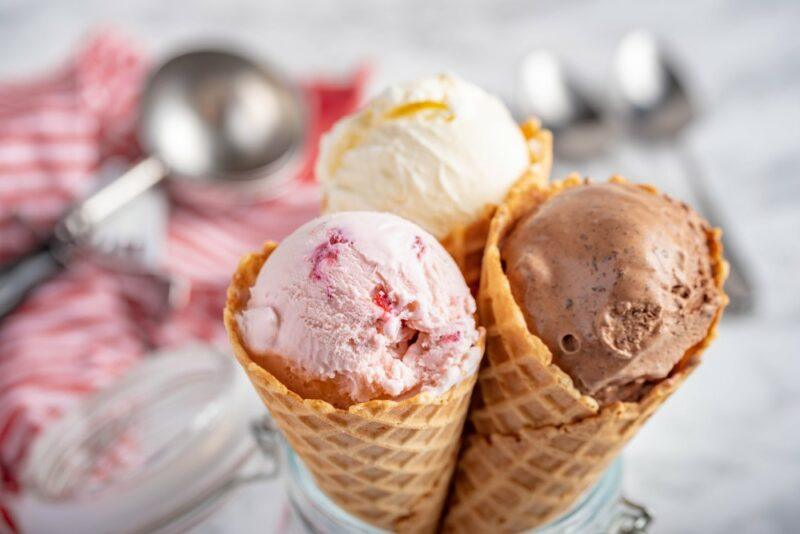 We can't talk about dessert without mentioning ice cream, can we? It's such a common treat and also remains incredibly trendy.
What's more, there are so many types and flavors. Some companies have dozens of different flavors (if not more!). You could see even more flavors if you sign up for an ice cream of the month club, as some of these companies produce truly unexpected flavor combinations.
Then there's plant-based ice cream, which is a class of its own. Some versions use coconut milk or coconut cream, which gives you a high fat creamy dessert. Others rely on soy milk, almond milk, oat milk, or something else.
If you're taking the plant-based route, it's worth paying attention to the ingredients list. Some products rely heavily on processing and additives to produce the desired flavors. While such ice cream may taste amazing, it's worth using this as just an occasional treat.
Ice Cream Mochi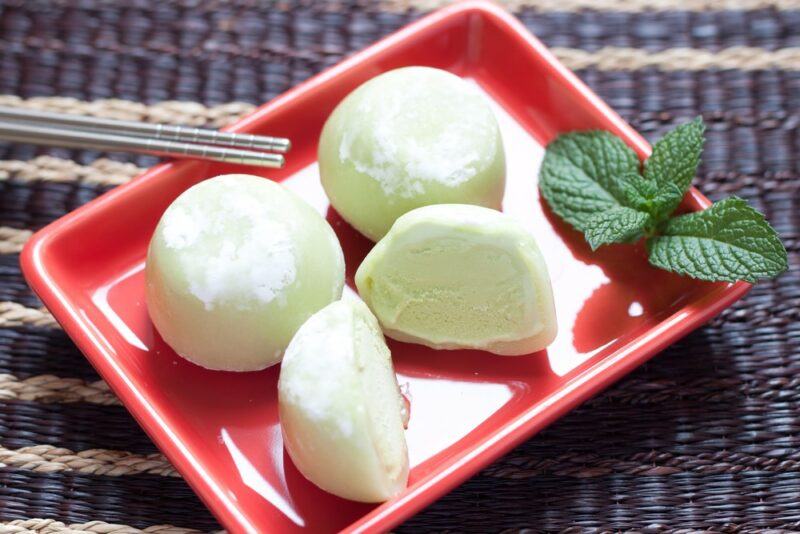 Mochi is a Chinese dessert, so it's probably not your first choice for tacos. Yet, it can work well, especially if you choose ice cream mochi.
This treat consists of a thin layer of glutinous rice surrounding cool and refreshing ice cream. It's a naturally portion sized dessert and is surprisingly easy to find. These days it's even sold in many grocery stores.
Mug Cakes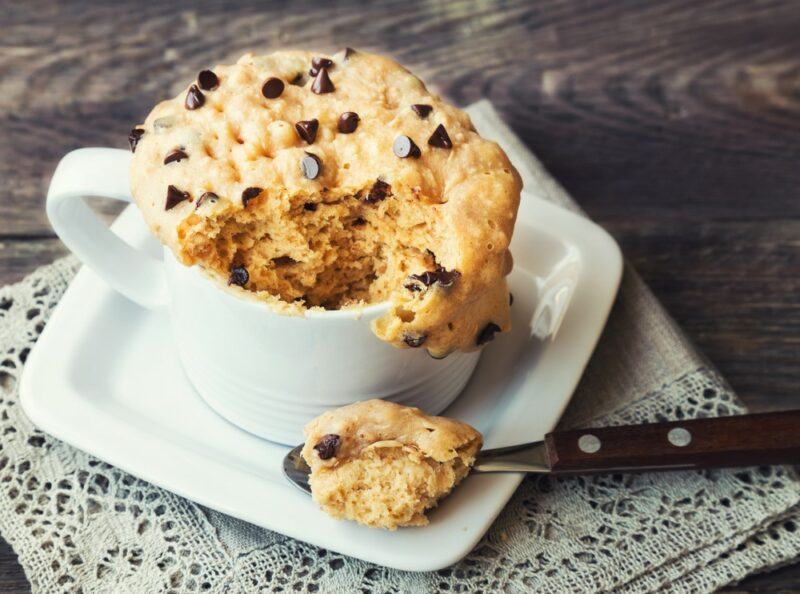 In some ways, mug cakes are the ideal dessert. They require no prep work and can be quickly made from basic ingredients. Some mug cakes even end up being three-ingredient desserts, which makes them even simpler. Plus, you're just making one or two servings at a time.
The small serving size is perfect if you live alone. After all, having a whole cake hanging around is often far too tempting. If you have guests, you could easily make multiple mug cakes. It's not like they take long to prepare.
Another cool thing is the flexibility. There are mug cakes in almost every style and flavor under the sun, including vegan, keto, and eggless cakes. Chocolate mug cakes are a nice easy go-to, but you could also experiment with berry, vanilla, peanut butter, or even cookie dough mug cakes.
Nice Cream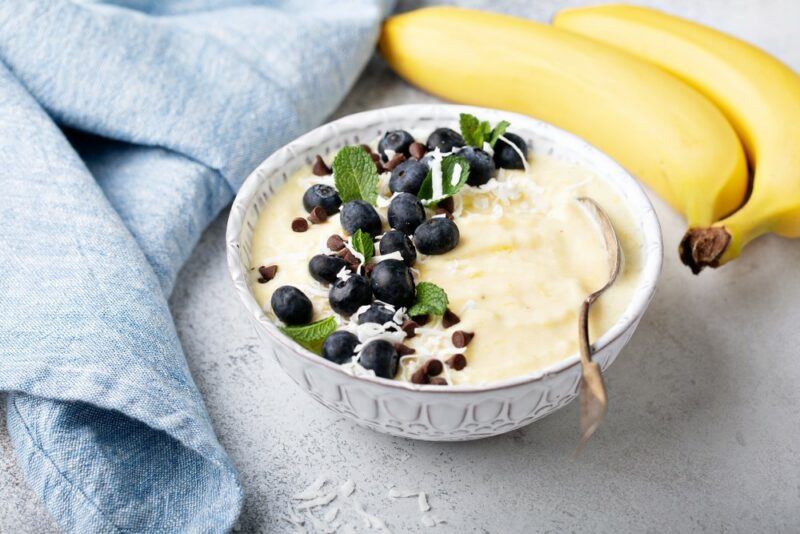 If regular ice cream is too heavy, why not make nice cream instead? The term often refers to a one-ingredient dessert that's made from blending frozen bananas.
Once blended, the bananas have a similar texture to soft serve. You can add other ingredients for flavor too, like berries or cocoa powder.
Many people also add an ingredient to help the banana blend easier. Most juicy fruits do this job well. You could also turn to nut butter, plant-based milk, or coconut cream. The exact ingredients will depend on the flavor you're looking for.
Bananas Foster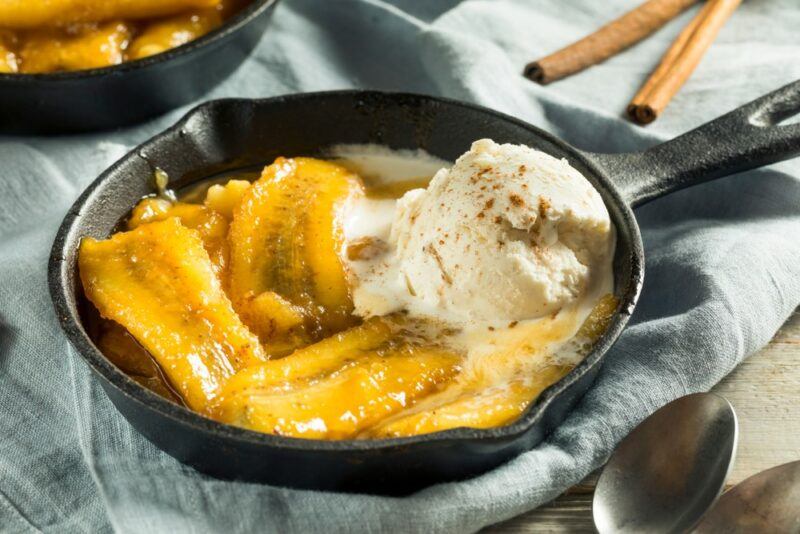 This impressive dessert involves bananas that have been cooked in a butter-rich rum sauce, then served with vanilla ice cream. Some versions flambé the sauce too, while others add extra ingredients to enhance the flavor profile.
Regardless, you end up with a tasty dessert that isn't too rich. There's also just a handful of ingredients, which makes the dessert very easy to prepare.
The fruitiness from the bananas is excellent after tacos, while the rum certainly never hurts.
Chocolate Peanut Butter Banana Bites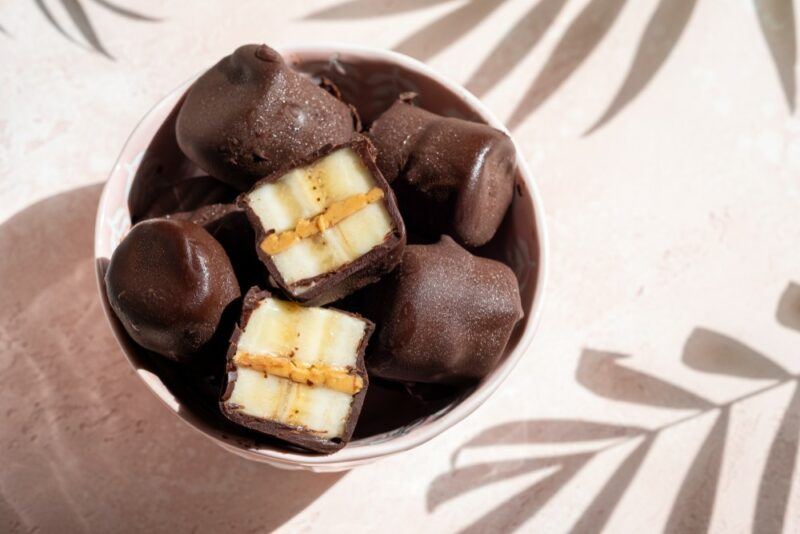 Don't these little treats look amazing? They're a little like ice cream bites, except that they're made using two slices of frozen banana with some peanut butter in the middle. The combination is then chocolate dipped.
You end up with a sweet and cooling dessert that's much healthier than ice cream.
Orange Rolls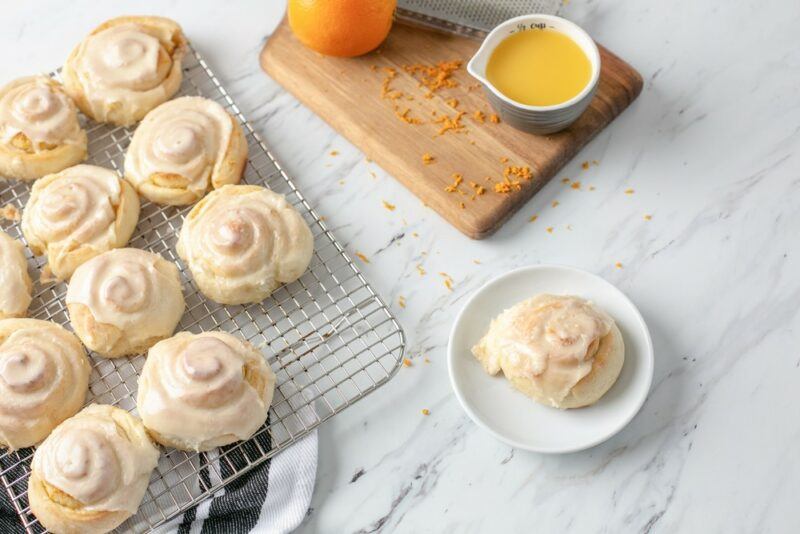 Cinnamon rolls are incredibly famous and always popular as a dessert. But, they get boring after a while, so why switch things up?
Orange rolls follow the same idea as a cinnamon roll. You're just playing with different flavors. They're exceptional after tacos, as the orange is light and refreshing. Many recipes even use orange zest, which gives them an even stronger hit of flavor.
Mojito Pie With Lime And Mint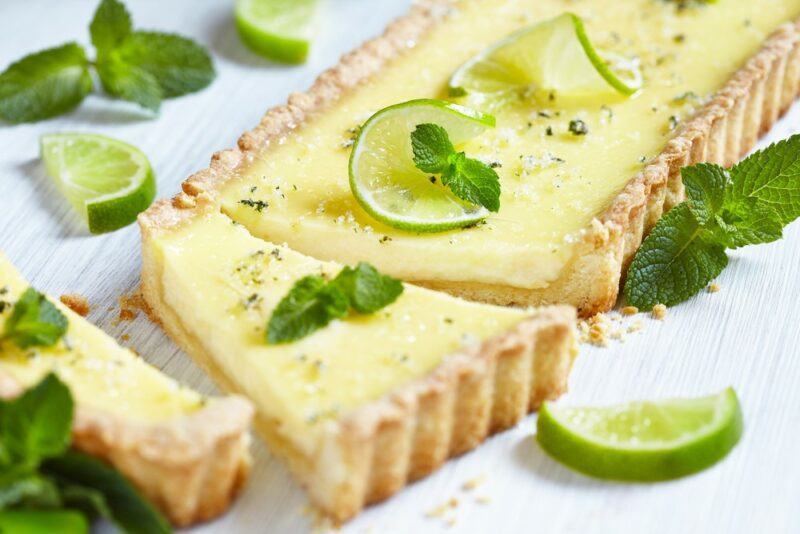 If you love mojitos, why stick to just the cocktail? The same flavors can easily be used in your desserts too, including this mojito pie.
Most versions of the pie rely on sweetened condensed milk and key lime juice. There's also the crust and often some rum as well. After all, it wouldn't be a true mojito without a little rum, right?
Flan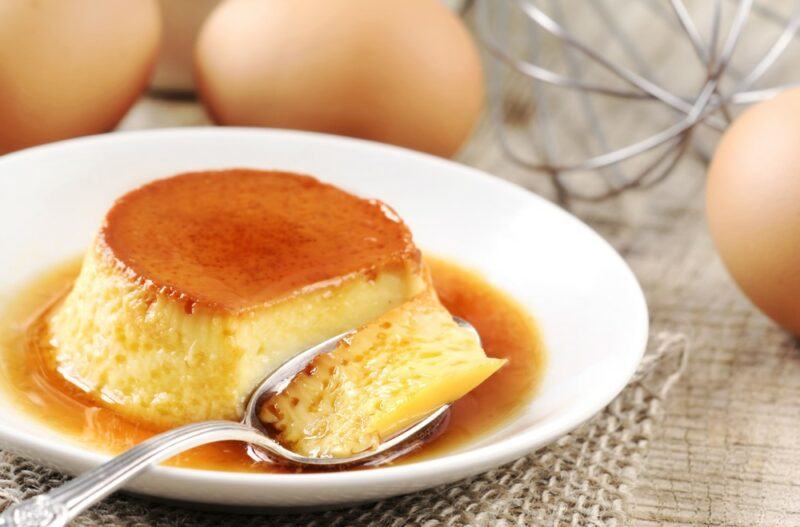 Flans are perfect if you want something rich, creamy, and filled with flavor. The dessert is basically a form of baked custard. It's often served with caramel sauce, which brings the whole thing together perfectly.
You can spike the flan with some alcohol, like bourbon. This isn't essential, but makes the dessert so much better.
Chocolate Eclairs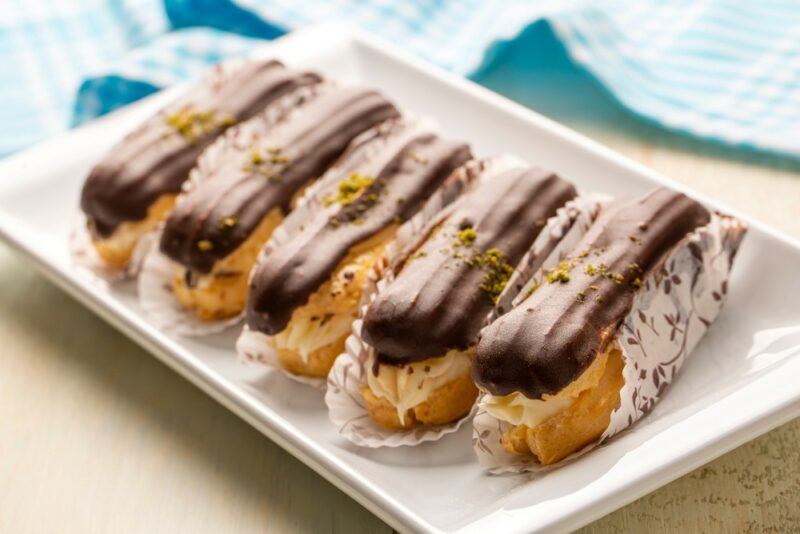 Eclairs combine light pastry with a rich filling to give you an amazing treat that matches many meals, including tacos. If you don't want to prepare these yourself, there are plenty of places to buy them from, including some grocery stores.
The recipe can also be tweaked to give you an even better dessert. For example, you might serve some milk chocolate eclairs and some white chocolate ones instead. Or, why not get even more creative, like looking for chocolate chili eclairs?
Sweet Empanadas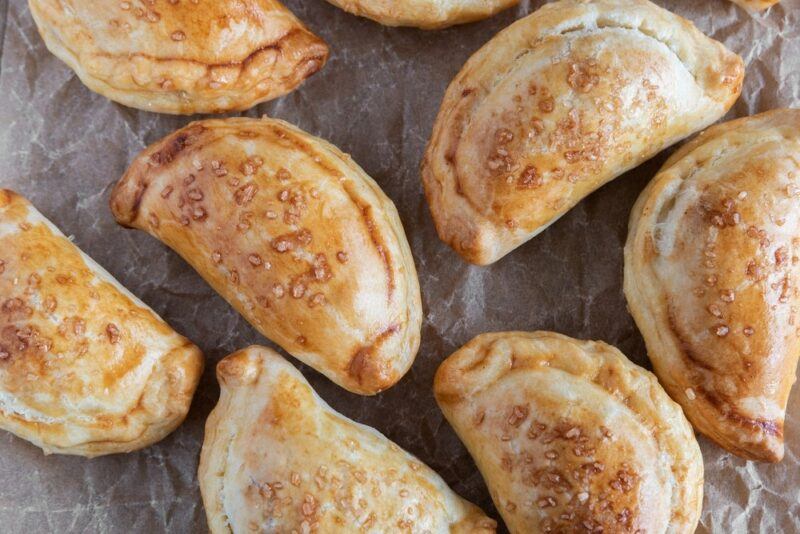 Savory empanadas are popular as snacks or even as a full meal. Yet, they're not the only option. You can also make sweet empanadas.
These treats often rely on a fruit filling, like apple, pineapple, or mango. They're a little like fried apple pies and can be easily customized to match your preferences.
Plus, empanadas are a single serving dessert. Guests can easily pick them up and eat them as-is. This makes them perfect for events.
Sopapillas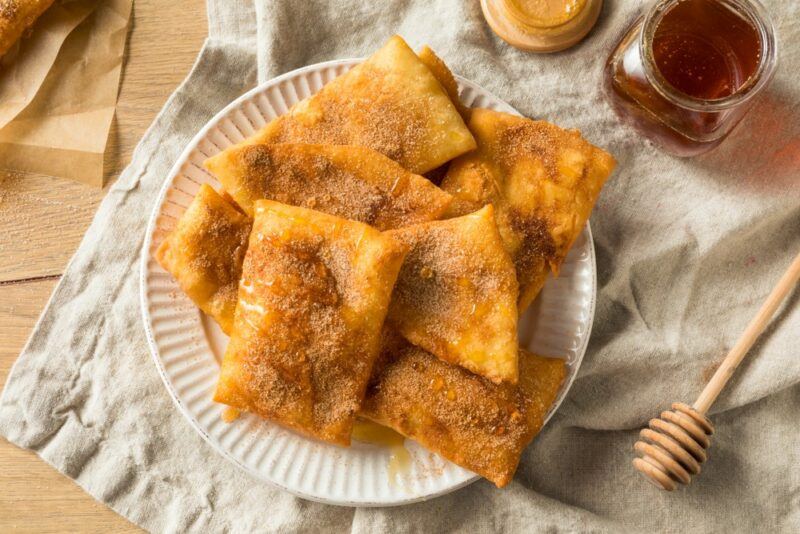 These crisp fritters are traditional Mexican desserts. Some versions are made using a tortilla, but they're more traditionally made using dough instead.
They're a light and tasty treat that's reminiscent of donuts. They're best served with some honey drizzled on top, as this makes them pop even more. Raw honey is particularly good, as this often has richer flavors than the versions you find at the grocery store.
Margarita Pie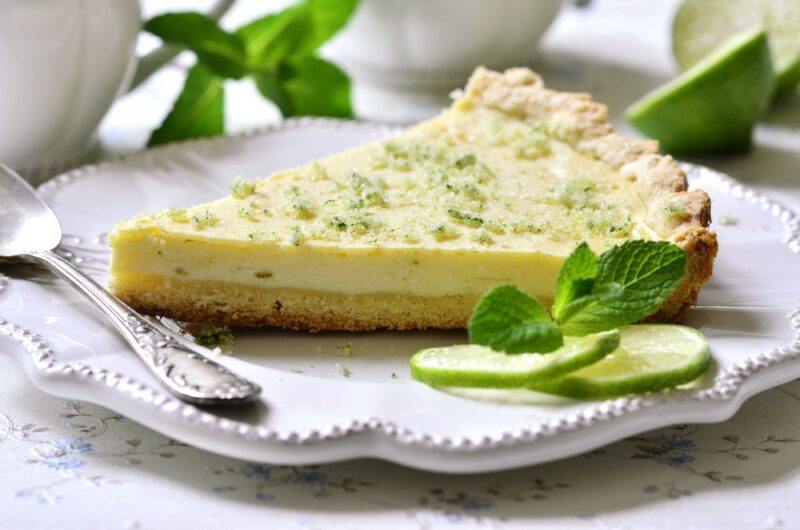 We talked about a mojito pie earlier, but what about a margarita one? The flavors are a perfect match for your tacos. You could even serve margaritas with dinner and then bring out a margarita pie for dessert.
There are plenty of recipes too. Many focus on a frozen pie that uses sweetened condensed milk as a key ingredient. You can even include tequila and triple sec to make the recipe even more authentic.
If you don't want to make an entire pie, why not riff on the idea with a jar-based recipe? This style is great for parties too, as guests can eat the pie straight from the jar without any mess.
Rice Pudding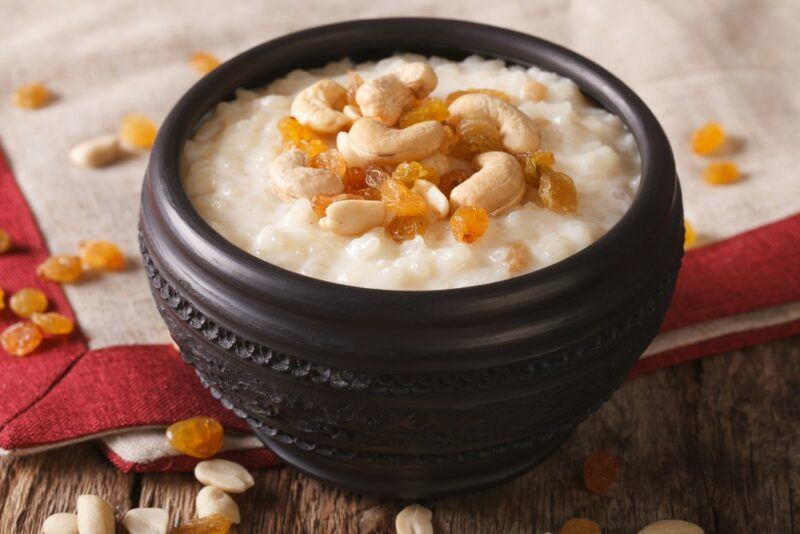 Rice pudding is a simple dessert that relies on ingredients like milk, sugar, cinnamon, and rice. Some versions use egg, but many others are egg free. The simplicity isn't really a bad thing though. After all, many desserts are too decadent and over the top.
You can easily make the dessert more interesting anyway by adding extra flavor ingredients. You could even spike it with a little rum.
Fruit Tart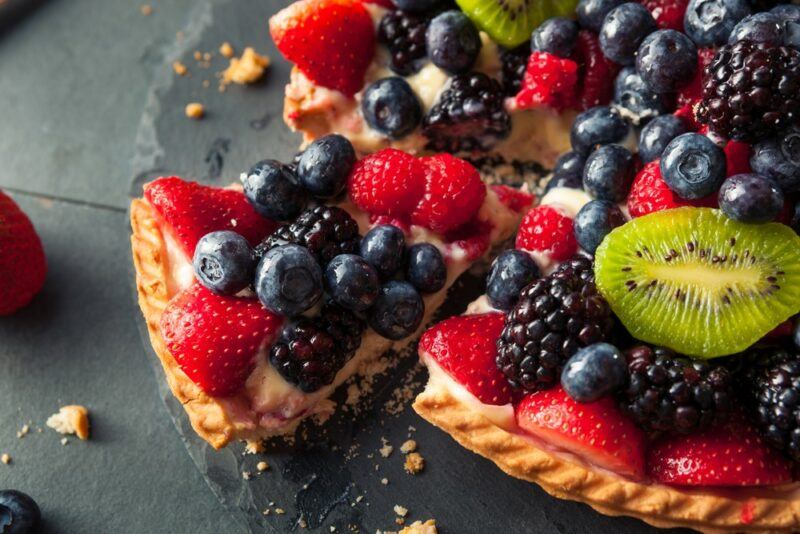 This type of tart gives you all the refreshing flavors of fruit, in a dessert that's much more interesting. The simplest version involves using a pie shell with a creamy filling and plenty of fresh fruit on top.
Of course, there are plenty of ways to mix things up. Lining the shell with chocolate is one trick, which gives you an even better contrast of flavors.
As for the fruit, anything goes. It's often best to focus on what's in season, as seasonal fruit is always the freshest and tastiest. You could also experiment with exotic fruits, including starfruit and dragonfruit. These make your fruit tart even more exciting.
Mexican Sweet Corn Cake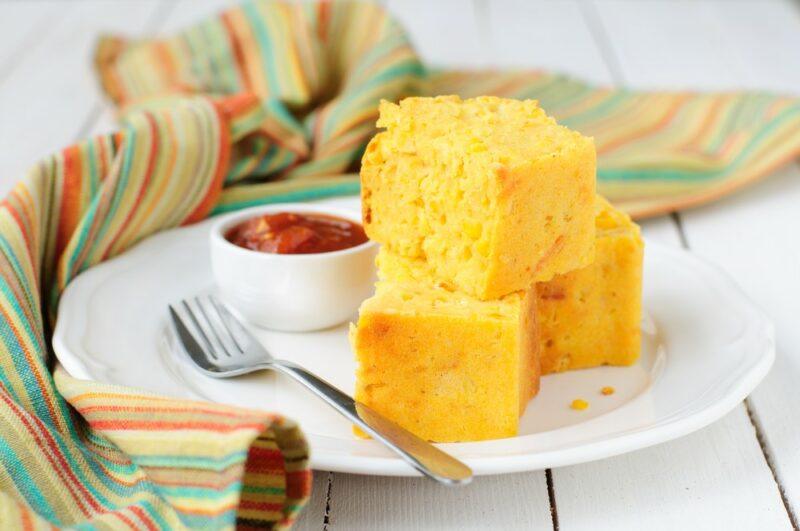 This cake goes by the name pastel de elote and is not well-known in the United States. Still, it's an excellent dessert after tacos, especially if your tacos used corn tortilla.
Does corn work in a sweet cake? Actually, yes, it combines surprisingly well with sweet flavors, giving you a unique dessert that's certain to be popular.
Horchata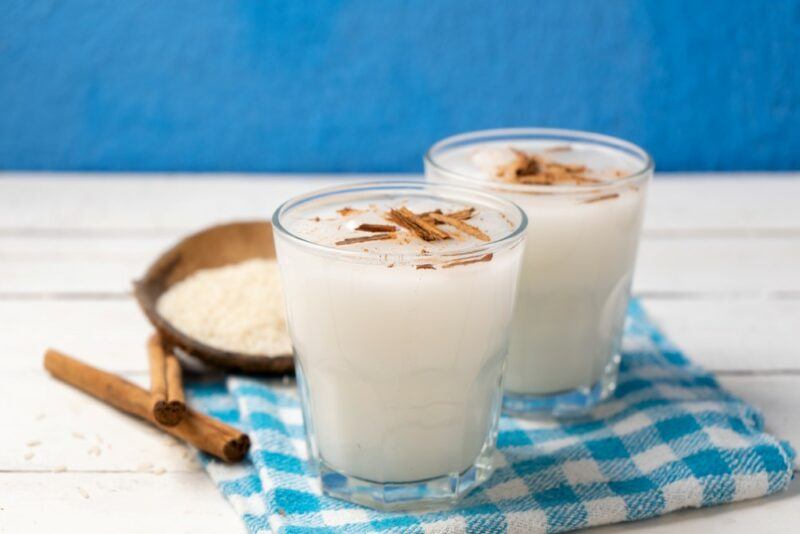 This is a drink, rather than a dessert you eat, but that's not a bad thing, is it? Some of the best desserts come in liquid form.
Horchata isn't all that complicated either. It relies on fairly basic ingredients, like sweetened condensed milk, cinnamon, rice, and vanilla extract. The treat is even better if you spike it with some rum. Doing so makes the flavor much more exciting.
Mangonada Sorbet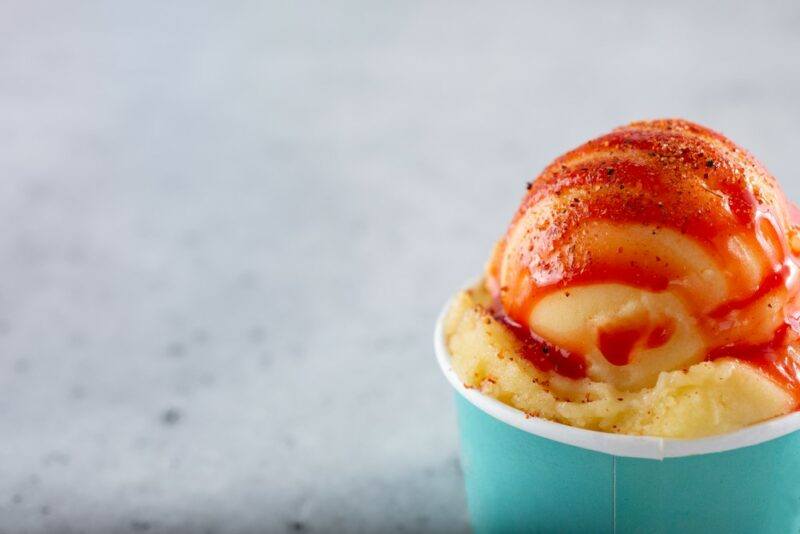 This treat is a riff on the classic Mexican mangonada drink – just in sorbet form. It's an incredible dessert, with plenty of flavor and some delightful color contrasts. The sorbet could be particularly good if you're serving tacos on a hot day.
The chamoy sauce is a huge part of this dessert. This relies on pickled chiles and fruits and can often be found in local grocery stores.
If you're considering this dessert, Delish has the perfect recipe to get you started. They also include an alternative sauce, in case you can't find chamoy in your local area.
Paletas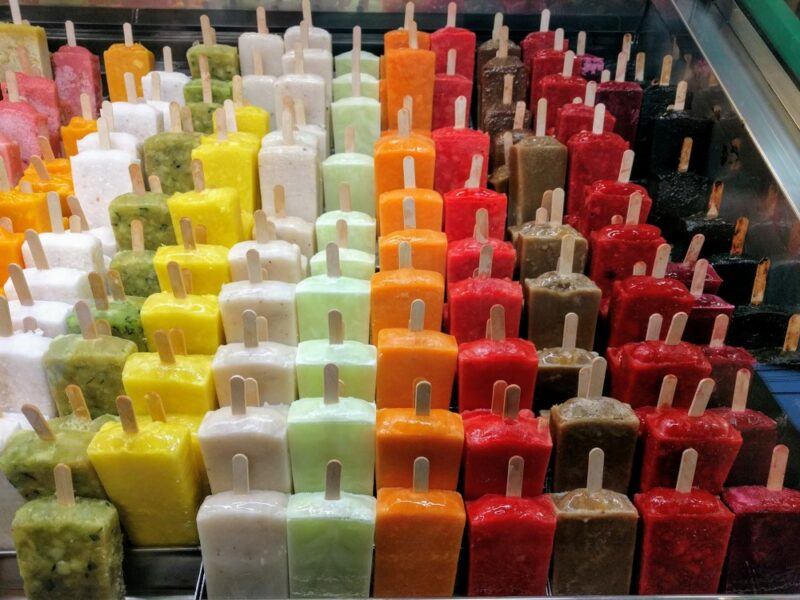 Paletas are Mexico's answer to our popsicles. They're similar in many ways, with some being icy and fruit based, while others are creamy instead.
The big difference is that paletas are always made from natural ingredients and often in small batch sizes. Popsicles, on the other hand, tend to be highly processed and produced in bulk.
Regardless of the flavor or style, homemade paletas will always be a hit after tacos. Fruit-based ones will be refreshing, while creamy ones are satisfying. You could even make some of each style.
Tres Leches Cake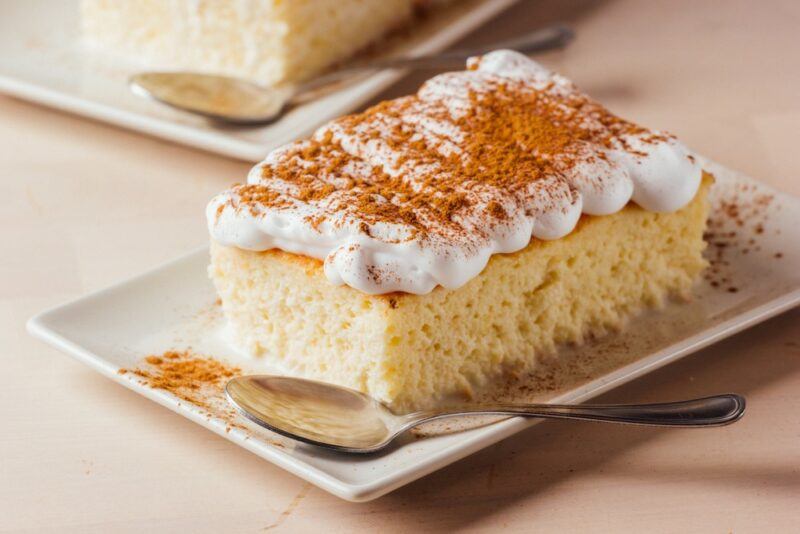 The term tres leches is fitting for this dessert, as it translates to 'three milks' and the dessert really does use three types of milk. The cake is made by soaking a light sponge in this triple milk mixture, which gives it plenty of sweetness.
The cake ends up moist, with a texture that's a little like pudding. The milk provides a light flavor, so the cake isn't overwhelming at all.
Rolled Ice Cream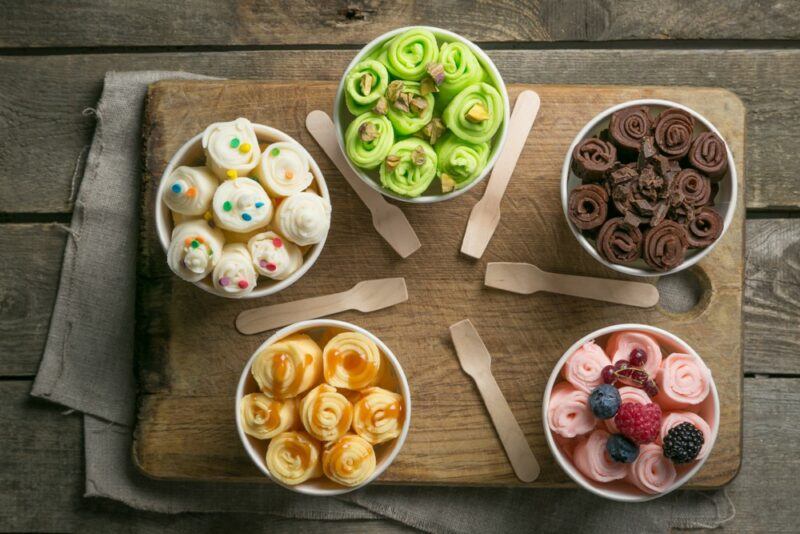 Rolled ice cream isn't a Mexican invention at all. The treat actually comes from Thailand instead (although it's now served in plenty of places).
You'll sometimes see it called stir fried ice cream as well. That's because the ice cream is prepared by pouring the mixture thinly onto a large frozen tray. This style means that vendors can make the ice cream before people's eyes.
Chocolate Covered Strawberries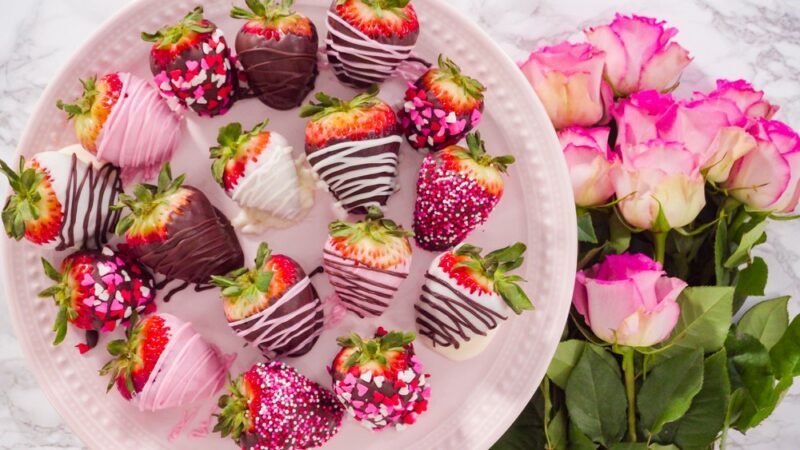 While these treats are normally associated with romance, they can easily be served as dessert after a heavy meal too. They also have a lot going for them, as you get sweet creaminess from the chocolate, plus a bright flavor from the strawberries.
You could easily experiment with these too. So, rather than using milk chocolate, you might serve some strawberries dipped in white chocolate or dark chocolate instead. Or, you could dip the berries in one type of chocolate, then drizzle them with another.
I've even seen versions where the white chocolate is mixed with another ingredient, like matcha powder. Doing so changes the flavor profile and color of the finished treat, making it even more impressive.
Mexican Wedding Cookies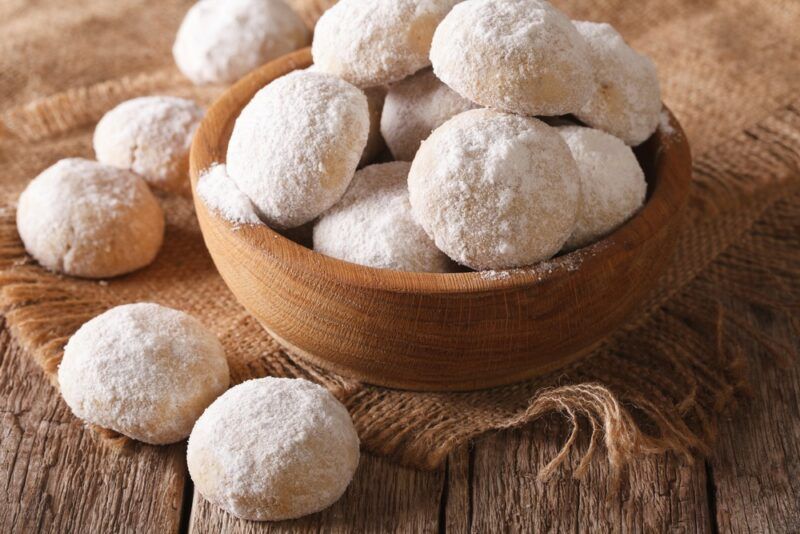 Cookies are a popular dessert, partly because they're easy to eat and store well. You can even get them delivered through a cookie of the month club. But, if you're serving tacos, you may want Mexican-themed cookies.
That's where Mexican wedding cookies come into play. While these buttery cookies may not have actually originated in Mexico, they're still associated with the country and are delicious treats.
They feature ingredients like flour, powdered sugar, vanilla, butter, and nuts – making them easy to prepare.