Desserts are often complicated, with a huge list of ingredients and steps for you to follow. Who has time for that? Sometimes you just want a treat that can be quickly prepared and enjoyed. These 3 ingredient desserts are perfect for this goal.
Designing desserts with just 3 ingredients isn't as difficult as you might expect. Plenty of recipes have achieved this, with surprisingly tasty results. The desserts come in a whole range of styles and flavors, so there's always something new to try.
Most of the ones in this list rely on simple ingredients, like butter, eggs, and cocoa powder. These are common pantry ingredients, so you probably have most of what you need already. Why not give a few of these easy treats a try? You could then pair the dessert with a delicious drink.
P.S. If you want easy desserts, why not try a dessert of the month club instead? These send prepared desserts to you every month, giving you a sweet treat with zero effort. There are plenty of more specialized clubs as well, including chocolate, cookies, and even ice cream clubs.
Finally, there are plenty of sous vide dessert recipes. These offer different textures and flavors than regular desserts.
Our Favorite Desserts With Only 3 Ingredients
Peanut Butter Cookies

Did you know that peanut butter cookies can be made with just 3 ingredients? Shocking, right? To do so, you simply combine peanut butter with white sugar and eggs, form them into cookies, then bake them. The approach works because the peanut butter has such a dense texture.
The egg is essential here. If you want peanut butter cookies without an egg, you'll need to use more ingredients, including flour.
Creme Brûlée

Creme brûlée traditionally uses more than 3 ingredients, but you can easily make a cheat version at home using vanilla ice cream, an egg yolk, and some sugar.
Interestingly, the ice cream isn't being used for serving the dessert. You need to melt it and whisk the egg yolk into it instead. The approach may sound weird, but it all turns out perfectly in the end.
Fat Bombs

Fat bombs are most popular among keto dieters, as they're a low carb way to boost fat intake and keep macros on track. There are plenty of 3 ingredient versions. For example, you can make peanut butter fat bombs using peanut butter, coconut flour, and sweetener, or cheesecake ones using cream cheese, peanut butter, and sweetener.
Combining coconut butter, peanut butter, and cocoa powder works well too. You could also just start playing around with the ingredients and find your own combinations.
Chocolate Fudge

Chocolate fudge is a more traditional treat and can be incredibly simple. You can make a tasty 3 ingredient version by just combining chocolate chips with condensed milk and vanilla extract. Or, you could drop out the vanilla extract and use some salt instead for a sweet and salty treat.
This fudge is also pretty foolproof, so it's a fantastic choice even if you aren't very good in the kitchen.
Peanut Butter Cups

What about peanut butter cups? These can be as simple as using a cupcake liner to make a chocolate shell, filling this with peanut butter, and adding more chocolate on top.
However, most versions add an extra ingredient. If your peanut butter is made from just peanuts and salt, you may need to add sugar or maple syrup to make it sweet enough. If your peanut butter is unsalted, you might need to add some salt instead.
Either way, these homemade treats are much less processed than Reece's Peanut Butter Cups and just as tasty.
Bounty Balls

These sweet treats are inspired by Bounty bars, which are similar to Almond Joy bars and Mounds. You begin by simply mixing together coconut and sweetened condensed milk.
This gives you a sticky mixture that you can roll into balls. These should be frozen for half an hour or so to firm them up. Once frozen, the coconut balls can be dipped in melted chocolate.
Dark chocolate will give you the best flavor contrast. However, you can easily use milk chocolate if you prefer. You could also drizzle the chocolate over the balls, rather than completely dipping them.
Nutella Mug Cake

Mug cakes are the ultimate in easy desserts. They're exactly what the name suggests – a miniature cake made in a mug. These are mostly prepared in the microwave, so they're ready much sooner than any regular cake.
It often takes less than 10 minutes to go from the raw ingredients to a cooked single-serving cake. It's hard to get more practical than that.
Mug cakes often involve 5 or more ingredients, but you can make them with 3. A Nutella mug cake is one of the easiest approaches. You just need all purpose flour, Nutella, and an egg.
White Chocolate Mummy Pretzels

These pretzels would make the perfect holiday treat. They're surprisingly simple too, as they just rely on pretzel rods, white melting chocolate, and some candy eyeballs.
To make them, you first dip the pretzel sticks in melted chocolate. Then you shake off the excess white chocolate and place two candy eyeballs on each pretzel rod. Leave them to set on waxed paper.
Once the pretzels have mostly set, you can start to drizzle white chocolate over them to make them look like mummies. You'll need to be a little careful here though, as you don't want any chocolate to go over the eyes.
Marshmallow Fudge

Marshmallows are a fantastic way to give your fudge an interesting texture. This fudge is incredibly easy to make too. You just need chocolate, sweetened condensed milk, and tiny marshmallows.
The chocolate chips are first melted and combined with the condensed milk. You can do this in the microwave or in a double boiler on the stovetop. Once the mixture is uniform, stir in the mini marshmallows and pour the fudge into a pan. Then it just needs to cool.
Peanut Butter Balls

We talked about peanut butter cookies before, but what about making peanut butter balls instead? These are often softer than the cookies and don't need to be baked.
One approach involves combining the peanut butter with mini chocolate chips and old fashioned oats. The oats provide extra fiber and texture to the balls. If you don't want the texture, you can easily blend the oats to create flour. Or, skip the chocolate chips and dip the balls in chocolate instead.
Alternatively, you can make peanut butter balls using peanut butter, coconut flour, and maple syrup. This gives you a smooth texture and a bit of sweetness. Plus, the balls end up being gluten free.
Roasted Almond Toffee Bark

Chocolate bark is always a delicious treat and it's easy to make too. There are plenty of ways to vary your bark, like by including toffee pieces and chopped almonds.
You could roast the almonds yourself or simply buy them from the store. Buying them is always easier and you could even use store-bought flavored almonds.
Other Mug Cakes

We mentioned a Nutella mug cake earlier, but this isn't your only option. You can also make 3 ingredient chocolate mug cakes by combining chocolate chips or cocoa powder with egg and sugar. This also makes it a flourless mug cake.
There are some tasty peanut butter mug cakes as well, like one that combines peanut butter, chocolate chips, and an egg. The chocolate chips are a nice touch and make the cake that much tastier.
If you want something more complex, like a vanilla mug cake or a strawberry one, you're going to need a few more ingredients. Don't worry. The cakes are still pretty easy to make. You can even find egg free versions.
Chocolate, Fruit, And Nut Bark

Here's another riff on chocolate bark. This time you're combining chocolate with crushed almonds and cranberries.
The cranberries are a fantastic addition, as they provide a vibrant fruity contrast to the chocolate. They also make the bark particularly good as a Christmas-themed dessert.
If you don't mind going above the 3 ingredient target, then you could use a combination of milk and white chocolate for this recipe. You can easily make a swirled effect with these, which makes your bark even more exciting.
Of course, that's just one version. You could use almost any combination of fruit and dried nuts. Some recipes even include multiple types of each to give you plenty of variation.
Coconut Macaroons

Macaroons don't need to be complicated. You can make a 3 ingredient version by mixing together shredded coconut, sweetened condensed milk, and some vanilla extract. Another version relies on shredded coconut, egg whites, and powdered sugar.
It's even possible to make a keto friendly version, using egg whites, shredded coconut, and sugar free sweetener. This version is still delicious and keeps the carbs very low.
Dairy Free Chocolate Brownies

These chocolate brownies don't just keep the ingredient total low. They're also grain free, gluten free, and dairy free.
The sugar content is much lower than normal too, as the brownies use bananas for sweetness and texture. While this might seem strange, the bananas do provide plenty of moisture, while also making the brownies sweet and providing some antioxidants.
No Bake Cereal Bars

You know how you often get leftover bits of cereal in the bottom of the bag, ones that are too crushed to be of much use? Cereal bars are a great way to use this cereal and reduce waste. There's a fantastic recipe for doing so at thebigmansworld.com. You could even combine multiple types of cereal if you have a lot of mostly finished bags lying around.
The rest of the recipe is incredibly simple. You just need to melt nut butter with some type of sticky sweetener, like maple syrup. You then pour the liquid over a tray containing your cereal. It takes around half an hour in the fridge for the cereal bars to firm up.
The bars can be kept at room temperature, but they're much better when stored in the freezer or at least in the fridge.
Key Lime Pie

It's actually possible to make an entire key lime pie with just 3 ingredients. You do this by combining key lime juice (regular limes work well too) with condensed milk, then pouring the mixture into a premade graham crust.
The texture is surprisingly similar to a regular key lime pie, as the lime juice thickens the condensed milk. You could include some lime zest as well for extra flavor.
Using premade graham pie crust might seem like pushing it for the 3 ingredient goal. If that annoys you, try using crushed graham crackers at the bottom of a glass and topping this with the key lime mixture.
Flourless Chocolate Cake

You can make a pretty tasty chocolate cake using just 3 ingredients and no flour at all. The only ingredients are butter, chocolate, and eggs. You end up with a very decadent cake, but let's be honest, decadent desserts are never bad.
The cake could be excellent on a low carb diet too, particularly if you rely on dark chocolate. You could also make a dairy free version by focusing on vegan butter and dairy free chocolate chips.
Banana Cinnamon Rolls

Banana isn't a common ingredient in cinnamon rolls, but the idea works surprisingly well. We're not just talking about mixing bananas into the batter either. Instead, the rolls are made using strips of bananas rather than dough.
Date paste is used as well, which makes these a very fruit heavy dessert. If you want to try these for yourself, check out the detailed recipe at feastingonfruit.com. Just be aware that these won't taste much like regular cinnamon rolls.
Air Cheesecake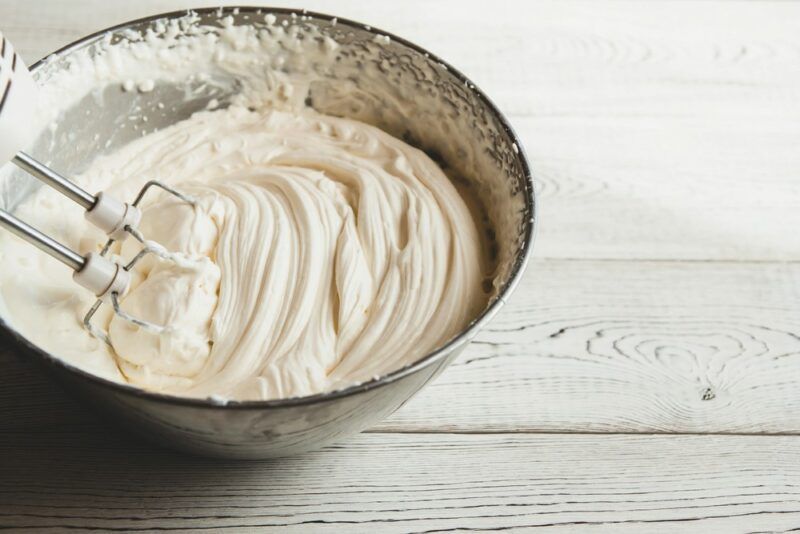 I love the idea of air cheesecake. It's an incredibly creative recipe that gives you some of the taste of cheesecake, for a fraction of the work.
All you need is softened cream cheese, white sugar, and whipping cream. The cream cheese and sugar are first whisked together, then you go to work on the whipping cream. Once you've made stiff peaks from the cream, you fold the sugar and cream cheese mixture into it.
You can mix the ingredients together a little more if needed, then you're good to go. The texture and flavor aren't exactly like a cheesecake. Still, it's pretty close for a 5 minute dessert.
No Churn Ice Cream

You can also make simple ice cream using just three ingredients. You don't even need an ice cream maker.
The most popular version combines sweetened condensed milk with heavy cream and vanilla extract. The technique is similar to making air cheesecake, except that you finish the ice cream off by freezing it.
You can make other versions by substituting the vanilla extract for another ingredient, like lime juice or cocoa powder. Crushed Oreos would be delicious too.
Chocolate Mousse

Want to make chocolate mousse? You just need to combine cocoa powder, powdered sugar, and heavy whipping cream. Or, you could drop out the cocoa powder and use melted chocolate instead.
The quality of your cocoa powder or chocolate will make a huge difference to this recipe, so choose carefully.
Cheesecake Cups

Here's one for all you cheesecake lovers – 3 ingredient cheesecake cups. Actually, this one is a slight cheat, as the recipe is just for the cheesecake portion. You'll still need crushed graham crackers for the base of the dessert and perhaps some fruit for the top.
Still, making cheesecake filling with just 3 ingredients is pretty impressive. There are plenty of ways to tweak the flavors too. The linked recipe highlights many of these.
Caramel Sauce

You probably wouldn't serve caramel sauce on its own. Still, it's a fantastic starting point for dessert and can be combined with many other dishes.
To make it, you just need sugar, butter, and heavy whipping cream. You can't substitute the cream for a lighter type, as the fat content is what makes your caramel so smooth.
Chocolate Oatmeal Cookies

These oat cookies are a great way to boost your fiber intake. They're simpler than most cookies too, as you just need oats, bananas, and chocolate chips.
Don't worry, the finished cookies don't have a strong banana flavor. They simply taste like chocolate instead. The banana is simply included to prevent the chocolate from getting too hard as it cools. This trick gives you soft and chewy cookies every time.
What's more, these cookies aren't baked and use no flour or eggs. These features make them much more versatile than traditional cookies.
Lemon Ricotta Tray Cake

Tray cakes are pretty simple to begin with. A 3 ingredient version makes everything even easier.
While this recipe is too good to ignore, it does break tradition, as the ingredients are pancake mix, lemon curd, and ricotta. Calling pancake mix a single ingredient feels a little like cheating. Still, you end up with a fast, easy, and delicious dessert. Isn't that what matters?
Apple Danish

Simple apple danishes follow a similar style, as you're using store-bought puff pastry, with apples and caster sugar. Honestly though, such danishes will taste almost as good as those with homemade pastry and take a fraction of the effort. It's hard to do better.
Cinnamon Sugar Pie Crust Cookies

These cookies are a hybrid dessert, as they're made using a pie crust, but baked like traditional cookies. The pie crust gives the cookies a different texture than normal.
This isn't a bad thing though. After all, traditional cookies get boring after a while.
Cinnamon Apple Cobbler

Let's round off this list with a familiar idea – apple cobbler. This is another recipe that stretches the idea of 3 ingredients, although it is amazing.
You need Pillsbury Cinnamon Rolls, apple pie filling, and cinnamon to make it. You start by cutting up the uncooked cinnamon rolls, mix these with the apple pie filling and cinnamon, then bake. The resulting treat isn't like traditional apple cobbler at all – it's better. Even if you're uncertain, it's worth experimenting with this recipe at least once. It might be your next favorite.