Not so long ago, milk was a stable and popular part of modern diets, associated with many potential health benefits. It's much more controversial these days amid concerns about how cows are treated, whether milk promotes inflammation, the use of hormones, and whether we should really be consuming the milk meant for calves anyway.
As this controversy has raged, substitutes for milk have become increasingly popular, including plenty of plant-based options. Problems with milk aren't the only reason for considering milk substitutes. Perhaps you regularly consume milk (after all, it does still offer benefits), but ran out. Or, maybe the recipe calls for more milk than you have right now.
Thankfully, there are plenty of options to choose from, including some that rely on dairy and others that are vegan friendly. With such a range of products, there are multiple good milk alternatives for every situation.
It's important to recognize that most of these substitutes won't behave or taste exactly like cow's milk (especially if they are plant-based). This can lead to differences in your finished dishes, like baking with a denser texture or that doesn't rise as much. The same is true with other substitutes, like substitutes for almond milk.
These differences often aren't too pronounced if your recipe calls for eggs, as eggs have some of the same properties. However, if your recipe doesn't use eggs (or you're using an egg substitute), your outcomes may be more unpredictable. Still… with the right substitute at the right time, you can make some pretty delicious dishes.
Substitutes For Milk
Half And Half

Half and half is simply a mixture of heavy cream and whole milk, which makes it pretty similar to milk. You can use it as a 1:1 replacement to milk in whatever recipe you like.
Because this is a dairy-based ingredient with a similar texture to milk, your dishes should end up much the same as they would normally, even if you're using half and half to make a creamy sauce. If you're worried about texture, you could also dilute the half and half a little to make it closer to water. However, doing so often isn't necessary.
Heavy Cream

Not surprisingly, heavy cream has many of the same properties as milk, so it's another good replacement. The main difference is the fat content, which also makes heavy cream much richer than milk.
To get around this, you'll need to dilute the cream. A dilution of one part heavy cream to one part water should be enough. The diluted liquid can then be used as a 1:1 milk replacement.
Heavy cream sometimes goes by other names too, including heavy whipping cream and whipping cream. The substitution is the same regardless of the name. If your cream feels thicker than expected, you can always dilute it a little more. Some experimentation may be needed here, as every recipe is different.
Kefir

Kefir is a probiotic drink that tastes much like yogurt with a more distinctive tang. The texture is quite similar to milk, so you can simply use an equal amount of it instead of milk in your recipe.
There are a couple of important considerations. First, make sure you use unflavored kefir rather than flavored, as a flavored version would mess with the flavor of your recipe.
Then there's the tanginess. This will be completely fine in some recipes, but in other cases the tang will take away from your desired flavor profile. For example, kefir can be quite strange in coffee and won't appeal to everyone. You'll need to consider this when deciding whether to use kefir in your recipes.
Soy Milk

Soy milk is thicker than most other types of plant-based milk and contains more protein. That combination makes it an excellent milk replacement in most situations. Baked goods made using soy milk even brown up the same way that they would if made using cow's milk.
That said, soy milk isn't as attractive for sauces, as it can develop a fairly strong flavor when heated on the stovetop.
The substitution is also easy, as you're using the same amount of soy milk as regular milk – just a 1 to 1 replacement. Plus, the flavor is mild, so you normally won't taste the soy milk in your finished meal.
Of course, soy milk isn't a good move if you're sensitive to soy. You'll also need to choose the product well, as versions have added sugar or flavor. Some also have additives, which you might not want.
Other Plant-Based Milks

Other types of plant-based milk work well as milk substitutes too. This includes the common options like almond milk, coconut milk, and oat milk, along with ones like cashew milk, hemp milk, pea milk, quinoa milk, and more.
There are even products that use a blend of different ingredients to create a more milk-like flavor and texture. You'll use a 1:1 substitution regardless of the type you choose, but each type of milk has its own effects on your food.
Here are some examples:
Almond milk. This milk is low in protein and high in water, so baked goods often rise faster and sauces may be a little less creamy. However, the milk's mild flavor is an appealing feature.
Coconut milk. This adds a distinct coconut flavor, which can work well or badly depending on the recipe. Coconut milk in a carton tends to be lighter, while coconut milk from a can is better used as a cream replacement.
Oat milk. This milk can be used as a 1:1 replacement for dairy milk and works well in some situations. However, it can create a slimy texture in some dishes and occasionally doesn't separate well, so some caution is needed.
Rice milk. Rice milk isn't such a great choice for baking, as it has a high water content and normally needs some type of thickening agent. However, it's still relevant as a milk replacement in drinks.
These effects mean you may need to experiment with the type of plant-based milk you use. Keep an eye on the recipe you're following as well. Many recipe creators will provide details about which substitutions are effective and which aren't.
Yogurt

Yogurt is a somewhat surprising milk substitute, given its thickness. However, it's actually a good choice, especially as it is a dairy-based ingredients and has some properties in common with milk. Sometimes you'll be able to use the yogurt as-is, while other times you'll want to add a little water to thin out the yogurt. The best approach will be determined by whether a little extra thickness will help your dish.
Most types of yogurt will work well here, including plant-based yogurt and dairy yogurt. However, it's best to stick with plain yogurt here, as any flavoring in your yogurt will impact how your dish tastes.
That said, the thickness of your yogurt will make a difference. Extra thick products, like some full fat yogurts, Greek yogurt, and Skyr will need more diluting than regular yogurt.
Sour Cream

Like yogurt, sour cream can be used as a 1:1 replacement for milk – or you can dilute it first. Sour cream works well, as it has a fairly neutral flavor and adds moisture to your recipe.
Of course, this and yogurt are best reserved for baking. They're not very effective in coffee or cereal and won't work in some sauces either.
Evaporated Milk

Evaporated milk is exactly what the name suggests – milk that has lost some of its water content due to evaporation. This approach helps make the milk shelf stable and reduces the amount of space it takes up.
Because this product has the water removed, you should dilute it before adding it to your recipe. Try diluting it with equal parts of water, then use the diluted version as a 1:1 replacement for milk.
Sweetened Condensed Milk

Sweetened condensed milk is similar to evaporated milk – to the extent that it is sometimes called non-sweetened condensed milk. Sweetened condensed milk has the same consistency as evaporated milk, just with a caramelized flavor.
The caramelized flavor means that sweetened condensed milk will work best in dessert recipes rather than savory ones. You can even use it in coffee as an alternative to creamer.
Powdered Milk

This product is literally dehydrated milk. You just need a cup of water and 1/4 cup of powdered milk for every cup of water in your recipe.
Powdered milk is a fantastic option if you regularly run out of milk. It doesn't taste as good as milk when consumed on its own, but still works well in many recipes. Plus, it lasts much longer than regular milk.
Water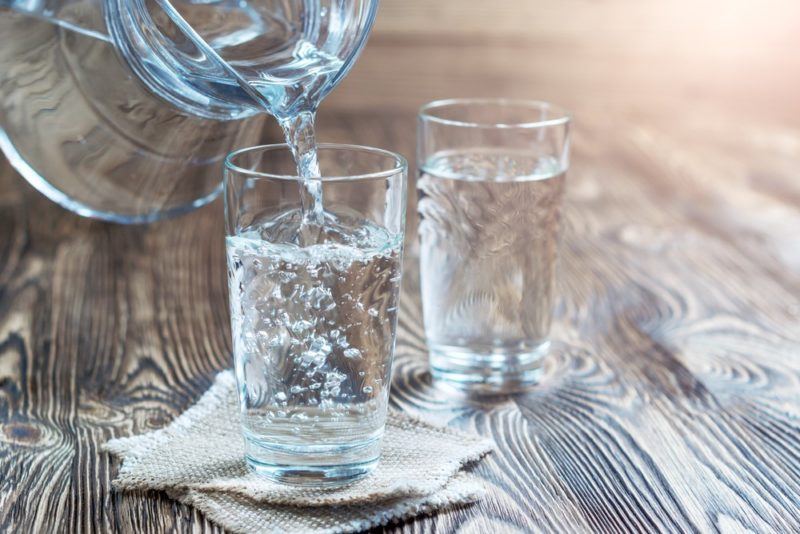 If you're absolutely stuck, water can be a suitable replacement for milk in some recipes. Water still provides moisture and helps to bind ingredients – it just doesn't provide much richness, given that there isn't any fat.
You can get around the problem by adding some of your own fat. Adding a tablespoon of butter or a low-flavor cooking oil will work well enough in many situations. But, this option really is best reserved for emergencies, as other milk substitutes are much more effective than water.
This substitution works best for recipes that use a small amount of milk, like a few tablespoons. If a large amount of milk is called for instead, water may change the texture of your recipe too much.
Which Milk Substitutes Are Right For You?

The Best Milk Substitute For Baking
If you're going dairy free, then soy milk is by far the best milk substitute for your baking – due to its protein content. It gets close to the texture of baking made using regular milk and even matches some of the coloring.
If you're not worried about dairy, then half and half, kefir, or diluted heavy cream are all good options. Because these have a diary base, they provide much of the same structure and texture as regular milk.
The Best Vegan Milk Substitute
Vegans can turn to any of the extensive range of plant-based milk, including soy milk, cashew milk, almond milk, and the like. You can also look for products that use milk from multiple sources. These are often more nutritious and have a good balance of flavor and texture.
The best choice is influenced by personal preferences and how you will use the milk. For example, soy milk works well in baking but can curdle a little if you use it to make hot coffee.
The Best Milk Substitute For Creamy Sauces
Coconut milk in a can or coconut cream works well for creamy sauces, as it is already thick and rich. It does impart a slight coconut flavor, but this can easily be masked with other ingredients.
Yogurt works as well, including regular yogurt and dairy free yogurt, as yogurt already has a creamy texture. You can also experiment with silky tofu. Strange as this may sound, the tofu is very creamy when it has been pureed and doesn't add much flavor to your sauce.
The Best Milk Substitute For Coffee
Any of the dairy substitutes work well for coffee (except possibly yogurt and kefir). Plant-based substitutes are a little more hit and miss. Almond milk is a great choice here, as it provides a slight nutty flavor and doesn't curdle very much.
Oat milk is fantastic too. Its texture is similar to that of dairy milk, so you get a creamy coffee that doesn't even taste much like oats.
Some companies have made barista versions of plant-based milk, which can be even more helpful. These often have a higher fat content and were created for use in coffee, so they're perfect. That said, these products often use additives to get the desired effect in coffee, so they won't work well for everyone.
The Best Lactose Free Milk Substitute
If you're avoiding lactose, then any of the plant-based substitutes on this list will work well. You might turn to soy milk for baking and oat milk for coffee, or experiment with one of the less common plant-based products. There isn't a right or wrong answer.
That said, being lactose free doesn't mean you need to avoid milk and dairy products entirely. You can turn to lactose free milk and similar products instead. These are regular dairy products where the lactose has been broken down. As such, people sensitive to lactose can generally consume them without side effects.