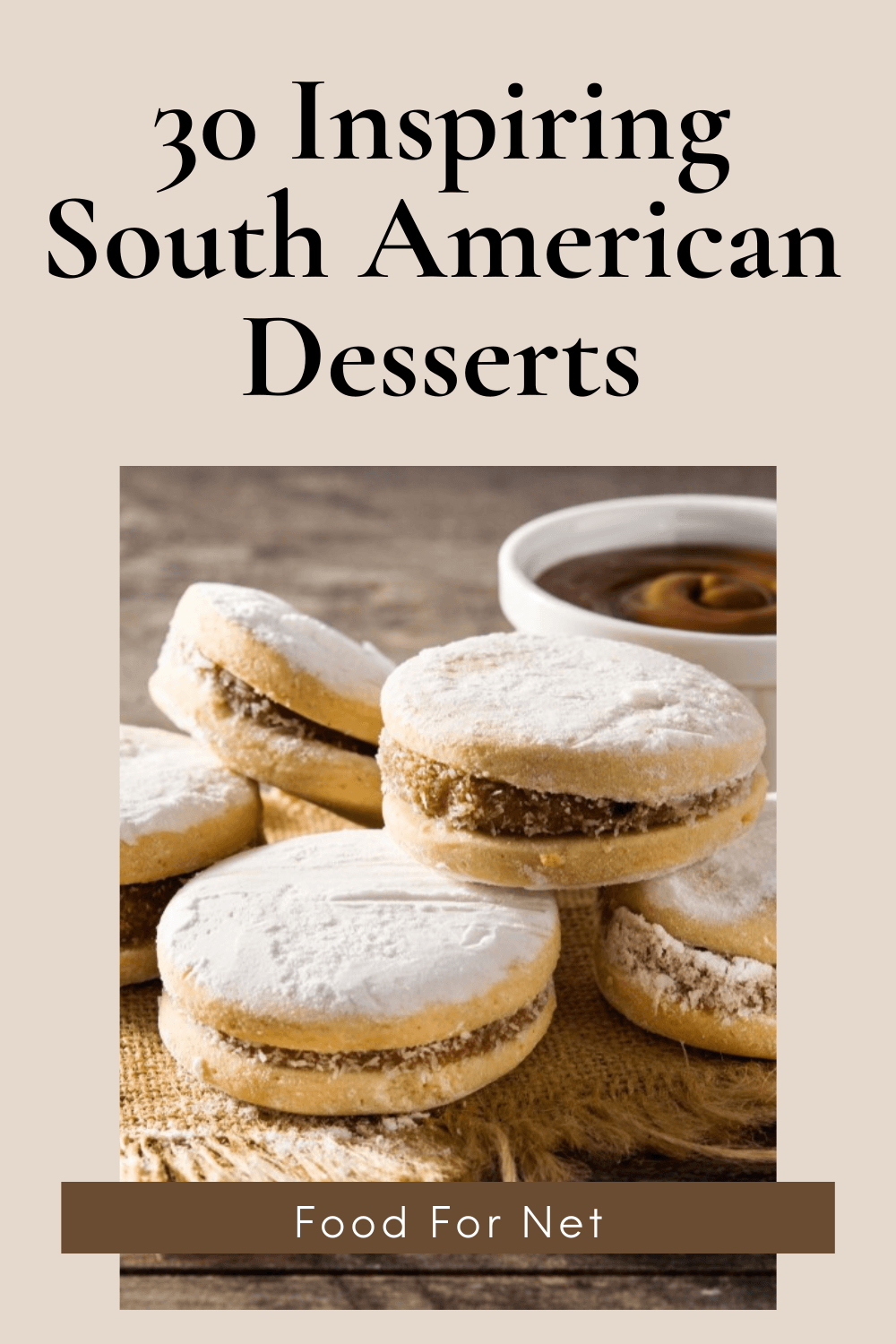 Why stick with familiar desserts or processed treats, when there are so many other delicious desserts for you to try? Seriously. The world is full of fantastic flavor experiences, some of which you may have never seen or heard of before. Today, we're looking at South American desserts.
Even if you're already familiar with a few of these treats, like dulce de leche, there are plenty of others to experiment with. Many of them can even be prepared at home without much effort or unusual ingredients.
South America is a huge continent, so there's an endless range of desserts to choose from. Some are popular in just a few locations, while others can be found in different variations throughout the continent.
We could have easily made a list of 100 or more desserts. Instead, we've focused on 30 of the continent's most exciting and inspiring desserts.
P.S. If you're a dessert fanatic, why not try desserts from other parts of the world too, like Asia or Russia? These have their own distinct styles and are just as tasty.
You can also turn to a dessert of the month club. These clubs focus on more familiar desserts, including pies, cheesecakes, and cookies. They're also incredibly convenient, as they'll fully prepared desserts straight to your door. This means you don't need to cook or stress about anything.
Desserts From South America
Alfajores

Alfajores are similar to cookie sandwiches, as they're made of two cookie dough disks that sandwich a dulce de leche filling. The contrast between the cookies and the dulce de leche is heaven, especially after a heavy meal.
Alfajores are often coated in some way too. Shredded coconut and nuts are common toppings, although chocolate features as well.
You won't always find dulce de leche in these cookies though. This filling is popular in Argentina, while other parts of the country have their own approaches. Cream, chocolate mousse, and fruit spread are alternative fillings that are almost as tasty.
Dulce de Leche

Dulce de leche is famous. The term refers to sweet milk or candy of milk, and it's a rich caramel sauce. It can be eaten on its own, perhaps off a spoon or your fingers, but it's most often used as an ingredient in more complex desserts.
In fact, many of the treats on this list feature layers of dulce de leche or a dulce de leche based filling. The sauce is popular enough that you can buy it in cans in many countries – not just within South America either. You can also make it at home using sweetened condensed milk and vanilla extract.
Espumilla

Espumilla is a meringue-based dessert that's so popular that it is often sold at street corners. It uses the traditional ingredients of egg whites and white sugar, but guava juice is added as well. The juice provides flavor and moisture, creating a soft and sweet treat.
Other fruit juices or even pureed fruit can be used instead of guava. The different fruits change the flavor and color of the espumilla, although it always ends up being delicious.
The name espumilla translates to "little foam", which should tell you all there is to know about this treat. Don't expect it to taste or feel like ice cream, even though espumilla is often served in ice cream cones. Instead, it really does have a foamy texture.
Helado

This Argentinian dessert is a little like ice cream, a little like gelato, and a little different than both. It's a rich and delicious treat, one that is consistently popular.
There are plenty of variations, including helado de sambayón, which is a port wine flavored version that's found in Uruguay. This version is made using frozen milk cubes and port wine, ingredients that complement each other well.
Another version is chocolate and dulce de leche, which is incredibly decadent. The chocolate and caramel-like flavor is also very familiar, so it's an excellent choice for visitors.
Those flavors aren't your only options. Helado flavors vary just like our ice cream flavors do. You never know what you'll find.
Queso y Dulce

Desserts don't need to be chocolatey or excessively sweet to be tasty. The queso y dulce is a great twist on classic styles, as it involves slices of sweet potato jam that alternate with slices of cheese. This creates a fantastic sweet-savory contrast of flavors.
The slices tend to be thick, making the treat look a little like a layer cake. The types of cheese and types of fruit jam can easily be changed and often are, giving you a versatile treat that's always delicious.
Picarones

Picarones are a Peruvian dessert that shouldn't be missed (seriously, if you're in Peru, it's almost a crime not to try one of these delights for yourself). They look a little like doughnuts and are deep fried, but are completely different.
For one thing, the batter relies on sweet potato and pumpkin, giving you delicious fall-like flavors. Flour features as well, so the texture isn't too unexpected.
That's not the whole story though. Picarones are normally served hot with fruity syrup. The crispiness of the dough and sweetness of the syrup combine to make these a perfect treat, especially at festivals and concerts.
Kivevé

Kivevé looks like a savory treat, perhaps something that's served alongside chicken or turkey during a roast dinner. This isn't the case though. Instead, kivevé is a sweet or semi sweet dish that's made from sweet squash, milk, sugar, and spice.
The consistency is a little like creamed corn, but the taste is completely different. You can make a variation of this dish at home using pumpkin rather than local squash. The flavors of your homemade version won't be quite the same, but they'll be similar enough.
Gaznates Dulces

These sweet treats are reminiscent of Italian cannoli or churros, but they're different than both. They have two parts – tube shaped pieces of dough that are then stuffed with some type of sweet filling.
Fillings can include the ever-popular dulce de leche, sweet cream, and chocolate sauce. If all of this wasn't enough, the treats are often coated in caster sugar as well, which bumps their sweetness up a few levels.
Brigadeiro

These Brazilian desserts should be instantly familiar, as they're simply truffles made using chocolate ganache and condensed milk. Once the ingredients are mixed and rolled into balls, after which they can be dipped in any number of toppings.
The truffles can be simple or complex, much like those you'll see in the United States. They're also a great dessert for visitors, as they are already quite familiar.
Suspiro Limeño

This is an incredibly sweet Peruvian dessert that relies on meringue, milk, sugar, almond flour, egg yolks, and a few other ingredients. Most ingredients are used to create the rich caramel creme at the base of the dessert, which is somewhat similar to dulce de leche.
Then there's a whipped meringue on top that's topped with cinnamon. It's a rich dessert that's best enjoyed with something to clear your palate.
Quindim

Quindim is easy to spot, as this Brazilian dessert is bright yellow and stands out. You might not guess from looking at it, but the treat relies on a rich egg custard.
A layer of coconut shavings forms the base, helping to hold the entire dessert together.
Most of the time, you'll see this sold as small single serving delicacies, but quindim can also be made as a large cake and sliced into pieces.
Quesillo

This treat should look familiar, as it's similar to a caramel flan. The Venezuelan version relies on eggs and condensed milk, and goes by the name quesillo.
It's a little different than most flans, as the recipe calls for whole eggs, rather than just egg yolks. The presence of egg whites as well gives the dish a lighter texture. You'll often see it served with caramel syrup, which boosts the caramel flavor even more and makes the treat look amazing.
There's another difference too. Many versions of this treat include rum as one the main ingredients. Some heavy cream can be added during cooking as well. The rum adds a fantastic flavor to the dessert, while the heavy cream helps with the texture.
Plátanos Calados

This dessert shows that plantains really are versatile. It simply consists of over ripe plantains that have been cut into chunks and stewed in sugar and spices. The result is a sweet and warming dish.
While plátanos calados taste fine on its own, the plantains can also be served with cheese. The creaminess and savory nature of the cheese are a perfect contrast to the sweetness of the plantains.
Mazamorra Morada

This dessert looks amazing. It's also incredibly unusual, as the color comes from purple corn. Fruit is included in the recipe too, which boosts its sweetness and adds to the flavor.
That's not the end of it though. The recipe also calls for cornstarch or potato flour, which helps to thicken it and provide a pudding-like consistency. There are often spices included as well, like cloves and cinnamon. These provide warmth and an extra depth to the flavor.
The dessert tastes most like a blackberry pudding or perhaps blackberry pie filling. However, the flavors are more nuanced and complex, giving you an even tastier dessert.
Torta de Milhojas

Torta de milhojas, or thousand layers cake, doesn't actually have a thousand layers, but it is still very impressive. It's a traditional Chilean cake that's made using very thin slices of puff pastry dough that are interspersed with dulce de leche. Walnuts are often used too, either on the top or in the layers themselves.
There's plenty of variation though. Some families include whipped cream, jam, or pastry cream as fillings. The cake could use the same filling or fillings in every layer or include multiple types. The latter approach creates fantastic variation, giving you an even more stunning cake.
The type of pastry and other aspects of the recipe can easily change as well. But, this isn't so surprising. Most traditional dishes have countless variations. Every family likes putting their own spin on things.
Chocotorta

Chocotorta is an Argentinian dessert that's delicious, rich, and surprisingly familiar. It starts with chocolate cookies that have been soaked in milk, then layered with dulce de leche and a layer that relies on cheese or cream cheese. Some versions use coffee as well, while others don't.
The style is a little like a tiramisu, although the flavor is a little different. Soaking cookies like this is one of the easiest ways to prepare a cake. You get a fantastic texture and delicious flavors, without the need to bake anything at all.
It's not surprising that this often ends up being made as a birthday cake or for other celebrations. It isn't normally found at restaurants, perhaps because the ingredients are so simple. However, you could easily make your own version at home.
Canjica de Milho

Here's an interesting treat. It's a type of corn pudding that's popular in Brazilian cuisine. The use of corn doesn't make this savory though. Instead, it's a sweet dish that makes a delicious dessert.
It's prepared by simmering the corn kernels with milk overnight. Doing so gives you a creamy dish with a similar texture to rice pudding. While that description might not sound appealing, many people love the dessert.
Pastelitos

These classic Argentinian pastries have a distinctive star shape. They're deep fried too, which gives them a fantastic crispy texture.
There's also a filling, such as sweet potato preserve or quince jam. This, plus the sugar glaze, makes these a sweet treat that's perfect as dessert. The shape and crispness also make them fun to eat.
Tarta Marquesa

Here's another riff on the idea of a layered cake. This one comes from Venezuela and is a type of cookie cake. In fact, the marquesa part of the name comes from Marquesas, which is a type of vanilla cookie found in Venezuela.
These cookies can be soaked in condensed milk, then layered with chocolate, cream, and fudge to give you a decadent dessert. The cake is best left overnight, allowing the cookies to soften further and all the flavors to come together well.
Not only is this dessert tasty, but it's also much easier to prepare than a traditional cake.
Pasta Frola

You might have heard of this one before, as pasta frola is a popular pastry in Argentina, Paraguay, and Greece. We're basically talking about a fruit pie that uses quince paste as one of the main ingredients and is topped with a dough lattice.
The guava really makes this dessert stand out, as it has a distinctive flavor. Some versions use a thick pastry at the bottom and a relatively thin layer of the quince filling. This stops the quince flavor from getting too intense.
Tawa Tawas

These Bolivian sweet fritters are incredibly tasty. Honestly, once you've had one, you're likely to come back for more and more.
They're surprisingly simple too, as they're made with dough cut into shapes that is deep fried. The deep frying gives them a pillow-like texture, which makes them particularly amazing as snacks. Then, the tawa tawas are covered with powdered sugar and topped with raw honey.
Chajá

Chajá is a traditional Uruguayan cake that's often missed on dessert lists. That's a shame, as it's an amazing treat.
The classic recipe relies on a sponge cake base. This is complemented by a rum-spiked peach syrup, followed by layers of peaches, whipped cream, dulce de leche, and meringue. There's plenty of whipped cream too, plus even more peaches.
With such ingredients, it's easy to see why the cake is so popular.
It is a somewhat complex cake with three layers of sponge and the other ingredients sandwiched between all the other ingredients. Still, the flavor profile means the cake is well-worth the effort.
Rogel

Rogel is another classic dessert. It still has layers, like chajá, but it follows a very different style. This time, the recipe relies on thin pastry discs, with layers of dulce de leche. The dessert is then topped with plenty of meringue. Some versions even use meringue along the sides as well, to the extent that the cake is covered with it.
The number of layers makes this a complex recipe to prepare. It takes a lot of time and plenty of ingredients. Still, if you're willing to put the work in, the cake is certain to impress.
Majarete

Majarete mightn't sound much like a dessert, as it heavily relies on corn. Yet, all of the ingredients work together well. Milk, coconut milk, sugar, and spices all feature, giving you a creamy and delicious pudding.
The traditional technique can be a bit difficult, but there are easier ways to prepare the pudding. These can be just as delicious as the original version of the recipe.
Romeu e Julieta

This dessert seems to be named after Romeo and Juliet from Shakespeare, although it's not entirely clear why. The treat is like one we highlighted earlier on the list, combining a slab of sweet guava paste and salty cheese.
Some versions have just one layer of jam and one layer of cheese, while others stack the layers on top of each other. Either way, you end up with a delicious treat that's a little unusual.
Dulce de Higos

Rather than a chocolate-based dessert, why not try one that relies on figs instead? Dulce de higos is a simple dessert that focuses on caramelized figs. These are often served with fresh creamy cheese, which perfectly contrasts the sweetness of the fruit.
The dessert is a fantastic way to enjoy the flavor of figs. After all, they're a delicious type of fruit that often isn't used enough.
Pan de Pascua

The name of this dessert is unusual, as it translates to Easter cake (or Passover cake), yet the holiday bread is most often served at Christmas instead. It's everything you might expect from the image – a dense cake that's heavy in fruit, nuts, and spices.
Many recipes add a splash of alcohol into the batter to give the cake an extra hit of flavor. It can be served with alcohol too, particularly cola de mono, a drink that relies on coffee, white rum, cinnamon, and evaporated milk.
Cartola

This dessert has an interesting name as wll, as cartola literally translates to top hat. The dessert is also unusual, as it consists of pan-fried banana slices that are then covered with melted cheese, followed by a cinnamon sugar mixture.
The inclusion of cheese is particularly unusual, yet somehow the dessert doesn't just work, but it works well. To make the dessert even more unique, some people serve it in bread, a little like a sandwich.
Postre Balcarce

The flavors of this impressive dessert should be more familiar. Postre balcarce relies on sponge cake, almond paste, meringue, dulce de leche, and a few other ingredients.
It's a delicious and incredibly decadent cake that remains incredibly popular even these days. Despite how complicated the cake looks, many people do successfully make it at home.
Maria-Mole

This final dessert comes from Brazil and it's much like a marshmallow. The base of the recipe simply relies on egg whites, gelatin, and sugar. Most versions are unflavored, although extra flavor or coloring can be added.
A simple coating of grated coconut is added to the Maria-mole and that's it.
Don't be fooled by the limited ingredients though. The marshmallow-like Maria-mole still makes a delicious dessert.