There's no doubt about it. Food is special. Sure, it provides us with essential nutrients, but it also does much more than that. For one thing, food brings people together. Sharing a meal is a powerful way to connect with the people you love. And, as we're all aware, popular foods can vary depending on where you live.
We've been focusing on this trend by highlighting the traditional and popular foods from a variety of places, including Puerto Rico, Russia, and Thailand. This time, we're talking about Jamaican food.
We don't just mean jerk chicken either. Plenty of other Jamaican dishes are worth experimenting with too.
You won't find Jamaican dishes at local restaurants nearly as often as Thai or Chinese meals, but this doesn't make Jamaican food any less important. In many ways, Jamaican food is a must-try. After all, the island is a melting pot of different cultures and traditions – a pattern that can be clearly seen in the food. 
You'll see a strong African influence in many of the Jamaican dishes featured on this list. There are some fun colors, flavors, and textures to enjoy as well. Why not give some of them a go for yourself?
Best Jamaican Foods
Jerk Chicken
Ackee and Codfish
Sweet Potato Pone
Sweet Potato Pudding
Bammy
Escovitch Fish
Patties
Coco Bread
Curry Goat
Fried Dumplings
Festivals
Rice and Peas
Run Down
Callaloo
Fried Plantains
Banana Chips
Jerked Meat
Stewed Chicken or Pork
Oxtail Stew
Gizada
Cornmeal Porridge
Jerk Chicken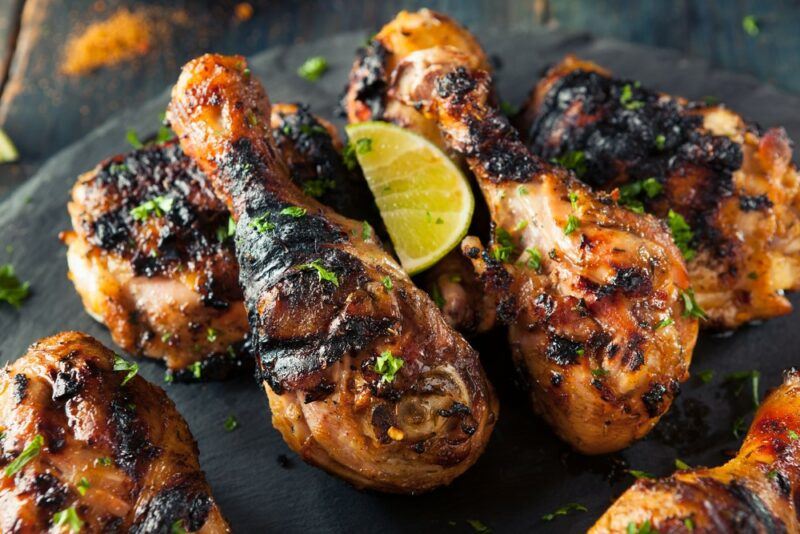 Let's begin with jerk chicken, as this is easily the most recognizable Jamaican dish. Of course, the version that you've tried may not have been authentic.
When made well, jerk chicken is an aromatic dish that's smoky and has some heat to it. The chicken may sometimes be very spicy, but this isn't always the case. When the spiciness isn't too intense, the other herbs and spices have the chance to shine through.
Chefs use their own combination of jerk spices, so the chicken's flavor can vary dramatically depending on where you buy it from. Trust us though, eating jerk chicken in Jamaica will always be a very different experience than doing so in the United States.
When you're in Jamaica, jerk chicken isn't hard to find at all. It isn't just served in restaurants either. You'll often see it sold as street food too. Sometimes it's even cooked in a metal bin. While such cooking approaches may sound rustic, the finished chicken can taste simply incredible.
Ackee and Codfish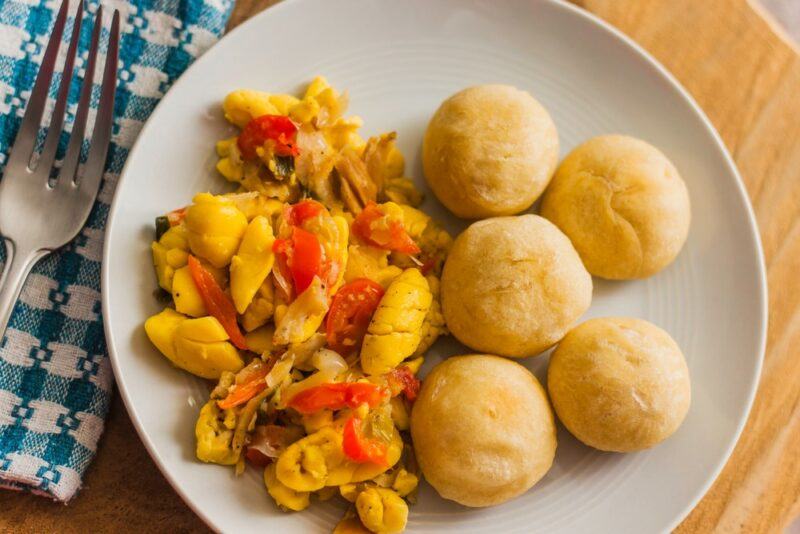 Some foods sound amazing the first moment that you hear of them. Perhaps they have a fantastic texture and flavor balance, or maybe they just look amazing on the plate.
These features aren't true for ackee and codfish at all. Instead, the textures of the dish take quite some getting used to (as does the flavor). But, it is also Jamaica's national dish, so it's still worth trying.
The ackee is the most unusual part of the dish. This is a type of fruit and part of the seed pod is cooked along with cod. The ackee ends up looking much like scrambled eggs, although the flavor is quite different.
This is a dish to be cautious with, as ackee is poisonous when unripe. Some parts aren't edible even when the fruit is ripe. Buy the dish from a reputable vendor to make sure that it doesn't make you sick.
Sweet Potato Pone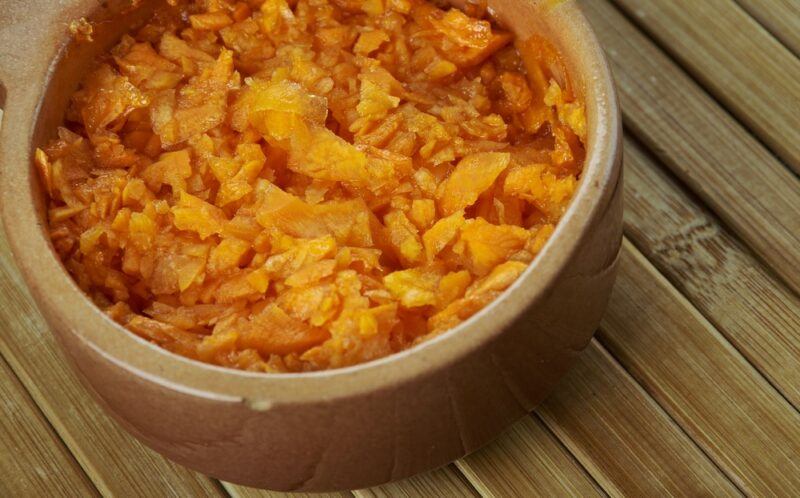 As the name suggests, this dessert uses sweet potatoes as one of the main ingredients. Cassava or cornmeal is included as well, along with coconut, sugar, and spices for seasoning.
In some versions of the dessert, coconut milk is poured over before the pone is baked. This makes it a little like custard.
Sweet Potato Pudding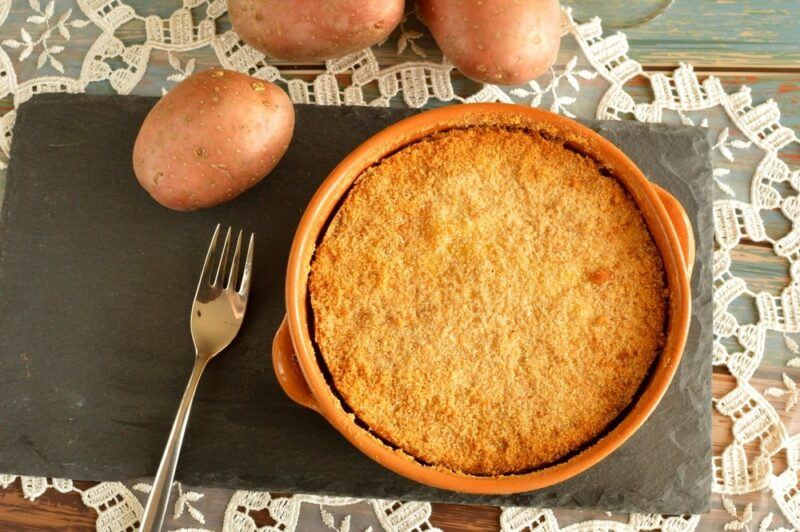 The pone above isn't the only time where you'll see sweet potatoes featured in a Jamaican dessert. Sweet potato pudding relies on sweet potatoes too (no surprises there).
Don't let the name fool you though, this type of pudding mightn't be what you expect. Sweet potato pudding is actually a baked dessert that combines grated sweet potatoes with spices, coconut, brown sugar, and vanilla.
When baking the dessert, most cooks try to make the top softer than the bottom.
Don't dismiss this dessert until you've tried it at least once. It's one of the most popular desserts in Jamaica for good reason.
Bammy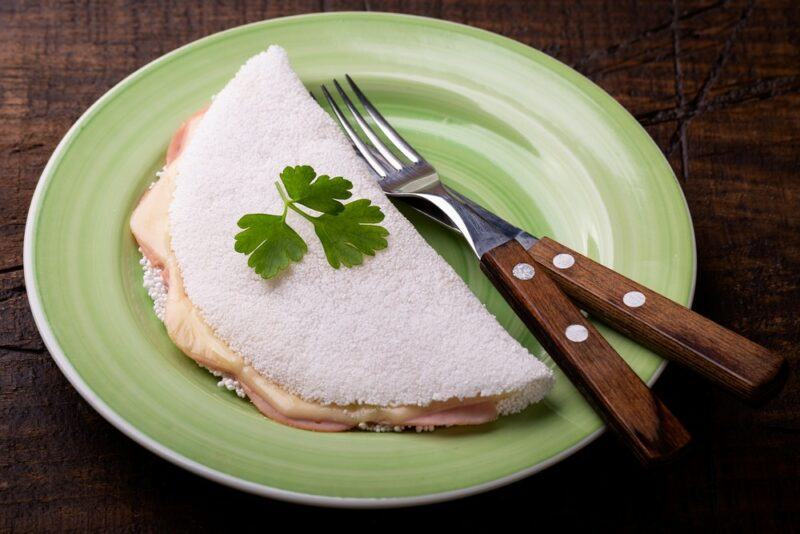 Whether you call this dish bammy or bami, it's certainly a delicious choice. Bammies are a type of thick and starchy vegetable cake made from cassava.
You'll often find bammies fried as a breakfast food, although they can be steamed or baked instead. Sometimes the bread-like treats are served on their own, while other times you'll see them as a side to another dish.
Bammies have a long history in Jamaica, as they're thought to come from the original inhabitants of the island. Bammies were the staple bread-type food, until imported alternatives became available.
Bammies are a good choice for vegetarians or vegans, as they're traditionally made without animal products.
Of course, there are plenty of variations to be found. For example, the bammies served as breakfast often use a sweet syrup over the top of them. You can also find bammies baked in coconut milk.
Savory options are even more common, including bammies that include cheese, beef, or fried fish.
Escovitch Fish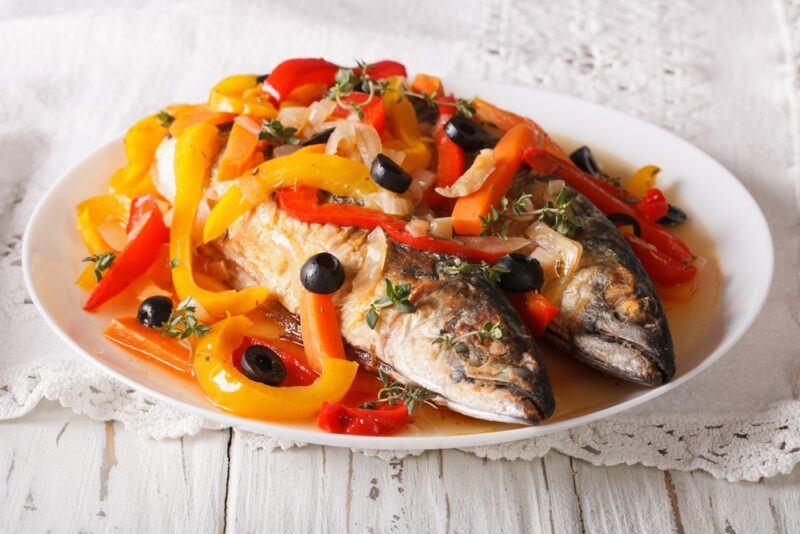 Escovitch is a general term that refers to how the fish is prepared. Because of this, the dish can have notably different flavor profiles, depending on where you buy it from and the ingredients that are used.
The dish relies on fish that is fried and then covered with a vinegar-based sauce. The sauce tends to be spicy and the fish is marinated in it, which gives it a distinctive flavor.
This approach is similar to ceviche, where the marinade is used to cure the fish. A key difference is that ceviche tends to rely on raw fish, while the fish for this dish is lightly fried first.
The bammies that we mentioned above often feature as a side dish to escovitch fish.
Patties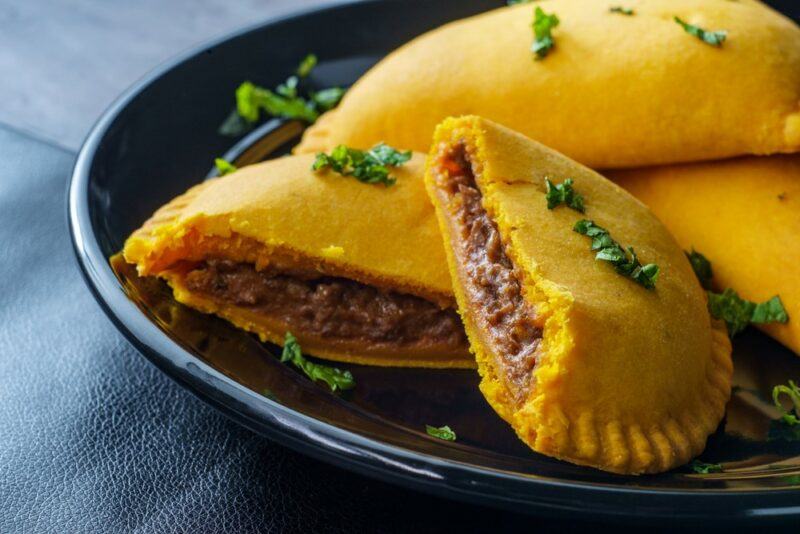 Jamaican patties mightn't be what you expect from the name. The term patties refers to a foldover sandwich that is similar to a turnover or an empanada.
One of the most common versions is the beef patty. Here, you have a circular piece of flaky dough that's stuffed with a mixture of ground beef, spices, and onions, then folded over. Once the edges have been pinched together, the dough is then baked.
Other versions of the patties may be stuffed with different ingredients, like ackee and saltfish, chicken, shrimp, or lobster.
Patties aren't incredibly substantial, so they're normally eaten with your hands as a snack. Some people choose to put their patty into coco bread, which bulks the meal out and gives you a double hit of carbs. This approach isn't as traditional as eating patties on their own. Still, the combination of flavors and textures is delicious.   
Coco Bread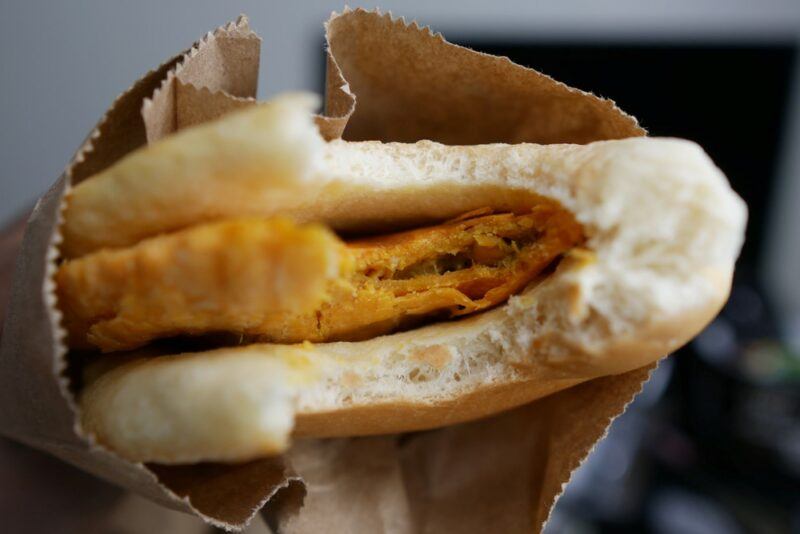 Coco bread is a simple addition to this list. It's a popular type of bread in Jamaica and is made from flour and yeast. A little coconut milk and sugar may be added as well.
The bread is often cut into squares, folded over once, then used. Just like the bread we're familiar with, coco bread is versatile. You can use it to create sandwiches with whatever fillings you like.
Curry Goat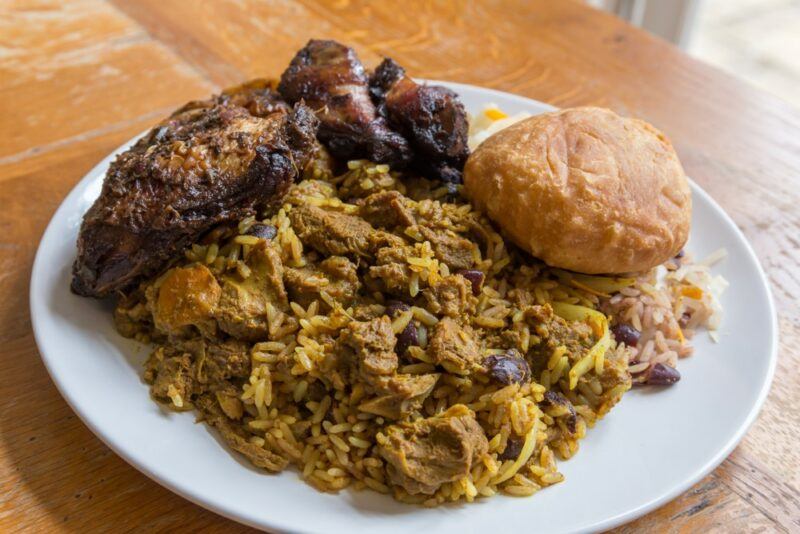 Jerk chicken isn't the only delightful meat dish that you'll find in Jamaica. Curried goat is another option. This one might sound strange, as many of us don't eat goat regularly.
Goat is similar enough to lamb that you might find yourself enjoying it. Still, goat does have a strong and distinctive flavor, even when it's part of a curry. This may mean that the dish is too much for some people.
Goat curry tends to rely on the meat itself, along with ingredients like potatoes, carrots, and herbs. These complement the meat nicely, giving you a thick and rich stew that is perfect as comfort food. All of the herbs and spices meld together amazingly.
It's common to see this type of curry served with rice on the side. Pairing a starchy side with a rich stew like this always works well. You get a fun contrast of textures too.
Fried Dumplings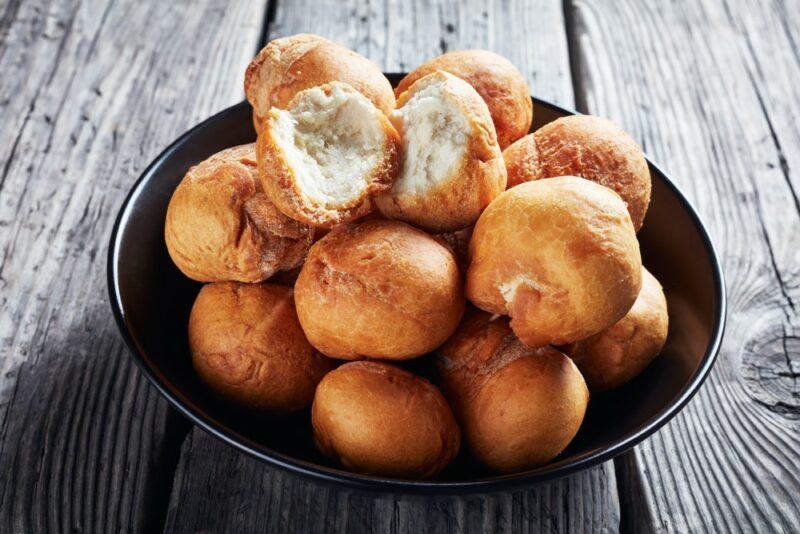 Jamaican fried dumplings are sometimes known as journey cakes, as they're so popular among travelers. The dumplings are simply a ball of dough that's been fried.
Many dumplings are made using wheat flour, but other types of starch can be used as well. For example, you might see some fried dumplings made using cassava flour, cornmeal, or even plantains.
Dumplings will often be served alongside another meal, such as callaloo, run down, or ackee and saltfish.
You will sometimes find boiled dumplings too. These are simply boiled in salted water, rather than being fried. This makes them a healthier choice than fried dumplings, although they're not such a tasty treat.
Festivals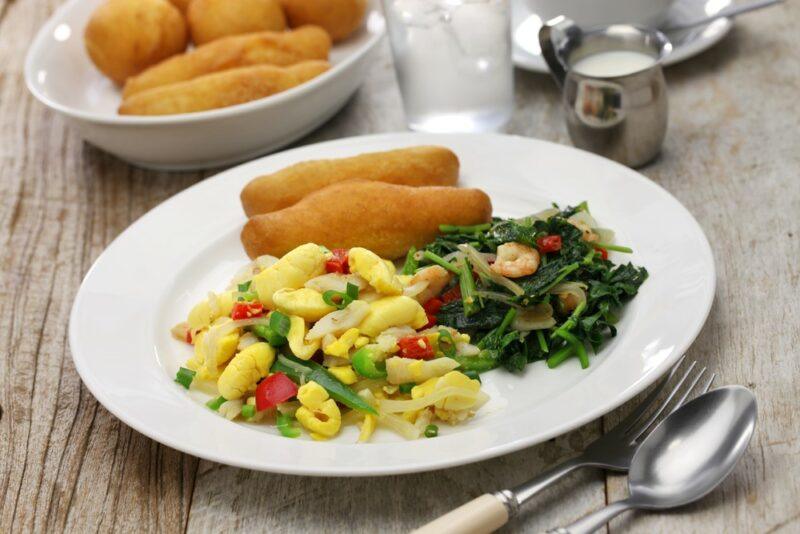 Festivals are very similar to fried dumplings, so much so that the names are often used interchangeably. The main difference is that festivals use sugar as an ingredient. This makes them sweeter than the dumplings that we mentioned before.
Even so, festivals aren't excessively sweet. They still complement many of the same foods as fried dumplings, including jerk chicken and fish.
Rice and Peas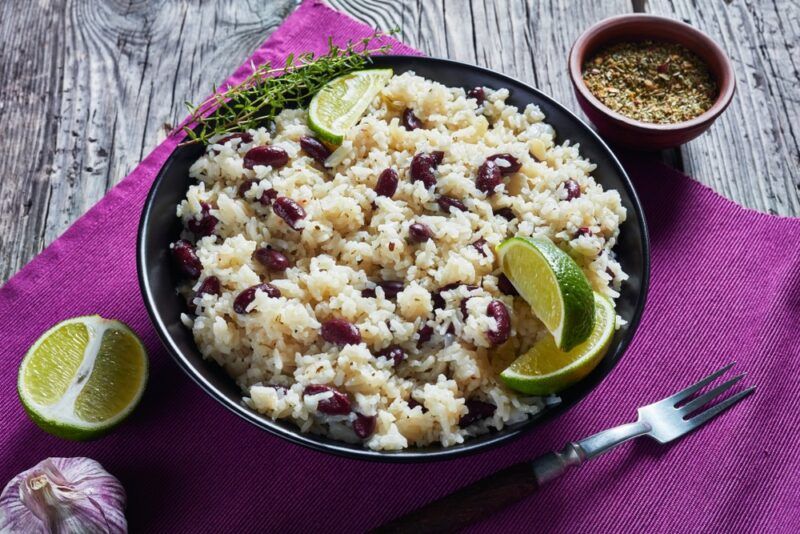 Rice and peas might sound simple, but this dish is a classic in Jamaican cuisine and remains popular. It might not be quite what you expect either, as the meal involves boiling red peas in a combination of coconut milk and spices. The color of the peas provides a slight tinge to your rice.
However, calling this dish rice and peas is slightly misleading. The peas that Jamaicans are referring to here are what most of us would call beans instead. Red kidney beans are a common choice in the dish and their color contrasts well against the white rice.
A dish of rice and peas may sometimes be served on its own, but you'll mostly see it as a side to meat dishes, like jerk chicken.  
Run Down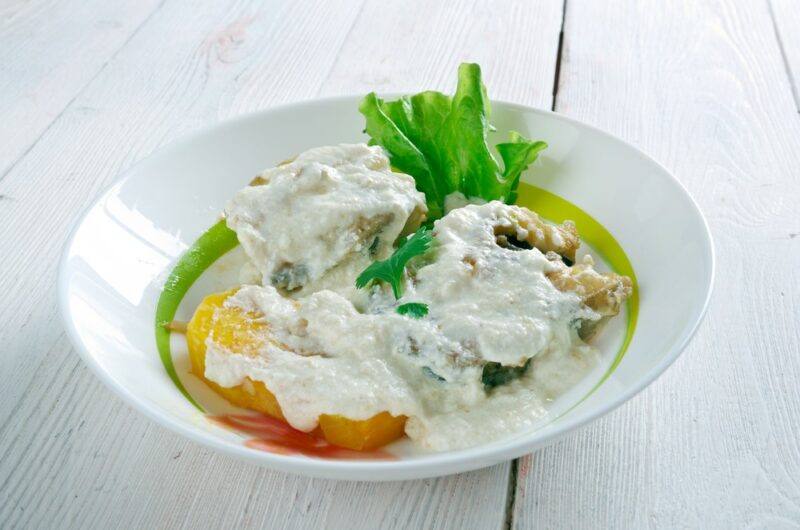 Speaking of stew-like meals, here's another one to try out. Run down is a fish stew that's heavy on garlic (interestingly, the name is pronounced as run-dun). Other ingredients include hot peppers, tomatoes, onions, and various spices.
The fish is always in large chunks. Mackerel is the most common choice and may sometimes be smoked before it's used in the curry. Occasionally you might see cod used instead.
Regardless of the specific ingredients, run down tends to be slow cooked in coconut milk. This gives it an exceptionally creamy texture and makes the fish very tender.
The flavor of the fish doesn't stand out too much in this meal, but it is notable. As such, the meal is best for people who love fish. If you're in two minds about fish, then another meal might suit you better.
Callaloo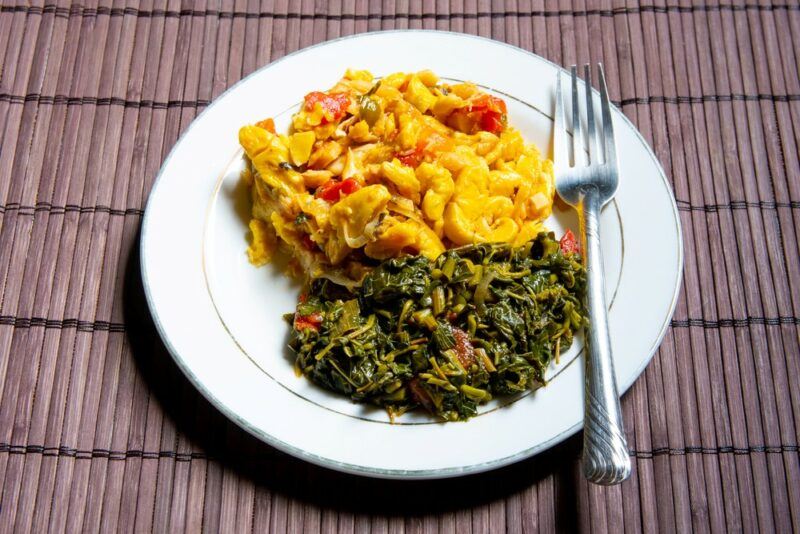 Callaloo is perfect for anyone who loves their dark leafy greens, as this plant is similar to spinach, although it grows up to a whopping two feet.
While the vegetable can be prepared in various ways, one of the most common is to sauté it with onions, tomatoes, and spices. This preparation of callaloo is a popular breakfast dish, although you can also find it served as a side throughout the day.
You'll often see callaloo served with plantains, bammies, or fried dumplings.
Fried Plantains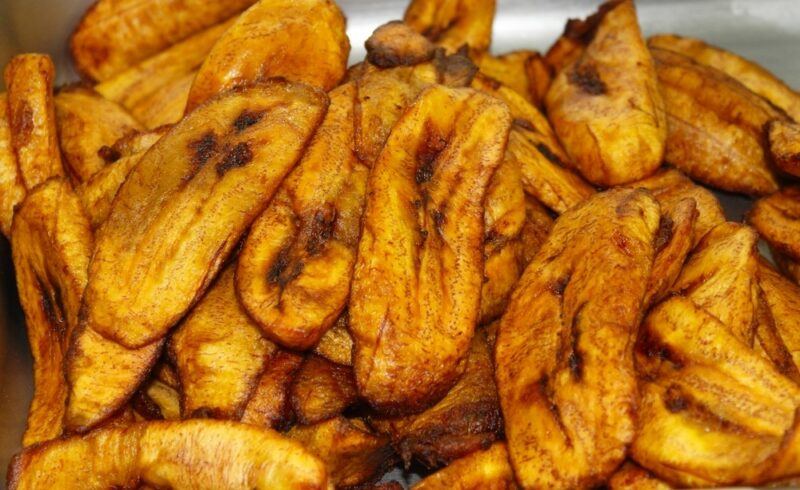 Plantains might not feature in Jamaican food as much as in the dishes from Puerto Rico. Even so, you'll often see fried plantains served alongside a meal and they're a delicious snack.
These fried plantains are often sweet, making them a nice treat after you've eaten everything else.
However, the sweetness depends on how ripe the plantain is when it's fried. Some people focus on plantains that are only a little ripe. These tend to be less sweet than very ripe plantains.
Banana Chips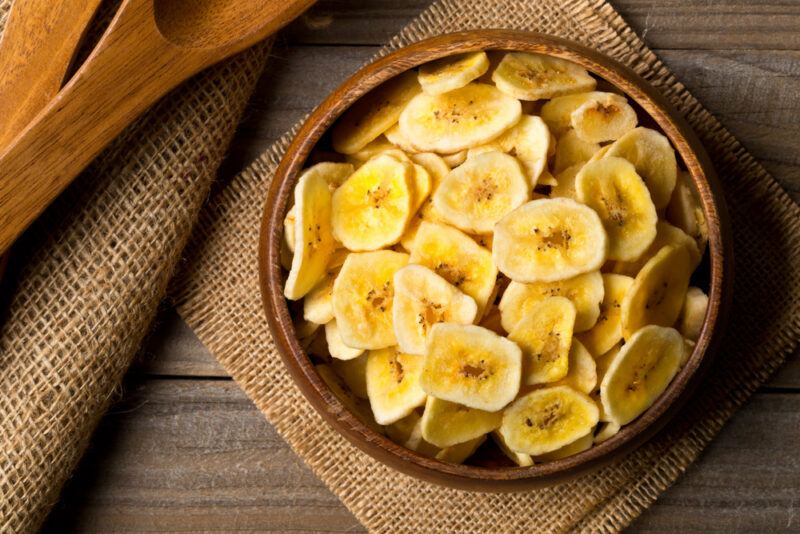 Banana chips are a simple snack that you'll find throughout Jamaica. They're simply made by thinly slicing a green banana and then frying the slices.
The snack is similar to fried plantains in many ways. But, you do get a different flavor profile because you're using a banana.
Jerked Meat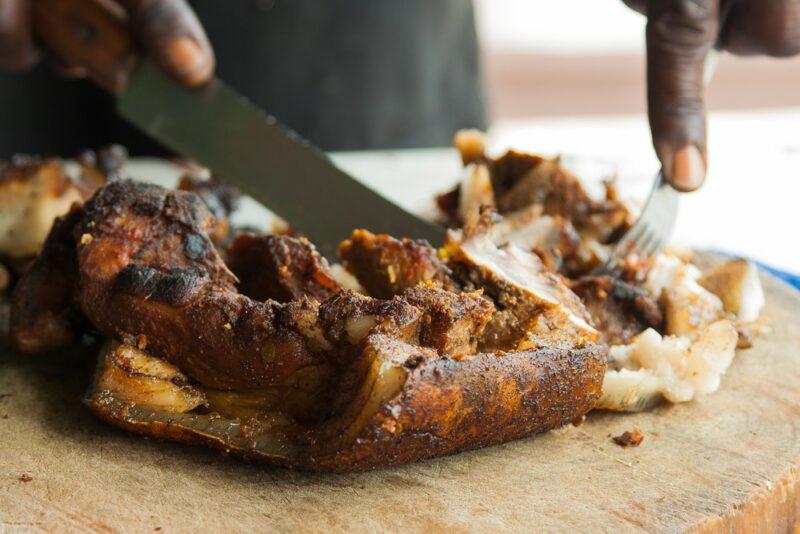 We mentioned jerk chicken earlier in this list, but chicken isn't the only type of meat to be prepared using jerk seasoning. Pork and lamb are other popular options.
The process is similar regardless of the meat. First the meat is either dry rubbed or marinated with the jerk seasonings. Then it is slowly cooked over a pimento wood fire.
The exact spices used vary from one person to the next. Some people are even very possessive of their seasoning recipe. Still, regardless of the specific spices use, you can be certain that the meat will be delicious.
Stewed Chicken or Pork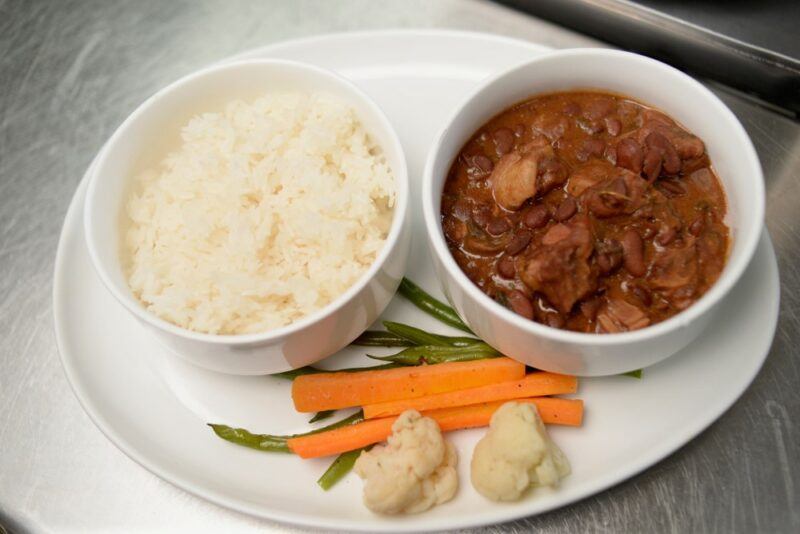 This dish is simpler than most others and doesn't have too many exotic flavors. It is simply a stew that relies on some type of vegetable sauce. Tomatoes are often used, although the final color tends to be more brown than red.
Notably, the dish tends to be savory and doesn't have much kick to it. This makes it an ideal dish if you're looking for something mild.
Oxtail Stew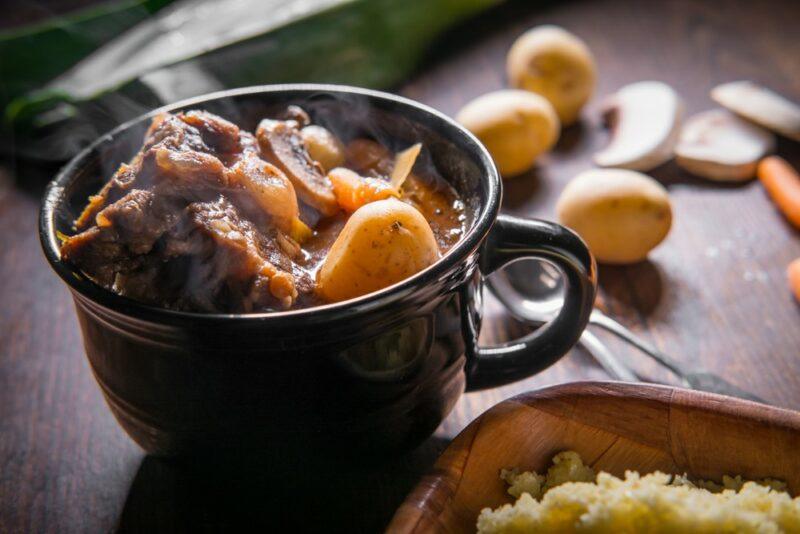 While we're talking about stews, it'd be remiss not to mention oxtail stew. Oxtails mightn't be a popular cut of meat elsewhere in the world, but in Jamaica, oxtail stew is seen as delicious and desirable.
Most of the time the oxtails will be stewed with vegetables to provide a rich and delicious dish. Of course, you wouldn't normally eat oxtail stew on its own. A side dish like rice and peas is needed to balance it out.
This type of stew is worth trying, as oxtails have a rich and meaty flavor that is surprisingly powerful. Once you've tried it you'll see why ox tails have become such a popular cut of meat in Jamaica.
Gizada
This sweet treat has a few different names, including gizzada, grizzada, and pinch-me-round. That last name comes from the treat's round shape and the way that the crust is punched around the edges.  
The dessert itself is a pastry tart that's filled with grated coconut and a combination of sugar and spice. You end up with a crunchy exterior and a gooey interior, along with a delicious combination of sweet and slightly spicy.
Cornmeal Porridge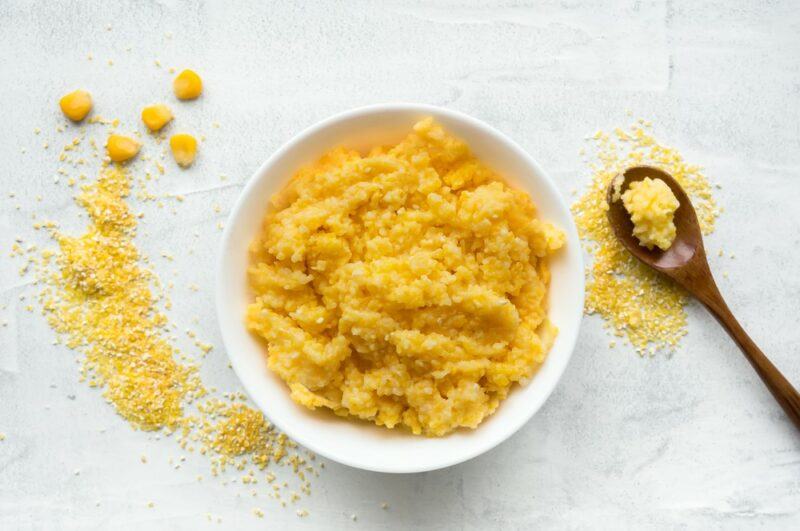 Porridge comes in many forms. In Jamaican cuisine, cornmeal porridge is the most popular style. This is often used as a hot breakfast dish, helping you to get out the door.
Not surprisingly, the porridge combines cornmeal with either milk or coconut milk and a selection of spices. Cinnamon and nutmeg are the most common spices. They give the breakfast a familiar balance of flavors.
You may see some other types of porridge in Jamaica too. There are even versions that rely on plantains as the main ingredient.