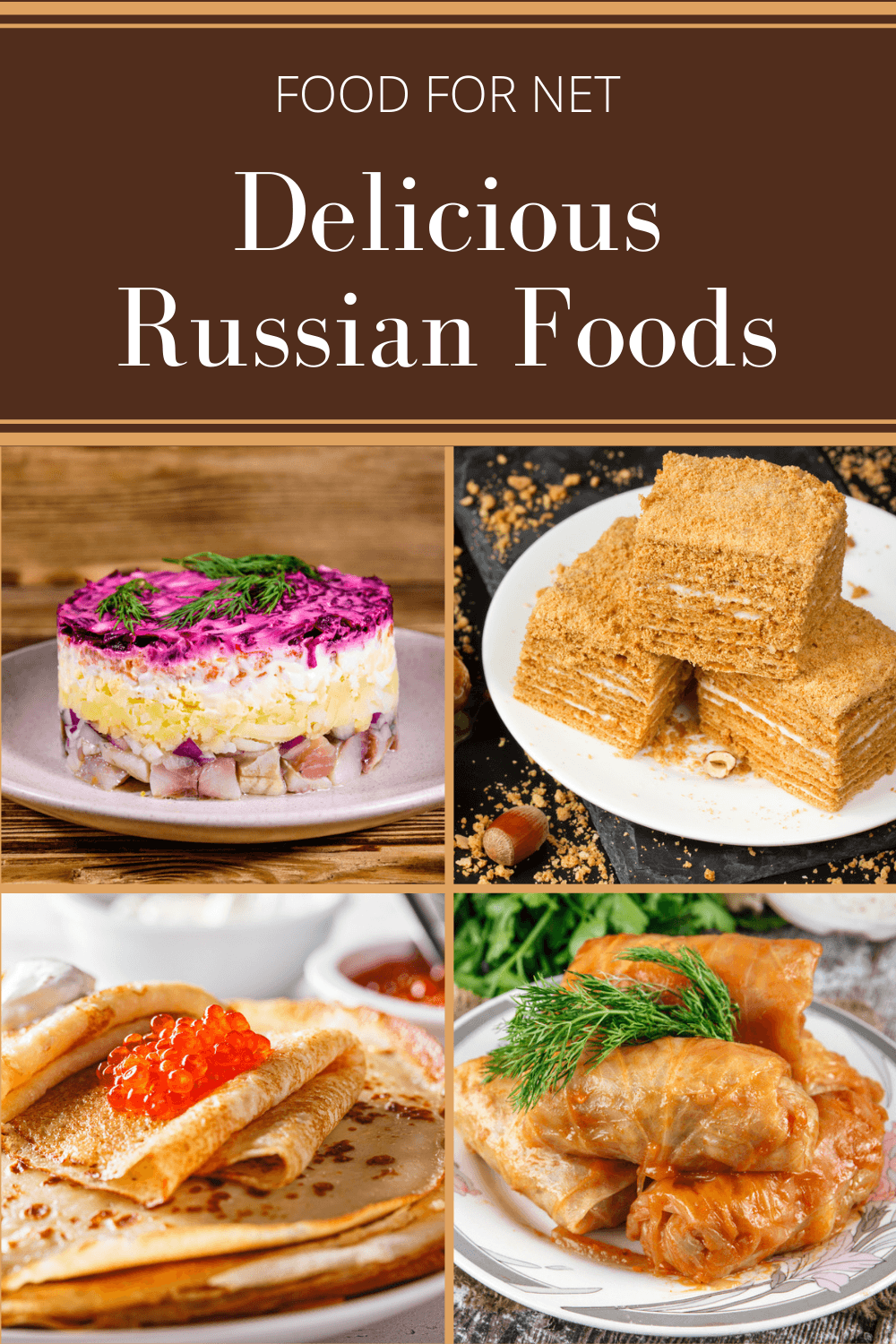 When we talk about exotic culinary delights, Russian food probably isn't what first crosses your mind. Let's be honest, Russia is more well-known for its drinks than for its food.
But, don't give Russian cuisine a pass just yet. The food from Russia is distinctive and surprisingly delicious. It's also different from what you'll find anywhere else. This is a side effect of the environmental, historical, and cultural experiences of the country.
Many Russian dishes rely on dough of some type, including leavened and unleavened dough products. Meat, fish, and poultry all feature in traditional Russian food. Don't worry though, there are plenty of vegetarian dishes too, along with plenty of tasty desserts.
We won't be covering every type of Russian food in this list. Of course we won't, that would be impossible. We're focusing on some of the most famous and most interesting dishes instead. These are the ones that you'll want to try for yourself.
If you want more ideas, why not check out our lists of Egyptian food and Thai food? After all, there's a whole world of foods to explore out there.
Delicious Russian Foods
Kasha
Blini
Syrniki
Borscht
Okroshka
Pelmeni
Vareniki
Pryaniki
Olivier Salad
Golubtsy
Beef Stroganoff
Solyanka
Pirozhki
Kholodets
Plov
Kotleti
Shuba
Medovik
Shchi
Ukha
Kasha
Kasha isn't the most exciting meal, as it's basically a form of porridge. Even so, it's an important dish to talk about, as kasha is incredibly common in Russia. It's even considered a national dish.
The word kasha can be a bit confusing, as it is used in different ways depending on where you are. In many countries, kasha is simply any type of cooked grain, but it can also just refer to the buckwheat pseudograin on its own or after it's been cooked.
To make matters more complex still, Russian kasha can also be made with a different type of grain. Regardless, you're looking at a satisfying porridge-like dish.
Kasha can be prepared as a sweet or savory dish. Toppings vary and can include options like nuts, fruit, cheese, or honey. Butter is one of the most common toppings for both sweet and savory kasha.
It's easy to see why kasha is such a staple food in Russia. After all, it's full of nutrients, is easy to prepare, and tends to be inexpensive. Kasha isn't just served at breakfast time either. It can be eaten at any time during the day.
Blini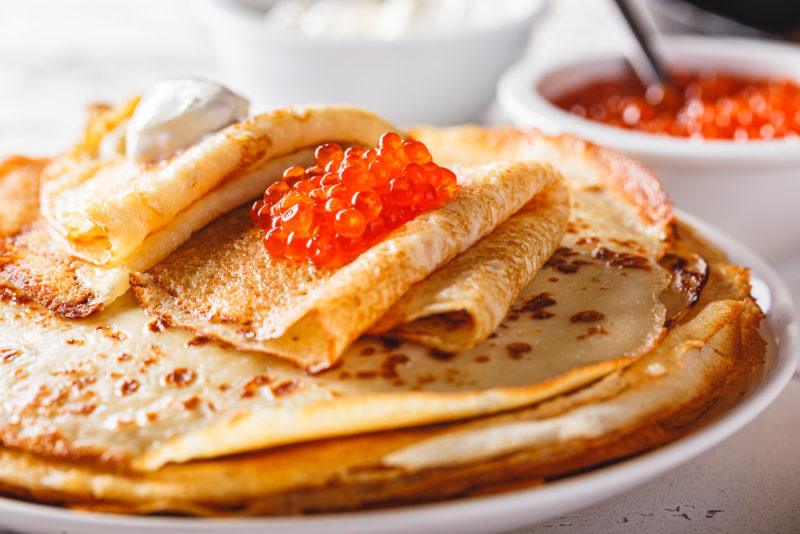 A blini is one of many Russian breakfast foods. Blinis tend to be thinner than a pancake but thicker than crepes (and sometimes greasier too). They can be served just like a pancake, with toppings like jam, honey, caviar, or sour cream.
Caviar is a surprisingly popular and famous topping for blini. The saltiness of the caviar is a perfect complement to the taste and texture of the blini. Plus, the combination just looks fantastic.
Adding a topping isn't the only option. Blinis are thin, so they can be easily folded or rolled. When this is done, it's simple to add a filling. Savory fillings are common, including options like ground meat, mushrooms, or cabbage.
There's another difference too. While crepes and pancakes are often sweet, blinis don't tend to be. This is one reason why the toppings and fillings can easily be sweet or savory.
Syrniki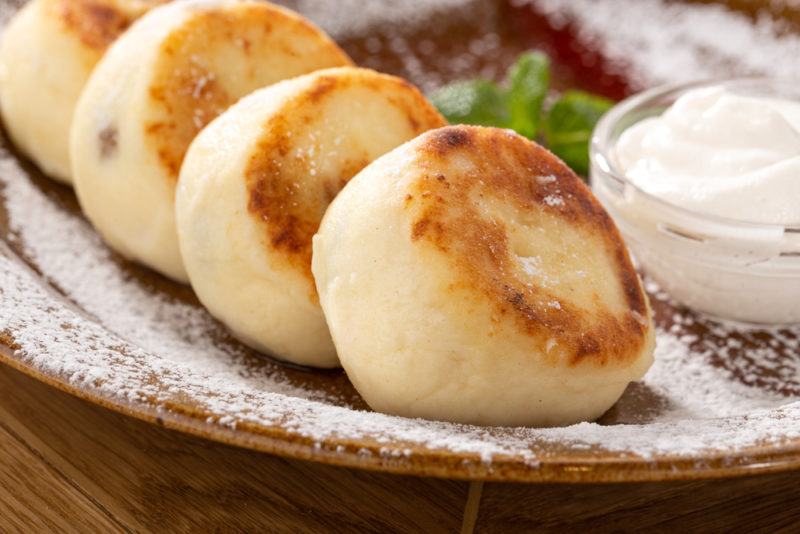 These little treats go by the name syrniki or sirniki. They're sometimes called cottage cheese dumplings and cottage cheese is indeed one of the main ingredients. You could also think of them as a blini variation, one that relies heavily on cottage cheese.
Regardless of how you define syrniki, the treats are a perfect choice early in the day.
The cottage cheese doesn't just make them taste delicious. It's also a high protein ingredient, which helps to make the syrniki satisfying.
Technically speaking, the idea of cottage cheese dumplings isn't quite accurate. Syrniki relies on tvorog instead, which is sometimes called farmer's cheese. It's similar to cottage cheese, but the two foods aren't quite the same. You won't find tvorog in many American stores, but it is possible to make your own.
Not surprisingly, syrniki will taste more authentic if you prepare them using tvorog rather than American cottage cheese.
Borscht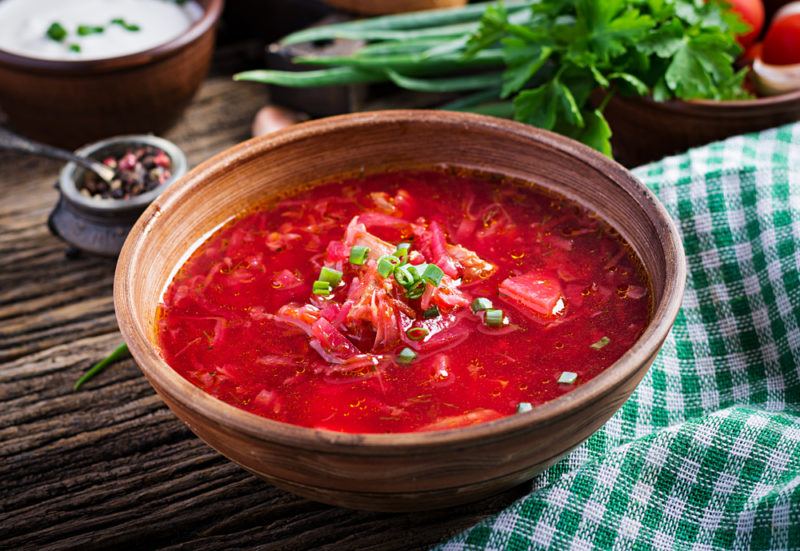 You might have heard the name borscht before, even if you're not very familiar with the dish. Borscht is actually a soup that hails from Ukraine. However, it's now become just as popular in Russia.
The red-purple color of the soup is one of its most distinctive features. This comes from the use of beetroot and tomatoes.
The soup can be a labor of love, as up to three hours of prep time is needed. Still, it can be worth the effort, as the delicious soup includes meat and sauteed vegetables, along with the famous beetroot and tomatoes. Soups this complex always end up tasting amazing.
As is the trend with Russian food, you'll often find this served with a dollop of sour cream.
Interesting, borscht can be served hot or cold. This makes it a good choice regardless of the weather, as few people want to eat hot soup in the height of summer.
Okroshka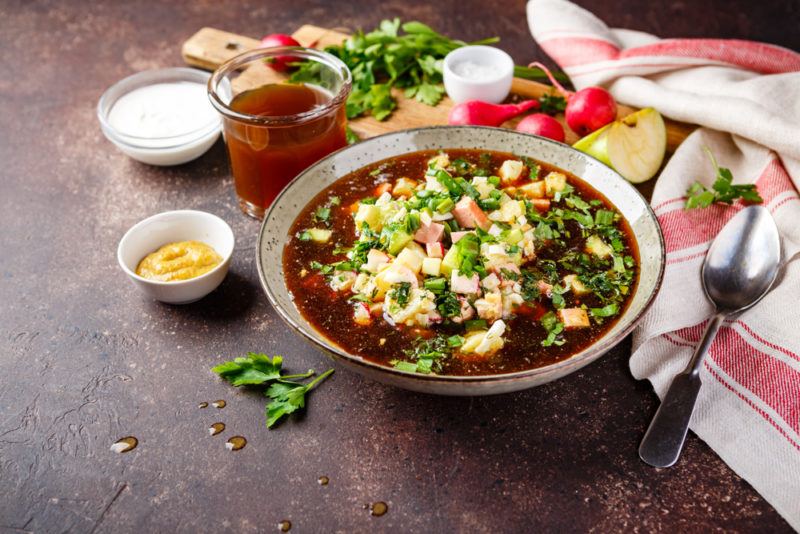 Soup doesn't always need to be hot. Okroshka is a classic example of this, as the soup is served cold in the height of summer.
Some of the ingredients will be familiar, like eggs, potatoes, and meat. One unusual addition is diced raw vegetables. The meat is also boiled, which might not be what you're expecting.
Of course, the soup won't always be made in the same way. Different chefs have their own favorite tweaks and approaches. You can even find some versions that skip the meat altogether and make this a vegetarian dish instead.
Sour cream is often served on top of the soup. This may be mixed into the soup instead, which helps to make it creamy. You might eat it alongside kvass, which is a famous fermented Russian drink.
Oh, and one more thing. Some chefs take the unusual step of serving okroshka with ice cubes. This helps to make sure that it is completely chilled.
Pelmeni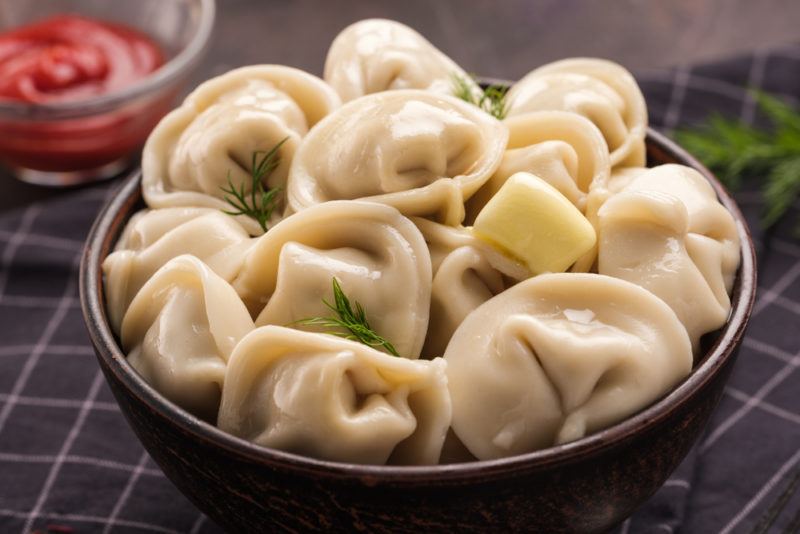 Pelmeni are basically meat dumplings. They use a thin dough that's made from white flour and water, while the filling relies on minced meat or mushrooms. Sometimes fish is used instead of the minced meat, which provides a different texture and flavor.
Some versions of pelmeni use a single type of meat as the filling. Others may mix multiple types of minced meat together. Some dumplings even feature three types of meat.
Meat is the main filling for these dumplings, but you'll often see seasoning ingredients as well, such as diced onions, spices, or perhaps garlic. These help to give the filling a little more flavor.
And, as is often the case with Russian cuisine, pelmeni is often served with sour cream. You can also find them served in a soup-like broth.
The dumplings are so popular that you can easily find them frozen in Russian stores. They can be made at home too, either by hand or with a pelmeni maker. The process of making them can be time-consuming, but doing so is also an appealing bonding activity for families.
Vareniki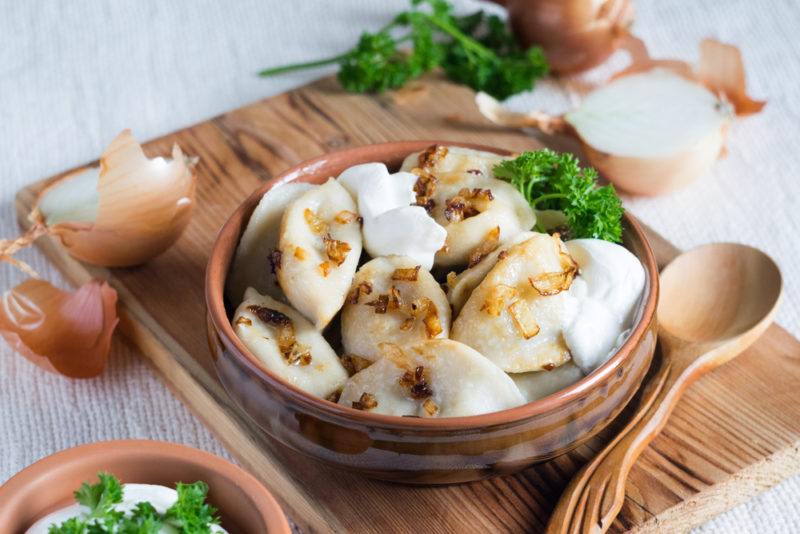 Vareniki are another type of stuffed dumpling. They're exactly the same as pierogi, although that word is most commonly used in Poland and Ukraine, while Russia calls the dumplings vareniki instead.
The difference between pelmeni and vareniki is mostly in the fillings. While pelmeni are often meat-heavy and always savory, vareniki tend to be vegetarian instead.
Savory fillings for vareniki include sauerkraut, cheese, cabbage, or mushrooms. Sweet vareniki tend to rely on fruit and sweet cheese instead.
Pryaniki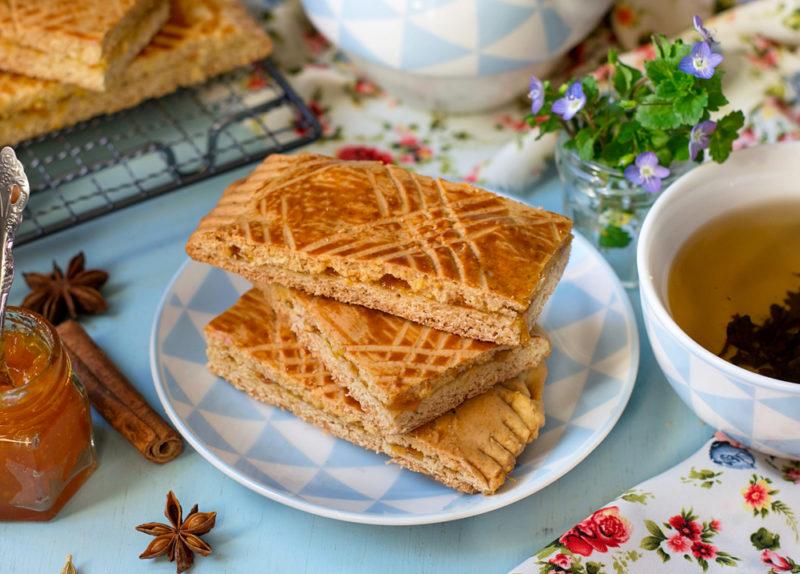 Pryaniki is a sweet option. It can be seen as the equivalent of Russian gingerbread, as it is a type of cookie that uses plenty of spices. They're often soft on the inside, with a crisp white glaze on the outside.
But, that's just one approach. You can get pryaniki like the pictured version too, which is much more similar to traditional gingerbread. Some versions are even stuffed.
Olivier Salad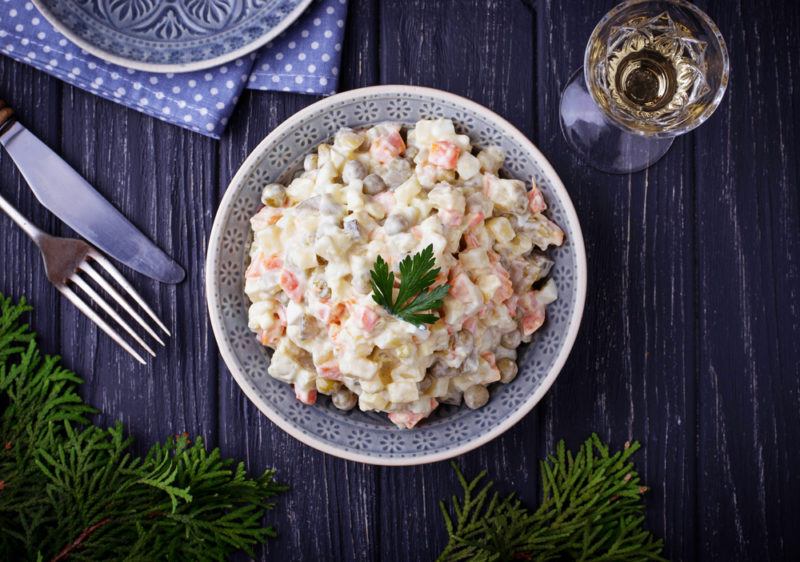 Olivier salad is popular in Russia, along with many other countries throughout the world. Recipes vary, but the dish is often a variation of a potato salad, one that may include eggs, meat, and vegetables as well.
In Russia, the salad is especially common during Christmas and New Year's Eve celebrations.
The original version of the salad is thought to have included ingredients like veal tongue, caviar, capers, and grouse, while the dressing relied on olive oil, mustard, and mayonnaise. Not surprisingly, modern versions are quite different. Many of the changes involved replacing rare or expensive ingredients with cheaper ones.
This is also the perfect reminder that salads aren't always healthy. This one relies on mayonnaise, which makes it calorie-dense. Plus, you're using potatoes, which are starchy and aren't as nutrient dense as leafy greens.
Still… regardless of whether the salad is healthy, it is a popular comfort food – and is worth trying for that reason alone.
Golubtsy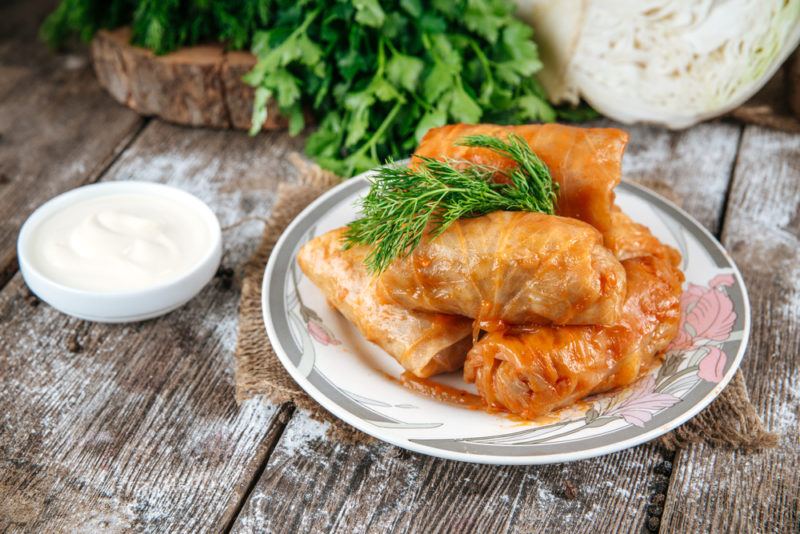 You'll find dishes like golubtsy in many parts of the world. Still, this doesn't make the version from Russia any less appealing.
The dish itself is simple. You're just looking at a meat and rice filling that is wrapped in cabbage leaves. The cabbage leaves are often smothered in tomato sauce before serving, which makes them look and taste that much better. Once again, the dish is often served with sour cream on top.
There are some variations to try out too. One involves using meatballs, rather than a meat and rice filling. Another is vegetarian instead and relies on mushrooms and rice.
Beef Stroganoff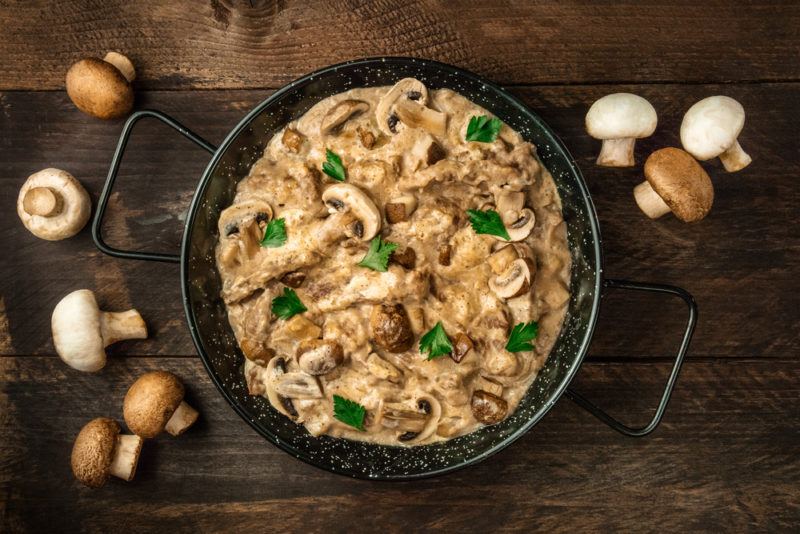 Beef stroganoff is one Russian dish that doesn't need any introduction at all. The dish has now become common in many parts of the world.
The basic version involves beef pieces that are sauteed in a sour cream based sauce. The contrast of rich beef and creamy sauce works exceptionally well, creating a satisfying and delicious meal.
You'll often see beef stroganoff served with pasta, especially in the United States. However, this isn't the only option. Stroganoff works well with rice and other side dishes too.
There have also been many variations to the recipe over time. For example, some versions feature onions and mushrooms, while others don't. The amount of sour cream used can vary too.
If you've tried beef stroganoff before and hated it, why not have another go and make the meal at home? Many Americans have been put off the dish because it is often made using canned mushroom soup and low-quality meat. Ingredients like those are never going to give you a delicious meal.
You get a much more amazing meal when you rely on high-quality ingredients and a decent recipe. Try to avoid pre-made beef stroganoff mixes too. These are often packed full of additives and don't give you the best flavor profile.
Solyanka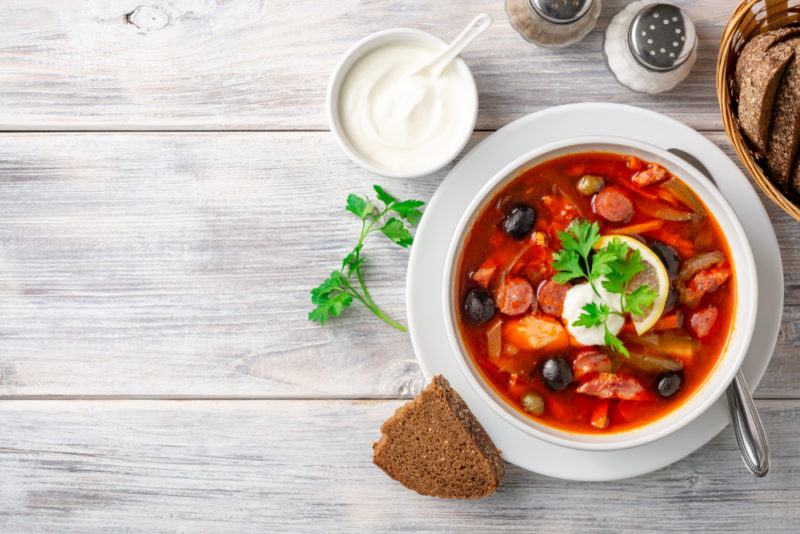 This traditional Russian soup includes an interesting selection of ingredients. Some are familiar, like meat, mushrooms, and potatoes, but you've often got olives, picked cucumbers, lemons, and dill in there too.
This combination makes a little more sense when you know that the soup has a sweet and sour flavor profile. Even then, it's probably one that you need to try for yourself. It's simply one of those meals that tastes much better than it sounds.
Besides, soup gets boring pretty fast. Most of the recipes we rely on are pretty similar to each other. So, why not branch out and try something like solyanka? You might find that you love it.
Pirozhki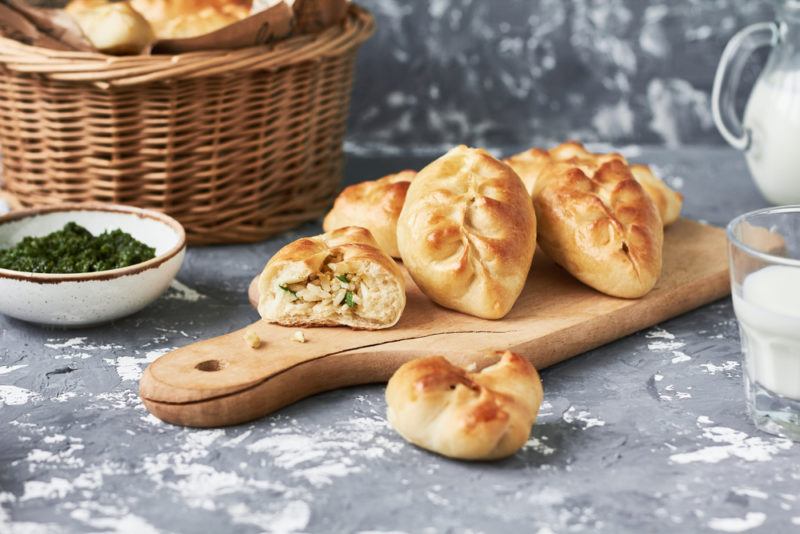 Pirozhki is a delicious Russian street food that is also comforting and instantly familiar. The buns can be either baked or fried and rely on a yeast-based dough.
The fillings are what make pirozhki so special. There are plenty of these to choose from. Sweet fillings include jam, some type of fruit, or quark (which is similar to cottage cheese). Ground meat often features in savory pirozhki, although vegetarian versions exist too. You may also see mushrooms, cabbage, or even boiled eggs in the pastries.
Most versions of pirozhki are relatively large, roughly the size of your hand. This makes them satisfying on their own. However, smaller versions exist too. The smaller ones are perfect when served alongside soup.
Kholodets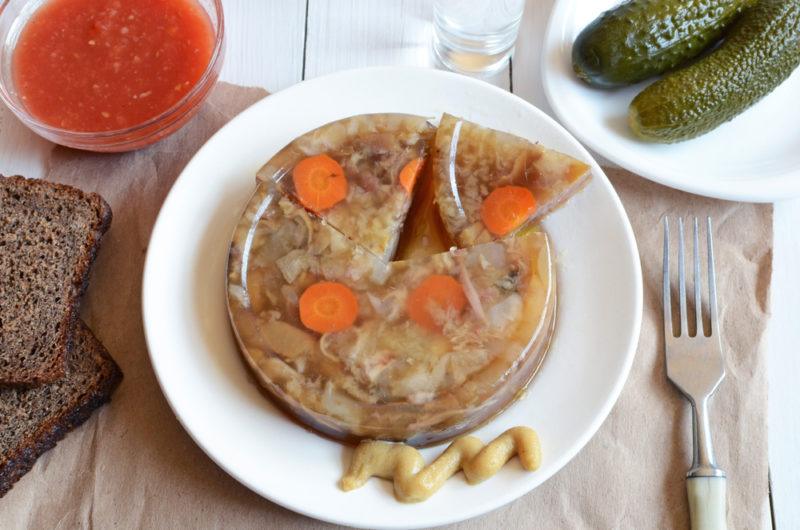 Kholodets is one of those meals that looks pretty strange. It's basically a jellied meat dish, one that can be a little tricky to prepare. Part of the difficulty is that kholodets is generally prepared without additives or gelatin.
Instead, you're creating a broth by boiling ingredients with jellying qualities, including beef tails and pork ears. The process can easily take four hours, if not longer. Various ingredients are added to provide flavor, and the final dish often includes meat and perhaps some vegetables.
The name studen or aspic is sometimes given to the dish as well. It's often served with horseradish sauce or spicy mustard. Kholodets is especially popular during the Christmas and New Year's period, although it can be eaten at any time of the year.
Plov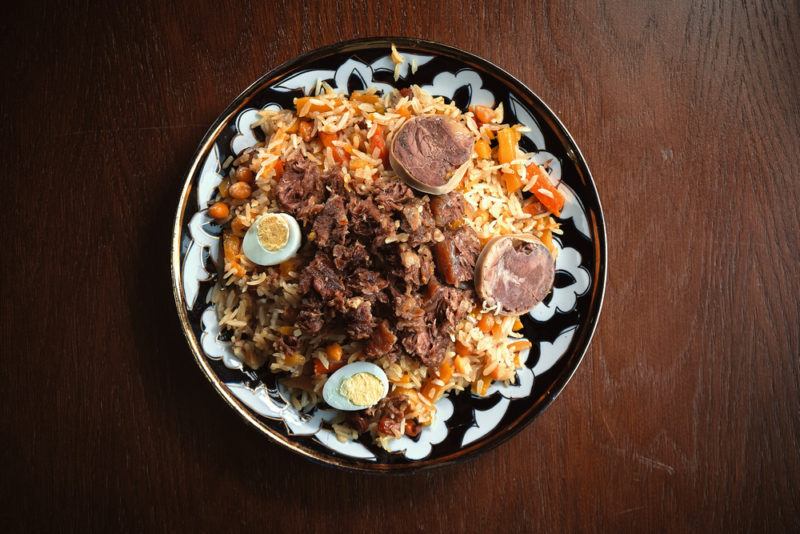 Plov doesn't sound all that exciting. It's basically a rice pilaf dish that can be made with various types of meat, like beef, chicken, or lamb.
But, there's much more to the meal than just that. Plov is created by cooking rice in a broth, along with vegetables, spices, and meat. This gives you a complex flavor profile, while the combination of meat and rice creates a hearty meal.
You might be shocked at just how good plov can taste, especially if you find someone who is fantastic at preparing it. Or, why not find a great recipe online and try the dish for yourself? This recipe is one version that's worth playing around with.
Kotleti

Are you a meat lover? If so, kotleti could be perfect. This dish is basically fried meat patties. Beef or chicken are the most common styles, although you can also find pike patties too.
The patties often use minced onions and breadcrumbs as well. These ingredients help to break up the texture of the meat and keep everything moist.
Shuba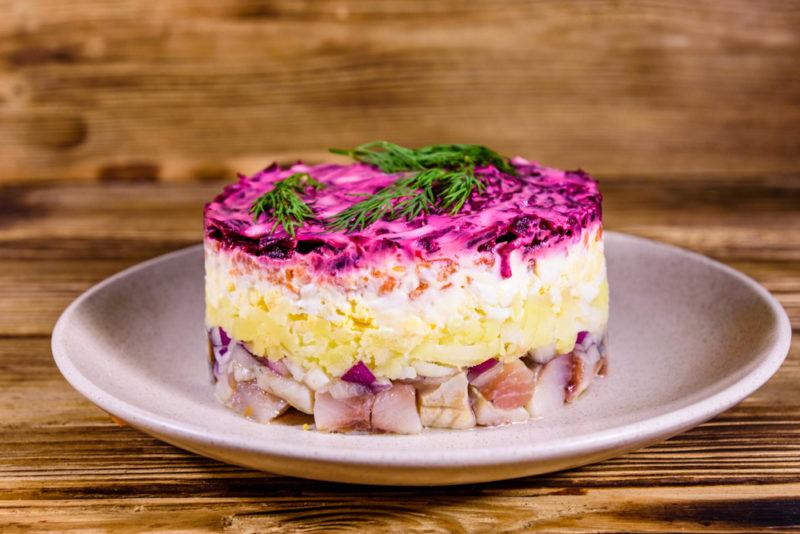 Here's an interesting layered salad. The name shuba translates to fur coat and the full salad is often known as 'herring under a fur coat'. That title comes from the top layer, which can be made to cover the entire salad so that nothing else shows. The fantastic color of the layer comes from the beets.
There can also be an egg layer, a layer of potatoes, and one of carrots, along with the base layer of pickled herring.
Not surprisingly, the salad takes a bit of work. It needs to be prepared around six hours before you serve it, so that it can set properly. You'll also need to work on the layers individually, which takes time.
Still, the salad can be a fantastic centerpiece at a party and should taste just as good as it looks. You can tweak some of the layers and ingredients too. Just make sure that you get the order of layers right. If you don't, you might put the heavy ingredients too high up in the salad and create something that isn't very stable.
Medovik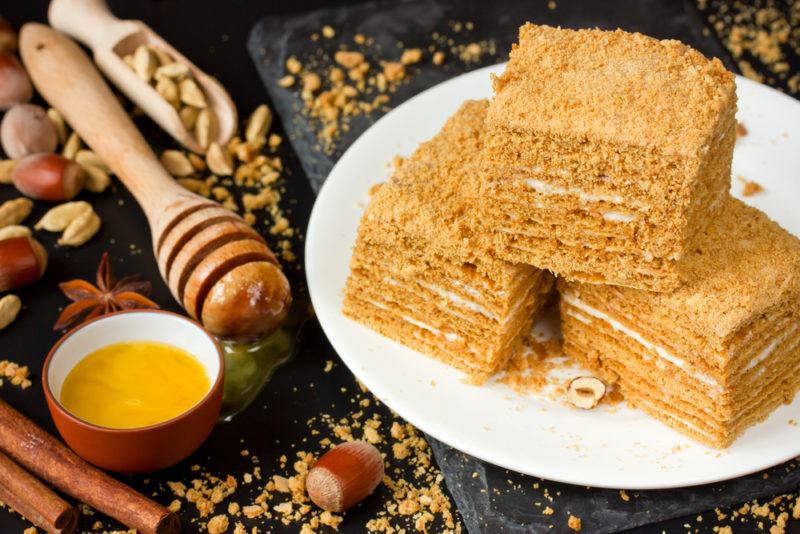 Medovik is a layered honey cake and is sometimes called the most popular dessert in Russia. The ingredient selection includes honey, flour, eggs, cream, sour cream, and powdered sugar. That's pretty much it.
With this selection of ingredients, it's no surprise that the cake tastes like caramelized honey.
Of course, like all recipes, the flavor is influenced by the quality of ingredients that you use. The honey you choose is especially important. Look for natural raw honey that has a delicious flavor.
Don't worry though, while the cake has many layers, it isn't difficult to make at all. Even a beginner in the kitchen should be able to make this dessert without any problems at all.
Shchi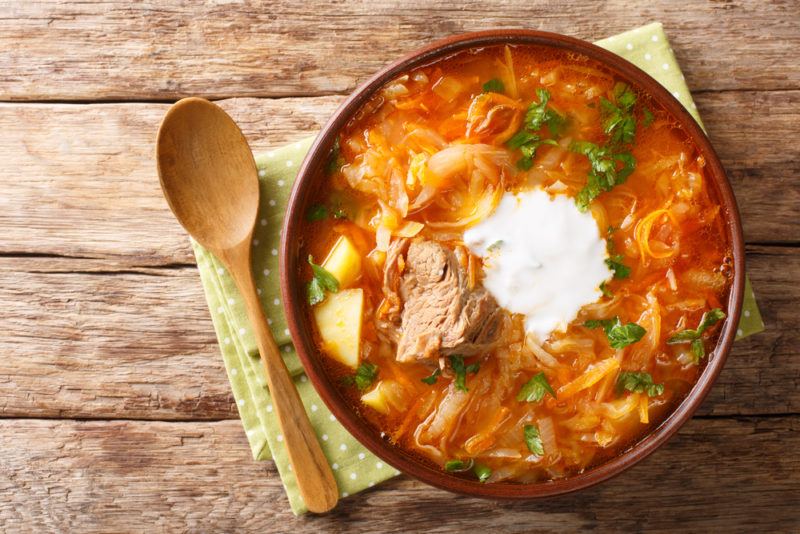 Shchi is one of the classics of Russian cooking. The most basic version is cabbage soup. This can be made using fermented cabbage or fresh cabbage.
The soup can be made more complex by adding other ingredients, like potatoes, onions, and carrots. Meat may be used too, like the beef in the pictured version of the soup.
The ingredients you use will influence the color of the soup. Some versions have an orange-red hue, which contrasts well against sour cream. Other versions are brown or have a clear broth instead.
You can also make sour shchi. This uses sauerkraut rather than cabbage. Green shchi is another variation. This one swaps out the cabbage for greens like nettle, spinach, and sorrel.
Ukha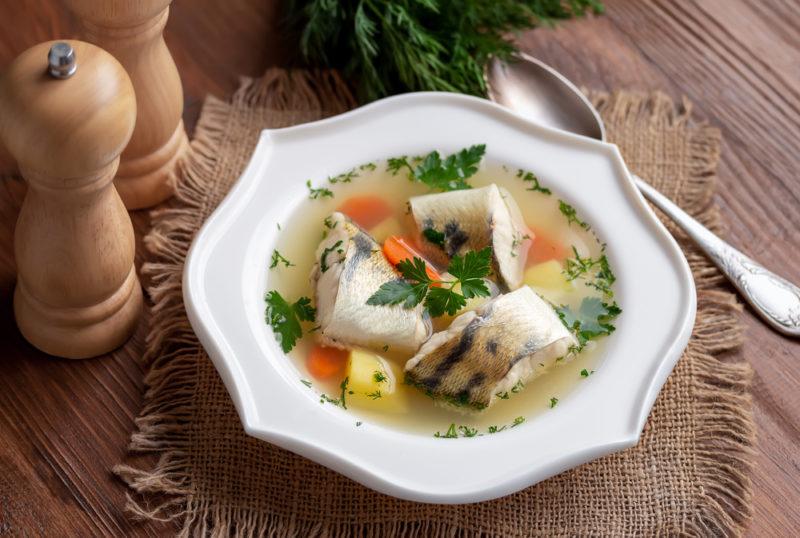 Ukha is another soup to consider. This one uses fish as the source of protein and focuses on root vegetables. But, unlike many other soups, the amount of vegetables is kept low.
Early versions of the soup largely consisted of fish with a flavorful broth. In this sense, it's hard to know whether ukha can be called a soup at all. Don't let the simplicity put you off though, as the broth is full of flavor. Ukha is even sometimes seen as one of the best Russian dishes.
One distinctive feature is that ukha relies on a clear broth, rather than a creamy one. So, if you're faced with a creamy fish soup, you're looking at a different dish entirely.