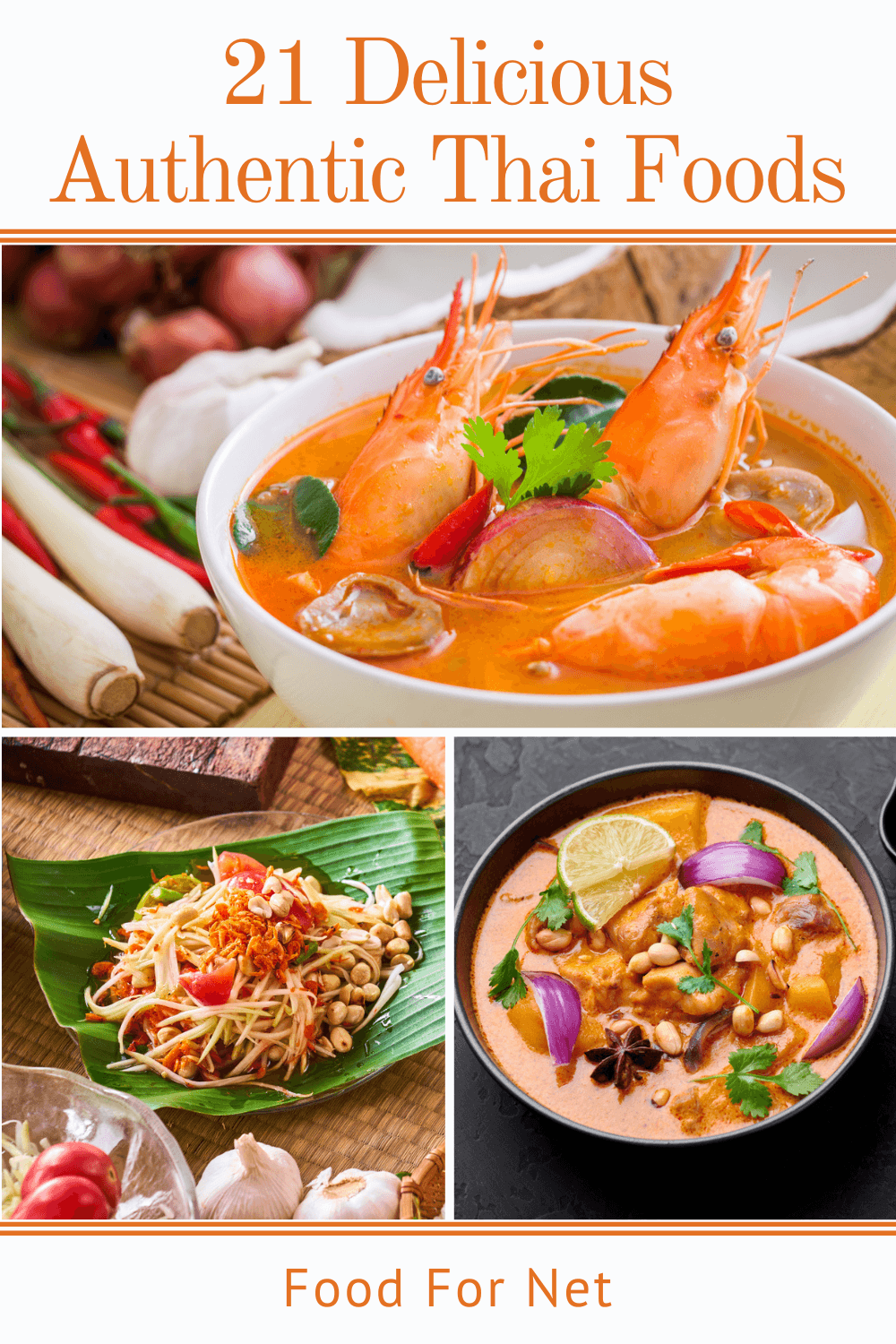 How should we describe Thai food? With so many different dishes and flavors to choose from, no description covers it all. The main theme is that most Thai foods have some spice to them and many aromatic ingredients. They often combine a variety of diverse ingredients to create a dish that comes together extremely well.
So, we're talking about complex meals, ones with multiple interesting flavors – some of them strong and others subtle.
To make things easier, we can break the foods down into a few loose categories. There are boiled dishes, spicy salads, curries, and pounded foods, which are all part of traditional Thai cooking. Then there are steamed dishes and stir-fries, which have been inspired by Chinese cooking.
We can't possibly cover every Thai meal on this list. Instead, our goal is to showcase a variety of what Thailand has to offer. This way, you can start to work out which dishes you'd like to try for yourself.
If the foods on this list sound delicious, why not make some of the meals for yourself? There's no better place to start than with a Thai cookbook, as this gives you all the instructions and background details you need. Many cookbooks provide beautiful images too, along with some information about principles for cooking Thai food and ways to tweak the recipes.
You can even pair your Thai food with wine. There are some surprisingly delicious combinations, regardless of whether you're eating in Thailand, in an American restaurant, or at home.
Delicious Thai Foods
Pad Thai
Kao Pad
Gaeng Keow Wan Gai
Panang
Tom Yum Goong
Other Tom Yum Soups
Som Tam
Massaman Curry
Nam Tok Mu
Guay Teow
Pad Phuk Tong
Tom Kha Gai
Khao Soi
Pad Krapow
Yum Nua
Yum Talay
Kai Jeow
Kai Pad Med Ma Muang
Laab
Pad See Eiw
Kao Niew Ma Muang
Thai Food in the United States
Pad Thai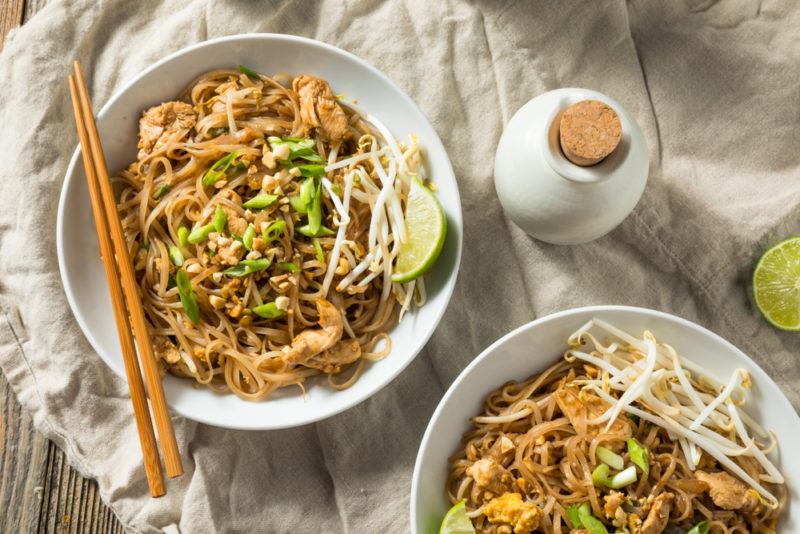 Pad Thai is easily one of the most well-known Thailand dishes. It's a stir fry meal that relies on rice noodles, scrambled eggs, bean sprouts, vegetables, and some type of protein. While shrimp is a common ingredient, you can often find chicken, beef, or tofu used instead, especially if you're eating pad Thai in an American restaurant.
The pad Thai sauce is partly what makes the dish so distinctive.
The bean sprouts make the dish stand out too, as these are refreshing and crunchy – features that contrast nicely with the rest of the meal.
Kao Pad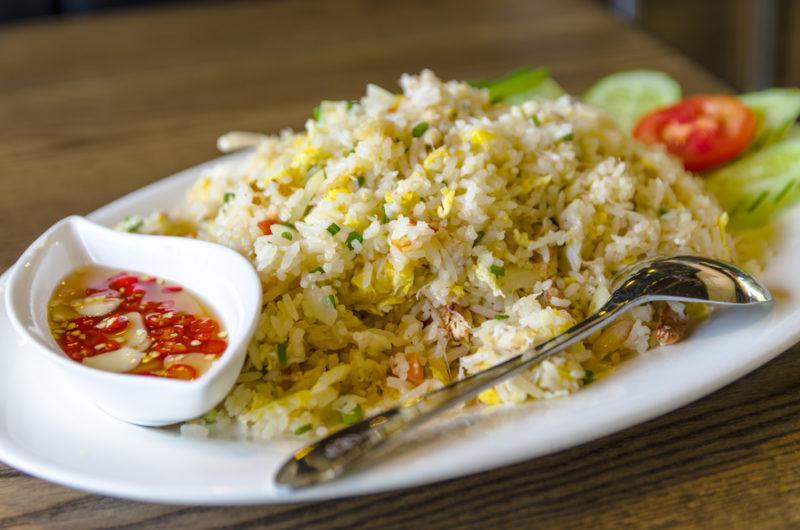 Kao pad is basically Thai-style fried rice. It's similar to Chinese fried rice in many ways, especially as the dish relies on egg, rice, vegetables and some type of protein. Chicken, prawns, crab, tofu, all feature as a potential protein choice, along with many others.
The main difference between Chinese fried rice and kao pad is that kao pad uses fish sauce for flavoring, while the Chinese version relies on soy sauce instead.
Pad Thai and kao pad are some of the most popular Thai foods, especially for people eating Thai food out of Thailand. However, the dishes are also seen as unhealthy because they're fried in oil and are high in calories. The noodles and rice aren't a great source of nutrients either.
However, making these same dishes yourself or ordering them in Thailand could be much healthier. After all, you can easily keep the oil content low and portion sizes small when you're cooking at home. Any meal you order in Thailand is likely to have smaller portions than an American one, so that helps too.
Gaeng Keow Wan Gai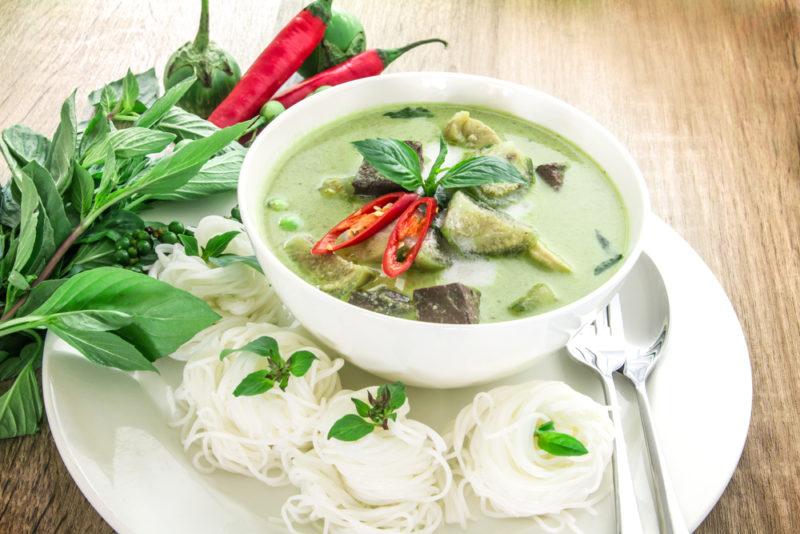 This dish might be more difficult to pronounce than the previous examples, but it's no less delicious. The meal is simply Thai green curry, so it's another one that most people will be familiar with.
You don't have any fried rice or noodles in this dish. This should make it a healthier choice. However, versions that rely on full fat coconut milk as an ingredient are often high in calories, so they won't be a good choice for some people.
This means that most versions that you buy in American Thai restaurants will be high in calories. They could be a serious problem for your waistline, especially as American restaurants are known for their large portion sizes.
Still, if you're wanting a delicious treat, gaeng keow wan gai fits the bill nicely. It has a fantastic balance of flavors, with just enough complexity and spice to keep you engaged throughout.
Panang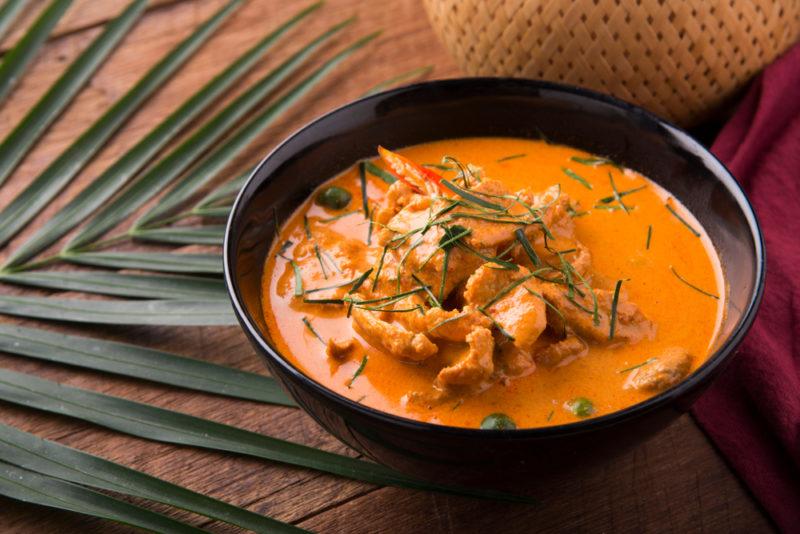 Panang is another type of Thai curry. It's often served with shrimp as the main type of protein, although there are other options, including a vegetarian version of the dish.
Notably, panang is less spicy than other Thai curries. This makes it an easy starting point for anyone uncomfortable with spicy food.
Tom Yum Goong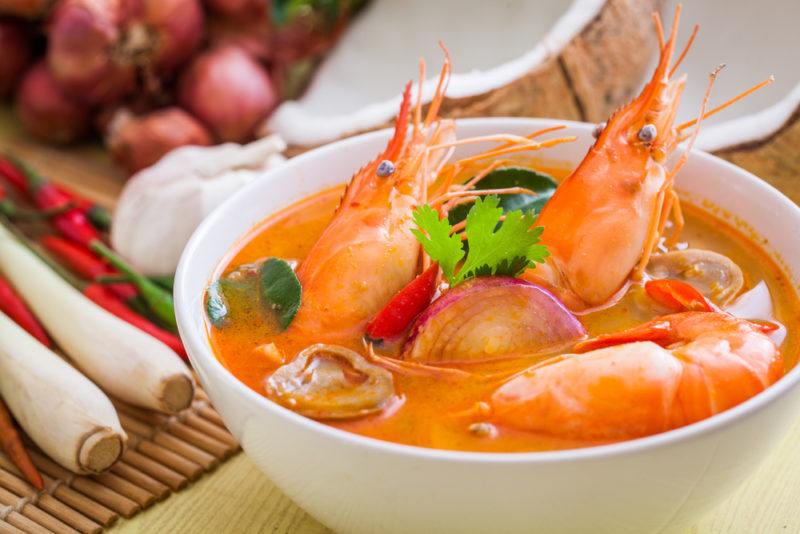 Like pad Thai, tom yum goong is a classic Thai dish that you'll find in countless locations. The 'goong' in the name translates to shrimp or prawns, so you already know the type of protein that features in the recipe.
The dish itself is a hot and sour soup. The broth features a variety of fragrant ingredients, including lemongrass, chili peppers, lime juice, and kaffir lime leaves. Authentic versions of the recipe rely on fresh herbs. These give the dish a burst of flavor that cannot be matched.
If you're making tom yum goong at home, you could turn to a paste instead. This relies on most of the same herbs, except that they've been crushed and turned into a paste. You end up with a different flavor profile, but using a paste does make the dish much easier to prepare.
Tom yum goong can be a fantastic starting point for Thai food. Not only is the soup delicious, but it is also a healthy choice. After all, it relies heavily on herbs and doesn't use coconut milk as a key ingredient.
Other Tom Yum Soups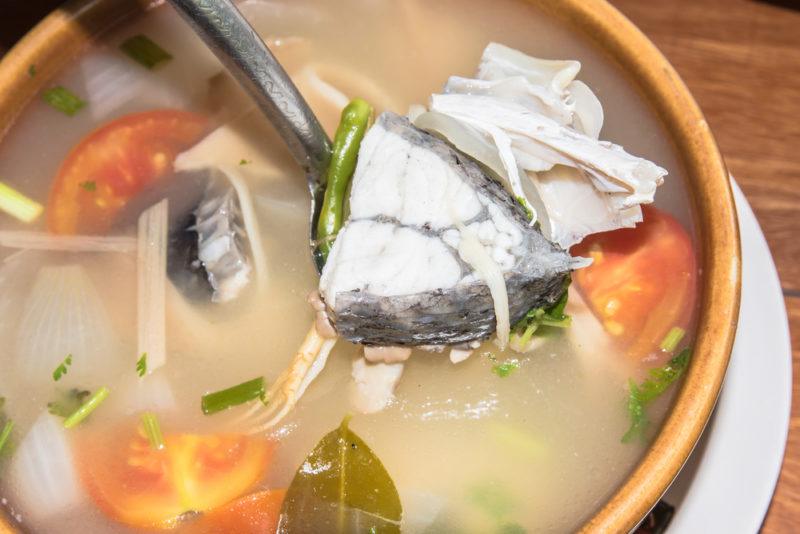 Tom yum goong might be the most famous type of tom yum, but there are plenty of other similar soups. This type of soup is characterized by the combination of hot and sour flavors and often relies on similar herbs regardless of the type.
One version is tom yam kathi, which relies on coconut milk. This dish is similar to tom kha kai and the two can be confused, except that galangal root is a key flavor in the latter soup.
Tom yam pla is another option. This one is a type of clear fish soup. It is a popular choice, as fresh fish is easy to find.
Don't forget about tom yam gai either. This is simply a version of the soup that relies on chicken rather than shrimp. We could go on and on, but the general idea is that tom yum soups are hot and sour. They often vary in the type of protein that they use, whether coconut milk is included, and whether there is any other type of creamy ingredient added.
Som Tam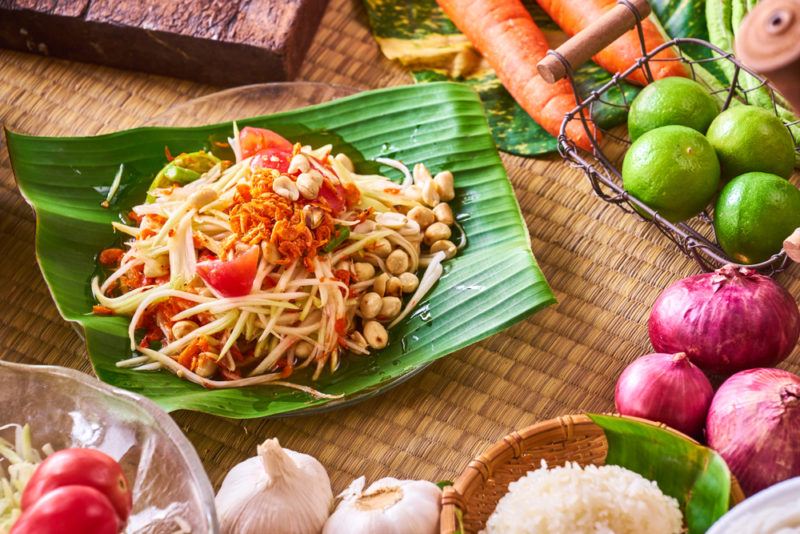 Som tam isn't an exceptionally famous Thai food, but this isn't a bad thing. Besides, the green papaya salad is hardly obscure and is loved in Thailand.
The main advantage is that this is a type of salad. So, it's naturally low in calories and doesn't contain much fat. These features make it the ideal choice for anyone trying to lose weight.
This is also a fantastic alternative to regular Western salads. After all, you have many more interesting flavors in play, including fish sauce, garlic, lime juice, and the green papayas. This combination makes it a spicy and aromatic salad. This is much more delicious than a boring salad that uses lettuce, tomato, and cucumber.
Massaman Curry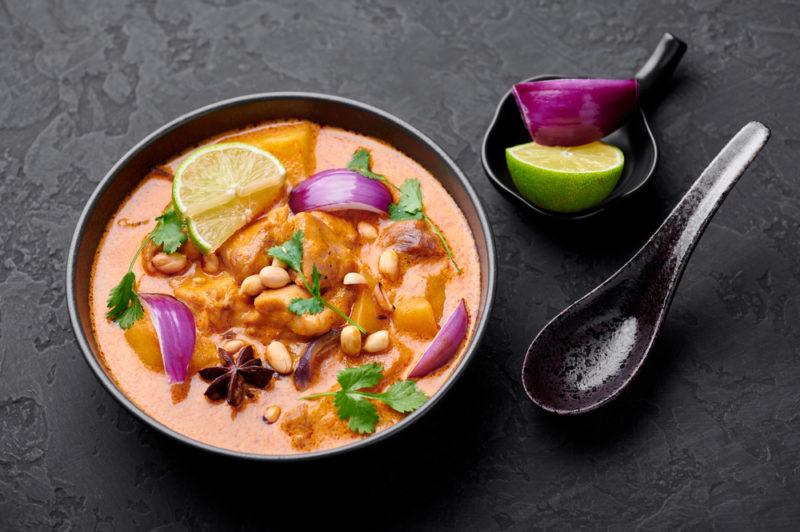 Massaman curry is considered a fusion dish, as some of the flavors came from Muslim traders, while others came from local cooking instead. It's an important curry to talk about, as it has ranked in lists of the most delicious foods in the world.
The curry is traditionally made using chicken, which isn't surprising given its Muslim history. However, there are other versions too, including ones that use beef, venison, or duck.
The combination of Muslim and Thai flavors gives this curry a different flavor profile than other Thai curries. It also ends up being a relatively mild dish. So, you can enjoy it even if you find most Thai curries to be too spicy.
Nam Tok Mu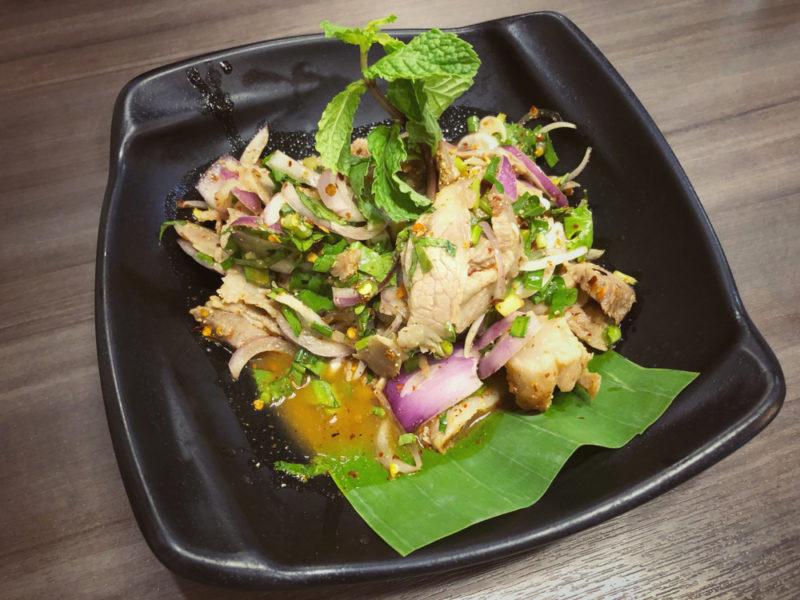 If you're looking for something healthy, then nam tok mu is one of your best choices. It comes from the northeast of Thailand and relies on thin pieces of grilled pork that have been sliced and seasoned.
Nam tok mu is often served with vegetables on the side, such as lettuce, which turns it into a type of salad. Rice is a popular addition too, especially if the pork is being served as a main meal. Some versions of the recipe rely on beef rather than pork. The cooking process is similar either way and both types of meat end up tasting delicious.
Guay Teow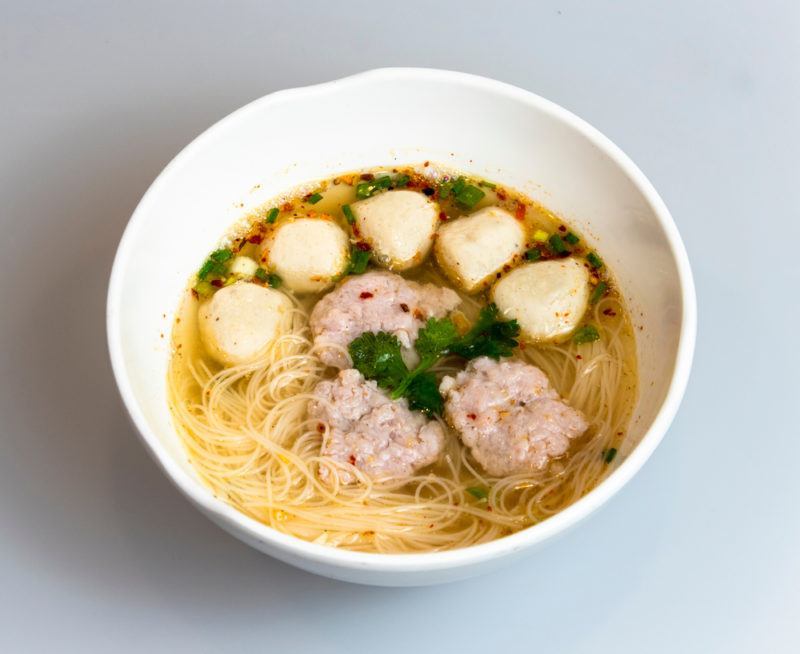 Noodle dishes are popular throughout Thailand and they come in a wide variety of styles. Even if the type of noodle is the same, there are countless differences in the way the dish is prepared and the other ingredients used.
In fact, there are far too many noodle dishes for us to cover in this article.
One of them sometimes goes by the name guay teow and is basically a type of noodle soup. Most versions rely on some type of meat, such as chicken, beef, or pork. Egg noodles can feature or you might find rice noodles instead.
That's not the end to the variation either. Different seasonings may be used in the broth, depending on who is making the soup. You'll also see a variety of condiments featured, along with extra ingredients like meatballs and wontons.
Because of this, guay teow is best seen as a blanket term for any kind of noodle soup. This type of soup is incredibly popular too, partly because it is an inexpensive street food. Plus, you can enjoy noodle soup at any time of the day. Why not try it at night when you need something delicious that isn't too filling?
Pad Phuk Tong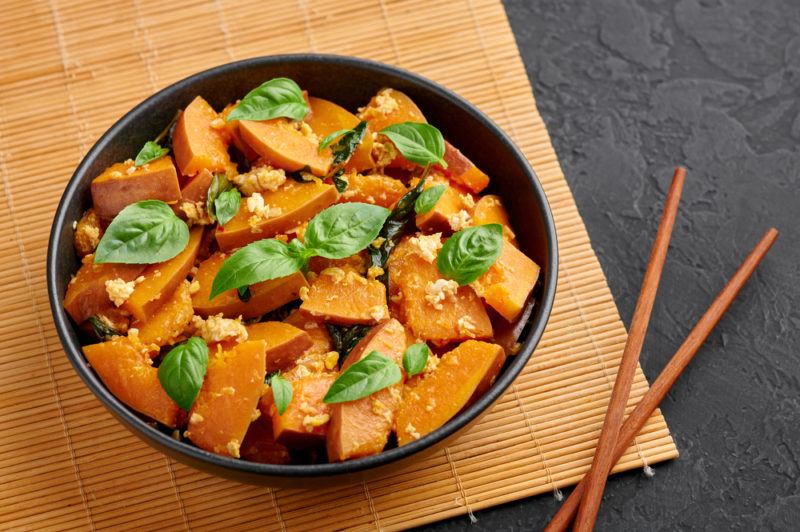 Here's an excellent vegetarian choice – stir-fried pumpkin. It really is exactly what the name suggests, which also makes it simpler than most other Thai dishes.
A handful of ingredients are included with the pumpkin, such as oyster sauce and soy sauce. Basil leaves often feature as well, giving you a delightful visual contrast.
The pumpkin is normally served on top of white rice, although some customers opt for brown rice instead. Either way, the rice nicely complements the pumpkin and creates a well-rounded dish.
Tom Kha Gai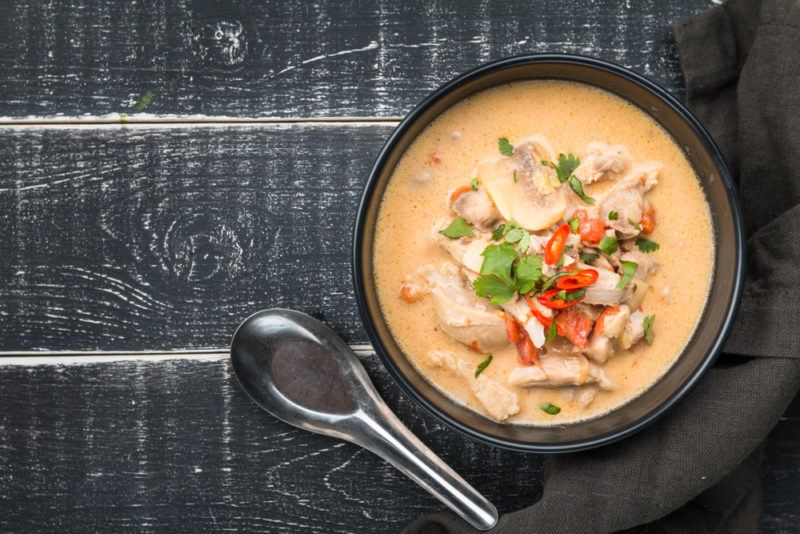 We mentioned tom kha gai earlier, as the dish is similar to tom yum, but has some differences. The name translates to chicken galangal soup, where galangal is a type of spice that's found in Thai cooking. It's sometimes known as Thai ginger or Siamese ginger because of its similarities to the ginger that we're all familiar with.
However, the name chicken galangal soup doesn't tell you much about the dish itself. Basically, tom kha gai is a creamy soup that relies on chicken and creamy coconut milk. The galangal adds are distinctive flavor to the soup, but doesn't make the dish spicy.
Instead, you end up with a rich and sweet soup. It's an ideal choice if you don't want too much spice. Just be wary of the coconut milk. The dish will often rely on full fat coconut milk, which is high in calories. The calorie content could be a problem if you're trying to watch your weight.
Khao Soi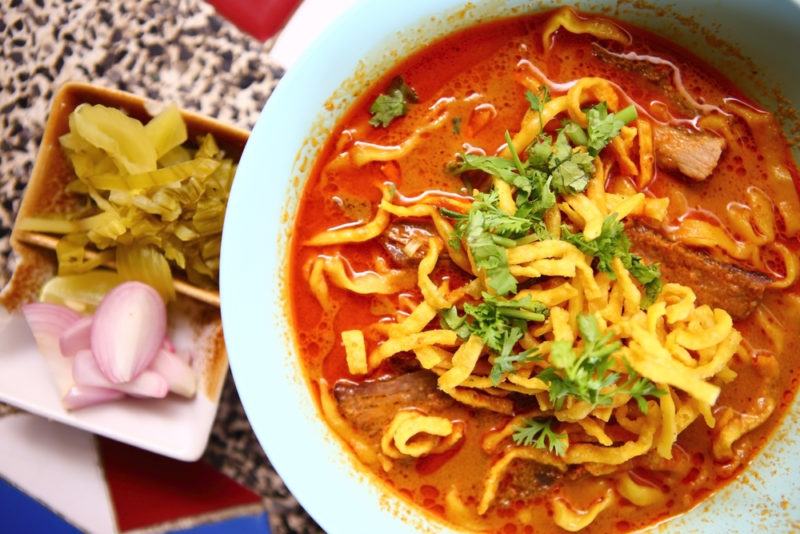 Khao soi is a popular dish in northern Thailand. You could consider it a coconut curry noodle soup. The style was inspired by Burmese cuisine, which is why it's a little different than many other Thai dishes.
However, this difference is just one more reason to try the soup.
Honestly, khao soi isn't something that you should pass up. The rich curry base makes this a flavorful meal, while the egg noodles are deep fried and crispy, which gives them an amazing texture that you don't find in many other dishes.
Pad Krapow

This dish is both delicious and healthy. It's sometimes called fried basil because it relies on Thai basil. This herb has a distinct sharp peppery flavor that can take some getting used to. You end up with a surprisingly spicy meal, one that might be too intense for some.
The dish also relies on either minced pork or minced chicken as the protein of choice. Either option can taste delicious and, if you're worried about the heat, you can ask the vendor to cut the spiciness down a little.
Most of the time the meat will be served with white rice and a fried egg. The combination of ingredients gives you a delicious and nutritious meal. Plus, there are some interesting texture contrasts. These make the meal stand out even more.
You may also see a version of this meal called pad krapow moo. This is the pork version of the dish. It can include other ingredients too, like green beans.
Yum Nua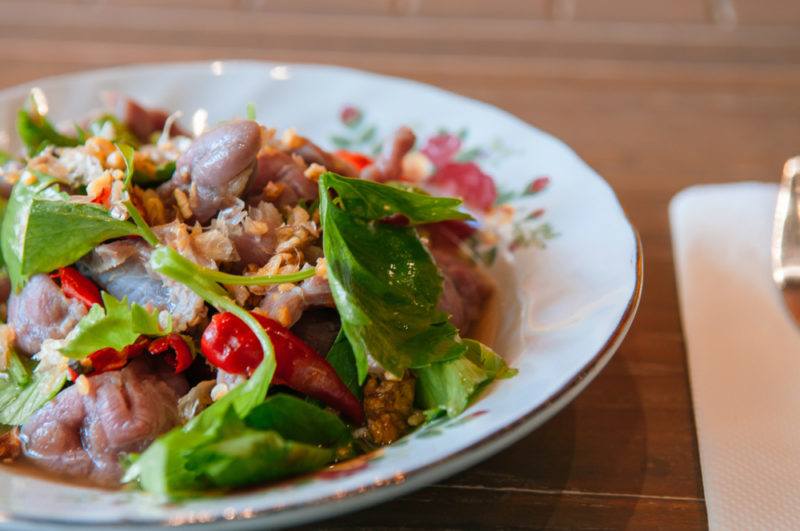 Thai salads might be a little different than what you normally eat at home. Still, they're no less delicious. Yum nua is a good example. This dish includes strips of beef as a source of protein, so it's more filling than most salads.
Yum nua also has a sweet and sour zesty dressing. This can be refreshing, although it's a little intense if you're not expecting it. Eating the salad with rice helps to spread the flavor out and make the salad easier to eat.
Yum Talay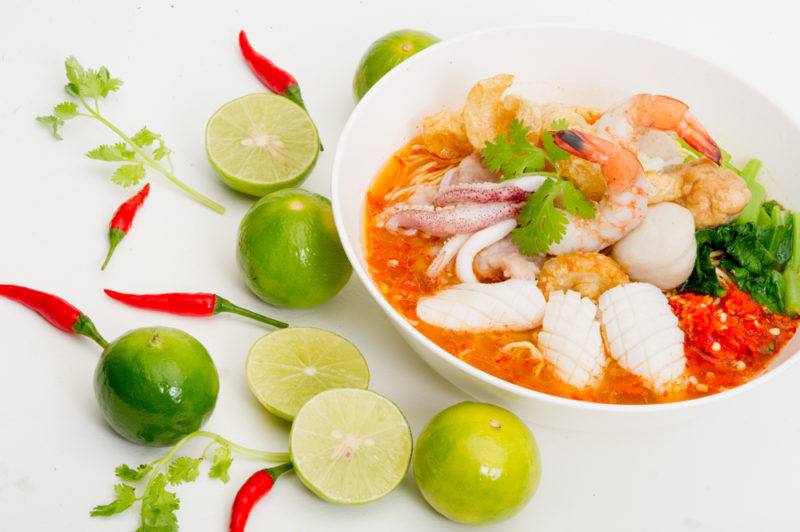 Here's a delicious and healthy option. Yum talay is a spicy seafood salad, making it a great way to increase your omega-3 fatty acid intake. Most versions of the recipe use multiple types of seafood. This gives you an interesting array of flavors, textures, and nutrients.
The name of the dish even tells you exactly what to expect, as talay refers to the sea, while yum is a reference to combining hot and sour.
Kai Jeow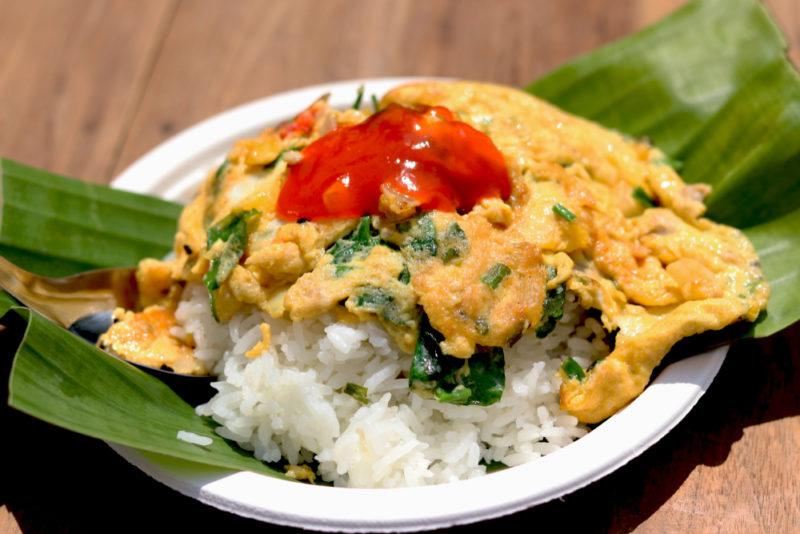 Looking for a simple breakfast meal? Kai jeow should hit the spot. It's simply a Thai omelet that is typically served over rice. Combining an omelet and rice might sound odd, but this combination is popular for a reason. You might never go back once you try this meal for yourself.
There's another interesting feature too. Omelets in Thailand are deep fried. They're still soft and fluffy on the inside, but this is contrasted by a crisp exterior.
The omelets are often served plain. If that sounds too boring, you can request some vegetables too, giving you a version of the dish known as kai jeow pak.
Kai Pad Med Ma Muang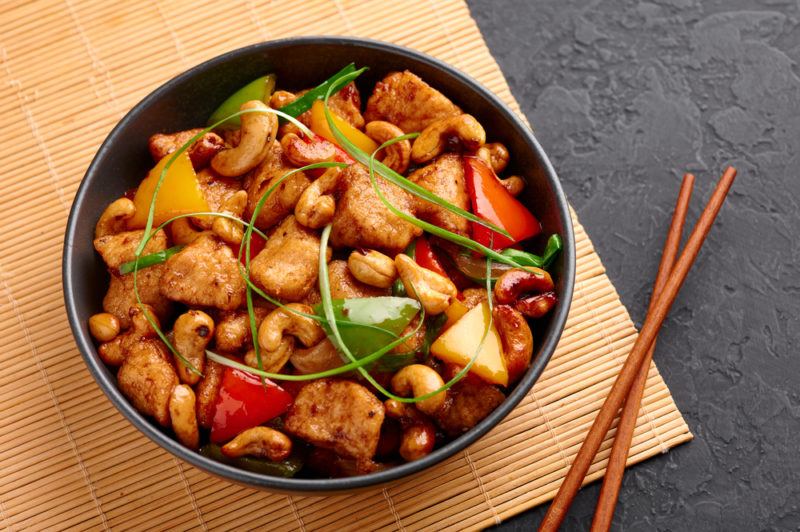 Don't worry about the long name for this dish – it's simply stir-fried chicken served with cashew nuts. You've probably eaten it before, even if you didn't know the name.
Of course, there are plenty of other ingredients included too, like vegetables and herbs. A little dried chili might be a part of the sauce, but don't worry, this is a very mild dish. It's a good choice for children or anyone else who is sensitive to spice in food.
Laab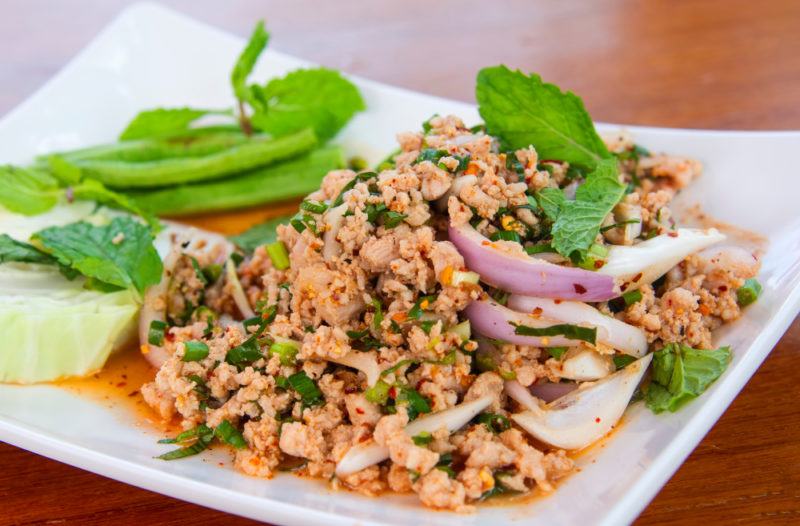 We've mentioned a few salads on this list already, but laab is too good to pass up. The name simply refers to a spicy salad. It's an accurate claim too, as the salad's kick isn't to be underestimated. Don't try this one out unless you're comfortable with spicy foods.
Some versions of the salad use chicken a key ingredient, while others rely on different sources of protein, like pork, fish, or pork.
The salad is often served with other ingredients, like rice or lettuce. You might also see slightly different versions of the name, like larp, lahb, or laap, but these names all refer to the same dish.
Pad See Eiw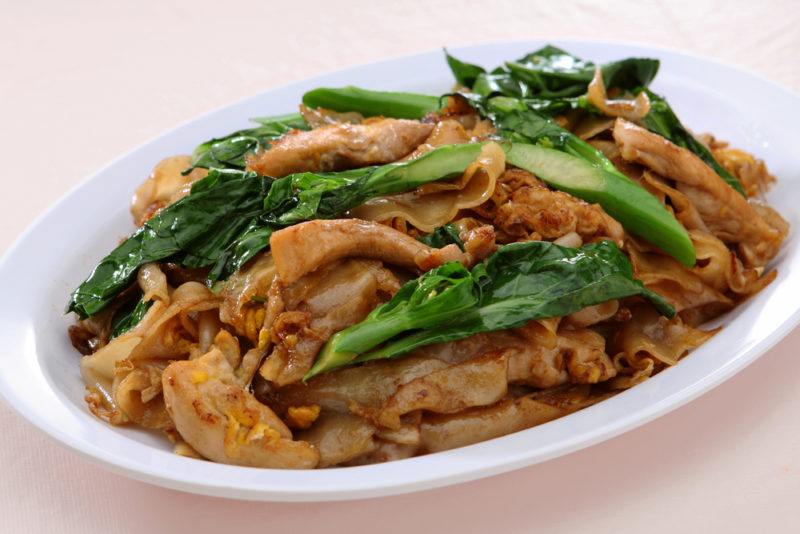 Pad see eiw is a meal that relies on thick noodles, which have been stir-fried in a soy sauce. This style has been strongly influenced by Chinese cuisine, although it is now common as street food in Thailand.
There's usually some type of protein present too, like chicken or beef. Chinese broccoli features as well or perhaps some other type of green vegetable.
The type of noodles isn't all that sets this dish apart from pad Thai. Pad see eiw also uses a different type of sauce, one that's sweeter than you get with pad Thai
Kao Niew Ma Muang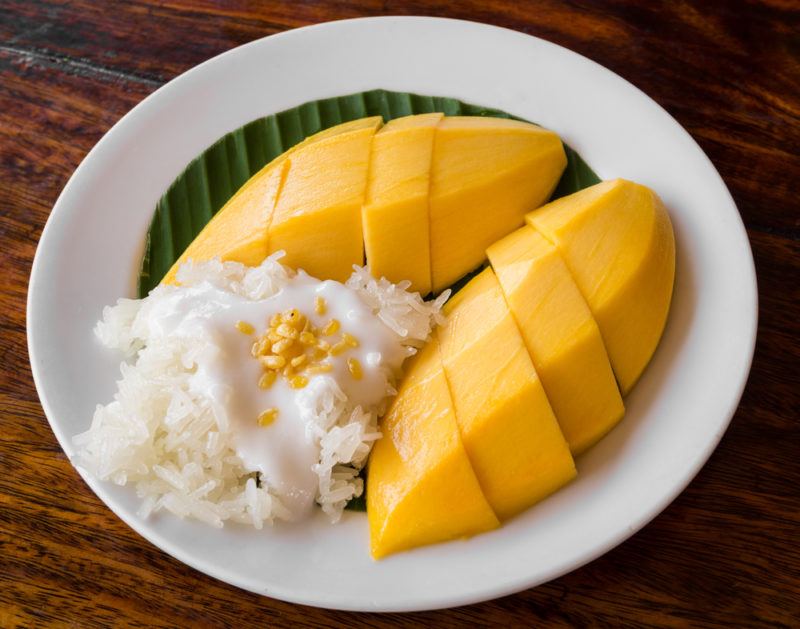 This list has focused on savory food. Of course, that's not all Thailand has to offer. There are plenty of sweet foods too, including kao niew ma muang, which is mango and sticky rice.
It's a crowd favorite that is surprisingly simple. You're just looking at fresh mango, sticky rice, and sweet condensed milk.
Rice might sound like an odd choice for dessert, but don't write this meal off before you try it. You might be pleasantly surprised.
Thai Food in the United States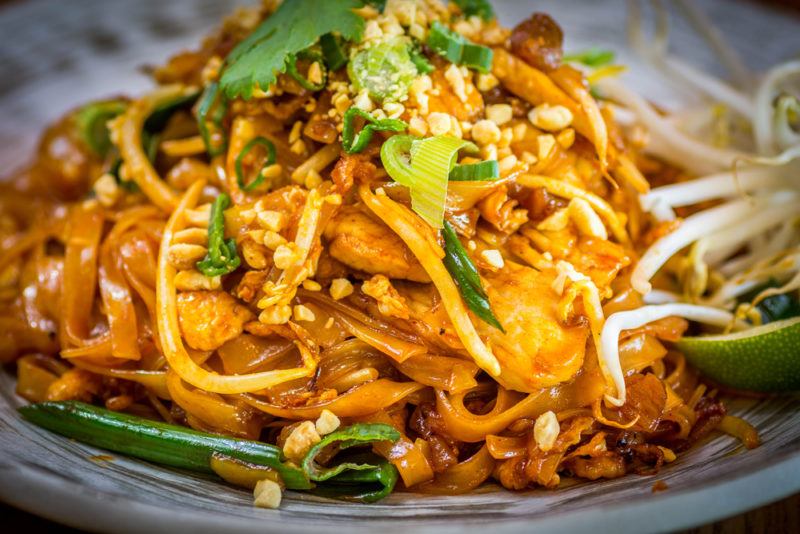 Thai food has become popular throughout the United States. You'll often see a local restaurant or two that offer Thai dishes. Many of these are owned and operated by people from Thailand, with a focus on providing authentic recipes.
Even so, most Thai food served in the United States isn't quite the same as what you find in Thailand. Some meals are adapted based on the ingredients available and their prices. Other times, changes are made to suit American palates.
While there are exceptions, American Thai food tends to be served in larger portions than meals in Thailand, often with more meat than you'd find in the Thai version of the dish. American Thai food can be fairly light on the herbs too and frequently lacks the flavor intensity that you find with authentic Thai food.
None of these differences are surprising. After all, American Thai restaurants need to make sure that their food has a wide audience. If you're looking for a more authentic option (without visiting Thailand), try doing some research ahead of time. Pay close attention to reviews and look for restaurants that offer the flavors you're looking for.