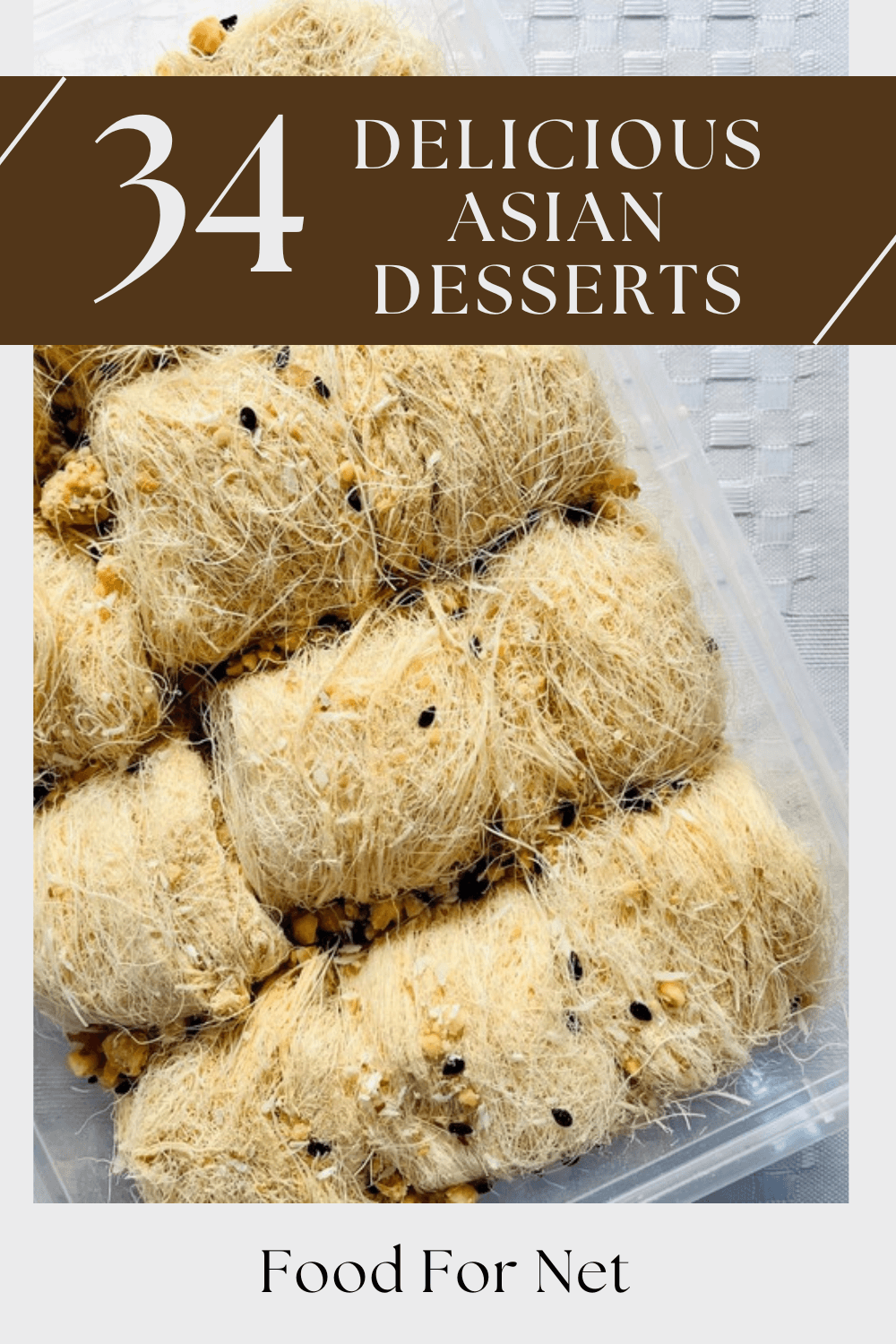 It's easy to stick to familiar flavors and recipes when it comes to desserts. You might even order some from a dessert of the month club, which is an amazing way to get ready-made desserts sent straight to your door. But, why not branch out a little and try some Asian desserts?
After all, there's a whole world of desserts to explore, with plenty of colors, flavors, and styles. You're certain to find a few new favorites along the way, plus many surprises (some of which are truly unique).
Not surprisingly, we can't cover all desserts from Asia on this list. Asia is a huge continent and there are countless local dishes, not to mention variations from one part of Asia to the next. However, we can whet your appetite a little with plenty of delicious treats.
If you want more ideas, why not check out Asian cookbooks or even a Japanese snack subscription? These are just two ways to explore Asian foods in more depth – and perhaps find some new favorites.
You could also check out desserts from South America and those from Russia.
Best Asian Desserts (With Pictures!)
Mango Sticky Rice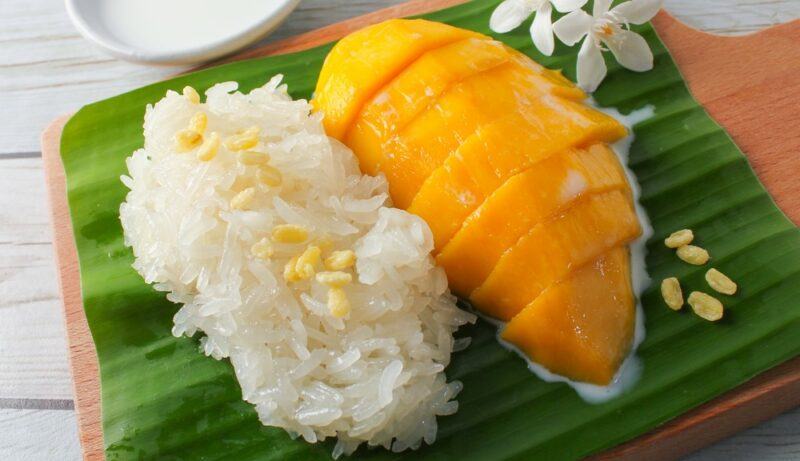 Rice works well as a dinner and a dessert ingredient. Mango sticky rice is perfect if you want something sweet that isn't overwhelming. It simply combines fresh mango with rice and coconut milk. The coconut milk makes the dish creamy, while the mango gives it a refreshing tone.
Most versions serve the mango sliced next to a pile of sticky rice. This helps with the flavor and texture contrast.
Mango sticky rice is also a cheap dish to prepare and order. That's always a plus, especially if you're on a limited budget.
Dango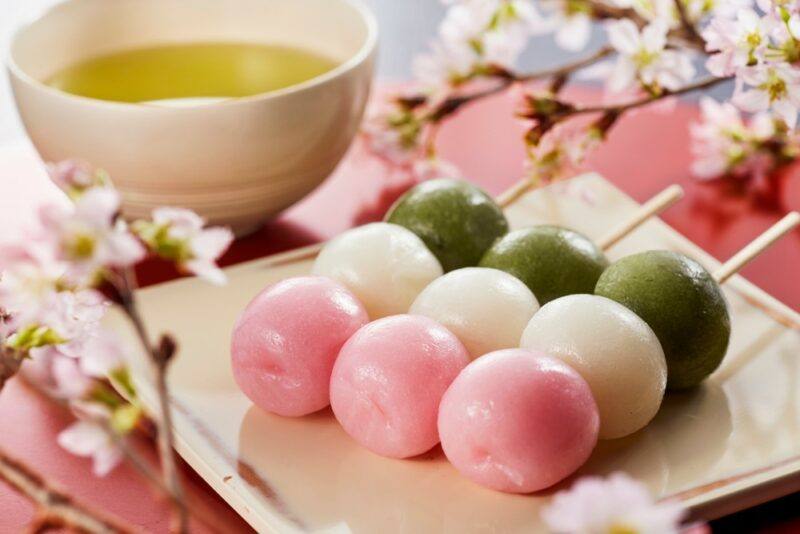 Dango is a Japanese dessert that's most popular during cherry blossom season. It's easy to make too, as it simply relies on balls of sweet white flour. The balls end up firm, but still chewy and somewhat tender.
The pink balls use food coloring to provide their color, while the green ones use matcha powder instead, which gives them a slight savory flavor. The three colors are meant to symbolize the shift in seasons, with white representing snow, green representing summer grass, and pink representing blossoms.
Vietnamese Ché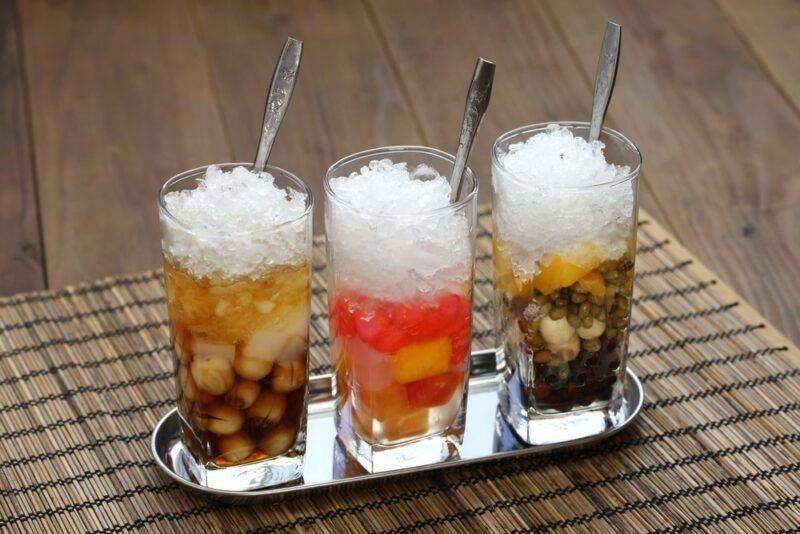 Ché is a popular dessert, partly because the term can apply to many Vietnamese treats, including pudding, drinks, and even soups. The basic recipe has a coconut milk base, which helps to make it sweet.
Then, other ingredients are used to create variation. Some versions of ché even rely on beans and pulses, which create an interesting flavor and texture combination.
Ché is popular enough that it's often sold in grocery stores, often in plastic cups. You can easily make ché at home as well. Preparing it at home allows you to experiment with all the different possible flavors and ingredient combinations.
Keşkül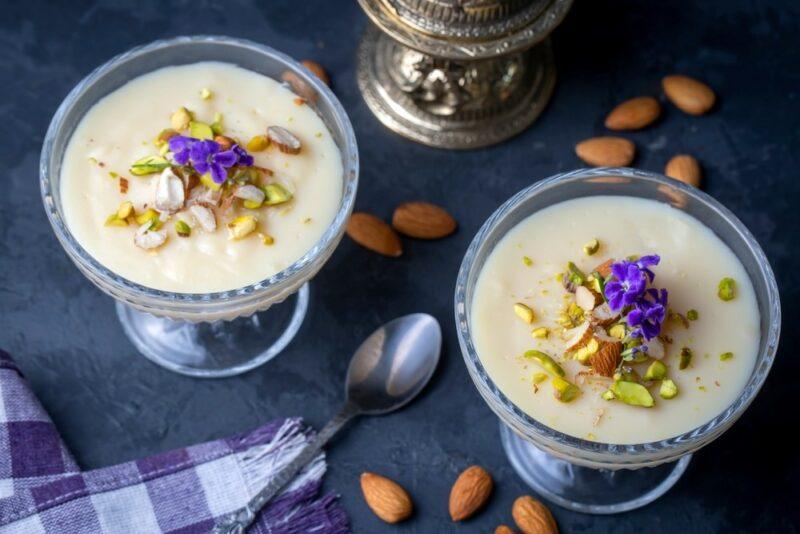 This creamy dessert comes from Turkey and is essentially an almond pudding. It relies on milk, corn starch, sugar, rice flour, and almonds (although individual recipes do vary).
You'll most often see the pudding served in small bowls with ground pistachios or coconut shavings used as a garnish. It's a delicious light pudding that isn't too sweet. It's also flexible, as it takes less than half an hour to prepare, but can be made a few days in advance if needed.
Khao Lam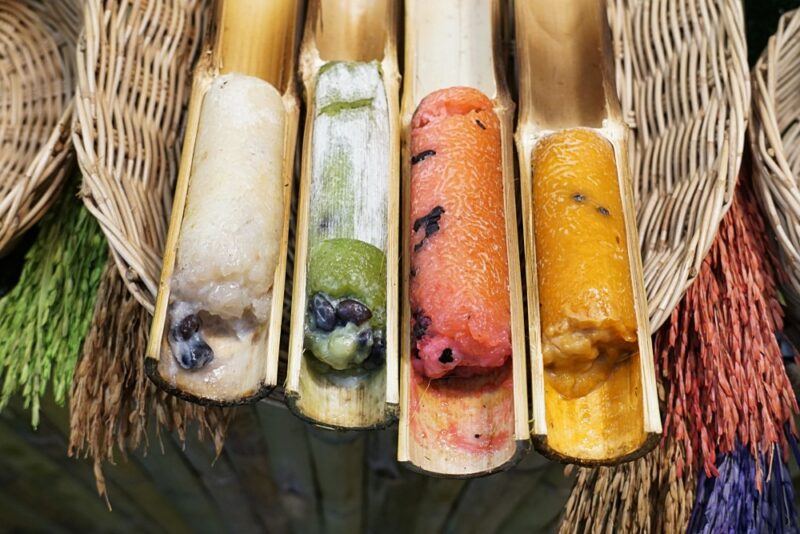 This Thai dessert is unusual, exciting, and well worth trying for yourself. It's a sticky rice treat that combines rice with coconut cream, sugar, and sweet red beans.
These ingredients are mixed together, then stuffed into bamboo cylinders. The bamboo is then roasted over coals, allowing the ingredients to slowly cook and the flavors to combine.
Khao lam is often served in the bamboo, making the whole experience even better.
Kulfi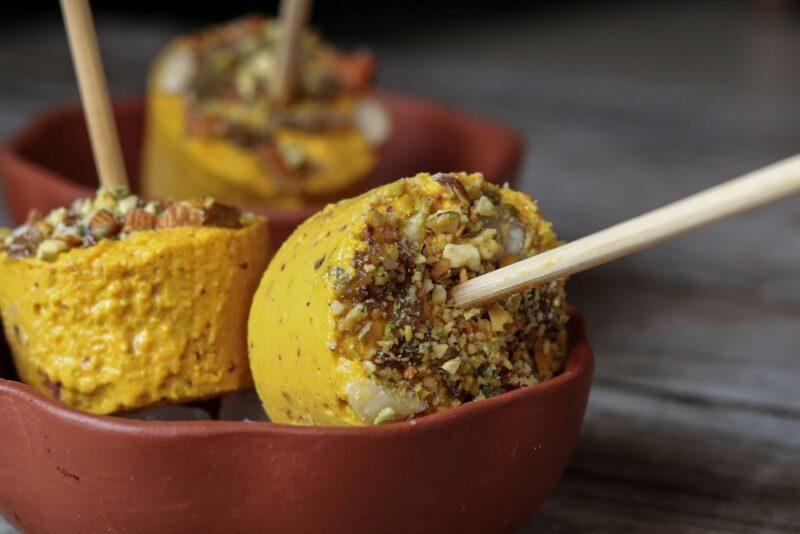 To call this frozen Indian dessert popular would be an understatement. It's beloved enough that it's sold by street vendors in many countries.
The dessert is similar to ice cream, but it's also creamier and has a denser texture. The texture comes from how ice cream is normally whipped, while kulfi isn't.
Like ice cream, there are plenty of flavors. Traditional flavors include pistachio, mango, cardamom, and cream, while modern flavors include avocado, peanut, and orange. That's just a small selection of options. There are plenty of others too and some chefs get very creative.
Gulaman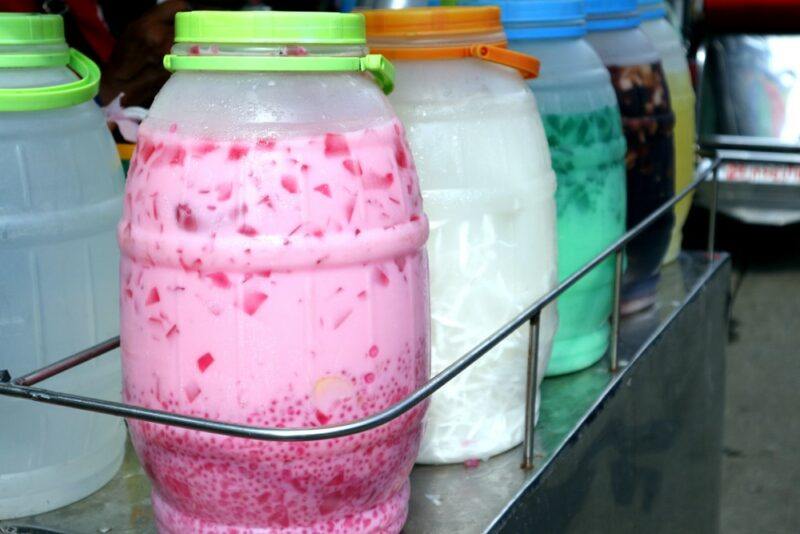 Gulaman isn't a single dessert, but a collection of many different treats. The term gulaman simply refers to agar-agar, so gulaman desserts are simply agar-agar desserts that come in plenty of flavors and styles.
Some of the desserts look similar to Jell-O desserts that you might make at home, while others are quite different. That said, gulaman desserts may have a different texture, as they're often firmer than Jell-O.
There are plenty of recipes to experiment with. Most aren't difficult either, making them perfect for preparing at home.
Mooncakes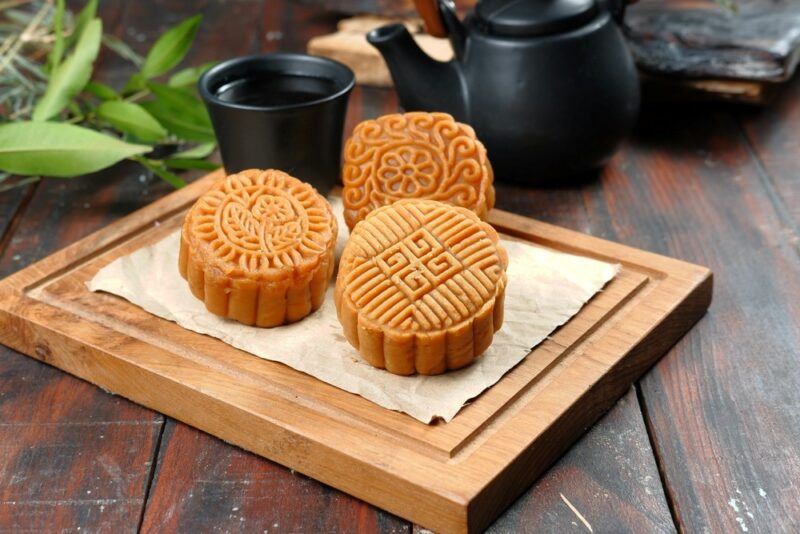 Mooncakes are a traditional Chinese treat that are always found during the mid-Autumn harvest celebration. Many variations exist, including fillings like fruits, nuts, black sesame, and red bean. Despite the differences in fillings, the mooncake crust is surprisingly consistent.
Most versions are at least slightly sweet. They also tend to be served in small wedges, rather than as a whole cake. The style has become popular enough that they're sometimes given as gifts or delicacies in other parts of the world.
Khaja

These layered fritters are surprisingly simple, as they mostly just rely on flour, ghee, spices, and oil for cooking. Then they're dipped in sugar syrup, which gives them all the sweetness you'll need.
The treat is similar to puff pastry, but has a distinct flavor that you don't find elsewhere.
Khanom Krok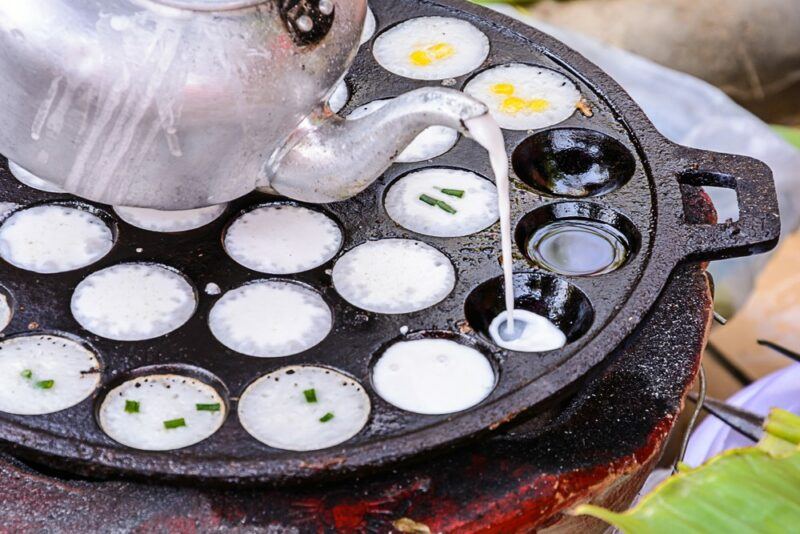 These Thai coconut pancakes have a crispy base and creamy interior. They're only slightly sweet, making them perfect for anyone who hates overwhelmingly sweet desserts.
They have an unusual combination of ingredients, including coconut milk, rice flour, rice, and coconut oil. They're often sold as street food in Thailand. They can also be made at home, although you'll need the right recipe and a specialized pan.
Taho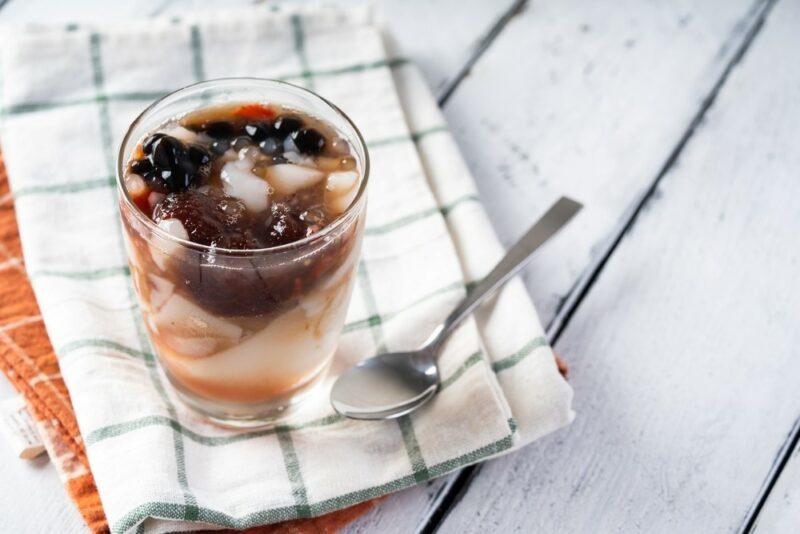 Taho is a delicious tofu snack that's often served in plastic cups. The tofu is soaked in a syrup made from melted brown sugar. The syrup makes the tofu very soft and sweet turning it into a tasty dessert.
Sago pearls or tapioca pearls are often used to top the whole thing off. This adds an extra layer of texture.
While the dessert hails from the Philippines, it can now be found in plenty of other places. Some versions have slightly different names and the flavors can vary as well. Still, you're always getting a tasty and comforting dessert.
Gajar Ka Halwa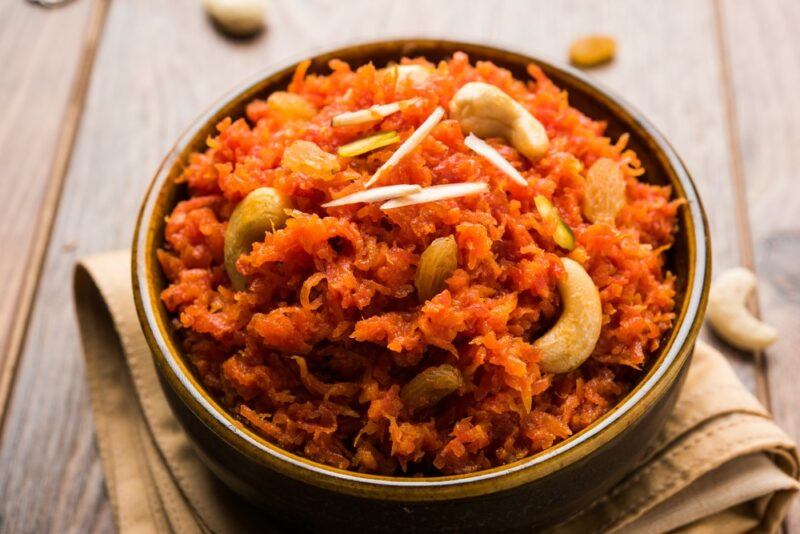 This sweet treat hails from North India and gets its bright orange color from freshly grated carrots and saffron. It doesn't look or sound like a type of dessert, but the addition of raisins and brown sugar make the dish sweet and somewhat decadent.
Besides, it's nice to step away from chocolate and cream in desserts. Why not have something completely different? Who knows? This might be your new favorite.
Mochi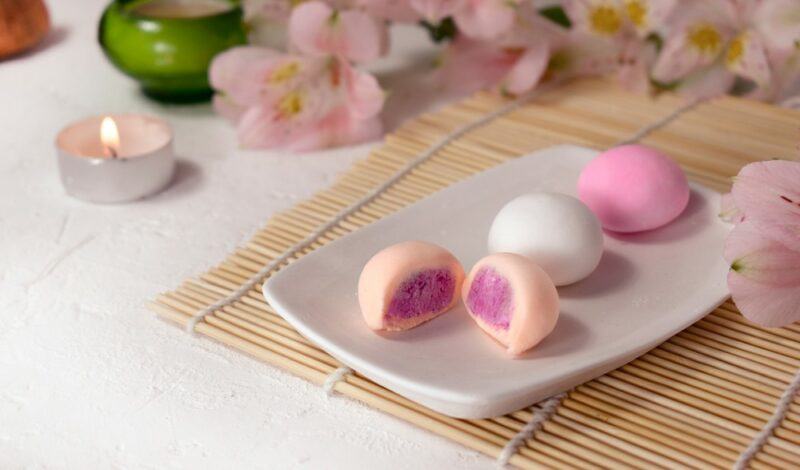 Here's a famous one. Mochi is a Japanese rice cake. The recipe itself is fairly simply, relying on glutinous rice, sugar, water, and sometimes flavoring or coloring ingredients. The rice is steamed and then pounded into a moldable shape.
Many versions of the treat involve a ball of ice cream which is then wrapped with the rice dough. This creates a delicious texture and flavor contrast. Other fillings can be used as well. Some versions even use a whole strawberry and red bean paste inside the mochi wrapper.
Castella Cake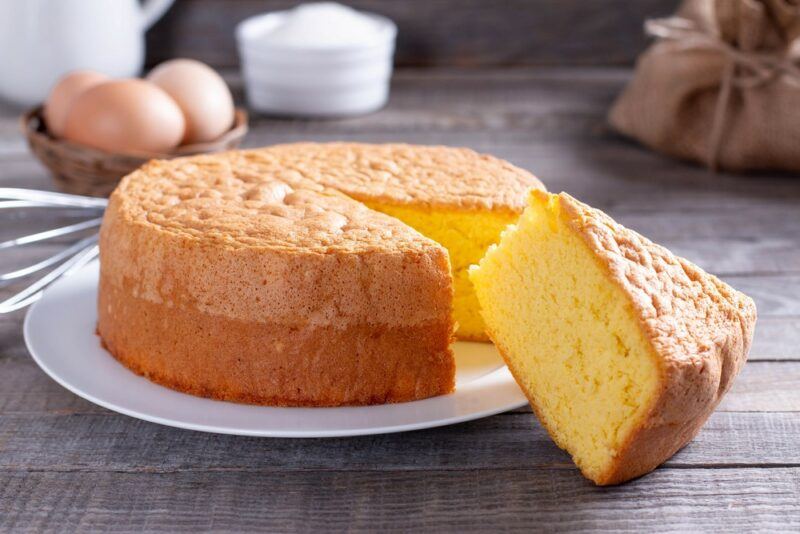 Castella or castella cake is a type of light sponge cake that's popular in Japan. It's made simply, using ingredients like flour, eggs, sugar, and milk.
The most interesting ingredient is a little honey, which adds sweetness and extra flavor to the treat. This is a mild cake with a subtle flavor. That's not bad though, as sometimes subtle is exactly what you want.
Nian Gao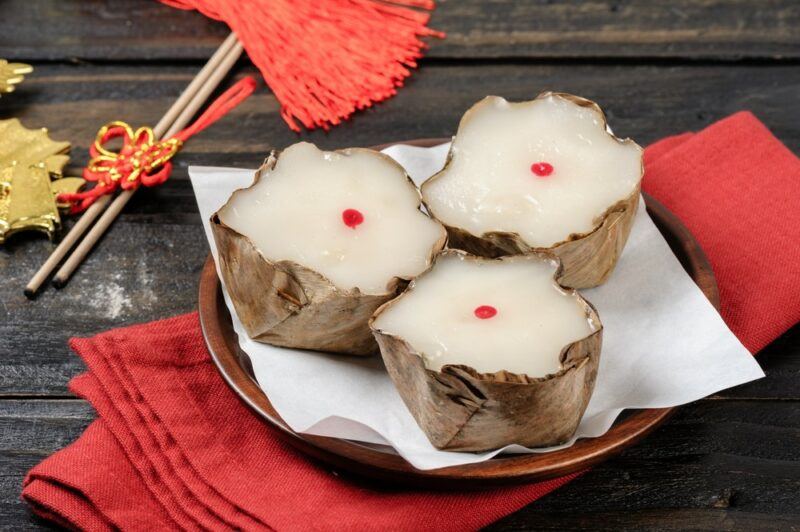 Nian Gao is a sweet rice cake that's an essential part of Chinese New Year. Some families make the treat at home, while others buy them instead. It's typically a chewy treat, one that's rich in caramel and almond flavors.
Nian gao is often eaten warm, as this is when the texture is best. Or, it can be battered and deep fried, which creates crunchy treats. The deep fried version is admittedly less healthy, but is still very popular.
Gulab Jamun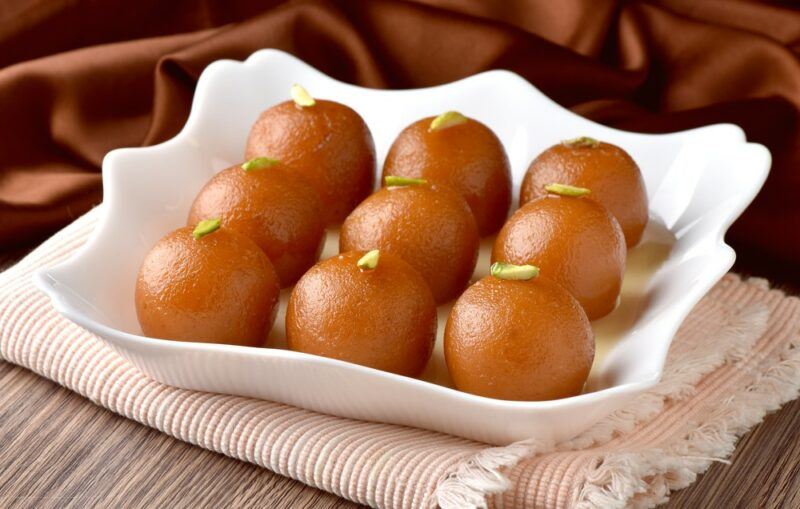 Let's travel back to India, with gulab jamun. This Indian dessert relies on fried balls of dough that are soaked in sweet rose syrup. It's also an incredibly popular dessert, one of the most well-loved anywhere in India.
Calling these dough balls is slightly misleading though, as the balls rely heavily on milk solids. This gives them a different texture than you might expect. Don't worry though, they're still unbelievably delicious.
Tanghulu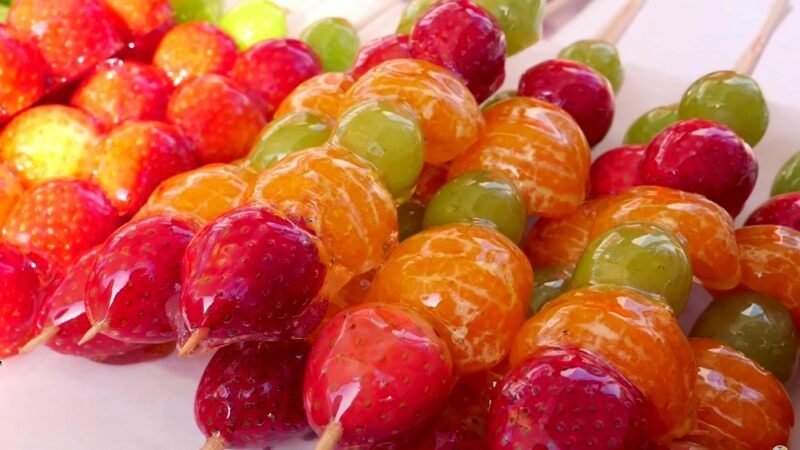 Tanghulu is a popular type of street food, which makes it excellent as a snack or as dessert. It's a simple treat, as we're simply talking about candied fruit.
The idea is a little unusual, as tanghulu is made using a hard sugar shell around the fruit. This creates a distinct crunch, while preserving the fruit's bright color. The pieces of candied fruit are often served on skewers – a trick that makes them very easy to eat.
Egg Tarts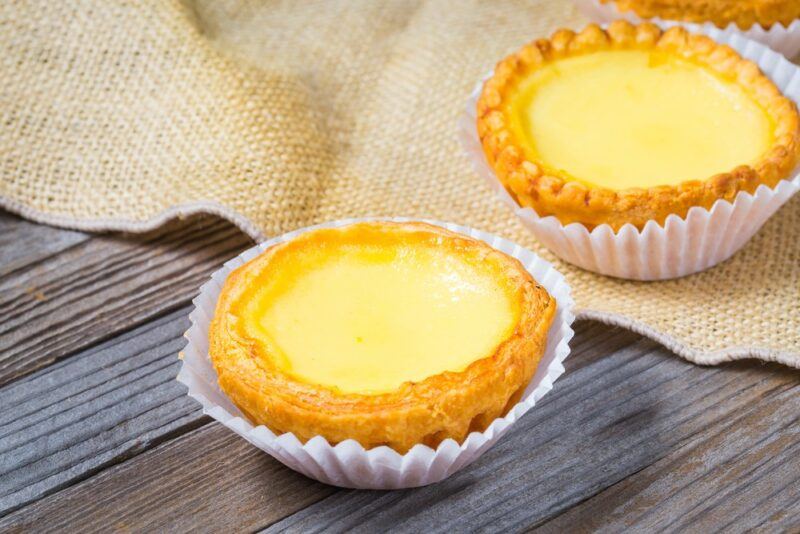 Egg tarts aren't just a European dessert. They're also surprisingly popular in Asia as well. Some versions are quite similar to what you'd find locally, but there are some different ones as well, including green tea custard tarts.
Chinese Mango Pudding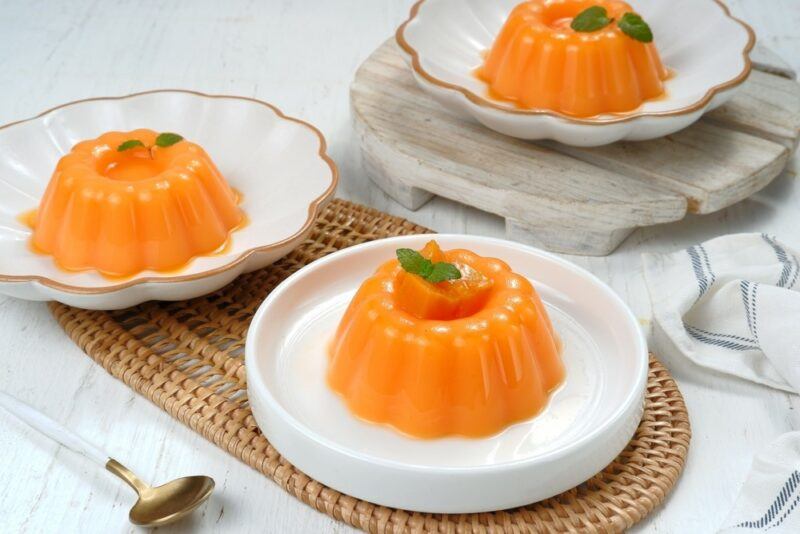 This mango pudding is a popular treat in China, Singapore, Thailand, and various other countries. It relies on evaporated milk, sugar, mangoes, and either agar-agar or gelatin. The agar-agar provides a distinct jelly-like texture that makes the dessert particularly interesting.
Because the recipe relies on familiar ingredients, you don't need to be in China to try it. Instead, you could easily make this dessert at home and enjoy the many variations for yourself.
Kaju Katli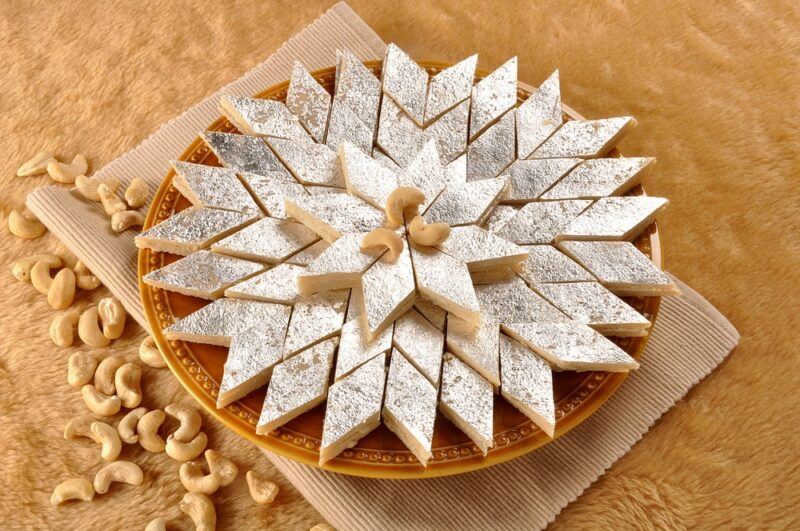 Kaju katli is recognizable for its distinctive diamond shape. It's an incredibly popular Indian treat, often served during festivals and celebration.
There are a few different ways to prepare the dish. One version relies on cashew powder and sugar water. This is simple in one sense, but it can be tricky to get the right consistency.
Another version relies on soaking the cashew nuts and grinding them into a paste. Then a sugar solution is prepared and boiled down, and the two are mixed together.
Other ingredients are sometimes added as well, including ghee, dried fruit, and sugar. These add extra complexity to the flavor profile, making it an even more interesting dessert.
Nuomici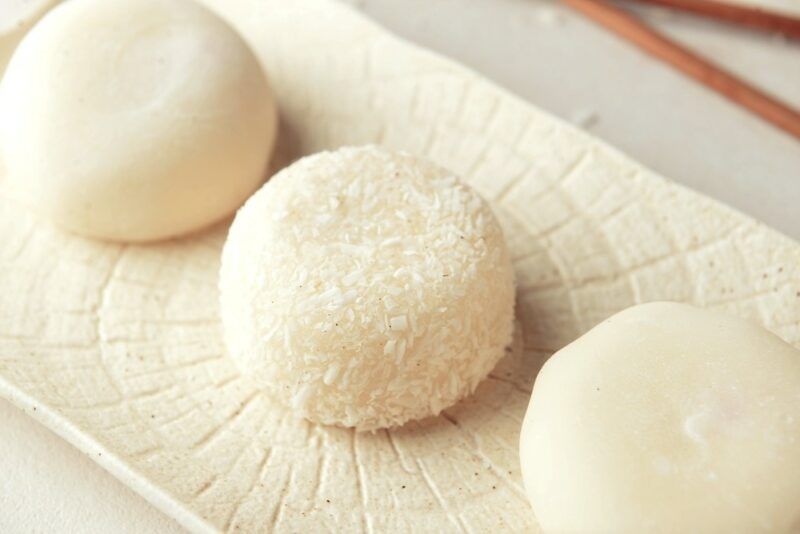 Nuomici is another Asian treat that relies on rice. Specifically, it uses glutinous rice flour to create a ball-shaped pastry. The pastry can be filled in various ways, with fillings including black sesame seed paste and azuki bean paste.
The style is similar to mochi in many ways, but the filling has a different flavor and texture.
Dragon's Beard Candy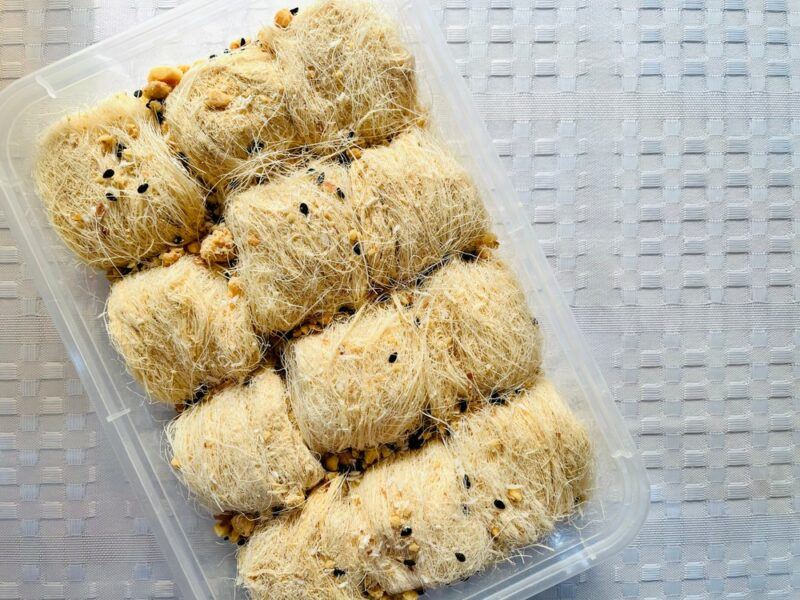 Dragon's beard candy looks amazing. The mess of strands is reminiscent of cotton candy, but the dessert itself has plenty of differences as well.
For one thing, dragon's beard candy is surprisingly low in sugar (especially when compared to cotton candy, which is almost entirely sugar). The candy also has a crunchy center that contrasts with the soft chewiness of the outer layer. There's often a touch of saltiness as well, which makes the whole thing even better.
While you can sometimes find dragon's beard candy online, the fresh version is always better.
Mysore Pak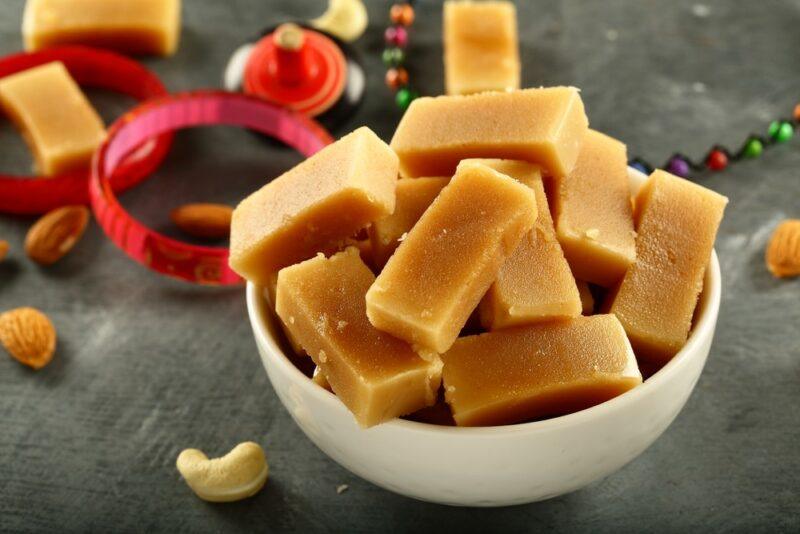 This Indian treat relies on plenty of ghee, plus gram flour and sugar. Cardamom is sometimes used too, which provides extra flavor and some warmth.
The combination of ingredients gives the treat a similar texture to a dense cookie. There's also plenty of butteriness too. Not surprisingly, this isn't a healthy dessert at all. Instead, it's very high in sugar and fat.
Khanom Chan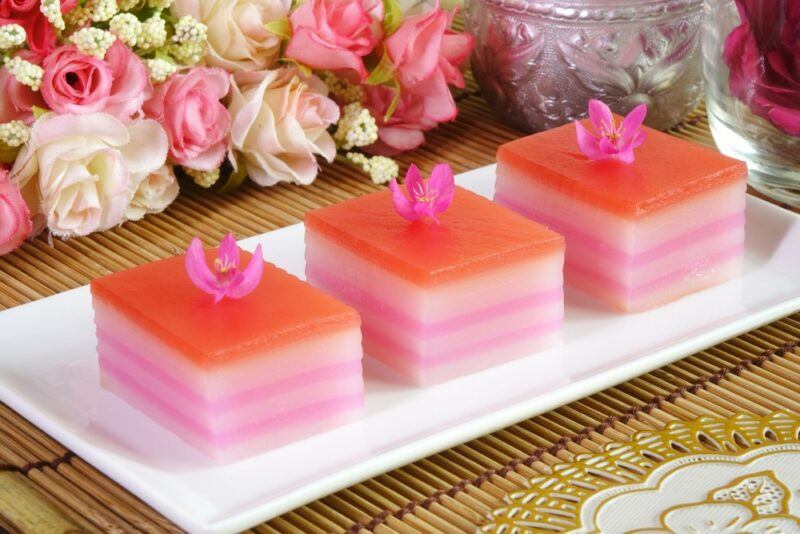 This layered dessert has a long history, yet remains popular even today. While the texture is similar to jelly, the dessert has an unusual layered style.
The dessert traditionally has nine layers, which can be frustrating as each of the layers needs to be individually steamed. Because of this, many people prepare it with fewer layers.
Also, the dessert traditionally uses white and green layers. However, that's not the only style. Other colors can be used too or even multiple colors in the same dessert.
Yugwa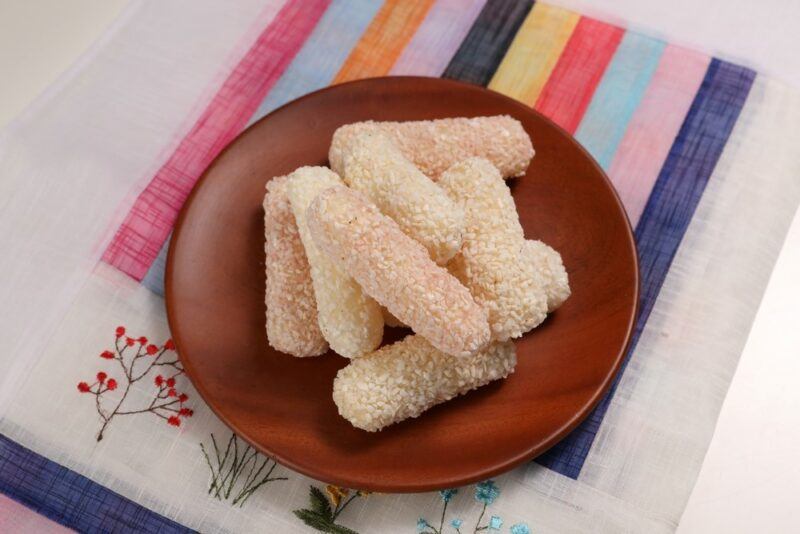 This Korean dessert starts with pounded glutinous rice. This is mixed with water, honey, and rice wine, then shaped and fried. After frying, the yugwa is coated with toppings like puffed rice, cinnamon, or pine nuts.
The simplest version of this dessert is plain and white. However, spices can be added to improve the flavor profile. Natural food colorings are sometimes used as well, giving the dessert different hues.
Mango Lassi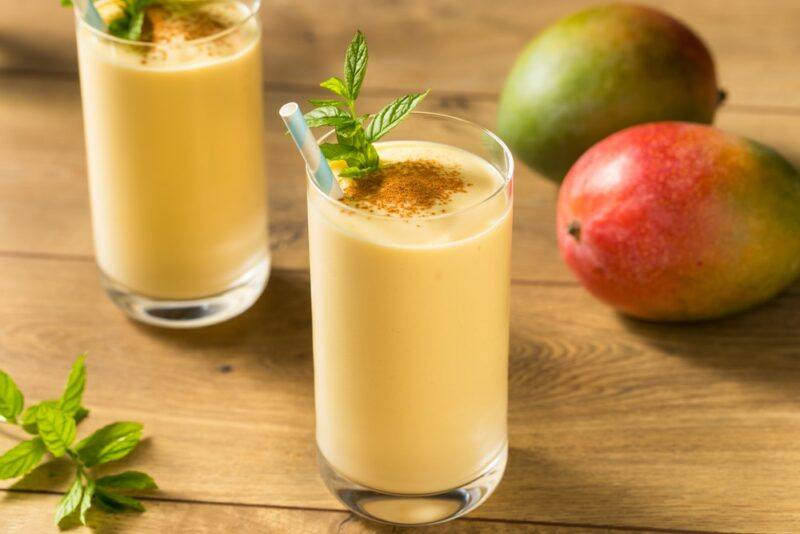 Mango lassi is a sweet treat that's a little like a mango smoothie and a little like a milkshake. It also relies on yogurt, which provides a vibrant flavor that perfectly contrasts the mango.
Ais Kacang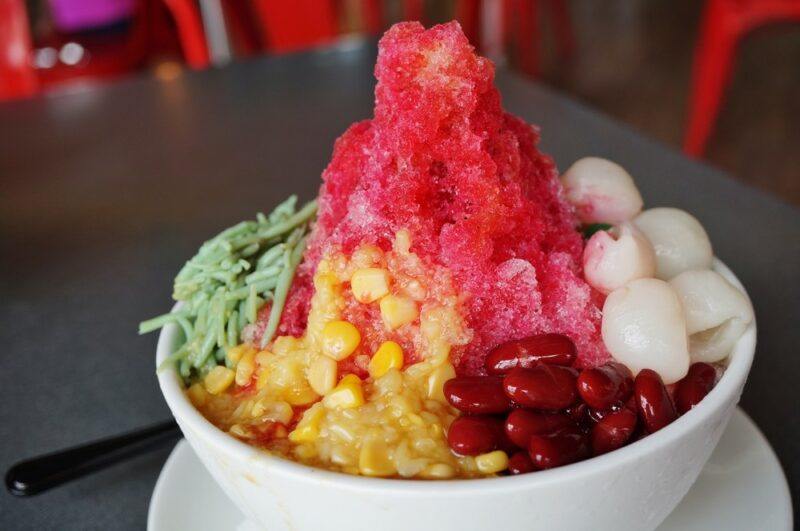 This dessert is mostly found in Malaysia. It's a shaved iced dessert, with an unusual twist – it uses red beans and ice as the key ingredients. The dessert has been so popular that vendors have started to use motorized ice shaving machines, rather than hand cranked machines.
There are plenty of variations to the recipe, including toppings like sweet corn, agar-agar cubes, and aloe vera. Condensed milk, coconut milk, or evaporated milk often feature as a topping too, sometimes with a type of syrup as well.
Tangyuan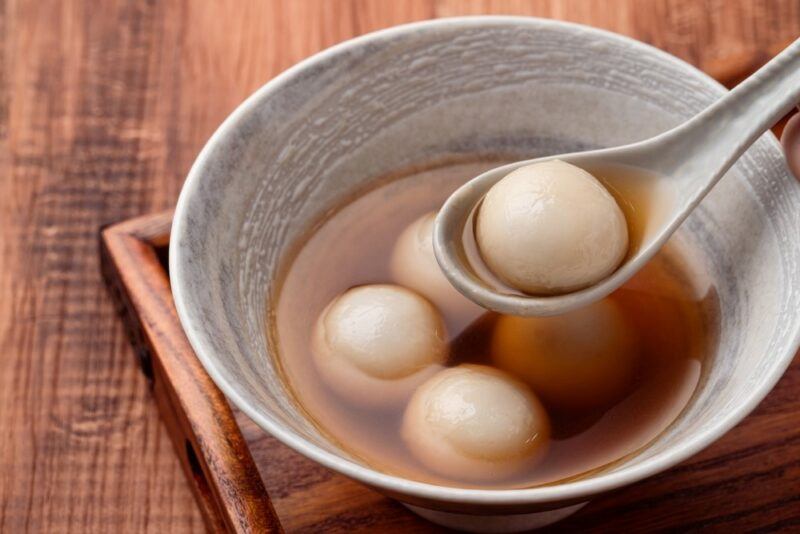 Tangyuan is a glutinous rice Chinese dessert. Most versions shape the rice into a ball and serve this in some type of syrup or broth. The ball size can vary, as can the fillings. Sometimes these fillings are salty, while other times they're sweet instead.
The dessert is particularly popular during the lantern Festival, as the name symbolizes coming together and harmony.
While tangyuan is often white and fairly plain, there are plenty of modern variations. This includes balls that have been colored and fried, along with some that are stuffed with fruit preserves.
There's also a similar dessert called yuanxiao. This is a stuffed rice ball as well, but there are some differences in how it is prepared and served. That said, either type can be an excellent dessert.
Bánh Trôi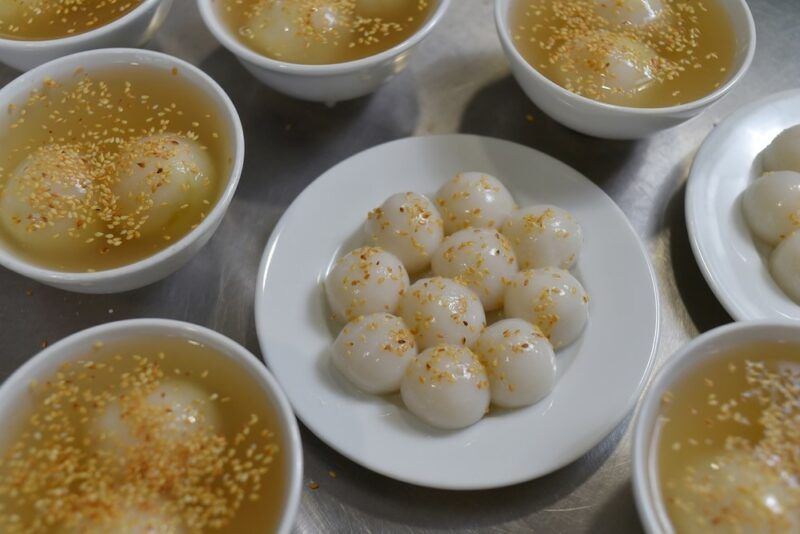 Speaking of glutinous rice, here's another interesting treat to try. These Vietnamese balls are mostly made from glutinous rice flour and they're stuffed with unrefined cane sugar (another version uses mung bean paste instead).
Sugar is a simple filling, but it's an excellent contrast against the mild rice ball. Plus, the sugar doesn't completely dissolve when these balls are prepared, so it provides an interesting crunch.
Sweet Rice Cake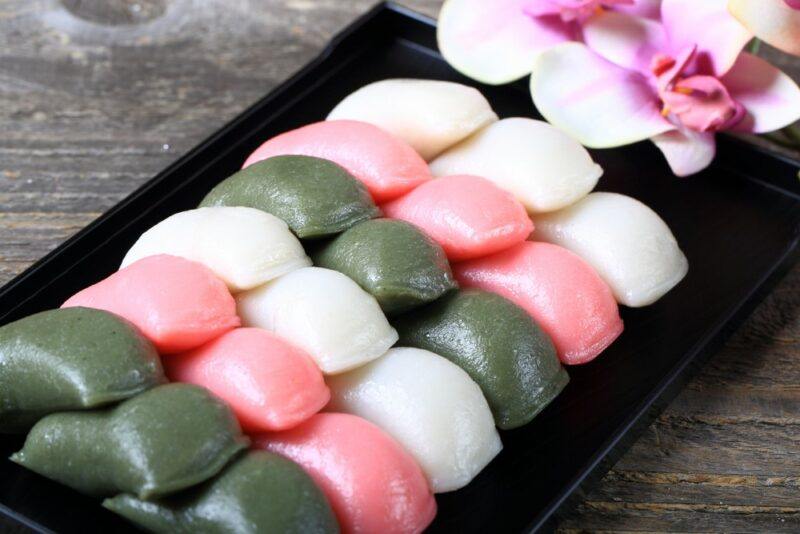 Sweet rice cakes feature in Korea, China, and plenty of other countries. They're a simple treat and the flavor isn't intense. Instead, the sugar just provides a little sweetness.
Some recipes use other ingredients to change the flavor profile. The rice cakes easily take on new flavors, so it's easy to play around with them. For example, vanilla syrup, cinnamon, green tea powder, or sesame seeds can all be used to flavor rice cakes.
Modak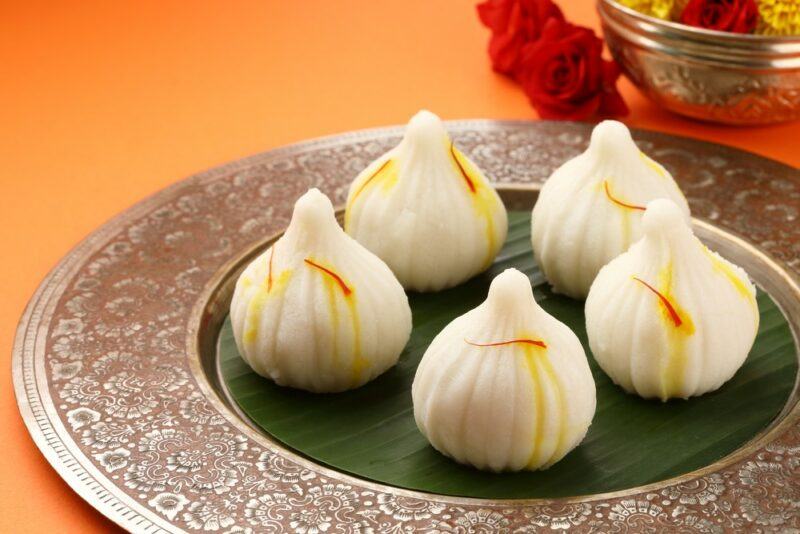 Modak comes in two versions, fried or steamed. It's a fun dumpling-like dessert with a sweet filling of jaggery and grated coconut. The outside of the dumpling is mostly based on flour, with a few other ingredients.
The treat has considerable religious significance but can be served simply as a dessert or during a celebration too.
The dough for modak can be shaped in a variety of ways, including as a half moon or in a fluted petal style. Shaping the dough by hand can be frustrating and time-consuming, so many people use modak molds instead.
Mochi Cookies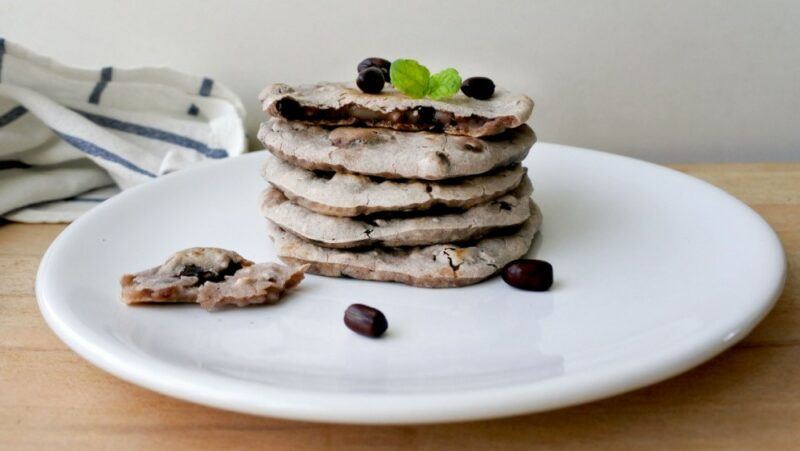 We talked about mochi earlier, but what about mochi cookies? These are generally regular cookies that have glutinous rice mochi as a filling.
Unlike most of the entries on this list, mochi cookies are a fusion dessert, as they combine Asian and Western styles. Still, they're too good to ignore. You get a fantastic crunch from the cookies, contrasted against the soft mochi filling. Plus, almost any type of cookie can be used for these treats, giving you plenty of versatility.
Black Sesame Soup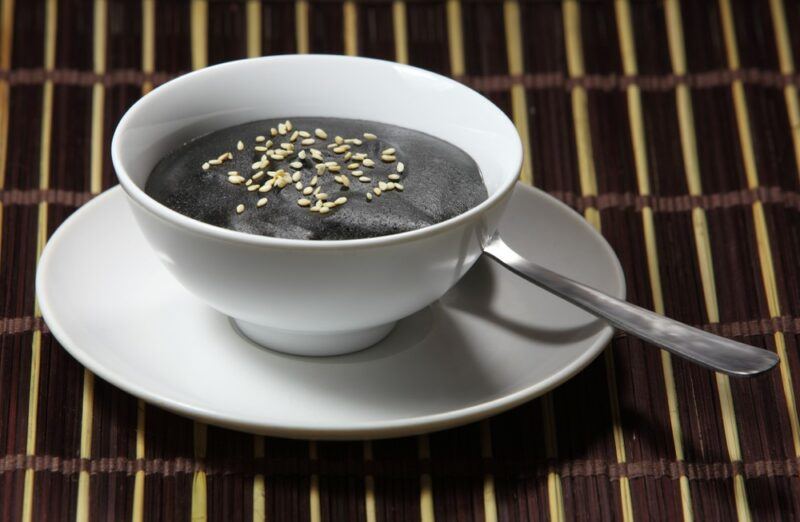 Strange as it may sound, black sesame soup really does work as a dessert. That's mostly because it combines black sesame seeds, rice flour, and water, with plenty of sugar. The sugar takes this from being a savory dessert to a sweet one.
This is also a fantastic treat to serve guests, as it's so unexpected. After all, black soup itself is a strange idea. Black soup for dessert is much more unusual still.
Thai Rolled Ice Cream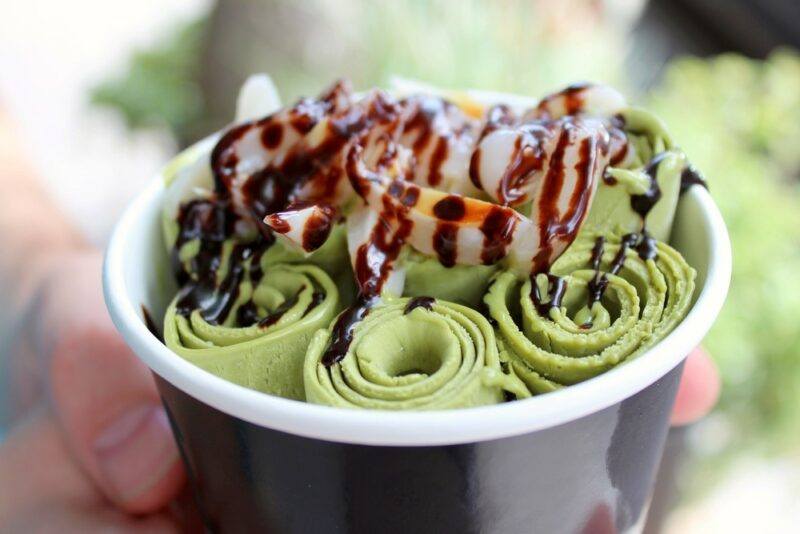 This treat should instantly sound appealing. In fact, the dessert has become so popular that it's now served in the United States and many other countries.
The dessert is often called stir fried ice cream too, as it is prepared on a freezing cold flat metal plate. This plate freezes the ice cream mixture and allows it to be prepared in front of customers. While the dessert is often Westernized, it's still a delicious dessert that's worth trying.
Video: Fried Milk (Chinese)