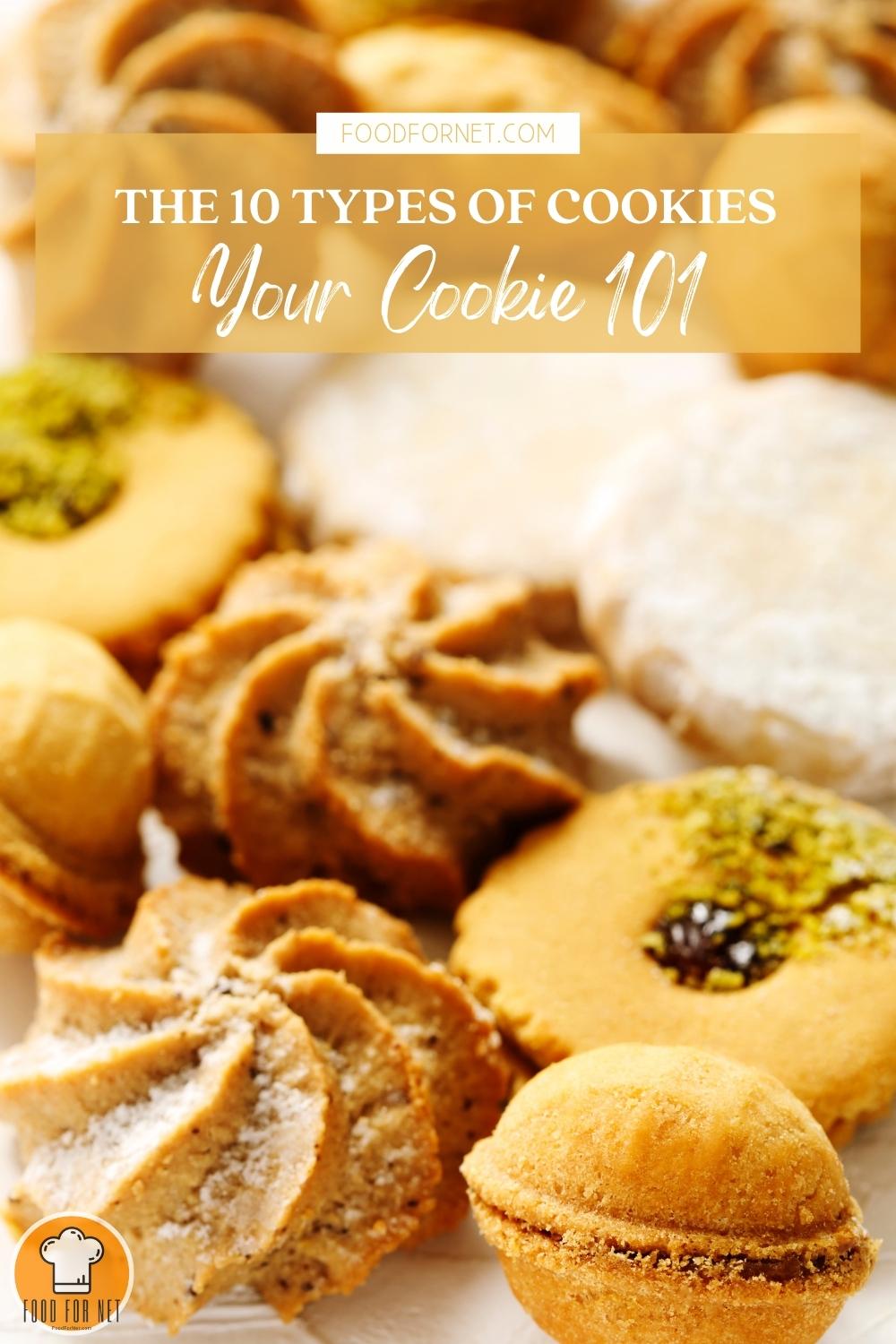 Whether you're the occasional eater or a clone of the Cookie Monster, cookies are for sure very much a part of your food vocab. And with so many types of cookies out there, you are bound to find a cookie that suits you to a tea!
Cookies are baked (except the no-bake ones, more on that later) dessert that usually contains flour, sugar, egg, and some type of fat. We say usually because there are flourless cookies in the same way that there are eggless cookies as well. You can also make them dairy-free, gluten-free, or basically vegan friendly. In fact, there are a lot of plant-based desserts that are mostly cookies.
The very name cookie came from the Dutch word koekje which means small or little cake. And not surprisingly so because according to culinary historians, the first cookies are made primarily just to test the oven temperature – so basically, a small amount of cake batter was used and baked for testing, and just like that, cookies are born!
Cookies are quite versatile and you can never run out of ideas to make with them. From chocolate chip cookies to oatmeal cookies. From peanut butter cookies to fruity or nutty cookies. Practically, whatever you have in your pantry you can find ways to work it into your cookies! There are even some very bizarre flavors out there.
Making cookies is quite simple. With the most basic ingredients, you can pretty much bake one in a matter of minutes. Of course, there's no shame in using baking cookbooks, even better actually because you're bound to find really good baking tips in there that may not be readily available online – kind of like baking secrets.
And if you want to simply explore the world of fun and yummy cookies, you can try a cookie of the month club to get a new box shipped to your door every month. Try out what the top cookie companies of the USA are baking, because it's usually something more unique than the classic chocolate chip etc basic styles.
A few baking tips though, especially for newbies.
Test before baking a whole batch. It will be such a waste of ingredients (and time as well) if you bake without testing and find out later that your oven is, well – not up for it. Remember that oven behaves differently, so the temperature and baking time indicated in a recipe may not exactly work for you. So again, test first. Use a thermometer if you have to.
Be wary of ingredient temperature. If it says a particular ingredient should be at room temperature, then room temperature it is. There is a science behind it so just trust the process and make sure your egg or butter is at room temperature. Your cookies didn't rise well? Uhm, yeah, probably the room temperature thing.
Take it easy on the flour. First off, don't pack your flour – it's easy to do this unintentionally, you know, whenever you briskly scoop the flour right out from its container? Yes, you're practically packing the flour in. So instead of digging with your cup, use a spoon to add the flour to your cup. And if you're dusting the surface area or rolling pin, when making rolled cookies, for instance, use as little flour as possible.
Avoid over-mixing. Overmixed cookie dough usually results in tough and flat cookies – this is basically because overmixing results in aeration which causes the cookies to rise and then fall. So, I know, it's easy to get carried away, especially when using a mixer. But a good rule of thumb is to mix only until the flour streaks disappear.
Follow the recipe. It's best that you stick with the recipe before you begin substituting this or that (unless of course the recipe also indicated substitution for certain ingredients) and do your own thing. Yes, we did say that cookies are quite versatile but you have to nail the basics first. Once you get the hang of it then feel free to make your own version of 'the best cookies' to wow your friends and families!
Use baking paper or a baking mat. It's just better if you use either of these two. Aside from the fact that it will prevent your cookies from sticking to the pan, you'll more likely to have evenly browned cookies as well. The extra layer between the cookies and the tray will not only help in preventing your cookies from burning but will also aid in making sure your cookies don't spread too much.
And lastly, leave your cookies to cool first. I know that freshly baked cookies are tempting for so many reasons, but seriously let it cool down first. At least for five minutes. Surely you can wait for five more minutes, right? Okay, probably not. But aside from ensuring you don't burn yourself (especially with the chewy type of cookies or those with filling), its texture and flavor are best experienced when it has cooled down a bit.
Worry not though if you don't have the luxury of time to make them from scratch because there are so many premade doughs available nowadays. And no, you don't have to sacrifice flavor or quality because you can simply add some spices (say nutmeg or cinnamon), extracts (vanilla or lemon), or garnishing (nuts, chocolate chips, sprinkles) to make them equally delicious.
And most cookie doughs freeze quite nicely, too. In fact, they can even last up to three months. So, if you want cookies that you made yourself (as opposed to store-bought ones), then simply make a big batch if you have some free time, form good-sized dough balls (one that would likely give you a tray of cookies), and simply freeze them. Now, you can simply bake cookies whenever you crave something sweet.
So, are you feeling inspired to make your own cookies now?
Before you head to your kitchen and start cranking your oven perhaps it's best that you get to know the different types of cookies first. You've probably used to hearing chocolate chip cookies, oatmeal raisin cookies, gingerbread, Madeleine cookies, macarons, shortbread cookies, and so on. I know! There are so many out there!
But there's a way to identify them according to types. Aside from the fact that it's cool that you sound like a pro (being able to tell the difference and all), knowing the different types of cookies will also help you in gauging if it's the kind of cookie you would like to make at the moment – say, perhaps make a pass for butter cookies if you don't have a cookie press.
Before you confused yourself any further, here are the different types of cookies with samples. This list will guide you in how to easily learn and know your cookie more!
Types of Cookies (With Pictures!)
Bar cookies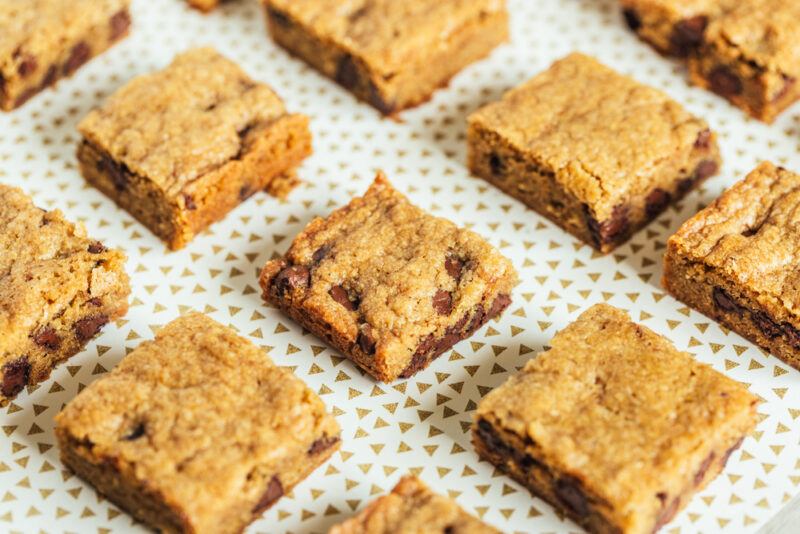 Bar cookies are probably the easiest way to make cookies. The cookie mixture is simply poured and pressed into a baking pan or baking dish – sometimes even in multiple layers or with filling. After baking, they're cut into bars – or could be into squares, rectangles, or whatever you fancy.
This type of cookie is like a cross between a cookie and a cake. They're softer than most cookies but can also be crisp and chewy depending on how it's baked and the ingredients used. Brownies, peanut butter bars, and lemon bars are examples of this cake-like cookie.
Drop cookies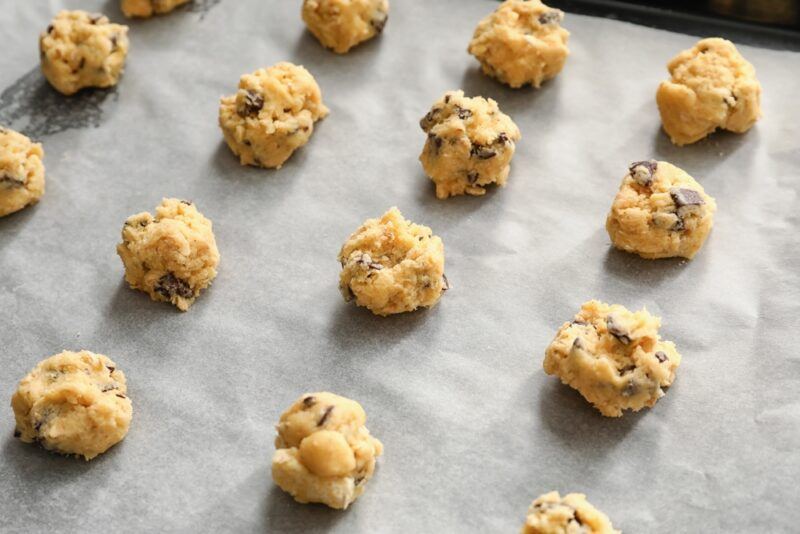 Another super easy type of cookie to make is drop cookies. The cookie dough is simply 'drop' onto baking pans with the use of spoons or cookie scoop. As it bakes it usually flatten out and spread. So make sure you allow room for each cookie, about two inches is a good rule of thumb.
Not all drop cookies will flatten out though, macaroons and some oatmeal drops recipe usually retain their original drop shape even after baking. This is in comparison to the more common chocolate chip cookies.
Filled cookies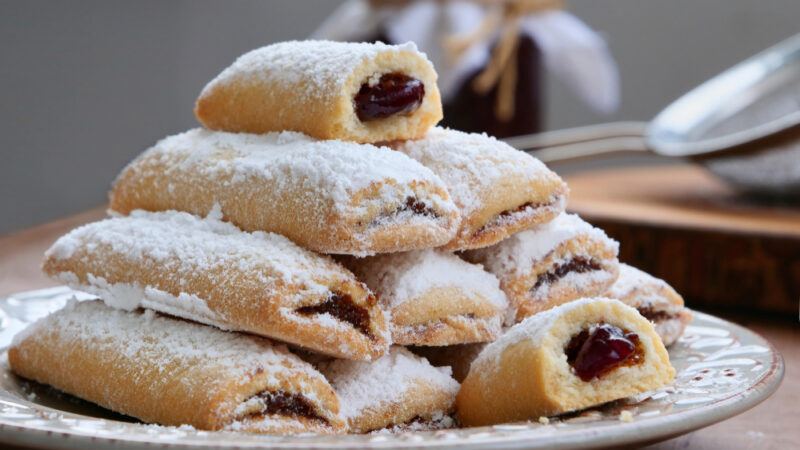 Filled cookies are quite a treat to have – you get to enjoy your cookie and a special filling at the same time! To make these cookies, the cookie dough is filled or stuffed with either some kind of fruit jam or other confectionery contents like chocolate or cream cheese.
The filling can be totally enclosed inside the cookie dough, inside a pocket, or quite like when making a dumpling. Or it can be like thumbprint cookies where an indention is made on the cookie dough where the filling can then be added.
Fried cookies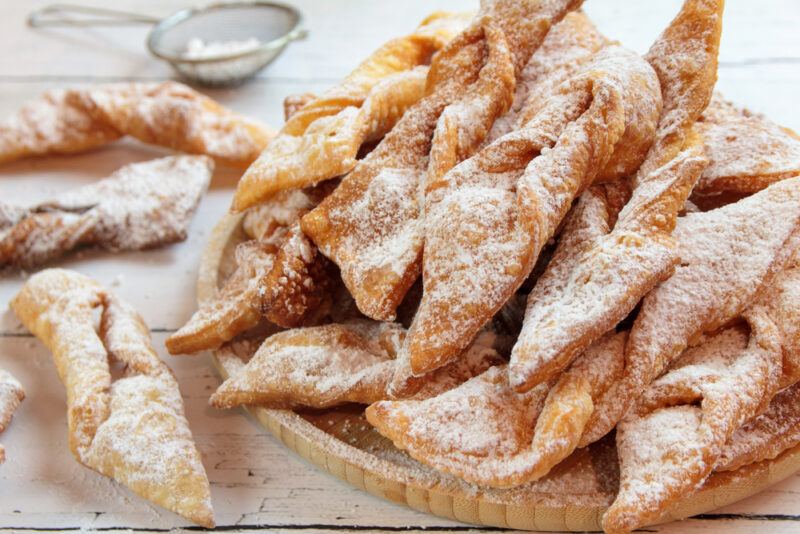 While most cookies are baked, fried cookies are – well, fried. Deep-fried in fact. These baddies surely have their own charm. These fried cookies are basically drop cookies or filled cookies that are cooked in oil rather than baked.
Fried cookies are best served and eaten immediately. They're usually dusted with powdered sugar after they're fried. And while you can basically fry most cookie dough, some samples of fried cookies that are originally cooked via frying are the Polish' chrusciki or angel wings and the Italian's zeppole.
Icebox cookies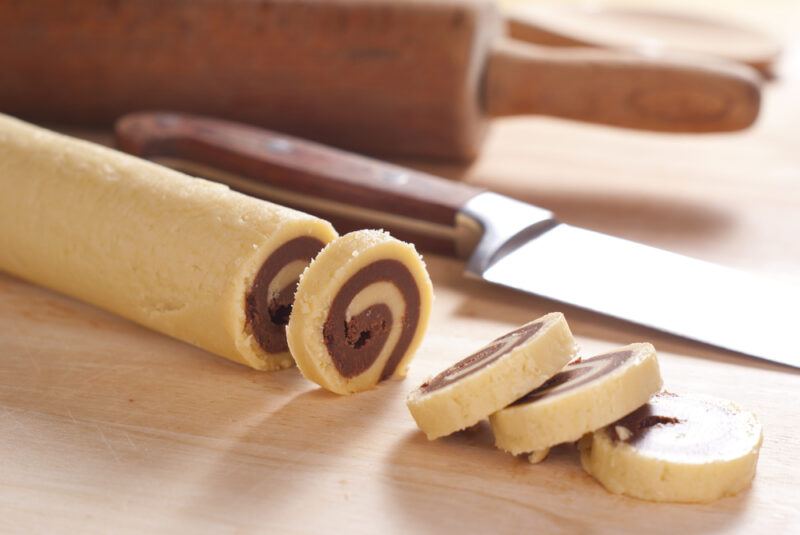 Icebox cookies, also called refrigerator cookies or sliced cookies, are refrigerated cookie doughs that are shaped into cylinders and then sliced thinly before baking. What is so good about these cookies is that they can be premade all ready and chilling for up to a week!
The cookie dough for icebox cookies can also be prepared in layers like pinwheel cookies – the dough is simply rolled out flat, sprinkled with fillings, and then rolled into a log before chilling. Another popular sample of these cookies is shortbread cookies.
Molded cookies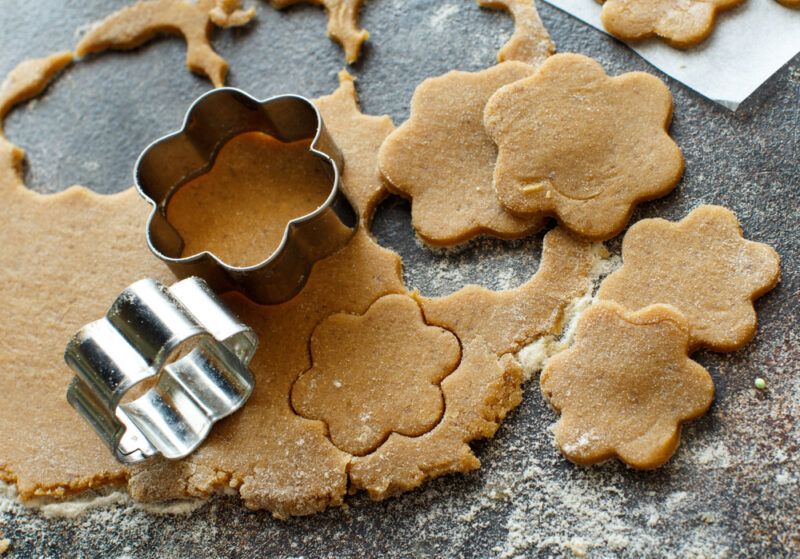 Molded cookies are made from the stiffer kind of cookie dough that can be handled pretty much like clay. And while it's usually rolled into simpler shapes like balls or logs other shapes can be made as well. Say wreaths, canes, or crescents.
These molded cookies can also be made by using mold pans, cookie stamps, specialty rolling pins (the ones with engraved designs), or cookie molds. These cookies are perfect for parties because you can easily customize them into any themed cookies that will complement your event. You can even find cookie decorating kits to make these look stunning.
No-bake cookies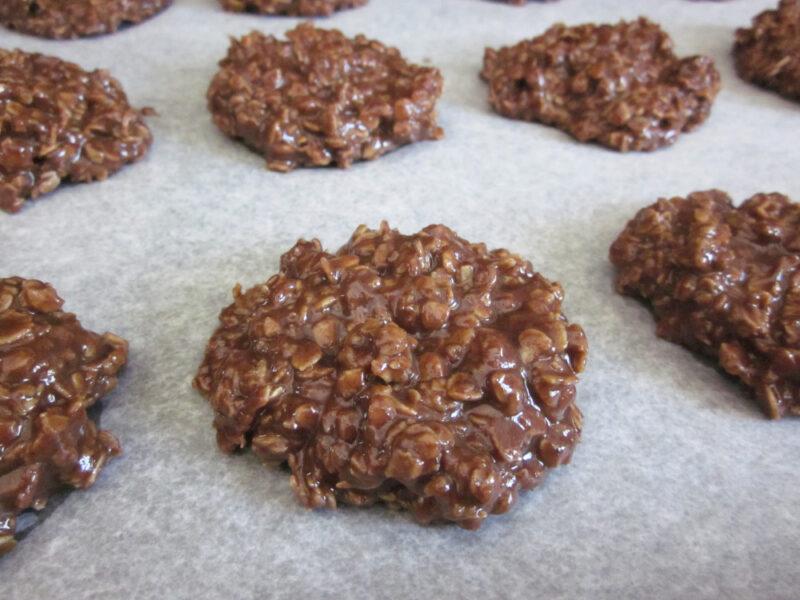 No-bake cookies as the name suggest required no baking. They're made from some kind of filler like cereals or nuts and a sticky binder. They can be pressed into a pan and then cut into bars, or simply drop onto a baking sheet or any flat dish. You just have to let it set and hardened either at room temperature or by popping them in the fridge.
No-bake cookies are technically not cookies. It's more like a cross between a candy and a cookie. Rice Krispie treats are a classic sample of no-bake cookies.
Pressed cookies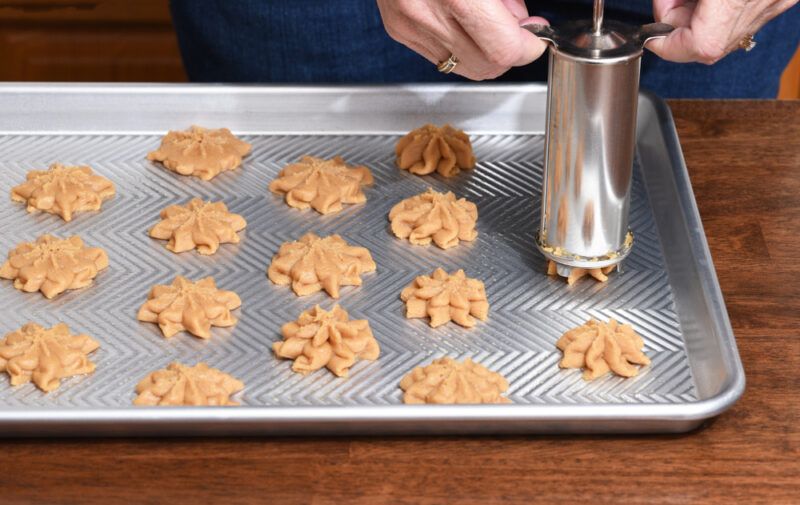 Pressed cookies are made from a cookie dough that is soft enough that it can be placed in a cookie press or cookie gun, but stiff enough that it would hold its shape. The cookie dough is gently pressed from the cookie gun (quite like when decorating a cake) to form pretty shapes on a lined baking sheet.
If you don't have a cookie press, you can improvise and use a pastry bag with a fancy-shaped design disk at the end of the tube (opt for big-sized frosting tips to make pressing the dough out much easier). Spritz cookies, butter cookies, and macarons are a few of the well-known pressed cookies.
Rolled cookies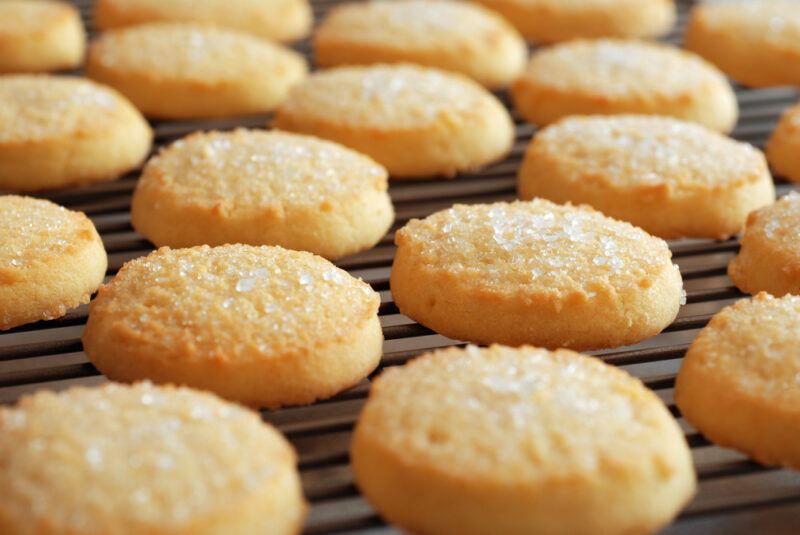 Rolled cookies, also called cutout cookies, are made from a stiffer cookie dough that is chilled before it's rolled out and cut into shapes. When rolling out the dough, it's best to work with only a portion of the dough at a time and to use as little flour as possible to prevent it from becoming tough. Knife, cookie cutters, or pastry wheel can be used to cut it into shapes.
Gingerbread and sugar cookies are samples of rolled cookies. They can be decorated and then baked or baked first and then frosted after they have cooled down. Decorating these cookies can be a great and fun activity to do with the little ones at home. Perhaps these video game-themed cookies will spark inspiration.
Sandwich cookies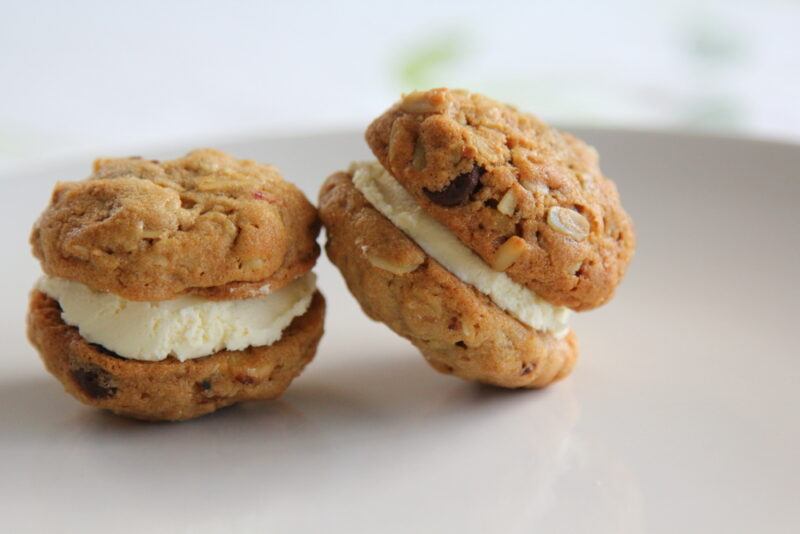 Sandwich cookies as the same suggests are pretty much a sandwich made from two cookies and a filling. Oftentimes rolled or pressed cookies are assembled into a sandwich using ganache, some types of jam, peanut butter creme, marshmallow creme, or some type of frosting in the middle.
Whoopie pie is a classic sandwich cookie made from two drop chocolate cookies with vanilla cream filling. Macarons are also usually turned into sandwich cookies with ganache, flavored buttercream, or jam for filling.