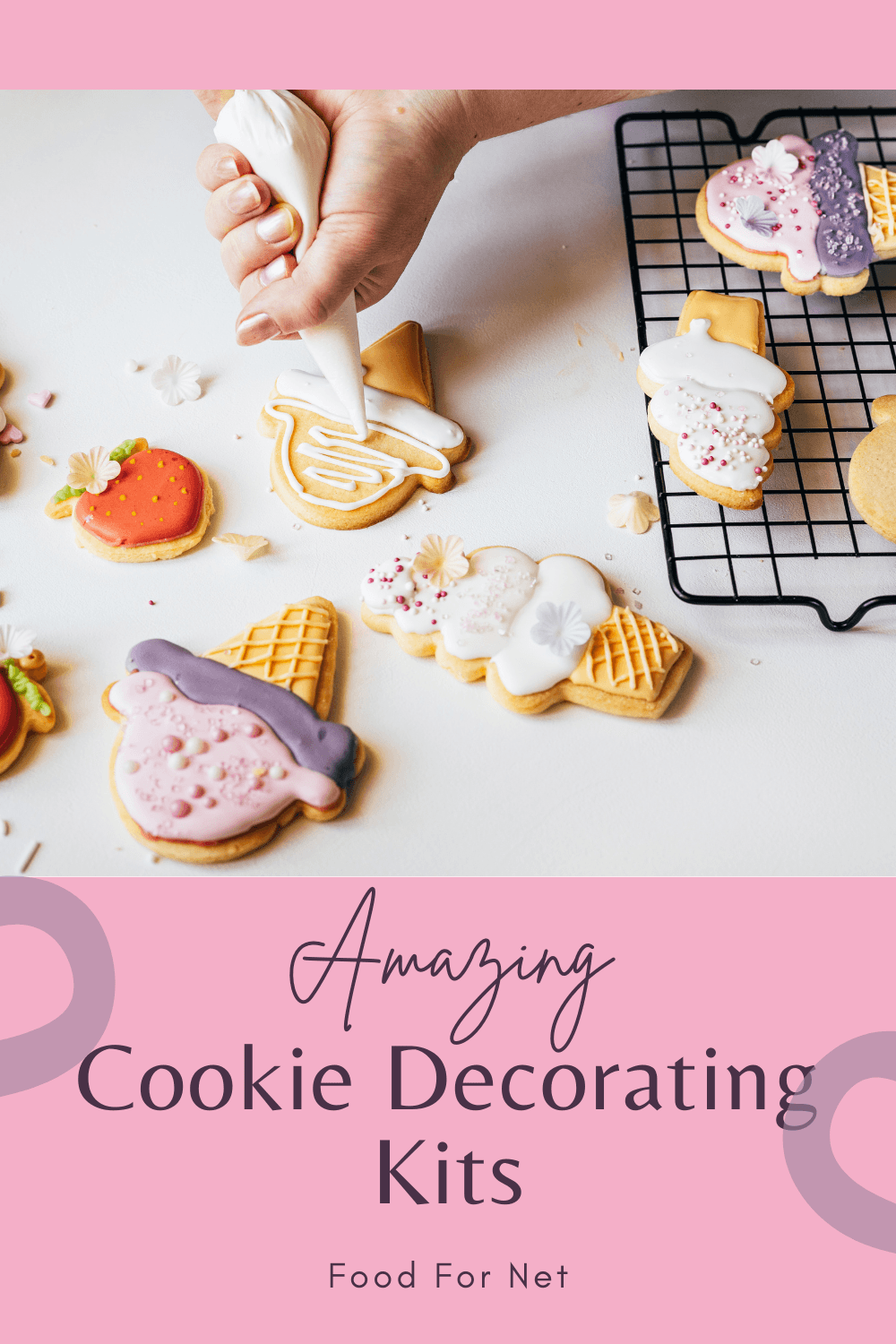 It's easy to take cookies for granted, as they're incredibly common and are sold almost anywhere you can buy sweet treats. There are even more than 40 active cookie of the month clubs, which provides just how popular the dessert is. There's also the option to personalize your cookies with cookie decorating kits.
Some people do this by focusing on unusual and exciting cookie cutters or even complex cookie cutter sets. Many people haven't heard of or tried cookie decorating kits.
Cookie decorating kits are seriously amazing and come in many different styles. They often provide the cookies for you, along with icing, sprinkles, and sometimes even edible glitter. You may get instructions as well or at least images to inspire you. Such cookie kits give you the fun of decorating, without needing to do any baking. The style works particularly if you're entertaining kids or if you want to make impressive gifts.
If you want to make your own cookies, don't worry, some of the kits on this list allow for that too. Those kits often provide links to recipes for cookie dough or send you a batch of cookie mix that you can use.
Unique Cookie Decorating Kits To Experiment With
Galaxy Star Cookies


Aren't these Galaxy Star Cookies beautiful? I love how they use a standard cookie shape and then do something completely different with it. Plus, once you go the hang of this decoration style, you could easily use it for any cookie shape.
Interestingly, this kit doesn't provide you with the cookies themselves. You're sent a packet of orange cardamom cookie mix and a star cookie cutter instead. This means you could easily use your own cookie cutters instead of their one.
Dino Dig! Cookie Kit


The Dino Dig! Cookie Kit takes an interesting approach. Rather than providing bags of icing for you to use on the cookies, the kit uses a palette of colors instead. You're then able to literally paint the cookies using the small paintbrushes provided and a little water.
This is a fun style, as it's easy to get creative and nuanced with the colors. Decorating with icing is much trickier.
This could be a particularly good kit for entertaining kids. The painting style means they can be simple or elaborate with their designs – and who doesn't love dinosaurs?
Taco Pizza Latte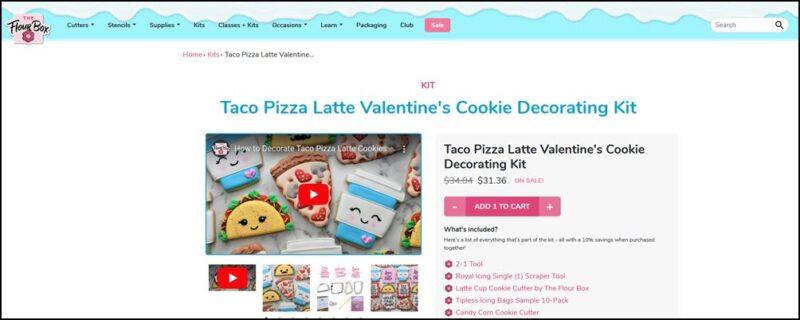 This Taco Pizza Latte Cookie Kit was actually designed for Valentine's day – giving you a sweet and unusual gift for your sweetheart. The little love hearts on the foods are a giveaway of that style – and you also get stencils to make cookies with phrases like "I love you more than tacos" and "Pizza my heart".
But, if you skipped the phrase-based cookies, you could use the taco, pizza, and latte cookies for any occasion, especially as they're all fun and cute.
For this kit, you get the cookie cutters, stencils, icing bags, and a couple of useful tools. Oddly, you don't get the icing ingredients at all. However, there are instructions on the site that tell you the colors you need and how to use them effectively.
While these cookies look amazing, your first attempts probably won't turn out nearly as good (this is true for many of the cookie kits on this list). It takes practice to create decorated cookies that look this good. So, if you're going to make them for Valentine's, you might need a few experimental runs first.
Construction Time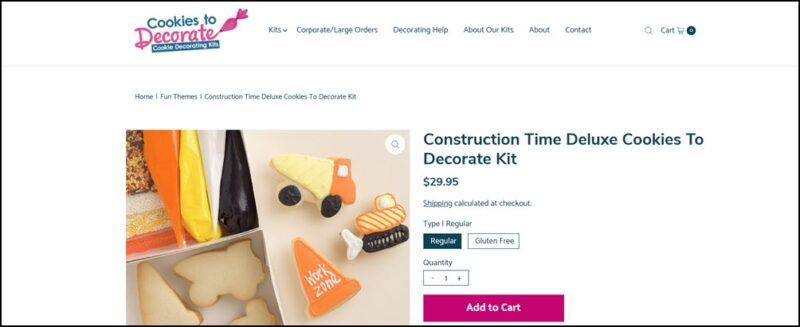 This Construction Time Kit is much simpler, making it ideal for beginners. It provides 15 individual cookies, plus four bags of cookie frosting, and various edible decorations.
Four frosting colors is a good number. This is enough to create some interesting designs, without being too overwhelming.
Summer Vibes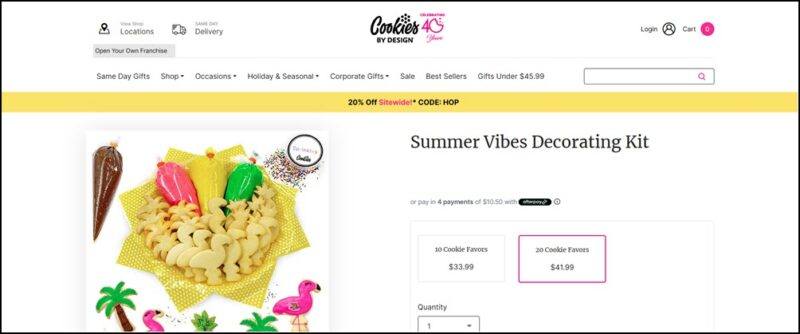 Why not celebrate the joys of warm weather with a Summer Vibes Cookie Kit? Like the previous example, this kit gives you four bags of icing, plus sprinkles and pre-made cookies.
The cookies themselves come in three shapes – flamingo, palm tree, and pineapple. I particularly love the bright colors of the icing. This icing really makes the cookies stand out. There's a YouTube tutorial for how to decorate the cookies too, although the process is pretty straightforward.
Flower Designer Cookie Kit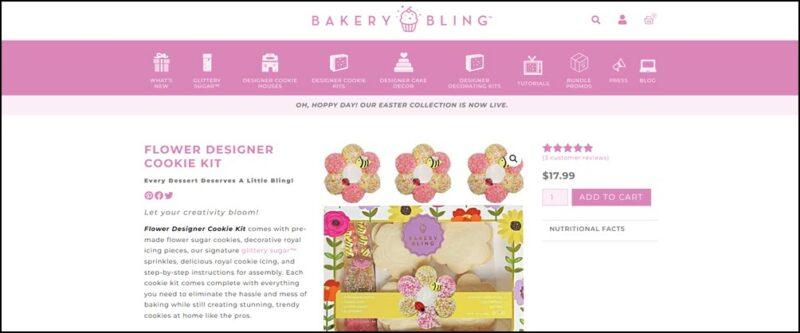 This Flower Designer Kit features a simple flower cookie shape and includes some seriously impressive additions, like glittery sugar sprinkles, royal icing, and even edible decorations like bees and ladybugs.
Instructions are included to help you make these little flowers look exactly like the images. However, this isn't essential. It would be easy to play around with the design and create completely different flowers.
Construction Cookies


I love how the photographed cookies from this Construction Cookie Kit actually look like something you might make yourself. This is a fantastic contrast to all the perfect Instagram-worthy images from other companies.
There are also more shapes in this set than normal, including dump trucks, cement mixers, and tractors. This is much better than sets that just contain two or three different shapes.
You also get to choose the type of icing for this kit. The first option is royal icing, which dries smooth and hard. This is the type you see on most professionally decorated sugar cookies (including those you order online).
Alternatively, there's buttercream icing, which is softer and remains creamy even after it has set. This icing is delicious and is also fun for kids to use.
Country Music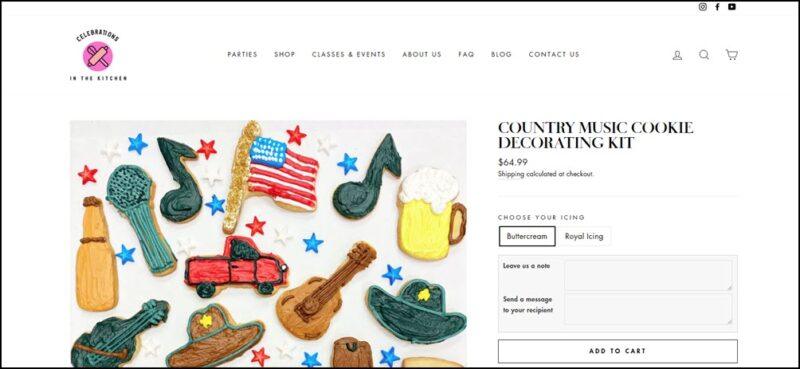 If construction vehicles don't appeal to you, what about a Country Music Kit instead? It follows the same style as the previous example, so you get plenty of shapes and can choose between two types of icing.
The description mentions that the kit might not be exactly as pictured. This could mean that some of the colors or cookie shapes change depending on when you order. But, it should be a fun and delicious option regardless.
It's Pizza Time!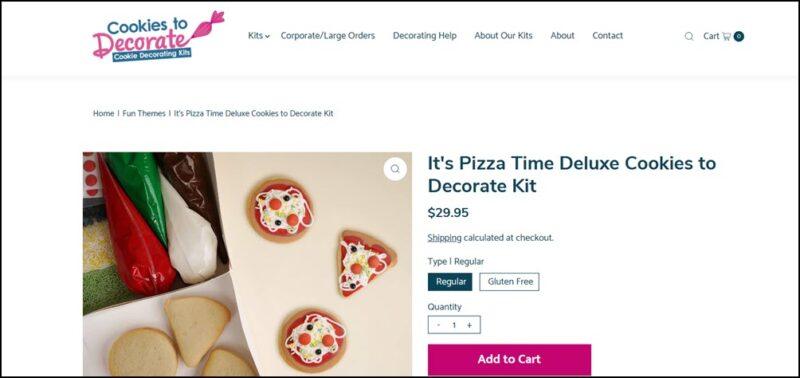 Have you ever wanted to make cookies that look like pizza? Now you can! This kit includes multiple cookie shapes and all the extras needed to create baby cookie pizzas.
One of the best things is that there aren't any fine lines to worry about with these cookies. So, you can be a bit messy when you make them and the pizzas will still look amazing.
The kit itself comes with 15 individual cookies, plus four bags of icing, and various sprinkles, jimmies, and goggle eyes for the topping. There's even a gluten free version. The gluten free cookies cost $5 more than the regular cookies, but are worth it for anyone who can't tolerate gluten.
Superhero Themed Cookie Decorating Kit


This Superhero Themed Kit is perfect for comic book fans and for anyone who loves the modern superhero movies. Like the dinosaur kit we talked about earlier, this one allows kids to literally paint their cookies, rather than relying on bags of icing.
Firetruck Designer Decorating Cookie Kit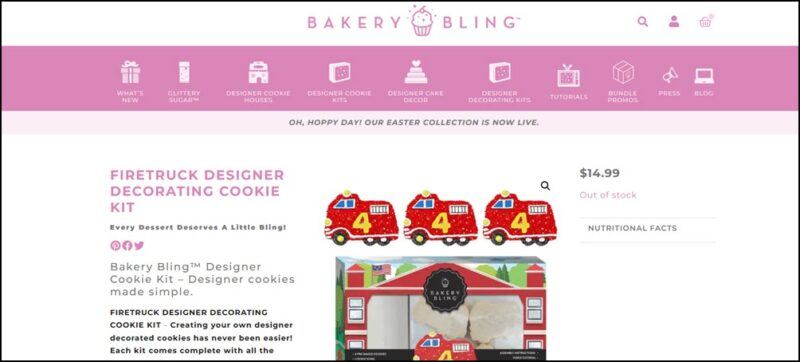 This Firetruck Designer Decorating Kit comes from Bakery Bling – a site that's known for creating some incredible kits. The kit comes with eight cookies, all in the same firetruck design.
There is also icing, glittery sugar, and various accessories that help create an exciting-looking firetruck. Plus, because the cookies are already made, this is a kit that kids could easily use on their own.
Maggie & Molly's Unicorn Kit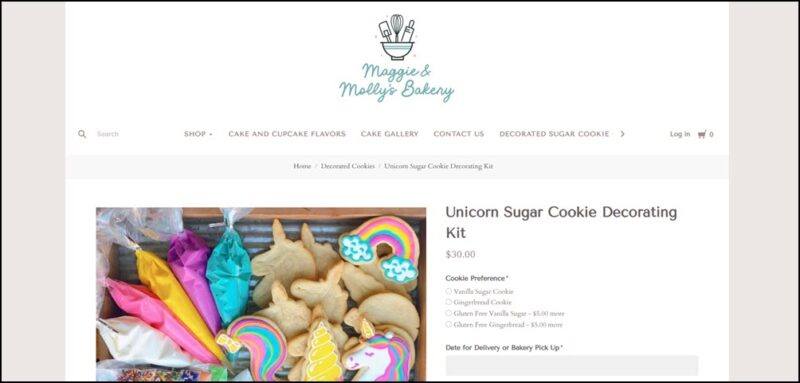 We've featured a few masculine kits, so what about a girly one instead? This kit comes from Maggie & Molly's Bakery, which offers a surprising variety of delicious treats.
This particular option is one of their sugar cookie decorating kits. It offers four styles of cookies – a unicorn, a unicorn horn, a unicorn mane, and a rainbow. There are also five icing colors and plenty of sprinkles.
The kit also comes with some options. You can choose between vanilla sugar cookies or gingerbread cookies as the base. Both types come in either regular or gluten free styles.
Tie Dye T-Shirt Kit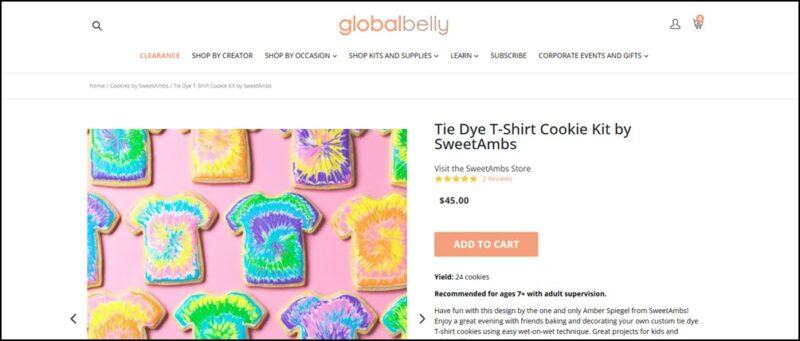 Isn't this Tie Dye T-Shirt Kit sweet? I love how it follows a different style than normal and allows you to choose the colors you'll focus on.
This kit doesn't come with cookies, but you do receive a bag of cookie mix and a t-shirt cookie cutter. This means you'll need to bake the cookies yourself. Still, the cookie cutter allows you to easily make more of these cookies later on.
The kit is also useful as a way of learning the tie dye cookie style. Once you have this under your belt, you could easily use it for other types of cookies.
Christmas Cookie Decorating Kits
Beautiful Christmastime Cookies


Now we're moving onto Christmas. While there are many Christmas kits out there, this Christmastime Cookie Decorating Kit from The Flour Box really stands out. The finished cookies are seriously beautiful, especially the Christmas tree, which is covered in ornaments.
In fact, the kit comes with a Sprinkle Tackle Box, which features a selection of fantastic seasonal decorations – everything you could possibly want. Instructions for this kit are incredibly detailed too, which makes the cookies easy to create.
That said, you will need to pick up some extras if you haven't decorated cookies before. While the kit comes with many important tools, it doesn't include food gels, icing bags, or the specific icing bag tips that you'll need.
Bakery Bling Christmas Trees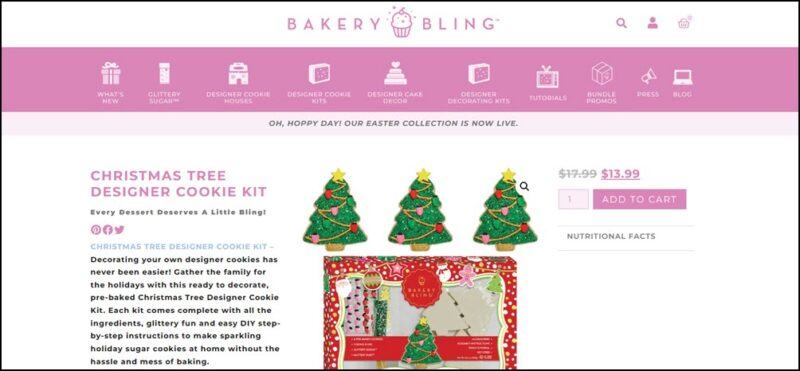 Here's another Christmas option – a Christmas Tree Designer Cookie Kit. This time there's just a single cookie design, but the kit gives you everything you need, including the cookies themselves.
All-in-one kits like this are fantastic when you want to entertain kids. They also work well if you don't have many decorating supplies at home. The sparkling style of these trees also makes them look more interesting than most other Christmas cookies.
A Box Of Winter Delights


This Winter Cookie Decorating Kit doesn't focus on Christmas at all (which is helpful for family members who don't celebrate the holiday). Instead, it features mugs, mittens, snowmen, snowflakes, and sweaters.
You get most of the tools needed to make the cookies, although you'll still need to work on the icing yourself. You need to bake the cookies too, as the kit provides you with cookie cutters, rather than ready-to-go cookies.
Hanukkah Cookie Kit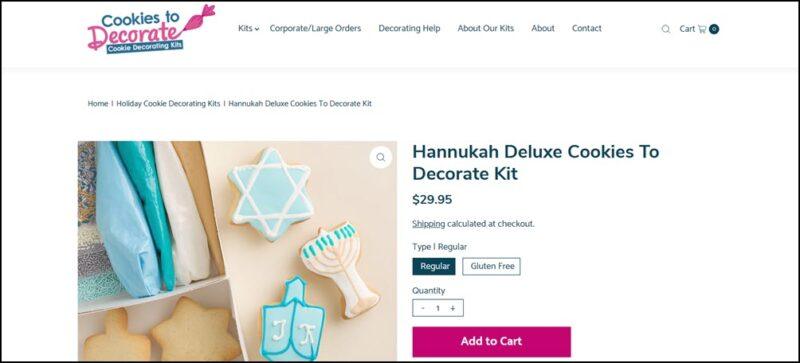 For people who celebrate Hanukkah instead, why not go with this Hanukkah Deluxe Cookie Kit? It comes in a regular and gluten free form, each with 15 cookies, four bags of frosting, and four containers of sprinkles.
None of the cookies here are particularly elaborate or unusual, but they don't need to be either. The kit would still be a fun project and the cookies could even be given as gifts.
Paint Your Own Holiday Cookies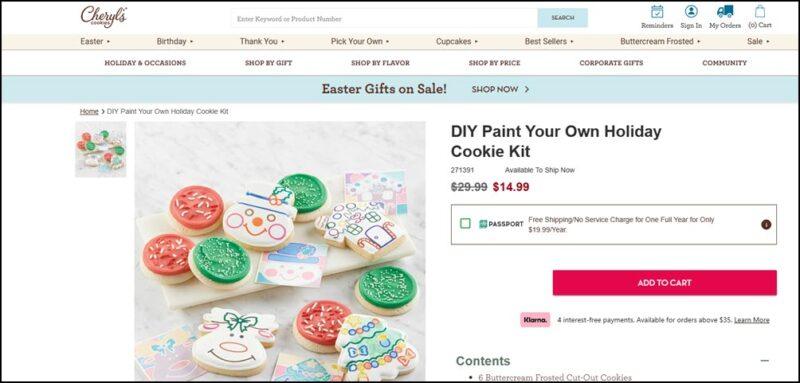 This collection goes by the name of DIY Paint Your Own Holiday Cookie Kit, which offers some insight into what you can expect. It is a little unusual, though, as the kit contains six already frosted buttercream cookies and only four paintable shortbread cookies.
The painting approach seems to be similar to some other entries on this list, where you get a small palette and paintbrush, then you can literally paint the cookies.
Halloween Cookie Decorating Kits
Monster Designer Cookie Kit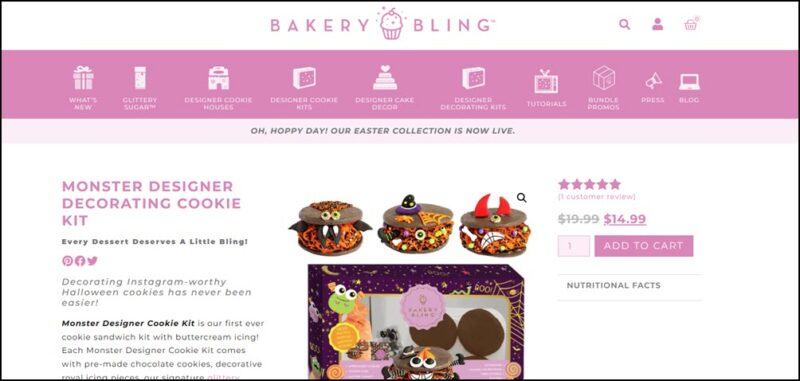 This Monster Designer Cookie Kit is one of the most impressive kits out there, largely because it doesn't focus on sugar cookies. Instead, the kit allows you to design your own monster-themed sandwich cookies.
There are plenty of examples of different ways to make these cookies stand out, but the sky really is the limit. You might end up making something completely different than what they have pictured here.
Spider Cookies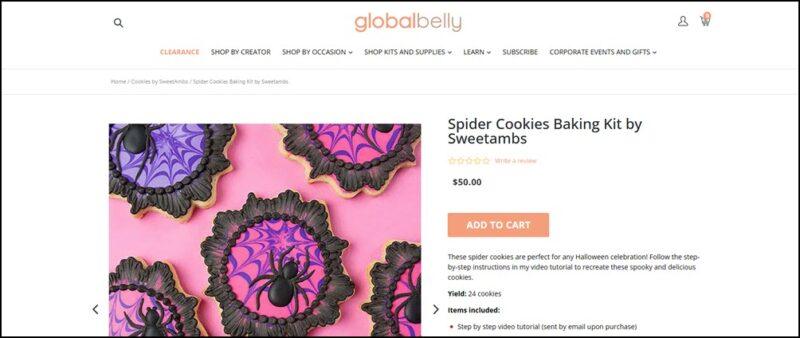 While these Spider Cookies go back to the traditional sugar cookie approach, they do so with a fantastic visual style. Seriously, the balance of purple, black, and blue looks stunning. This is much better than the more common orange and black.
For this kit, you get cookie mix, icing mix, food coloring, decorating bags, tips, paint brushes, and the like. There is even a step-by-step video and PDF tutorial.
The style means that everything you need is at hand. You'll just need to allow enough time to bake your own cookies and allow them to cool before starting to decorate them.
Monster Mash From The Flour Box


It's easy to see why this is called a Monster Mash Cookie Decorating Kit. After all, it includes versions of some of the most famous monsters, like Count Dracula, Frankenstein's monster, a mummy, and the wife of Frankenstein's monster.
Some of these are actually based on regular cookie cutters that are used in exciting ways. For example, the mummy is based on an upside down snowman with a scarf, while the witch is an upside down ice cream cone.
The kit itself provides the cookie cutters you need, along with a few tools, some icing bags, and some stencils. You'll need to pick up the icing yourself and also make the cookies. Thankfully, there are detailed instructions, including a day-by-day guide for what to do when.
Dia De Los Muertos Designer Kit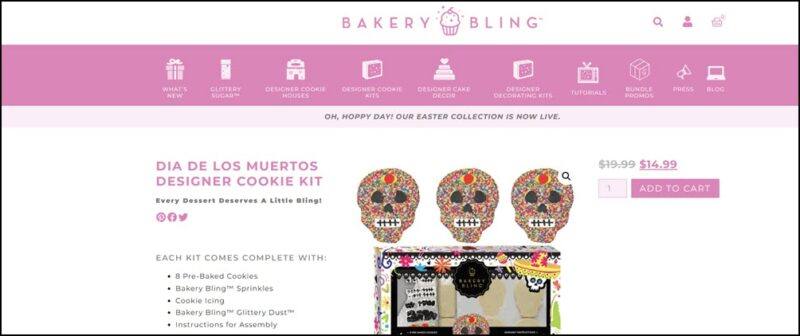 Day of the dead (or Día de los Muertos) isn't the same holiday as Halloween, but the two occur near each other and some of the imagery is similar. This Día de los Muertos Kit could work well for either holiday.
It's also a simple and fun option, as everything is included and the cookies are pre-baked. You could also combine the toppings differently if you don't like the version that Bakery Bling presents.
Halloween Haunted House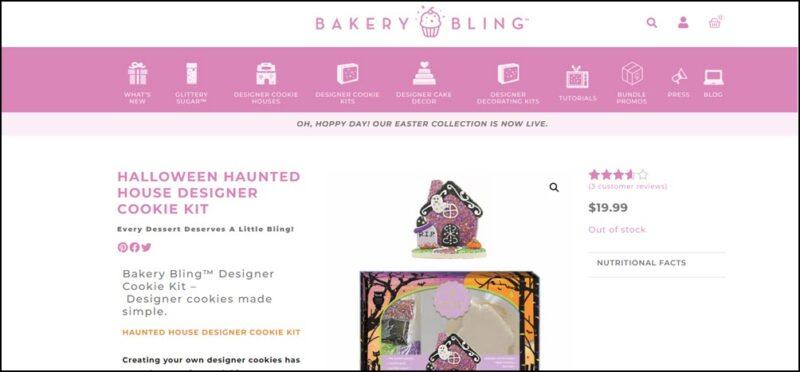 This Halloween Haunted House comes from Bakery Bling as well, which might be obvious from just how sparkly it is. But, this time you're not making a collection of cookies. There are just two cookies in this kit, which allow you to make the pictured house.
While this style won't be for everyone, it's a great alternative to making a dozen or more similar-looking cookies. Once made, this haunted house could even make a fantastic gift.
Valentine's Day Cookie Decorating Kits
We Go Together Like…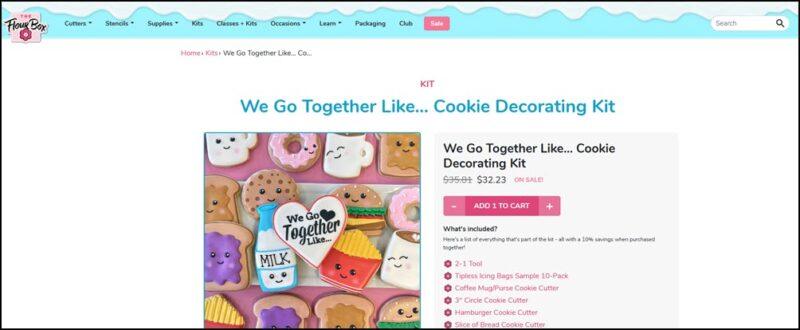 This We Go Together Like… Decorating Kit mightn't be what you expect. Most of the shapes aren't romantic at all and include options like donuts, coffee, fries, a burger, toast, and milk.
It's the "We Go Together Like…" heart that ties the whole idea together. In other words, we go together like cookies and milk, like a burger and fries, like peanut butter and jelly, like coffee and a donut. It's a cute idea, especially if you're getting a little bored of regular romantic gestures.
This kit gives you the cookie cutters for this set, along with a few tools and instructions. This means you could make just one or two of the cookie pairs, rather than all of them. You could even reuse the cutters for non-Valentine's purposes (for example, the fries could work well alongside a McDonald's birthday cake)
I Love You Cookie Bouquet Designer Kit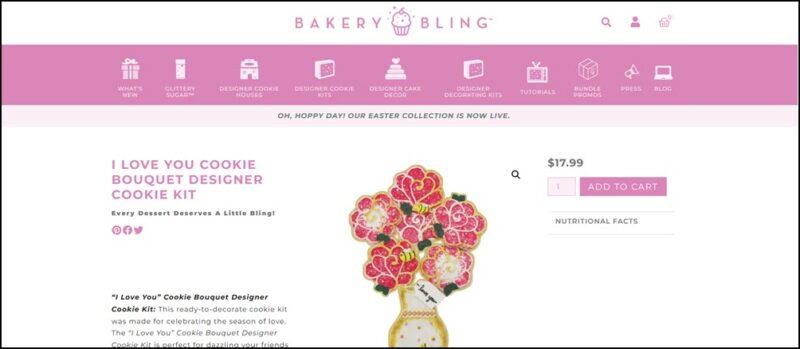 Bouquets of flower-shaped sugar cookies are a fairly Valentine's choice. Why order such cookies when you can easily make your own? This I Love You Cookie Bouquet Designer Kit allows you to do so easily.
The cookie kit includes six cookie flowers, along with a cookie vase, icing, edible glitter, and various accessories. You could follow the instructions and create a replica of the pictured bouquet, or you might experiment and create your own version.
This doesn't just need to be a Valentine's day kit either. You could also use it as a random 'I love you' gift or perhaps for Mother's Day.
Candy Heart Designer Kit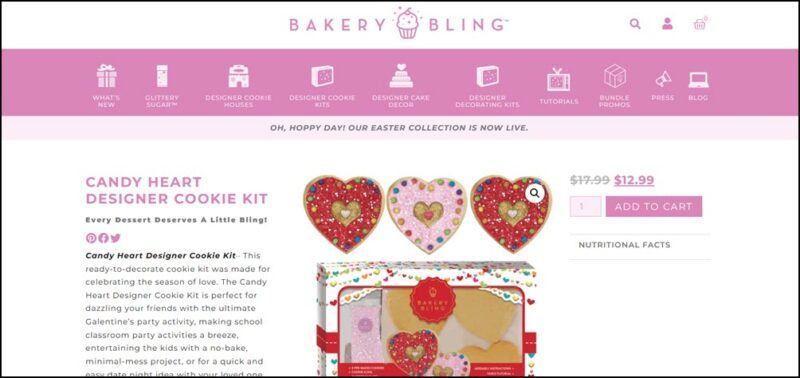 This Candy Heart Kit comes from Bakery Bling – a company we've featured multiple times. The cookies use different colors to create a type of windowed design that looks fantastic, especially once you add the various sprinkles and edible gems.
Like many kits, you could easily make your own version of these cookies. For example, you might skip the windowed aspect entirely and make an all red or all pink heart instead.
Stuck On You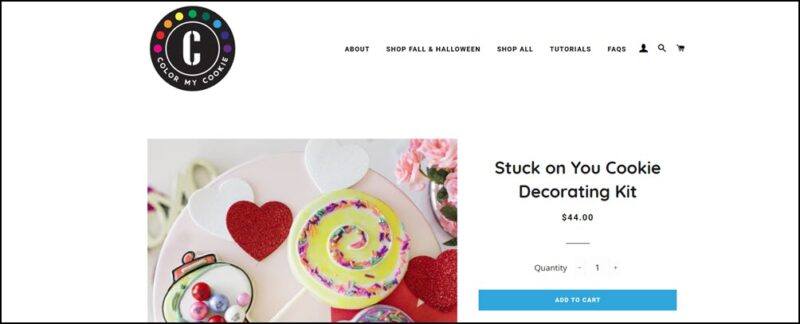 This Stuck On You Decorating Kit is unusual in a few ways. First, you decorate the cookies by painting them, which is what gives them a slightly washed out style.
Then there are the stuck-on extras, like the sprinkles on the lollipop and the gumballs on the gumball machine. These make the cookies look much more exciting than normal.
Cookie Decorating Kits For Other Occasions
Patriotic Designer Cookie Kit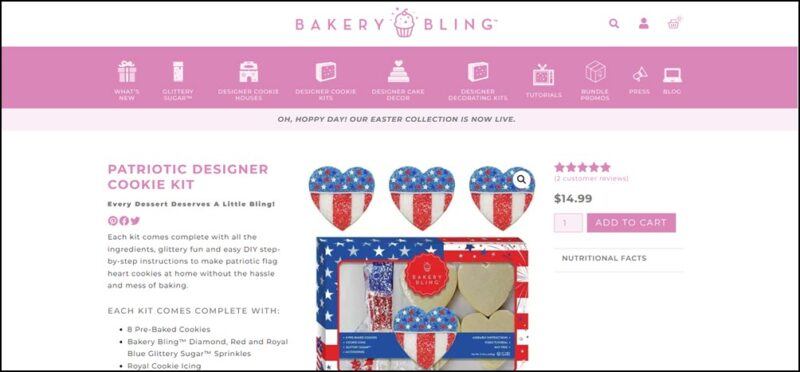 If you're looking for something very American, this Patriotic Designer Cookie Kit could be perfect. Like most of the kits from Bakery Bling, this relies heavily on glitter, to give you treats that truly stand out.
I love the way the American flag has been represented on the heart-shaped cookies too. The imagery is instantly familiar and you can easily tweak the design.
As one reviewer mentioned, it doesn't matter whether you get these cookies perfect anyway. Even if your version is very different than the one on the box, you're going to have fun and the cookies will still taste good.
Birthday Celebrations


This impressive Birthday Cookie Kit includes 12 freshly baked sugar cookies, all themed around birthdays. You can also specify how old the person is turning, so that you get the right number as part of the kit.
You get plenty of decorations with the cookies, along with either buttercream icing or royal icing. Buttercream tends to be creamy and smooth. It's fun to work with and stays fairly soft even after it has set.
In contrast, royal icing sets hard with a matte finish. This is the style often seen on professional sugar cookies and is perfect if the decorated cookies are going to be gifted.
Easter Blessings


This Easter Blessings Kit is compelling because it focuses on the Christian side of Easter, rather than eggs, flowers, and bunnies. You don't get cookies with this kit though. Instead, you are sent the cutters and stencils needed to make the cookies, along with a few tools.
You'll need to supply the icing yourself and also make the cookies. This style isn't all bad though, as it means you'll be able to make as many of these cookies as you want.
Back To School Cookie Kit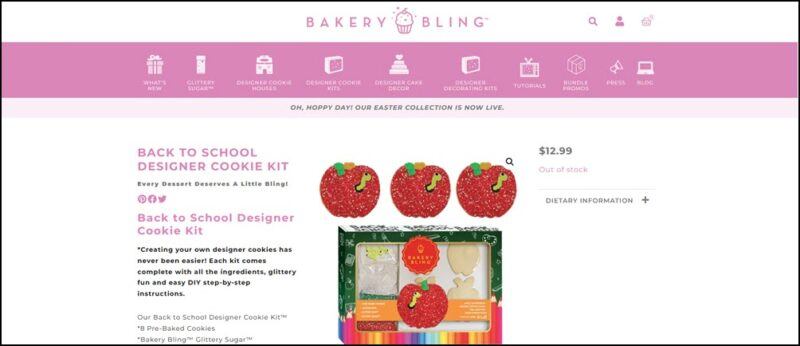 This Back to School Cookie Kit is a great way to celebrate the beginning of the year (or simply make the shift back to school much more tolerable). The kit includes everything you need, including eight cookies, glittery sugar, icing, glittery dust, accessories, and instructions.
While eight might seem like a small number of cookies, this is also an inexpensive kit, coming in at $12.99. This is a decent price for an afternoon's entertainment, especially if you're running out of ideas.
Easter Train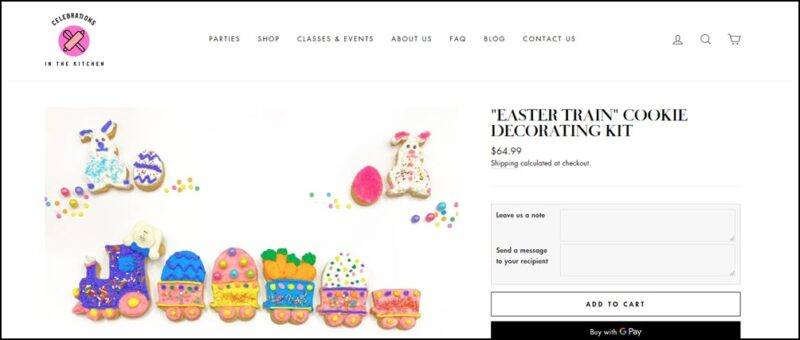 If Easter eggs seem a little boring, what about making an entire Easter train instead? This kit allows you to do so, by featuring 14 individual cookies, plus six bags of icing and six types of topping.
Including six icing colors is particularly exciting, as most other kits stick to just four. With six colors, your kids can truly let their imaginations go wild.
Maggie & Molly's Bakery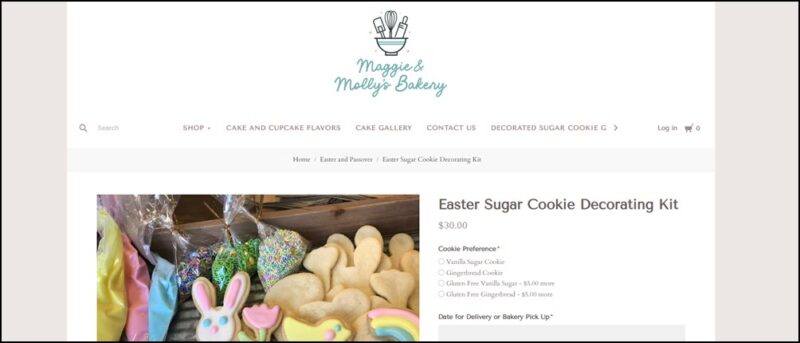 Maggie & Molly's Bakery offers some fantastic products, including a cookie of the month club and a variety of cookie decorating kits.
The pictured example is their Easter kit. It features many familiar images, including eggs, bunnies, chicks, flowers, and rainbows. The decorating style is simpler than many other kits – which isn't a bad thing at all.
There are also some options. You can choose between vanilla sugar cookies and gingerbread cookies, either as regular cookies or as gluten free ones.
Each kit offers 18 undecorated cookies, five bags of icing, plus bags of sprinkles to make the cookies even more exciting.
Home Sweet Home

Finally, we have this Home Sweet Home Cookie Decorating Kit. The finished cookies could be fantastic as a gift for new homeowners. Alternatively, you could give the kit to kids to help them adjust to their new environment.
Whatever the situation, the kit is fantastic and offers a variety of cookie styles. You can also choose between buttercream or royal icing. Both icing types work well, but royal icing sets hard and has a professional-looking finish, while buttercream is softer.