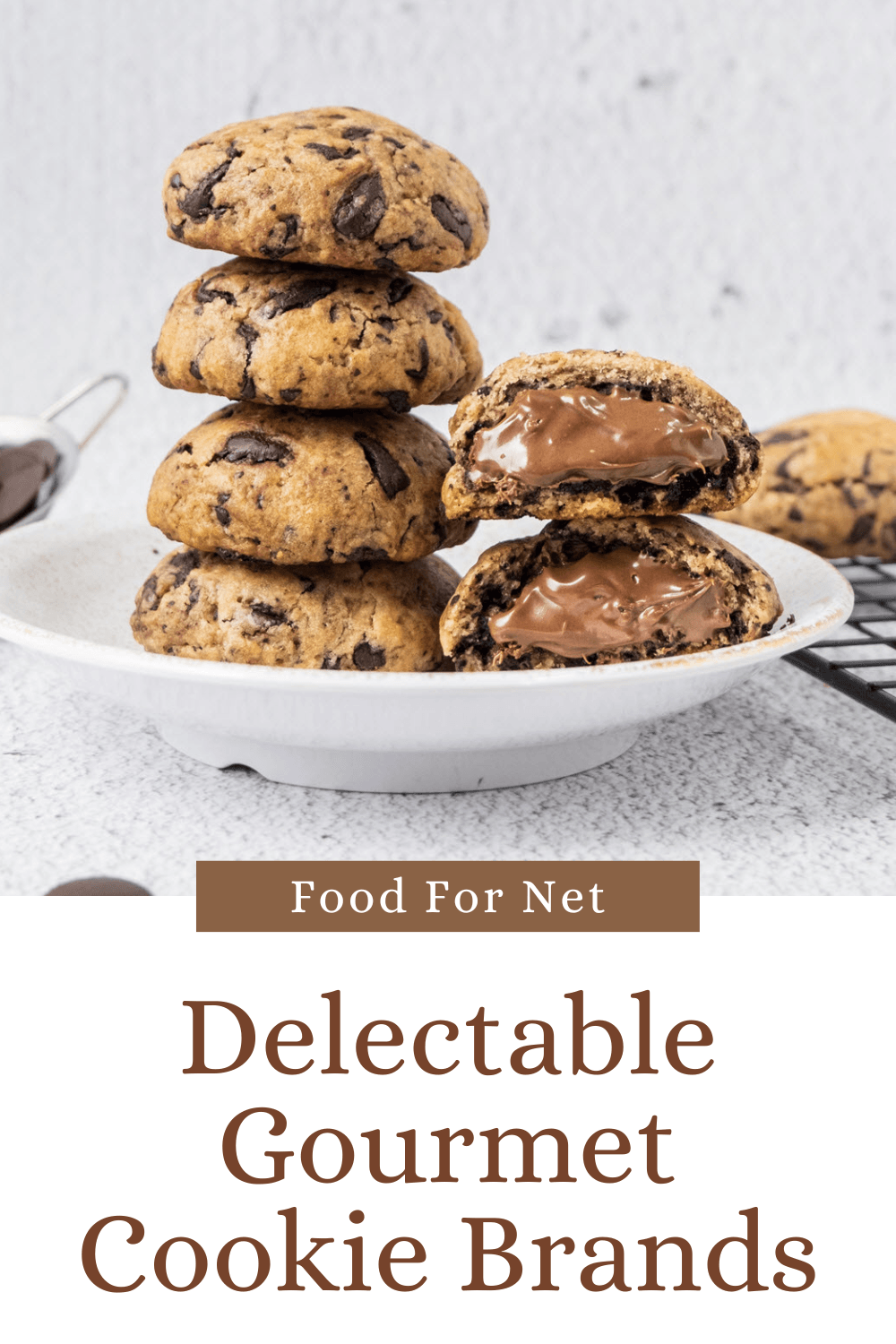 Cookies have a lot going for them. They're tasty, easy to eat, and come in many different styles. You can make them at home too, but why do that when there are so many delicious gourmet cookie brands out there?
We're not just talking about your run of the mill chocolate chip cookie. Not at all. Plenty of companies have kicked their cookie game up to an entirely new level, featuring cookies with plenty of wild and wonderful flavors, plus amazing textures.
These include the impressive stuffed cookies that sometimes come in at close to a pound, with more fillings than you ever thought could go in a cookie. What's more, many cookie companies have the online thing down pat, so you have their cookies shipped straight to you.
There are even cookie of the month clubs. Some send you a single type of cookie each month, which may include an unusual flavor or style that the company doesn't normally offer. Others send you a selection of flavors, helping ensure you have a fantastic experience every single month.
There are even a few, like Amazing Clubs, that mix and match brands. These are perfect for times where you don't know which company you want to focus on first. Or, if you want to broaden things out further, why not try a dessert of the month club? These give you a wider variety of treats and still include some cookies.
Exciting Gourmet Cookie Brands
Ma-Ka-Rohn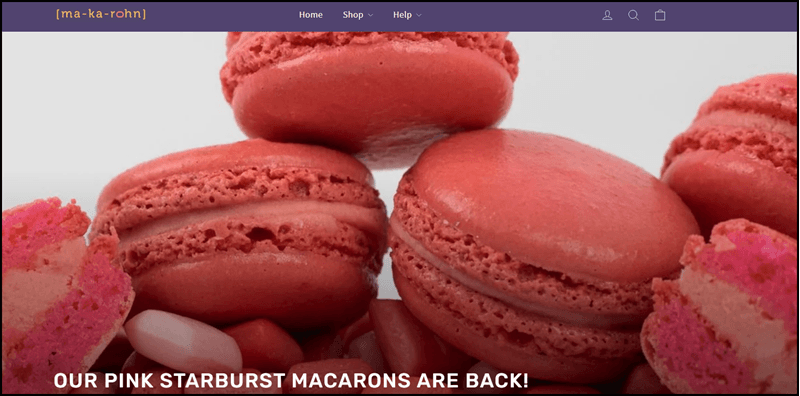 Ma-Ka-Rohn shows that macarons can be delicious and exciting. They feature many different flavors, including unusual ones, like galaxy milky way, cherry cheesecake, Ferrero Rocher, salted caramel, and pumpkin spice. There are also seasonal treats, including a Halloween pack that features four flavors: candy corn, KitKat, Twix, and Starburst.
There's even a monthly subscription that ships out 12 cookies each month. The boxes each contain four different flavors, giving you plenty of variety.
Don't like macarons? No worries. Ma-Ka-Rohn features a few other gourmet cookies and even sells ready-to-eat cookie dough. How can you go wrong?
Fat & Weird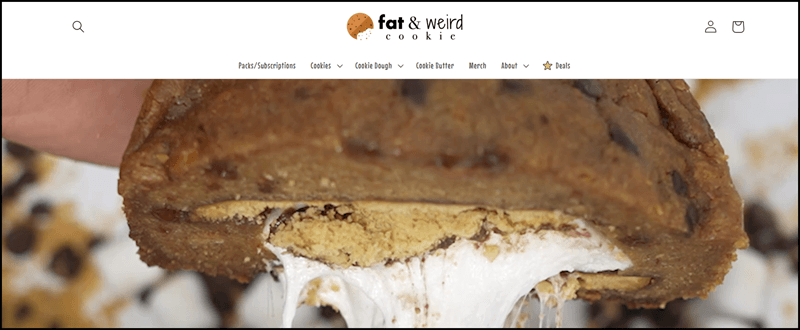 Fat & Weird cookies have become famous and rightfully so. As the company's name suggests, the cookies truly are fat and they include some strange flavor combinations.
Sometimes it isn't so much the flavor combinations that are unusual, but the sheer amount the company manages to jam into a single cookie. This is particularly true for their mega cookies, which come to a pound and can include fillings like chocolate truffle, peanut butter and M&Ms, and Oreo cream.
Their regular cookies can be exciting too, like Cookies Anonymous, which includes a Biscoff and Chips Ahoy frosting core, with Oreos, cookie dough bites, Chips Ahoy cookies, and Biscoff cookies as mix-ins. The cookie itself is also bright blue – and that's just one of the many cookies on their site.
Even their less complex cookies are delicious and are a cut above most others. If you're not sure which type to try, they offer variety packs and a monthly subscription. The subscription includes limited edition cookies that are hard to find otherwise.
West Coast Confection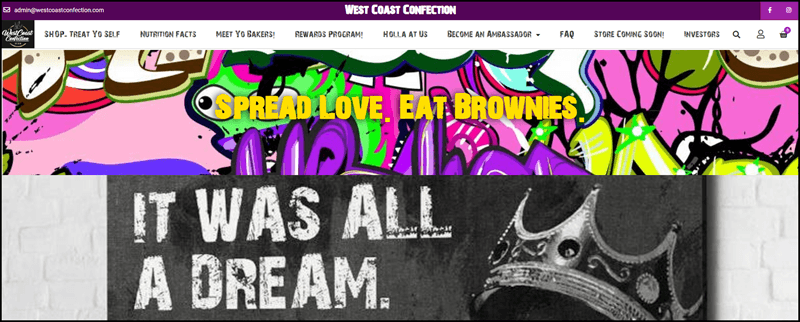 West Coast Confection is another company that focuses on some seriously impressive products. Their cookies follow the same style as those from Fat & Weird, so they're large and packed with ingredients.
For example, the Oh My Gourd! cookie relies on pumpkin spice cookie dough and Pumpkin Pie Oreos in the batter, with a stuffing that includes cream cheese frosting and pumpkin pie. Even their basic chocolate chip cookie isn't low key at all. Instead, it's thick and stuffed full of flavor.
West Coast Confection doesn't stop with cookies. They also have some even more impressive blondies and brownies.
The company operates out of Southern California, but they ship throughout the United States. You'll need a little patience though, as this is a relatively small company and it takes between seven and 12 business days to ship your order out.
Tubby's Taste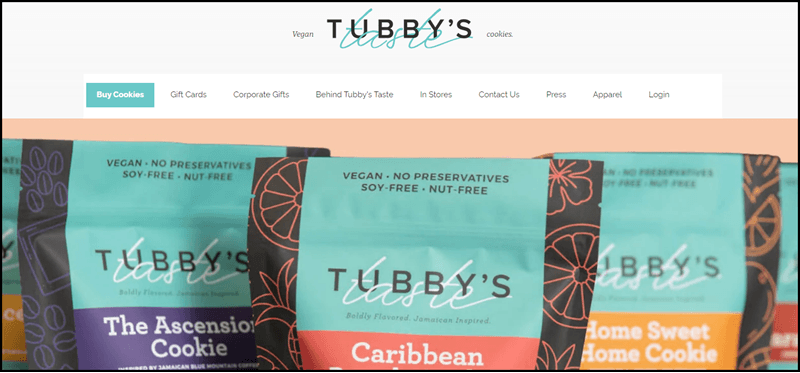 Tubby's Taste is a small cookie company, operating out of Chicago, IL. You don't need to be a local though, as the cookies can be ordered online and shipped anywhere in the United States.
The cookies are all Jamaican-inspired and often feature bold flavors, including some you won't see from other companies. For example, there are mango coconut lime cookies, grapefruit pineapple hibiscus cookies, and mocha oat chocolate chip cookies.
What's more, Tubby's Taste is a vegan brand, so eggs and dairy aren't used as ingredients. Nuts and soy are avoided too, making these very allergen friendly cookies.
Sugarica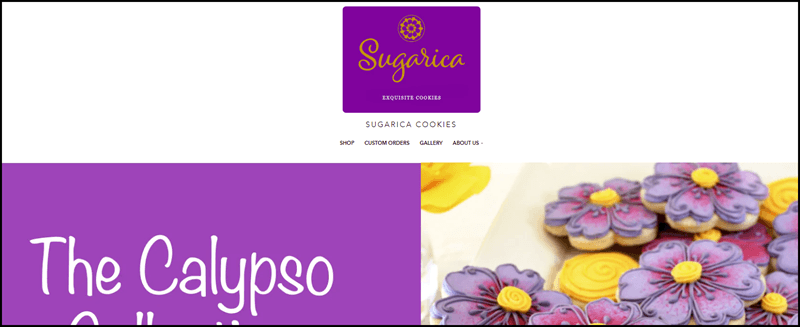 If you're looking for sugar cookies, then Sugarica is the place to go. The company puts all other sugar cookie creators to shame. Not only do the cookies themselves taste delicious, but the artists at Sugarica do an amazing job of decorating them.
The designs are exquisite and go far beyond what other sugar cookie companies offer. It's even possible to provide a photo and have your face put on your sugar cookies. Even regular orders come with a surprising amount of customization, allowing you to order the sugar cookies of your dreams.
The Cookie Joint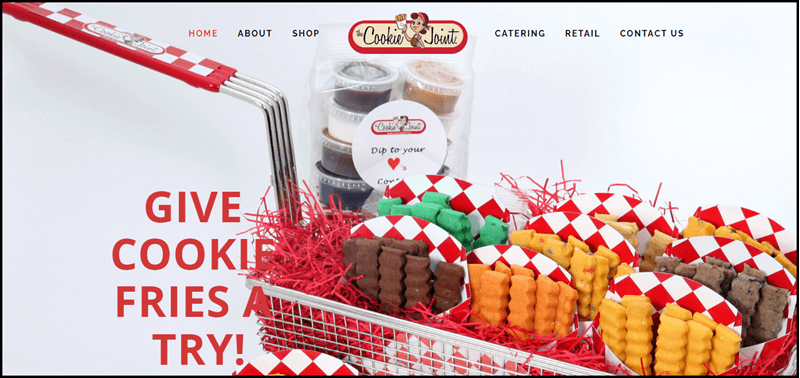 The Cookie Joint takes a different approach to gourmet cookies, focusing first on appearance (although there are some interesting flavors as well). In particular, all cookies from The Cookie Joint are in the form of cookie fries.
This style is exclusive to The Cookie Joint and involves shortbread cookies that have been shaped like French fries. The cookies are then packaged in fry cartons and shipped out with interesting dipping sauces.
You can even buy the fries in themed sets, like a deep fryer gift that actually includes a deep fryer basket, along with Thanksgiving and Halloween gifts. There's even one that allows you to make loaded cookie fries.
It's an unusual style that could be perfect if you're bored of regular cookies. The sets would also make fantastic gifts.
Brady's Bakery


Who could doubt that Brady's Bakery focuses on gourmet cookies? Their treats are seriously amazing, often packed full of gooey chocolate or another decadent filling. Some of their flavors include chocolate chip + sea salt, red velvet + white chocolate chip, and cookies and cream.
There's also the trojan cookies, which feature red and gold funfetti. The cookie is stuffed with a red velvet cookie that's then stuffed with cream cheese frosting. It's hard to get more unusual than that.
The cookies can be ordered individually from the site. You can also build a box of the flavors you want or even sign up for a monthly subscription. The box can include half a dozen or a dozen cookies, with a mix of flavors.
Big Fat Cookie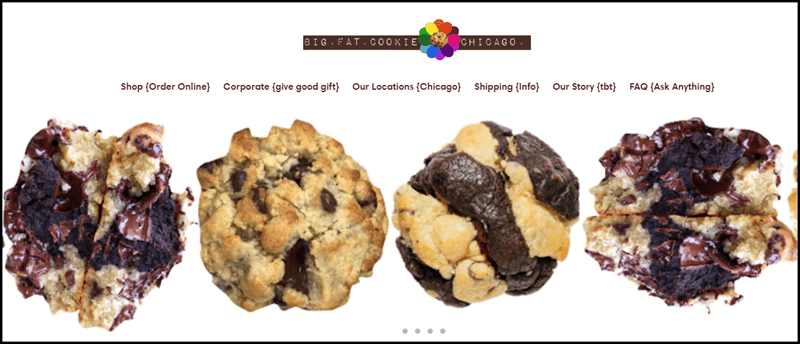 The craze for large decadent cookies shows no signs of slowing and Big Fat Cookie is another company that's entered the fray. Their cookies are seriously impressive, weighing in at more than six ounces each.
The size means that some people choose to slice the cookies and share them, rather than attempting to eat them whole. The cookies are particularly good if heated in the oven first, as this gives you a crispy exterior and gooey interior.
Some of the cookies follow familiar flavors and styles, while others are pretty out there. For example, one uses bourbon salted caramel, chocolate chips, and crushed pretzels, while another uses a vanilla cookie base that's been stuffed with rainbow M&Ms, chocolate chips, Oreos, and rainbow sprinkles.
Cookie Rich


Cookie Rich offers something completely different. Rather than focusing on the fat cookies or traditional cookies, the company provides curvy cookie sandwiches.
These are unlike anything you've seen before, as the cookies are thick, soft, and tiny, while there's a decent stack of filling between the two cookies. The style creates a bite-sized snack that's shipped out in a luxurious drawer-style box.
There are multiple boxes to choose from, including new flavors, their chef's sampler, and a selection of gluten free cookies. The company also has a trailer in downtown Austin where you can order the cookies directly, along with plenty of other treats.
Cookies By Design


Cookies by Design is most famous for sugar cookie bouquets. These contain either 12 or 20 decorated sugar cookies, often focusing on a theme like Halloween, graduation, Christmas, new baby, and the like.
However, the company isn't limited to sugar cookies. They also have BouTrays, which include a tray of gourmet cookies and a sugar cookie bouquet. They also sell gourmet cookies individually, including options like white chocolate macadamia nut, red velvet, and millionaire cookies, plus cookie bites and cookie sandwiches.
The flavors aren't as unusual as some other companies, but they don't need to be either. After all, the traditional cookie flavors are classics for a reason.
Duchess Cookies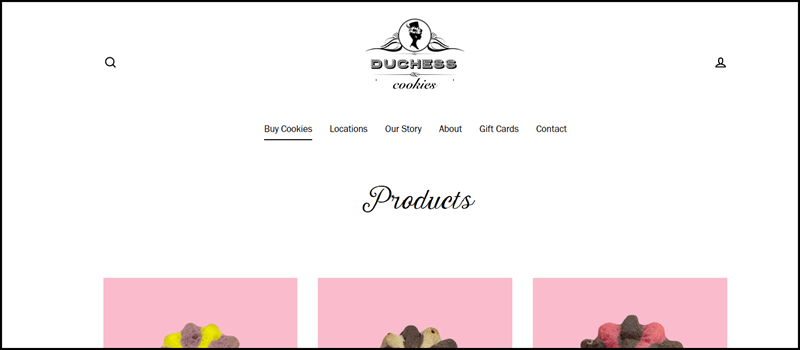 Duchess Cookies takes a different approach again, offering stylized soft cookies that break open to reveal a gooey center. Flavors include chocolate covered strawberry, blueberry lemon, pistachio white chocolate, and rainbow.
There are also smaller and more traditional cookies that offer interesting flavors and fillings, such as butterscotch maple bacon, cotton candy, galaxy, and grape PB&J. So, there's no shortage of delicious flavors to try.
Duchess Cookies ships via UPS throughout the United States, with your order processing between 24 and 48 hours of being submitted. It's even possible to get the cookies shipped internationally, although Duchess Cookies can't estimate the price or timing for doing so.
Gooey On The Inside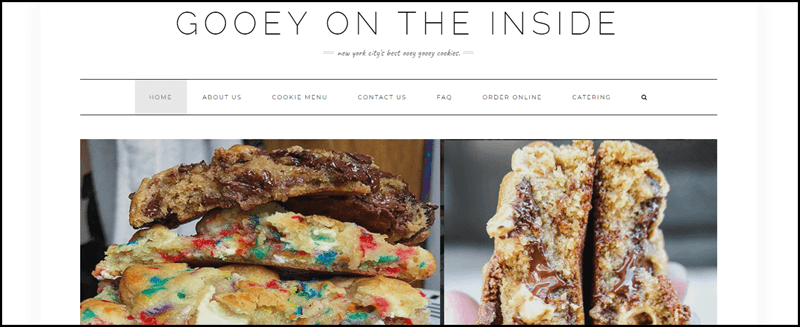 The name says it all for Gooey on the Inside. The cookies really do have an ooey gooey focus, so they have amazing melty centers that are complemented by delicious flavors and plenty of add-ins.
They have a fairly small selection compared to other companies on this list, but each of their cookies is a true masterpiece. The dark chocolate caramel s'mores cookie is particularly exciting – as it's everything you'd expect and much more.
As well as regular cookies, Gooey on the Inside also offers cookie bites and jars that contain either soft baked cookie dough or a molten cookie. These jars are the perfect reason for trying Gooey on the Inside, as few other companies offer anything similar.
Moonshine Mountain Cookies


Moonshine Mountain Cookies focuses on fat cookies that are shaped a little like a melting scoop of ice cream. These contain plenty of unique flavors and mix-ins, like the Caramel By The Sea cookie that includes chocolate coated toffee, caramel bits, and sea salt sprinkles.
Some of the cookies have an extra exciting feature – they use real Tennessee moonshine in their recipe. They don't go overboard with the moonshine. There's just enough in there to give the cookies an interesting hit of extra flavor.
The cookies can be ordered online in boxes of a dozen or two that can have up to six different flavors. You can also choose a quart or a pint jar with just a single cookie flavor.
David's Cookies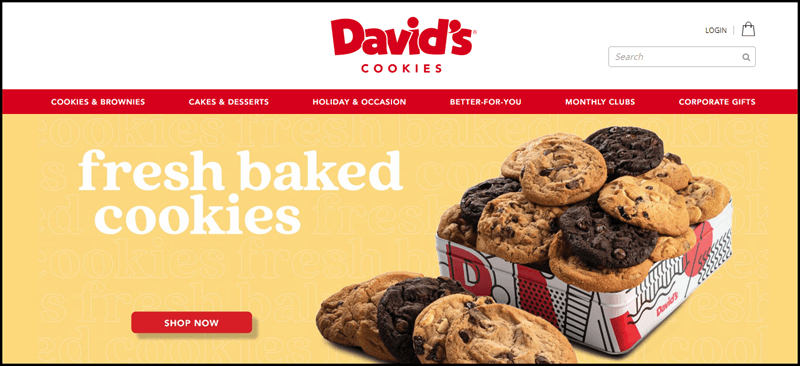 David's Cookies is a relatively large and mainstream company, but that doesn't stop them from producing delicious gourmet cookies. Most of the cookies are sold in tins or crates, often giving you a pound or two of cookies at a time.
Some of these give you a mixed selection of cookie flavors, while others focus on a single popular option, like double chocolate chip cookies or peanut butter cookies (with peanut butter chips). There are even some sugar free cookies and gluten free cookies, if you're looking for these.
If you love the cookies, there's a cookie of the month club that sends out a pound or two of cookies each month. Most months offer a single cookie flavor, like macadamia white chunk for May and chocolate chunk for December. However, you sometimes get two flavors instead, like oatmeal raisin and orange oatmeal cranberry during September.
Crumbl Cookies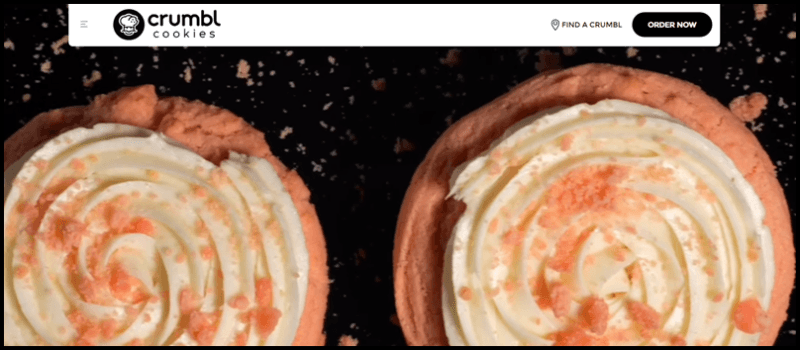 The popularity of Crumbl Cookies is undeniable. Stores seem to be popping up everywhere and the cookies already have many diehard fans. There are plenty of options for getting the cookies too, including nationwide shipping, curbside pickup, or even catering.
Some of the cookies follow traditional flavors and styles, like their always available milk chocolate chip. There are also plenty of new and exciting cookies, such as raspberry lemonade, and cake batter blondie. The selection of flavors changes every week, so there's always something new to try.
Wunderkeks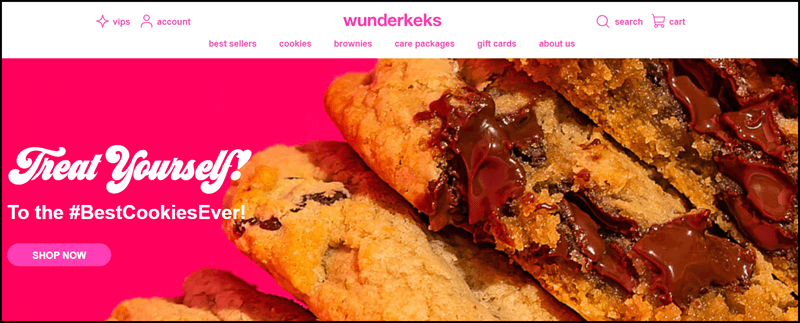 The cookies from Wunderkeks mostly follow traditional styles, including flavors like chocolate chip, red velvet white chocolate, snickerdoodle, and double peanut butter. However, the cookies are all more decadent than you'll find in most other places.
You can order boxes of 12 for any of their flavors or choose a variety pack of 12 or 24 cookies. The cookies come in at around $39 for a dozen, so they're not cheap. Still, the cookies are popular, so they're probably well worth the price.
Zola Bakes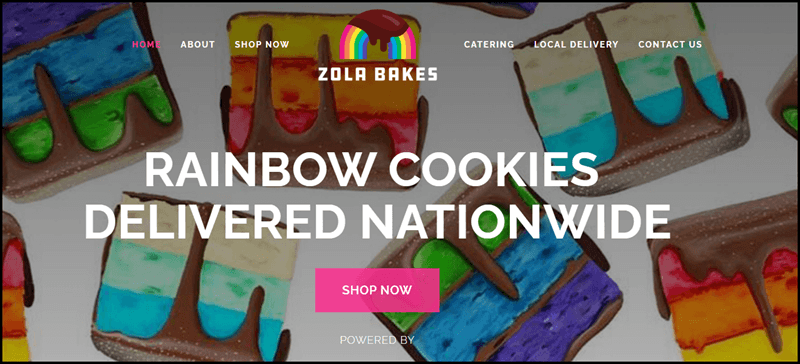 Zola Bakes offers stunning rainbow cookies with chocolate icing and glitter. No one else offers cookies like these at all, which would make these particularly fun gifts.
There are different colors, flavors, and styles too, including a selection of Halloween rainbow cookies and gluten free ones.
What's more, you can order custom cookies, where you choose each of the three colors, plus the type of chocolate, the filling, and whether you want sprinkles. The only catch is that you need to order a 40-pack of cookies to get the customization option. Still, they'd be amazing for a themed party.
Cravory Cookies


Cravory Cookies focuses on creating amazing products in a wide variety of flavors. In fact, they make six new flavors every single month and haven't run out of ideas yet. Some of their current flavors include cookie monster, salted caramel cream, pancakes and bacon, rosemary balsamic, and pumpkin graveyard.
The Cravory Cookies site includes reviews and star ratings for the different flavors, making it easy to see which ones work well and which you might want to skip.
There's also a cookie of the month club. This gives you access to the full range of seasonal flavors and is one of the most unique cookie subscriptions out there.
Levain Bakery


Levain Bakery is another thick cookie company, offering 6-ounce cookies that are baked to order. Each cookie is the perfect combination of crispy, soft, and melty, giving you an amazing experience with every bite.
The flavor selection is limited compared to other companies and you won't see many wild combinations either. Instead, Levain Bakery largely focuses on options like fall chocolate chunk, chocolate chip walnut, two chip chocolate chip, and chocolate lovers.
Still, familiarity isn't a bad thing. Some of the flavors from other companies can be a bit over the top anyway.
Flour & Branch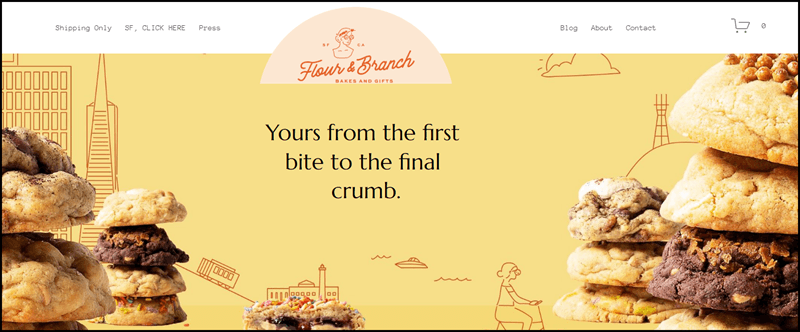 Flour & Branch operates a bakery and gift shop in San Franscisco, and has an online cookie selection that can be shipped throughout the country. There's plenty to say about their cookies, as they're made with natural and organic ingredients, plus they're thick, filled with flavor, and have exactly the right crumbliness.
Some of their cookies are stuffed, like one with Nutella in the middle and another with a cream pie filling. Others skip the filling and are packed with mix-ins instead, like The Chipper, which includes chocolate chips, s'mores, and espresso.
While the flavor selection is limited, there's enough options to whet your appetite. Plus, companies that keep their selection small like this tend to excel at the products they do sell.
Christine's Cookie Co.


Christine's Cookie Co. is another company that keeps things small and simple. This time there are just five cookie flavors to choose from, including chocolate chip, chocolate walnut, blueberry chocolate oatmeal, pumpkin doodle, and black sesame Oreo.
What makes these stand out is the ingredients. The cookies all rely on natural and organic ingredients. Even the packaging is plastic free.
A few of the cookies are nut free. However, this isn't an allergy free bakery, so there's the potential for some cross contamination.
Their black sesame Oreo cookies are particularly exciting. Not only do these offer an unusual flavor, but they're also vegan friendly. That's exceptional, as most cookies on this list won't work for vegans at all.
Cookies & Dreams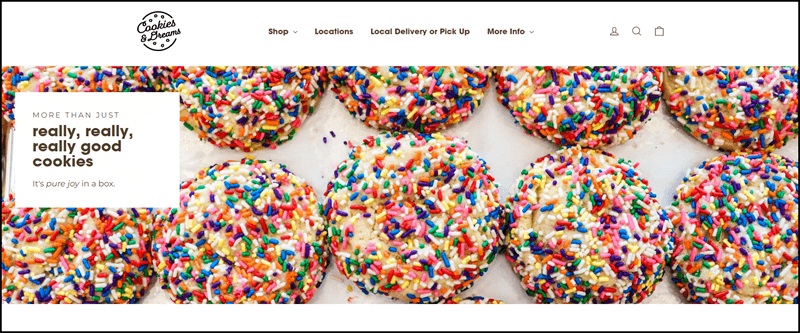 Here's another fun brand to try. Cookies & Dreams ships throughout the United States and offers some delicious cookies. They have 12 standard cookies on their menu, along with seasonal favorites that turn up occasionally.
Some of their flavors include snickerdoodle cheesecake, sugar sprinkle, sea salt chocolate chip, and puppy chow. Interestingly, the cookies aren't frosted before they're shipped. Any frosting is packaged individually and comes with instructions about how to use it.
The cookies can only be ordered in boxes, rather than individually. However, you can choose which flavors you want in your box. You can also order their Latest & Greatest subscription box, which features a surprise selection of flavors, including some of their new ones.