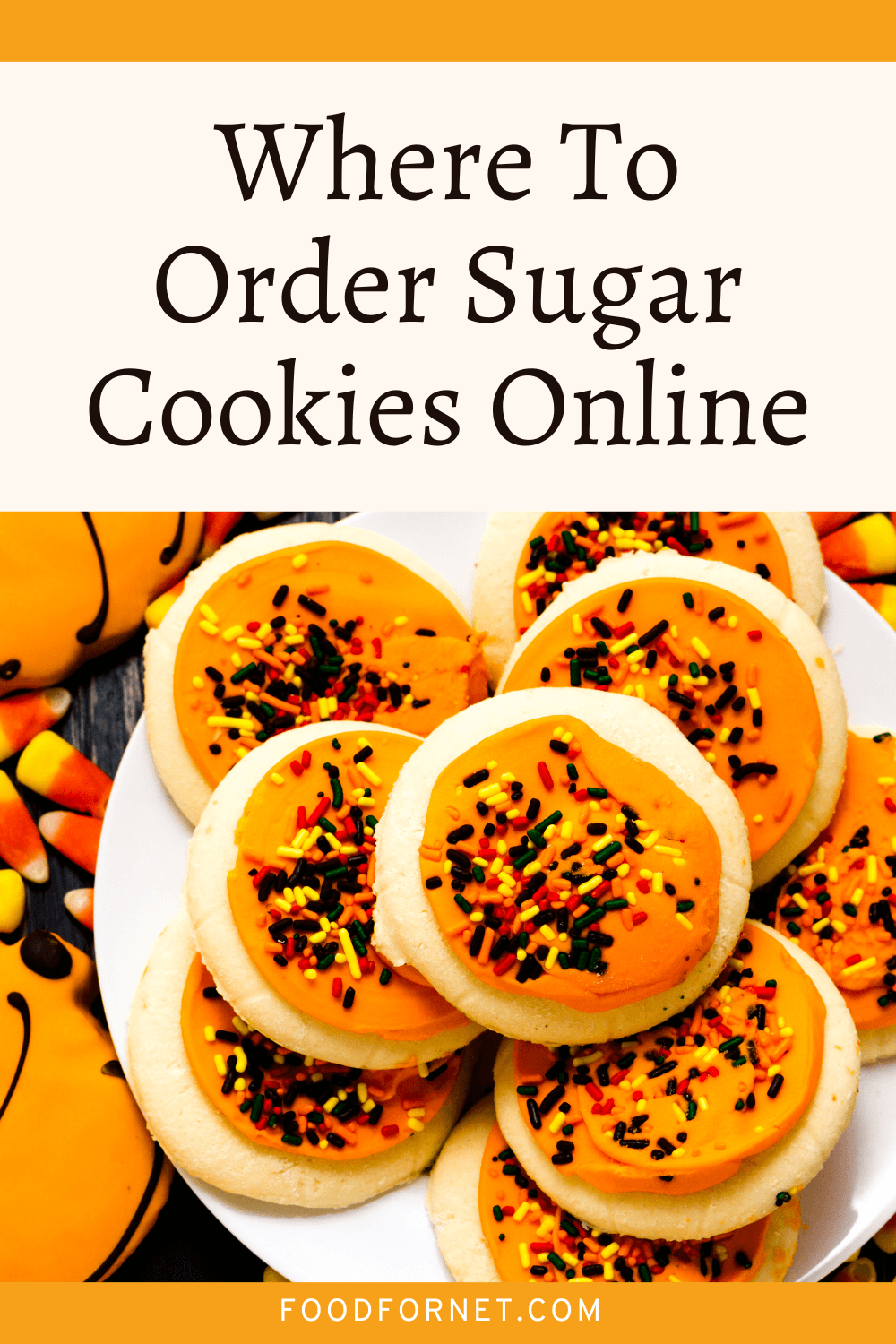 Sugar cookies aren't the most exciting treats, but they're familiar and delicious (especially when made well). Their flavor and texture make them perfect for cutting into shapes and decorating. They're simple too, as their main ingredients are just sugar, flour, eggs, butter, and vanilla. You could make them yourself, but why not order sugar cookies online instead?
Online companies are amazing here, as most focus on creating beautiful and well-decorated sugar cookies. Their designs are often much more complex than anything you could create at home. Plus, the cookies themselves are often incredibly tasty.
Many companies have customization options too. Occasionally you can actually specify every aspect of the design. One of the companies on this list will even put your face on the cookies. Other times you can request small tweaks, which are still enough to make the cookies very personal.
Or, if you want to take another approach, why not try cookie of the month clubs? These offer plenty of different flavors and styles of cookies, sending you new ones every month. There are also plenty of places to order gourmet cookies online. Some of those cookies are truly stunning.
Where To Order Sugar Cookies Online
Blue Flour Bakery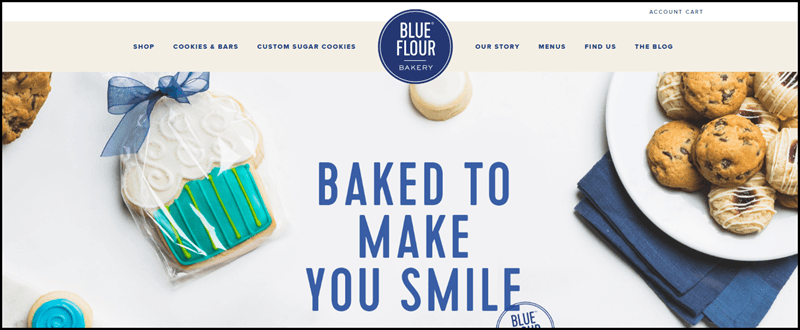 Blue Flour Bakery focuses on cookies and dessert bars, with a decent variety of each. Their regular cookies include chocolate chip pecan, raspberry graham swirl, and confetti, but it's their sugar cookies that we're interested in.
Some of these cookies can be ordered in themed collections. These would be perfect as gifts. For example, at the time of writing, they have a "Boo!" Halloween box for $79 and Halloween sugar cookie favors for $99. There are also autumn boxes in the same styles and prices, plus birthday favors, cupcake favors, thank you boxes, and more.
You can also order custom cookies. Blue Flour Bakery allows you to choose the cookie shape and the icing colors. However, the custom option is only available for local orders. If you live outside of South Carolina, you'll need to stick to their sugar cookie collections instead (that said, they might make an exception if you ask nicely).
Sweet Freedom Bake Shop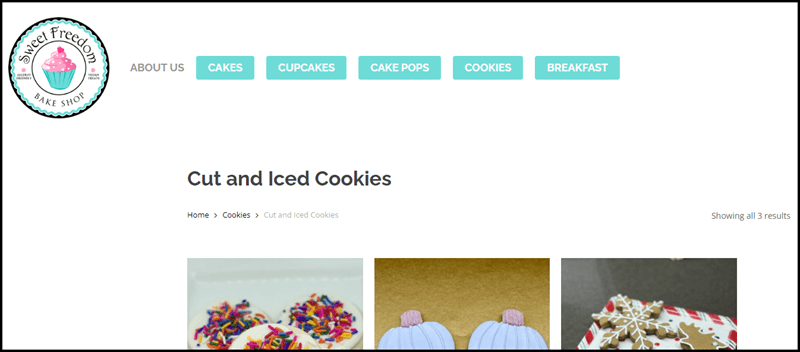 Sweet Freedom Bake Shop is much more specialized. You can order online from them, but they only offer delivery and pickup in California. You also need to plan your timing, as custom sugar cookies require two weeks advance notice and the company sometimes closes over the holidays.
The cookies themselves look amazing. They have sugar pillow cookies, which are cakier than most sugar cookies and come in vanilla and chocolate flavors. The icing is vanilla flavored, but you can choose the color of the icing and the type of topping (including sprinkles or fondant).
Their custom cookies are particularly interesting. Rather than having a cookie piping artist, the company offers simple one to two color cookies or digital print sugar cookies. The digital print style allows for more complexity than you'd normally find on sugar cookies. It's even possible to include fondant 3D elements to make the cookies even more interesting.
Elle's Belles


The cookies from Elle's Belles are seriously amazing. They have some elegant designs in the mix, like daisy sugar cookies, as well as plenty of occasion-specific products, like snowmen and snowflake cookies, emoji cookies, and cookies that are shaped and iced like lips.
Elle's Belles doesn't offer many customization options. However, many of their cookie boxes contain a variety of styles. For example, the lips box includes gold sparkle lips, Revlon red lips, extra sugar lips, and sprinkled lips. There's even a Halloween bundle that includes 10 Halloween-themed cookies in four distinct styles (skeleton, pumpkin, mummy, and Día de los Muertos).
Sugarica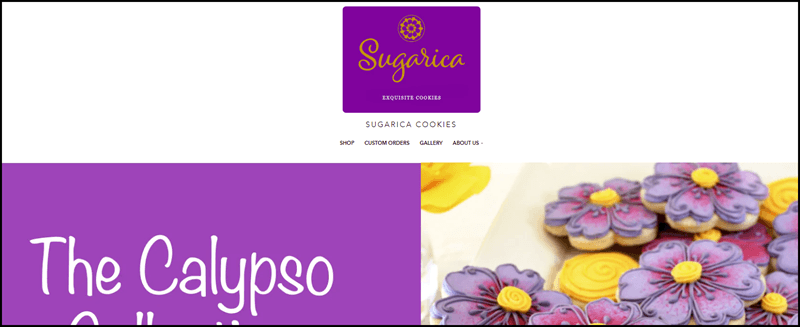 The cookies from Sugarica are some of the most amazing you'll find anywhere. The company creates exquisite designs, including flower bouquets, Fabergé eggs, autumn leaves, and monsters for Halloween. There are also plenty of themed cookies, like those for birthdays, weddings, and graduation.
Their most unusual offering is Face Cookies, which are custom created based on a photo. The image follows a stylized modern art approach and looks surprisingly realistic. These cookies aren't cheap, starting at $97 for a dozen. Still, they would make an amazing unique gift.
Many of their other cookies can be personalized as well. You can even order fully customized cookies, although you need a batch size of three dozen or more and to give the company at least two weeks' notice.
Sweetini's Cake Shop


Sweetini's Cake Shop offers many delicious baked products, including cookies, cakes, and cupcakes. Their online shop features many popular sugar cookie styles, including unicorns, Easter eggs, flowers for Mother's Day, horses, wedding dresses, and many others.
Their selection is impressive and better than many other companies on the list. We're not just talking about simple cookie decorations either. Some of them are very detailed, particularly the sugar cookie flowers.
Sweetini's also specializes in bulk custom decorated sugar cookies for events, like weddings and conferences. They allow you to include images and specify exactly what you want the cookies to look like. The price generally comes to around $4 per cookie, although this may vary based on complexity.
While they focus on bulk orders, you can make small custom orders as well. The site says "no order is too big or too small", so you could theoretically order just half a dozen cookies.
The Whimsy Cookie Company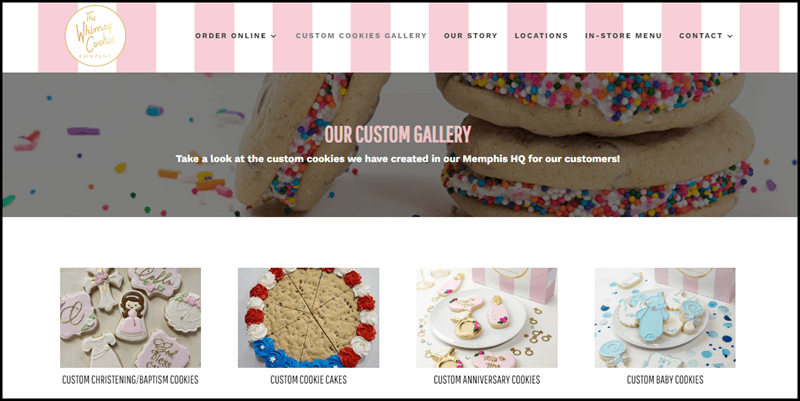 The Whimsy Cookie Company is larger than many others on this list, to the extent that they sell packaged versions of their sugar cookie mix and icing. You can also order sugar cookies from their site.
Many of their cookies are themed and come in packs of 12, often costing between $52 and $66 for the pack. Your ability to customize is limited, but you will sometimes be able to specify a name to be included.
Whimsy goes beyond the classic holidays and events for their cookies, offering some unusual ones as well, like Quarantine Cookies, Tailgate Cookies, and For the Dentist Cookies.
The company can make custom cookies as well. They suggest contacting your local Whimsy location directly for doing so. This way you can make sure that the cookies are exactly what you're looking for.
Southern Home Bakery


Southern Home Bakery is one of the few companies that includes decorated sugar cookies in a cookie of the month club. Each month's subscription comes with six sugar cookies, four gourmet cookies, and four packs of colorful dots. The subscription is perfect if you want more than just sugar cookies.
There are also themed boxes, like a fall holiday box that includes pumpkin spice latte, pumpkin pie, pumpkin, and autumn leaf cookies. You can even buy a gluten free version of the box, although this is considerably more expensive than the regular version.
Once again, there's the chance to order custom cookies. The form on the site asks you to specify the number of cookies, the design, and the ribbon color. You can also provide a photo to help explain what you're looking for.
Southern Home Bakery doesn't provide price details for their sugar cookies. This isn't surprising though, as the price will vary based on the order size and the design.
Cookies By Design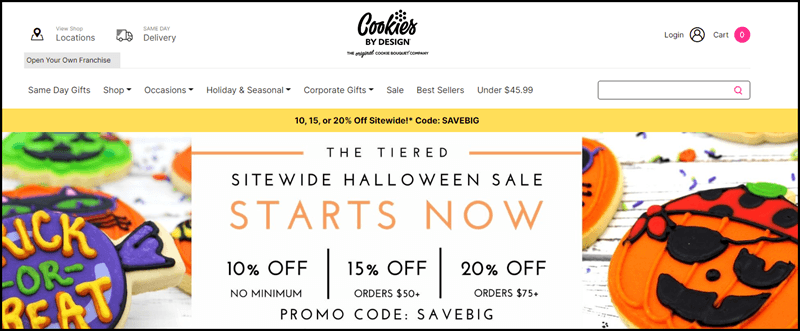 Cookies by Design was the original cookie bouquet company, although they now offer many other products and styles as well. Their famous cookie bouquets are themed collections of decorated cookies. This includes bouquets that celebrate Thanksgiving, Halloween, a birthday, graduation, or simply appreciation.
You can even order decorating kits that come with uniced sugar cookies, plus icing, instructions, and any extra toppings needed to make fantastic looking sugar cookies at home.
Etsy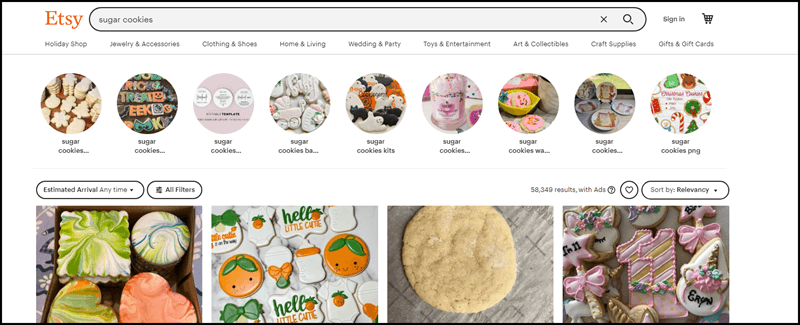 Unlike the previous entries, Etsy isn't a cookie company or even a dessert company. It's an online craft marketplace where creators sell every type of homemade product under the sun.
Etsy's worth talking about as there are so many different people selling sugar cookies on the site. There are also countless styles and some seriously creative cookies out there, including video game themed cookies, ones that feature superheroes, fall and Christmas cookies, plus almost anything else you can imagine.
Some creators are flexible, so they can tweak the cookies as you wish or even make a batch that's completely customized to your needs. Plus, with more than 50,000 cookies listed on Etsy, you'll never be short of variety.
However, because there are so many different sellers, the quality of your cookies can vary dramatically. If you're taking this route, it's worth paying close attention to reviews on the site. This way, you'll know which creators are worth trusting.
It's not just cookies themselves you'll find on Etsy. You may also find cookie decorating kits as well, which give you more control over how the cookies turn out.
Amazon


We can't forget about Amazon, either. Amazon doesn't have the same small creator focus that you see on Etsy, but it does host plenty of products.
It's the perfect choice if you want non-artisan sugar cookies, including ones from big brands, like Pillsbury. Amazon's own Fresh Brand offers soft and traditional sugar cookies as well. Plus, there are some sugar cookie decorating kits that include premade cookies, icing, and edible decorations.
Where Can You Order Custom Sugar Cookies?
Most of the companies on this list allow some type of customization. This may involve adding a name to cookies or changing the colors. But, a few stand out for their custom options.
Sugarica is one of the best in terms of flexibility, allowing you to create almost any type of cookie. You do need an order of at least three dozen to use this feature. But, they do allow some customization for their standard designs too, giving you options for every order size.
Sweetini's Cake Shop is another excellent choice. They allow any order size of custom cookies and let you specify exactly what you want. You can even include a photo to explain your idea perfectly.
Finally, there's Etsy. When you buy through Etsy, you're often buying from a creator who makes your cookies to order. This leaves plenty of room for personal requests and changes. Some creators even offer a full custom service, where they make exactly what you request.
With all of these options, be sure to check examples of previous work before ordering (particularly on Etsy). After all, cookie creators will vary in their skill levels and might not be able to create exactly what you're looking for.
Where Can You Order Christmas Sugar Cookies?
Etsy is a good bet for Christmas sugar cookies, simply because there's such a huge range of creators and products. No matter what you're looking for, someone will offer it on Etsy.
Then there's Cookies by Design. This is one of the few companies that offers Christmas cookies throughout the year, rather than just seasonally. These are mostly in the form of cookie bouquets, but a few types of cookies can be ordered individually as well.
Southern Home Bakery also has individual Christmas cookies. These are cheaper than the ones from Cookies by Design and there are more styles to choose from.
Alternatively, you can look for companies that specialize in seasonal cookies, like Blue Flour Bakery. The site currently has Halloween and Autumn cookies. There's little doubt that they'll offer Christmas cookies as we near December.