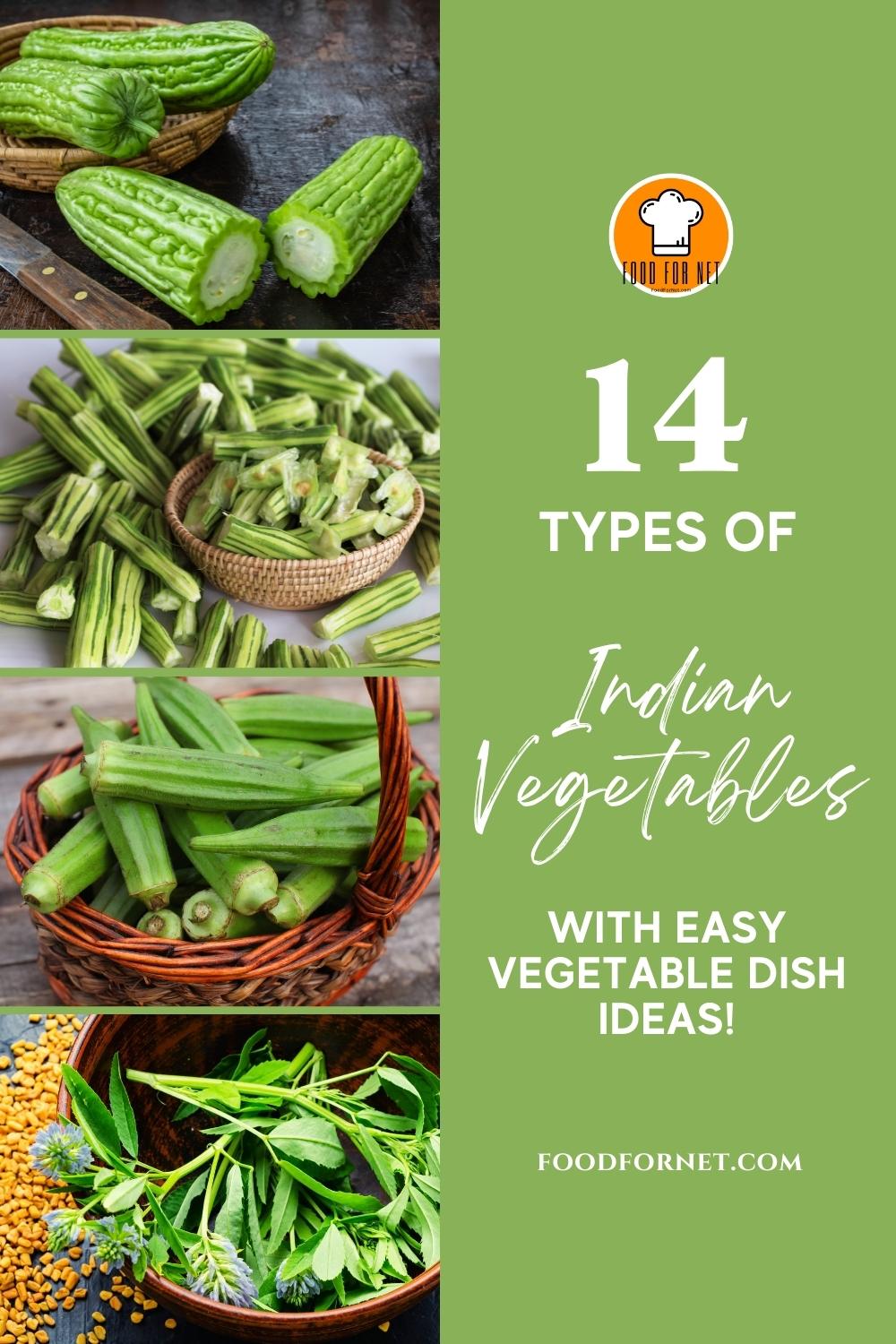 Indian food, no doubt, is one of the tastiest plant-based cuisines in the world. One will hardly miss meat with all the lovely spices, herbs, and aroma that are beautifully paired with Indian vegetables! But of course, meat or no meat, Indian food is absolutely a must-try, and you should really look into trying some of these types of Indian vegetables we've listed below.
Now, perhaps you're familiar with a lot of vegetables that you didn't know were endemic to India. Or are generally used in Indian dishes. And not surprisingly so because they have vast agricultural land and agro-climate that supports the cultivation of different types of vegetables.
The popularity of these vegetables, roots from the fact that not only are they delicious and affordable but packed with so many nutrients as well. Vegetarians and non-vegetarians alike will surely enjoy Indian vegetables as long as they are cooked properly and seasoned sensibly.
Below is a list of Indian vegetables with their English and Hindi names. See our list and see which ones are you already familiar with. See also some easy vegetable dishes at the end of the list that used some of these Indian vegetables. Let us know if you tried them!
Types of Indian Vegetables (With Pictures!)
Ash gourd (Petha)

Ash gourd has a white coating with a rough texture, hence the name. It can be used to make curries, yogurt bases, or even candies called petha – a translucent soft candy made basically from ash gourd and sugar. Aside from cooking, it also has medicinal properties in the Ayuverdic system of medicine.
Ash gourd is a great source of dietary fibers, vitamins C and E, and antioxidants. It's good for aiding digestion, improving hair and skin health, and fighting free radicals to protect healthy cells.
Aubergine (Brinjal)

Aubergine or eggplant belongs to the nightshade family Solanaceae. The most common variety, the purple ones, is used in many cuisines. There is even a wider range of shapes, sizes, and colors grown in India – in fact, miniature cultivars called vengan are popular in some parts of the country.
Aubergines contain vitamins C, B6, and K, thiamin, niacin, manganese, magnesium, phosphorus, copper, folic acid, potassium, and fiber. It helps in improving gastrointestinal health, heart health, and bone health. It may also help in preventing anemia and cancer. Its phytonutrients content improves mental health and boosts memory.
Bitter gourd (Karela)

Bitter gourd, also called bitter melon, bitter apple, bitter squash (and so many other names), are known as karela in Hindi. The variety typically found in India has a narrower shape with pointy ends, jagged 'teeth', and ridges. Its color ranges from green to white. They even have miniature varieties that measure only about 2-4 inches in length.
Bitter gourd has iron, magnesium, potassium, and vitamins A and C on top of its various antioxidants and anti-inflammatory compounds content. It also contains calcium and beta carotene that is double the amount of those found in spinach and broccoli respectively. It aids in digestion, boosts weight loss, lowers bad cholesterol and sugar levels, reduces the risk of disease and stroke, and strengthens the immune system.
Cluster beans (Guar)

About 80% of cluster beans production worldwide occurs in India. It's also called guar, it's a flatter variety of French beans. Its slightly bitter taste is toned down by cooking. The seeds can also be dried and grounded into guar gum.
This summer vegetable contains fiber, folic acid, potassium, iron, calcium, phosphorus, and vitamin A, B, and K. It's good for lowering bad cholesterol, improving blood circulation, strengthening bones, and preventing birth defects, and promoting fetal development in pregnant women. It also has glyconutrients that help in controlling blood sugar levels and laxative properties which help in digestion, bowel movements, and flushing toxins.
Colocasia leaves (Arbi ke patte)

Colocasia leaves or taro leaves are the heart-shaped leaves of the taro plant. It can be added to stews, soups, and casseroles. t's important to cook the leaves thoroughly to reduce their oxalate content. It has a mild, nutty flavor with a note of metallic and iron taste.
Colocasia leaves are actually rich in vitamin A and a great source of fiber. It also contains decent amounts of vitamin B, vitamin C, folate, riboflavin, manganese, copper, potassium, and iron. It's good for reducing blood pressure, strengthening teeth and bones, controlling levels of insulin and glucose, improving heart function, and boosting the growth of the fetal brain and nervous system in pregnant women.
Cow pea (Lobia)

Cow peas cultivars are grouped by the variance in shape, size, and color – black-eyed peas, browneye peas, crowder peas, cream peas, white acre type, clay types, and forage cultivars. They're eaten boiled, roasted, parched, fried, mixed with sauces, stewed, or consumed directly.
Like other pulses, it's packed with protein with relatively low-fat content. It has a considerable amount of resistant starch. It's also rich in vitamins A and C, and potassium. It also contains decent amounts of thiamin, riboflavin, vitamin B6, niacin, pantothenic acid, calcium, magnesium, and phosphorus. It aids in weight loss, promotes digestion, and reduces risk factors for heart disease.
Drumstick (Shingh phali)

Drumsticks are the immature seed pods of the moringa tree. It can be parboiled and cooked in a curry, dal, or lentil soup. It has a tough and fibrous skin with a somewhat bitter and sweet taste that is quite similar to asparagus with a hint of green beans.
Drumstick aside from being a good source of fiber and protein is also rich in vitamins A, B, C, and K, iron, calcium, folate, and magnesium. It's good for enhancing skin health, delaying skin aging, remedying acne, improving vitality and sexual vigor, and boosting breast milk production in women post-delivery.
Fenugreek leaves (Methi patta)

Fenugreek leaves are the leaves of an annual plant in the family Fabaceae that have been used as culinary ingredients (just like the plant's seeds) since ancient times. It can be used in stews, sauces, or salads. It can be used in making flatbreads as well or in making baste for grilling or roasting.
These low-calorie leaves contain insoluble fiber, vitamins K, C, and A, riboflavin, and pyridoxine. This is on top of its many powerful antioxidants content. It's good for controlling diabetes, supporting the digestive system, curing mouth ulcers, stimulating breast milk production, improving heart health, and preventing anemia.
Hyacinth beans (Surati papdi)

Hyacinth beans came from a short-lived perennial vine. The legume pod comes in varying shapes, sizes, and colors. It measures several centimeters long and comes in bright purple to pale green color. It contains up to four seeds that are about a centimeter long with color that is dependent on the cultivar – it could be white, red, black, or sometimes with white hilum. It can be stir-fried, bolide, blanched, or sauteed. It tastes quite like green beans.
It's a good source of protein, phosphorus, zinc, potassium, copper, thiamin, magnesium, and manganese. It's good for aiding digestion, improving sleep and focus, preventing heart and lung disease, boosting good mood, and reducing muscle cramps.
Indian squash (Tinda)

Indian squash also called round melon, Indian round gourd, apple guard, or Indian baby pumpkin, is the only member of the genus Praecitrullus. It is somewhat spherical with a diameter that ranges from 5-8 centimeters with a green color. It has white flesh that is tender, spongy, and moist. Indian squash contains small and edible seeds with color that ranges from cream to yellow. It has a mild flavor similar to cucumber.
It's rich in dietary fiber, vitamin A, and carotenoid antioxidants like lutein and zeaxanthin. It also contains polyphenol and cucurbitacin antioxidants which have anti-inflammatory properties. Indian squash is good for promoting weight loss and blood circulation, boosting digestive health, improving eye health, lowering the risk of cancer, and protecting the body's vital organs from harmful free radicals.
Lotus stem (Kamal kakdi)

Lotus stem, also known as the lotus root, is a root vegetable and is the edible part of the lotus flower. It is crunchy with a fairly sweet taste with a flavor that is quite similar to chestnut. It can be boiled, fried, added to salads, or dried and grounded into flour.
Lotus stem is actually a great source of vitamin C and is also rich in dietary fiber. It also contains zinc, magnesium, copper, and iron. It's good for boosting the immune system, helping the body with red blood cells production, strengthening the respiratory system, and supporting digestive health.
Okra (Bhindi)

Okra or ladyfinger is a flowering plant in the mallow family and is known for its edible green seed pods. It has a mild and somewhat grassy flavor and is known for its slimy or gooey mouthfeel when cooked. It can be fried, sauteed, roasted, boiled, or even pickled.
Okra contains vitamin C and vitamin K. It also has polyphenols, lectin, and folate. Okra is good for supporting a healthy immune system, helping the body with blood clotting, inhibiting cancer growth, decreasing the risk of heart problems, controlling blood sugar, and supporting a healthy pregnancy.
Pointed gourd (Parwal)

Pointed gourd is a vine plant that is similar to cucumber and squash. The fruit is green, with or without white stripes, and usually comes small and rounded or thick and elongated. Pointed gourd's flesh is creamy white, firm, and moist. In its central cavity are slippery and small ivory seeds. It has a mild and bland taste.
It's rich in vitamins A, B1, B2, and C. It's also a good source of calcium. Pointed gourd is good for supporting healthy bones, controlling cholesterol levels, treating gastric problems, and may also act as a natural aphrodisiac.
Ridged gourd (Torai)

Ridge gourd, or luffa, is a vine in the cucumber family whose fruits are eaten as a vegetable when harvested at a young stage of development (when it's ripened, it becomes very fibrous and pretty much becomes the scrubbing sponge that we know as a loofah). It tastes quite bland and is usually used in stir-fries, soups, or as an ingredient in curries, chutneys, and other Asian dishes.
It's actually packed with essential components like dietary fibers, vitamin A, vitamin C, iron, magnesium, vitamin B6, and antioxidants. Its alkaloid compounds content helps in regulating metabolism and eliminating toxins from the body. Ridge gourd is also good for reducing inflammation, controlling diabetes, relieving constipation, enhancing vision, and aiding weight loss.
Easy Vegetable Dish
Khatta meetha karela
This dish, also called sweet and sour bitter gourd, makes use of the popular bitter gourd. It's seasoned with cumin, ginger, chilies, coriander, and turmeric. The sweet and sour taste comes from tamarind paste and jaggery (traditional non-centrifugal cane sugar). This sweet and sour combo balances the bitterness from the bitter gourd.
Brinjal curry
This eggplant curry is actually an everyday Indian dish that is basically made with eggplant and pantry staples like onion, tomatoes, herbs, and spices. Aside from being flavor-packed and delicious, it's also great that it cooks in a jiffy! This 15-minute dish is one for the books! Perfect when serve over rice or with flatbreads.
Colocasia Dal
If you're looking for a dal to go with your rice, roti, or dosa, then this Colocasia dal is a must-try. The tender Colocasia leaves are sauteed in garlic, onion, and tomatoes. It's beautifully seasoned with curry leaves, mustard seeds, tamarind paste, chili powder, turmeric powder, and coriander leaves. Another quick recipe!
Kamal Kakdi ki Sabji
This spicy dry sabzi will go perfectly with any Indian bread you may have right now. Lotus stem preparation is pretty simple. And don't worry if you don't know how because a step-by-step guide is included. The recipe itself is quite easy as well. This dish is perfect with chapati or rice.
Bhindi Masala
Another great dish to pair with your rice, paratha, or roti is the okra masala. The Okra, onion, and tomatoes are beautifully seasoned with Indian spices. If you're not a fan of okra, then you'll probably become one after this dish. It's mildly spicy, but of course, you can always adjust the chili or perhaps omit the green chili altogether if you're not up for spicy foods.