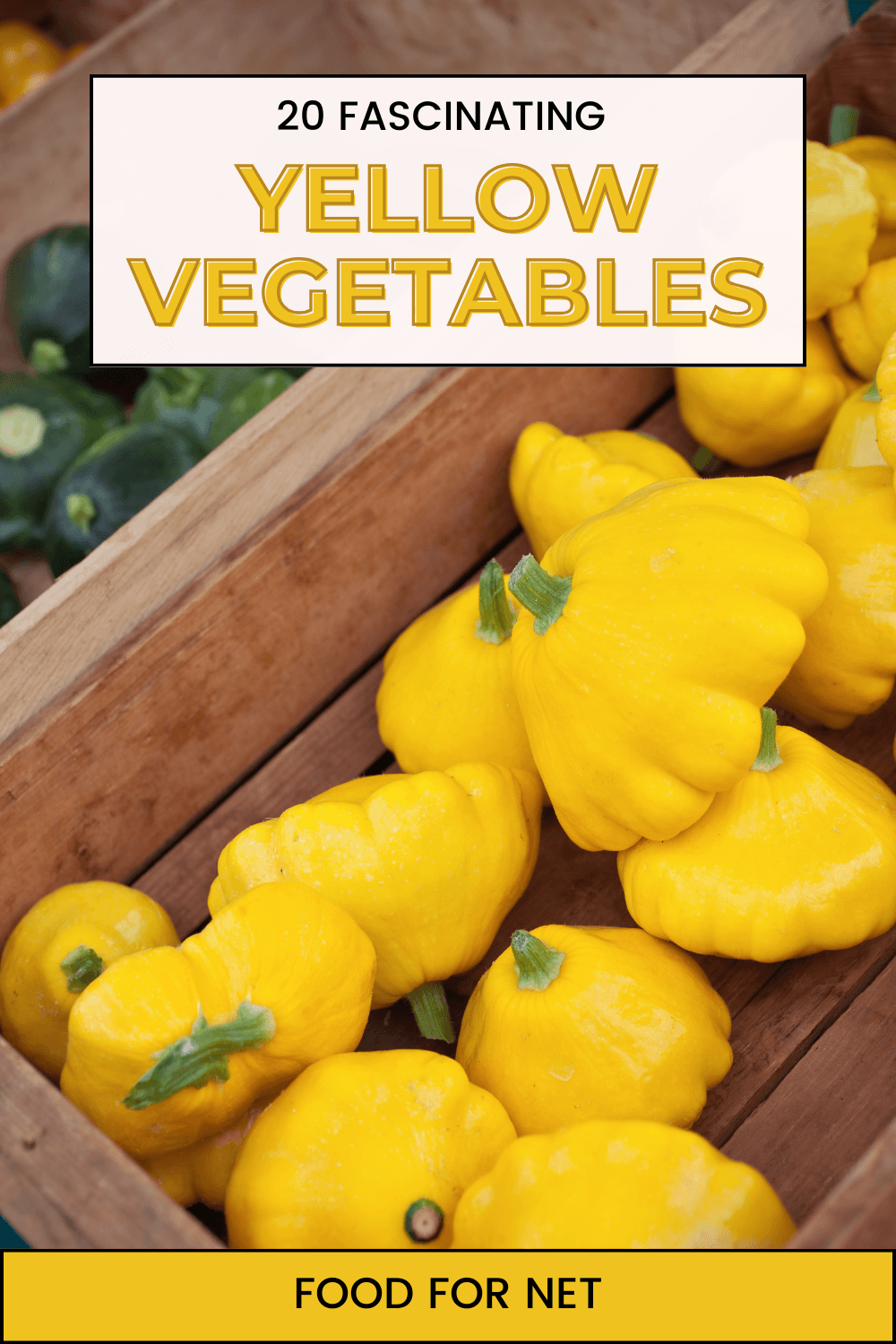 Color makes a surprising difference for fruits and vegetables. Not only do different colored vegetables often taste different, but they also have different health effects due to differences in their phytonutrient balance. Today, we're looking at yellow vegetables.
Some of the vegetables on this will be familiar. Others might be a complete surprise. There are also plenty of yellow versions of classic vegetables, like yellow cauliflower and yellow carrots.
For more ideas about vegetables and their colors, check out our lists of exotic yellow fruits, exotic red fruits, and purple vegetables. Why not get a little more color in your diet? Doing so may provide health benefits and certainly makes your meals more interesting.
Yellow Vegetables
Golden Beets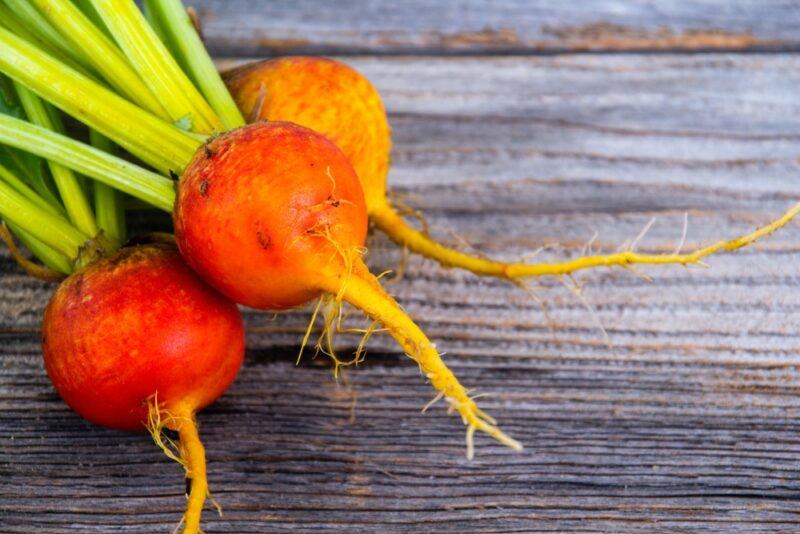 Golden beets have a similar nutrient profile to red beets and can be used in exactly the same ways. However, they tend to be milder and sweeter. The milder flavor means you might like these beets, even if you do not like traditional red beets.
Red beets are also famous for staining everything they touch, including cutting boards and your fingers. Their coloring can bleed onto other ingredients too, making your meal look quite odd. Golden beets don't behave in the same way, which makes them much better in the kitchen.
Spaghetti Squash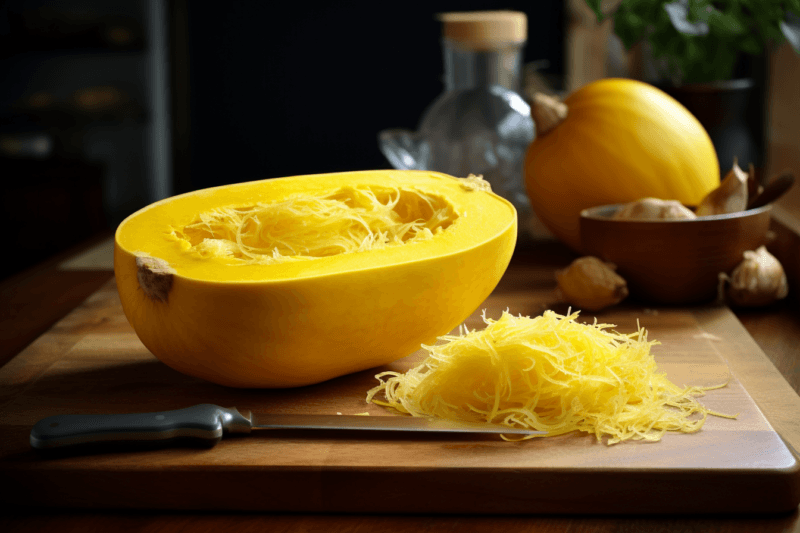 Yellow is a pretty common color for squashes – and spaghetti squash is the most exciting of these. These squashes are aptly named, as once they're cooked, their flesh can be used to create a low carb pasta alternative.
While spaghetti squash doesn't have the same flavor and texture as pasta, it still works well in many of the same dishes. You can even make soup that includes spaghetti squash instead of conventional noodles or create spaghetti squash carbonara.
Yellow Beans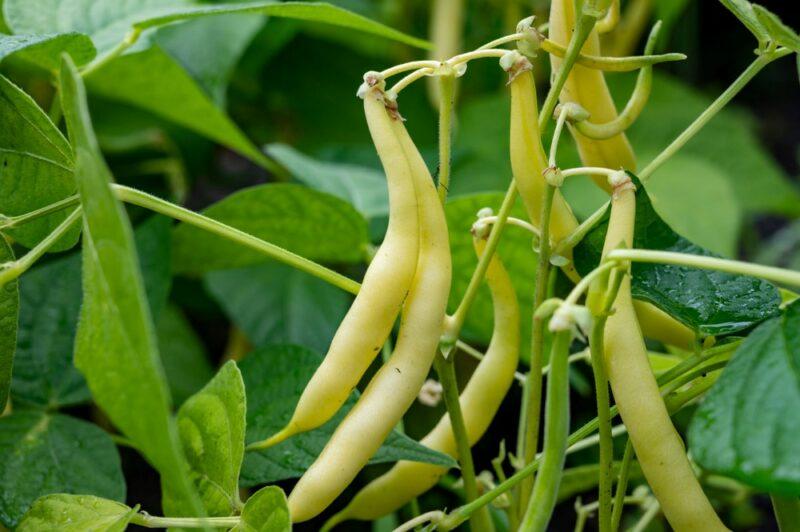 Who says that beans need to be green? There are actually white and even purple ones. Of course, we're talking about the yellow versions today.
The most common version of these is known as wax beans. These beans don't have the chlorophyll found in green beans, but they're still very good for you. Interestingly, the term wax beans is now used for any type of yellow bean, regardless of whether they have a waxy texture or not.
They are also great for meals, as the yellow color stays consistent even after the beans have been cooked.
Bell Peppers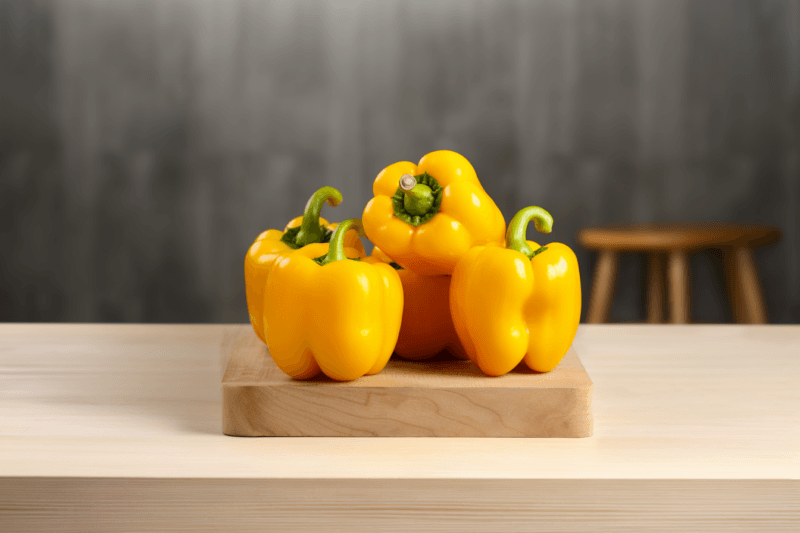 Yellow is one of the most common bell pepper colors, so you can easily find these vegetables at many grocery stores and markets. Yellow bell peppers are normally milder and sweeter than their red counterparts, without the bitterness found in the green varieties.
These peppers are perfect in a yellow curry or for making stuffed peppers. They're also delicious once sliced and roasted.
Bell peppers come from the same family as chili peppers, but they're not spicy at all. This makes them perfect for mild dishes and anyone sensitive to spicy food.
Yellow Cauliflower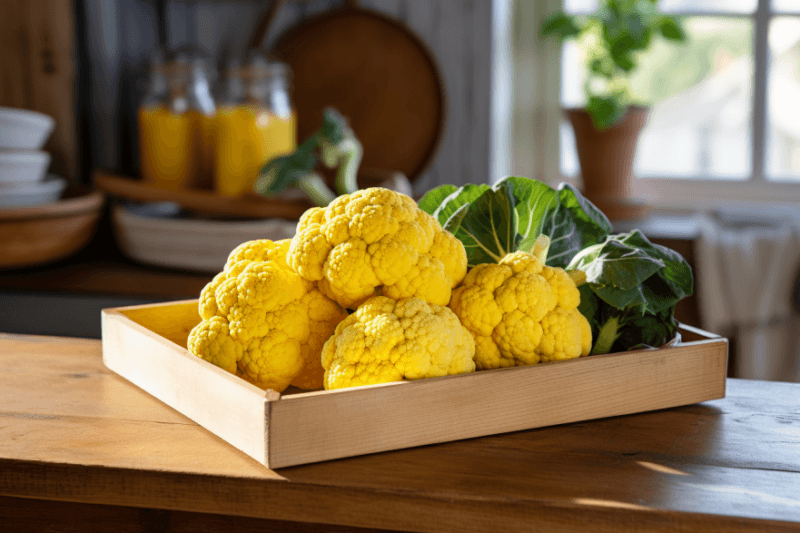 Why stick with white cauliflower when more interesting versions exist, including yellow, green, and even purple cauliflower? These colored cultivars all give you extra phytochemicals, which should increase their health benefits.
Don't stress about these colors; they're not the result of genetic modification. The colors themselves occur naturally and have simply been selected for through careful breeding.
For yellow cauliflower, the pigment molecules are carotenoids, the same type found in carrots.
Yellow Carrots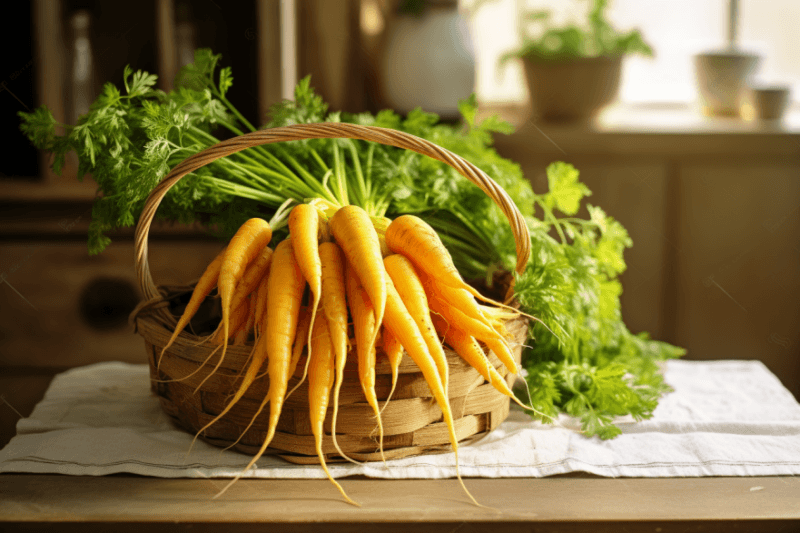 Carrots are another vegetable that comes in plenty of colors, including orange, white, purple, yellow, and red. There are multiple varieties for each color, giving you even more options.
Popular yellow carrot varieties include Yellowstone, Yellowbunch, and Gold Nugget. You might see some of these carrots sold at local farmer's markets or specialty stores. However, you'll have better luck buying the seeds and growing them yourself.
Onions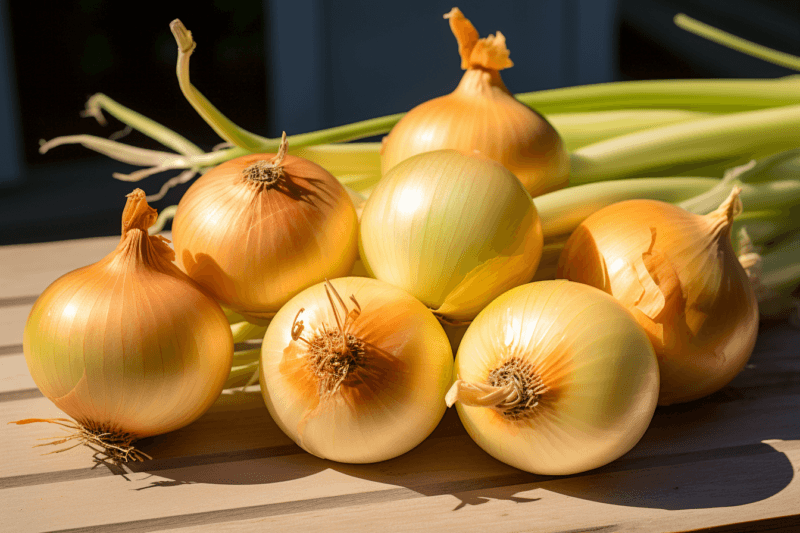 Yellow onions are by far the most common type of onion you'll see. They're not particularly exciting either, as their skin is brown and they only have slight mild coloring inside.
Still… it's easy to understand why these onions are so popular. They can be used in countless recipes and caramelize beautifully when sautéed.
Banana Peppers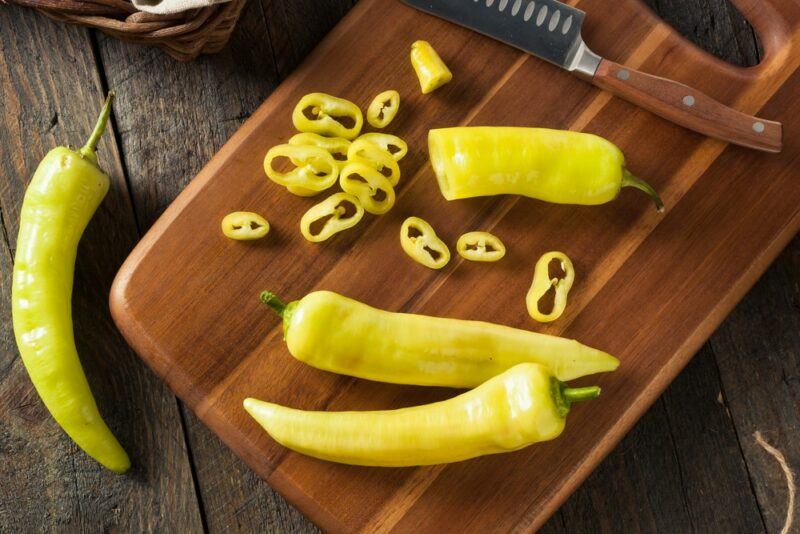 Banana peppers are beautiful and surprisingly mild (much like bell peppers). They're sweet instead and are often sliced on top of salads or pizza, and included in sandwiches.
The mildness of banana peppers means you can easily stuff them and serve them as appetizers. There are plenty of ways to do this, such as using ground beef and cheese or perhaps cream cheese and herbs. The peppers should taste fantastic no matter what.
Tomatoes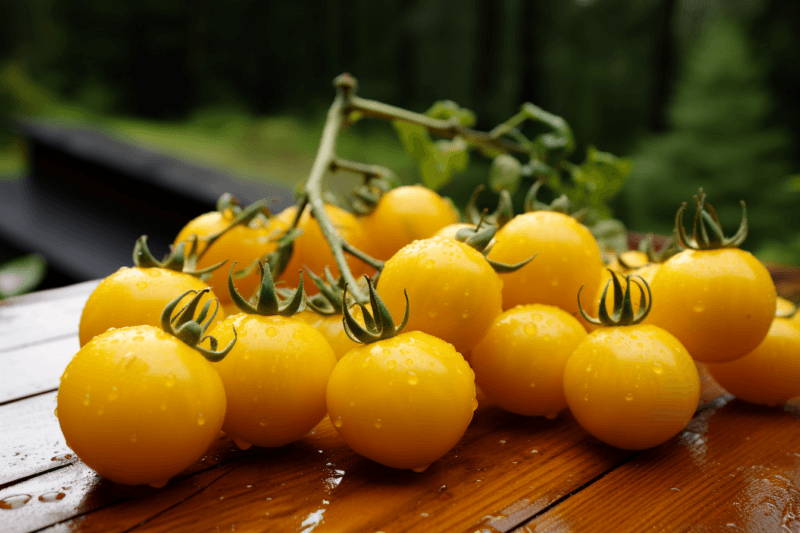 You've seen yellow tomatoes before, right? There are plenty of yellow tomato varieties, including golden roma tomatoes, yellow pear tomatoes, and even larger yellow beefsteak tomatoes.
Yellow tomatoes tend to be mellower than the red ones and taste less acidic. However, there are plenty of differences between the varieties, with some having stronger flavors than others.
You'll probably find some types of yellow tomatoes at your local grocery store and in farmer's markets. For even more options, why not grow your own yellow tomatoes? Doing so is surprisingly easy. You might even get more tomatoes than you bargained for.
Corn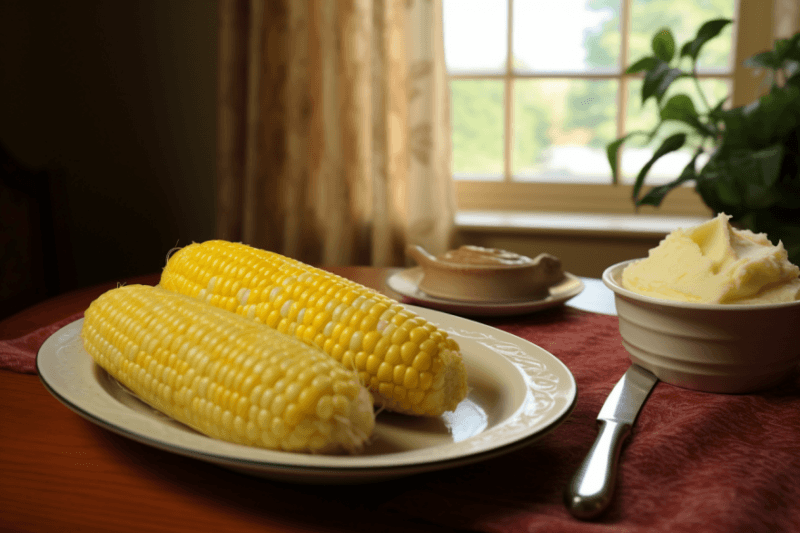 Like tomatoes, and a few other items on this list, corn is botanically considered a type of fruit. Still, we're focusing on plants we treat as vegetables and corn certainly falls in that category.
Corn is a versatile ingredient. You might serve it on the cob (with plenty of butter), or include it in any number of dishes, including corn fritters, chowders, casseroles, salads, and many more. That's not even counting all the products and recipes that rely on corn flour.
Yellow Eggplant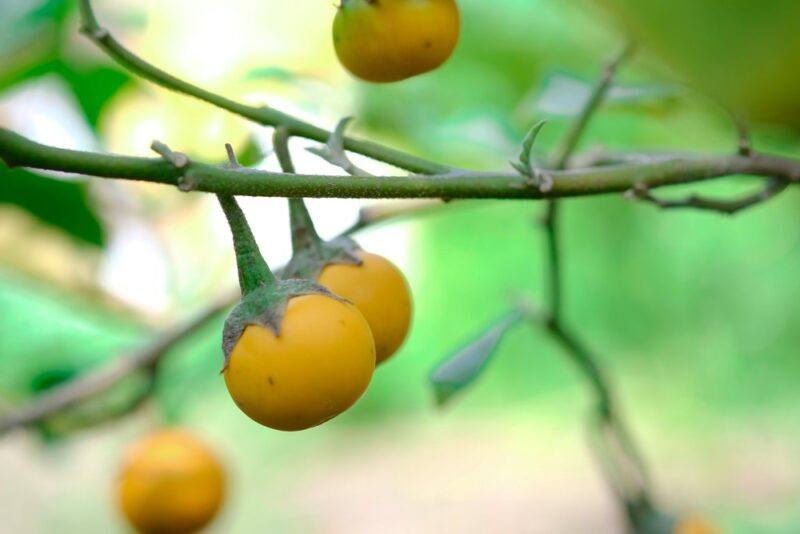 Eggplants are famous for their deep purple color. Yet, not all eggplants are purple, some of them are yellow when they're ripe instead.
These eggplants are typically small and round. Their skin is white when they're young, then becomes bright golden as they mature. Their flavor profile is quite different from the larger eggplant and tends to be fairly bitter. Still, despite their bitterness, these eggplants are worth trying for yourself.
Importantly, purple eggplants will turn yellow if they are left on the vine too long. Their flavor decreases after this point, making them much less appealing. So, if you want yellow eggplant, be sure you find a variety that is yellow when ripe.
Pattypan Squash

Pattypan squash are tiny hybrid squash varieties that can come in many colors, including bright yellow. The bright yellow color is only on the outside though, as the flesh is still crisp and white.
This squash is also more versatile than normal, as it is tender enough to be eaten raw. Because of their small size, these squashes can even be threaded on a skewer and cooked whole. There are countless other ways to use the squash as well.
Rutabaga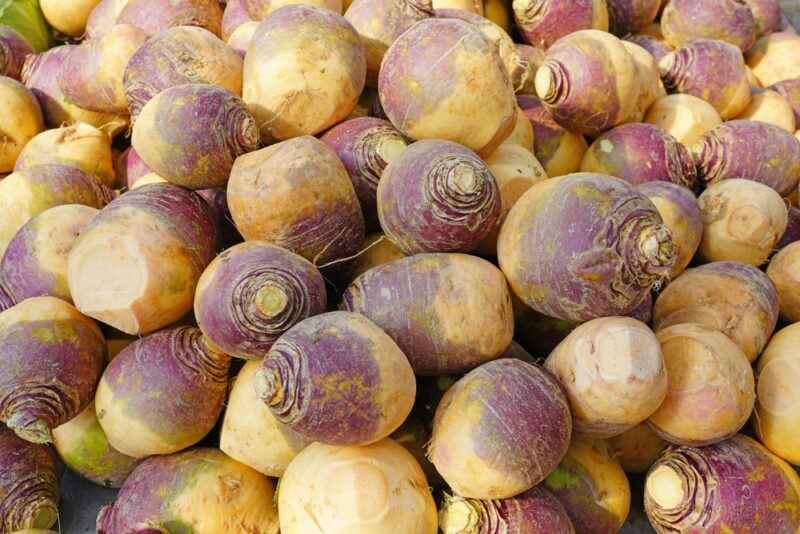 You might think that rutabagas are turnips at first glance, but they're a bit different. Rather than being white and purple, rutabagas tend to be yellow and brown or purple/brown instead.
The flavor profile is a little like carrots, except that rutabaga tend to be a bit more bitter and less sweet. You can actually eat rutabagas raw or cooked, although cooked is far more common.
Yellow Frisée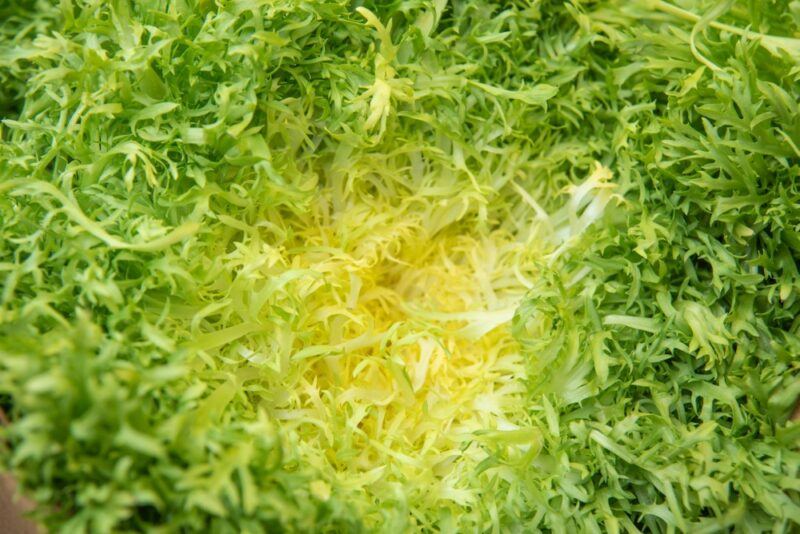 Yellow frisée is an interesting vegetable, with a bright yellow heart and plenty of curly green leaves. It looks much like lettuce, but is actually classified as an endive instead.
The vegetable has a slight bitter flavor, which isn't overwhelming at all. You can also use the leaves exactly as you would lettuce. This includes using frisée leaves in salads, sandwiches, or as a garnish.
Gold Rush Squash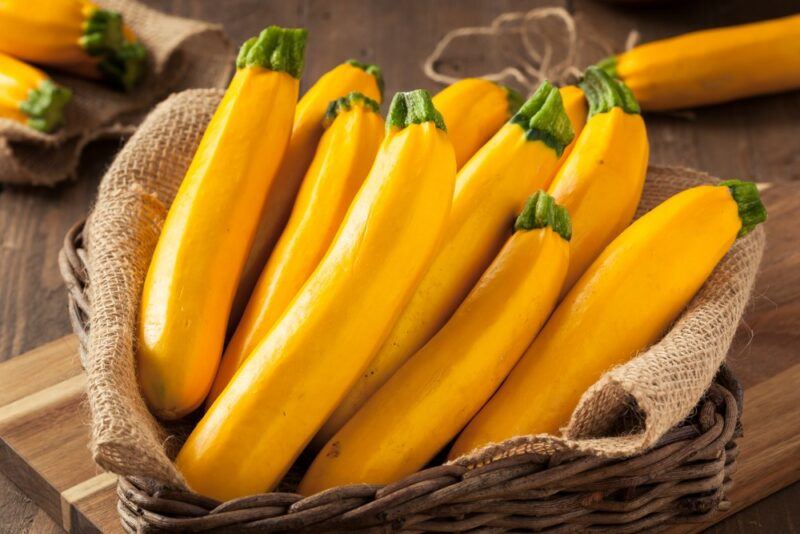 These long yellow squash are basically golden zucchinis and can be used in exactly the same way. This is a fantastic variety for growing in home gardens, especially as you get plenty of squashes every single season.
You can actually make zoodles using yellow squash as well. These are a fantastic alternative to pasta, especially if you're keeping your carb intake low.
Yellow Potatoes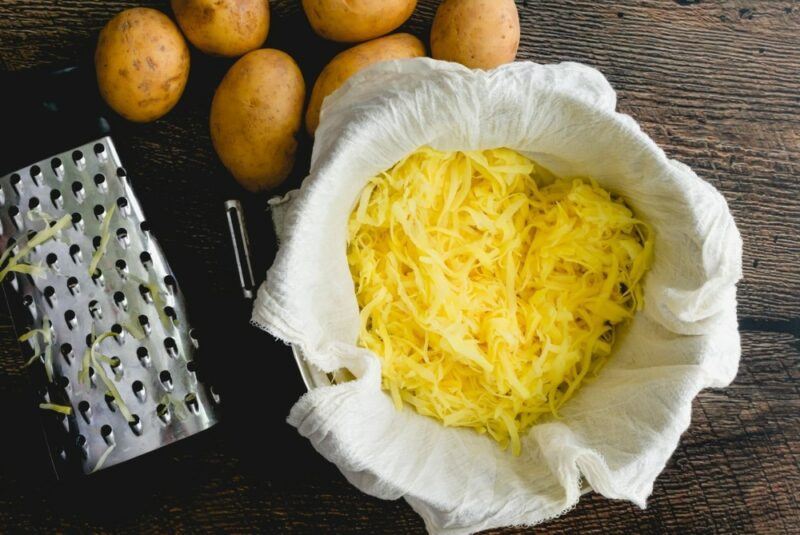 Potatoes are typically white with a slight yellow tinge, but some varieties have a much stronger yellow color. Yukon Gold Potatoes are one such variety. Both their skin and the flesh are distinctly yellow, and the potatoes taste fantastic when they're cooked.
Other varieties yellow potatoes are worth experimenting with too. You can use them exactly like white potatoes.
Zephyr Squash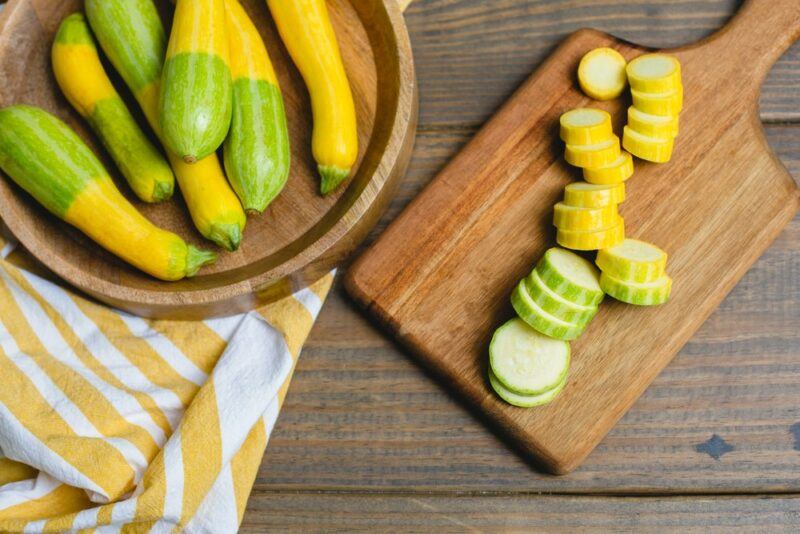 Zephyr squash is a type of summer squash, with an interesting two-tone yellow and green skin. The flesh is mild and a bit sweet, making it great for many recipes.
Like other summer squash, zephyr squash can be eaten raw, particularly when shaved or thinly sliced. You can also bake or roast the squash. Just remember that the squash won't keep for long. It will generally just last in the fridge for a week or so.
Japanese Sweet Potatoes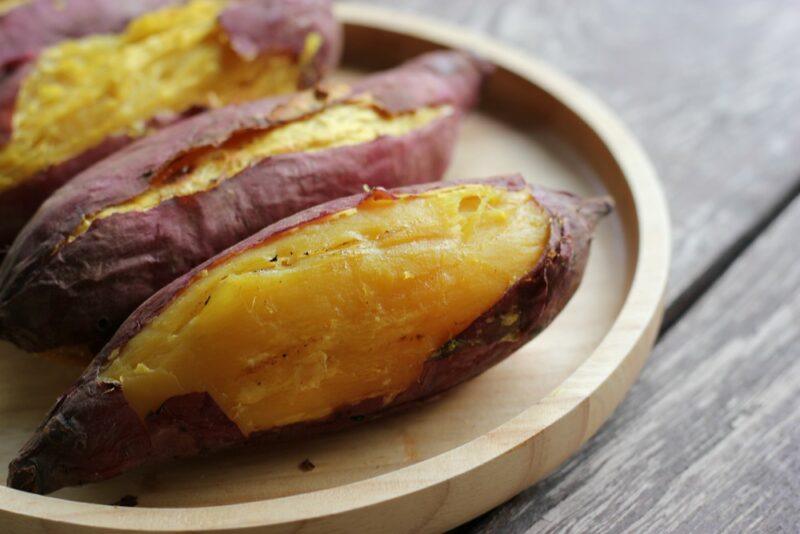 While these sweet potatoes have purple skin, they're typically bright yellow on the inside. This variety is similar to other sweet potatoes, but they're a bit starchier, so they behave more like regular potatoes when you cook them.
They're good for you too, especially as you're getting some powerful phytonutrients from the purple skin.
Yellow Pumpkin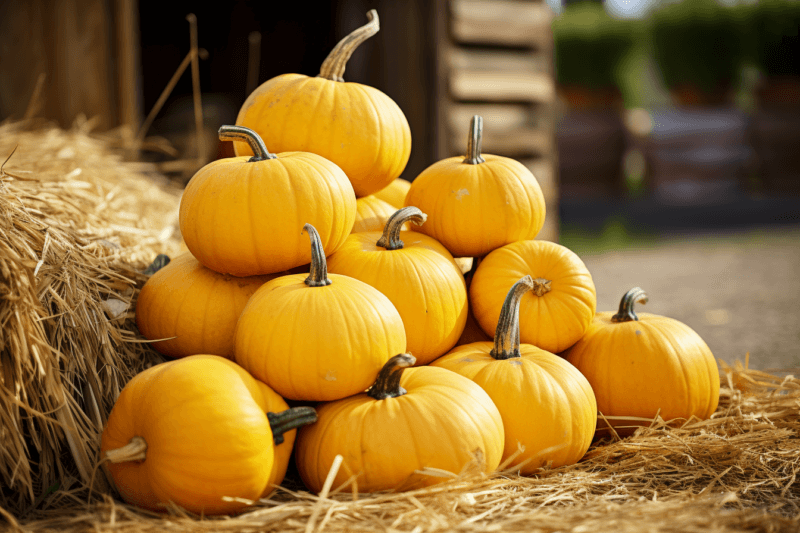 Pumpkins come in many colors, flavors, and varieties, while many are orange, there are yellow ones as well. Some of these have bright yellow skin accompanied by mild yellow flesh on the inside, while others have a dusky yellow skin instead.
Mellow Yellow pumpkins are an example that's well worth trying for yourself. They're tender once cooked, with a slightly sweet and mild earthy flavor. The pumpkin can be used in the same ways as other types, like roasted, baked, or added to soups and stews.
You might even experiment with a few different types of pumpkin in the same meal. This way you get a variety of colors and flavors.
However, it's worth researching pumpkin varieties before you purchase any, as some yellow pumpkins are better for eating than others. Some are best kept for ornamental use instead.
Russian Fingerling Potatoes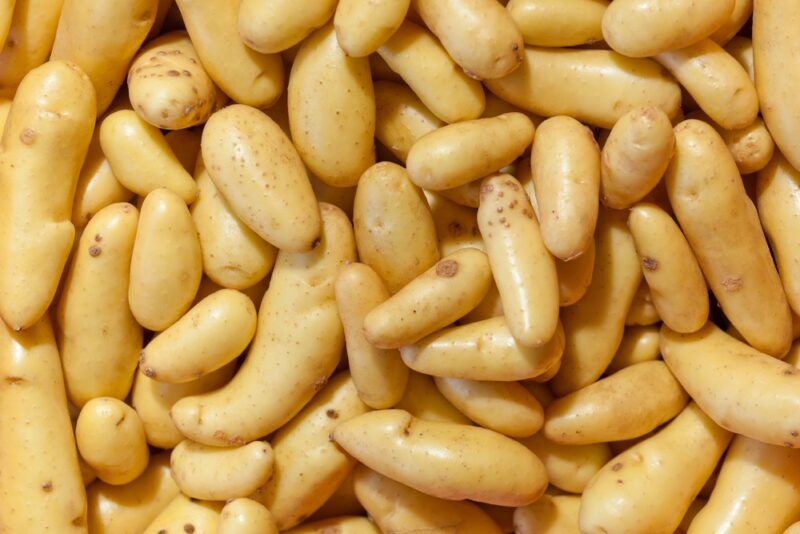 These little potatoes aren't as vibrant as some of the others on the list. Still, they're a fun type to experiment with, as they're long and thin.
This is also a delicious potato variety, which takes on a buttery and slightly nutty flavor when cooked. These potatoes also have relatively firm flesh, which means they hold up well when you're cooking them.
Are Yellow Vegetables Good For You?
Yellow vegetables don't contain the powerful phytochemicals found in richly colored vegetables (particularly purple ones). However, this isn't a reason to avoid them.
You're still getting plenty nutrients from these vegetables. These nutrients play crucial roles in promoting your health and decreasing the risk of disease. There are still some important plant-based compounds present too, particularly lutein and zeaxanthin.
There's also the fiber content, which is relevant for promoting your digestive health. In fact, instead of looking for the best possible vegetables, it's often better to simply focus on consuming a wide variety. This way, you get all the nutrients and plant-based chemicals you need.