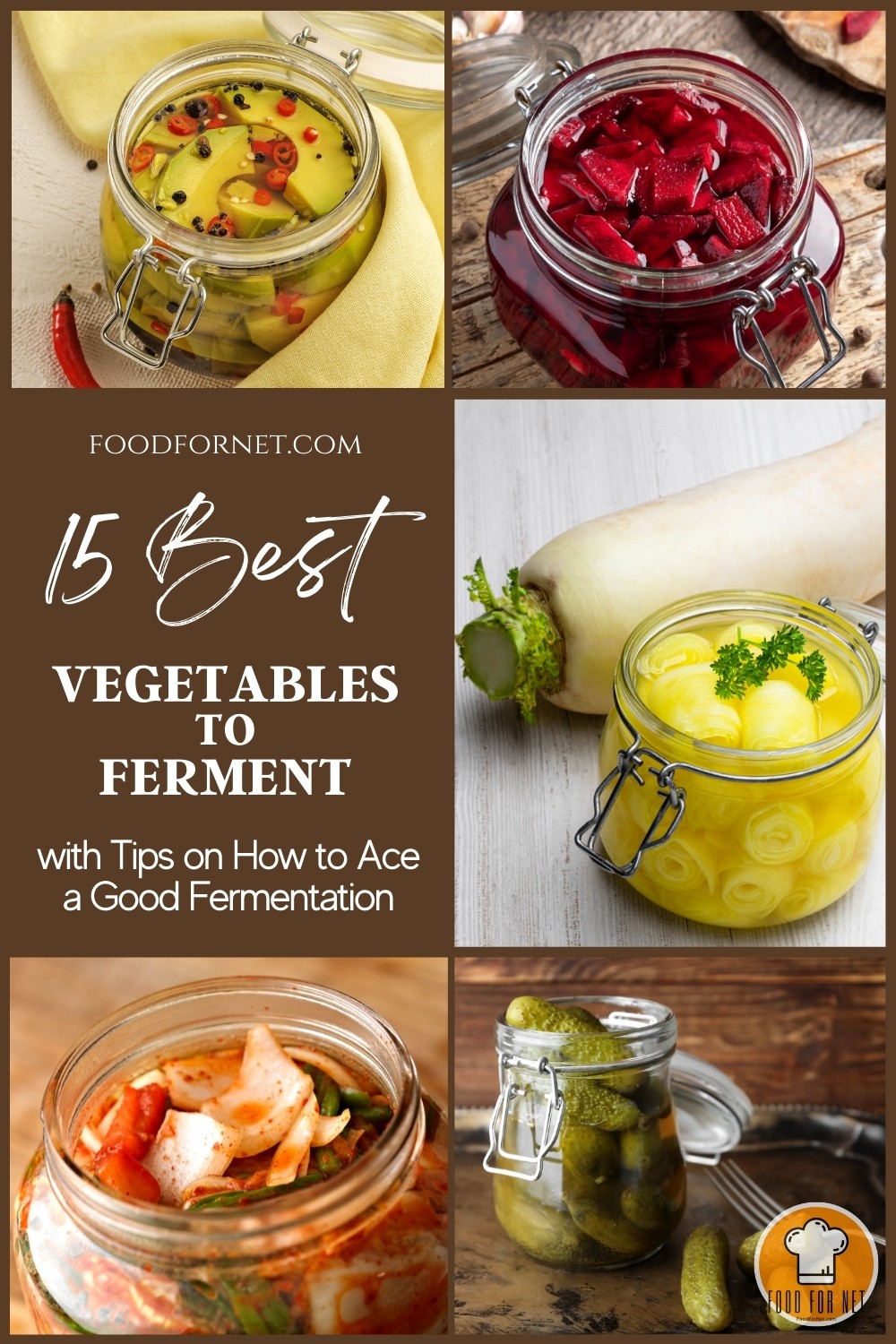 You may instantly think of sauerkraut (fermented cabbage) whenever you hear fermented vegetables. But the fact is you can basically ferment just any veggies – some of course are considered the best vegetables to ferment, but the fact remains that you can pretty much work on any produce and ferment them.
Fermented foods are food or beverages that are produced via controlled microbial growth and the conversion of food components via enzymatic actions. Food fermentation is not just a method of food preservation but also a great way to enhance its taste and texture. In some cases, there are certain foods like olives for instance, which are inedible without fermentation.
Pickling, canning, and freezing are also methods of food preservation. And although sometimes pickling is mistaken for being the same as fermenting, they're actually not. They do have some sort of overlapping categories, though. For instance, cucumbers can be pickled with an acidic brine containing vinegar. If a salty brine is used instead (without the vinegar), then it's fermenting. During fermentation, the food naturally develops a sour flavor because of the chemical reaction. So, although both may taste vinegary, one is because of the added acid and the other is because of natural fermentation.
Among the health benefits associated with fermented foods are reduced risk of cardiovascular disease, high blood pressure, obesity, diabetes, and inflammation. These foods can also aid in managing weight, supporting gut, bone, and heart health, boosting mood and brain activity, and recovering after exercise. Based on these benefits, it's quite understandable why fermented foods from around the world are getting quite attention from the health community.
You can ferment many foods including meat and fish, soybeans, legumes, dairy, cereals, fruits, and yes, vegetables! Like we've mentioned above you can pretty much ferment any vegetables. Some vegetables though may require special attention or particular care in processing than others. For instance, delicate leafy greens and cabbages have a lot of moisture so for these veggies, you won't need a brine to ferment them. Veggies with high water content can benefit from added tannins (grape leaves or black tea leaves) to keep them crunchy.
When it comes to food safety, fermented vegetables can actually be safer than raw vegetables because the very process of fermentation kills the harmful bacteria in them. Having said that basic food safety practices still need to be followed. Keep in mind also that the bigger concern is contamination after the veggies have been fermented. So, make sure that when handling jars, you have clean hands and that it doesn't come in contact with raw meat or other possible sources of contamination.
So, are you excited now to try fermenting vegetables? First off, see our list here of the best vegetables to ferment. Who knows, you probably already have some of them in your fridge right now. If not, no problem, you can simply grab them the next time you go grocery shopping – or you can simply get them fresh online, too. See also some tips at the end of the article on how you can be successful at fermenting veggies.
Best Vegetables to Ferment
Beets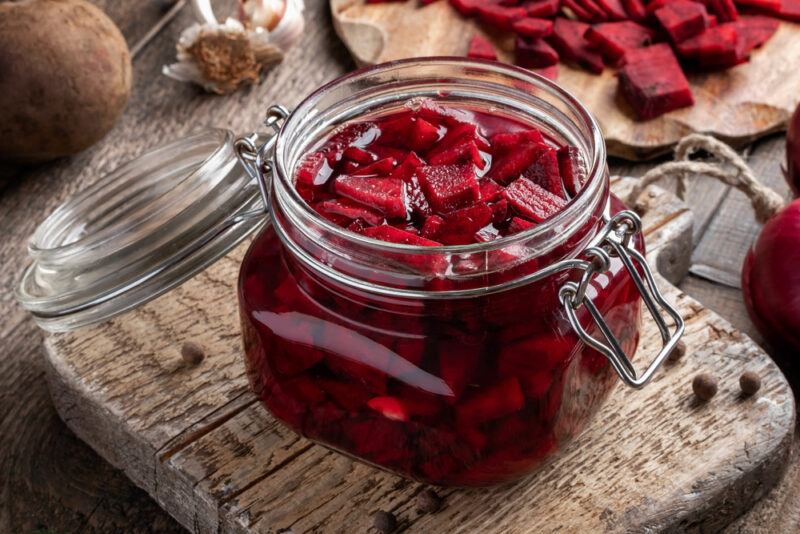 Fermented beets are actually a popular Eastern European fermented veggie. They're usually combined with dill or juniper berries. You can also try using coriander seeds or orange peel for additional flavor.
Fermented beets contain probiotics that improve digestion. It may also help protect against toxins and other harmful bacteria.
Broccoli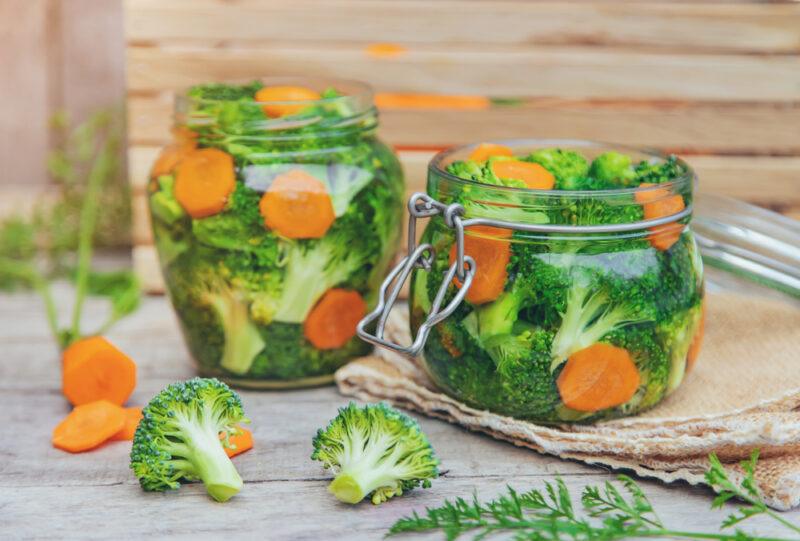 After a week of fermentation, broccoli already tastes good with a lovely texture. Although the florets won't always hold up during fermentation, the stems still stay crunchy. It's perfect for veggie bowls or toppings in pizzas!
No doubt that broccoli is one of the healthiest veggies out there, fermentation only adds more nutrition like probiotics to it. And of course, the additional flavor.
Cabbage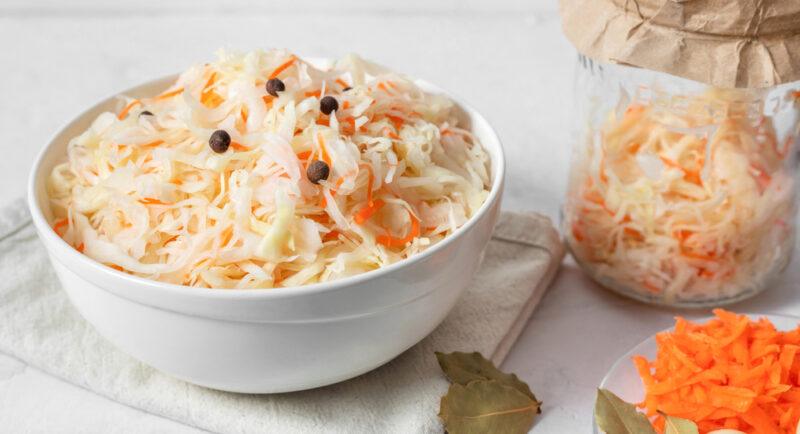 Sauerkraut is fermented cabbage that you can enjoy in as little as three days after you made it. Of course, a longer fermentation period makes it even tastier – but then again it really depends on your preference.
Fermented cabbage contains a lot of probiotics like yogurt. It's also rich in fiber, vitamins, and minerals that can help improve digestion, boost the immune system, reduce stress, and contribute to stronger bones.
Carrots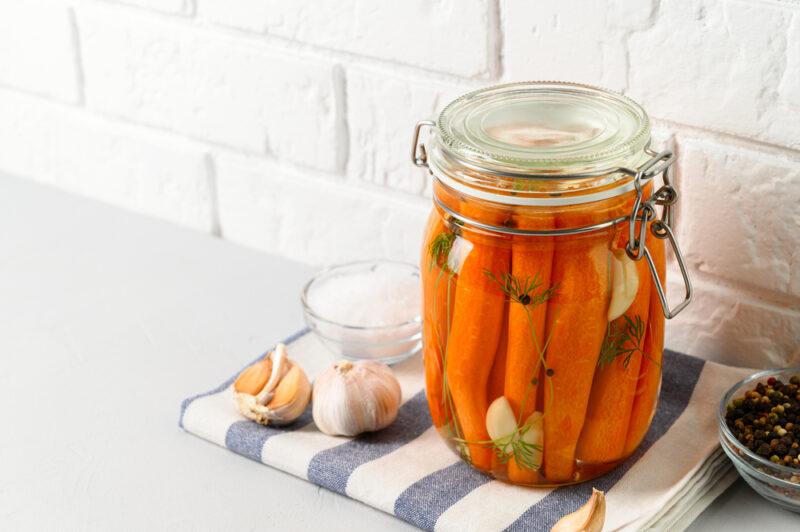 Fermented carrots are perfect for adding brightness to your salad, crunch to your sandwiches, and variety to your veggie bowls. You can add spices like coriander, dill, or jalapenos to your fermented carrots for added flavor.
The plant compounds in carrots, like beta carotene, alpha-carotene, lutein, lycopene, polyacetylenes, and anthocyanins, may increase during fermentation. It's good for maintaining eye health, aiding digestion, preventing cancer, controlling diabetes, curbing the appetite, and boosting heart health, bone health, and immunity.
Cauliflower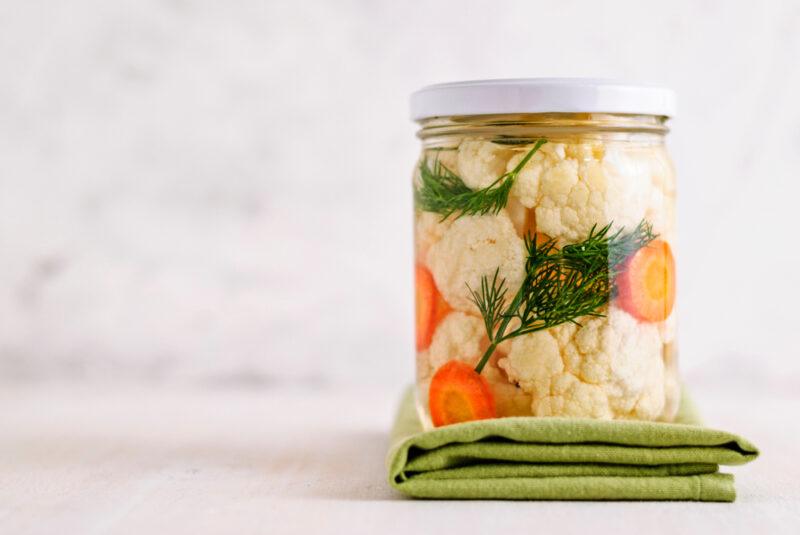 If you have a picky eater in the house and have set their eyes strongly against cauliflower, then you should really try serving them fermented cauliflower. The crunch and salty tang will surely entice them to try more. The addition of some spices like pepper or some herbs can surely spice up its flavor.
Cauliflower is packed with vitamins, minerals, antioxidants, and phytochemicals that are even enhanced when fermented. It's good for boosting the immune system, fighting cancer, improving blood pressure and kidney function, and even keeping the aging process at bay.
Celery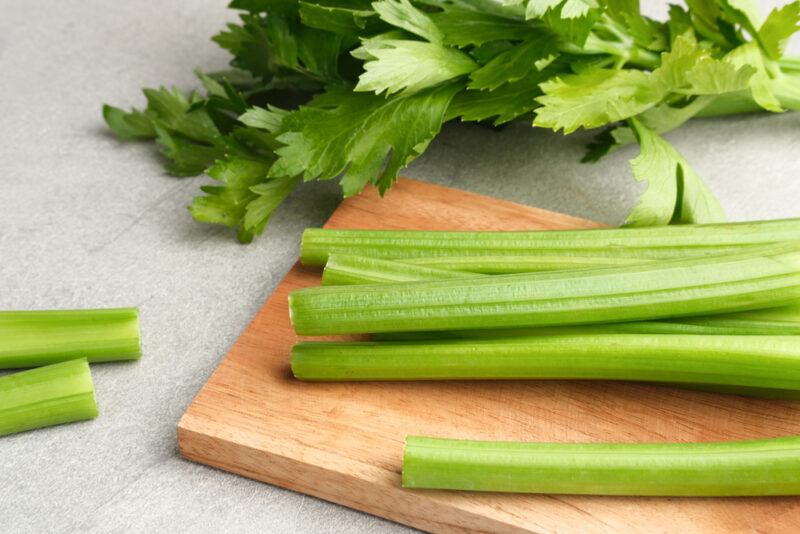 Fermented celery, because, why not, right? In fact, you'll be surprised at how nutritionally packed the humble celery can be.
Aside from boosting the immune system and promoting healthy digestion, fermented celery also provides protection against inflammation. It also has an analgesic effect. Because of its probiotic content, it creates a balanced microbial flora.
Cucumbers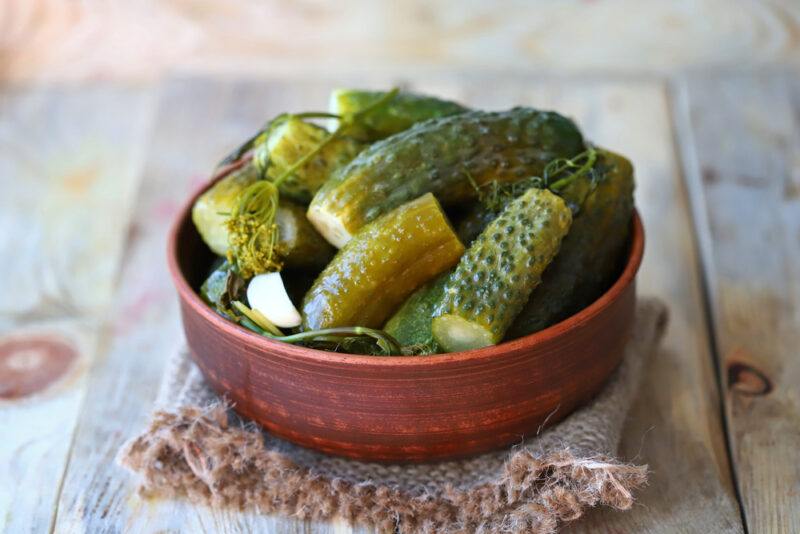 You can enjoy crunchy, tangy, and delicious fermented cucumbers whenever you want by simply making one at home. It's super easy to make and it's very economical, too. And also, what can get better than that – get all the goodness from the cucumber along with the live active culture of bacteria whenever you crave for it.
Fermented cucumbers are packed with natural antioxidants. It's good for aiding weight loss, supporting the central nervous system, and reducing anxiety and depression. It may also help in reducing the risk of Parkinson's and in preventing colorectal cancer.
You can ferment other ingredients with cucumbers too, like jalapenos, giving you spicy jalapeno pickle juice.
Daikon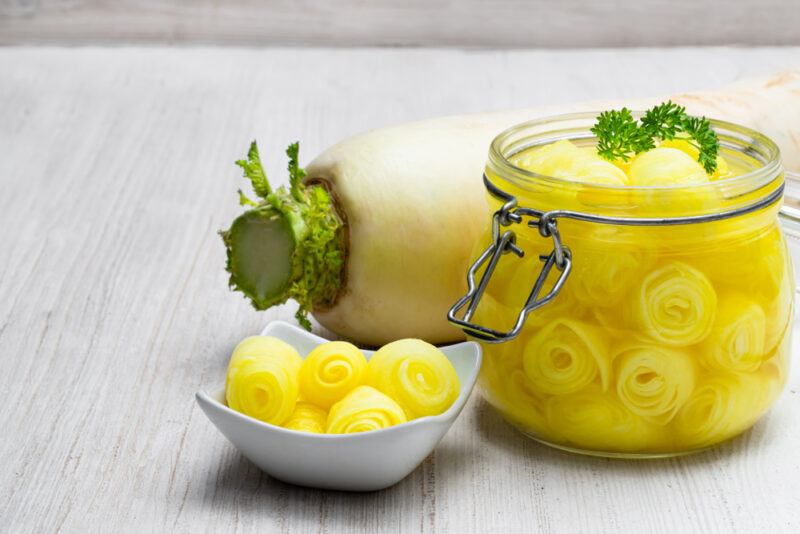 Daikon, a close relative of the radish, makes for a great fermented veggie. Its shredded fermented version is usually served as an accompaniment to Japanese cuisine. Spices and herbs like cilantro or celery can be added to it for some tartness and earthy flavor.
Not only does it help in improving digestion and bone health, but it also has antimicrobial and antiviral properties. It even has anti-cancer potentials.
Garlic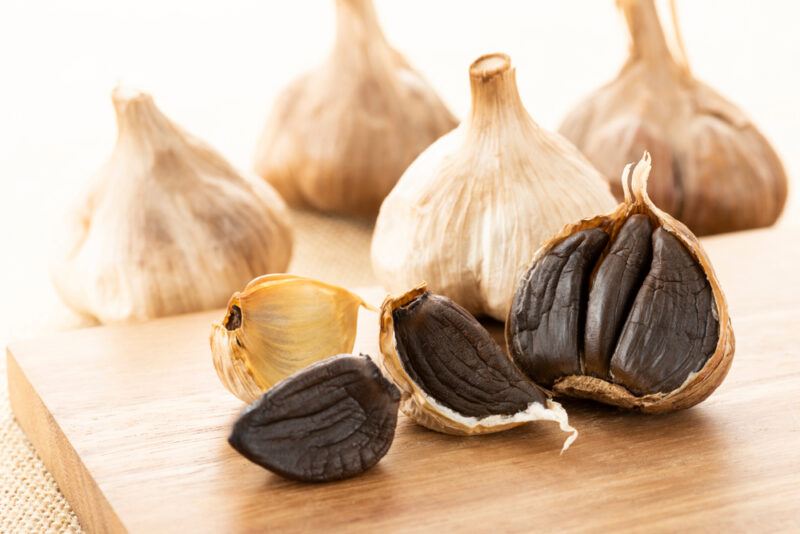 Fermented garlic, also known as black garlic, is simply a must-try, it's packed with nutrition that renders it quite a powerful food to have in our diet. The fermentation process dulls its intense taste compared to when it's raw. Bioactivity also renders it to become even healthier for our bodies.
Raw garlic contains manganese, vitamin B6, calcium, copper, potassium, phosphorus, iron, and vitamin B1. The fermentation process even increases its nutrient content. Aside from boosting the immune system, it also improves cholesterol levels, reduces blood pressure, and helps detoxify heavy metals.
Hot peppers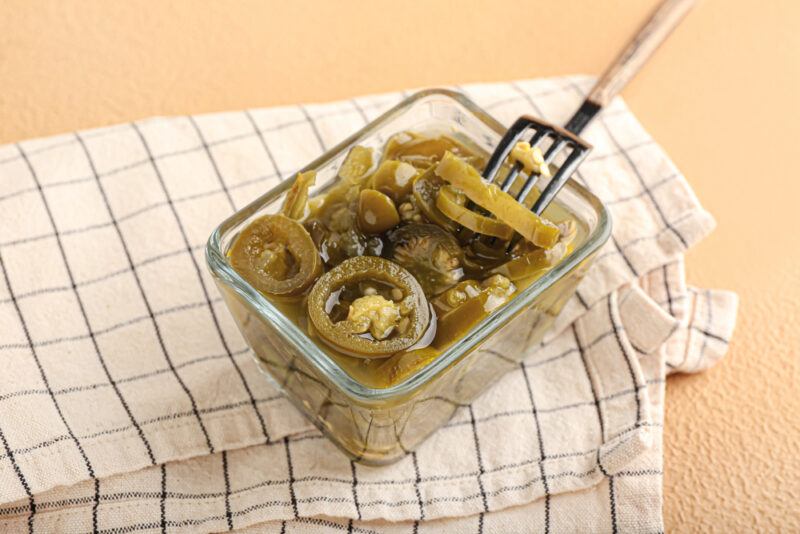 When you ferment hot peppers, the heat mellows a bit but it becomes even more flavorful. By day 5 or day 7, you'll already notice a change in color and may very well be ready and done (depending on your taste preference). The longer it ferments, the more complex and rich its flavor becomes.
Chili pepper is a great source of antioxidants, especially capsaicin which is also primarily responsible for its hot taste. Chilis are also known for their carotenoid content, an antioxidant that is linked to many health benefits.
Napa cabbage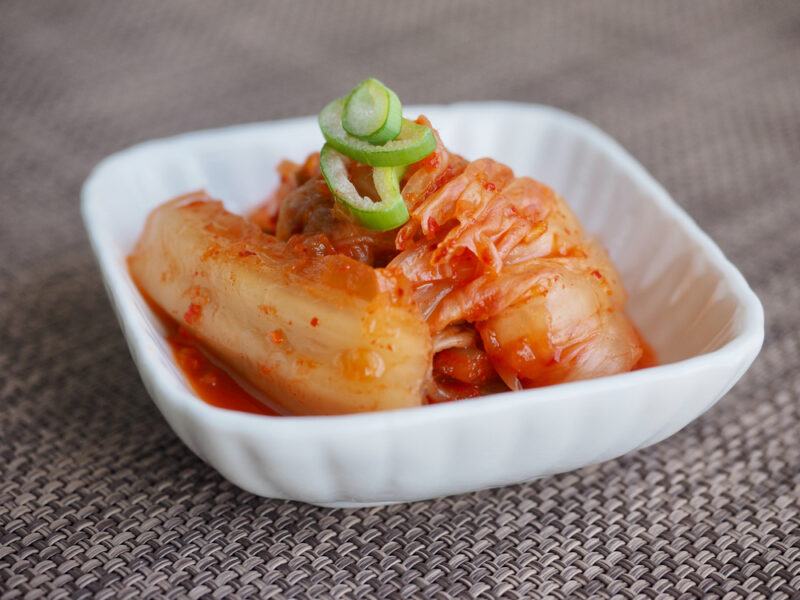 Napa cabbage can be fermented with regular brine and some spices but you can also opt to make kimchi – a fermented vegetable that is a staple food in Korean cuisine. The same fermentation principles apply, only with the addition of Korean spices and flavorings.
Fermented cabbage, of course, has probiotics but it's also a good source of choline, and vitamins K and C. It also contains other nutrients like calcium, copper, and iron. Aside from balancing gut bacteria, it's also good for keeping you regular and boosting digestive functions.
Okra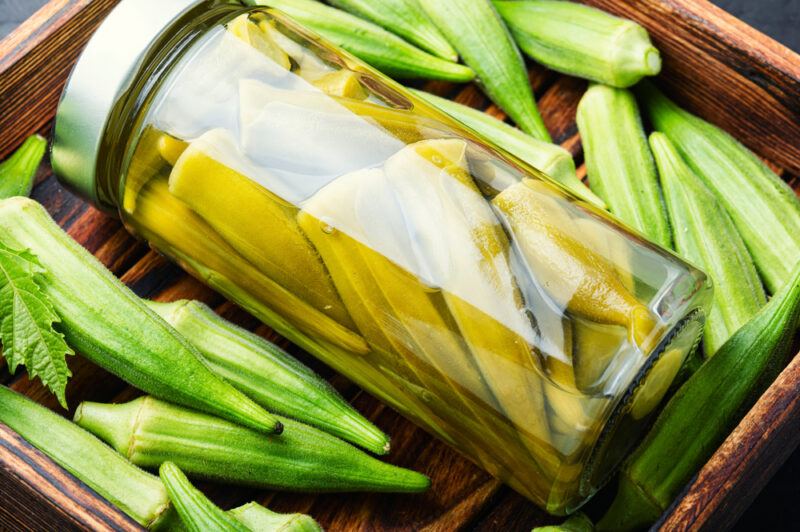 Another way to convert okra hater to embrace these veggies is by fermenting them. Try offering them a healthy serving of fermented okra packed with nutrients and flavor, but less the slime! You can opt to add spices for additional flavor.
Okra contains fiber, potassium, folate, and vitamins C and K. It helps in boosting digestion and regularity, fighting fatigue, lowering blood sugar levels, fighting depression, and may even help in preventing cancer.
Onion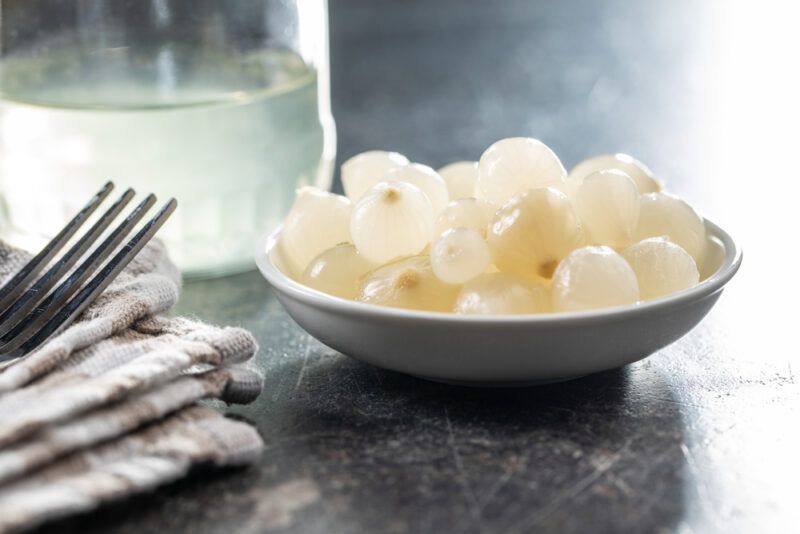 The texture of fermented onion is closer to cooked onions than its raw counterpart. It has a delicious tangy taste without the bite and pungent flavor that can be observed in raw onions. You can make salad dressing with it, onion butter, toppings for your pizzas, stuffing for your burger or sandwiches, and even with your savory cocktails.
Onions, particularly the red ones, are rich in quercetin. It is a plant compound that has anti-inflammatory, antioxidant, antiviral, and antihistamine properties. It's worth noting as well that a high concentration of good microbes is in the brine itself, so make use of those as well whenever you can.
Snap peas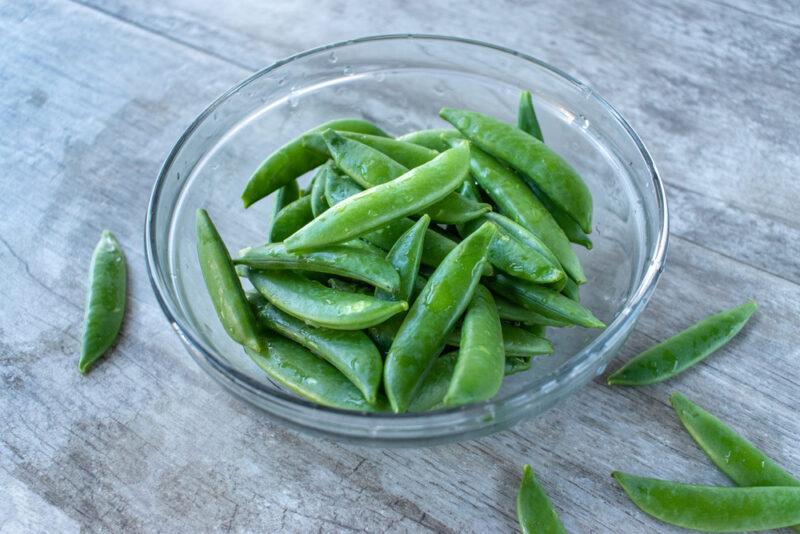 Make sure to never run out of spring veggies in the house and have fermented snap peas on ready whenever. You can add garlic cloves for added flavor. A sprig of your chosen herb can also do wonders.
Snap peas are rich in folate and are excellent sources of fiber, potassium, beta carotene, magnesium, and vitamins A, B, C, and K. Aside from improving the immune system, it's also good for digestive and bone health.
Turnips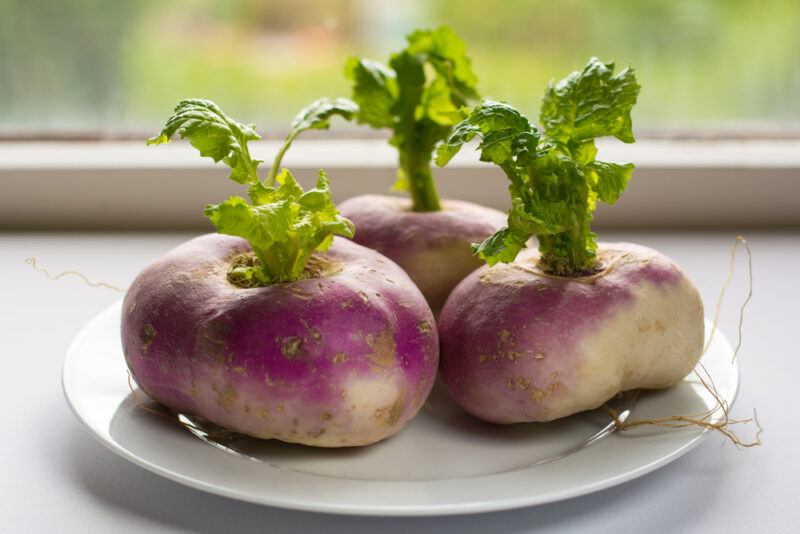 Turnips are part of the radish family. When fermented, it's crunchy and delicious with a tang that mellows down its radish-like bite. It can be fermented alongside beets for an awesome color on top of its fresh flavor.
Turnips are rich in manganese and are also an excellent source of vitamin K, vitamin C, folate, and potassium. Fermenting them boosts their vitamin and antioxidant contents. It's good for relieving intestinal problems, lowering blood pressure, reducing the risk of cancer, and aiding digestion and weight loss.
Tips on How to Ace a Good Fermentation
Remember food safety practices
Start off with clean hands, clean vegetables, and clean equipment. Although from a food safety standpoint, fermented vegetables can actually be safer than raw vegetables, you would want to keep bad bacteria from leaching onto your ferment. So, always keep in mind good handling and good sanitary practices.
Keep the oxygen out
Make sure to keep the oxygen out to facilitate anaerobic fermentation. You want a salty, acidic, and oxygen-free environment where only the lactic acid bacteria can grow. This is very important because if by any chance oxygen enters the jar, mold and yeast could settle in rendering it not fit for consumption.
Let the carbon dioxide out
Fermentation will produce carbon dioxide or CO2 which is normal but you need to let it out – of course without letting oxygen in. You can use the burping technique by simply slightly unscrewing (don't open it all the way) the lids to let the CO2 out. You can also make use of silicone valves and strips or airlock bubblers.
Mind the temperature
Quick fermentation can happen with high temperatures and the contrary happens when it's pretty cold, say about 15 degrees Celsius. For home fermentation, generally, a room temperature is ideal to facilitate a good fermentation.
Don't forget to taste
Give it a taste, it's done if it already tastes good to you! You see, the fermentation length depends on your preferred taste. Simply keep in mind that long fermentation periods turn the veggies more acidic and tender. So, it can vary from several months to a matter of days. Factors that can affect the speed of fermentation include the temperature, types, and sizes of the vegetables, and the amount of salt.