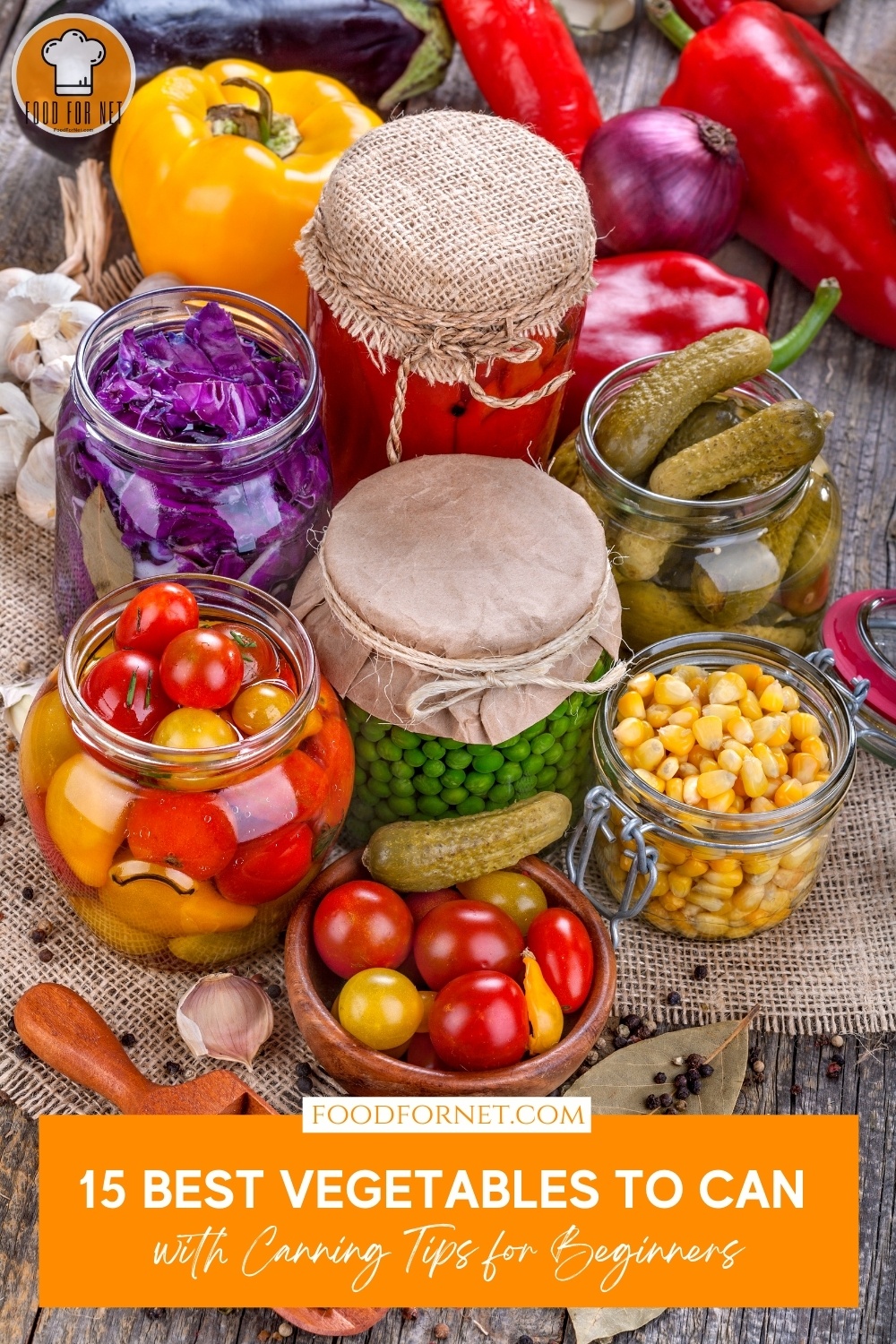 Of course, we'd like to make the most of whatever vegetables are in season! Not only are they at their best quality but they're also a lot cheaper. And in as much as we want to eat veggies every meal, every day of the week, we still can't store that many fresh vegetables in the house without risking spoilage. And to resolve that, we turn to food preservation! And one way to do that is thru canning. Yes, canned vegetables because, why not? Right? The best vegetables to can are out there and are ready for the taking! So, shall we start?
First off, what is canning – it's a food preservation method where foods are stored in jars and are heated at high temperatures to destroy microorganisms. The process also inactivates enzymes that cause food spoilage. And because it's now sealed, air which can bring microorganisms to re-contaminate the food can no longer get in. As a general rule, unopened home canned foods have a one-year shelf life and should be used within two years.
You can choose from three canning methods: pressure canning, water bath canning, and atmospheric steam canning. These methods are scientifically tested and approved and are used to ensure quality and safe home-canned products. The boiling water bath or atmospheric steam canner is good for high acid foods, like jam, jellies, or tomatoes. For low acid foods such as vegetables and meats, the pressure canner is used.
Canning vegetables are actually super easy (one of the reasons why canning is preferred by many), once you've procured the best vegetables to can, you can simply prep them. Wash thoroughly, peel if you have to, and simply place them into your jars depending on how you chose to pack them.
Vegetables can be raw packed or hot packed. Raw packing means filling jars with freshly prepared and unheated food. Hot packing on the other hand involves heating freshly prepared food and then filling the jars with the boiled veggies and liquid.
When packing, make sure to remove bubbles and remember to be cautious about the headspace between the jar rim and the liquid. It can range from a quarter-inch for jams and jellies, to 1 ½ inches for meats and veggies – it's best to refer to a tested recipe for guidance when it comes to headspace. For more canning guides, see some canning tips at the end of the article.
There are other methods of preserving vegetables, you can also try freezing, pickling, or dehydrating. It really depends on your personal preference as to which of these will work best for you. But generally, they all help in making sure you stock up nicely with your favorite vegetables while they are in season.
If you have made up your mind and opt to proceed with canning, then see this list of the best vegetables to can to get you off to a good start. Check out our list and see which among the veggies here will you be prioritizing in your next canning project.
Best Vegetables to Can
Asparagus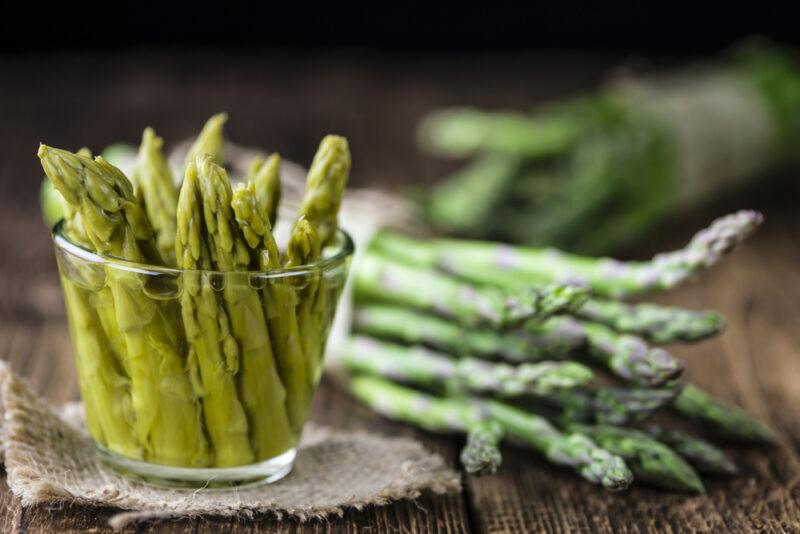 Canned asparagus is softer in texture compared to fresh ones. They'll make for a great addition to omelets or quiches and would be just perfect in making pureed asparagus soup.
Asparagus is rich in antioxidants. It also contains vitamins C, E, glutathione, polyphenols, and flavonoids like quercetin, isorhamnetin, and kaempferol. It helps promote regularity, boosts digestive health, lowers blood pressure, aid in weight loss, and reduce risk of heart disease, diabetes, and high blood pressure.
Beets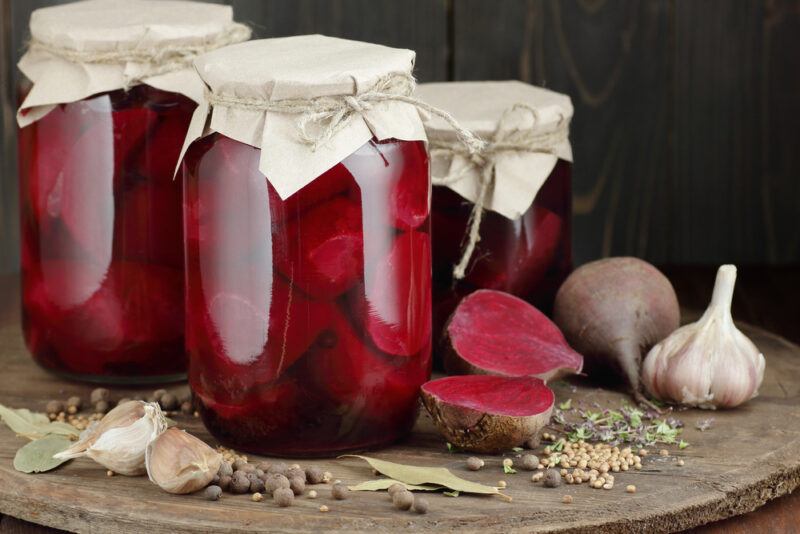 Canned beets actually retain a flavor that could rival their fresh counterpart. It can easily be added to salads or can be simply sauteed in butter with a little spritz of lemon juice.
Beets are a good source of fiber, vitamin C, and folate. It helps in lowering blood pressure and in improving athletic performance.
Carrots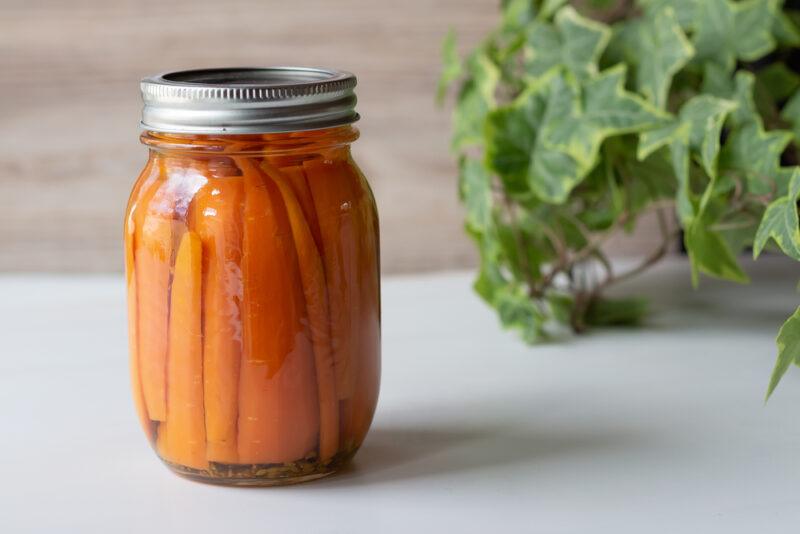 Canned carrots will make for a great impromptu side dish. Simply heat it up in a pan with butter, drizzle with honey, add a dash of salt, pepper, and cinnamon, and constantly stir until it starts to bubbles. After a few minutes, take out from the heat, and simply serve!
Carrots are rich in beta carotene content. It also contains biotin, potassium, vitamins A, B6, and K1. It helps in controlling blood sugar levels, lowering the risk of diabetes, and strengthening bones.
Corn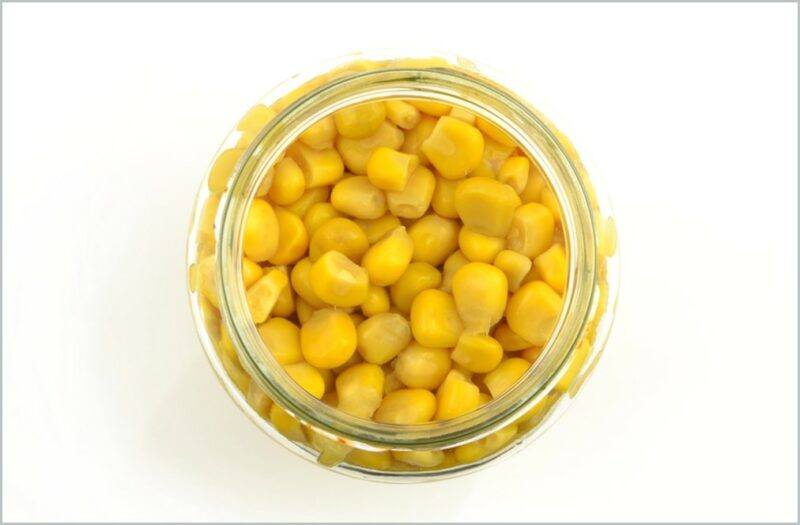 Canned corn will come in handy whenever you crave corn soup and you want it quick, easy, and stat! It'll make for a great side dish, too, or as a colorful addition to your salad or salsa. And have you tried corn in your veggie fried rice? You should.
Corn contains fiber, antioxidants, and plant compounds like vitamin C, lutein, and zeaxanthin. These plant compounds are known to help in maintaining good eye health and preventing lens damage that leads to cataracts.
Cucumber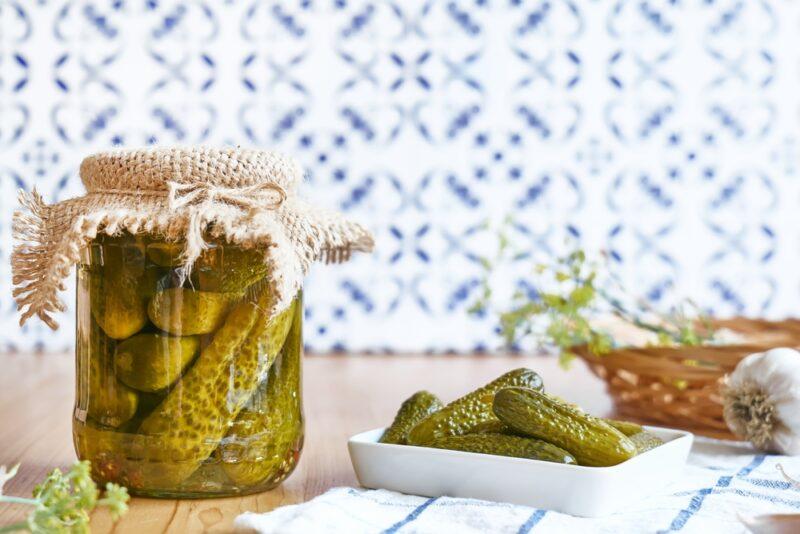 Canned cucumbers can be eaten out of the jar as snacks – be cautious though because although it's flavorful and crunchy, it's also quite salty.
Cucumber contains fiber, iodine, phosphorus, potassium, zinc, calcium, iron, provitamin A, and vitamins E, C, and a handful of B vitamins. It helps in protecting the vascular system, proper functioning of the digestive system, and in preventing cancer.
Green beans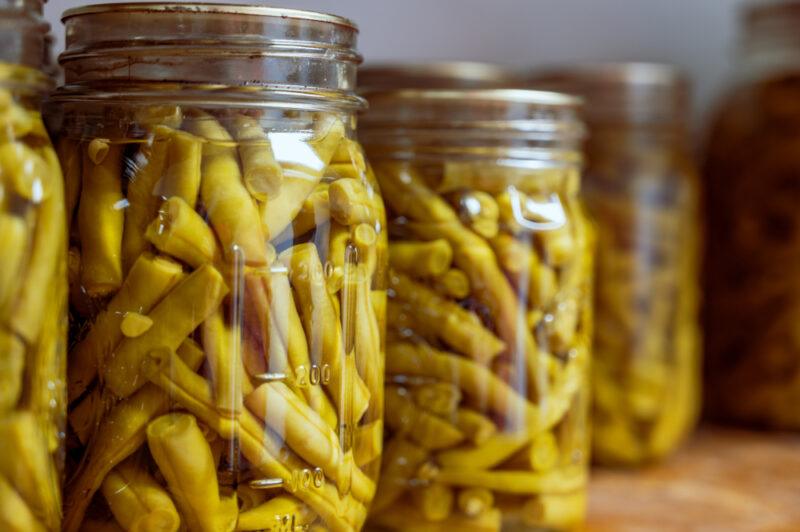 Canned green beans can be safely eaten straight out of the can in salsas or salads. It can be reheated as well to make for a quick side dish. Say toss in a pan with a little butter and then sprinkle with salt and pepper.
Green beans are known for their folate content, about 1/3 of daily recommended intake in just one cup. It also contains thiamine, niacin, calcium, iron, magnesium, phosphorus, potassium, zinc, and vitamins A, C, and K. It helps in protecting bone health, supporting pregnancy, reducing depression symptoms, and may also help with anemia and prevent cancer.
Mushrooms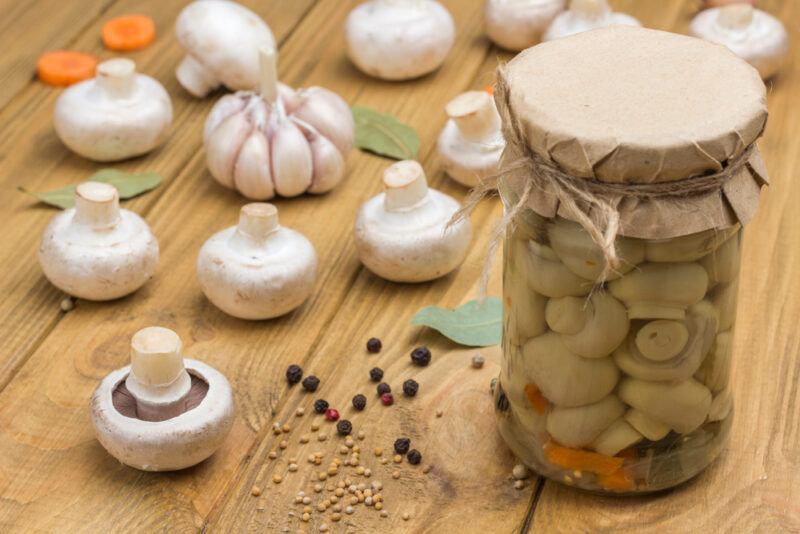 Canned button mushrooms are a great addition to omelets, salads, soups, or sauces. They will also make for a quick and delicious side dish, simply saute and throw in some minced fresh herbs.
Mushrooms are rich in fiber, protein, and antioxidants. They contain riboflavin, niacin, and pantothenic acid which are vital in protecting heart health. Its selenium content protects body cells from damage.
Onions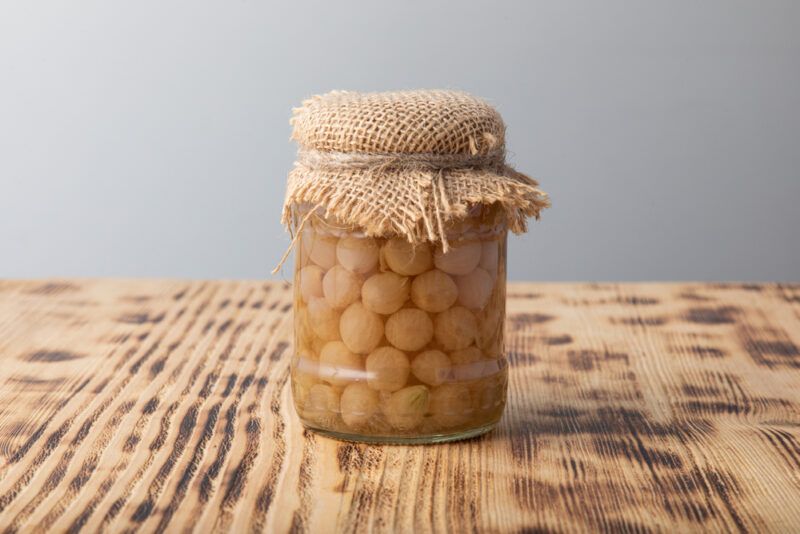 Canned onions can be eaten simply as a condiment, they're also great to add in burgers, gravy, or sauces. You can opt to can them raw or choose to can pickled onions. And speaking of, pickled red onions will make for a vibrant addition to any meal!
Onions are a good source of fiber, folate, potassium, manganese, and vitamins C and B6. It also contains antioxidants and compounds that help fight inflammation, lowers cholesterol levels, reduces high blood pressure, and protect against blood clots.
Peas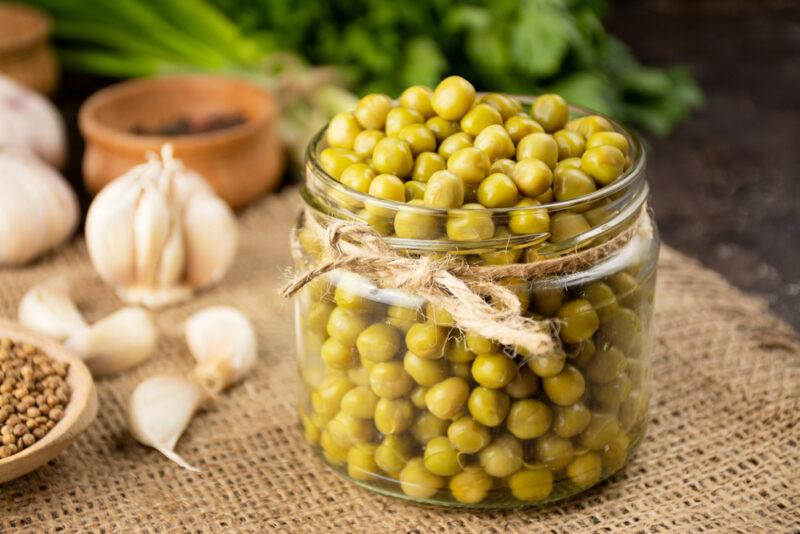 Heated canned peas seasoned with salt and freshly ground pepper is no doubt a quick and easy side dish! It'll go perfectly with your roasted meats. You can also make soups, salads, or casseroles with canned peas.
Peas contain fiber, protein, thiamine, folate, manganese, iron, phosphorus, and vitamins A, C, and K. It's good for supporting healthy blood sugar control and keeping gut bacteria healthy. It may also help in preventing chronic diseases such as heart disease, diabetes, and cancer.
Peppers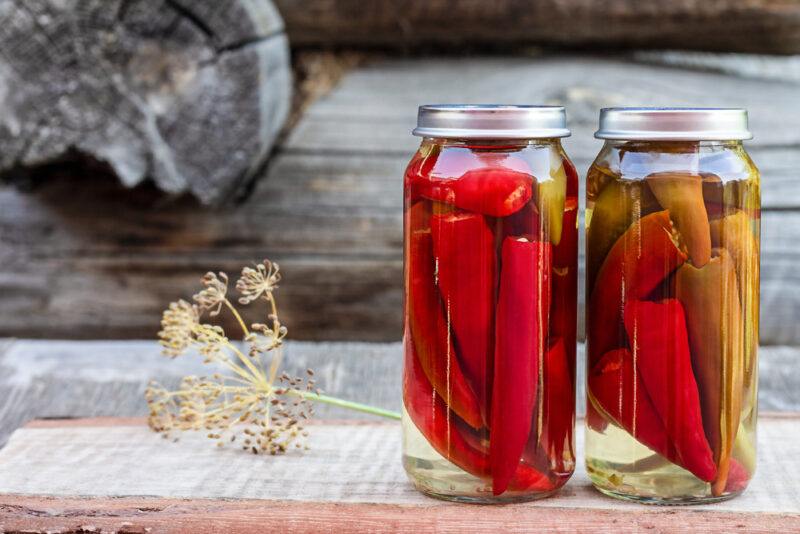 Canned peppers are great for making sauces, soups, or nachos. They'll make for a pretty garnish, too. You can of course opt to can them pickled or plain.
Peppers are generally a good source of vitamins A and C, fiber, potassium, and folic acid. The capsaicin content in hot peppers is known to boost metabolism. The plant compound found in them such as capsanthin, violaxanthin, lutein, quercetin, and luteolin is associated with many health benefits.
Potatoes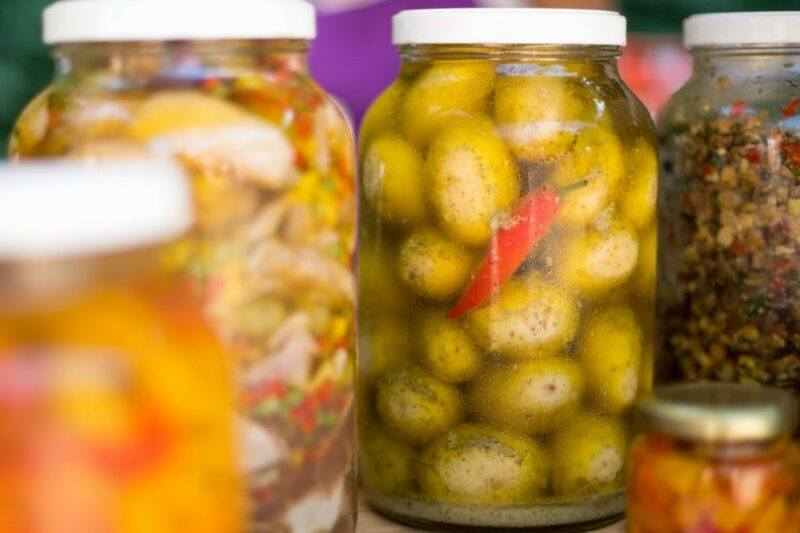 Canned potatoes will make for a great baked potato dish, simply place them on a baking sheet, drizzle with olive oil, sprinkle with some spices and herbs, give it a good tossing, and simply bake. There are so many quick dishes that you can make out of canned potatoes – you just have to be a little creative and experimental in the kitchen.
Potatoes are also good sources of antioxidants that may help in reducing the risk of chronic diseases such as heart disease, certain types of cancers, and diabetes. It also contains resistant starch which may aid in reducing insulin resistance.
Spinach and other greens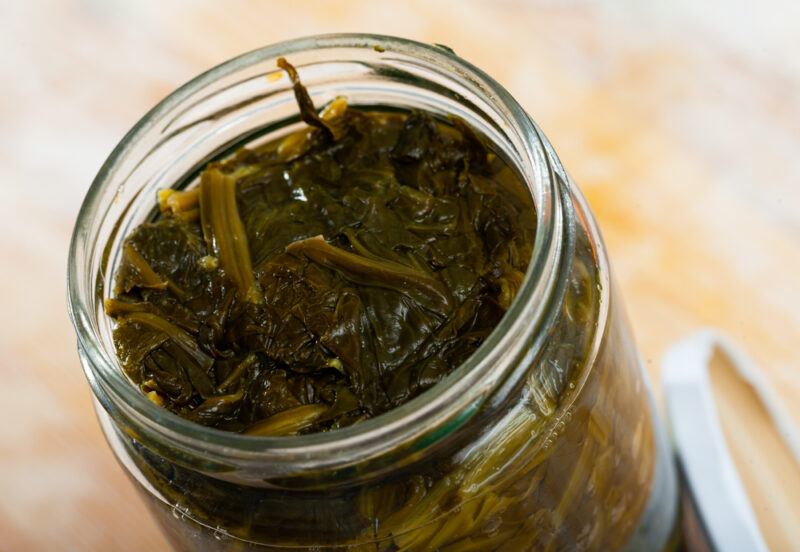 An average of 28 lbs. of spinach or other greens, is needed per canner load of 7 quarts – that's a whole lot of spinach to have in stock for future use. So, make the most of your harvest! Of course, it can only be freshly harvested ones. Choose only those with the brightest color without any visible damage.
Spinach and other dark green leafy vegetables are rich in vitamins A, C, E, and K. Some may even contain B vitamins. They are a good source of carotenoids antioxidants that help in protecting cells and blocking the early stages of cancer.
Sweet potatoes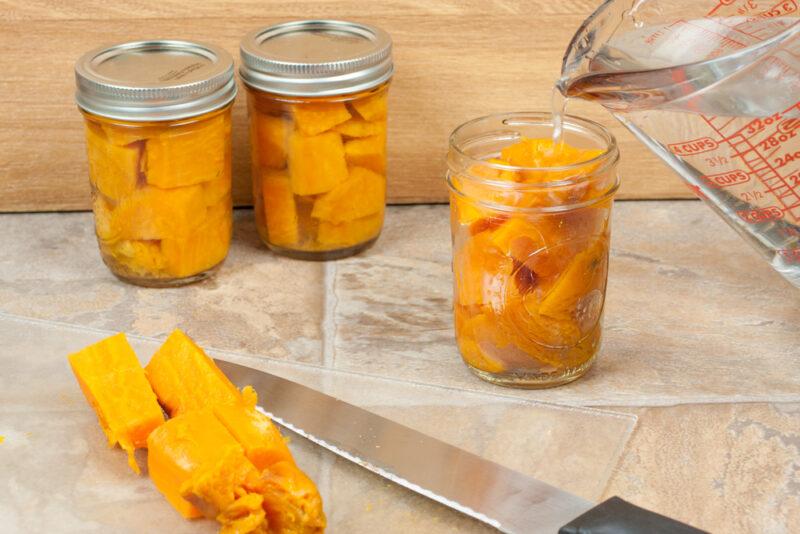 Having canned sweet potatoes makes serving dishes that are delicious and vitamin A-rich an absolute bliss. It's super convenient and not to mention that you can whip up a dish super quickly, too. You can serve them hot or cold. Side dish, no problem. Soups, sure. Casseroles, why not.
Sweet potatoes are rich in vitamin A, in fact, they can provide twice the recommended daily allowance. It's also a good source of vitamin C, vitamin B6, iron, potassium, and fiber. It aids in supporting healthy vision, promoting gut health, and may also enhance brain function, support immune system, and may have cancer-fighting properties as well.
Tomatoes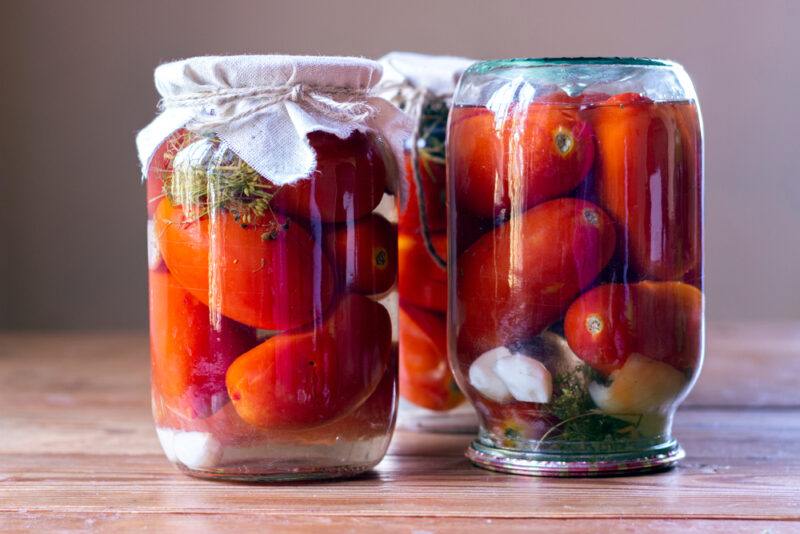 Canned tomatoes can turn making sauces, soups, and dips super quick and easy. And of course, you know for a fact that these tomatoes are at their best quality when they are canned, so yes you can expect deliciously flavored dishes for sure.
Canned tomatoes contain fiber, potassium, calcium, iron, and vitamins C, A, and K. It also has phytonutrients such as beta-carotene, lycopene, lutein, and zeaxanthin. It can help in lowering the risk of heart disease, macular degeneration, and prostate cancer.
Winter squash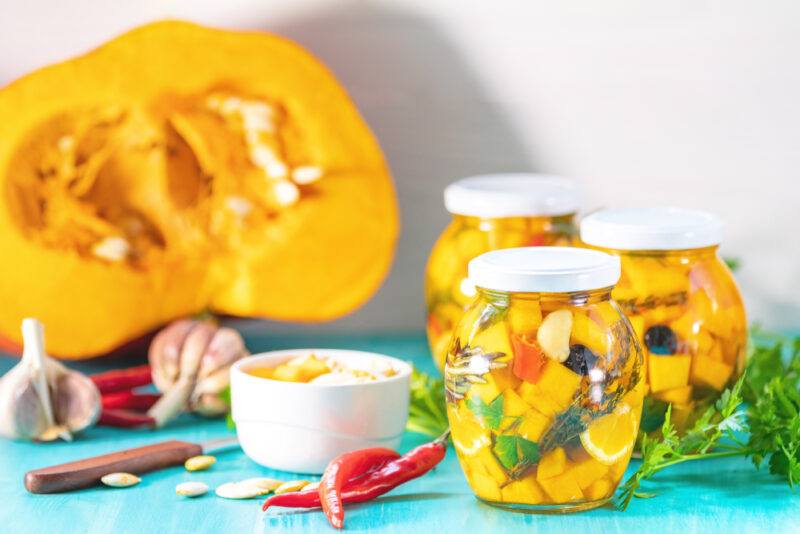 Canning winter squash makes this veggie accessible and easy to serve at dinner tables. You're more inclined to include it in your meal plans if you know you can readily source it right from your pantry.
Winter squashes are generally high in fiber, vitamin A, and potassium. It's also a good source of vitamin C, antioxidants, and other anti-inflammatory compounds. This helps in preventing or slowing cellular damage, reducing inflammation, and lowering the risk of several chronic diseases.
Canning Tips for Beginners
Not all jars are created equal
Go for proper canning jars. Don't be too quick to re-use jars that you brought from the supermarket as most of them are not designed for canning. And there's a good reason why mason jars are highly preferred and have been used by many over the years. They are specifically made to withstand the process of pressure canning.
Invest in a good pressure canner
While jams, jellies, tomatoes, or pickles can be canned using the hot water bath canning method, all other foods including vegetables, meat, poultry, and seafood should be canned using a pressure canner. This will ensure that the food is processed properly and will not cause foodborne botulism.
Be picky with your produce
Choose the best-looking veggies – the freshest you can get! Remember that canned products are only as good as the produce. So, don't even waste your time processing bruised or overripe vegetables. Go for vegetables that are in season so that you'll get the best quality and more likely at a cheaper price even!
Don't skip instructions
Once you've found a good canning recipe, follow instructions (that is of course assuming you got them from a reliable source). The steps, including the ratios, are worked out in a way that will ensure a successful canning product. Skipping steps or making your own substitution can result in a failed attempt at canning. So, for your own good, follow instructions.
Label them!
We cannot stress enough the importance of labeling your canned products. Don't rely on memory alone, remember that they are meant to last for long, it's not like you're going to use them in the coming weeks or so. The date (month and year) will help you in keeping track of which ones should be consumed first. Remember 'first in first out.'