It's easy to see lettuce as a boring vegetable. It helps to bulk out sandwiches and salads, yet often doesn't have much flavor at all. Lettuce also seems to pale in comparison to other vegetables, like dark leafy greens, which are packed with nutrients.
So then, is lettuce good for you? Is this leafy green worth including in your diet? Or, is it better to sub out lettuce and rely on other leafy vegetables, like spinach and kale?
Is Lettuce Good For Your Health?
Types Of Lettuce
Lettuce Nutrition
Benefits Of Lettuce
The Problems With Lettuce
Are Other Leafy Greens Better?
Final Thoughts
Types Of Lettuce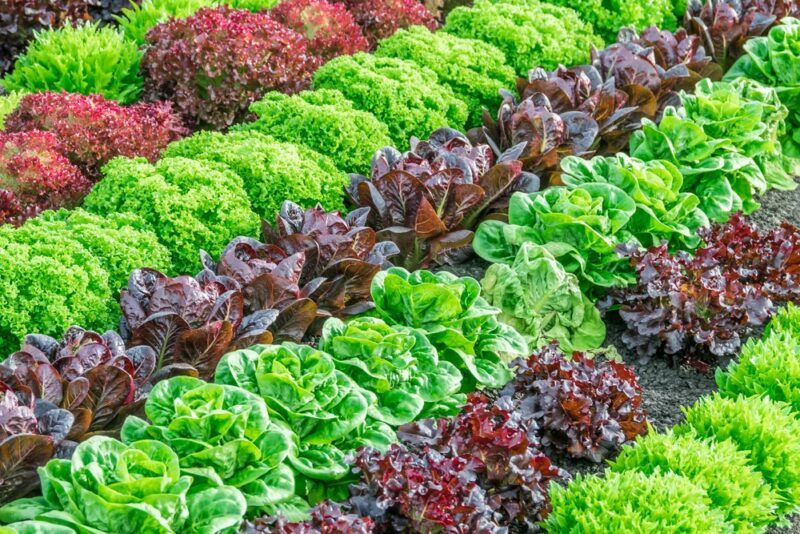 Lettuce is a surprisingly diverse type of vegetable, with many different varieties that vary in their color, texture, size, and the way their leaves are arranged. Many of these differences influence the way that you use lettuce. Some also influence the benefits.
While we can't possibly cover all the types of lettuce in this post, we can talk about the main types and their key features.
Leaf
This type also goes by the name loose leaf lettuce and it should be very familiar. This type of lettuce forms tight rosettes of leaves when it grows, rather than creating heads or hearts.
The flavor is somewhat mild and sweet, while the texture is tender – although there's still plenty of difference between varieties. You'll see other differences too, like the way that some types have smooth leaves, while others have curled or crinkled ones instead. While green is a common color for the lettuces, you'll also see red, purple, and yellow versions.
Cos
Cos or romaine lettuce is the type that you find in a Caesar salad. The length and crunchiness of the leaves works well in that salad, along with many other places.
There are interesting cos varieties to play around with too, including ones that are red, bronze, or speckled. The leaf size can vary dramatically depending on the variety of lettuce that you choose, all the way from the tiny 'little Caesar' to giant 'Vivian' romaine leaves that can be up to 16 inches.
Crisphead
This category has a few names as well, including heading lettuce or simply head lettuce. Lettuce varieties in this category tend to contain plenty of water, which makes them crisp and crunchy.
These are the lettuces that you'll use when making a refreshing summer salad or perhaps some sandwiches. Many varieties have a subtle flavor, which gives your other ingredients the chance to shine.
Iceberg lettuce is the most famous example of this variety. There are plenty of others too, including Great Lakes and Ithaca.
Butterhead
Butterhead lettuce is named perfectly, as this lettuce variety tends to be soft and surprisingly creamy. Even saying that the lettuce is buttery isn't too much of a stretch.
The flavors tend to be subtle and mellow, with no bitterness to worry about – making this the perfect vegetable for any picky eaters.
Stem
Stem lettuce also goes by the name celtuce, which comes from combining the words celery and lettuce. This type of lettuce has a thick stem and a distinct flavor that's reminiscent of celery, artichoke, and cucumber.
Stem lettuce leaves are best consumed when the plant is young, as they become bitter and tough as the lettuce matures. The stem of the lettuce can be eaten as well, although you need to first remove the bitter skin to get to the soft green core.
Lettuce Nutrition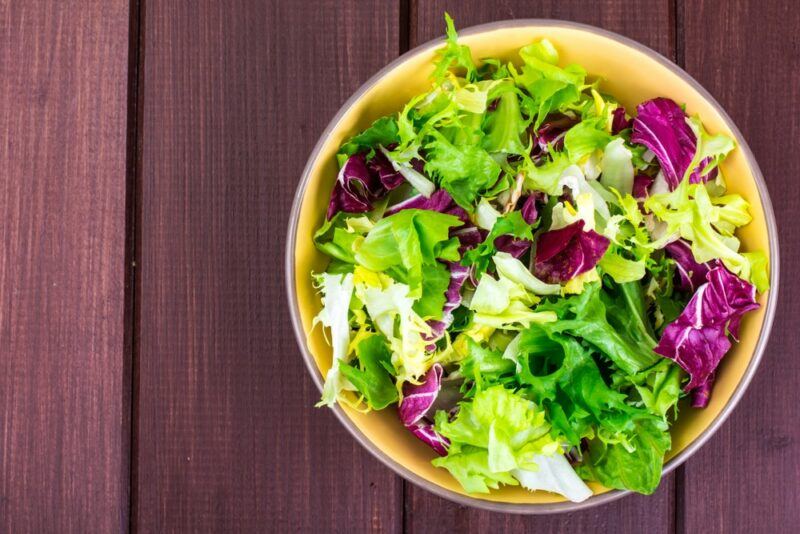 Not surprisingly, the varieties of lettuce all have their nutritional differences. Still, in general, you're looking at a low calorie vegetable that is a useful source of folate and vitamin K, along with various other nutrients.
For example, a 3.5-ounce serving of iceberg lettuce includes:
20% of your daily vitamin K requirements
7% of your daily folate requirements
5.4% of your daily manganese requirements
3% of your daily requirements for vitamin A, vitamin C, and potassium
2% of your daily iron requirements
You're also getting a gram of fiber and a gram of protein in that serving size.
The nutrient profile isn't amazing, that's true. Still, it's pretty impressive given that you're only consuming 14 calories in that 3.5-ounce serving.
Benefits Of Lettuce
A Low Calorie Source Of Fiber
You know about the importance of fiber, right? Fiber is what keeps everything moving in our bodies. If our fiber intake is low, then we start seeing side effects like constipation, hunger, and changes in blood sugar levels.
Lettuce is perfect here, as it contains plenty of fiber per serving and often has little flavor. Iceberg lettuce is a classic example here. A cup of shredded iceberg lettuce provides a full gram of fiber, along with just 10 calories and little flavor.
Contains Some Nutrients
Lettuce might not be the most nutrient dense vegetable out there. Still, it does contain some nutrients, including vitamin K and folate. Plus, because lettuce is so low in calories, it's a very easy way to increase your nutrient intake.
Remember that the nutrients in lettuce do vary depending on the type you choose.
Iceberg lettuce, for example, contains fewer nutrients than most other types (that's not so surprising, as iceberg lettuce is incredibly water rich). On the other hand, romaine lettuce contains many more nutrients, with higher levels of potassium and folate, along with more antioxidants.
Offers Some Antioxidants
Lettuce also contains some antioxidants. These compounds help to decrease free radical damage in our bodies. That effect may then decrease our risk of disease.
Antioxidants are often pigment molecules, so the antioxidants present in lettuce vary depending on the color of the leaves. Interestingly, the antioxidants in red leaf lettuces seem to have faster effects in the body, although antioxidants from lettuces with green leaves do still remain important.
Helps To Keep You Hydrated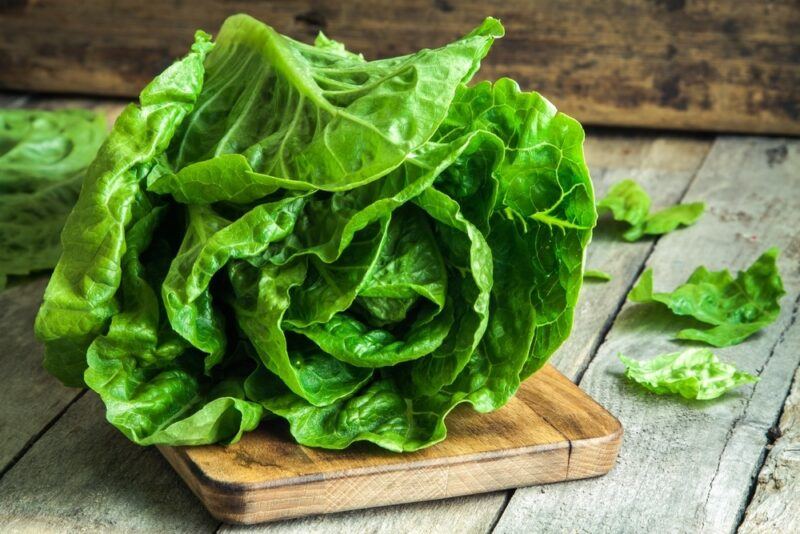 Lettuce acts as a decent source of water too. In fact, iceberg lettuce is 96% water. That's up there with cucumber. You even get more water with lettuce than with watermelon. Impressive, right?
Other varieties of lettuce might contain less water, but you'll still be getting a decent amount.
This feature is much more important than it first seems. According to some estimates, less than 25% of Americans drink the recommended amount of water each day. Even if the recommended water intake is too high (which it could be), it's clear that many people aren't getting enough water.
The pattern is concerning, as insufficient water can lead to headaches, decreased alertness, and muscle cramps not to mention more serious issues like kidney problems, increased risk of kidney stones, and joint problems if dehydration remains an ongoing issue. There's even the chance that drinking enough water decreases the risk of depression.
You'll get more hydrated by drinking water directly than you will from eating lettuce, of course. Still, there's something to be said for getting some hydration from your food.
Waster rich foods like lettuce could be particularly important for anyone who is resistant to drinking water (an issue that sometimes occurs for children and seniors).
The Oxalate Content Is Low
It's easy to say that lettuce is less healthy than spinach as it doesn't have the same amazing selection of nutrients. Yet, lettuce is much less problematic too, as many varieties contain barely any oxalates. Spinach, on the other hand, is one of the highest oxalate vegetables out there.
This matters because oxalates can significantly increase your risk of kidney stones. The water in lettuce is helpful here too, as staying hydrated is an important way to lower kidney stone risk.
Easy To Use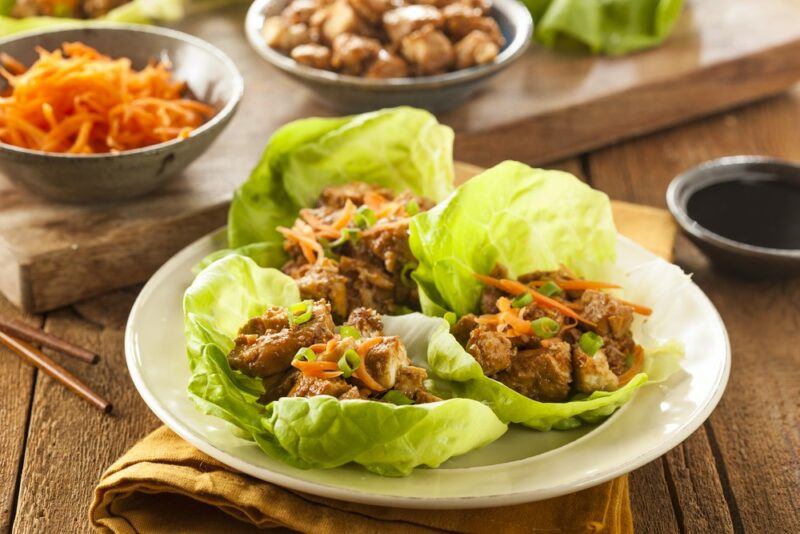 Lettuce is also a very practical ingredient, partly because the flavor is so mild. You can easily use it as the base of a salad or as an ingredient in sandwiches.
The large range of lettuce varieties, with all their different colors, sizes, and textures, makes it easy to find the right type of lettuce for your needs. Sometimes you'll want the crunch that comes with iceberg lettuce or the firmness of romaine lettuce for your Caesar salad. Other times you'll want a softer type of lettuce, one that can be used instead of a wrap.
Or, what about making a wedge salad with iceberg lettuce? Honestly, your options are endless – and certainly aren't limited to sandwiches and salads.
Pairs With Healthy Ingredients
Some vegetables are tricky because we often serve them with unhealthy ingredients. Potatoes are a classic example here. They're surprisingly nutritious on their own but are much less healthy when they're loaded with sour cream and butter.
In contrast, lettuce tends to feature in sandwiches and salads. You can even stir fry it and eat it that way.
A Useful 'Bridge' Vegetable
Lettuce is also useful as a bridge vegetable – a way to get picky eaters started with their greens. After all, many other vegetables are somewhat bitter or have a fairly strong flavor. They can take time to get used to and picky eaters tend to shy away from them.
This isn't the case with lettuce, as most types have a mild taste and can be easily eaten raw.
For seriously picky eaters, start with iceberg lettuce. This has the mildest flavor and it's hard to find anyone that hates it.
The Problems With Lettuce
Lettuce is famous for one big issue – it doesn't contain that many nutrients. There are still some nutrients present but, let's be honest, the nutritional profile pales in comparison to the darker leafy greens, like spinach.
The low nutrient content can easily be an issue if lettuce is your main leafy green – especially if you're sticking to iceberg lettuce, which is very low in nutrients.
To get around this, make sure to mix things up. You might use lettuce in some meals, then spinach and kale in others. Or, you might create a salad mix that contains a variety of ingredients.
Interacts With Some Medication
Leafy greens interact with some blood thinning medications because of their vitamin K content. Lettuce contains less vitamin K than many other leafy greens, but there's still enough to cause a problem.
Thankfully, this doesn't mean that you need to avoid lettuce (or any foods with vitamin K). Instead, you need to make sure that your medication levels are adjusted to account for the vitamin K in your diet.
Can Be Contaminated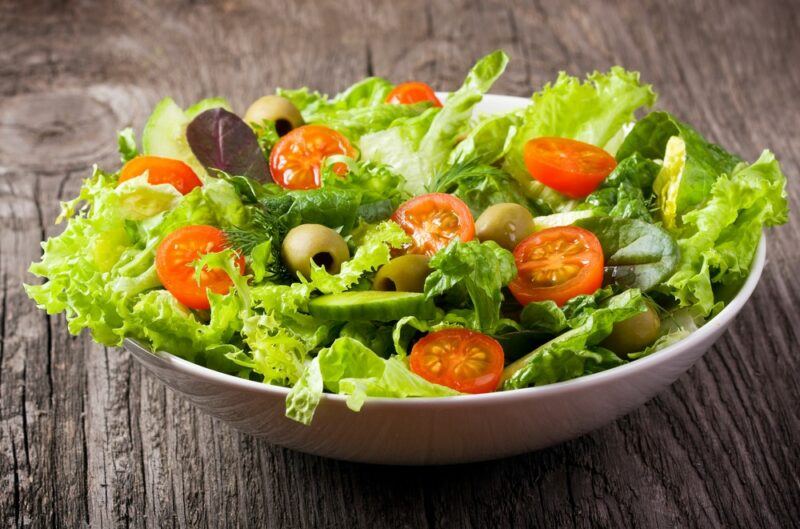 It's easy to think of vegetables as safe, but this isn't always the case. They can easily become contaminated, often by E. coli and other germs. The germs are difficult to avoid, as they adhere to leaf surfaces, so they're not removed when the lettuce is washed.
While cooking would kill most such germs, you don't normally cook lettuce before you use it. The best way to reduce your risk is to buy lettuce from reliable companies, ones that focus on safe practices every step of the way.
Seniors, young children, and anyone immunocompromised need to be particularly careful with lettuce, as the risk of food poisoning from contamination is higher.
Are Other Leafy Greens Better?
Dark leafy greens like spinach and kale seem like a healthier choice, as they can contain more antioxidants and more nutrients per serving. Spinach is particularly good as a source of iron, while kale is impressive for vitamin A, vitamin K, and vitamin C.
However, both vegetables have their problems too, as spinach is exceptionally high in oxalates and kale contains goitrogens. Lettuce is low in those compounds, making it a safer choice for many people.
The best type of leafy green will depend on your needs. If your nutrient intake is low, then a nutrient dense green like kale could make a huge difference. If you're at risk for kidney stones, lettuce is a better option because of the low oxalates and high water content.
Final Thoughts
Lettuce pales in comparison to many other vegetables, but this doesn't mean that you should drop it entirely. Lettuce does still provide you with some nutrients. It's also an excellent low calorie source of fiber and water, one that helps to bulk out meals.
Besides, who says that every ingredient you eat needs to be packed full of nutrients? If you're following a balanced diet, you should already have plenty of nutrients (and going beyond your daily needs doesn't really help you).
So, why not use lettuce some of the time? It's often inexpensive, adds crunch to your meals, and the mild flavor makes it easy to use. There are plenty of other ingredients for you to turn to when you want extra nutrients, including dark leafy greens, nuts, seeds, and legumes.
There's one final thing to mention.
Lettuce is often used in healthy meals, but this doesn't mean that all lettuce-containing dishes are a wise choice. This is even true for salads.
Far too many salads rely on fat-heavy dressings, seeds, and other calorie-packed ingredients, to the point that they're not healthy at all. The Ceasar salad is a classic example here and it's sometimes difficult to find healthy versions of that salad. As such, it's always worth looking closely at all the ingredients in your meal to work out whether it is actually good for you.