Sauteing is a cooking method that is largely favored because it's quick and it does cause food to develop more flavor and aromas. This dry-heat cooking method means that food is cook in a pan over medium to relatively high heat using very minimal fat. Vegetables like some lean proteins are great for sauteing because they tend to lose flavor when cooked for too long. And yes, you can saute practically any veggies but of course, there are some that are quite better or even the best vegetable to saute.
You may be tempted to go for vegetables that are naturally tender, but even the denser or tougher ones can also be sauteed. You just have to slice them into sizes that will render quick cooking. You can also saute a combination of different vegetables. And although usually, it just needs some form of fat like butter or olive oil, the veggies, and then some seasoning or herbs – protein like chicken breast or beef strips can be added as well for flavoring or to make it a complete meal.
Sauteing is actually a great and healthy way to cook vegetables because you only use minimal fat. Vegetables also tend to retain not just its flavor but its nutrients as well because it's cooked very briefly when cooked via sauteing. There are of course other ways to healthily cook veggies, you can also try steaming or roasting them.
If you're about ready to try sauteing, here's a list of the best vegetables to saute to give you an idea of where to start. See also the basics of sauteing plus tips on how to nail it at the end of this article.
Best Vegetables to Saute
Carrots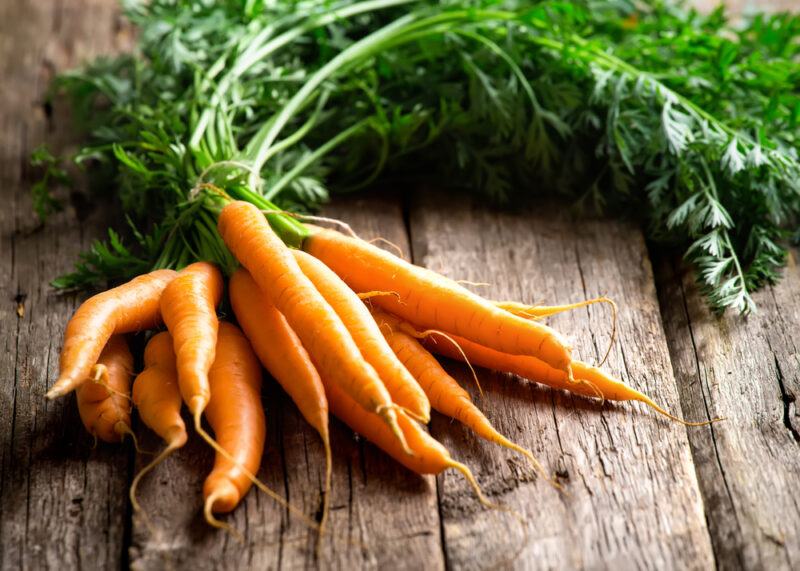 Carrots have a slightly sweet and somewhat earthy taste. Its sweetness is more pronounced when it's sauteed and its edges or tips are slightly browned in the process. A simple sprinkling of chopped herbs usually does the trick and makes it nothing short of a great side dish.
Carrots are a good source of vitamins A, B6, and K1 and other nutrients. It has been linked to lowering cholesterol levels and improving eye health.
Asparagus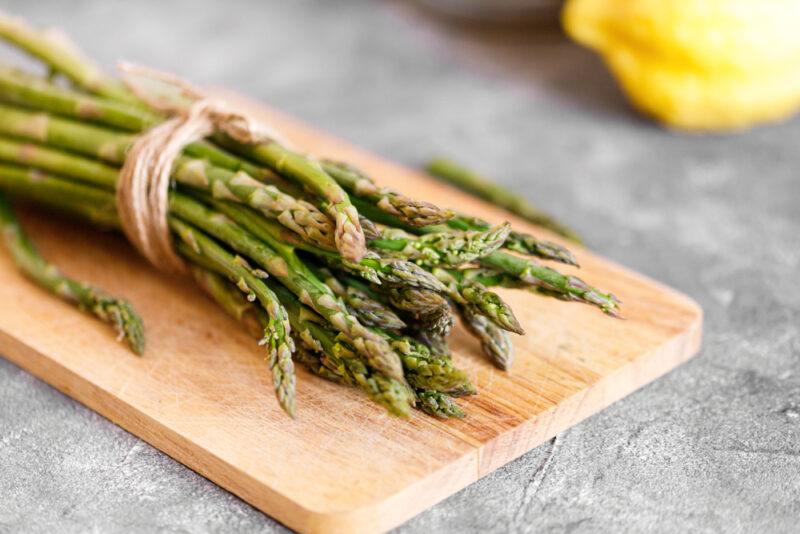 Asparagus when fresh and cooked right tastes somewhat sweet and similar to broccoli with some bitter undertones. With the use of some spices or herbs, you can actually make amazing dishes with broccoli aside from sauteing.
Asparagus is quite a nutrient powerhouse. It's packed with vitamins A, C, E, K, and B vitamins. Its health benefits range from reducing blood pressure to treating urinary tract infections.
Broccoli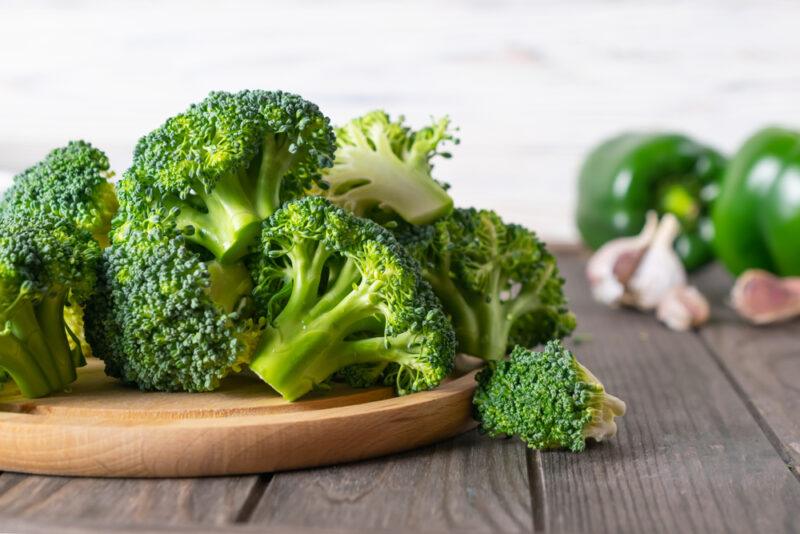 Broccoli has an herbaceous and earthy taste, with a grassy flavor and a hint of bitter taste. Aside from its florets, the stalks or stems can be eaten as well. Just lightly trim the outer skin and then simply cut it into thin or chunk slices.
Broccoli is high in fiber, iron, potassium, and vitamins C and K. It contains many other nutrients in fact it has more protein than most other vegetables. It's good for heart health because it helps reduce bad cholesterol and protect blood vessels.
Bell peppers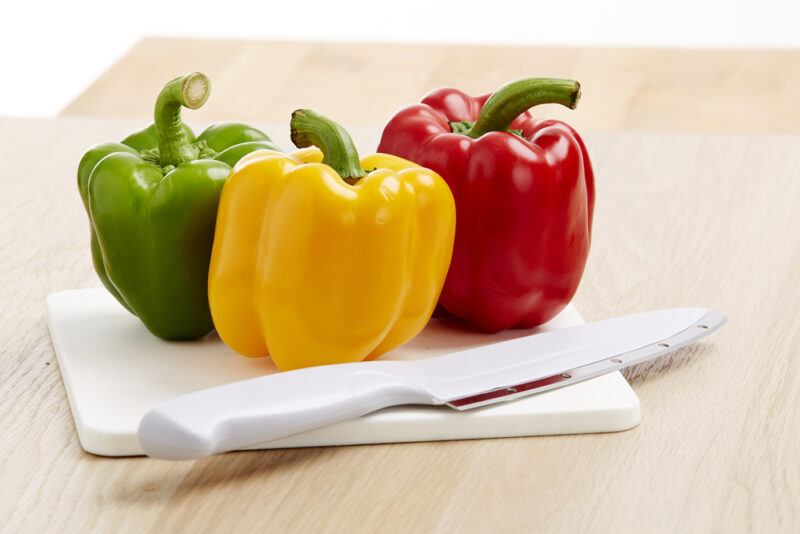 Bell peppers are generally sweet with a mild flavor. The green ones have a grassier taste though. It's oftentimes sauteed with other vegetables (apparently to add color they say), but bell peppers on their own are equally good as well.
Bell peppers are rich in fiber, folic acid, potassium, and vitamins A and C. It's good for improving eye health and reducing the risk of many chronic diseases.
Cauliflower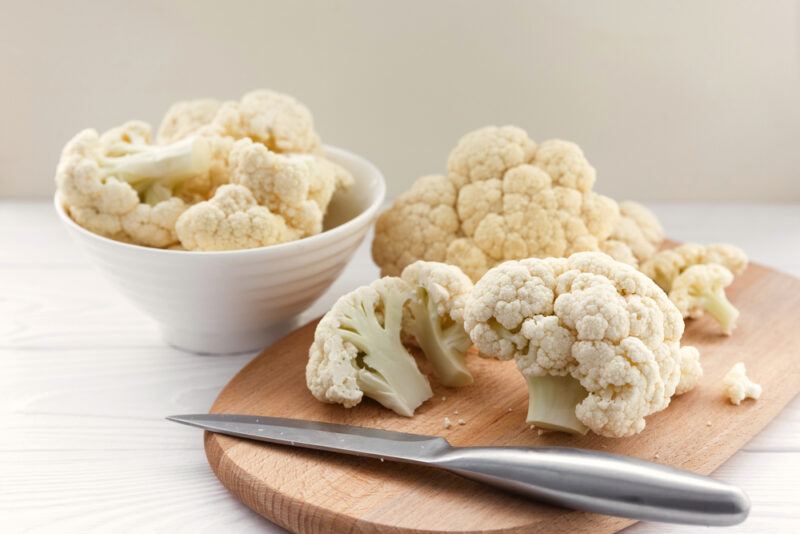 Cauliflowers have a somewhat nutty and sweet taste. When cooked right, it has a crunchy and tender texture. It also readily absorbs whatever accompanying flavors you add to it. For instance, a couple of spoons of oyster sauce when sauteing will do wonders to its flavor.
Cauliflowers are naturally high in fiber and B vitamins. It's also rich in antioxidants and phytonutrients that contribute to its health benefits that range from enhancing weight loss to protecting against cancer.
Snap peas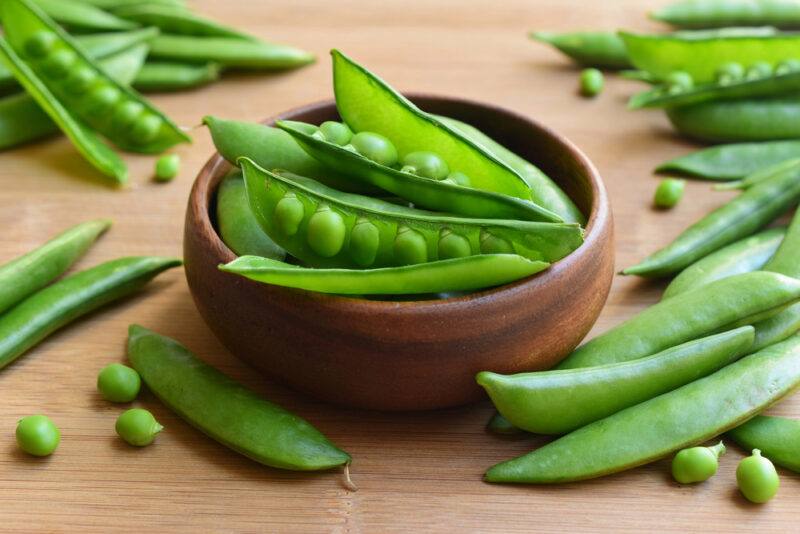 Snap peas have a very mild flavor and are best when eaten raw or briefly cooked. So, sauteing is, of course, a great idea. Simply melt some butter, throw in minced garlic, add the snap peas, toss, sprinkle with salt and pepper, and you're ready!
Snap peas are particularly rich in folate which is one of the keys to maintaining healthy cells. It's also an excellent source of vitamins A, B, C, and K, fiber, beta carotene, magnesium, and potassium.
Brussels sprouts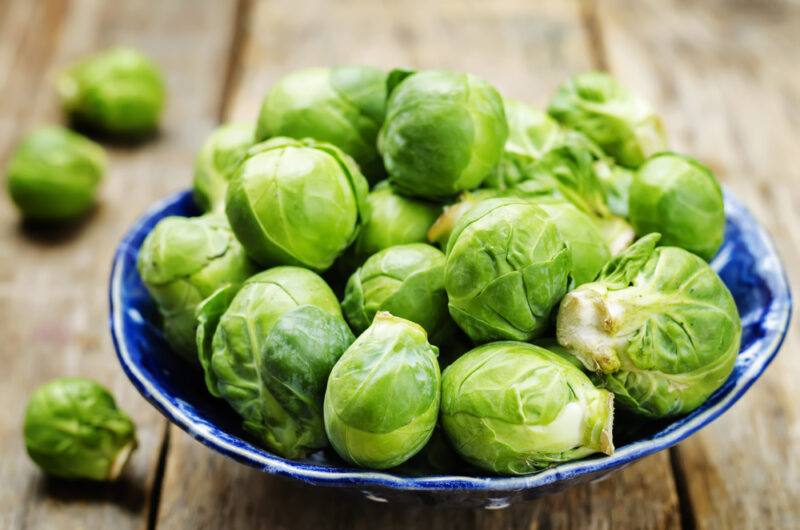 Although for some Brussels sprouts may taste sharp or bitter (those who are inherently sensitive to certain chemicals), for most of us it just tastes sweet, nutty, and slightly smoky. When properly cooked and with the aid of some seasonings for Brussels sprouts, the bitter taste can be less pronounced.
Brussels sprouts are packed with vitamins, minerals, and fiber. It's also very rich in antioxidants just like kale and spinach. It's good for preventing cell damage in our bodies.
Green peas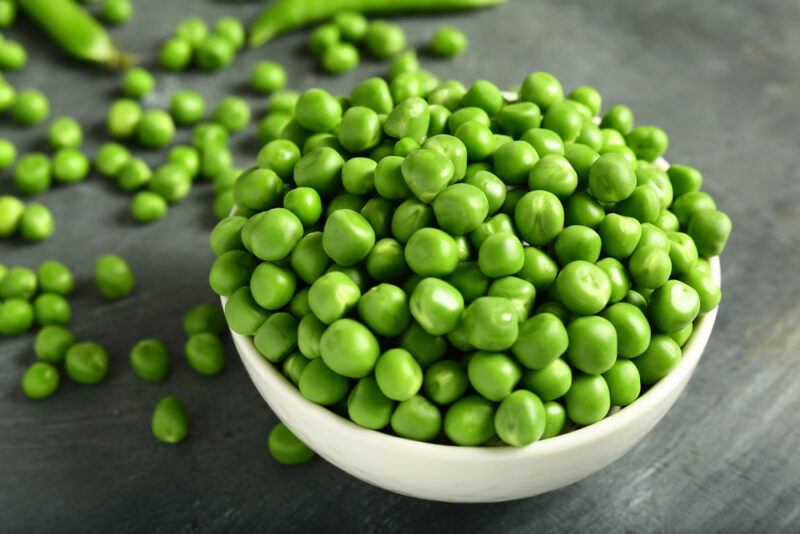 Green peas are naturally sweet with a pleasant crisp that are even more pronounced when sauteed properly. Again, just like other veggies, it can be an ingredient to a mixed vegetable dish or can simply be sauteed on its own. Simply sweat some onions, add minced garlic, throw in the green peas, seasoned it with salt and pepper, and then finish it with chopped fresh parsley.
Green peas are loaded with vitamins A, B1, B6, C, and K. They're also high in fiber and a good source of vegetable protein. It's good for maintaining bone health, helping blood to clot, and may also aid in protecting against some chronic diseases.
Corn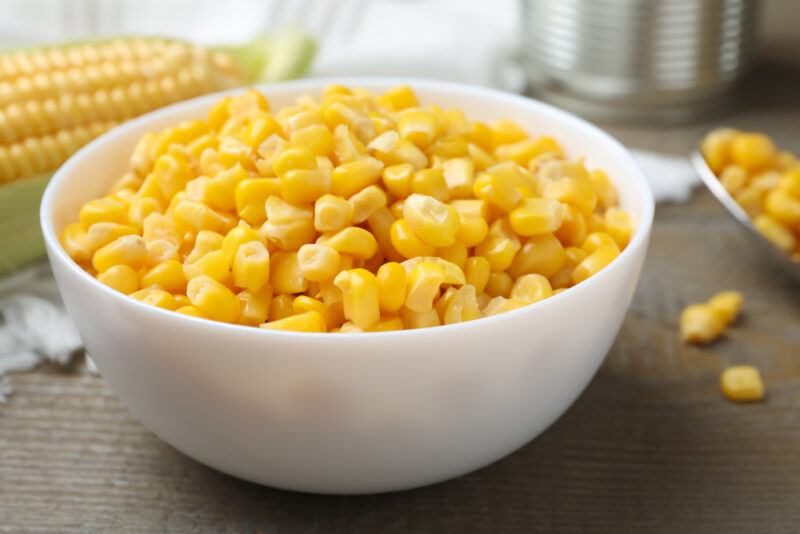 Corn has a sweet, soft, and buttery taste. You only need the basic butter, salt, and pepper to bring out its amazing natural flavor. But of course, adding a pinch of spices or a sprinkling of chopped herbs also adds a welcoming layer of fresh flavors.
Aside from being a good source of carotenoids lutein and zeaxanthin, corn is also rich in vitamin C. These antioxidants help in protecting cells from damage and reducing the risk of heart disease and cancer.
Mushroom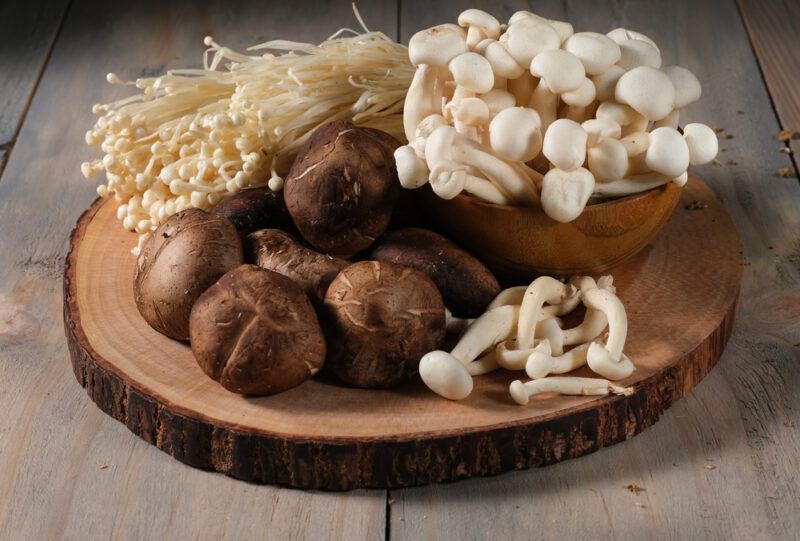 Mushrooms have an earthy, somewhat sweet, and umami taste that is reminiscent of meat – one of the reasons it's usually substituted for meat in vegan and vegetarian dishes. And although it can hold its flavor pretty well, it can also easily take on the flavor of whatever seasoning is added to it.
Mushroom is rich in fiber, protein, and antioxidants. It also contains B vitamins like riboflavin, niacin, and pantothenic acid. It's good for protecting heart health, boosting red blood cells, aiding the digestive system, and maintaining healthy skin.
Bean sprouts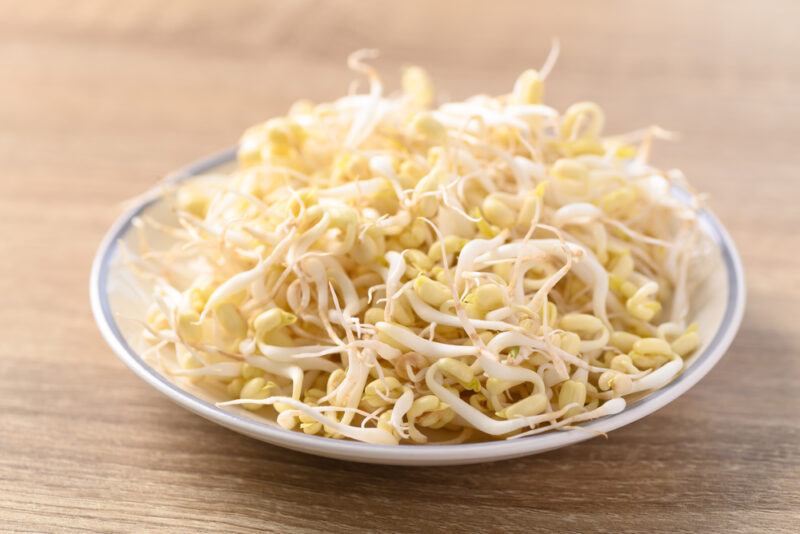 Bean sprouts have a quite delicate flavor when their white tip or tail is about 1.5 centimeters long. When raw, it has a crunchy and earthy taste. When cooked, it easily takes on the flavors of what they're cooked with. It's usually added to salads, soups, or springrolls but would also make for a great side dish when sauteed on its own.
The nutrient content depends on the type of bean sprouts but generally, they're a good source of vitamin C, folate, and iron. Its antioxidants content protects against cell damage and reduces the risk of heart disease and cancer.
Bok choy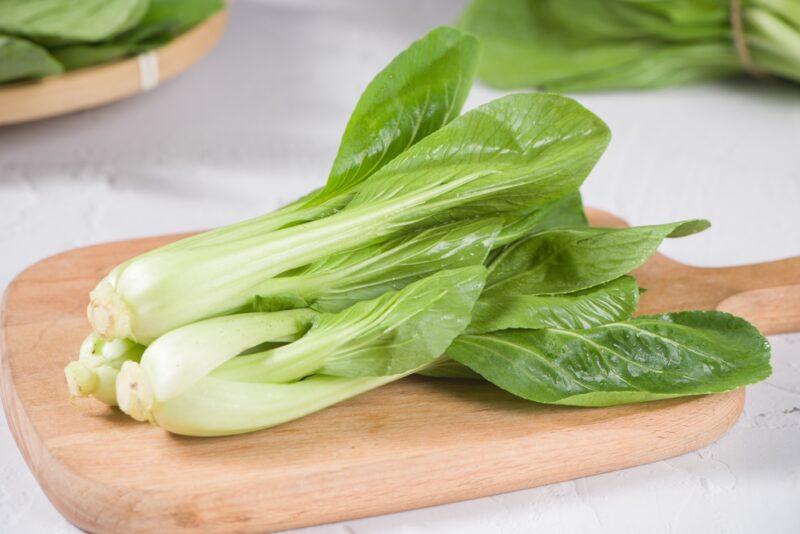 Bok choy has a mild, slightly bitter, and cabbage-like flavor. The white part or the stalk is crunchy yet juicy because of its water content. Although it's frequently used in soups, salads, and fillings for spring rolls, dumplings, or buns, it can also be sauteed. In fact, the taste is even enhanced when its edges turned brown while sauteing.
Bok choy is rich in calcium, iron, phosphorus, magnesium, and vitamin K. It's good for maintaining healthy bones, supporting the digesting system, and reducing the risk of many chronic diseases.
Green beans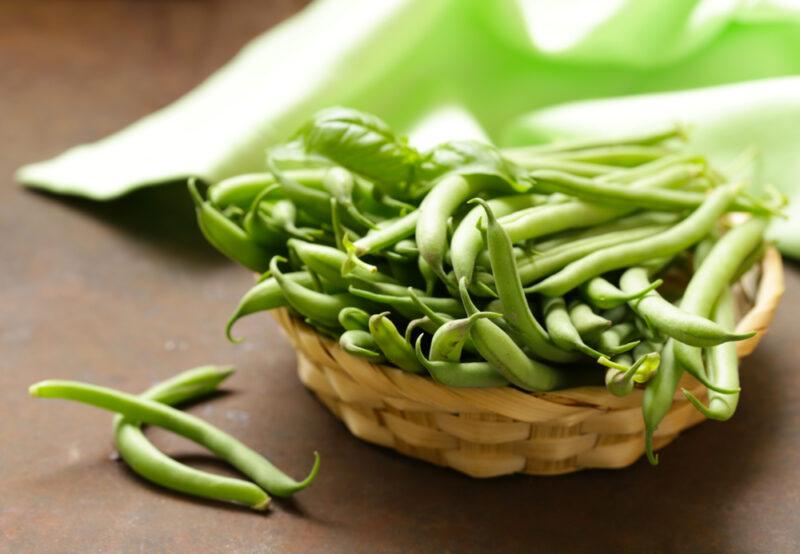 Green beans may have a somewhat grassy taste but when cooked properly it gives off a beautiful green fresh taste. With the help of some spices and herbs, you can also elevate different green beans dishes that cook super-fast.
Green beans are a good source of fiber and vitamins A, C, and K. It also contains iron, folate, magnesium, riboflavin, potassium, and thiamin. Its health benefits range from regulating digestive function to reducing the risk of heart diseases.
Sauteing 101
Now that you have ideas on the best vegetables to saute, here are a few tips to keep in mind before you get started.
Size does matter
Unless the veggies you choose to cook are small to begin with, for instance, snap peas, baby carrots, green peas, or Brussels sprouts, then you'll have to chop them into smaller pieces. The idea of sauteing is to cook them fast and there's no way you can cook big chunks of, say carrots, that easily.
You can choose to julienned or diced or however, you want to cut them – the goal is to get them into a size that will allow them to cook fast.
Pick the right pan
Depending on how much vegetables are you going to saute, you'd want to choose a pan that will likely fit them when they're laid out thinly. Imagine using a pan so small that the veggies end up sitting on top of each other. That's a no-no because you're going to end up steaming your veggies.
You also want a pan that will let you move the veggies freely while sauteing – either with the use of a wooden spoon or by tossing. Again, a pan that's big enough to hold all your veggies without overcrowding it.
Heat it up
Make sure your pan is hot before you start sauteing. Not overly hot though, that it burns, say your butter, in contact. A good gauge would be when you put a drop of water and it sizzles and turns to steam instantly, that means the pan is ready.
Make sure, too, to keep the heat evenly while cooking. If you turn it down (say you got intimidated by the sound the pan made when you add in your veggies), the temperature will suddenly drop. And that's not good because you want to cook your veggies fast. So, keep that pan really hot.
Take it easy on fats
Now, take it easy on adding fats, remember that you're sauteing, you're not frying.  A thin coating of oil is enough. You just need it to prevent the veggies from sticking to the pan and to aid in conducting the heat. You'll know that you used too much fat ifyou tilt the pan and a significant amount of it pools up around its sides.
Choose fats like peanut oil, regular olive oil, ghee, canola oil, or rendered fat, because these have high smoke points. Remember that you're cooking with medium-high heat.
Keep calm
Sauteing happens rather quite quickly! But keep calm. It's just sauteing. Right? Okay, additional tips!
Make sure that your veggies are dry. If for some reason, you wash them again after slicing, then give it time to drain and to dry. When sauteing wet vegetables, there's a good chance that you're going to end up 'steaming' them, especially when you don't have a big enough pan.
Take a mental note of which veggies to add to your pan first (assuming you are sauteing a mix of vegetables), you have to consider the vegetables' density and how they are chopped into pieces. For instance, carrots are dense but when you slice them thinly, then it may very well cook at about the same time that a cauliflower floret would.
Be ready to toss your veggies (or stir them around) to make sure the veggies are getting cooked evenly. Letting it sit there for too long, at medium-high heat, will possibly burn them. This is why you have to keep the veggies moving.
And lastly, when they're at their brightest color – more likely than not, they're done! Take them off the heat because of course, you don't want to overcook them.
So, who's ready to do some sauteing?