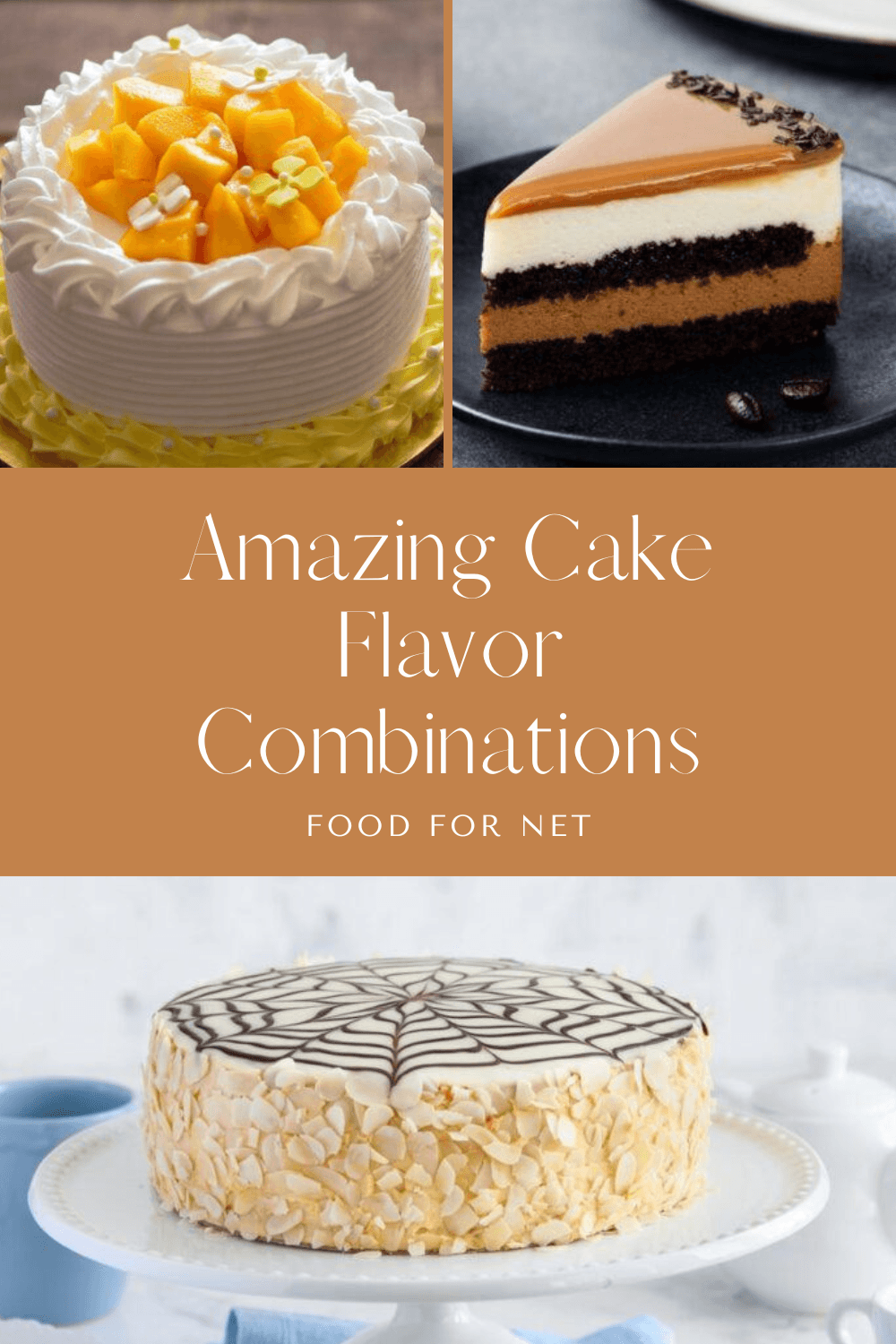 What should your cake taste like? There are the traditional versions, like chocolate cake with chocolate frosting or carrot cake with cream cheese. Honestly though, those can get boring after a while. Why not experiment with other cake flavor combinations instead?
After all, there are plenty of classic flavor pairings, not to mention all the weird and wild ones that are out there these days. Many of these can be easily used to make your cake more exciting. So, let's take a look at them.
These flavor combos can be used in plenty of ways. Perhaps you include them in a regular cake, a cheesecake, a mug cake, a cupcake, a keto cake, or a vegan cake. You get the picture, right?
That's just scratching the surface. You could take the same flavors and use them in other types of dessert too, like brownies or perhaps even ice cream. If you need some inspiration, a cake of the month club is a great way to see what the professionals are serving up, and you can borrow their ideas to make up your own amazing cakes.
P.S. For even more unusual ideas, check out our list of unique desserts (complete with recipes!). There are some truly amazing examples in the mix.
Incredible Cake Flavor Combinations (With Pictures)
Chocolate Chai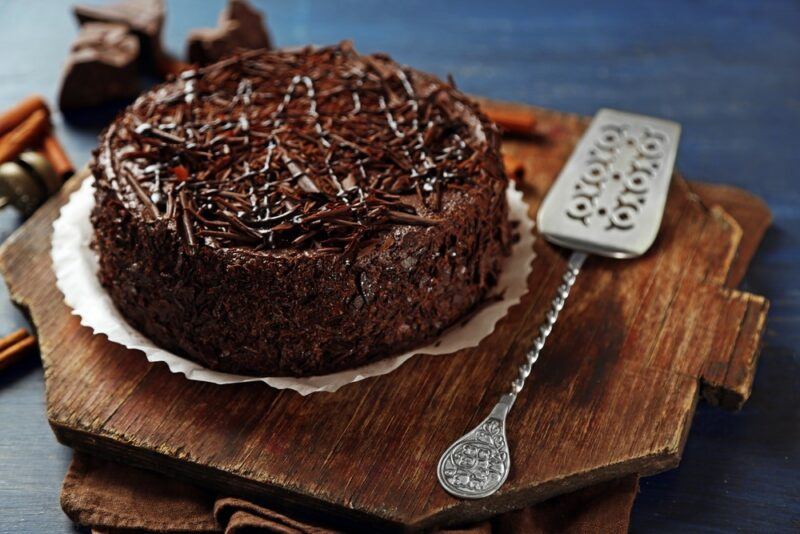 Chai spices aren't just limited to chai tea. They can taste amazing in many situations too, including cakes.
Combining chocolate and chai is a fantastic idea, as the chai adds complexity to your cake. It helps to offset some of the sweetness and intensity of the chocolate, giving you a more nuanced and attractive cake.
Ricotta And Beet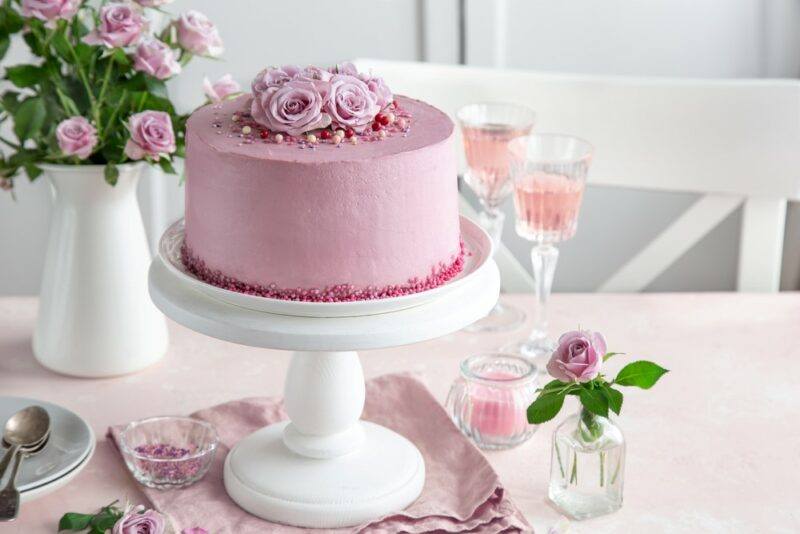 This isn't just a random flavor combination. Weird as it may seem, someone actually made a ricotta beet cake, featuring a beet glaze and beet buttercream, plus ricotta filling. The beet adds a fantastic pink-red color to the icing, plus an earthy flavor.
The beet balances perfectly against the creamy ricotta. It's a fantastic flavor combo for anyone who finds regular cakes too sweet. You could even use beet within the cake itself if you wanted. This would make it look like a red velvet cake, although the flavor profile would be quite different.
Raspberry Chocolate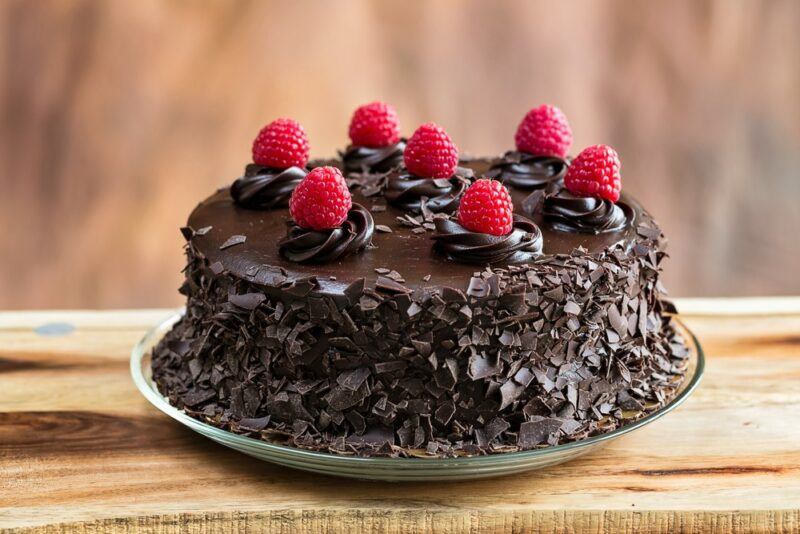 Raspberry and chocolate can be combined in plenty of different ways. You might make a chocolate cake with raspberry filling, plus raspberries sprinkled on top. Alternatively, you might play with raspberry and chocolate sponge layers, perhaps coupled with chocolate frosting.
Those are just two options out of many. Don't forget about dark chocolate and white chocolate either. These both pair well with raspberries just as well as milk chocolate.
Almond And White Chocolate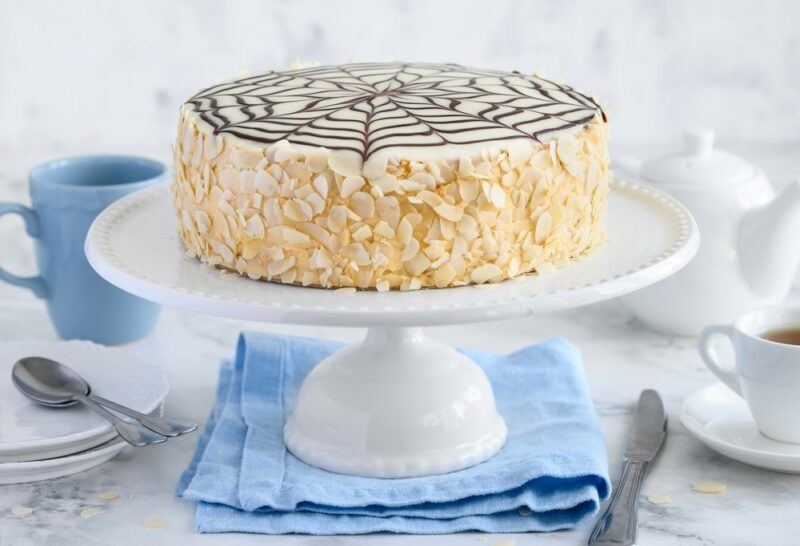 Try starting with an almond cake, which is as simple as adding some almond flavoring to a vanilla cake. Then you can play around with white chocolate buttercream layers.
The almond and white chocolate pair together well, giving you nuanced flavors that aren't too overwhelming. White chocolate icing or almond icing would work well with this cake, particularly with a few almonds on top to round it all off.
Champagne And Strawberry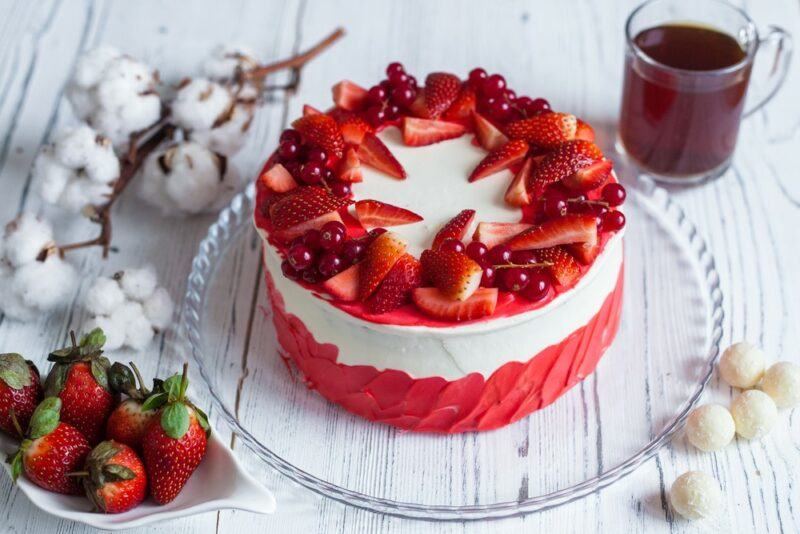 Here's a fun pairing to experiment with. Champagne is the more nuanced flavor of the two, so it makes sense to use a champagne cake with strawberry buttercream layers, like this one from loveandsugar.com.
You end up with a subtle cake with some unexpected flavors. It could be particularly good at a pink and white themed party or perhaps a wedding. After all, champagne always lends itself to celebrations.
Don't worry about the alcohol content. You'll be cooking down the champagne, so the flavor will remain, but none of the alcohol.
Earl Grey And Lavender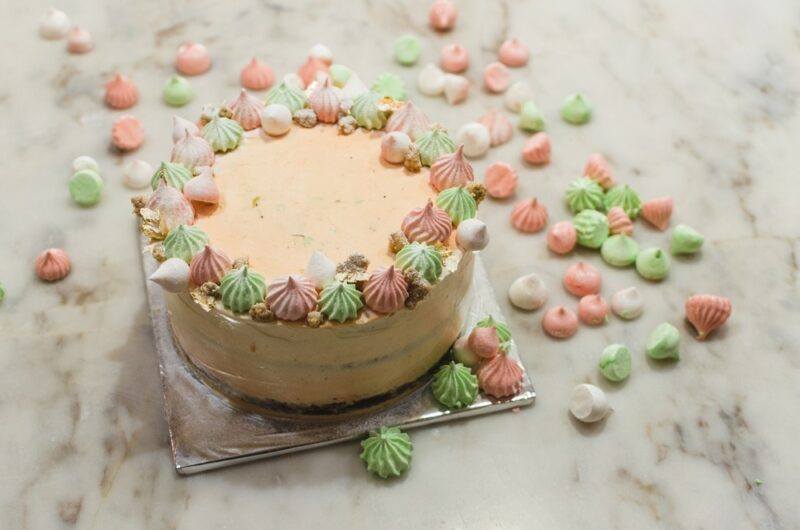 Earl grey and lavender is an unexpected combo, yet one that works surprisingly well. You get a bold savory flavor from the earl grey and some floral nuance from the lavender – a combination that tastes fantastic.
These ingredients are normally used for desserts like shortbread or perhaps ice cream. An earl grey and lavender cake is much less common. It can be done though.
This is a fantastic cake after a heavy meal, as the flavors are light and not too overwhelming.
You could experiment with this flavor combination further, like by having an earl grey flavored cake, lavender layers, and a honey lemon glaze on top. The honey and lemon combination naturally complements both the earl grey and the lavender. It also makes the cake much more interesting.
Vanilla And Pumpkin Spice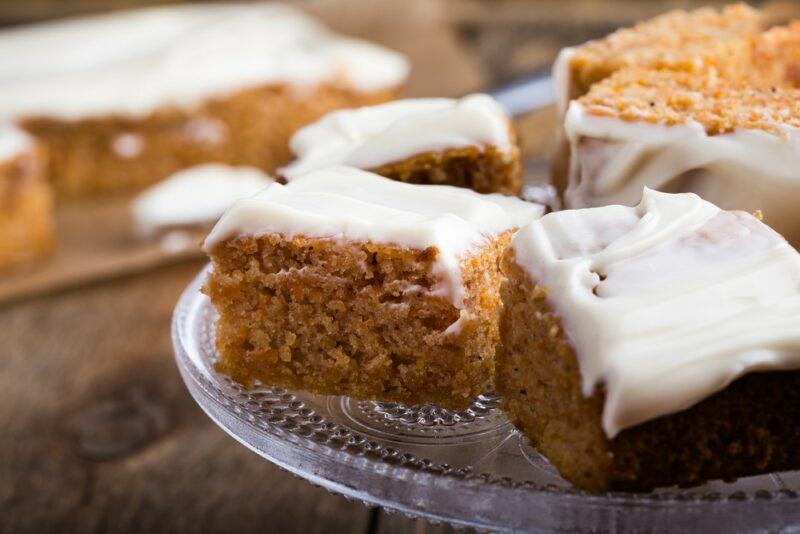 Vanilla cakes are a great base for flavor combinations, as their flavor is both subtle and delicious. The subtleness is important, as it means that any ingredients you add won't get overwhelmed.
A pumpkin spice and vanilla cake is one example of this. You could actually have a vanilla cake, then use pumpkin spice in the frosting or layers.
Alternatively, you might make the cake itself pumpkin flavored, using a combination of pumpkin spice and pumpkin puree. Then, the layers can be vanilla flavored, perhaps using cream cheese as a base. This approach creates a fantastic color contrast and some exciting flavors as well.
Coconut And Chocolate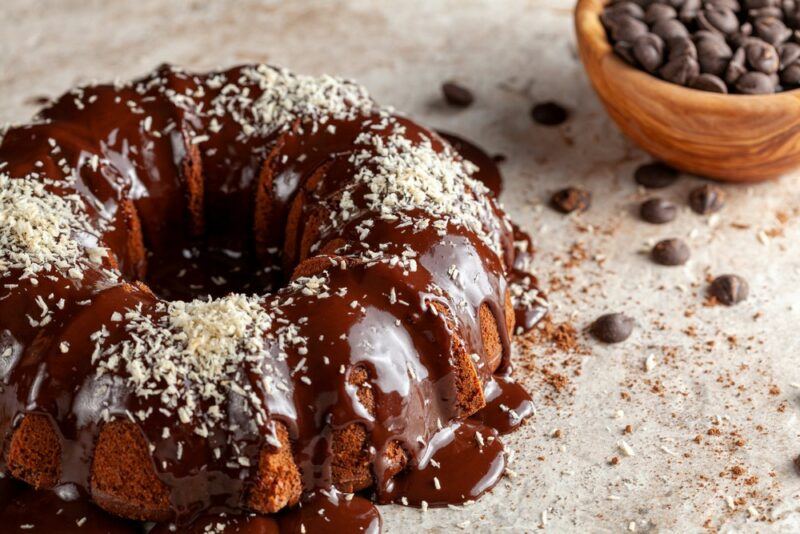 Coconut and chocolate always go well together, so why not combine them in a cake? You might do this by having a coconut flavored cake and chocolate icing. You could flip it around too, with a chocolate cake and coconut icing.
Both approaches create a fantastic dark brown and white contrast that's going to stand out.
Or, as with many of these combinations, you could mix things together. This could mean including coconut and chocolate in the cake itself.
Banana Caramel Cake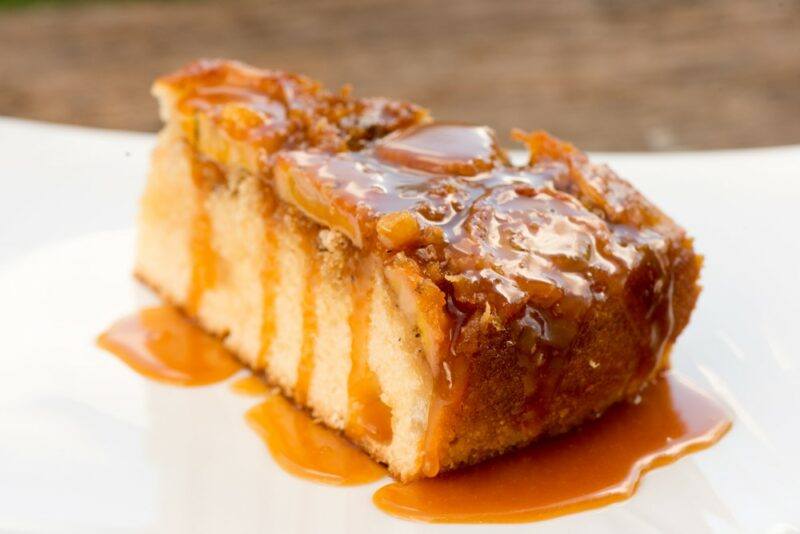 Caramel is an easy way to make a banana cake even more decadent. After all, bananas are often caramelized for dessert anyway or served in a rich caramel sauce. So, why not add the flavors to your cake?
Salted caramel is an even better idea. The salt contrasts the sweetness of the bananas and the caramel. Adding salt like this also stops your dessert from being overwhelmingly sweet, which is fantastic.
Peanut Butter And Chocolate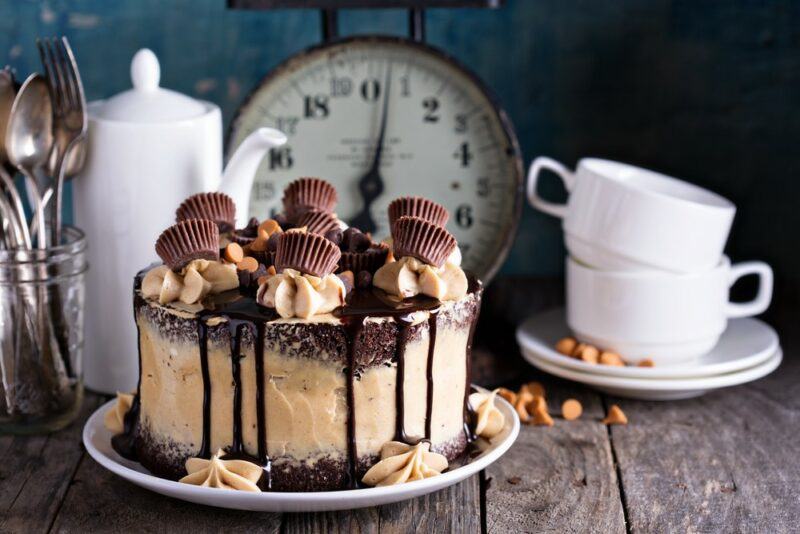 This one is famous and turns up in every dessert imaginable. For cakes, the most common style is a rich chocolate cake with peanut butter filling and chocolate icing. You can even use baby Reece's cups to decorate it.
Peanut Butter And Jelly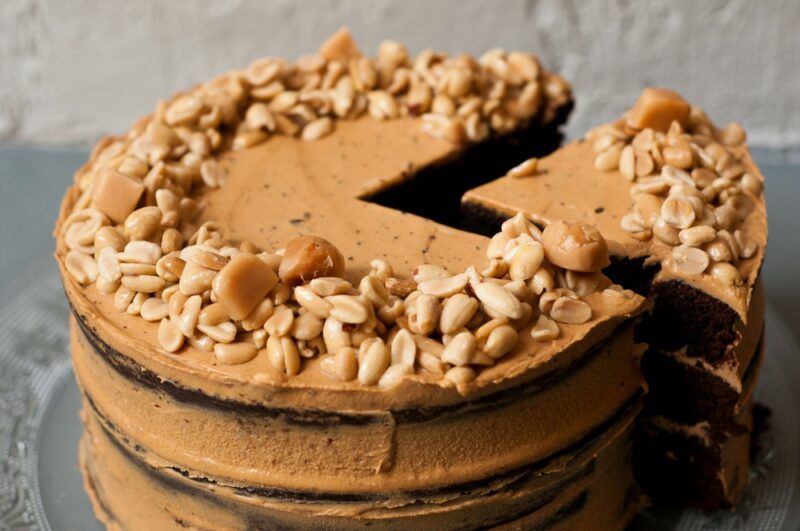 This combination is just as famous as peanut butter and chocolate, but it doesn't feature in desserts quite so often. You can do it though, if you're willing to be a bit creative.
Some people do this by making the cake itself peanut butter flavored and using peanut butter in the frosting. Then you can use jelly as the filling or at least part of the filling. You might even top it with more jelly.
You can also make cake bites with just two layers and jam in between. This style looks surprisingly close to a peanut butter and jelly sandwich, although it's much sweeter.
Chocolate And Peppermint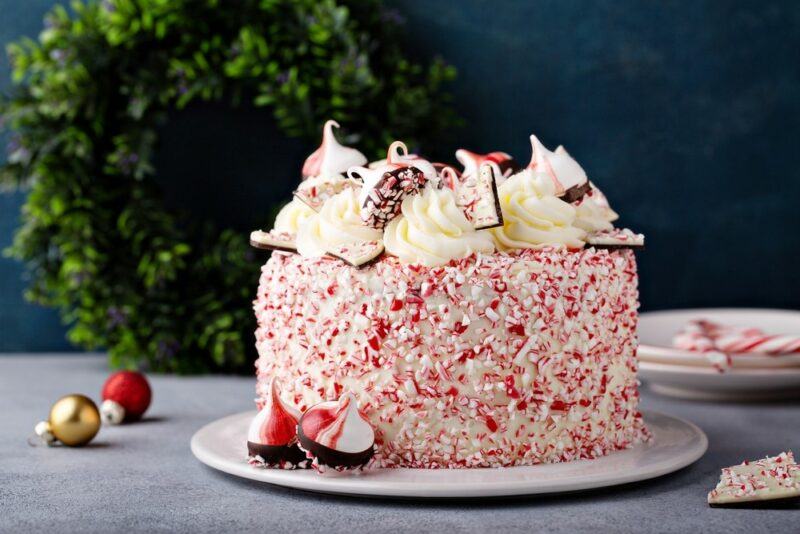 Chocolate and peppermint. Need we say more? The flavors are always a classic, particularly around Christmas.
Many recipes use a combination of dark chocolate, white chocolate, and peppermint. The white chocolate helps to mellow out the peppermint a little, plus it gives you a cake with dark chocolate interior, white icing, and possibly white layers. That style would look stunning.
You'll often see chocolate and peppermint cakes garnished with crushed candy canes. While those candy canes aren't essential, they're a great way of showcasing the flavor of the cake.
Cinnamon And Apple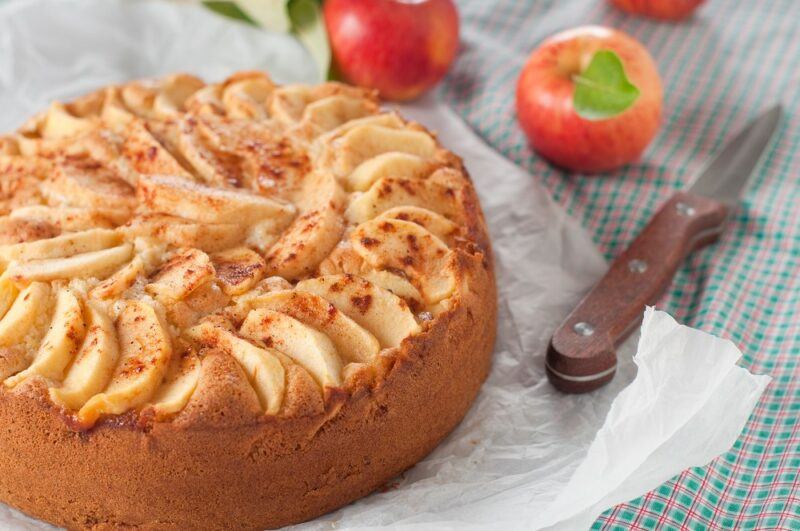 Cinnamon and apples normally feature together in pies. Still, it's not too difficult to make a cake using this flavor combination as well.
Not surprisingly, the cakes won't turn out exactly like most others on this list. The apples provide extra moisture that you don't see in the likes of a chocolate cake.
Still, this extra moisture has benefits, as it stops the cake from drying out too much.
Mango, Chili, And Lime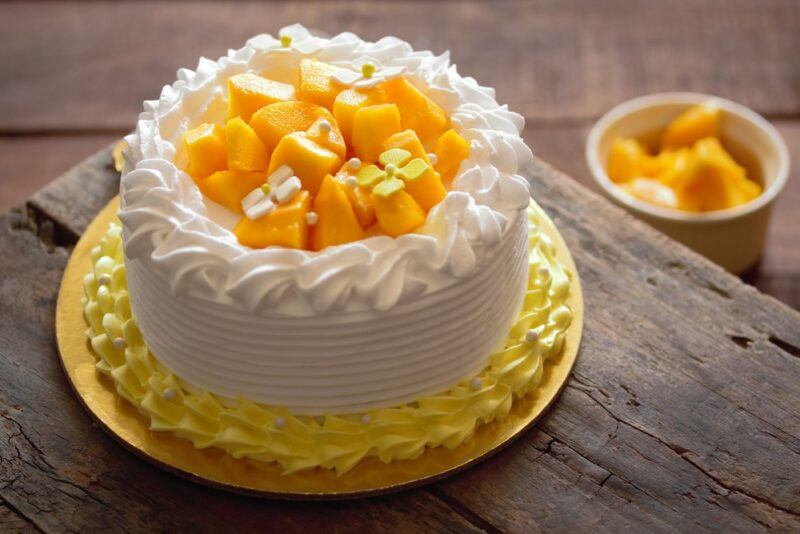 This cake brings with it plenty of Mexican flavors. It's even a little like some Mexican sweets.
It's not a familiar cake combination, which is one more reason to try it out for yourself. The inclusion of chili is particularly good. This gives the cake a stunning flavor profile and should keep guests coming back for more.
Rum And Raisin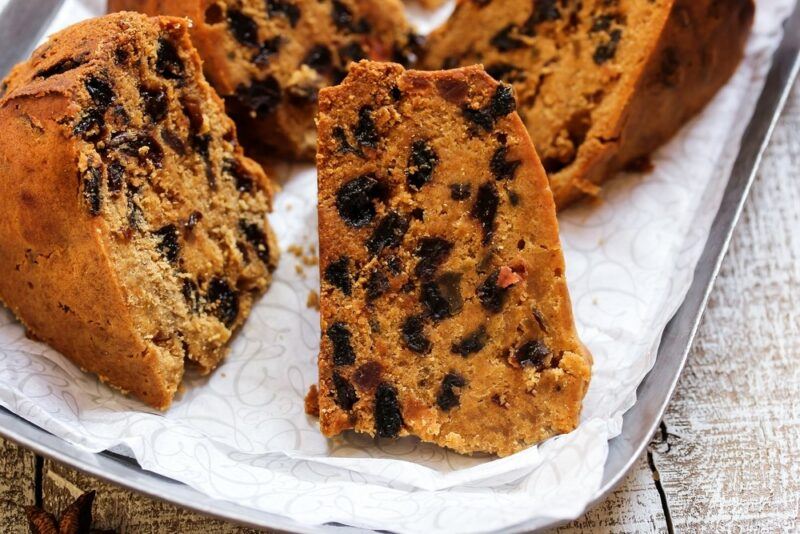 Did you forget about this flavor combo? These days rum and raisin are most often used in ice cream, although the combination is excellent in cakes as well.
Perhaps the best thing is that this type of cake actually uses dark rum as an ingredient. The rum adds a rich flavor that makes the cake much better than it would be otherwise.
You can elevate the cake even further by including buttered rum sauce.
Lime And Coconut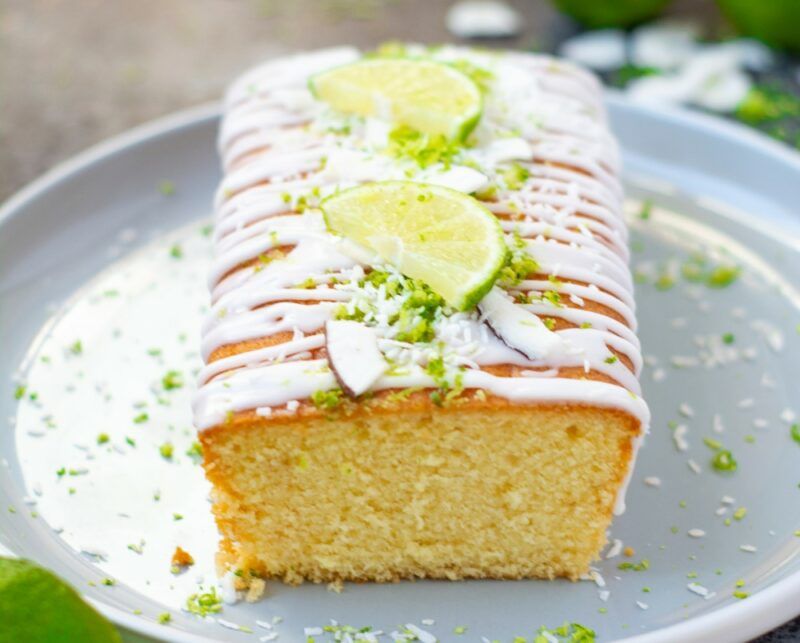 Lime and coconut famously go together in cocktails, so why not use them in a cake as well?
Some versions do this by focusing on a vanilla cake base, then adding lime juice and zest. You could do this even with vanilla cake mix.
Other times, you might make a lime and coconut cake from scratch. Doing this makes it easier to balance the flavors perfectly. And because we're talking about lime, why not include some tequila in the mix? This would make the cake even more impressive.
Pineapple And Coconut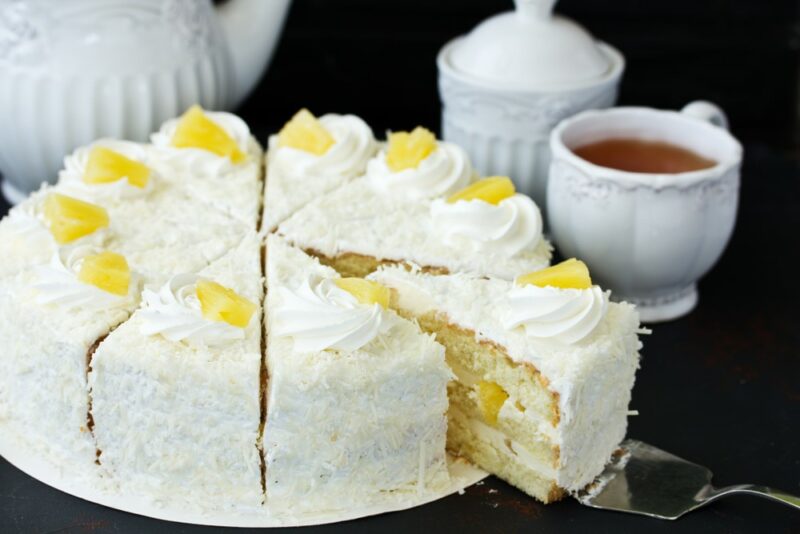 For something sweeter, why not swap the lime out for pineapple instead? The switch basically gives you a pina colada in cake form. That means you could easily add white rum too.
Some versions of this cake focus strongly on the pineapple, perhaps even containing layers of a pineapple mixture or making the cake itself pineapple flavored. Cream cheese frosting goes particularly well with the cake, giving a creamy finish to the whole treat.
Caramel And Apple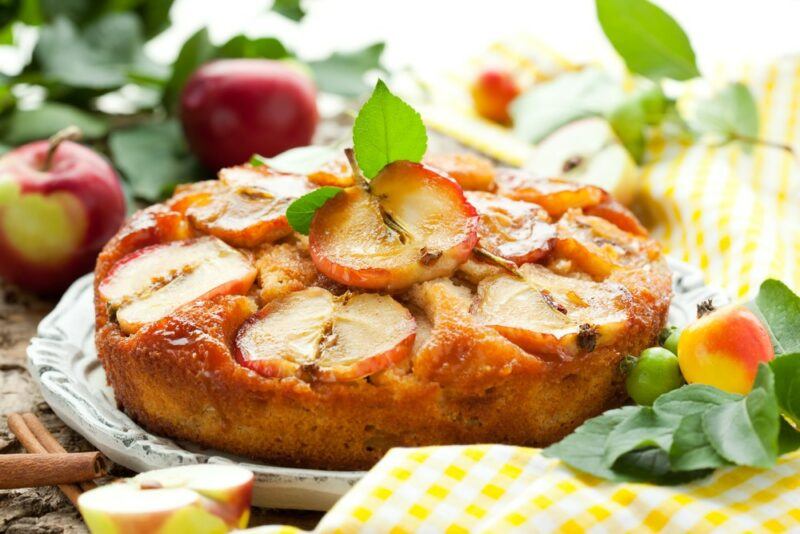 The combination of caramel and apple always seems like a fall treat. It's not particularly common as a cake flavor, but you can do it (and plenty of people have).
A caramel apple upside down cake is an excellent version, as this style of cake already accounts for the moisture of the apples. That's not the only option though. You can make traditional cakes using caramel and apple too.
Caramel And Coffee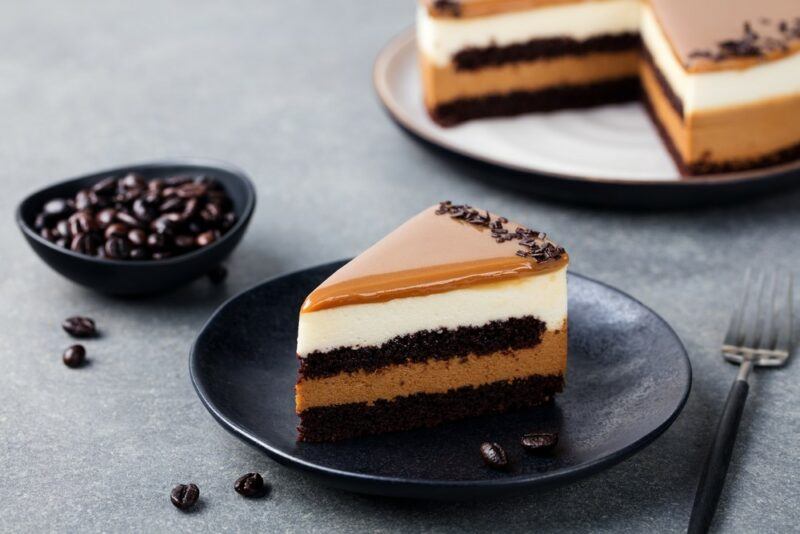 What about combining caramel and coffee in your cake? We're not talking about a regular coffee cake here, as those often don't contain coffee (in America, the term frequently applies to a sweet cake you serve with coffee).
Today, we're talking about a cake that uses coffee and caramel as ingredients.
The addition of coffee makes this an adult cake in the best possible way. You'll often get a rich flavor that's perfectly contrasted by the sweetness of the caramel. You could even use salted caramel for extra flavor.
The pictured version is a mousse cake, so it will have a light and airy texture. That's just one style though. You could easily use coffee and caramel in a more traditional cake too.
Chocolate Pretzels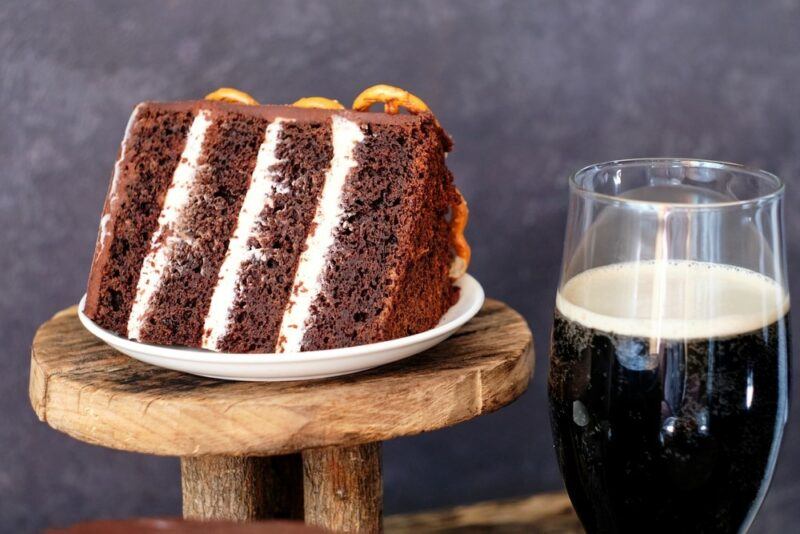 We're not talking about chocolate dipped pretzels here (although those are good too). Instead, we're looking at an entire chocolate pretzel cake.
Most of the time, this involves making a regular chocolate cake, then using pretzels as part of the icing or on top. This helps to maintain some of their crunchiness, giving you a fun contrast in textures.
There are some more elaborate versions out there too, including chocolate beer cake. This one actually uses chocolate stout beer as an ingredient, plus pretzel sticks and all the chocolate cake ingredients that you'd expect.
Strawberries And Oreos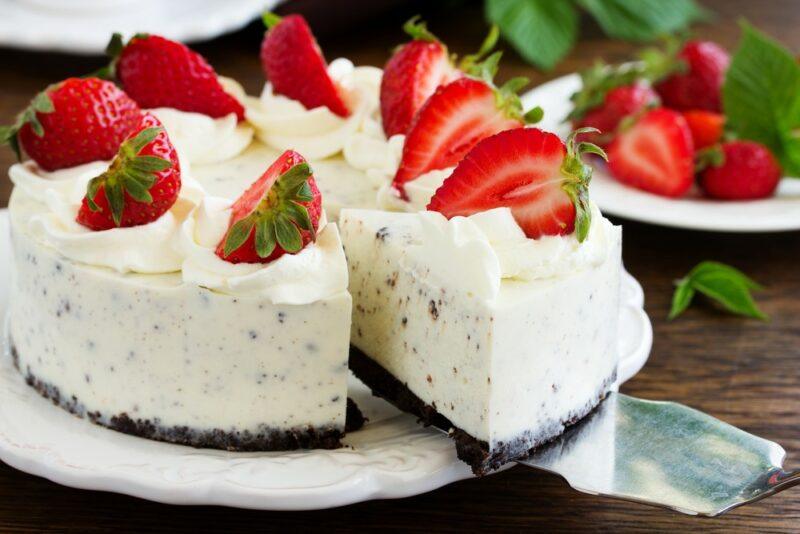 Oreo-focused cakes often rely on vanilla or chocolate as the main flavors. Why not do things differently? Strawberries actually work well with Oreos as well and they're a great way to make the cake more interesting.
The best version I've seen comes from cakedbykatie.com and happens to be gluten free and vegan (as long as you use gluten free Oreos). Of course, that's just one version. There are plenty of others too, including many that use sliced strawberries as part of the topping.
All The Chocolate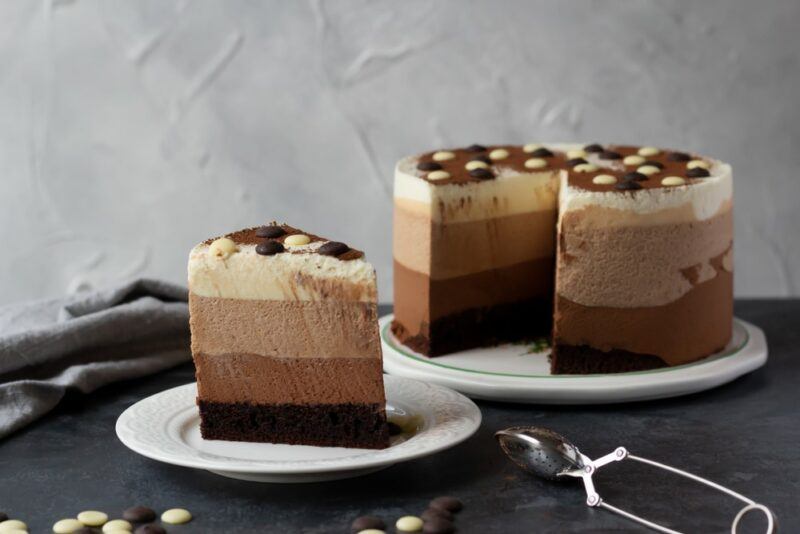 Why use one type of chocolate when you can have three? This chocolate cake relies on white, milk, and dark chocolate layers, complemented by a chocolate base and even more chocolate on the top. It's the ultimate treat for chocolate lovers.
Many versions of this cake use chocolate mousse, which makes the treat somewhat light and airy. It would be a fun one to serve at a party too, as the layers contrast each other so well.
Vanilla And Mixed Spices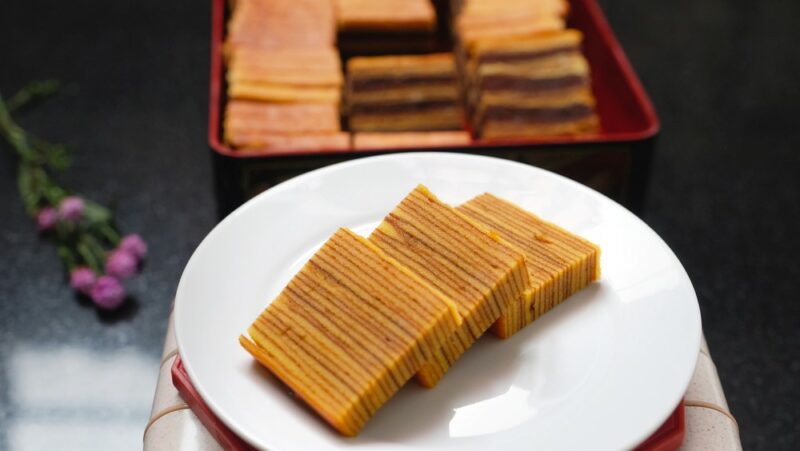 The pictured cake is an Indonesian layer cake, that's sometimes called thousand layer spice cake or lapis legit. The treat is a butter cake that relies on vanilla and a collection of mixed spices, including cinnamon, nutmeg, and cardamom.
The layered style of the cake makes it complicated to prepare. There are also a lot of eggs and butter in the mix, so this isn't a healthy cake whatsoever. However, it should taste amazing (that's what matters, right?).
Of course, this thousand layer spice cake is just one way to combine mixed spices and vanilla. You could easily use the same flavors in a more familiar cake. Many versions use cream cheese as a key ingredient to provide texture and flavor.
White Chocolate And Strawberries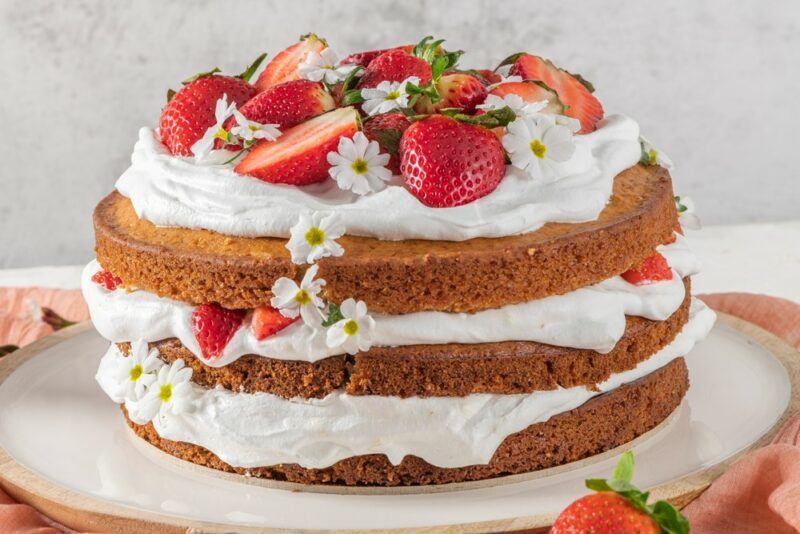 It's no secret that white chocolate and strawberries complement each other well. After all, strawberries are sometimes dipped in white chocolate and served at parties. So, why not take the cake route?
To do so, you'll often be using fresh strawberries as part of the cake layers. You might even make the cake sponge strawberry flavored as well. The style gives you a light and fruity dessert that no one can go past.
Vanilla And Pomegranate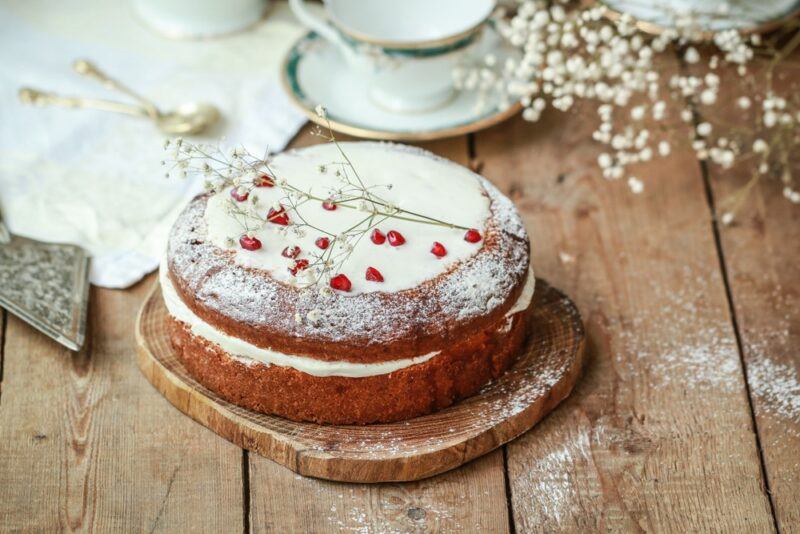 Rather than sticking with berries on your cake, what about using pomegranate instead? This is an incredibly simple approach, as most recipes just involve making a regular vanilla cake, then topping it with fresh pomegranate arils.
The pomegranate arils would burst when eaten, giving you a delicious rush of flavor. Plus, the juice is rich in antioxidants, so it could provide many health benefits.
Banana Cake With Pineapple Cream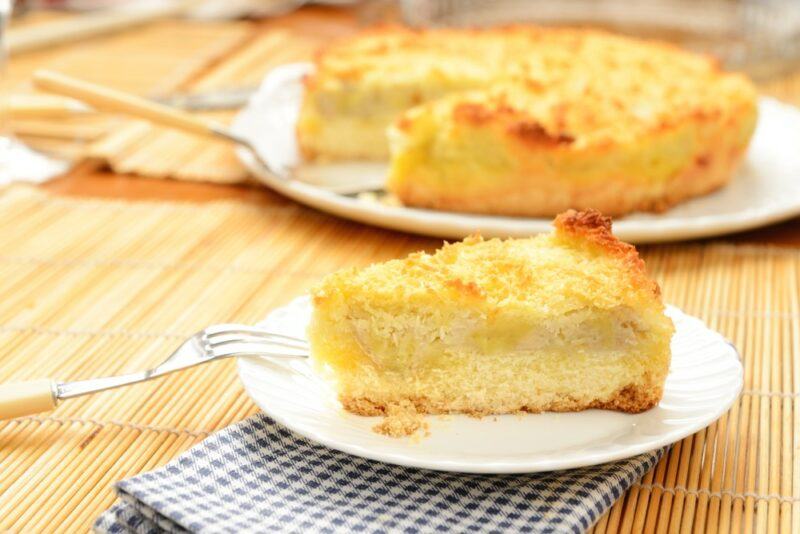 Bananas and pineapple mightn't sound like the most obvious cake combination, yet the flavors work together surprisingly well. You could add other ingredients in for extra flavor, like coconut, which would create a distinct tropical theme.
Mixed spices would work well too. These bring a little warmth to the cake, making it even more complex. There's a simple recipe to try at scrummylane.com, although that's just one of many.