It's easy to get into a rut with fruit. Options like apples, bananas, peaches, and pears are all delicious enough, but they're also very familiar and can quickly get boring. Thankfully, there are many more options than first meet the eye. Each country has its own exciting selection of fruits, including some that are familiar and others that are quite obscure. That's why, today, we're focusing on exotic Asian fruits.
You'll have probably heard of a few of these, like the infamous durian fruit with its incredibly strong (and awful!) smell. We can't forget about dragonfruit either, which even shows up in many exotic fruit boxes.
Some of the fruits from Asia will be familiar. A few types are even imported to the United States and turn up in specialty stores occasionally. Local producers have even started growing various types too, like the yuzu. You'll actually find many Asian fruits growing in Hawaii.
Plenty of other fruits are only found in their home countries, often because they're obscure and there isn't much international demand for them. You'll need to travel if you want to try those out.
Interesting And Exotic Asian Fruits (With Pictures!)
Durian

Durian is certainly a famous fruit. Or, shall we say infamous? The distinctive thing here is the fruit's scent, which is both strong and awful. In fact, the fruit is sometimes described as the most horrible smelling fruit in the world, similar to raw sewage or perhaps gym socks.
Still, the smell isn't the whole story. Durian is also incredibly popular for its flavor, which is often said to be both delicious and complex. It can even be described as almond-flavored custard, although the scent certainly plays a role in the taste.
This fruit could be an acquired taste – if you can get over the smell enough to even try it for yourself.
Yuzu

Yuzu is one of the more well-known Asian fruits. It's a type of exotic citrus fruit, one that mixes together the flavors of mandarins, lemons, limes, and even grapefruits. You end up with a truly distinctive fruit – one that can be eaten raw or used in many recipes.
Despite the popularity, you won't see this fruit often in other countries. Most local production is used for domestic markets and few other countries produce yuzu at a commercial scale.
That said, there are some growers in California, so you might be able to find the fruit from time to time. If you do come across the fruit, try focusing on the juice rather than eating yuzu directly. The juice can be used in many recipes and imparts a bright citrus flavor.
Jackfruit

You'd be forgiven for thinking we've talked about this fruit already, as jackfruit does look much like the durian from earlier. One difference is the rind, as jackfruit has smaller thorns than durian and these aren't as sharp.
The smell isn't as intense either. Instead, jackfruit tends to be mellower and easier to enjoy.
Jackfruit has another interesting feature too – it's flesh is surprisingly fibrous. This is why it's often used as a vegan meat alternative. In fact, in the right sauce, jackfruit flesh really does pass for shredded meat.
Marang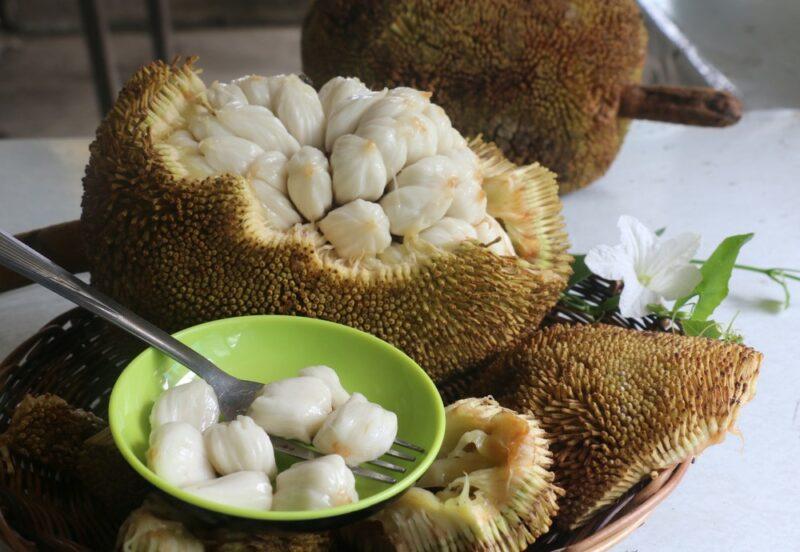 This fruit is going to look familiar, as it's basically a cross between the durian and the jackfruit, giving it some features of each. One notable aspect is the spines. These are much softer than you might expect, making the fruit very easy to eat.
Then there's the smell. While durian is famous for being intense, the marang has a subtle scent instead. The flesh is also creamy and sweet, making the fruit easy to enjoy.
Indian Sherbet Berry

This bright fruit originally came from India. It's now grown in a variety of South-East Asian countries, including Nepal, Thailand, and Bangladesh, and is beginning to be propagated even further afield.
The small fruits look and taste much like grapes, with a distinct sweet and sour flavor profile. The balance of sweet and sour is fantastic and should keep you coming back for more.
Tamarind

We can't talk about Asian fruit without mentioning tamarind. This pod-like fruit contains a sticky date-like pulp that has sweet and sour flavor tones. The exact flavor balance depends on the ripeness though, as the fruit gets sweeter as it ripens.
While tamarind is sometimes eaten as a fruit, it's often used as an ingredient instead. For example, you'll regularly see tamarind as an ingredient in sauces and curries. You can even buy tamarind powder, concentrate, and paste, which can then be used in your own recipes.
Even if tamarind sounds completely strange, the fruit is well worth trying for yourself. You might grow to love the flavor profile, especially once you start including it in your own cooking.
Mango

Mangos originally came from India, although they're now found throughout the world. While they're not as exotic as other fruits on this list, they're still an exciting treat and are bursting with flavor.
These are also one of the easiest fruits to find locally. You should even be able to find them in grocery stores and farmers' markets. That's not the case for most of the other fruits on this list.
Salak Or Snake Fruit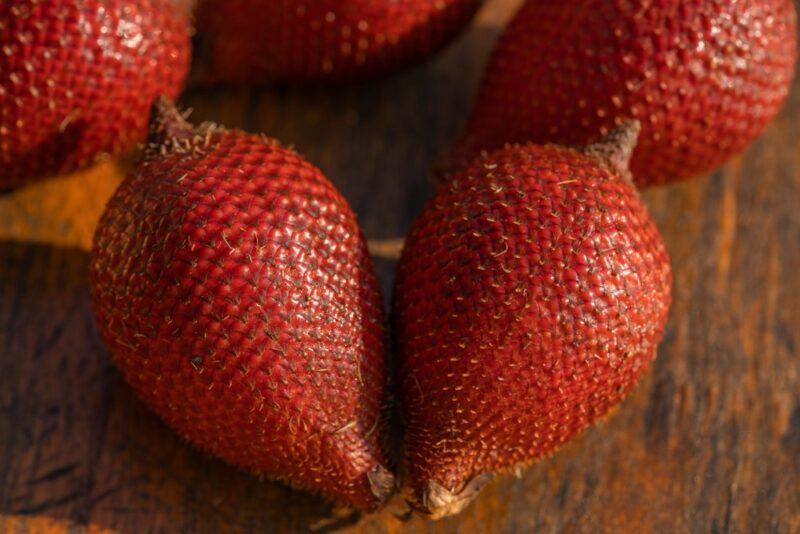 This weird looking fruit is actually known as salak, but is frequently called snake fruit instead. After all, the thin skin of the fruit really does look like a snake and makes the fruit stand out.
Don't let appearances fool you though. While this fruit has a frightening-looking outside shell, the inside is sweet, juicy, and slightly acidic.
Sometimes you don't even need to go to the effort of peeling the fruit, as street vendors often peel it for you and sell it in bags, ready to go.
Wood Apple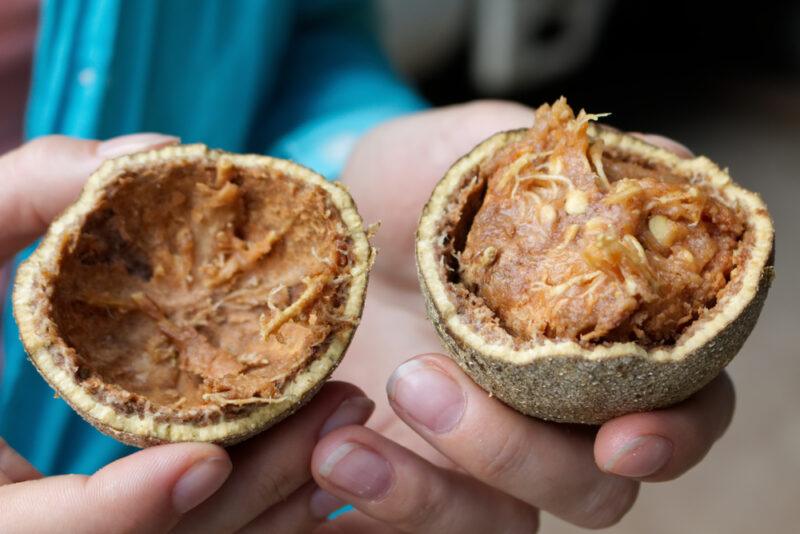 Wood apples are odd. Seriously odd. From the outside, they look much like small coconuts. Their shells even have a bark-like consistency.
The appearance doesn't change much as the fruit matures. Because of this, the fruit is often dropped as a way to test maturity – as odd as that sounds.
Then there's the flesh. When ripe, the wood apple has a strange sticky and creamy flesh that includes edible white seeds. While the fruit doesn't sound delicious, they are popular. The flesh can even be eaten as-is or perhaps with a little sugar on top.
Wood apple flesh can also be extracted and used in many ways, like as a flavoring for smoothies, to improve ice cream, or as part of chutney.
Yangmei

Yangmei also goes by the name Chinese bayberry and is a fascinating and somewhat fuzzy fruit. It has a long history in China, where it has been cultivated for more than 2,000 years.
Yangmei fruits look a little like berries and have a similar flavor profile as well. However, they are tarter than you might expect and have a distinct herbal flavor that isn't common in other berries.
The level of ripeness has a strong impact on the flavor. Dark red fruits tend to be very sweet and are ready to eat straight away, while bright red versions are much less sweet. These often feature in recipes rather than being eaten directly.
One problem is that the fruit can easily harbor small insects and dirt. It's often best to soak the fruit in salt water before eating it. Simply washing it may not be enough to make the fruit safe.
Loquat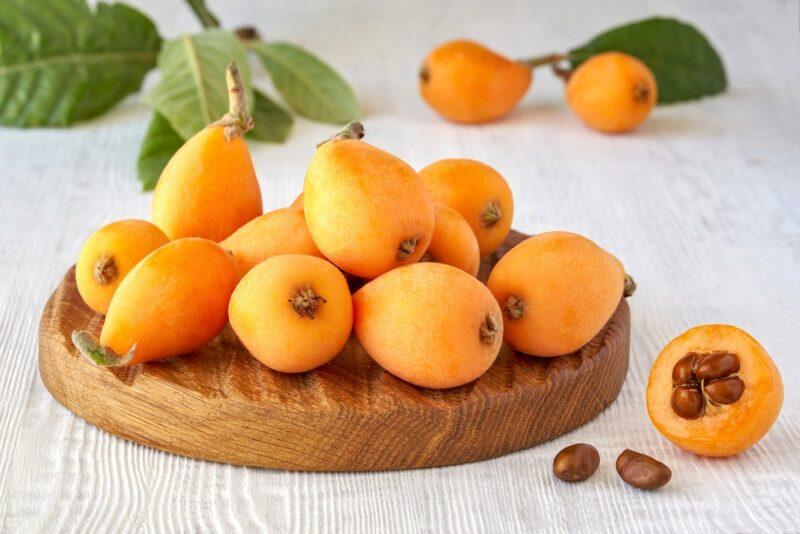 We included the loquat in our list of Mexican fruits, as this fruit is popular in Mexico. However, it is thought to originate in China instead and is now grown in many countries throughout the world.
The fruits tend to be small and oval. They often has yellow tangy flesh, although the color and flavor of the flesh can vary from cultivar to cultivar. Some estimates even suggest that there are 800 different cultivars in Asia alone, each with their own features.
Kaffir Limes

Kaffir limes look strange, with an unusual bumpy pattern across their skin. The zest and rind are often used in a variety of Asian dishes, including stir fries and curries.
Unusually the flesh of kaffir isn't generally used. The juice can be, but it's still not nearly as common as the zest.
Of course, kaffir limes are hardly the only exotic citrus fruits. There are some other unexpected entries out there too, including finger limes, buddha's hand, and bergamot oranges. Why not branch out a little?
Pomelo

Pomelo comes from Southeast Asia and is most often compared to a grapefruit. The flesh has a similar color and the flavor profile is familiar as well, except that pomelos lack the strong bitterness found with grapefruit. So, if you find grapefruit too intense, pomelo might be the perfect alternative.
As with many fruits, there's no shortage of different pomelo varieties. Some of these are round and look much like a grapefruit, while others are shaped like pears instead.
Wax Apples

These little fruits aren't very well named. Sure, they look a little like apples, but not dramatically so. Wax apples certainly don't taste like apples.
They also have a completely different texture. In fact, the fruit is watery like a watermelon and is fairly loose. While the texture is unusual, the fruit is still popular. Serving it uncut with just the core removed is a good way to preserve the appearance of the fruit, especially in a salad.
Wax apple varieties can be notably different in appearance. Some have larger fruits, while others are lighter or sometimes much darker. Different names may be used as well, depending on where the fruit is grown and the specific variety.
Japanese Barberry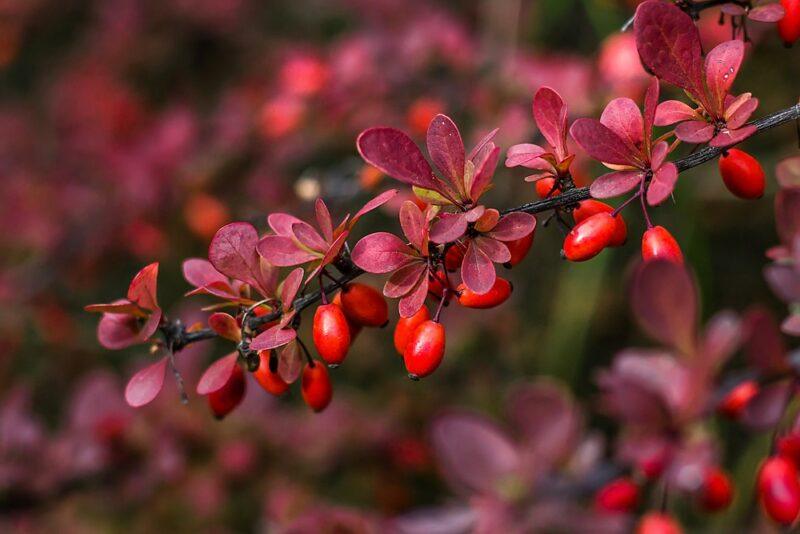 Japanese barberries are most often grown for landscaping, as the shrub can grow up to six feet high, has thorns, and can act as a barrier hedge. However, the shrub does also produce small red tart fruits that are completely edible.
Interestingly, this plant is also very common in the eastern United States, where it has actually become an invasive species. Because of this, you may be able to find the plants growing in the wild and forage for the fruits.
The flavor may be unexpected. There's some sweetness present, but also plenty of bitterness. The bitter notes mean that the fruit is best used as an ingredient in jams, jellies, and smoothies.
Rambutan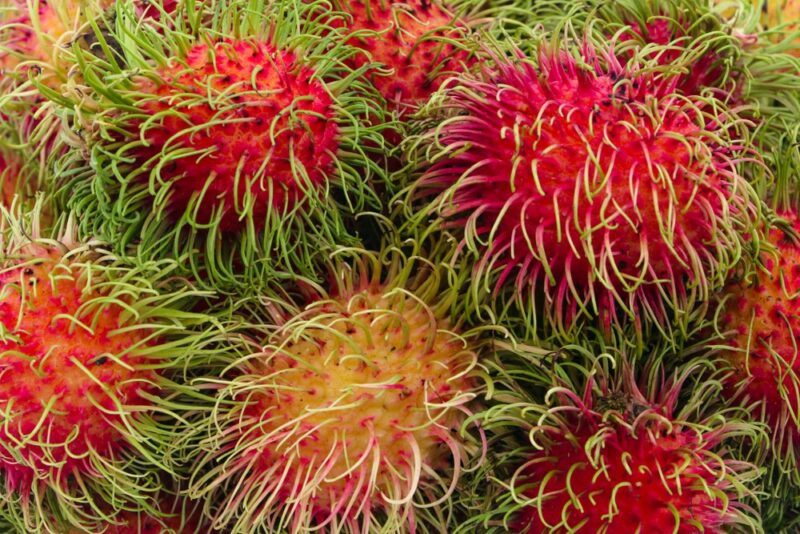 Aren't these fruits stunning? They're related to the lychee, but look quite different because of the spiny hairs. These hairs are green when the fruit is on the tree, then turn red a few days after harvesting.
The middle of the fruit is generally ripe, with a flavor similar to grapes. You can easily split the fruit open and then eat the soft center.
Lychee

Lychees have a long history in Southeast Asia and are still regularly cultivated. They're similar to the rambutan from above, except that lychees don't have the same spines and are normally easier to find.
Their lack of spines makes lychees smaller and easier to transport. Underneath their red skin is soft white flesh, where the texture resembles that of a grape. They're well worth trying for yourself.
Starfruit

You've probably seen starfruit before (also called carambola), as these are now cultivated in many parts of the world. The fruit features yellow flesh that starts off crisp and becomes juicer as they ripen.
There are both sweet and sour varieties. The sour ones tend to have a higher oxalate content, although there's plenty of variation between cultivars. The fruit is easy to work with, as the entire thing is edible, including the skin.
Starfruit also lives up to its name, as the points of the fruit resemble a star when cut. This is generally a five-point star, although some starfruits end up with a six-point or seven-point star instead.
Ice Apple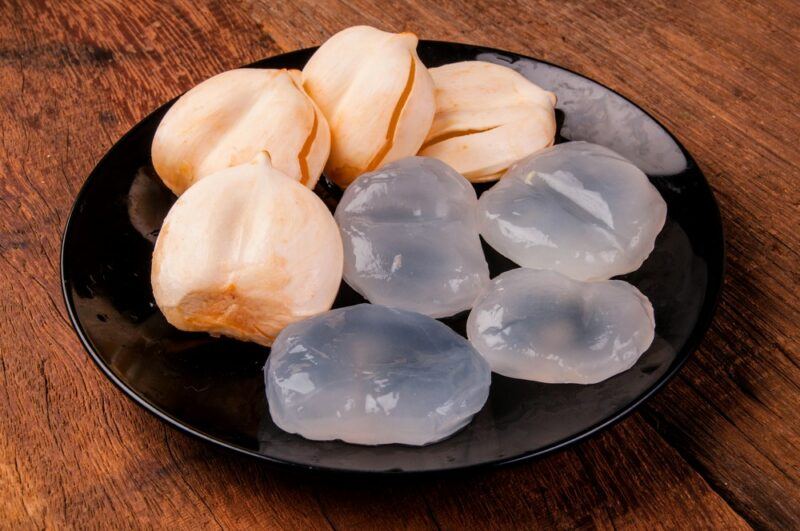 Have you ever seen a fruit quite like the ice apple? It doesn't look that exciting on the tree, as it grows in a large husk, much like a coconut.
The husk can be opened to reveal two or three ice apple fruits. These are translucent and soft, encased in a light brown covering. The texture is a little like a lychee, while the flavor is slightly sweet and a reminiscent of a coconut.
However, it isn't the flavor or texture that makes ice apples famous. They're often used for their cooling properties instead, particularly in the heat of summer. Their potassium and sodium content can even help with your electrolyte balance.
Che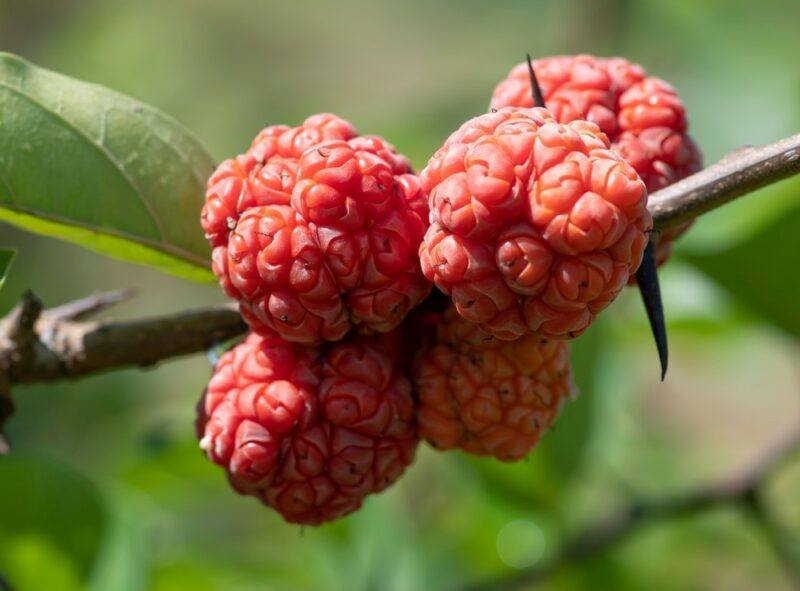 Che fruits are very unusual. They almost look like little brains growing close together on a shrub.
In some ways, they're like little raspberries, except that they're slightly larger and have a bumpier skin. Still, like raspberries, these little fruits don't travel well. This is why they're hardly ever seen in grocery stores. You might need to grow the fruit yourself if you want to try it.
The name can be confusing here. We're talking about Curandia tricuspidata fruits, which come from Eastern Asia. However, the same name is sometimes used for different cultivars and perhaps even for distinct trees. The term is even used to refer to a Taiwanese dessert.
Pulasan

This red fruit looks much like a rambutan, which isn't surprising, as the two are closely related. One difference is the flavor, as pulasan fruits tend to be sweeter than rambutan. They're also rare and you won't often find them unless you're in Southeast Asia.
Also, rambutan fruits tend to have hairy spines, while pulasan fruits don't have those spines at all. Like most fruits, pulasan can be eaten raw or cooked to make jam, compote, or many other treats.
Longan

Longan fruits belong to the soapberry family and they're quite distinctive. They have a light brown shell which covers translucent fruit and a black seed.
The combination of black seed and translucent flesh makes the whole thing look a little like an eye, which is why the fruit is sometimes called a dragon eye fruit. Pretty cool, right?
The seeds of longan fruits are sometimes thought to offer benefits, but many people discard the seeds instead. You can take whichever approach you prefer.
Buddha's Hand

It's easy to see where this fruit gets its name from, as the yellow tendrils really do look like fingers (although there are far too many of them). The number of fingers and the amount of spreading varies depending on the cultivar, creating plenty of variation.
This isn't your typical citrus fruit, as Buddha's hand contains barely any flesh. Because of this, the fruit is often used ornamentally or as a way to perfume rooms, as it is quite fragrant. However, the zest is sometimes used in various recipes, including both sweet and savory options.
Goji Berry

Goji berries have become incredibly popular as a superfood. You'll often find them dried, powdered, or as part of a health blend. Fresh goji berries are perishable and don't travel well across long distances. So, unless you're in China, you might need to settle for dried goji berries instead.
Health benefits aren't the only things to think about. The berries also have a delicious flavor. They're mostly sour, but there's a touch of sweetness as well.
There's one word of warning, though, goji berries can go bad, just like most types of food. If your berries taste bitter, it's a sign that they're not good to eat.
Mangosteen

Mangosteens look stunning. From the outside, they seem like large dark purple berries, but the interior is completely different. In particular, the interior flesh of the mangosteen is white, so it stands out against the purple skin.
The white flesh is soft and sweet, with a slight contrasting tartness. While these are exotic fruits, you can occasionally find them in the United States, most often in Asian produce markets.
If you're lucky enough to find fresh mangosteens locally, they're well worth trying for yourself.
Sapodilla

Sapodilla is sometimes known as brown sugar fruit – a name that comes from the flavor of the fruit, which includes notes of molasses and brown sugar. Another distinctive feature is that the fruits are much larger than you might expect.
Care needs to be taken with sapodilla seeds, as they have this unexpected hook that can catch on the tissue of your throat. The flavor is interesting too. It's a little like a squash, but with a musky and maltiness as well, plus some brown sugar tones.
Noni

Noni fruits come from the same family as coffee. One of the most notable features is the smell of the fruit, often said to be much like vomit or rotting fruit.
Despite the scent, the fruit is a staple food in some places. It can be eaten raw or included as part of a curry. Some people also enjoy the flavor of the fruit, saying that it is earthy and has some notes of citrus.
Santol

Santol fruits don't look like much on the outside – a little like discolored oranges. The inside is much more interesting. This is similar to the mangosteens that we highlighted earlier.
The fruits can be eaten raw, although that's not your only option. They can be used to make a sweet syrup instead or even candied. The fruit can even be found in some parts of the United States, although it's still fairly rare.
Kumquat

Kumquats have a distinct citrusy flavor, which includes tangy notes along with a slight sweetness. But, unlike citrus fruits, the skin of kumquats is both edible and delicious. The skin is even sweeter than the rest of the fruit.
The flavor balance means that kumquats work well in marmalade. Their pectin content makes the marmalade even better. Of course, you can easily enjoy kumquats raw as well.
Japanese Pears

These pears go by plenty of different names. But, regardless of what they're called, they're a delicious treat. They have an interesting crisp texture that makes them best eaten raw rather than being used in baking or desserts.
While the pears come from East Asia, they are now grown in many parts of the world and are easy to find. However, they are fairly expensive, which makes them a delicacy.
Langsat

Langsat fruits look much like longan fruits, but they are actually different. For one thing, langsats tend to be larger.
The interior of langsats taste a little like grapes, including sweet and sour flavor notes. You'll need to avoid the seeds though, as these aren't edible.
Jujube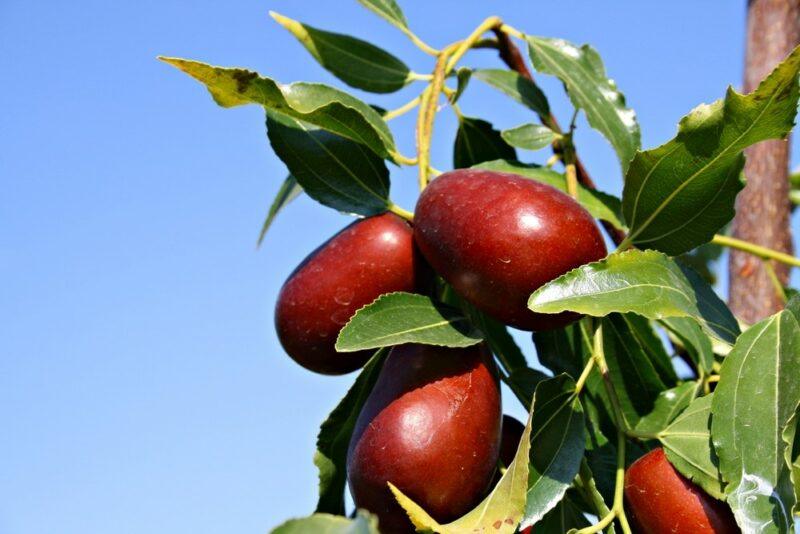 Jujube fruits are small, round, and wrinkled, plus either red or purple when they're fully ripe. They're sweet like many fruits, but also have a chewy texture that makes them a delicious addition to desserts.
While the fruits can be enjoyed fresh, they're more often dried instead. Drying the fruits increases their shelf life and makes them versatile for cooking. Or, you can snack on dried jujubes, much like you would on dates.
Bonus Exotic Asian Fruit: Square Watermelon

This final entry is a little different. We're not talking about an unusual fruit species here at all. Instead, square watermelons are simply regular watermelons that are grown in boxes, which makes them grow in the shape of a square.
They're also expensive, often costing around twice the price of a regular watermelon and sometimes even more. Unfortunately, the watermelons are largely ornamental, as the process of making them square has negative impacts on their quality.