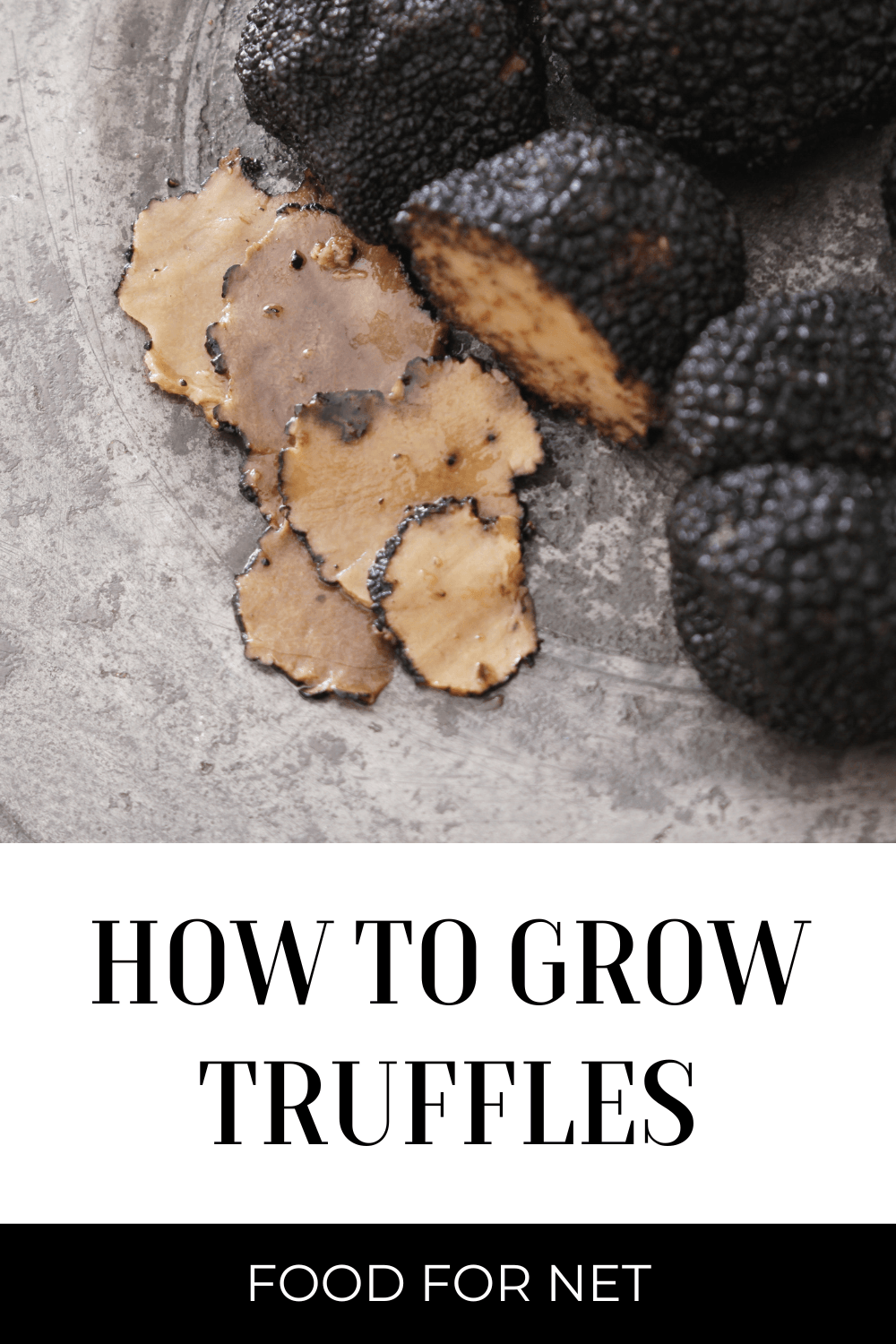 Truffles don't look like much at all. They don't sound exciting either, given that they're simply fruiting bodies that grow on underground fungus. Yet, there's something magical about truffles, as they offer an earthy flavor and scent that chefs find stunning. Truffles are also delectable when paired with wine.
You can purchase truffles online or from some specialty food stores. But, what about learning how to grow truffles instead? Doing so gives you access to plenty of truffles. You might even be able to sell some of them for a tidy profit.
That said, growing truffles isn't something to get into lightly. It's not a common choice for the home gardener either, as the process is lengthy and surprisingly hit and miss. You could sink a lot of money into the venture to find yourself left with few truffles.
So, let's look at what you can expect from the process and what to do with your truffles once you have them.
What Are Truffles?
Let's begin with a clarification. This entire discussion focuses on the truffles that come out of the ground, not the chocolate dessert truffles you might make for special occasions. Both types of truffle are delicious, but the fungi kind is the most exquisite.
Such truffles are also rare, which is why they often fetch such a high price. Paying more than $400 per pound isn't unusual, while white truffles can get all the way up to $4,000 per pound.
Despite common belief, these truffles aren't mushrooms, although they do come from the fungi kingdom. The main difference is that truffles grow underground, while mushrooms grow on the surface.
Truffles aren't the entire fungus either. Instead, the term specifically refers to fruiting bodies that contain spores. While that idea mightn't sound appealing, mushrooms are fruiting bodies too and they're certainly delicious.
Truffles don't just grow anywhere. They always grow on the roots of specific tree types, typically forming a symbiotic relationship. Because of this symbiotic relationship, truffles will only grow when the trees, soil pH, and soil environment are all appropriate.
English oak, white oak, and French oak trees are well-known for growing some of the best quality truffles. Other trees, like birch, beech, and fir, still grow truffles, although the quality is often lower.
How To Grow Truffles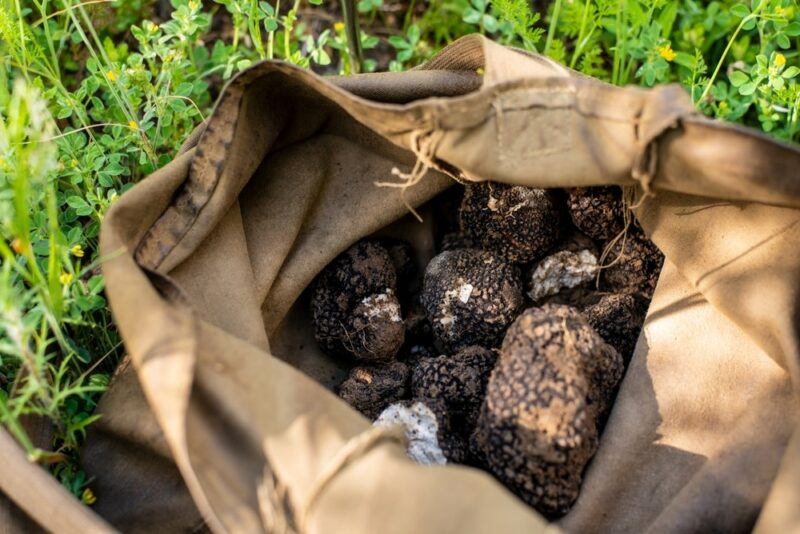 Truffles are most often associated with European countries, yet you can grow them in the United States as well. Doing so isn't as simple as simply growing a fresh herb like rosemary in your backyard.
For one thing, truffles don't grow on their own. They're symbiotic with trees, which means you need to have the right trees and soil before you ever see truffles. Most of the time, this involves intentionally planting and caring for these trees while ensuring the soil is suitable for truffles to establish.
Find Suitable Land And Soil
First, you'll need a good location. This includes having enough land to plant a decent number of trees, as truffles probably won't grow under every tree you plant.
The soil matters as well. Truffles do best with alkaline soil, usually with a pH between 7.5 and 8.3. You'll often need to regularly add lime to the soil to keep it sufficiently alkaline. It helps if the soil is well draining too.
Then there's the broader environment. Truffles are most successful in warm climates with cool and moist winters.
Choose Your Trees
You'll also need to think about the type of tree you want to grow. Oak trees, hazelnut trees, pine trees, and beech trees are common choices, with oak being the most popular.
This doesn't mean that oak trees are the best choice. Instead, you're looking for trees that grow well in your area.
You can improve your chances by purchasing truffle inoculated seedlings. Because these already have the spores needed to produce truffles, there's a better chance of the fungus actually developing.
That said, truffle inoculated seedlings don't guarantee that you'll get truffles. A variety of other factors influence whether the fungus successfully establishes.
Plant And Care For Trees
The next step is planting and caring for your trees. This may include having an irrigation system in place, especially if you're growing 10 or more trees.
Watering and caring for these trees is the most challenging part of growing truffles. This includes steps like weeding, mulching, trimming, and the like. Most steps need to be regularly completed for each tree. So, the more trees you have, the harder you'll be working.
Clearing weeds around the trees is crucial, as sunlight must be hitting the soil for truffles to grow.
Be Patient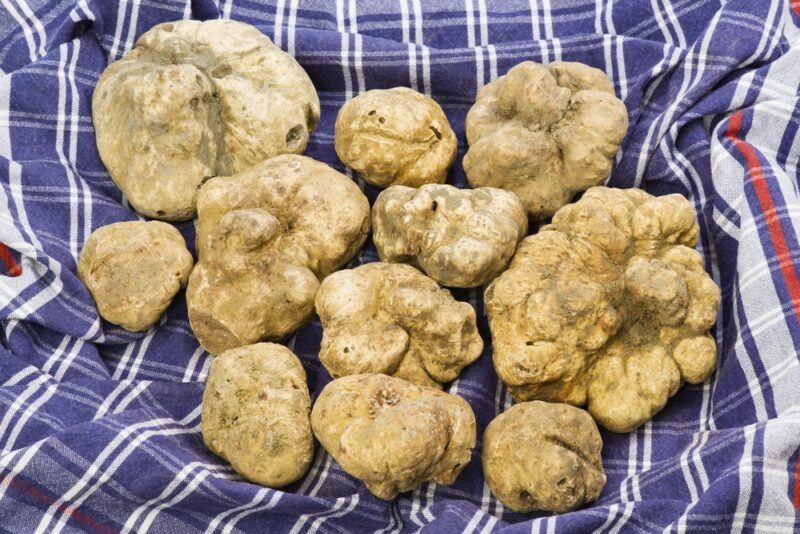 Growing the trees doesn't just require work. It also takes a decent amount of patience. You might see truffles within three years, but you'll often need to wait six or seven years (or perhaps even longer).
Remember to keep an eye out for predators. You might need to watch for trespassers too, as truffles are valuable and some people are willing to steal them.
Even when you've done all this work, truffles aren't guaranteed. Not only is the fungus responsible for truffles slow growing, but it also takes a decent amount of time to spread and colonize. This means it can take years before truffles establish under your trees and they may not do so consistently.
This is why it's best to plant at least a few trees, ideally many. If you have just one or two trees, you mightn't see any truffles at all.
How Do You Find Your Truffles?
Use A Truffle Sniffing Dog
You've heard about truffle sniffing dogs, right? They're similar to the dogs you see at the airport, except that they're trained to sniff out truffles, rather than drugs.
These dogs save you plenty of time, as you're not digging out soil in the hope that there are some truffles. The dogs also reduce the risk that you miss some truffles.
Look For Signs On The Ground
While a truffle sniffing dog is ideal, you can find truffles without one by looking at the signs on the ground. The biggest issue is that you risk digging up a truffle too soon, in which case it is wasted.
Dead grass is a solid indication, as some of the compounds that taste amazing to us are natural herbicides. They kill the grass above truffles, giving you a clear sign as to where they are.
Cracks and bumps are an indication too. These happen because the truffles are growing close to the surface of the soil.
Also, watch for animals digging, as many animals are attracted to the smell of truffles. We're not just talking about large animals here. Even small critters, like squirrels, will seek out truffles.
Dig Using A Rake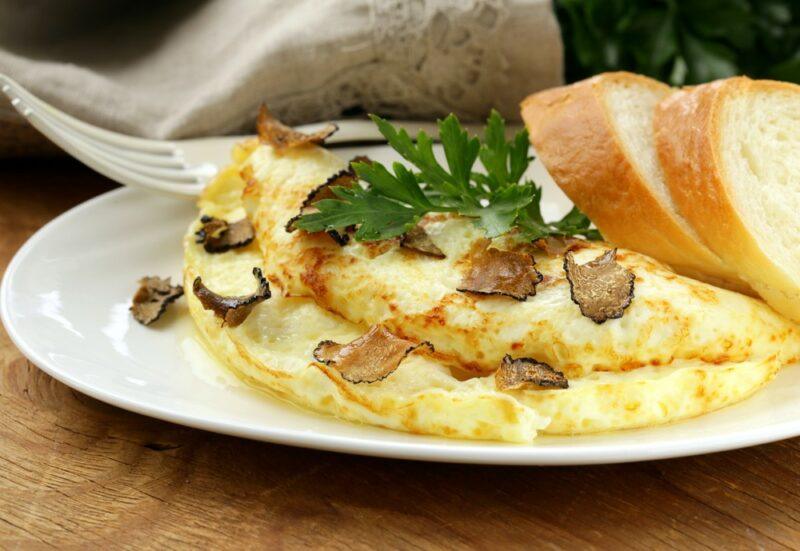 Once you have a good idea of the possible location of your truffles, a rake is the ideal tool. This won't disturb the soil too much and most truffles will be near the surface anyway.
If you don't have any luck with a rake, you may need to gently dig instead.
You may not find truffles every time, but don't worry. You should find truffles soon enough if you keep at it.
Should You Grow Truffles?
Before you jump headlong into the world of truffle growing, it's worth thinking a little about the pros and cons of doing so.
Benefits Of Growing Your Own Truffles
You Don't Need To Buy Truffles
Growing your own truffles means you don't need to buy them. And, once your trees are well established, you might end up with a regular supply of truffles that are ready to use.
This could be particularly powerful if you cook with truffles regularly.
You Could Sell Truffles
The high price of truffles could lead to a tidy profit if you sell some of them. The experience could even get very profitable over time.
Truffles don't last long once they've been harvested, so you'll need to develop a system to sell and deliver them while their quality is high.
Your Crop Is Eventually Low Maintenance
Growing trees for truffles is pretty intense at the beginning. However, the workload decreases dramatically after the first few years. After a while, you'll only need to regularly mow grass, add lime to the soil, and dig out the truffles.
That's not too bad for a high profit crop.
You might even find that there are currently some suitable trees on your property. These might already be growing truffles or need slight soil adjustments to make them productive.
Problems With Growing Your Own Truffles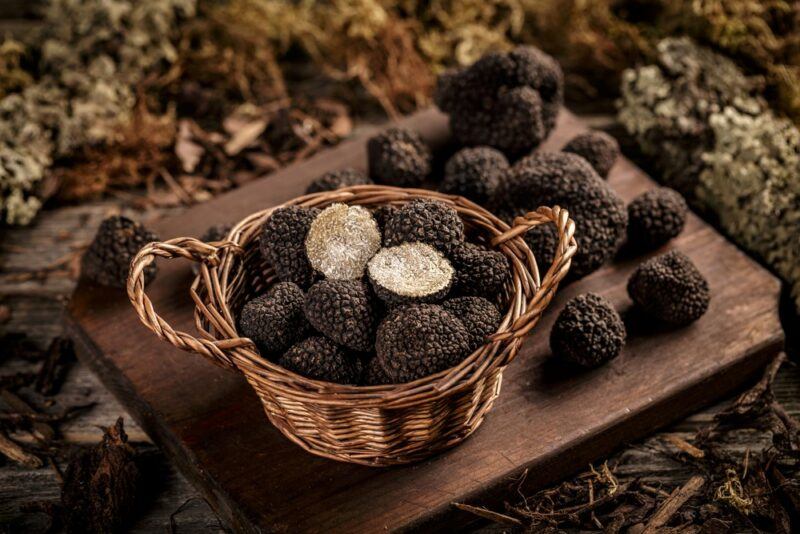 The Time And Effort Required
Most of the time, growing truffles means that you're growing multiple new trees. Even a small number of trees requires a decent amount of space, not to mention all the time and energy required to keep them thriving.
You might want at least 10 trees, if not 50 or 100 for a decent number of truffles. That's not a venture to get into lightly.
The Financial Costs
Growing trees is surprisingly expensive. You'll often be paying for the trees to begin with, plus an irrigation system, lime, and any other materials. If you're short on time, you might also need to hire someone for the manual tasks, like weeding.
These costs add up fast, particularly if you're growing 10 or more trees.
You should make those costs back at the other end, once you're regularly producing truffles. But, it's still a gamble, particularly if you don't have much money right now.
What if your trees don't produce truffles? What if you can't sell them? What if you run out of money before you have a decent crop? Those outcomes could all be devastating.
You Don't Have Full Control
Finally, growing truffles is a bit of a gamble. While we know much more about truffle cultivation and ideal conditions than ever before, there are still plenty of unknowns.
This means you could put all the work into setting up your trees and then see hardly any truffles. After all, you're trying to grow a tree and a fungus, which both interact with each other and with the soil they're planted in.
The best you can do is grow the right trees in the right environment and type of soil. Beyond that, you simply need to wait, hope, and trust Mother Nature.
Types of Truffles
Hundreds of different truffle varieties exist, but they're not all alike. Instead, only a handful are sought after and considered delicacies. Here are the most notable types and how they differ.
Winter Black Truffle
This truffle has the scientific name of Tuber melanosporum and is also known as the black truffle or Périgord truffle. It typically has a strong earthy flavor that stands out in many dishes.
Burgundy Truffle
This is another black truffle, although it is smaller than the Winter Black Truffle. This variety can be farmed with a reasonable level of success, although it still fetches a decent price.
White Truffles
White truffles have the scientific name Tuber magnatum. They're also famous and highly prized. These are the truffles that everyone is crazy about and the ones that fetch top dollar.
These truffles have a more nuanced and subtle flavor than black truffles, without so many earthy notes. They're also much more aromatic, which is one of the most desirable features.
These truffles are also incredibly hard to domesticate. They're most often found in the wild and even there are tough to find.
Summer Truffles
These truffles have a similar external coloring to black truffles, but their interior tends to be much lighter. They don't have much distinct truffle flavor and taste more like regular mushrooms instead.
These truffles are also much cheaper than white or black truffles, which is undoubtedly appealing. Plus, while their flavor profile is quite different to white or black truffles, summer truffles are still delicious in their own right.
Other Types Of Truffles
There are also some less common types of truffles, including Tuscan Truffles, White Piedmont Truffles, Fuzzy Truffles, and Australian Truffles. Each type has its own distinct characteristics and flavors.
How To Get The Most From Your Truffles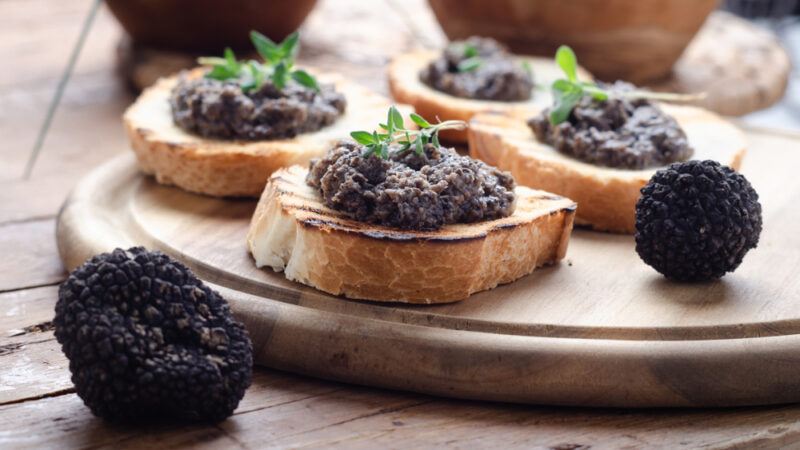 Even serving truffles is an art form. To really experience their flavors, you need to slice them incredibly thinly. A truffle shaver is the best way to do this, as it will give you thinner slices than a knife or even a microplane.
Some people turn to grating as well, particularly for the outer portions of a truffle, as these are difficult to shave. Grated truffles also work better for some dishes, particularly because grated truffles can be easily folded into dressings or sauces.
Cook Black Truffles Carefully
Black truffles can be used in many dishes, such as with seafood, eggs, pasta, and even desserts. They're typically cooked, as doing so brings out their amazing flavor.
It's important to be ultra-cautious here. Black truffles are easily overcooked and can quickly lose their flavor.
To avoid overcooking them, try adding black truffles right at the end of cooking, just before the dish is served. Cooking at low heat in a non-stick pan can be helpful as well.
If you're at all unsure, look for recipes from reputable authors. This way you have details about ingredients, times, and temperatures. After all, truffles are difficult to grow and expensive to buy – it makes sense to use them well.
Don't Cook White Truffles
White truffles have a more delicate flavor profile than black truffles. This flavor is easily ruined by heat, so it's best to completely avoid cooking white truffles.
The truffles are generally served raw instead. Try shaving them over delicate dishes, like pasta or risotto.
Don't Overdo It
Truffles have a pretty strong flavor, so you'll only need a small amount to make your dish shine. Besides, adding extra truffle to your meal is easier than taking some away.
Look For Complementary Flavors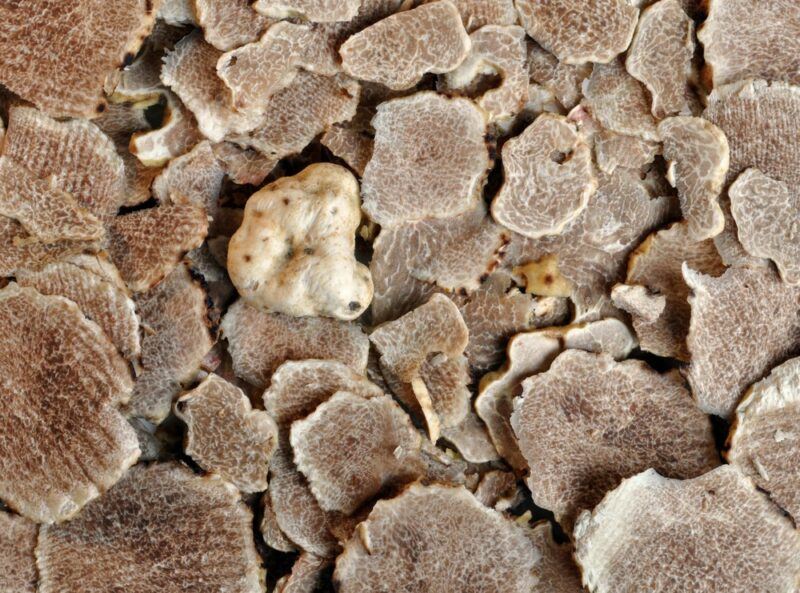 Black truffles work well with meaty and earthy dishes. They can even be served alongside beef or chicken. Pizza, soups, pasta, all tend to work well too.
White truffles are more nuanced. They perfect with parmesan cheese heavy dishes, eggs, pasta, and risotto. You can also look out for truffle-based recipes. These will give you more ideas for different flavor pairings.
Choose Truffle Products Carefully
If you end up buying truffle-containing products rather than the real deal, be sure to do your research. Because truffles are so expensive, some products simply use chemicals to replicate the flavor of truffles, without including the fungus at all.
However, when you find the right versions, products like truffle oil can be powerful. These still give you the flavors of truffles, without costing you a lot of money or time.
You'll still need to be careful when using truffle oil, as it is heat sensitive.
Final Thoughts
It's certainly possible to grow truffles yourself. With enough trees, time, and dedication, you could even end up with a profitable business.
At least, that's the theory. We're still talking about a large commitment of time and space, and there's no guarantee that you'll end up with a decent number of truffles for your efforts.
Frequently Asked Questions
Where Can You Grow Truffles In The US?
Truffles have been grown pretty much everywhere in the United States and your location doesn't have a huge impact. Choosing the right soil and caring for your trees well are the most crucial factors for your success.
How Long Do Truffles Last?
Fresh truffles generally last between four and five days. They might survive up to a week if you're careful, but the flavor starts to deteriorate quickly. You'll get the most from your truffles if you eat them in the first couple of days.
Dried truffles generally last for a few months, while canned truffles can last up to a year. Truffle-containing products, like truffle salt, often last a few years. The exact amount of time varies depending on the product and should be written somewhere on the label.
How Do You Tell If Truffles Have Gone Bad?
Truffles typically have a distinct ammonia smell when they've gone bad. The truffle may also feel mushy to the touch or have visible mold.
How Do You Store Truffles?
Fresh truffles should be cleaned and then wrapped individually in paper towels. The paper towels absorb moisture, which stops the truffles from drying out. Keeping the truffles in the fridge helps too. Just be careful not to accidentally freeze the truffles in the process.
Can You Grow Truffles Indoors?
At this point, truffles cannot be grown indoors, as they rely on an established tree root system to thrive. However, some companies are experimenting with alternative growth media, so there might be different truffle growing options in the future.