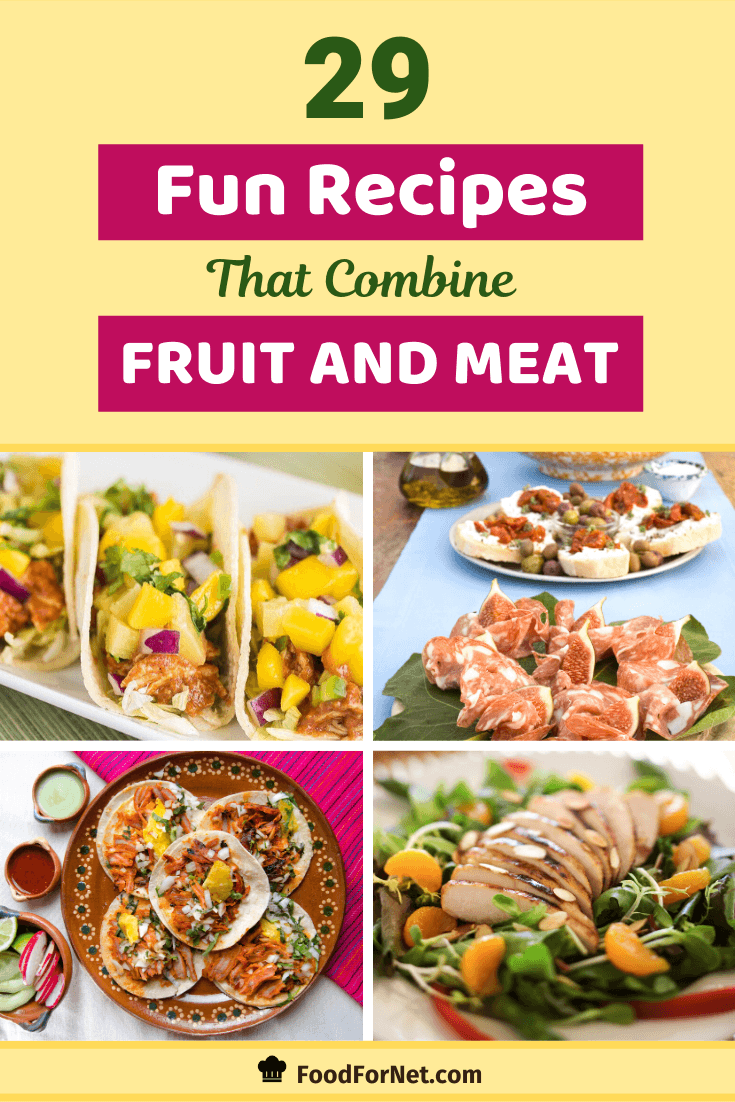 Cooking is all about combining flavors. One of the fun things about cooking is that you often end up with combinations of ingredients and flavors that don't seem to go together – or at least, they don't seem like they should go together.
Often, this will lead to recipes that sound really strange on paper and taste amazing when you actually try them.
Fruit and meat is one example of this.
The combination of fruit and meat is surprisingly controversial. A lot of people actually find the idea of using both in the same dish unappealing, especially when it comes to the more unusual pairings of fruit and meat.
Yet, there isn't any reason to be concerned. Fruit often combines well with meat dishes, adding a sweetness (and sometimes tartness) that acts as a contrast to the meat.
After all, that difference between sweet and salty is becoming increasingly popular, so why not include it in the main course of a meal.
The main challenge with fruit and meat is simply finding the right types of fruit and meat to pair with each other. The right combination will result in the fruit complementing the meat while the wrong combination probably won't taste very good at all.
Thankfully, the recipes in this post offer brilliant ideas about which fruits and meats go perfectly with each other.
Best Fruit – Meat Combinations!
Mango Chicken Stir Fry
Mango chicken is one of the more common examples of fruit and meat, and this particular recipe comes from lecremedelacrumb.com.
The rest of the dish is fairly spicy, so the mango acts as a sweet contract. This recipe is also a good way to get someone interested in the idea of fruit and meat because the fruit isn't even obvious when you look at the dish.
I think most people would just assume that the yellow pieces were yellow pepper, not mango. Regardless, the dish looks great and it is also a very easy recipe to prepare.
Prosciutto Appetizer Cups with Melon
I love little cups like this for appetizers, especially as they end up looking so professional. This recipe comes from cookthestory.com and it highlights the combination of prosciutto and melon.
You might not have tried this particular combination before, but it does make a lot of sense, especially as prosciutto does tend to be pretty salty.
However, one of the best things about these cups is probably that they are extremely simple to make. That makes them a perfect party option if you have very little time on your hands.
Pineapple Chicken Teriyaki
The flavor of teriyaki traditionally involves a combination of sweet and savory flavors, so using pineapple in the mix does make a lot of sense. In this case, the recipe we're looking at comes from steamykitchen.com and its a variation on the traditional approach to teriyaki.
In fact, the inclusion of pineapple in the recipe serves as a way to make the chicken healthier overall, as the pineapple acts as the primary sweetener. It is also a simple recipe, so it's a good one to choose if you want something easier to prepare.
Sweet and Sour Lamb Meatballs
Pineapple often makes an appearance in sweet and sour dishes, like this example from theseasonedmom.com. I like this recipe because it's a little bit unusual. Normally you see sweet and sour in Asian dishes, like sweet and sour pork or chicken, but this recipe feels a little bit different.
Instead, the meat of choice is lamb (in the form of meatballs) and the recipe doesn't have a heavy sticky sauce like many other sweet and sour recipes. But, to make things even better, the recipe is made in the slow cooker, which is perfect for anyone short on time or energy.
Crock Pot Turkey Breast with Cranberry Sauce
Turkey breast and cranberry sauce is one of the most traditional combinations of meat and fruit out there, but it's still a good one.
I know you can find recipes for this particular combination just about anywhere. Nevertheless, I wanted to include this one from thecreativebite.com because I love the crock pot approach that the recipe uses.
The technique is a perfect way to cook turkey without worrying about whether it is going to try out. When it comes to turkey, having one less thing to worry about is always a good thing.
Ham, Brie and Pear Bake
Some combinations of fruit and meat are fairly common (like cranberry and turkey), while other ones seem pretty unusual, especially at first glance.
This recipe from framedcooks.com certainly falls into the unusual category, but that isn't necessarily a bad thing. There are a few things I love about this recipe. One is that it's a great use of leftover bread or ham, which you might have a lot of if you bought a leg of ham for any occasion.
The other main thing is that the recipe is really easy to make and requires little prep work.
I don't really know what the combination of ham, brie and pear would taste like – but I suspect the flavors would work well together.
Mango Chicken with Coconut Cauliflower Rice
This recipe comes from foodfaithfitness.com, and it's another variation on the mango chicken approach. The recipe is a bit different though, partly because it uses cauliflower rice instead of regular rice.
That's not really a bad thing though and cauliflower rice is generally considered a healthier option than regular rice (besides, you could always substitute in regular rice if you really wanted to).
Overall, I really love the way this recipe looks in the bowls and I bet it would taste as good as it looks.
Chicken Salad with Raspberries
Cooking with fruit isn't the only way to combine the flavors of fruit and meat, as this recipe from apinchofhealthy.com shows. In this case, the raspberries are used as part of a salad, offering a contrast to the other flavors.
I've actually tried a similar approach in the past and using raspberries in this way tends to work extremely well. The key reason for this is the way that raspberries are tart, while most other ingredients in this salad aren't.
Melon, Prosciutto and Mozzarella Sticks
I'd never really thought of combining melon and prosciutto, but this is the second recipe I found that does so, which means that the flavors must work well together.
This time the recipe comes from runningtothekitchen.com, although as you can probably tell, it is a pretty simple recipe. I do love this idea though. The sticks look like a fun variation on Caprese salad skewers and they would be a fast option for a dinner party snack.
Chimichurri Steak with Pineapple Salsa
Visually, this dish is a stunner and I really love the different colors in the salsa. I found the recipe at dessertnowdinnerlater.com and it seems like a fun way to combine fruit and meat. In this case, the recipe has two main components. The first is for the steak, which involves the directions for a chimichurri marinade and sauce.
The other part of the recipe is for the pineapple salsa. Theoretically, you could pair those approaches with other meat as well, although I personally think steak would be the best choice for the flavors.
Paleo Pork Chops with Apples
Most of the time you see pork paired with apple sauce, but that isn't the only way to combine pork and apples. This recipe, from paleoporn.com, offers a different alternative, combining pork chops with slices of apple. I love the way that the recipe is made in a single pan.
After all, washing fewer dishes is always a good thing, right? In her post, Marla suggests pairing the dish with a salad or whatever you typically use as a side. Realistically, your options for a side here are pretty open, although I imagine the dish would go well with mashed potatoes.
Steak, Pineapple and Pepper Kebabs
There are a lot of meat and fruit combinations out there, but pineapple does seem to be a popular inclusion in many of them. This kebab recipe. from 5dollardinners.com. is another example of this approach.
This recipe is something you could cook in the kitchen, but it is mainly suited for outdoors on the grill. The sweetness of the pineapple works extremely well in contrast to the steak and also complements the vegetables nicely.
Lime Marinated Steak Tacos with Pineapple
Technically, this recipe uses two types of fruit, lime and pineapple. Both contribute to the overall flavor of the dish and complement the tequila well (yes, this is a boozy dinner recipe). Realistically though, it's the pineapple that we should focus on because lime is a little bit of an exception when it comes to fruit.
Like lemon, the tartness of lime makes it a natural complement to cooking in general and most people don't use it in the same was as other fruit.
Regardless, this is another recipe that uses a type of pineapple salsa and, as I mentioned before, the flavor of pineapple does seem to work especially well with steak.
If you're interested in giving this recipe a try, you can find all of the details you need at cakenknife.com.
Skirt Steak with Stone Fruit
Visually, this recipe is stunning, but my favorite part is the choice of fruit. As you've probably noticed, there is a lot of repetition in the specific fruit and meat choices that recipes use, partly because those are flavor combinations that work well.
This recipe takes a leap into the unknown with two fruits that aren't traditionally paired with steak. Both nectarines and cherries tend to be sweet, but there are also some ingredients in this recipe that contrast this sweetness nicely. The most significant of these is the savory marinade on the steak.
You can check the recipe out at foodiecrush.com, along with a great range of other dishes on the same site.
Chicken with Sweet and Sour Plum Sauce
This recipe is another variation on the sweet and sour theme, where plums are the fruit of choice. As Martha, from afamilyfeast.com, discusses in her recipe, the original version of the recipe has been around for a long time and there are many different variations of it out there.
I like this particular variation though, especially because it uses a range of ingredients to create an appealing depth of flavor. Besides, it looks pretty on the plate. That's got to count for something.
Apple and Cheddar Stuffed Chicken
Stuffed chicken is always a great way to make chicken a little bit more interesting, although many of us just stick to the simple ham and cheese approach.
This recipe is a bit unusual because it uses apple and cheese as stuffing. I love the idea because the process of cooking would infuse the chicken with some of the flavors from the apples. You can check out the full details for the recipe (along with its sauce) at iowagirleats.com.
Grilled Steak with Apricot and Mushroom
At first glance, it doesn't look like this recipe contains any fruit at all, but that's because the fruit is cooked in. Specifically, the recipe uses dried apricots as part of the fried mushrooms and onions.
The approach is a bit unusual, but I can see how it would work really well. After all, dried apricots do have a pretty intense tart taste, which would work well with the other flavors. The recipe itself comes from eatdrinkpaleo.com.au, so you can find all of the details you need there.
Skinny Orange Chicken
This recipe is another flavor combination that we tend to associate with Asian food, although the recipe comes from gimmesomeoven.com.
The recipe is actually a variation on the traditional Chinese version and makes some changes to reduce the calorie count of the recipe overall.
That makes the dish a great way to get the flavors of Chinese takeout, without all the calories that typically go with it.
Hawaiian Chicken and Pineapple
I told you pineapple was popular as a complement to meat, and here's another example.
This time the recipe comes from damndelicious.net and the meat of choice is chicken. The pineapple is actually involved in two different parts of the recipe. First, it is part of the marinade that gives the chicken flavor.
Additionally, those yellow spears in the images are grilled pineapple, which just sounds amazing. I love the idea of using the fruit flavor as well as the fruit itself and the choice just seems perfect for this particular recipe.
Steak Tacos with Nectarine Salsa
Getting tacos right is always a bit of a balance. Having something vibrant in there to balance the taste of the meat tends to work really well and I really do love the idea of a fruit salsa.
In this case, the fruit of choice is nectarine, although the salsa does also include a range of other ingredients, such as corn and avocado.
The flavor choice is unusual, but it could work really well. If you're interested in checking out the recipe, you can find all of the details at nutritioulicious.com.
Caramel Apple Pork Chops
This recipe, from sugardishme.com, is another example of the combination of pork chops and apples. This recipe also involves frying the pork chops and the apples together.
However, it's quite different than the last pork and apples recipe I featured because this one makes use of a brown sugar sauce to make the apples sweet and soft.
To make things even better, the entire recipe can be made in roughly 30 minutes in a single dish. It's a great choice if you like pork chops but want something a little bit different.
Roast Chicken with Apples, Onions and Sweet Potatoes
Speaking of apples, this recipe from thelemonbowl.com shows that they also pair especially well with chicken. The recipe itself is for a baked chicken approach, using apples in addition to the normal choices for roast vegetables.
At the same time, the dish adds in some other flavors that complement apples well. I like this recipe as an alternative to the traditional flavors of baked chicken, because honestly, those can get boring after a while.
Moroccan Beef Stew with Dried Apricots
This recipe, from rikishore.com, is a great choice for a winter stew, especially if you want something that's a little bit unusual. I love the Moroccan flavor choice here because it would offer a richness to the dish that stews sometimes lack.
In general, fruit and meat recipes don't tend to use dried fruit, but stews seem to be an exception to that rule.
After all, stews already have a rich and fairly intense taste on their own. If you were to add normal fruit into the mix, the flavor might be lost. But, dried fruit, on the other hand, will have a flavor that stands out.
Apple Cranberry Turkey Meatballs
Cranberry and turkey is another flavor combination that you will have seen before, but probably not like this. I found this particular recipe at wellplated.com and I love how unique it is. In fact, cranberry isn't even the only fruit used in this recipe.
There is even fruit used in the meatballs themselves, but you'll have to check out the recipe to see what fruit that is and why. Personally, I think these meatballs would work exceptionally well as a snack at a party or an appetizer for a meal, although the options are pretty much endless.
Beef and Pineapple Curry
For me, this recipe is a reminder of just how versatile fruit and meat can be. As I mentioned earlier, pineapple really is common in fruit and meat recipes, and it is often paired with steak.
Yet, this recipe from thismamaloves.com manages to be quite unique despite using that same combination of fruit and meat. This recipe would be a great choice for anyone who enjoys curries or for anyone looking for something a little bit different in a curry.
After all, curry does have a pretty sharp taste, while pineapple is naturally sweet.
Chicken Apple Stir Fry
I found this recipe at wellnessmama.com and I love the way she combines chicken and apple. This recipe is actually an incredibly simple one but it works well. The apples help to give additional flavor to the chicken making it much more interesting than a basic chicken stir fry would be.
Hawaiian Pizza
Hawaiian pizza is a fairly common flavor, but it tends to divide a lot of people.
I know many people who absolutely love the sweetness of the pineapple against the rest of the flavors on pizza, but likewise, others simply can't stand the combination. Regardless, this recipe from sallysbakingaddiction.com is the perfect option for anyone wanting to try out Hawaiian pizza for themselves.
Honestly, I think the flavor is something that everyone should try at least once because you won't know whether you like it until you have given it a go.
Cantaloupe Gazpacho with Prosciutto
For those of you that don't know, gazpacho is a cold soup that is typically made of raw vegetables.This recipe is a bit of a twist on that approach because the gazpacho is made using cantaloupe as its primary ingredient.
The end result does look quite appealing and the addition of prosciutto makes this another recipe that combines fruit and meat. However, I think this is the only example on the list where the fruit is the primary ingredient and the meat is secondary.
If you're interested in giving this one a try, you can find the directions for it at seriouseats.com.
Cranberry and Apple Stuffed Turkey Breast
To round our list off, here is one recipe from paleoleap.com that involves two types of fruit and still manages to be a pretty traditional recipe. The recipe is specifically for turkey breasts and offers an alternative approach to cooking a whole turkey.
Essentially, the fruit in this recipe forms part of the stuffing for the recipe, which is placed between two turkey breasts. You really have to check out the recipe to see how the whole thing works, but the end result looks fantastic.