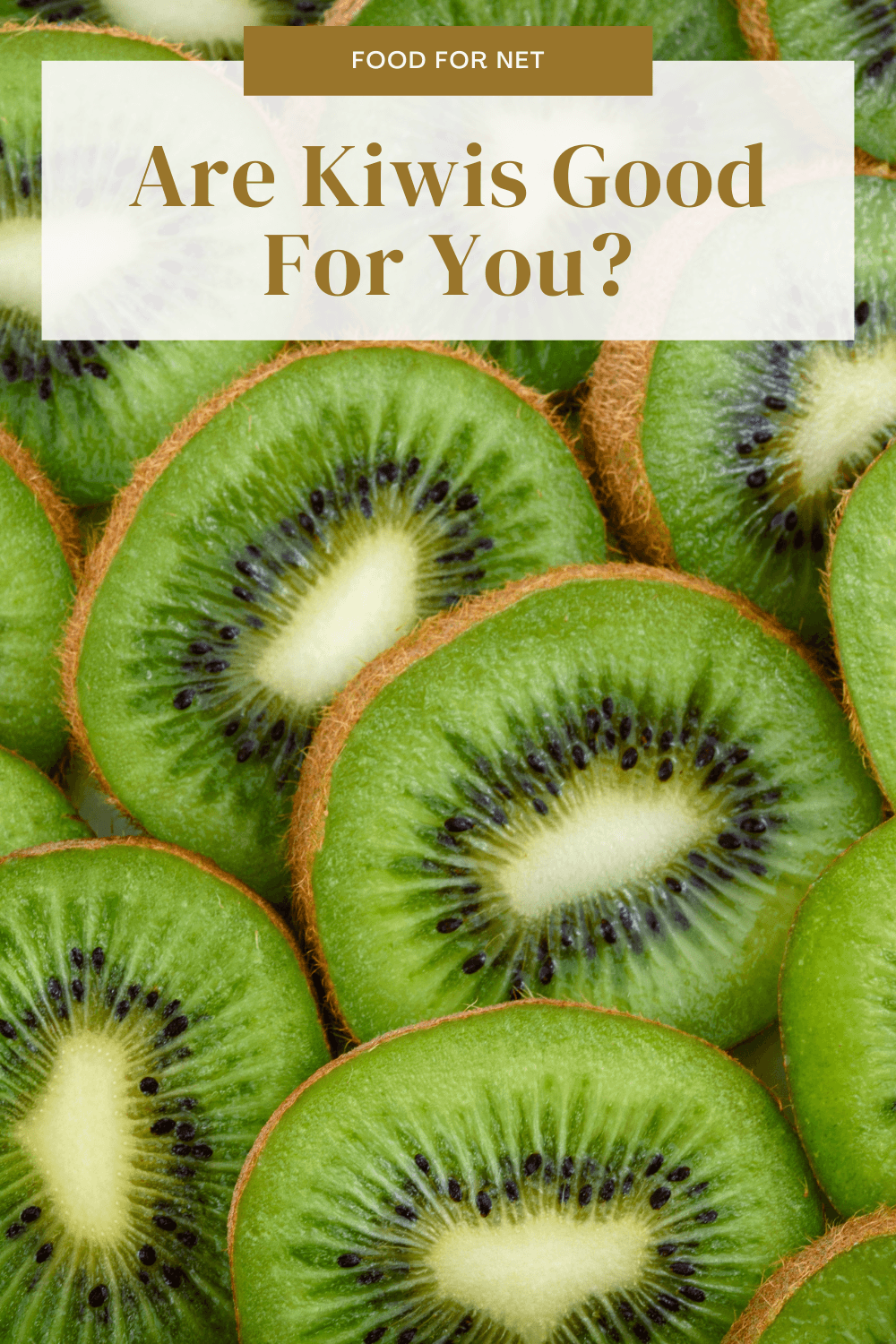 Kiwis are an odd type of fruit, with a brown fuzzy exterior and vibrant green interior. Despite being native to China and once known as Chinese gooseberries, the fruit is now known as kiwi or kiwifruit, named after the kiwi bird in New Zealand. Today we're asking the question are kiwis good for you?
Strange as they might seem, kiwis are also delicious and an interesting source of nutrients. Their flavor is also somewhat unexpected, with a nice balance of sweet and source that contrasts other fruit well. In fact, the color and flavor of kiwis make them excellent in fruit salads and in many desserts.
What about the health side of things? Are kiwis good for you and how do they compare to other fruit?
After all, fruits and vegetables all have some health benefits, regardless of the type that you choose, but there are dramatic differences. These differences make some types of fruit much better than others. So, let's see how kiwis fare.
Are Kiwis Good For You?
What Are Kiwis?
Kiwi Nutrition
Benefits Of Kiwis
How Kiwis Could Be Harmful
Can You Eat Kiwi Skin?
Green Versus Gold Kiwis
Other Types Of Kiwis
Final Thoughts
What Are Kiwis?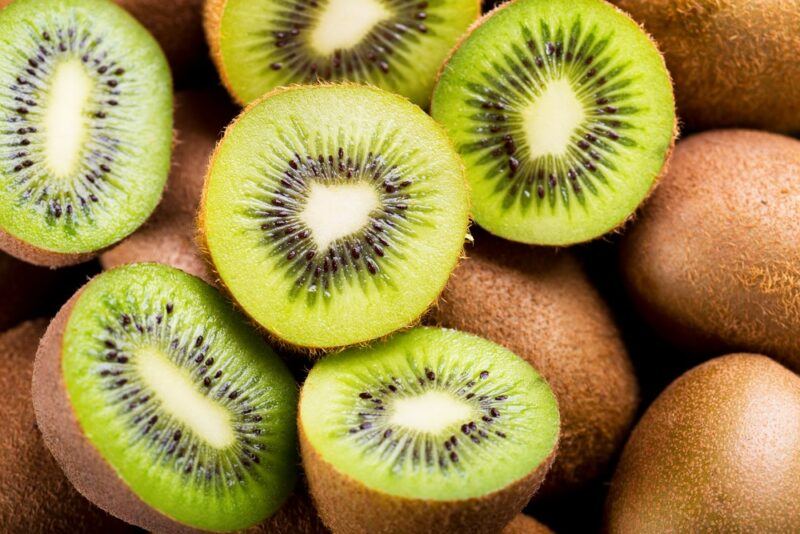 Kiwis are native to China, which is why they are sometimes known as the Chinese gooseberry. Their fate changed, however, when the fruit was introduced to New Zealanders, back in 1904.
The fruit quickly became known as kiwifruit, named after New Zealand's native bird – the kiwi. The name is a suitable one too, as the brown fuzzy fruit does resemble the bird.
If you're in the United States or some parts of Europe, you probably know the fruit as a kiwi, which is simply a shortening of the word kiwifruit.
For people in New Zealand, Australia, and some other parts of the world, kiwifruit is the name for the fruit, while the word kiwi is used to refer both to the bird and also to New Zealanders.
That's not surprising really. Using the term kiwi for a type of fruit, a bird, and a group of people gets confusing quickly. The name you use doesn't really matter though. Either way, you get a delicious fruit with a decent number of health benefits.
Kiwi Nutrition
Kiwis are surprisingly powerful for nutrients. If you avoid the skin, as most people do, then the nutritional profile for a whole kiwi looks like this:
Calories: 55.5
Carbohydrates: 13.3 grams
Fiber: 2.7 grams
Sugars: 8.2 grams
Fat: 0.5 grams
Protein: 1.0 gram
Vitamin C: 141% of your daily requirements
Vitamin K: 46% of your daily requirements
Other notable nutrients include folate, potassium, vitamin E, and copper.
The vitamin C levels are particularly impressive here. More than 140% of your daily intake from a single kiwi? Few fruits are this powerful.
And, while vitamin C is incredibly common, it's also a very important nutrient. It plays plenty of vital roles, including helping our immune system to function well.
Vitamin K is important too. This is relevant for blood clotting and our bones.
Then there are all the other nutrients. These might be present in smaller quantities, but they all still influence our health. After all, we need a good balance of vitamins and minerals to keep our bodies functioning as they should.
Benefits Of Kiwis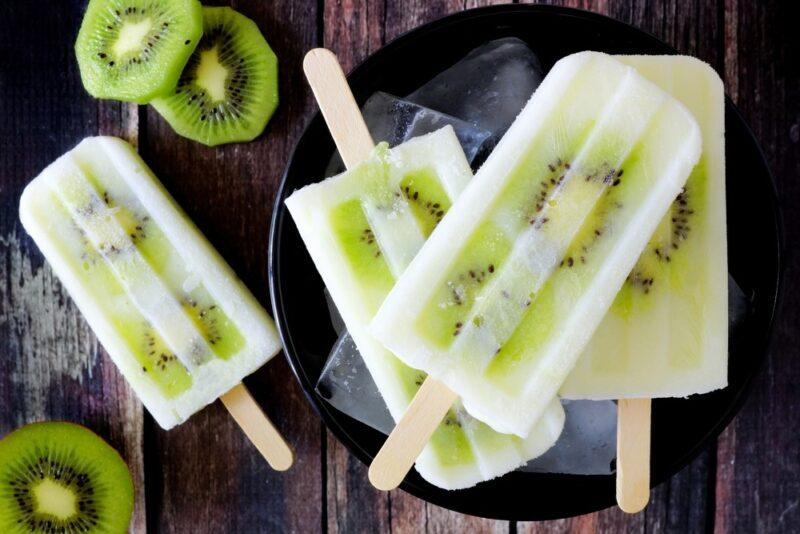 Low FODMAP
All types of fruit contain fructose, which is a simple sugar that's digested a little differently than glucose. Fructose is considered to be a FODMAP, as it can ferment in the gut and cause a variety of symptoms for people with sensitive digestive systems.
Thankfully, fruit with low levels of fructose or a good balance of fructose and glucose is less likely to cause side effects. Kiwis are helpful here, as they fall into the low FODMAP category. This means that even people with irritable bowel syndrome should be able to eat kiwis without a problem.
That said, it's still important to watch the amount that you consume. It's often best to focus on just one portion of fruit per sitting. This way the fructose load in your gut is never too high.
Can Help With Your Digestion
Kiwis are a decent source of fiber, making them an easy way to increase your fiber intake. This is important, as fiber helps our bodies in countless ways and most of us really aren't getting enough of it.
Plus, kiwis offer a decent amount of soluble and insoluble fiber. In fact, a large kiwi contains roughly a gram of insoluble fiber and 0.7 grams of soluble fiber. This is a critical effect, as the two types of fiber operate in different ways.
Soluble fiber tends to dissolve in water, so it slows down digestion and helps you to feel full longer. Insoluble fiber, on the other hand, doesn't dissolve. It adds bulk to your stools and helps to stimulate your gastrointestinal tract.
Getting a decent amount of both types of fiber in a single fruit is exceptional. You could improve the digestive effects further by pairing kiwis with other high fiber foods. Kiwis and oatmeal, for example, would give you a filling breakfast that's packed with soluble fiber.
Might Improve Your Sleep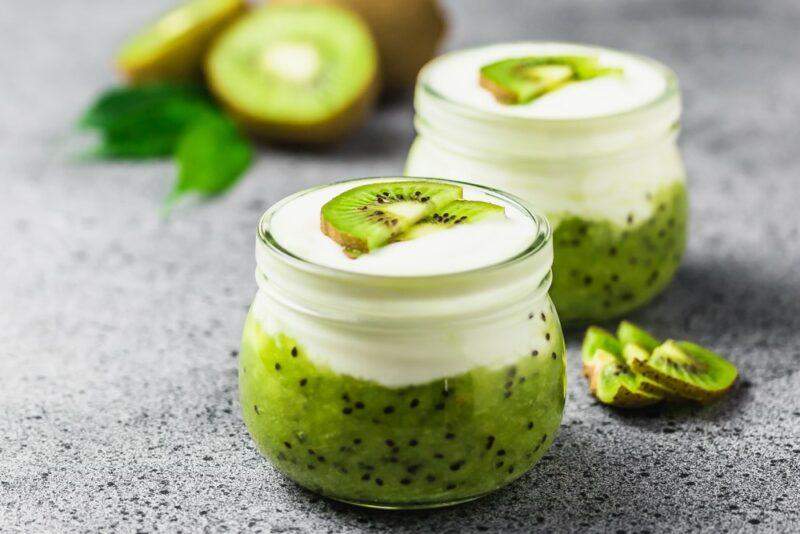 Here's a somewhat unexpected effect – kiwis have been linked to improved sleep quality. One study found that eating kiwis before bed was enough to improve sleep time and the efficiency of sleep among adults with regular sleep problems.
We don't entirely know why kiwis have this effect, but their serotonin content might be part of the reason. The antioxidants in kiwis could be relevant too, especially as they help to lower inflammation.
Or, perhaps the reason is entirely different again. It doesn't really matter anyway. Regardless of why kiwis help with sleep, they clearly do. Try having one an hour or two before bed and see if your sleep improves.
A Decent Source Of Antioxidants
Like most fruit, kiwis are a fantastic source of antioxidants, including zeaxanthin, lutein, and choline, not to mention vitamin C.
Antioxidants are incredibly important, as they help to protect our bodies against damage from free radicals. By doing so, diets rich in antioxidants may decrease our risk of disease and even help us to live longer.
That's not all, the individual antioxidants have other impacts throughout our body as well. For example, lutein and zeaxanthin are also associated with eye health, while vitamin C is linked to immune system function.
Many antioxidants help to decrease inflammation as well. As such, they can be important for reducing the risk of inflammation-related diseases. They may even be able to decrease pain in some situations
Could Help Your Immune System
The combination of antioxidants and nutrients in kiwis can be particularly important for your immune system. This isn't surprising, as you're getting more than 100% of your daily vitamin intake from a single kiwi.
The effect may mean that eating kiwis regularly helps your body to fight off infection better, helping you to recover more quickly.
May Help Treat Asthma
Did you know that fruit, including kiwis, can help to treat asthma? Once again, it's the combination of nutrients and antioxidants that causes this effect. The high vitamin C levels in kiwis make them an especially powerful choice here.
Great As A Snack
The health benefits aren't the only reason for eating kiwis regularly. The little fruit is also a fantastic snack.
After all, kiwis are rich in vitamin C and antioxidants, while offering a decent amount of fiber and not many calories at all. These features make kiwis perfect for weight loss too, as the fiber should help to keep you full. Kiwis are certainly much better for you than processed snacks, like candy bars or pop tarts.
How Kiwis Could Be Harmful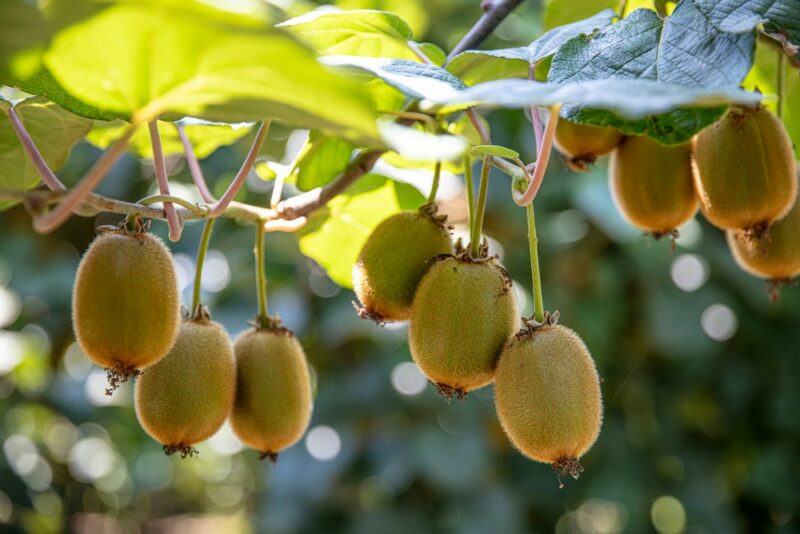 Side Effects From The Fiber
While fiber is essential for health and offers many benefits, it can come with some frustrating side effects as well. In particular, decent amounts of fiber can lead to stomach cramps, bloating, and diarrhea.
These side effects aren't surprising. After all, fiber helps to bulk up your stools and can trigger bowel movements. If you have too much fiber or suddenly change your fiber intake, these effects may seem sudden and uncomfortable.
Thankfully, the side effects don't mean that there is anything wrong. They're simply the fiber doing what it is meant to do.
To avoid the side effects, try increasing your fiber intake slowly and drinking plenty of water.
While you probably won't see side effects from a single kiwi, you might get them from having multiple kiwis in a serving (or a fruit salad!).
May Be High In Oxalates
Oxalates are plant-based compounds that our bodies can't always process well. They're significant because high oxalate diets sometimes increase the risk of kidney stones, particularly for people who have had a kidney stone in the past.
Kiwis are often missed in lists of high oxalate foods, perhaps partly because their oxalate content can vary. Even so, kiwis are regularly higher in oxalates than fruits like oranges and cantaloupes.
If you're worried about oxalates, try to stick to small servings of kiwis and just eat the flesh of the fruit rather than the skin (while the skin is edible, it's higher in oxalates than the flesh).
Relatively High In Carbs
Kiwis aren't the greatest choice if you're watching your carb intake, as a whole kiwi can contain around 8 net grams of carbs. This will be too much for many keto dieters.
These carbs come from sugar, so kiwis might also be a problem if you're being cautious with sugar consumption.
If you really love kiwis, you could try decreasing your portion size. Half a kiwi, for example, might be possible on a keto diet and could be realistic for many diabetics.
That said, there are plenty of lower carb fruits out there, including berries, peaches, cantaloupe, and watermelon. Choosing one of these may provide just as many benefits as kiwis, but fewer problems.
They Can Irritate Your Mouth
Some people find that kiwis irritate their mouth. This happens because of calcium oxalate crystals in the fruit.
Focusing on fully ripe kiwis can notably reduce this effect. Avoiding the skin is useful too, as most of the crystals are present in the skin rather than the flesh of the fruit.
Thankfully, the mouth irritation isn't a sign of a serious problem, so it doesn't mean you need to stop eating kiwis entirely.
May Interact With Blood Thinning Medications
Do you remember the vitamin K that we talked about earlier? While this nutrient is very important, it also interacts with blood thinning medications.
If your vitamin K intake is high, then blood thinning medication might be less effective, which puts you at risk for blood clots.
This effect doesn't mean that you need to avoid kiwis or other vitamin K rich foods. Instead, anyone taking blood thinners needs to be aware of their vitamin K intake and make sure their medication levels are adjusted accordingly.
Can You Eat Kiwi Skin?
Most people just eat the flesh of kiwis, often by peeling them or by scooping the insides out with a spoon.
Surprisingly though, the skin of kiwis is actually edible. The skin is good for you too, giving you extra fiber, antioxidants, and folate.
The biggest problem is the texture, especially if you choose a kiwi with fuzzy skin. Thankfully, some varieties have thinner skin with no fuzz at all, which makes the skin much easier to eat. You might even find that you can wash the kiwi, then bite into it much like an apple.
Green Versus Gold Kiwis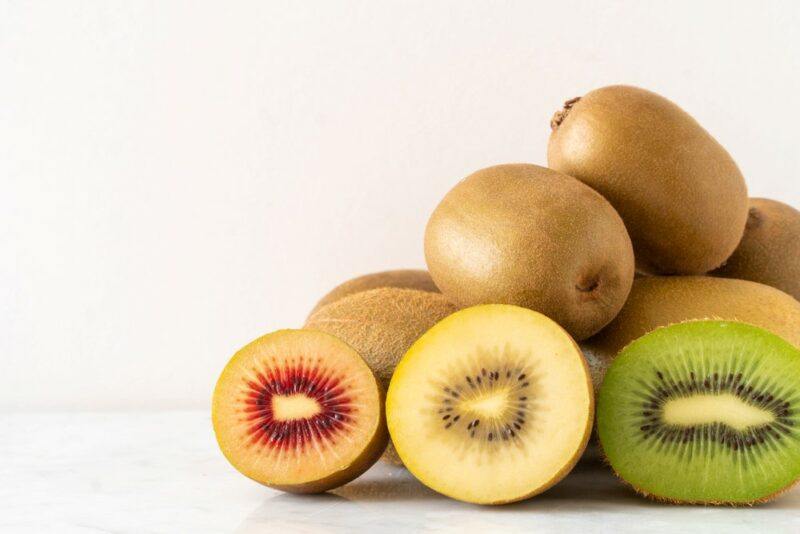 Kiwis are normally green, but golden ones have recently been capturing attention. This variety has a sweeter and smoother flavor. It's also a much better source of vitamin C, which is impressive, as green kiwis already have a large amount of vitamin C.
It isn't all good news though. Gold kiwis do contain less fiber than the gold ones and are higher in both sugar and calories. Both types remain low GI, but green kiwis are a wiser choice for diabetics and anyone watching their carb intake.
Before we move on, let's clear the air about something.
Despite their vibrant appearance, gold kiwis aren't genetically modified. They're simply the result of careful selective breeding. This type of selective breeding isn't unusual either. Many modern fruits, vegetables, and grains look completely different than their ancestors.
Other Types Of Kiwis
Green and gold kiwis aren't your only options either. There are other interesting varieties out there, including a green kiwifruit with a red ring around the center, silver vine kiwifruit, and purple kiwifruit.
There are some differences in flavor and nutrient profile between the types, but they all have plenty to offer.
Final Thoughts
Kiwis offer plenty of health benefits, especially as they're a decent source of fiber and antioxidants, and are also low in FODMAPs. They also have their fair share of problems, including their relatively high levels of carbs and oxalates.
How these different features balance out depends entirely on your needs.
For example, the oxalate content mightn't be relevant if you're not at risk for kidney stones and you might not be worried about carbs at all. In that situation, kiwis would be a fantastic choice. In contrast, a keto dieter who has had kidney stones in the past might want to avoid kiwis entirely.
Frequently Asked Questions
How Long Do Kiwis Last?
Kiwis are a little complex, as how long they last is based on where you store them and how ripe they are.
If you purchase a fully ripe kiwi, it should last a few days at room temperature. In the fridge, the same kiwi should easily last two weeks, if not three.
Unripe kiwis can last up to a week at room temperature or up to a month in the fridge. Golden kiwis follow a similar pattern to green ones, although they tend to last a little longer.
Are Kiwis Acidic?
Kiwis are similar to many other fruits, with a pH of between 3.1 to 3.4. However, they are alkaline after digestion, which makes them relevant for anyone following an alkaline diet.
What about acid reflux? Some people find that acidic fruits do increase their acid reflux symptoms. If so, you might need to avoid kiwis.
However, many others can still eat small amounts of acidic fruit. Doing so may even offer benefits, as you get plenty of fiber and antioxidants from the fruit. Some of the compounds could even reduce your acid reflux symptoms in the long term.
Where Do Kiwis Come From?
Kiwis are famously associated with New Zealand, but this isn't where the fruit comes from. Instead, kiwis are native to China.
While kiwis aren't often cultivated in China, they do grow wild in the country. They're also cultivated in many parts of the world, including California, New Zealand, and Greece.
How Much Sugar Is In A Kiwi?
Kiwis are relatively low in sugar, with a single green kiwi giving you around 6.7 grams of sugar and 2.5 grams of fiber. Kiwis are also lower in calories and are less processed than many other snacks, which is a major advantage.
Golden kiwis are a little higher, with around 13 grams of sugar per fruit (this is hardly surprising, as they're sweeter than green kiwis). Still, the balance of sugar and fiber is good enough that even diabetics can eat them regularly, and it makes them a great breakfast fruit..
Are Kiwis Keto Friendly?
The sugar content of kiwis is a bit high for keto dieters. However, you can still eat them if you keep an eye on portions. For example, half a kiwi should easily fit into your daily macros and helps to satisfy any cravings.
Remember that hardly any foods are prohibited on the keto diet. Instead, the goal is to keep your carb content low, while consuming enough nutrients and calories. So, if you love kiwis, why not use some of your daily carb allowance to enjoy them?