Ramen noodles are a wheat-based noodle that originated in Japan. The noodles are notoriously thin and chewy and can be eaten soft, or on the firm side depending on your preference. Today, they're a popular phenomenon in North America as they can be made extremely cheap and therefore bought for cheap.
They are often sold in single-serve packages and take only minutes to prepare. This has made them popular with students, those living alone, and/or those on a tight budget. However, they are often not the healthiest option.
That being said, when prepared with natural, organic ingredients, without any preservatives, fillers, or chemicals, ramen noodles can be much healthier and often much better tasting. This can be harder to find, however, as the cheap, easy options are more desirable to most.
So, if fresh, healthier ramen noodles are what you're after, you might consider having them delivered fresh. There are still companies out there who care about the quality and health benefits of fresh ramen noodles. Once you find them, you can easily buy fresh ramen noodles online and create much healthier, and often more delicious bowls of soup (while we're on the topic, you could also check out soup delivery services).
If you're not in a hurry and want to do more than simply eat them plain, many companies also offer blogs and recipes with inspiration, instructions, and more.
Where to Buy Fresh Ramen Online
Sun Noodle
Japan Center
Hakubaku
Japan Crate
Umi Organic
Kaneyama
Ichiran USA
1. Sun Noodle

Sun Noodle is a leading provider of high-quality, fresh ramen noodles. They were founded in 1981 and currently deliver to 20 countries on three continents around the world. Their ramen noodle and saimin kits are filled with fresh, MSG-free, and delicious noodles and can be prepared in just minutes.
They have over 600 types of noodles to choose from and offer a variety of wholesome and traditional flavors. They have products and packages available for stores, restaurants, and professional cooks as well as individual consumers who want to make great ramen at home.
For individuals, they offer packaged ramen kits in three flavors – shoyu, miso, and spicy sesame. If you're unsure exactly how to prepare them or just want some information, they have a fantastic recipe section on their website with several unique and interesting ways to prepare the noodles.
2. Japan Center

Japan Center was established in 1976 and is a well-loved Japanese institution based in Central London. They went online in 2005 and have been shipping their delicious and high-quality Japanese food and products throughout the UK and internationally ever since.
They have a hard-working team that is constantly researching and working to add at least 30 new items to the store each week so their loyal customers always have a variety of things to enjoy.
While they offer a huge selection of Japanese food and other merchandise, their ramen noodle category is quite large. They have many ramen noodle varieties to choose from, including flavored, single-serve portions and larger bags of fresh noodles. Their selection changes all the time so be sure to keep checking back to see if they have what you're looking for.
If you're interested in this style, then you could also check out Japanese snack subscriptions. While these typically don't provide fresh ramen noodles, they do offer other interesting products from Japan.
3. Hakubaku

Hakubaku is based in Japan and promises an authentic, restaurant-quality experience each time you cook up their noodles. Not only are their flavor options and combinations top-notch but they focus on creating the healthiest product they can.
They do this by using zero additives, fillers, preservatives, or MSG ingredients. What they offer are pure, real, fresh noodles that are soft and sustainable – they don't need to be kept in the fridge.
They offer a variety of flavors for those that want a ready-made bowl of flavorful soup without having to add anything. They offer single-serve bags as well as larger ones that make additional servings.
They have created a global network, with headquarters in The United States and Australia, in addition to Japan. Their ramen noodles can be purchased through the respective websites as well as Amazon if you prefer.
4. Japan Crate

Japan Crate is a subscription box service that allows people from all over the world to experience Japanese culture every month, in a variety of ways. Their original Japan Crate features a selection of Japanese candy, but they have since expanded to create several additional boxes.
One of which is called Umai Crate and it's all about the noodles. This can include all kinds, from rare and unique single-serve flavors that you can't get in stores, to bags from different brands that you can then get regularly.
The noodle-theme crate also usually contains some bonus items like spices and seasonings. These can be used with the noodles, or for any other purpose you see fit. They also include easy-to-follow instructions for all products and a few recipe cards to get you started with some ideas.
The boxes are shipped directly from Japan each month so you can be confident you're getting authentic ramen noodles straight from the source.
5. Umi Organic

Umi Organic is based in Portland and strives to offer the best and freshest organic ramen noodles that they can. Their noodles are available in a few stores in Oregan and Washington as well as many farmers' markets.
For those that aren't local, they offer a few varieties for delivery. This includes basic, organic noodles, noodles with miso sesame sauce, and a whole grain option.
If you're new to ramen noodles they also have plenty of resources for you. This includes an informational blog about their company, their noodles, how they're made, where they go, etc. They also have a variety of recipes to browse with some background information, ingredients lists, and easy to follow directions. In addition to ramen recipes, they also have some for yakisoba noodles if you're interested in that as well.
6. Kaneyama

Kaneyama began with a mission to bring authentic East Asian food to the USA that had never been seen before. They started small and have evolved into a large and well-known provider of real Asian cuisine.
Their selection covers many types of food, including sushi, sauces, salad, ramen, and more. For all their foods they strive to offer the healthiest, highest-quality options possible by using only the best ingredients. Beyond health they also focus strongly on flavor, not wanting to compromise any part of the experience.
Their selection of ramen noodles includes several flavors packaged into single-servings that are ready to heat and eat. Flavors include chicken, spicy chicken, miso, and pork. They take these traditional flavors and make them exceptional.
Their website also has a very helpful and informational blog you can follow. This includes recipes and information on certain ingredients. It also includes tutorials and guides on making your own sushi. Sushi has become extremely popular in Western culture and making it at home is something many wonder about and want to learn.
7. Ichiran USA

Ichiran USA has been on a mission to create and distribute some of the best ramen. They use only the best ingredients and some of the most advanced techniques which were developed by their master artisans.
They are a well-known provider of tonkotsu ramen in particular and they are the creators of the "five originals" which are the five elements of a perfect tonkotsu ramen experience. This includes an original spicy red sauce and an aromatic broth. When dining in person, it also requires a private dining booth, an order form, and a particular ordering system.
Not everyone can be there to dine-in all the time, however, which is why they also offer their traditional and revolutionary ramen for delivery throughout the continental USA.
Each of their take-home ramen kits includes three delicious servings of their top-notch ramen noodles, their original spicy red sauce, and soup concentrate. The kits are easy to prepare and create a perfectly authentic ramen experience each time.
Things to Consider When Buying Ramen Online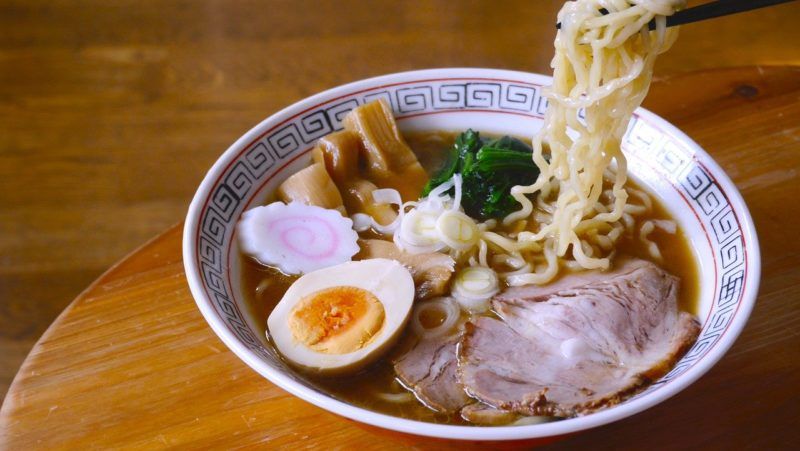 It's no secret that not all ramen is made equal. Therefore, you must weigh your options carefully when looking for fresh ramen noodles to buy online. Pay attention to the following details to ensure you're getting the best quality versions of what you want:
Where it's Actually Coming From
This is important considering ramen noodles are originally a Japanese thing. If you want truly authentic ramen noodles, it's a good idea to look for a Japanese company that ships internationally.
However, that doesn't automatically mean that American companies are bad. Many of them may be run by members of the Japanese culture who still know exactly what they're doing.
Bottom line, if your noodles aren't coming straight from the source, do some research on who's making them before you purchase.
The Flavor Variety
While you can get large, multi-serving bags of basic, fresh ramen, sometimes you want more than that. Plain ramen can be used to make more complex bowls of soup with additional ingredients, spices, etc to add flavor.
However, if you want something fast and easy to prepare, consider their pre-packaged flavor options. Chicken, pork, and sesame are popular flavors.
Ingredients
Lastly, look into the quality of their ingredients. Are they organic? Do they prepare them with additives or ingredients that contain MSG? Ideally, you want pure, wheat-based ramen noodles that are made and packaged without any fillers or harmful chemicals.
Look for a USDA organic certification or at least a guarantee that they don't include any fillers or preservatives.