Who doesn't love a good picnic? It's a great time to not only enjoy the outdoors but to have a great time with family and friends. When we think of picnics, we immediately think of families, with the parents lounging on the blanket while the kids are running around, playing. But picnics can also be romantic, especially when you prepare the best picnic foods for a date.
A picnic date with your lover is different from your usual picnic. You want it to be special and romantic, so a little bit more preparation is needed to ensure that you will both have a great time. Think of details that would make the atmosphere more romantic than usual.
This can be something as simple as having music being played while you are sitting down to eat, or perhaps scattering some flower petals all over the blanket to set the mood. Food, of course, plays such a big part in the success of your picnic date. Whether this is for a first date or an anniversary celebration, you want to present an amazing spread that can impress your date.
If you are at a loss on what are the best foods to pack for your picnic date, we have listed down ten that you can choose from. Most of the items on the list will just need to be bought at the store and packed into your picnic basket. But you can also cook and some of them yourself, to truly make it a special celebration.
Best Foods to Bring on a Picnic Date
Fruits
Veggies
Nuts
Roasted pumpkin seeds
Olives
Popcorn
Salad
Sandwiches
Cheese and Crackers
Sushi
Risotto Balls
Cookies
Chocolate
Cocktails
Wine
Fruits

Fruits are such a great addition to any picnic spread. And there are so many fruits that you can choose from! One tip that we can give is that you choose bite-sized fruits.
Remember that when you are at a picnic, you do not have the convenience of having your kitchen tools around. So you want something that you can just pick with your hand and eat.
One of the best fruits that you can bring for your picnic is strawberries. While they do taste good in pies and cakes, they are just as good on their own.
Other fruits you can include in your picnic fruit platter are grapes and bananas. You can also add bigger ones like watermelon and honeydew, but be sure to cut them up into bite-sized pieces for convenience.
Veggies

Vegetables are also great to bring during picnics. Just like big fruits, your veggies should also be cut into bite-sized pieces. Some great choices are bell peppers, celery sticks, carrots, and cucumbers.
While buying a ready-made dip is alright, you can easily make your own homemade dip to complement your veggies. Some good choices include salsa and chili con queso. For a more Meditteranean flavor, hummus is a good choice.
Nuts

Bring an assortment of nuts for snacking. You can mix them with some dried fruit for added flavor and texture. It would also be easy to add flavor by seasoning them with spices like cinnamon or cardamom.
Roasted Pumpkin Seeds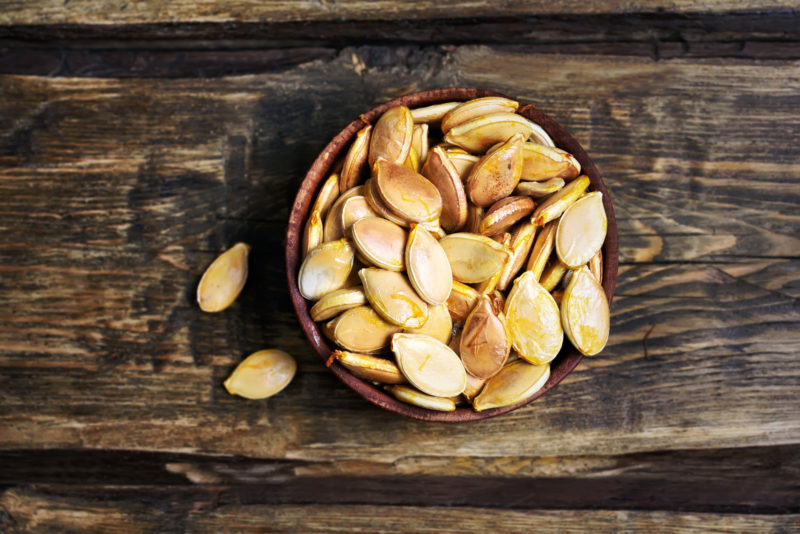 Roasted pumpkin seeds are great for snacking because not only are they tasty, but also very healthy. Not to mention that they are also a natural aphrodisiac! They can also be easily made at home.
If you are going to roast them yourselves, make sure to clean them thoroughly. You also need to soak them overnight in a water and salt mixture.
After drying them, you can now roast them in your oven. You don't have to take them out of their shell as they can be eaten as is. Add some flavor like herbs, cheese, and the like to make it more delicious. Be sure to add the seasoning before roasting and not after.
Olives

Olives are a common appetizer in many restaurants, so why not bring them with you on your romantic picnic date? Grab more than one kind for variety. To make it more presentable, serve them in skewers along with another antipasto like cherry tomatoes.
If you want to go the extra mile, make a charcuterie board of olives along with a selection of meats like salami, pepperoni, and prosciutto.
Popcorn

Picnics don't just have to be all eating. Make yours more unique and special so that it will be truly memorable. Instead of a day picnic, why not have a night picnic. And the perfect activity for a night picnic is movie night!
Just bring your laptop or tablet and make sure you have several movies in storage. And of course, movie night is nothing without popcorn! It's the perfect finger food, don't you think? Instead of just plain popcorn, add some additional flavor like shredded Parmesan or some taco seasoning to give it that extra oomph.
Salads

Salads are the epitome of picnic food. They are easy to prepare and always enjoyable to eat. Even something as simple as lettuce and tomatoes is alright. Take note that when you are serving greens, it would be better to add the dressing only when it is going to be served, or else the salad will become soggy.
But some salad recipes, such as this Vietnamese Green Mango Salad will require you to add the dressing upon preparation. This will allow the flavors to meld together so that you can appreciate the taste more.
You can make these salads ahead of time, like a day before, then keep them well-refrigerated until serving.
Sandwiches

Sandwiches always make their way to many picnics due to the ease of preparation. You can go for the usual ham and cheese combo, but why not make it more special? This Smoked Salmon Bagel recipe from TasteofHome will only take you 10 minutes to prepare.
What makes this recipe great is the use of pesto instead of mayonnaise for the bread. Mayonnaise is perishable in nature and must always be kept cold, and if you leave it out at room temperature for a long time, it will get spoiled.
For better presentation, use cookie cutters to cut your sandwiches into smaller shapes. Another option is to individually pack the ingredients and build your sandwiches on site.
Cheese and crackers

The combination of cheese and crackers are a favorite of many, because they are just really delicious. There are many cheeses to choose from, so make sure to get a variety and include your and your partner's favorite.
Do take the weather in consideration, though. If it is going to be a hot day, you may want to stay away from soft cheeses as they can melt and it would be a mess.
Some good choices of cheese include blue cheese, gouda, sharp cheddar cheese, and manchego. Make your picnic even more romantic by pairing your cheese with the perfect wine.
Sushi

Many people might not think of sushi as picnic food. After all, it will need to be properly chilled, especially if your sushi has raw fish as its ingredients. But if you own an ice cooler or an insulated picnic bag, you can easily transport sushi and keep them cool until it is time to eat. If you like to go on picnics, they will be a good investment as you will use them often.
You can also look for sushi recipes that don't make use of raw fish so that it can be served at room temperature.
Risotto Balls

If you are more a fan of Italian cuisine rather than Japanese cuisine, then risotto balls are perfect for you. It can be hard to bring risotto on your picnic as the texture will already be different, so risotto balls are the next best thing.
Risotto balls, or arancini, is quite easy to make, as it makes use of your leftover risotto. You will just need to add a few more ingredients like parmesan, eggs, and breadcrumb. Once you shape them, you just need to deep fry them and you're good to go!
Cookies

A picnic is not a picnic without some dessert, right? Since it would be hard to bring some cake or ice cream, cookies are the best choice. They are easy to pack and will stay moist and chewy even after many hours.
You can easily buy cookies from your favorite bakery. Or perhaps, you'd like to exert a little bit more effort, you might want to make this Lemon Creme Sandwich Cookies from Country Living.
It makes use of store-bought lemon cookies so you will not have to do any baking. You are just elevating the simple cookie from an indulgent one by adding a filling made from cream cheese and heavy cream.
Chocolate

If you want your dessert to be a little bit fancier, then go for chocolate instead of cookies. Not only would it be more indulgent, but it is more romantic as well. If you have the time as well as the talent, you can try this White Chocolate recipe.
Aside from the white chocolate, you also combine it with some dried fruits for a different taste. If you are not a fan of fruits, you can easily swap it with other ingredients like nuts.
But if you are afraid that you might not be good at tempering chocolate, you can easily just buy some fancy chocolate truffles from the store. Just make sure that they are stored properly or else they would be a gooey mess if not properly chilled.
Cocktails

A romantic picnic date cannot be complete without having some drinks, right? Unlike wine that you just need to open, cocktails will require more effort on your part as you will need to prepare them beforehand.
Wine

When it comes to wines, rosé is very popular. It's very refreshing, especially when it is properly chilled. Of course, you want to be sure that your wine is the perfect pair for your menu. White wines are also a good choice as they are not too overpowering.
If you are bringing spicy foods to your picnic date, you may want to pair it with some Riesling. If your focus is on salads and fruits, Moscato d'Asti would pair perfectly with them.
More Tips for a Perfect Picnic Date
Now that you already have an idea on the best picnic foods to bring to your date, it's time to plan the rest of the picnic. It's not just the food that will set the mood, after all. There are many factors that will affect just how successful your picnic date will be.
Some of the things that you need to consider include the location and the equipment you will bring. For the location, think about what your partner would enjoy. Do you think they would have more fun at the park? Or perhaps they would enjoy a place near a body of water? Perhaps at the beach or even a lake?
Make sure to choose a secluded area so that you can have a little more privacy with your partner. Be sure to also check what the weather will be like on the day of your picnic so that you can really enjoy the great outdoors.
Now, let's go to the details of your picnic. You will need to pack quite a few things. First is the picnic blanket. Choose one that will be big enough to fit both of you. If you are packing food that must be kept chilled, you will need a cooler for that, plus ice packs so that everything will stay cold even after many hours. Of course, you should not forget your utensils. It would be better to bring plasticware instead of glassware as the latter is too fragile.
Don't forget to bring some bug spray and sunscreen too. For those who like to be well-prepared, you might also want to bring a small first-aid kit just in case. Trash bags are also important so that you can properly clean up once you are done. If you are bringing wine, make sure that you have a corkscrew with you, or buy wine with a screw top instead.
More than anything else, just have fun with your partner! Picnic dates are the perfect opportunity to bond with your partner. Just enjoy each other's company and enjoy the beautiful outdoors.