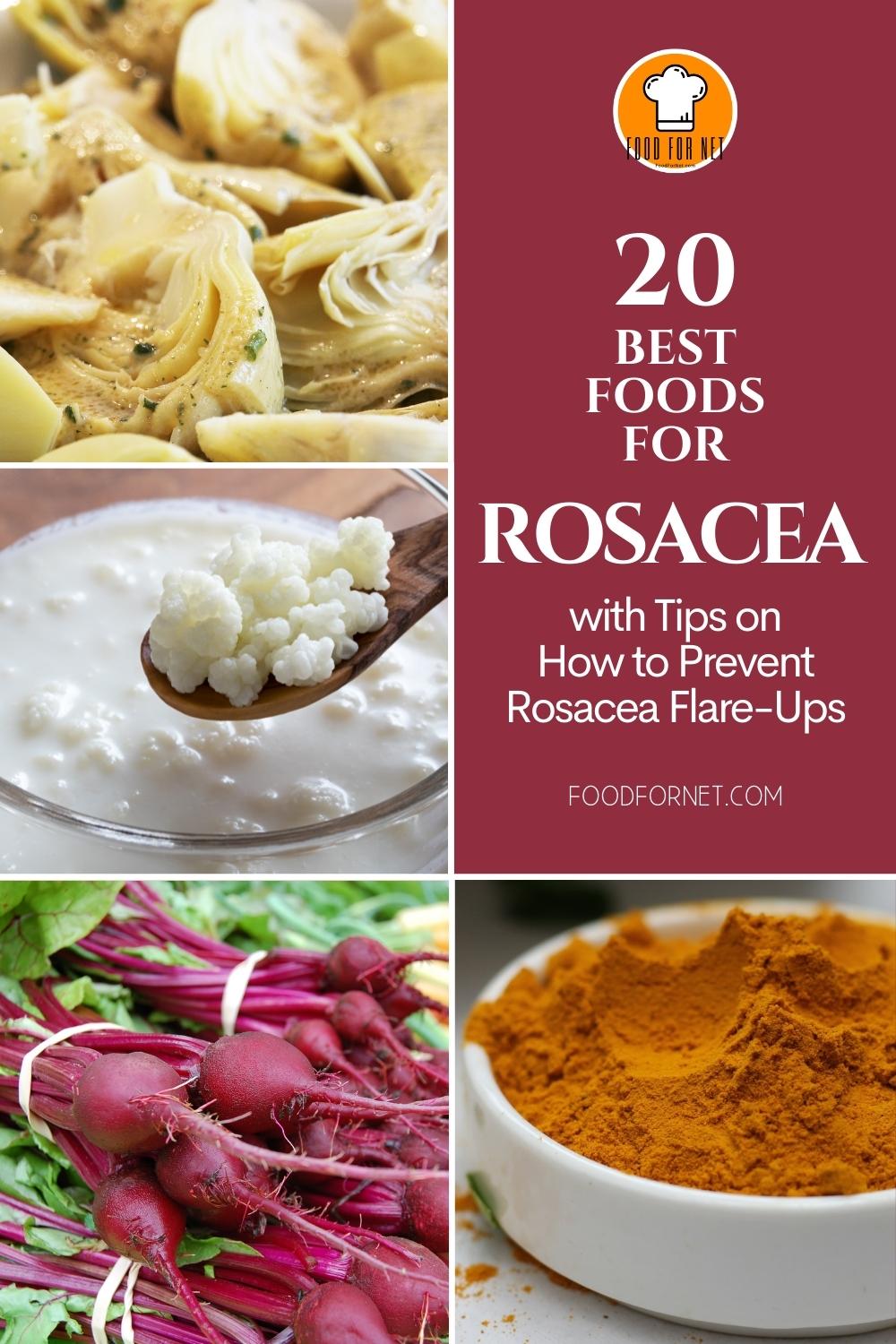 Although there's no specific diet meant for people with rosacea, a balanced diet that includes the best foods for rosacea will surely help in preventing flare-ups. Having said that, since each patient varies from one individual to another, it's important that you observe and take note of specific food that particularly causes your condition to flare up even if it is supposedly good for a rosacea diet.
But first, what is rosacea exactly? Rosacea, pronounced "roh-ZAY-sha" is a condition that usually affects the central face – cheeks, nose, chin, forehead (sometimes even the eyes). There is a pronounced redness or flushing that may come and go, or there are prominent and visible small blood vessels. Although this chronic condition is treatable, there are some cases where inflammatory bumps and pimples may develop. There are even cases when the nose may grow swollen and bumpy because of the excess tissue.
Its exact cause is unknown and unfortunately, there is no cure either. However, the signs and symptoms can be controlled by oral and topical medications, and with changes in lifestyle. More on that at the end of this article
Again, there is no specific rosacea diet, however, a dietary change may play a role in managing this condition. Studies suggest that people with rosacea are prone to gastrointestinal disease, so it's only logical that a rosacea diet includes foods that will benefit your gut health. These include foods that are rich in probiotics, prebiotics, healthy fats, and those that contain anti-inflammatory effects.
Because there seems to be a gut-skin connection, targeting a healthy gastrointestinal system is basically the goal. So, here are the best foods for rosacea that you can include in your diet to help you manage its signs and symptoms. Again, you should still closely observe your reaction to each food and take note of specific ones that are particularly causing your condition to worsen.
Best Foods for Rosacea (With Pictures!)
Whole grains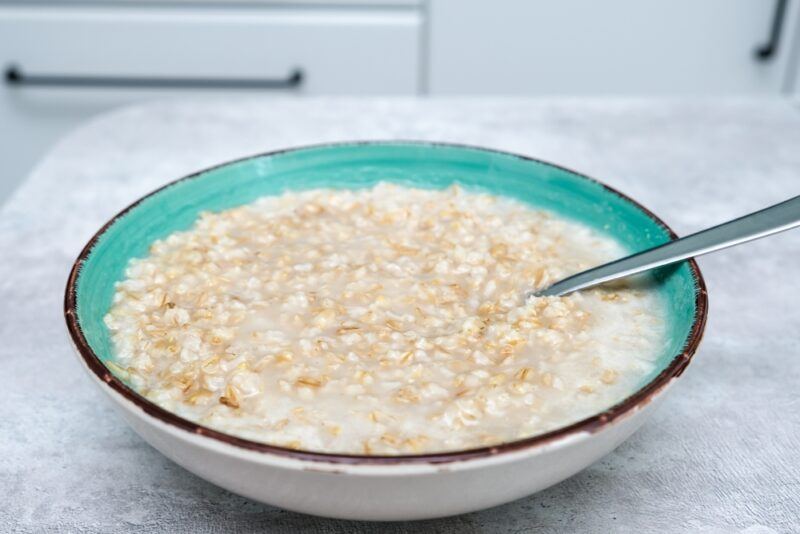 Whole grains like wheat, barley, oats, and rice, are rich in prebiotics that boost the growth of good bacteria in your gut which results in a healthy gut microbiome.
These whole grains are also packed with protein, antioxidants, B vitamins, and trace minerals.
Walnuts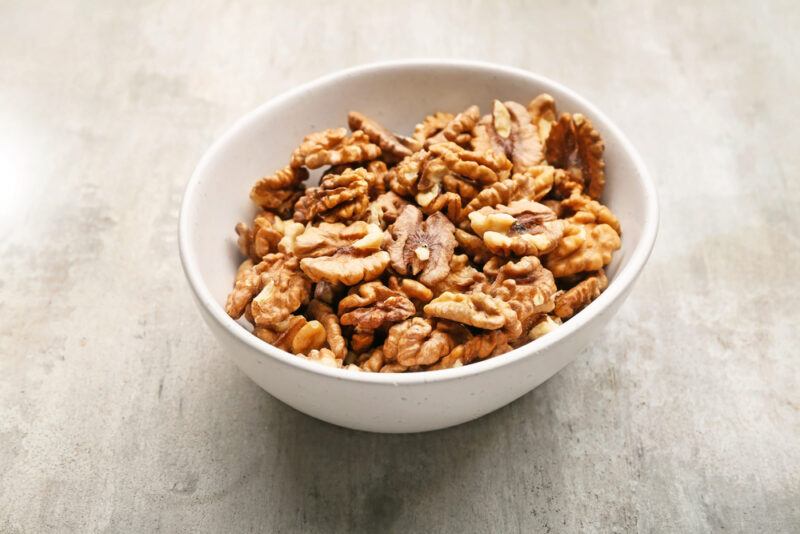 Walnuts aside from their high content of good fats or polyunsaturated fats also contain prebiotic compounds. That means more food for your gut's healthy bacteria.
Walnuts are also rich in antioxidants, and vitamins and minerals like folic acid, manganese, vitamin B6 and vitamin E.
Onions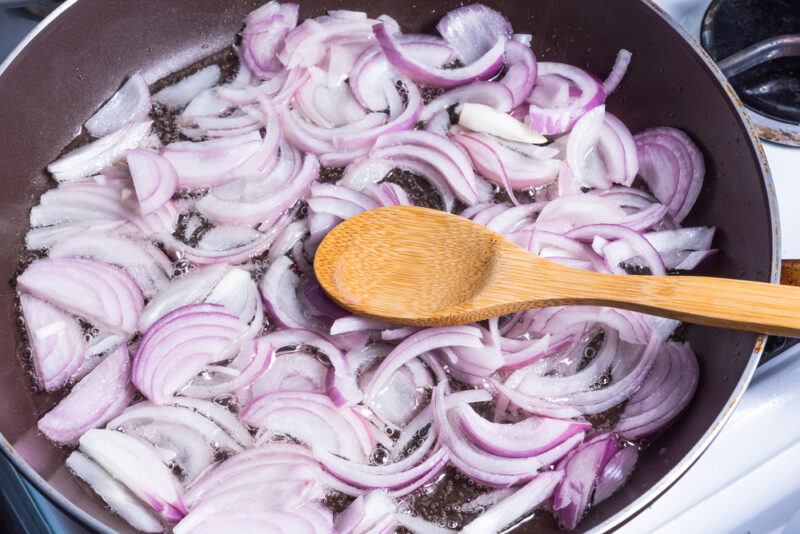 Onions, whether raw or cooked, are great sources of prebiotics. And it doesn't hurt that it's so easy to incorporate onions into your diet. You can simply toss them raw in your salad, salsas, or dips. You can also use them when sauteing just about anything.
In addition to their prebiotic content, onions are also rich sources of antioxidants and flavonoids.
Garlic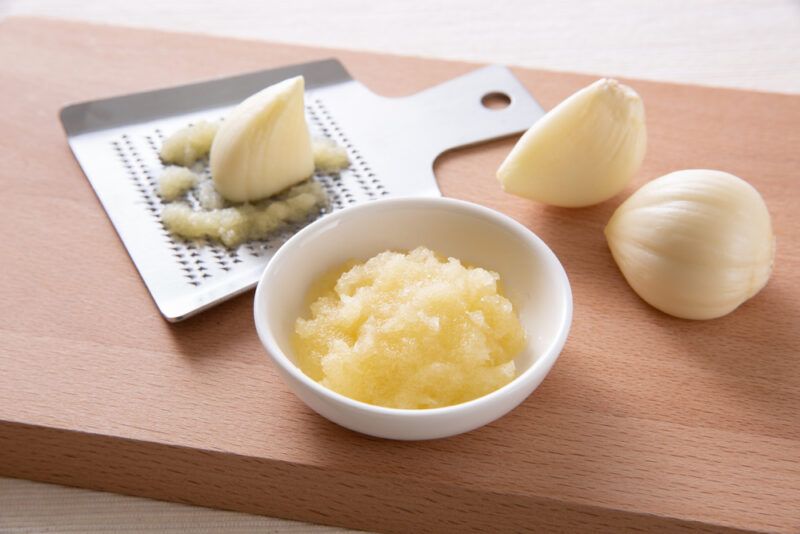 Garlic is also another food that is rich in prebiotics, however, its prebiotic contents may reduce when they're cooked. So, to maximize its prebiotic content, add them raw into your salad dressing, sauces, or dips.
Garlic also contains antioxidants and is known for its antibacterial, antiviral, and antifungal properties.
Asparagus

Asparagus particularly contains inulin, which is a type of prebiotic. It is also undigestible and pretty much stays in the bowels to help good bacteria grow.
Asparagus aside from fiber is also rich in antioxidants that can help in oxidation. It can also help in weight loss and in lowering blood pressure. Asparagus is also a natural diuretic.
Artichokes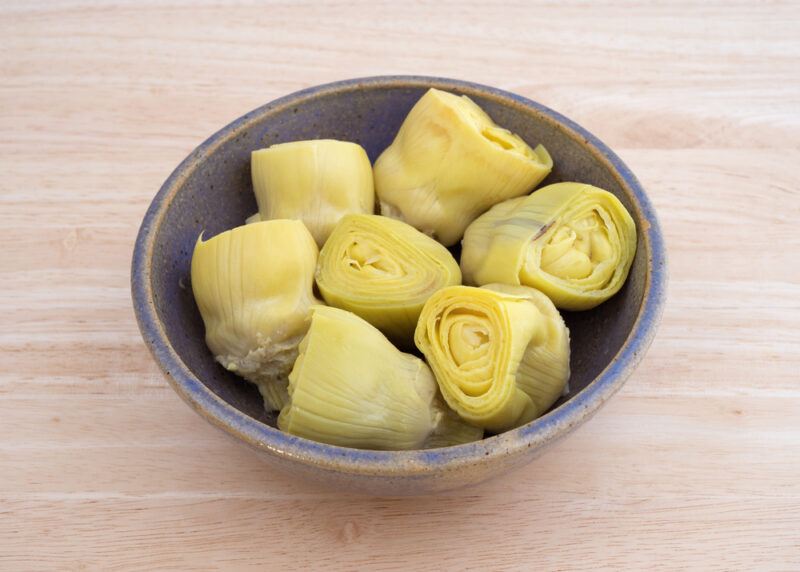 Artichokes actually contain both prebiotics and probiotics, so how cool, right? Not only does it help in maintaining a healthy gut microbiome, but it may also help in reducing the risk of ulcers, acid reflux, and constipation.
Artichokes are also rich in potassium, vitamin C, vitamin K, magnesium, and folate.
Banana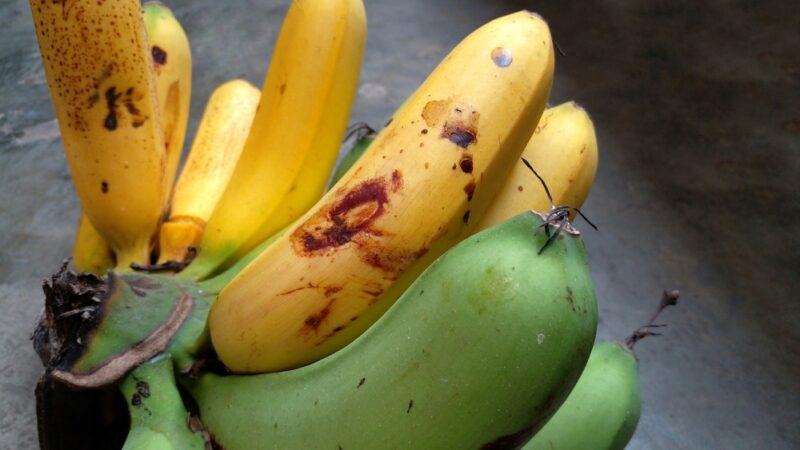 Bananas, particularly unripe bananas have probiotic bacteria. And although it may contain lower antioxidant levels compared to ripe bananas, the green ones can help in absorbing nutrients better. You can eat green bananas as is, or you can add them to smoothies. You can also cook them, boil, bake, or fried (like you would plantains).
Bananas are also particularly known for their potassium content. It also contains high amounts of vitamin C and vitamin B6.
Kimchi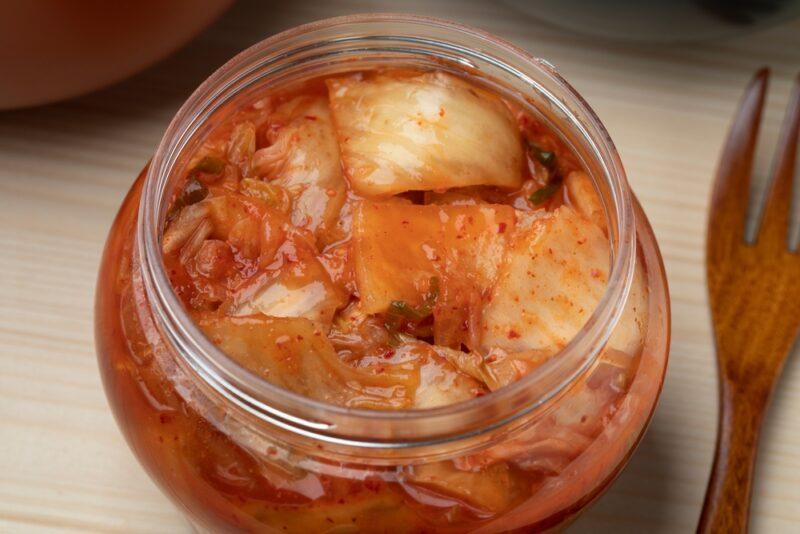 Kimchi is a Korean side dish made from fermented and salted vegetables, usually Napa cabbage, with seasonings. It's an excellent source of probiotics – live microorganisms that can help boost gut health.
Kimchi in addition to its probiotics content is also rich in vitamins K and C, riboflavin, iron, and folate.
Sauerkraut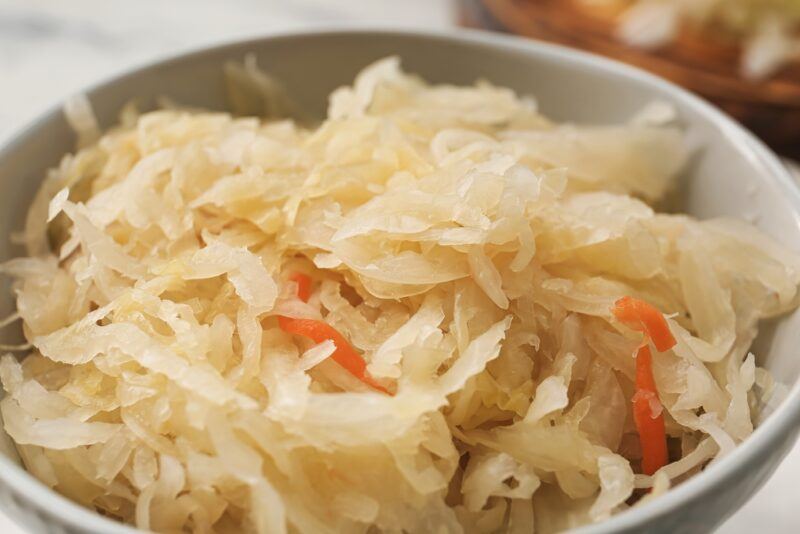 Sauerkraut is another fermented vegetable, it's basically finely sliced cabbage with salt. It's a great source of probiotics that can help our body to balance intestinal flora.
It's also high in vitamin C, vitamin K, and iron. Its lactobacillus content is actually more than those found in yogurt.
Kombucha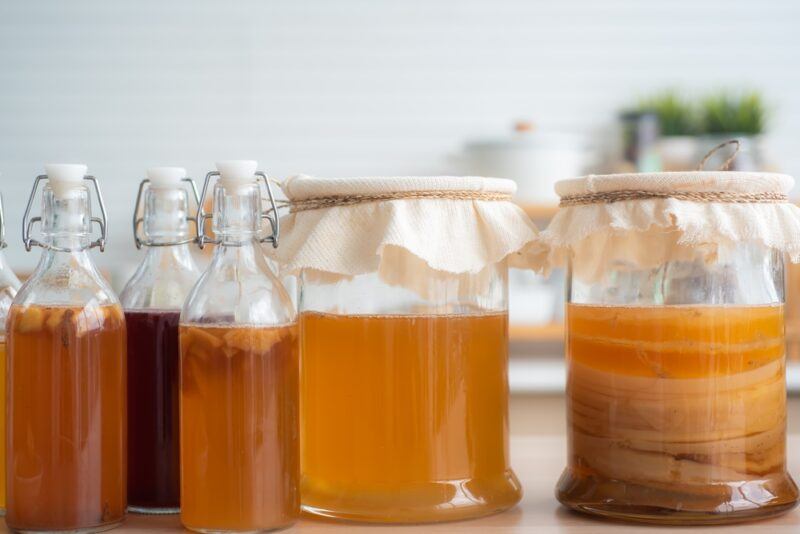 Kombucha is a fermented drink that is made usually from black or green tea which is sometimes further boosted with spices, fruits, or juices to improve the flavor. And yes, just like kimchi and sauerkraut, it does contain probiotics, too.
Kombucha also contains amino acids and trace amounts of vitamins and minerals. It also has antioxidants, anti-inflammatory compounds, and antibacterial properties.
Kefir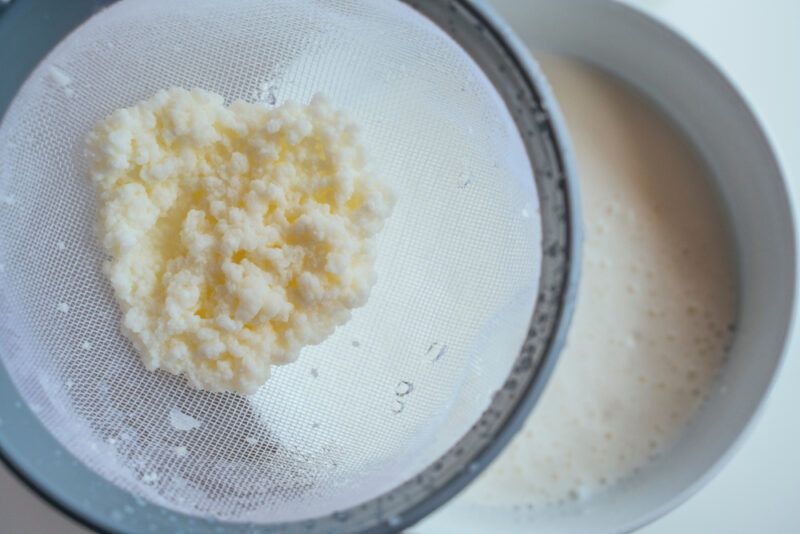 Kefir is a fermented dairy product that is also abundant in probiotics. Not only is it beneficial in maintaining gut health but it's also known to help other skin conditions like eczema and acne in addition to rosacea.
Kefir is also rich in protein, calcium, potassium, riboflavin, selenium, vitamin D, and B vitamins.
Miso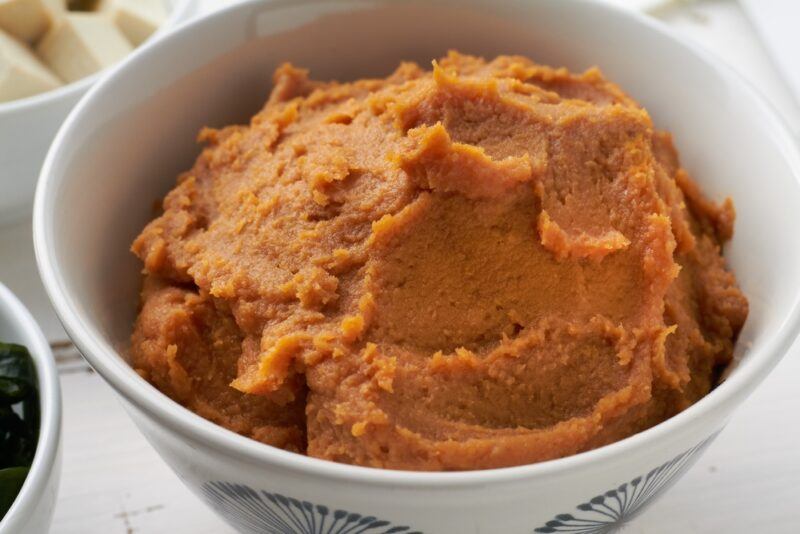 Miso is made from fermented soybeans with salt and a mold called koji. It's a rich source of probiotic bacteria as well which also helps in supporting the immune function and fighting infections. It is a traditional Japanese seasoning that can be used to flavor soups, marinades, gravy, vegetables, and tofu dishes.
Miso, in addition to its probiotic contents, also has vitamin K, B vitamins, copper, manganese, iron, and zinc.
Flaxseed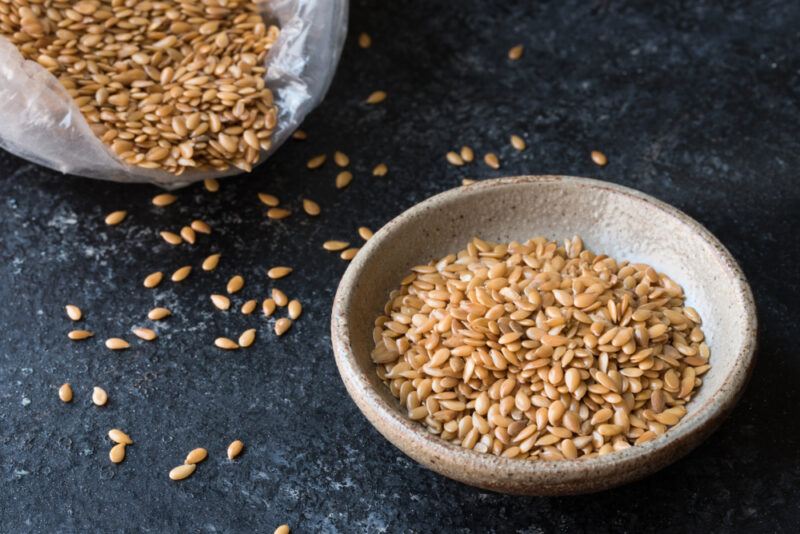 Flaxseed is one of the best plant-based sources of omega 3 fatty acids. And among the many health benefits of omega 3s is their role in boosting skin health. These fatty acids can particularly calm the inflammation brought about by rosacea.
Aside from omega 3 fatty acids, flaxseed is also rich in fiber and phytochemicals. It contains good amounts of protein as well.
Chia seeds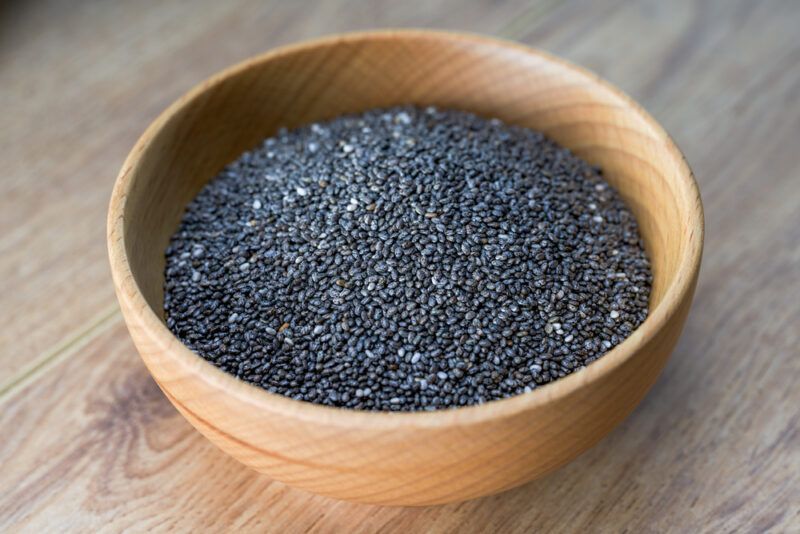 Chis seeds are also rich in heart-friendly omega 3 fatty acids which will not only boost heart health, and reduce inflammation, but will also help in softening dry rough skin and soothes irritation and dermatitis.
Chia seeds are also rich in fiber, antioxidants, and minerals like iron and calcium.
Fatty fish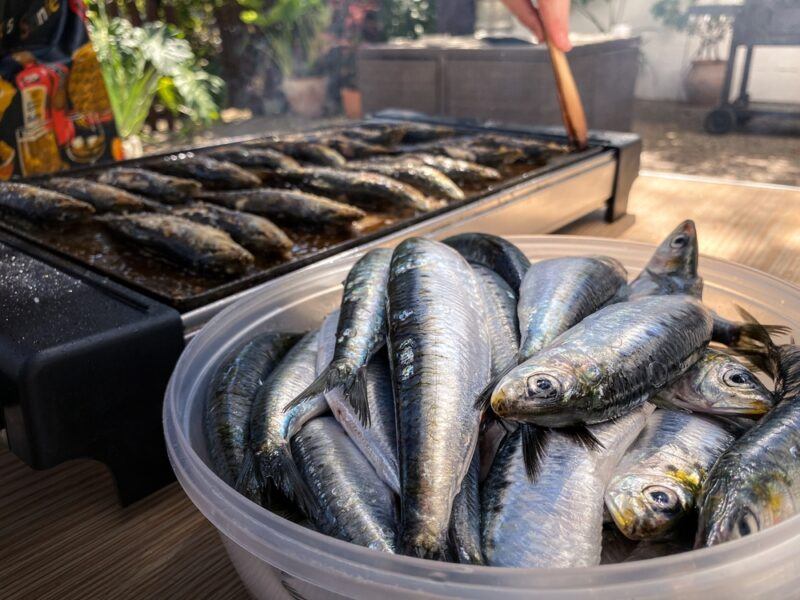 While still on the subject of omega-rich foods, let's include fatty fish such as herring, mackerel, sardines, salmon, and halibut. These fish's omega 3 fatty acids content will help in reducing the inflammatory compounds that our body produces.
Fatty fish also contains vitamins A, D, and B vitamins as well as minerals like calcium, iodine, iron, selenium, and zinc.
Olive oil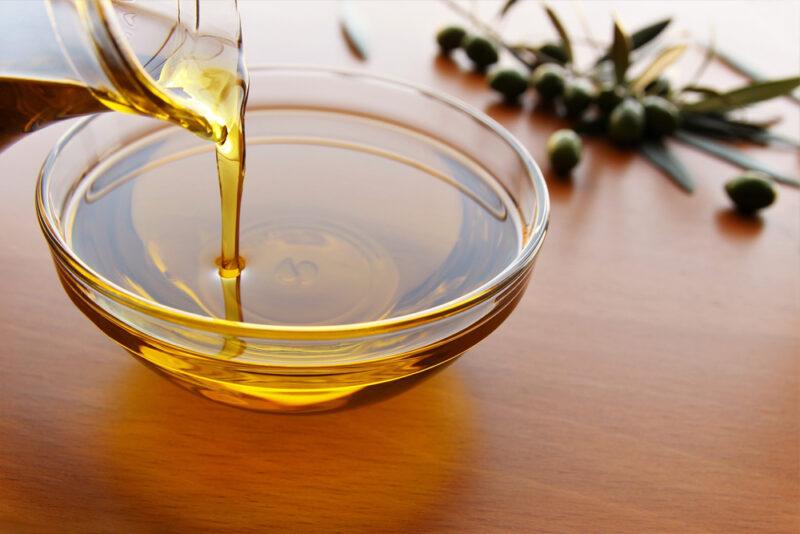 Olive is particularly rich in oleic acid, but it also contains omega 6 and omega 3 fatty acids. Don't get confused though, because all of these are beneficial to your body. These monounsaturated fats aid in reducing the risk of heart disease, boosting weight loss, and decreasing inflammation.
Aside from omegas, olive oil also contains vitamin E, vitamin K, and lots of antioxidants.
Turmeric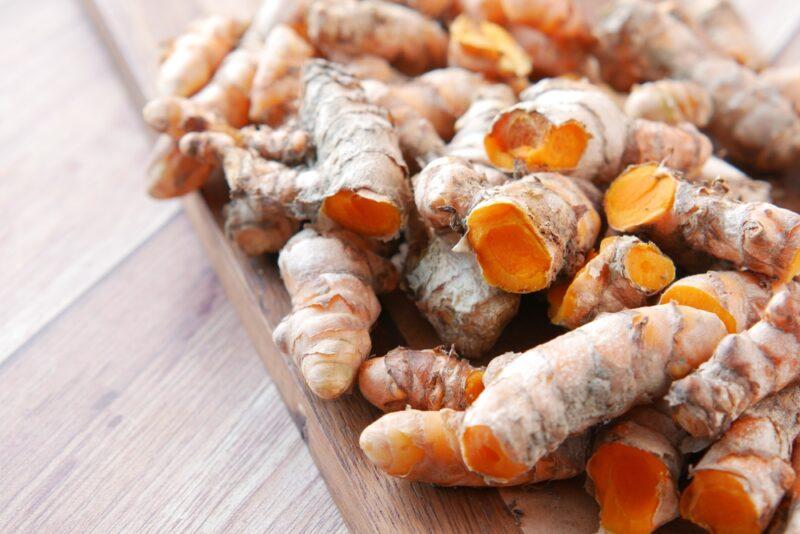 Turmeric particularly contains curcumin which is a substance that contains powerful anti-inflammatory properties. It can help in improving rosacea by easing the redness or swelling brought about by this condition.
Turmeric is also rich in antioxidants, fiber, vitamin C, vitamin B6, iron, manganese, iron, and potassium.
Berries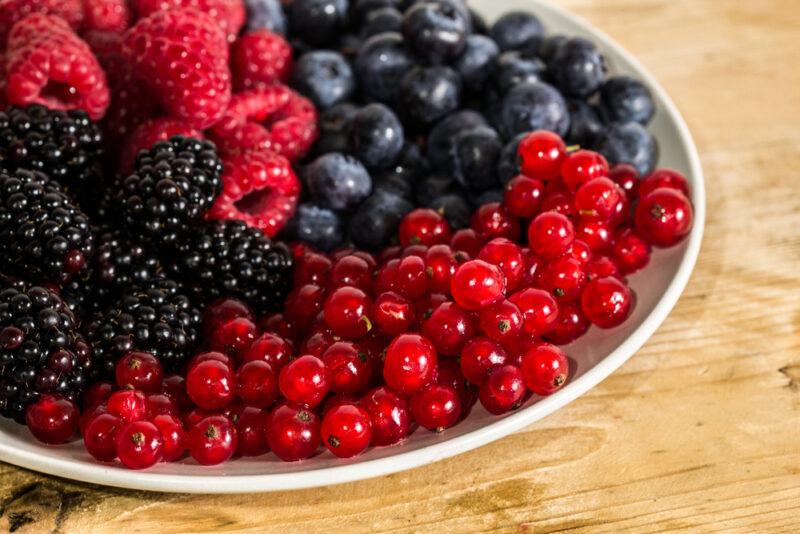 Berries, including strawberries, cherries, blackberries, raspberries, blueberries, and cranberries, are not only potent sources of antioxidants but anthocyanins as well. Anthocyanins have anti-inflammatory effects that generally help in reducing the risk of diseases.
Berries are also rich in fiber, vitamin C, and phytochemicals like polyphenols.
Almonds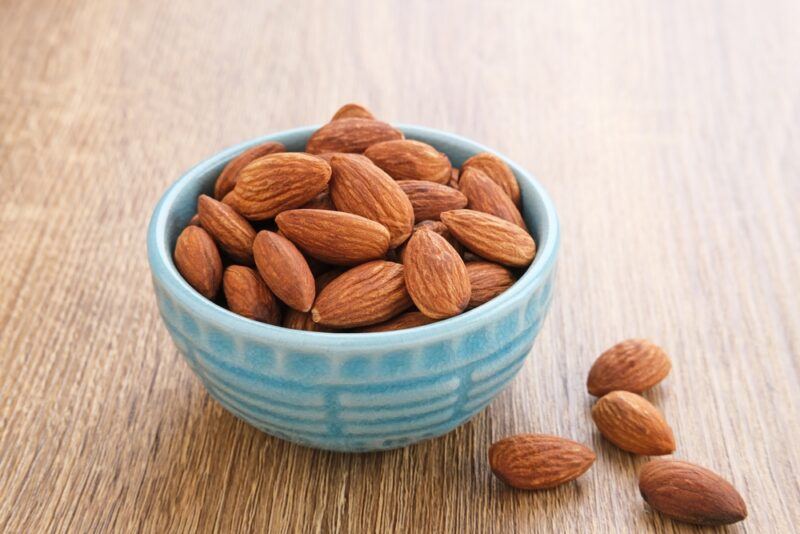 Almonds are particularly good for a rosacea diet because not only do they contain anti-inflammatory effects but they're generally low in histamine content as well. Again, be particularly observant if certain nuts are aggravating your symptoms.
These nuts are also rich in fiber, polyunsaturated fats, vitamin E, calcium, magnesium, and zinc.
Beets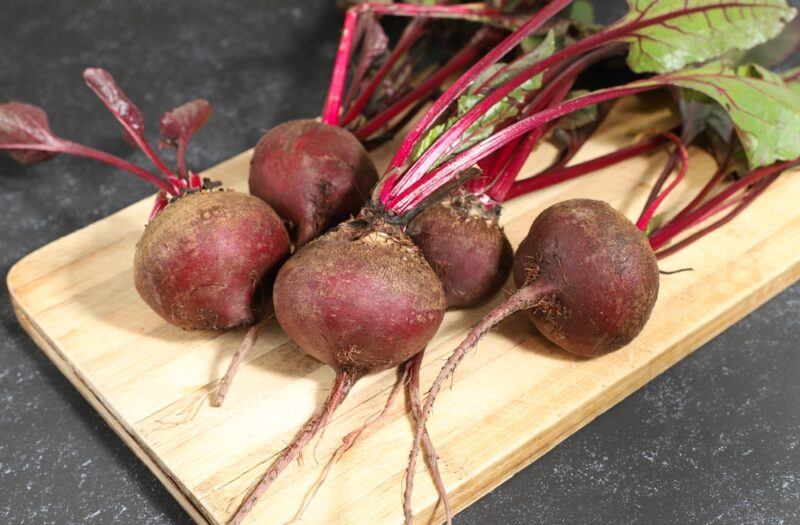 Beets are particularly rich in nitrates which help in reducing inflammation by getting rid of the harmful compounds found in the bloodstream. Its betalains content, which gives it its color, also has antioxidant and anti-inflammatory properties.
Beets are also rich in fiber, antioxidants, folate, potassium, iron, vitamin A, vitamin C, and other nutrients.
How to Prevent Rosacea Flare Ups
In addition to dietary changes, including all or some of the best foods for rosacea mentioned above, there are also other ways for you to prevent or avoid rosacea flare-ups:
Avoid trigger foods
Again, each patient is different from one another, but most rosacea sufferers report that trigger foods include hot beverages, alcohol, spicy foods, and foods containing cinnamaldehyde like chocolate, cinnamon, tomatoes, and citrus. Avoid these foods if you have seen for yourself that they are also trigger factors for you.
Value skin care
Avoiding extreme temperature is a must because it triggers vasodilation. So, make sure you minimize sun exposure as much as you can – and wear sunscreen if you really have to go out! Choose skincare products that are gentle to the skin. For one, if it's too fragrant it's a definite no already. Same thing if one of its top ingredients includes alcohol, lactic acid, or glycolic acid.
Exercise regularly
Again the importance of regular exercise. But don't go overboard as it may also worsen rosacea – increased temperature, remember? You can try brisk walking instead of running or perhaps try swimming. You can also stay indoors and do some aerobics routines instead. Remember that exercise is not just good for your body but it also helps with your overall wellness. It helps in easing stress which is a known trigger for rosacea.
Take medications or supplements
Your doctor may prescribe medications or supplements that can help with rosacea symptoms. There are topical drugs for instance that help in reducing flushing or oral antibiotics for severe cases that come with bumps and pimples. Supplements may also be prescribed to help boost your health. Remember, that it is also important that you let your doctor know if you're taking any other medications to make sure it's not negatively affecting your condition.