Regardless of your salsa preferences, a salsa of the month club will introduce your taste buds to a whole new world of flavors.
Salsa subscriptions offer monthly salsa deliveries from all over the country, including artisan hard to find salsa to uniquely flavored ones. Plus, some of the memberships include chips providing you with everything you need to enjoy this phenomenal snack.
Before we talk about the clubs themselves, let's spend a little time looking into salsa.
The history of salsa goes as far back as the ancient times of the Incas, Mayans, and Aztecs. However, the introduction of salsa globally was due to the Spaniards after they discovered Mexico, they began to export tomatoes and share the recipe for salsa with the world. Salsa has not always been paired with chips; instead, it was initially used as a sauce for meat.
Though no one knows salsa's original name, it received its current name in 1571 by a Spanish priest. The translation simply means sauce. Over the centuries, salsa has changed significantly from a Mexican tomato-based condiment to the "condiment king" outselling ketchup in 2013.
There are thousands of salsa varieties ranging from cooked to fresh, as well as being hot and spicy to smokey and sweet. In fact, if you're looking for the spicy stuff, you gotta try these 13 hot sauce of the month clubs.
Salsa can be a fusion of unique flavors or classic ones, such as tomatoes, pepper, and seasonings. Some of the more unusual options available are:
Mango
Craft beer
Spicy pineapple
Habanero
Plus salsa ranges in spice too, there are some so mild and sweet that ketchup could be deemed spicier, but on the other end of the spectrum are salsas that will start a fire in your mouth like the ghost pepper salsas.
There are a lot of good options below, but the best club to start with is Amazing Clubs Salsa of the Month Club. Their focus is always on variety and quality, so you get a unique, high quality salsa each month that would be hard to find (or impossible!) in your local supermarket.

Salsa of the Month Clubs
Amazing Clubs
Armadillo Pepper
Salsa Express
Made in New Mexico
Harry & David
Casa De Jorge
Salsa Gift Baskets
Amazing Clubs

Amazing Clubs, founded in 2003, offers more 40 different gift subscriptions. When they first started, they began with a single club, but it wasn't too long before Amazing Clubs expanded into the company they are today.
Amazing Clubs has been featured on Good Morning America, USA Today, and The Early Show, to name just a few. They have been voted #1 for subscription boxes multiple times, so it is no surprise they have more than 2 million satisfied customers.
They specialize in premium and unique monthly clubs. And for those who can't decide on which club to sign up for, they even have a variety club which allows you to combine multiple clubs into one. Although the majority of the clubs are food, there are a handful of non-food options to like:
Cigar
Flower
Movie
Teddy Bear
Their salsa of the month club has four options to choose from:
3 months for $19.95 per month
Seasonal club (delivers every 3 months) for $19.95 per month
6 months for $18.95 per month
12 months for $17.95 per month
Each month the recipient receives:
2 new and different handcrafted jars of salsa
A salsa newsletter that provides information on that month's salsa selection
Free shipping
100% "They'll Love it Guarantee"
Armadillo Pepper

Armadillo Pepper, located in the south, specializes in hot sauce and raising the bar on your barbeque experience. Armadillo Pepper brings its customers together with some of the top barbeque and hot sauce companies in the nation.
They search the country and test various artisan or unique barbeque products to ensure your getting the very best. In addition to hot sauces, Armadillo Pepper offers:
A variety of jerky – Alligator, antelope, beef, buffalo, duck, and elk (perfect for meat lovers)
BBQ sauces and rubs
BBQ meat injections
Spicy snacks – peanuts, popcorn, chips
Coffee
Armadillo Pepper also has an assortment of gift boxes and baskets featuring a mix and match of different sauces, snacks, and rubs. In addition to their gift sets, they also have various monthly clubs, including a salsa of the month club.
The salsa of the month club includes 2 jars of salsa each month. There are 2 different subscription options available – a 3-month subscription for $89.95 or a 6-month subscription for $169.95
Both memberships include free shipping within the lower 48 states, 2 premium jars of salsa from artisan salsa makers all over the US and a gift message
Every salsa shipment goes out the last week of the month; however, the first shipment is sent within the week the order was processed.
Salsa Express

Salsa Express, founded in 1991, has one of the largest selections of salsa in the US. Though they started as a mail-order service, with the advent of the internet Salsa Express transformed into the company it is today.
Though Salsa Express doesn't have its own salsa brand, they pride themselves on bringing you the most extensive salsa selection found in one place. In addition to Salsa Express's commitment to variety, they also promise an exceptional shopping experience.
Salsa Express offers much more than just salsa. You will also find:
Hot sauces
Dips mixes
Baking mixes
Snacks
Queso
Jams and jellies
Batter mixes
However, they also have a variety of monthly clubs, including a Salsa of the Month Club and a Chips and Salsa of the Month Club.
Each membership offers a 3, 6, 9 or 12-month duration option at different price points. The salsa of the month club also offers a 1 or 2 jar option. The single jar option starts at $44.99 for 3 months.
After making your initial membership choice, you can then decide on:
Salsa heat level
Frequency of deliveries (every month, ever 3 months or every 4 months)
The month you want the membership to start
Personalized message
The Chips and Salsa of the Month Club includes 1 bag of different chips and 1 jar of salsa each month. Prices start at $44.99 for the 3-month option.
Made in New Mexico

Made in New Mexico, founded in 2005, as a retail store in Taos Plaza, in Taos, New Mexico. They have been offering their customers a wide array of southwestern products like:
Ristras and wreaths
Unique chile products
Pinon coffee
Clothes
Jewelry
All of the store's goods are made by New Mexico based artists, craftspeople, or micro-businesses.
Made in New Mexico is a small store that prides itself on providing premium personalized service, from same-day shipping to a cheerful greeting when you enter their store.
Made in New Mexico has several monthly clubs, most of which are for coffee, but they do have a salsa club. The salsa club costs $11.99 a month plus shipping. It is a month to month club and can be canceled at any time.
Each month you will receive 2 jars of salsa, red or green chile salsa or a salsa-like sauce. The salsa included may be brand new varieties or classic favorites. In addition to the salsa, you will also receive a 10% discount on all future purchases.
Harry & David

Harry & David started in 1934 in Rogue River Valley, Oregon. The founder Samuel Rosenberg purchased a 240-acre pear orchard named Bear Creek Orchards. Over time Samuel's sons Harry and David would take over the family pear farm.
Though the company started with hand-picked and packed baskets of pears, they eventually expanded to offer an array of superior gourmet gift options. There are now more than 40 Harry and David retail stores worldwide.
In addition to their retail shops, they also have an even more extensive online store where they offer gifts such as:
Wine and cheese
Sweets
Snacks
Plus, they have an abundance of monthly subscription options. Amongst those are a variety of salsas. They have nine different salsa options:
Raspberry Chardonnay
Garlic
Pineapple
Mango
Habanero
Jalapeno Verde
Texas Style
Black Bean and Corn
Peach
All of the salsa is available for a one time purchase or a monthly subscription. Each jar is 15 oz and costs $6.99 plus shipping.
The other option when purchasing their salsa is the pick 4 salsas for $27.99. The pick 4 also includes a few of their queso dips, but it is a one-time shipment and is not eligible for recurring deliveries.
Casa De Jorge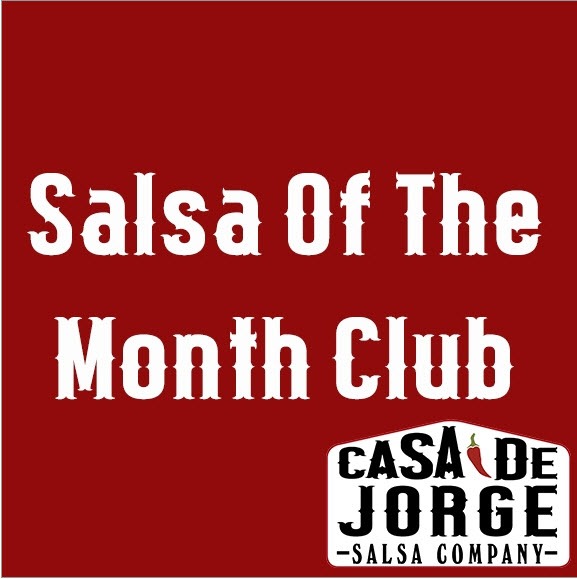 Casa De Jorge is a North American salsa company that sells its products online, in stores, in restaurants, and during some festivals. The company has a variety of flavors to choose from, including some traditional examples and more unusual ones, such as Rasberry Agave Salsa and Aussie Beetroot Salsa.
Their Salsa of the Month Club costs $16.99 per month if you order for a year or $56.95 for a 3-month membership. In both cases, you receive 2 different varieties of salsa each month.
Salsa Gift Baskets
Arizona Gifts

Arizona Gifts, founded in 1990, will be celebrating thirty years of business this year. Initially, it was a small retail store in Phoenix, but in 1999 they were purchased and expanded their line of products.
Though they still have a storefront, they also offer the majority of their products online, making it easy for their customers to send Southwestern gifts all over the country. They provide more than 4,000 gift options, so if you need assistance deciding on the ideal present, they will be happy to help.
Amongst their many product options, they offer a variety of salsa gifts:
Salsa Lover's Cowboy Hat – 3 jars of salsa, 1 bag of chips all creatively packed in a cowboy hat
Goldwater's Chips & Salsa Kit – 2 salsas, 1 stoneware bowl, a bag of tortilla chips all packed in a braided basket
Copper State Salsa Tin – Featured above includes 3 salsas, chips, a copper basket
Southwest Salsa Tasting Fresh and Fruity – 4 salsas, 1 bag of chips, in a decorative basket
These are just four of their salsa focused baskets. Arizona Gifts also has other gift options that include salsa along with a variety of different snacks.