The history of baths dates far back to ancient times, and bubble baths date back to when soap was first invented. Which means bubble bath leisure time has been around for countless centuries. They believe the first bathhouse was built in 2500 BC in Indus Valley, now known as Southern Asia. Bubble bath subscription boxes are a much more recent invention, but that doesn't make the history of baths any less relevant.
Centuries after that first bathhouse, the Romans adopted the habit of using public bathhouses. Based on different archeological finds, it seems that the Romans have had the most significant influence on bath culture. Some of the largest bathhouses were found in Pompeii, which was home to five large bathhouses, each of which could hold up to 1,000 people at a time.
The bathhouses' size and capacity aren't the only things that are different from the bathhouses of today, which are making a comeback. Bathhouses are a place for relaxation that has not changed, but a bathhouse was also a great socialization place, frequently being connected to taverns and other entertainment venues.
Bathhouses were not exclusive to Pompeii either. Instead, bathhouses have been found throughout the world. Regardless of where they were, bathhouses all had one thing in common, they were an excellent place to unwind, which is still the reason why many still take the time to enjoy them.
Though we all know bubble baths are relaxing, did you also know they are good for your health? Warm baths have similar benefits to our bodies as exercise. First, a bath helps improve our circulation, which also reduces stiffness. Second, it lowers cortisol levels, the stress hormone, which can have adverse effects on your body over time.
Because so many find baths beneficial to their well-being, the bath product market has dramatically expanded, with new bath companies popping up all the time. Most of these artisan bath product companies offer healthier, more natural bath product alternatives than what you usually find at the store. Best of all, many of these small artisan companies offer a bubble bath subscription box, so you never have to worry about running out of your favorite bath products.
These boxes pair well with other self-care related subscriptions too. What about one for books or for candles to complete your experience?

Bubble Bath Boxes
Sudzly
Front Range Soap
Naturally Vain
Bath Bevy
Bath Blessing Box
Bombs and Bubbles Box
Laki Naturals
Bathopia
Sudzly

Sudzly specializes in all-natural, non-toxic premium bath and body care products. All items are made with 100% essential oils and are free from known carcinogens, dyes, petroleum-based ingredients, and toxic preservatives. Though the owner, Holly Roper, once created personal bath and body products for her family, she now works hard to curate monthly boxes to help others realize the difference that using all-natural products makes.
Roper works with artisans from all over the country to bring you an array of premium quality products, allowing you to try various soaps and bubble bath products.
Sudzly is a bubble bath subscription company and does not offer individual products for sale. However, they do have a soapbox available for a one-time purchase, the Soap Box One Time Gift. They have 3 different subscription boxes, one of which is the Bath Bomb Box which is available in 3 different duration options:
Month-to-month for $32
3-month prepay for $93
6-month prepay for $180
The Bath Bomb Box includes 2 all-natural bath bombs and 2-3 bath and body deluxe items.
Front Range Soap

Front Range Soap, located in Colorado Springs, Colorado, produces unique and creative soaps to enhance your bath experience. They only use safe premium ingredients to make all of their bath and body products.
Though Front Range Soap is a subscription box company, they also sell some of their products for individual sale through their online store. Some of the options available include: bath bombs, cameo soap lacey heart, bubble bath, lotion, and specialty molded soaps like their Angler Soap, Western Soap, and a soap that's shaped like a revolver.
Front Range Soap has 2 different subscription boxes:
Bath & Spa Luxury Box for $34.99 per month
Bath & Spa Deluxe Luxury Box for $43.99 per month
Each of the boxes comes with a different theme; March is shamrocks and February was hearts. Each of the subscription boxes is month-to-month and can be canceled anytime.
Naturally Vain

Naturally Vain started with a mother's love for her family. She saw that the products used in her home contained potentially harmful chemicals, preservatives, artificial scents, and dyes and decided to create natural bath and body products that would be safer.
What started as a way to create safer home products for her family soon expanded to sharing with friends and eventually became a small home business. Naturally Vain started selling at local farmer's markets and grew into the corporation it is today.
Though the company grew over the years, the owners still honor their mother's intentions to create safe handcrafted products made with natural vegan ingredients. Naturally Vain now has an extensive line of personal care products such as bath products, hair products, face treatments, body wash, candles, and sanitizer.
Naturally Vain also offers gift sets and monthly clubs. They have 2 monthly bath clubs:
Monthly Bath Bomb Club for $19.06 per month. Contains 6 large 7 oz bath bombs.
Monthly Bath Lovers Club for $19.06 per month. Contains 5-6 bath and body items.
Each club includes free shipping in the US and Canada. Plus, the first month for both clubs is just $9.
Bath Bevy

Bath Bevy's founder Samantha is a long-time lover of baths and has used them as a form of therapy to help ease her aches and pains due to a medical condition. Though Bath Bevy does not create their own line of products, they curate products from all over the country to develop their different bubble bath subscription boxes.
Bath Bevy is an online bath and body shop that offers a variety of collections such as:
The Love Collection
For Bath Lovers
For Shower Lovers
Treat Yourself Collection
Seasonal Collection
Bath Bevy sells an array of product options beyond bath products; they also market candles, body scrubs, lotions, hand sanitizer, lip balm, and facial products.
Bath Bevy also has two bath subscriptions:
Bath Bevy Subscription. Available in the month-to-month, 3-month prepay, 6-month prepay, 12-month prepay, and quarterly options.
TUBLESS Bath Bevy Box. Available in 3-month prepay, 6-month prepay, and 12-month prepay options.
Bath Blessing Box

Bath Blessing Box was created to make relaxing easier, cheaper, and more enjoyable. The goal at Bath Blessing Box is to help people relax and encourage them toward a healthier life.
Bath Blessing Box saves people time and money, which are both significant stressors in most people's day-to-day life. After signing up for one of their bath subscriptions, you will receive your monthly box of relaxation conveniently at your door. Bath Blessing does all the work for you, curating the perfect box of fun bath products.
The Bath Blessing Box's primary focus is their subscription boxes; however, they also offer many of their products for individual sale. In addition to their bath subscriptions, they also sell items like shower steamers, artisan hand-crafted soaps, head-twirling Turkish towels, and shave kits for men.
Plus, they have 3 specialty boxes that may be purchased without a subscription, their Birthday Box, Gentleman's Survival Kit, and Thankful For You Relaxation Box. If you are looking for an ongoing gift for yourself or someone else, they also have Sanctuary Box available in 3 types: Surprise Me, Bath, and Shower.
Each subscription comes with 5-8 items. All boxes will contain 1+ luxury bar soap, 1+ bath scrub, 1+ bath bomb or shower steamer, plus products specific to the box you choose.
Bombs and Bubbles Box

Bombs and Bubbles Box is a bubble bath subscription company. They offer a few different bath bombs and soaps for individual sale, often from previous boxes, and novelty soaps like adult items, magical creatures, and Potter soaps. Plus, they have a couple of one-time boxes like their Gamer Box, Leftover Box, and previous month's boxes.
Bombs and Bubbles Box sells 3 different bubble bath subscription boxes:
The Fuse – $17.99 per month

Ideal for the occasional bather
3 full-sized handmade bath bombs

The BOMB – $32.99 per month

5 full-sized handmade bath bombs

The Detonator – $40 per month

6 full-sized handmade bath bombs
Includes free shipping
Each month the box is filled with different scented themed bath bombs, with no two the same. The bath bombs will float, fizz, and foam, enhancing your bathing experience.
All of the bath subscription boxes ship out on the 10th of each month and shipping fees are calculated at checkout. Subscriptions automatically renew on the 24th of each month.
Laki Naturals

Laki Naturals, founded by Tiffany Lerman in 2018, is a clean beauty company that prides itself on creating vegan, cruelty-free, natural personal products.
Laki Naturals offers a few different product lines to aid in overall wellness, some of the different products available at their online store are: Hawaiian throat soaks, shower fizzy, epsom salt bath bubbles, foot soak, body scrubs, bath oil, bath fizzy, and sleep mist.
Laki Naturals also has a few bundle options that do not require a subscription, including their Magnesium Flakes Soaking Set, Magnesium Flakes Bath Soak Gift Box, and Lavender Sleep Bundle.
All of the Laki Naturals' bath soaks are eligible to be purchased as a subscription. This includes individual bath soaks and sets. The bath soaks are made with magnesium crystal flakes, Hawaiian sea salt, and the preferred natural fragrance. Bath soaks help to soothe achy muscles, promote relaxation, and aid in a better night's sleep.
And, there are 7 different fragrances to choose from:
Rose
Charcoal Lava
Coconut Milk
Eucalyptus Peppermint
Lavender
Neroli
Unscented
Plus, you will receive a 10% discount on all subscription items.
Bathopia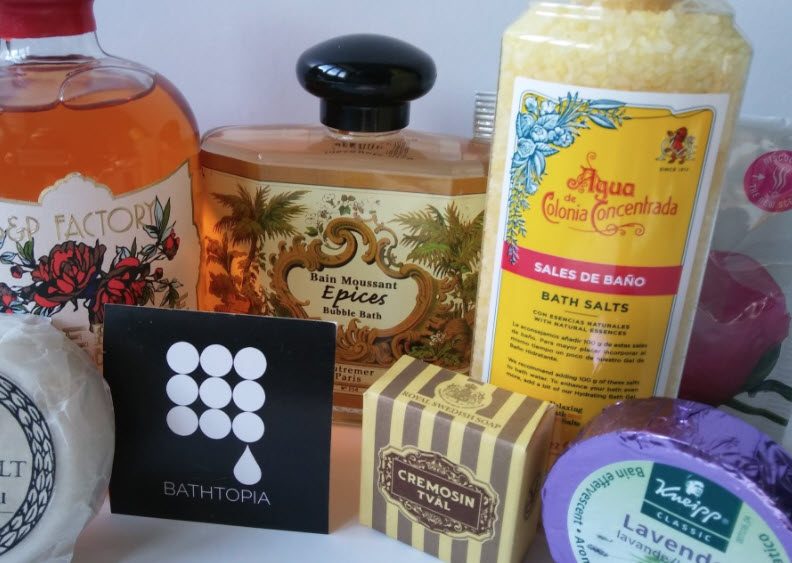 Not surprisingly, Bathopia focuses on bath-related products. They've been operating since 2000 and aim to provide pampering gifts. Their Bath of the Month subscription box has been running for an impressive 15 years. The company doesn't create their own products. Instead, they source high-quality luxury products, along with niche brands, and small-batch creations.
When ordering, you can choose to receive the boxes 3, 6, or 12 times per year. There are 2 versions of the club to choose from – Standard and Deluxe. The Deluxe version provides more expensive items and/or more items in each box.
Regardless of the box and frequency, you need to pay for an entire year up-front. For the Standard box, the price comes to $120, $240, or $450, while the total for the Deluxe box is $150, $400, or $575.
All of the products are bath related, including bath fizzies, milk baths, bubble bath products, and bath salts.
There is also the Bubblepak. This subscription costs $125 per year and is sent out every 2 months. It contains at least 4 bath and body products per year. The difference is that these are all samples or travel-sized items. The box is promoted as a great way to try out new brands. It could be useful for traveling too.