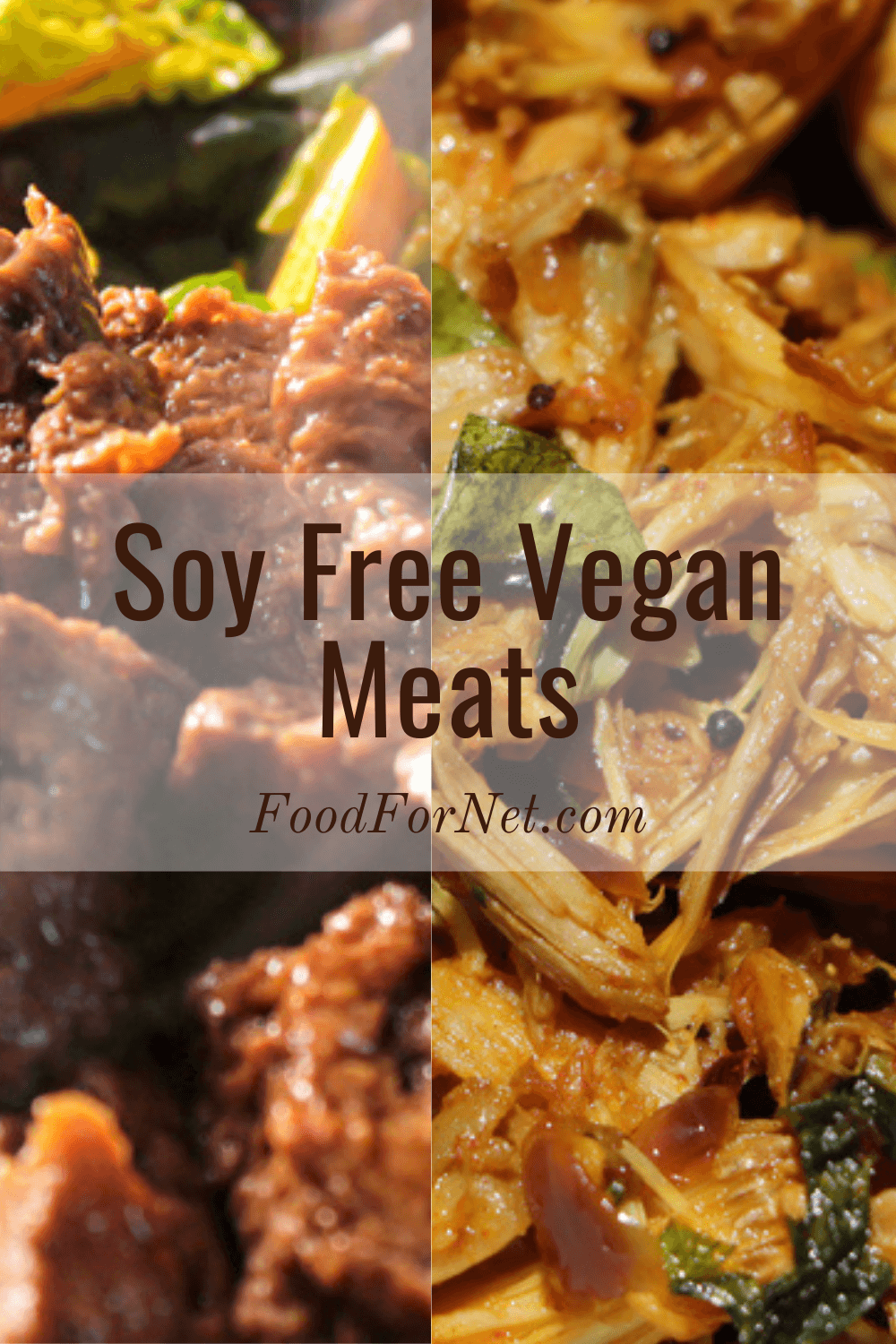 Getting enough protein is always essential, but doing so on a vegan diet can feel slightly overwhelming. After all, you're avoiding meat, fish, dairy, eggs, and cheese, which are all common sources of protein. Thankfully, there are plenty of options left in the plant world. You just need to know where to look.
We've talked about vegan protein and vegan meat alternatives on the blog before. This time, we're taking a closer look at soy free vegan meat.
The topic is an important one, as many vegan products rely on soy as a key ingredient. Tofu, tempeh, textured vegetable protein, and Tofurkey are just a few examples. You'll also see soy featured in many of the vegan products that are designed to look and taste much like meat.
While products like these can taste delicious, heavily relying on soy might not be a great plan. Soy is one of the most controversial ingredients out there. There are multiple potential issues, including how soy contains antinutrients, the presence of phytoestrogens, and the potential for genetic modification.
Plus, as if all of that weren't enough, soy-based meats are often highly processed. Many are full of additives too. They might be okay periodically, as part of a healthy diet, but they're certainly not something to rely on daily.
The good news is that there are plenty of alternatives to choose from. Why not take a look and find some new favorites?
Best Soy Free Vegan Meats
Beyond Meat
Seitan
Field Roast
Cool Foods
Atlantic Natural Foods
Quorn
Eggplant
Jackfruit
Sunshine Burgers
Amy's Kitchen
Hilary's
Beyond Meat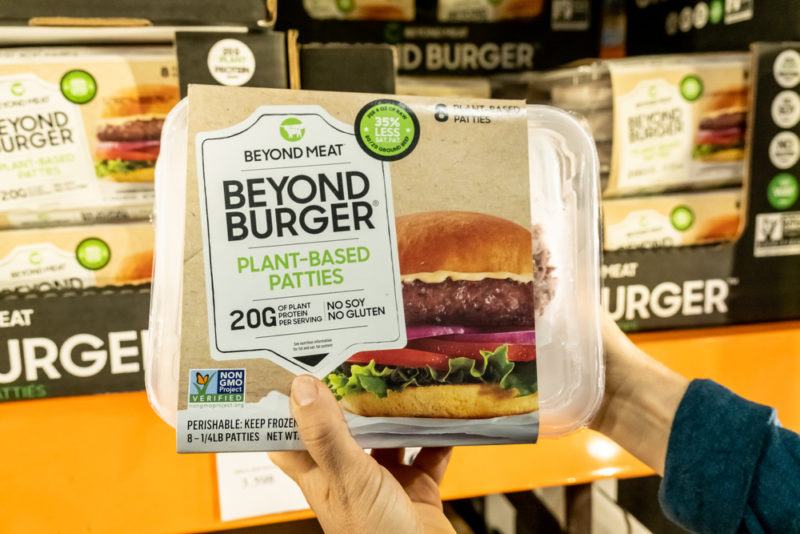 If you want a satisfying commercial meat alternative, then Beyond Meat is one of your best options. The company has made huge strides in creating plant-based meats that look and feel like the real thing.
Seriously, if you put some of the Beyond Meat products side-by-side with regular meat, it's not always easy to tell the difference. The products also taste good enough that even non-vegans often enjoy eating them.
The company has many products to choose from, including Beyond Meatballs, Beyond Breakfast Sausage, Beyond Burger, Cookout Classic, and Beyond Sausage. These products are often found in the same grocery store section as their meat-based counterparts, so you don't need to hunt around at all.
Beyond Meat aims to create plant-based meats with a similar protein profile to regular meat. They manage this well too. For example, their Beyond Burger patties have around 20 grams of protein each.
Impressively, Beyond Meat hits these protein levels without using soy at all. They rely on protein from peas, brown rice, mung beans, and faba beans instead.
The products are relatively processed. They need to be to create a texture that's similar to meat. Even so, the ingredients list is short compared to many other vegan meats and the company avoids many concerning ingredients. For example, they use beet juice extract for color and completely avoid any artificial colors and flavors.
Seitan

Seitan is an interesting meat alternative. It's made from the hydrated gluten found in wheat. Don't worry though, seitan doesn't look or taste like bread at all. It actually has a similar texture and appearance to regular meat.
Seitan is also versatile. You might see it used as a chicken alternative in a stir fry or on top of a pizza. Some people get more creative with it, using seitan to create an alternative to ribs or wings.
Because seitan relies on wheat gluten, most products won't contain any soy. Still, you should always check the label, as some companies do add unexpected ingredients.
The reliance on gluten makes seitan impractical for anyone sensitive to gluten.
Interestingly though, the nutrient balance is quite different than regular meat. For one thing, seitan is one of the few wheat products that isn't high in carbs. You can even eat it on a keto diet.
Seitan is a decent source of protein too. This is another reason why it works so well as a meat substitute.
Field Roast

Field Roast takes the same wheat gluten that is used for seitan and creates a large selection of products with it. This includes a selection of plant-based sausages, burger patties, deli slices, nuggets, wings, and mini corn dogs. There are even a few plant-based roasts.
Their selection of sausages is particularly impressive, including flavors like Caramelized Onions & Beer Plant-Based Bratwursts, Apple & Maple Plant-Based Breakfast Sausages, Smoked Apple & Sage Plant-Based Sausages, and Italian Garlic & Fennel Plant-Based Sausages.
The products use a decent number of ingredients and plenty of processing to give them their meat-like texture. Thankfully, this is another brand that focuses on being as natural as possible. To do so, they use ingredients like yellow pea flower, shiitake mushrooms, sea salt, celery, and porcini mushroom powder.
While their products are all entirely plant-based, only their meat substitutes are free from soy. They have another range called Chao, which are vegan cheese alternatives and are made using fermented tofu.
Cool Foods

Cool Foods isn't known for its large product selection. They only have one meat alternative, which is their Veggie Bacon Bits & Dips. As the name suggests, the product is designed to be used just like bacon pieces.
These bacon bits aren't nearly as versatile as the ground crumbles, chicken alternatives, or burger patties from other companies. Still, the hickory bacon flavor is sometimes exactly what you need.
Plus, the bacon bits are much less processed than most other options. There are only five ingredients: Pinto beans, sunflower oil, yeast extract, natural flavors, and vitamin E. This combination makes the bits naturally gluten free, soy free, and vegan friendly.
There's no added sugar either. That's a serious advantage, as plenty of brands use sugar in their meat alternatives.
Atlantic Natural Foods


Atlantic Natural Foods tries to make its products suitable for a broad range of diet types. Of particular interest is their Neat Meat Replacement Mix. This acts as an alternative to ground beef. Pecans and garbanzo beans are the main sources of protein, making this a gluten free and soy free source meat replacement.
There are four flavors to choose from: Original Mix, Italian Mix, Southwest Mix, and Mexican Mix. Spices aren't the only difference between these flavors. There are some other ingredient changes too.
Atlantic Natural Foods does have other products too, including prepackaged meals, meat alternatives, and fish alternatives. You'll need to pay close attention to the ingredients labels for these, as they're not all vegan-friendly and some may contain soy.
Quorn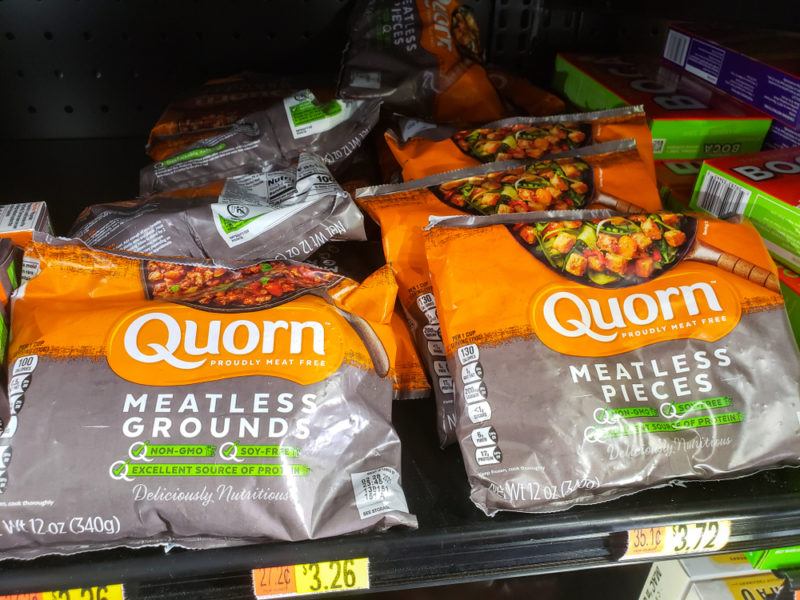 Quorn is a popular meat alternative in the UK. You can find it in the US too, although the company faced some challenges when first introducing their meat alternative.
One problem is that the product was initially marketed as a mushroom-based product. That claim isn't strictly accurate, as Quorn uses a type of micro fungus instead. There were also suggestions that Quorn is dangerous and can cause side effects in humans.
Some people indeed experience side effects from Quorn, but the same is true for many other foods, including soy, wheat, dairy, and nuts. There's no evidence that Quorn is unsafe, and it has been a favorite meat alternative for millions of people – so clearly the company is doing something right.
Controversy aside, Quorn is well-known for its appealing texture and flavor. There are also some interesting products to choose from, including Nuggets, Meatless Pieces, and Buffalo Dippers.
Just be sure to choose your products carefully, as some of Quorn's offerings are only suitable for vegetarians, not for vegans.
Also, mycoprotein isn't the only ingredient in the products. Quorn uses a variety of other ingredients too. These help to give the products the desired taste and texture, but also mean that Quorn's products are more processed than may be desirable.
Eggplant

This addition might sound like an odd one. After all, the previous entries all aim to have a similar appearance and texture to meat. Most can be used in exactly the same way.
Eggplant is different. It's simply a vegetable, which means that it is unprocessed. You can easily cook eggplant at home and use it in a burger or a sandwich instead of meat. Making your own homemade vegan meat alternatives, on the other hand, takes quite a bit of work.
Eggplant works well because it has a surprisingly meaty texture. Some people briefly sauté or grill the eggplant, which cooks it just enough while giving it a firm texture. You can also cook and mash eggplant, then use it to create patties or in a similar way to ground beef. The site Have a Plant offers fantastic instructions for how to take full advantage of eggplants.
There is one limitation though. While can give you a similar texture to meat, eggplant is low in protein. This means that it won't satisfy you in the way that many other meat alternatives do. Getting around the problem is easy though, just make sure that you're getting plenty of protein elsewhere in your meal.
Jackfruit

Jackfruit is similar to eggplant in that the texture is the most interesting part. Jackfruit is an odd fruit, as when the flesh is cooked, it has a similar texture to pulled pork. You can easily use jackfruit in any dishes that traditionally feature pulled chicken or pulled pork.
Jackfruit tacos, for example, have become incredibly popular.
Of course, while jackfruit has a similar texture to pulled pork, it doesn't taste the same at all. Jackfruit flesh is sweet instead. This sweetness will complement some meals and the right combination of spices will make it less noticeable. Still, jackfruit is never going to actually taste the meat it's replacing.
Just like eggplant, jackfruit is low in protein. As a result, dishes like jackfruit tacos won't be that filling unless you add some beans or another source of protein.
Sunshine Burgers


If you don't mind a limited selection, then Sunshine Plant-Based Foods is an interesting company to consider. They offer four types of plant-based burger patties, which all use brown rice and sunflower seeds as their main sources of protein.
Original. The original flavor, which relies on carrots, chives, and sea salt as key flavor ingredients. Offers 10 grams of protein and 17 net grams of carbs per patty.
Shiitake. A mushroom-heavy burger that also relies on quinoa. Each patty contains 7 grams of protein and 9 net grams of carbs.
South West. A zesty burger that includes black beans, jalapeno, and cilantro. There are 9 grams of protein and 10 net grams of carbs per patty.
Garden Herb. An herb-focused burger that is designed to have a mellow flavor. There are 17 net grams of carbs this time, along with 10 grams of protein per patty.
The burgers all come frozen in boxes of four patties, where each patty is individually wrapped, free from both gluten and soy, USDA organic certified, and Non GMO Project verified.
Amy's Kitchen

Amy's Kitchen doesn't just focus on meat alternatives. They have plenty of other products too, including meals that can be reheated. You'll need to pay close attention with these, as only some of the products from Amy's Kitchen are plant-based. Other items, like their cheese pizza, use animal-based products.
One product to look out for is the Organic Summer Harvest Veggie Burger. This relies on ingredients like kale, quinoa, carrots, onions, and brown rice flour. It's a low protein choice, with just 2 grams of protein per patty. Still, the patty is packed with nutrients and you don't always need a high protein choice.
Their Sonoma Veggie Burger is another option. This one uses quinoa as well, but the other ingredients are quite different. These include oats, walnuts, mushrooms, potatoes, and garbanzo bean flour.
This time, you end up with 4 grams of protein per patty. While that's still on the low side, it is twice what you find with the Summer Harvest burger.
Also, the product line from Amy's Kitchen is smaller than normal right now. The company is doing all it can to protect its employees, which includes using social distancing practices. To do so, they've focused production on products that can be safely made. Because of this, some of your favorite products might not be available.
Hilary's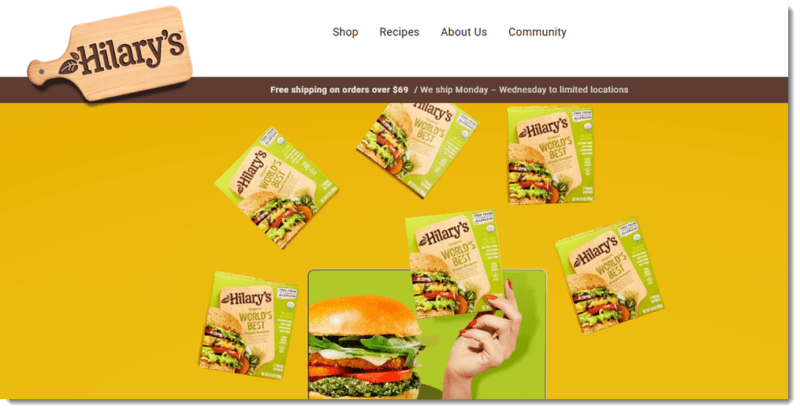 Hilary's focuses on plant-based foods that are free from common allergens, including soy, nuts, and corn. They're another company that mostly focuses on veggie burgers, although they do also offer some meatless breakfast sausage products and whole grain medleys.
The burgers offer around 8 grams of protein each. They're also free from all of the top 12 food allergens. The protein content might be lower than a classic beef burger, but you're still getting enough for most situations.