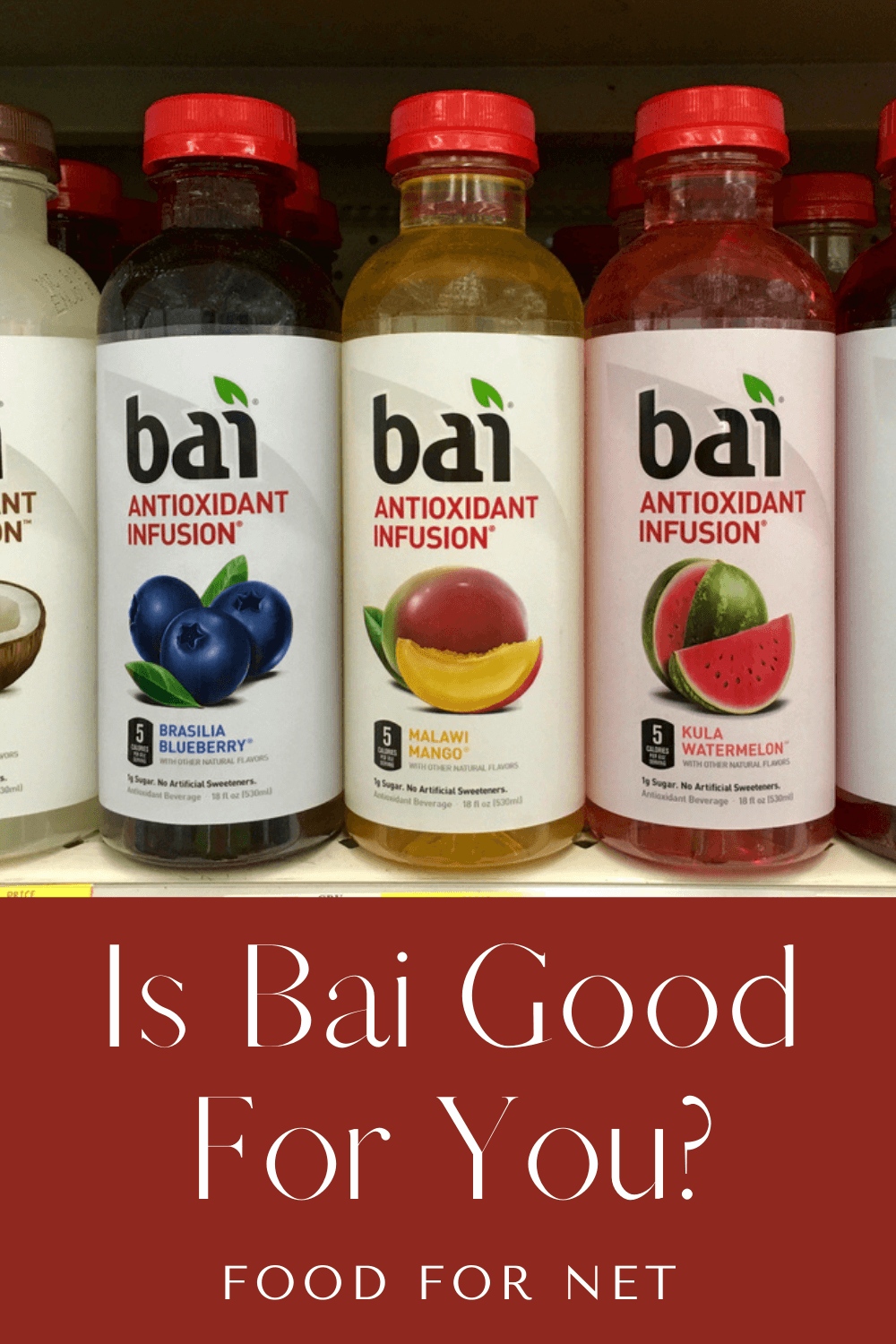 Bai calls itself WonderWater, suggesting that the company's selection of drinks provides all the benefits of water, plus some extra ones. The appeal is easy to see too, as many of the products are loaded with antioxidants and other interesting plant-based compounds. Is Bai good for you in practice?
After all, plenty of foods and drinks sound like they should be amazing, yet simply aren't. Gatorade and Powerade are classic examples. Despite being loaded with electrolytes, the original versions of those drinks are also packed with sugar and additives.
While Bai is certainly more natural than Gatorade and Powerade, simply being natural isn't the whole story. Remember that natural foods can still be unhealthy and lead to weight gain. To find the truth about Bai, we need to dig deeper into the company's product range and see what the drinks have to offer.
Is Bai Good For You?
What Is Bai?
Bai Products
Benefits Of Bai Drinks
Limits Of Bai Drinks
Could The Drinks Help You Lose Weight?
Are Bai Drinks Healthy?
Alternatives To Bai Drinks
What Is Bai?
In 2009, Ben Weiss founded Bai Brands, based on his interest in the coffeefruit. The company focuses on low calorie fruit drinks, currently offering five different product ranges, with a variety of flavors in each.
The marketing across Bai's site makes these drinks all sound amazing and incredibly healthy. Even the name Bai itself reflects this, as it is the Chinese word for pure. There's also a strong emphasis on making sure they taste good as well.
Bai Products

Bai has five main product ranges, with different flavors and features for each type of product. So, to fully consider the health implications, we need to look at what each product line has to offer.
Antioxidant Infusions
These are the flagship products for Bai. There are plenty of flavors to choose from, including Brasilia Blueberry, Dominica Dragon Passion Fruit, Zambia Bing Cherry, and Kula Watermelon.
As the name suggests, the drinks have added antioxidants. These come from coffeefruit, which Bai refers to as their secret superfruit.
The drinks just contain 10 calories each and use a combination of erythritol and stevia for sweetness. Some of the flavor comes from fruit juice concentrates, but there are natural flavors present as well.
Reviews suggest that the drinks really do taste good and have a minimal aftertaste. However, you may need to experiment a little to find out which ones you like the most, as everyone has their own personal preferences.
Interestingly, the drinks also contain 55 mg of caffeine, similar to the amount you find in green tea. This could be a problem if you're highly sensitive to caffeine, while others may enjoy the energy boost instead.
Cocofusions
Coconuts are the feature ingredients for these drinks. However, the drinks are quite different than traditional coconut water, as they have extra flavoring ingredients, salt, caffeine, and antioxidants. The same sweeteners are present as well.
There are three flavors for these drinks: Madagascar Coconut Mango, Molokai Coconut, and Puna Coconut Pineapple. The inclusion of fruit in two of these is interesting and creates a distinctly tropical flavor profile.
While the drinks tend to be popular, some people don't enjoy the flavor or find that the drinks make them feel sick. You'll need to experiment to see whether you enjoy them.
Bai Boost
These drinks are similar to the original Antioxidant Infusions. The main difference is that they contain 110 mg of caffeine per serving, rather than 55 mg.
This puts them up there with a cup of coffee. They also end up being a fairly healthy alternative to energy drinks, especially as the extra caffeine comes from tea extract.
The drinks are also labeled as being antioxidant infused, as they include polyphenols from coffeefruit and tea. Antioxidants are important, as they're linked to benefits like decreased inflammation and lower disease risk.
However, those benefits are most relevant when you're getting antioxidants in your diet from whole foods. Antioxidants added into foods and drinks are much less relevant. Besides, the antioxidant content probably isn't that high.
Lemonades
There are just three lemonade products: Lanai Blackberry Lemonade, Burundi Blueberry Lemonade, and Sao Paulo Strawberry Lemonade. They all contrast the traditional lemonade flavor with some type of berry.
Despite being lemonade, the patterns are the same as most other Bai drinks. So, you're still getting 55 mg of caffeine per serving, two types of sweetener, and some additives.
Supertea
These products follow the same pattern as the previous ones, except they also rely on brewed tea. You may get extra polyphenols from the tea, although the caffeine content remains the same as with other products.
Discontinued Products
Bai did also have two other products, which we talked about in an earlier version of this post. One was Antioxidant Water, which was a pH balanced water with electrolytes for flavor – much like Smart Water.
They also had Bubbles, which were similar to Bai Antioxidant Infusions, except that they were sparkling and sold in a can. These products no longer feature on the Bai website and may be discontinued. That said, some retailers may still offer them.
While this type of product change is frustrating, it isn't even a little unusual. Many companies play around with their product lines like this, so you can never be certain that a favorite drink will keep being produced.
Benefits Of Bai Drinks

Helps To Hydrate You
The biggest benefit of Bai isn't the antioxidant content. It's the water. This isn't just because water is essential for human survival, but also because we often don't quite get enough.
We get enough water to live. That much is clear. Yet sometimes we end up mildly dehydrated throughout our day. It's easy to do, as we simply get so focused on whatever else is going on and don't stop to drink as much water as we need.
Getting enough water, whether from pure water, sparkling water, Bai, or something else, gives us the water we need and promotes optimal function.
A Low Calorie Flavored Drink
Another feature is that Bai drinks are all low in calories, yet they're flavored. This is incredibly useful, as plain water isn't that enjoyable.
Many of us find it much easier to stay hydrated if what we're drinking actually tastes good as well. Bai drink works well in this arena, with many reviewers loving the flavor.
Much Better Than Soda
Bai is also much much better than many alternatives. For example, a 12 fl oz can of coke contains 140 calories and 39 grams of sugar, while a bottle of Bai has just 10 calories and 1 gram of sugar.
You could even say that Bai is better than fruit juice, as it's lower in calories and sugar, while still offering antioxidants.
The lower sugar content also means that Bai is better for your teeth. It shouldn't cause the same damage that you see with soda and other sugary drinks.
Uses Natural Sweeteners
Bai drinks get their sweetness from stevia and erythritol. While these sweeteners do have some issues (we'll come back to them later), they're much less concerning and controversial than artificial sweeteners or sugar.
So, out of all the possible ways to sweeten their drinks, Bai has chosen wisely.
They're Convenient
The final benefit of Bai drinks is that they're convenient and practical. There's no preparation required at all; you simply buy one and drink it as needed.
This is ideal when you're away from home and need fast hydration.
Limits Of Bai Drinks
The Antioxidants May Not Be Powerful
Antioxidants themselves are highly relevant for health. By decreasing oxidation, they're able to protect your body against free radical damage. This effect provides many benefits, potentially even decreasing your risk of various diseases.
However, most antioxidant benefits have been found in whole foods, particularly fresh fruit. There's much less evidence that adding antioxidants into foods and drinks helps at all.
Doing so could even be harmful – a pattern that's been shown with antioxidant supplements.
Plus, antioxidants aren't interchangeable. They all have different properties and effects in your body. Their activity is also influenced by the other chemicals and nutrients in the food you're eating.
These patterns all mean that the antioxidants in Bai drinks aren't going to be as powerful as simply eating antioxidant rich food. Honestly, the antioxidants are mostly just a marketing ploy.
Remember too that antioxidants are most relevant when your body needs them. If your diet is packed with fresh fruit and vegetables, then a small amount of extra antioxidants from Bai won't be that relevant at all.
Not As Natural As You'd Expect
Bai avoids artificial sweeteners and flavors, which makes the drinks sound natural. Yet, in practice, the company is still using two different types of alternative sweeteners, along with natural flavors and some other additives.
This highlights an important distinction. Natural additives may be a little better for you than artificial ones, but they're still not amazing.
In fact, stevia and erythritol are both associated with some issues and can sometimes lead to side effects.
Natural flavors are even more concerning, as the term just means they're derived from nature. These flavors may still be heavily processed and can even use synthetic additives in their production.
Honestly, there are still huge gaps in our understanding of natural additives. They may be safe, particularly in small quantities, but they're certainly not as natural as the name implies. Most don't offer health benefits either, so it might be best to limit your intake as much as you can.
Some natural additives could even come come with risks that we're yet to identify.
Could Make You Nauseous
Bai drinks contain two different types of sweeteners, both of which have potential side effects. The most common one is to make you feel a little nauseous.
Thankfully, side effects from sweeteners are uncommon. Plenty of people use stevia and erythritol regularly without any problems.
The risk simply means that you should be cautious when you first have Bai drinks. Start with a small serving, that way you notice any side effects before they become serious.
The use of two different sweeteners is a little frustrating, actually, as it means that anyone sensitive to stevia or erythritol will struggle with Bai drinks. Drinks with just one type of sweetener tend to work better for more people.
All The Drinks Contain Caffeine

Caffeine is a great energy booster and could even offer some health benefits. Yet, it's not always what you're looking for.
Too much caffeine can lead to considerable side effects, including anxiety, insomnia, headaches, shakiness, and more. Some people are also sensitive to caffeine, so they need to be very cautious about the amount they consume.
Bai drinks are a problem here, as they all contain some caffeine. The amount isn't high – just what you'd see in a mug of tea. However, this could still be too much for anyone sensitive to caffeine. If this is the case for you or your caffeine consumption is high, you might need to give Bai drinks a pass entirely.
Could The Drinks Help You Lose Weight?
Low calorie drinks like these can be relevant for weight loss. They give you something delicious to enjoy, without adding anything to your waistline.
Bai drinks may even be better than most because they contain some caffeine. Caffeine is a stimulant and may increase your metabolism in the short term, leading to a slight increase in fat burning.
Any weight loss effect is strongest if you're using Bai drinks instead of something more calorie dense, like soda. Swapping soda for Bai regularly could easily decrease your calorie intake and help you lose weight.
However, the sweeteners in Bai drinks complicate matters. While these sweeteners don't contain calories, they have been linked to other problems, like increasing cravings for sweet food and harming gut bacteria.
This means you should always pay close attention to yourself. How do you respond to Bai drinks? Do they help you to consume fewer calories or do you find your calorie intake increases instead? If the latter is the case, then Bai may not be right for you.
Are Bai Drinks Healthy?
The best way to categorize Bai drinks is to say that they're healthier than many alternatives on the market, but they're still not ideal. After all, they rely on two types of sweetener and added flavors.
However, if you're having a Bai drink every so often instead of soda then you're likely to see health improvements. The drinks are also useful options when you're away from home and need easy hydration.
Then there's the antioxidant content. This is the biggest selling point of the drink, but isn't actually that great. It's always much better to get your antioxidants from natural sources, rather than processed foods and drinks with antioxidants added in.
Besides, when you rely on whole foods, you get a variety of types of antioxidants. Bai drinks tend to rely on coffeefruit for antioxidants. That's just one type of antioxidant, whereas whole food will provide a variety of antioxidants.
Alternatives To Bai Drinks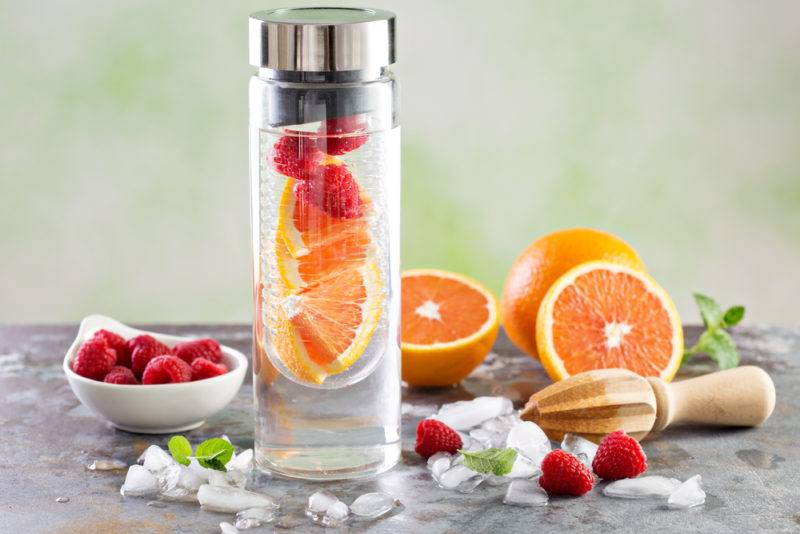 Rather than turning to Bai, it's much healthier to make your own drinks. This way you can skip the additives entirely.
The simplest answer is, of course, water. There are no concerning ingredients to worry about and water will easily keep you hydrated. If you don't like the taste of water straight from the tap, you could try filtered water instead.
Sparkling water is a useful alternative. There are still no additives to worry about, but the bubbles help to keep your drink interesting.
What about flavor?
Well, one trick is to add some lemon or lime juice to your water. This gives you a vibrant splash of flavor, while adding barely any calories. You could use other types of fruit juice as well, but watch out for the amount of sugar.
There's also infused water. This is a fun style where you're leaving pieces of fruit in your water for at least a few hours. Herbs and some vegetables (like cucumber) work surprisingly well too.
Basically, the different ingredients all tweak the flavor of your water, making it tastier without adding much at all to the calorie content. You might even get tiny amounts of antioxidants and nutrients from the fruit.
Frequently Asked Questions
Does Bai Have Electrolytes?
The original Antioxidant Infusions from Bai don't focus on electrolytes, but there are electrolytes in their Cocofusions. The amount of electrolytes here is likely to be similar to regular coconut water.
These patterns suggest you're not getting a large amount of electrolytes in any of these drinks. They certainly won't stack up to electrolyte replacement drinks like Gatorade and Pedialyte.
Is Bai Good For Diabetics?
Bai could work for diabetics, as most of the products rely on alternative sweeteners rather than sugar. However, these are still highly processed drinks with a decent number of additives, so they're not ideal.
Does Bai Have Caffeine?
Most Bai drinks do contain some caffeine, often ranging from 45 mg to 55 mg of caffeine per serving. There's also Bai Boost, which has 110 mg of caffeine instead.
Is Bai Vegan?
Bai is vegan friendly and doesn't use any animal ingredients or byproducts. Even the sugar is vegan friendly and hasn't been fileted using animal bone char.
Are Bai Drinks Keto?
Bai is theoretically keto friendly, containing either one or two net grams of carbs per serving. However, opinions vary about whether you should consume Bai on a keto diet. Many people say that you shouldn't, as the drinks are heavily processed and use artificial additives.
There's also the chance that some of the additives contain more digestible carbs than they appear to. This is partly why many keto dieters choose to focus on minimally processed drinks instead.