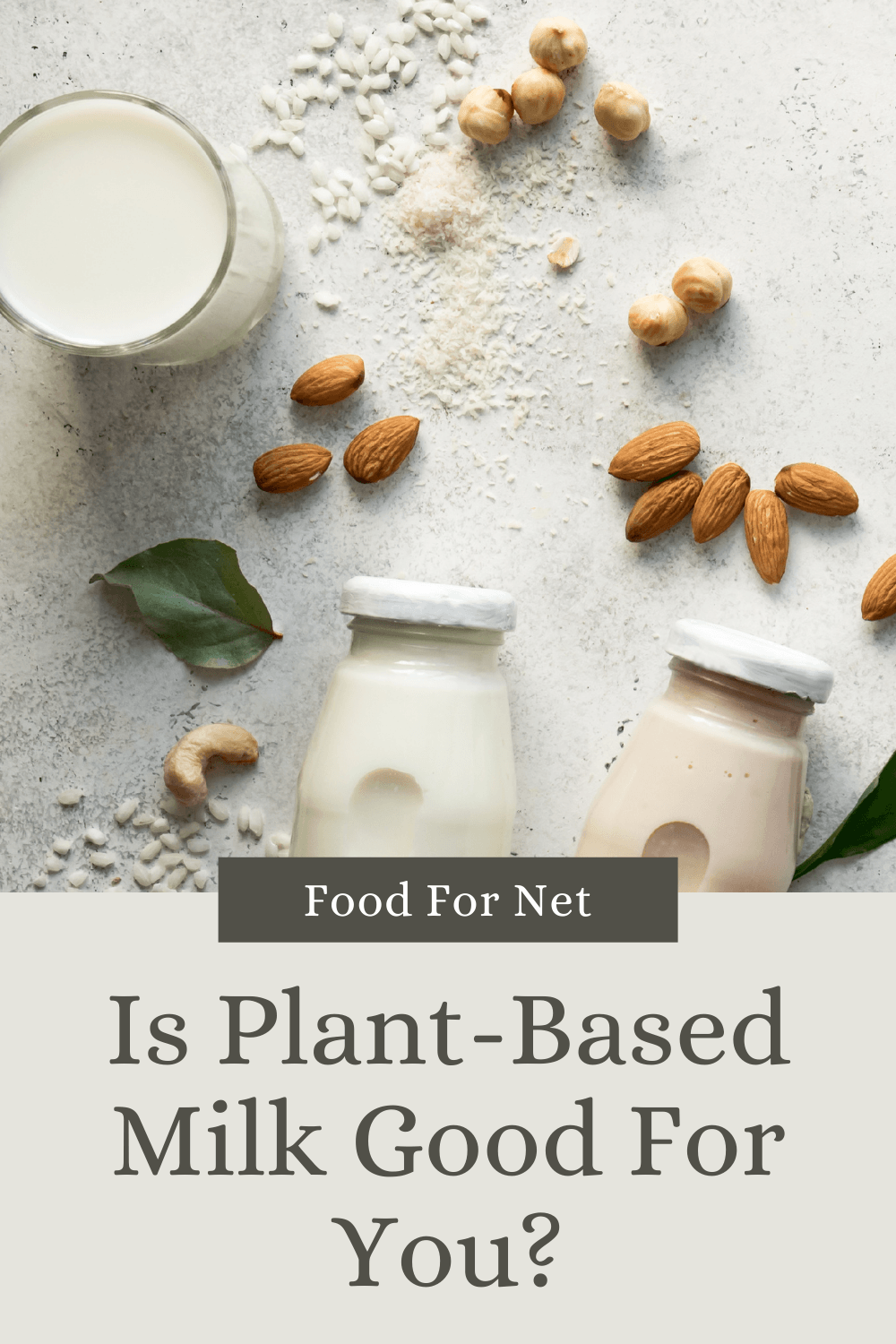 Plant-based milk has been exploding in popularity. Concerns about health, the environment, and lactose intolerance mean that more people are turning to plant-based alternatives than ever before. There are plenty of types to choose from too, including soy, coconut, and oat milk, along with many excellent plant-based milk brands. Is plant-based milk good for you though?
It's easy to see why plant-based milks have gained popularity in recent years. Dairy milk has lost the golden glow that it once had and is now often seen as an unhealthy ingredient that promotes inflammation and weight gain. Yet, regular milk mightn't be as unhealthy as we often assume and plant-based milk has some issues that are often overlooked.
So then, is plant-based milk good for you? And, if it can be, which types of plant-based milk are the most powerful? They are, after all, quite different from each other, so they won't have the same benefits for your health.
Is Plant-Based Milk Good For You?
What Is Plant-Based Milk
The Problems With Regular Milk
The Benefits Of Plant-Based Milks
The Problems With Plant-Based Milk
Types Of Plant Milk
Which Types Of Plant-Based Milk Are Best?
Can You Make Your Own?
Final Thoughts
What Is Plant-Based Milk?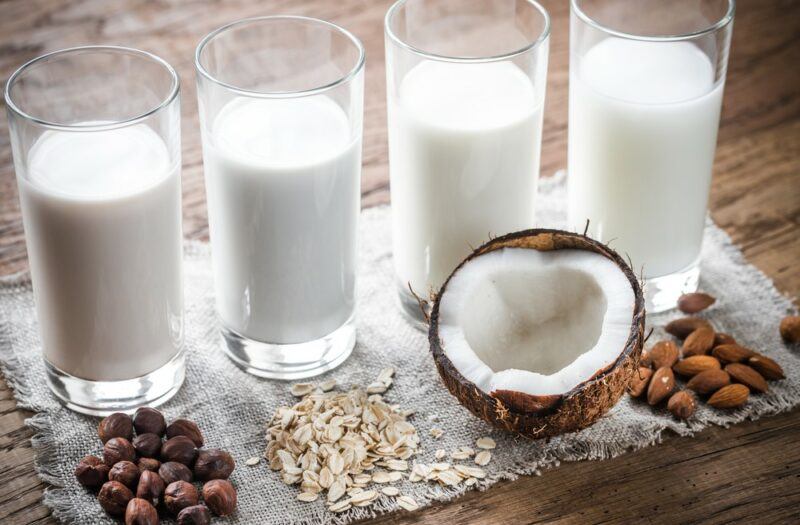 No surprises here. Plant-based milk isn't milk, not in the traditional sense of the word. Instead, it's a white liquid that is created from plants.
We call it milk (or sometimes mylk) because the liquid is designed to be used instead of dairy milk. Most types can be easily added into your coffee, baking, or poured into your cereal.
The products are often created by blending plant-based ingredients, like cashews or almonds, then straining them and diluting the resulting liquid with water. However, the processes do vary depending on the initial ingredients used.
The Problems With Regular Milk
There are many reasons to drink plant-based milk, but most boil down to one simple goal – to avoid dairy milk. This isn't too surprising either, as dairy milk is controversial and comes with some notable problems.
We're going to talk about the main issues, as avoiding these issues is one of the most immediate benefits of swapping to plant-based milk.
The Lactose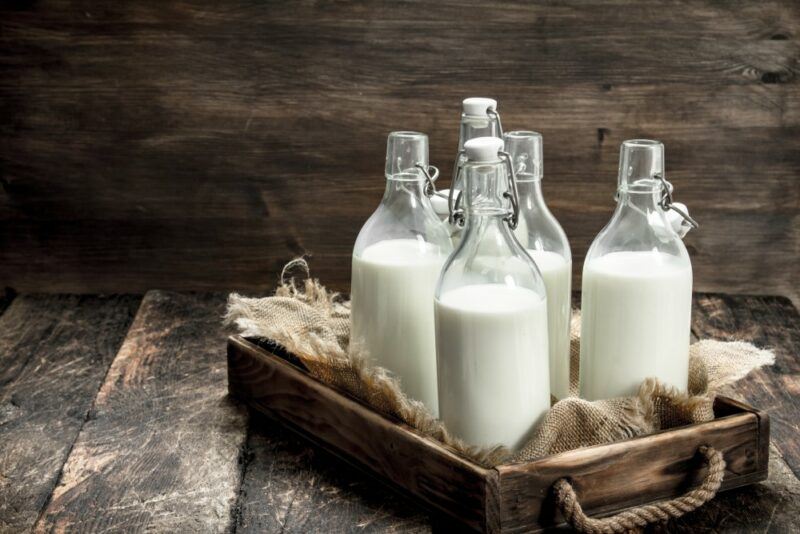 Lactose is a sugar found in milk, one that gets broken down when milk is digested. Except, we can't all digest lactose. In the United States, roughly 30 million people are lactose intolerant to some degree by the age of 20.
When this happens, your body can't digest lactose fully. If you consume it, you may see side effects like bloating, gas, and diarrhea. While the symptoms shouldn't cause you serious harm, they're not fun either. Plus, some theories suggest that consuming lactose regularly when you're intolerant may increase inflammation and contribute to other health problems.
You can get around this issue by relying on lactose free dairy products (where the lactose has been digested as part of the manufacturing process) or by using lactase supplements.
However, many people simply choose plant-based milk instead. Why not? Plant-based milk is often easier to find than lactose free options and avoids all the other issues with milk at the same time.
Sugar, Fat, And Calories
Milk is often relatively high in sugar, fat, and calories, including saturated fat. You can decrease the fat content by focusing on low fat milk, but even then you're getting a decent amount of sugar.
For example, a cup of 1% milk from Dairy Pure contains 12 grams of sugar. That's natural sugar, but even so, it might be more sugar than you want to be drinking. Plus, even that product still contains 1.5 grams of saturated fat, which is around 8% of your daily recommended intake.
Needless to say, sugar and saturated fat aren't good for you in the slightest. They've been linked to plenty of issues, including increased inflammation and higher heart disease risk.
Potential Health Risks

Milk is sometimes seen as promoting poor health as well, partly by increasing inflammation. While inflammation itself is a natural process, too much of it can increase the risk of various diseases.
Whether dairy causes inflammation or not is highly debatable. Many theories suggest that dairy products do have this effect, while research often shows no link between dairy and inflammation, or even suggests that dairy decreases inflammation.
The debate is complicated by the fact that inflammation responses may vary from person to person. For example, milk might increase inflammation for people with even mild lactose intolerance, but not for someone who can fully digest lactose.
Honestly, there are huge gaps in our knowledge about how milk influences health. Because of this, anyone worried about inflammation and related health risks, might find it safest to skip dairy milk. Milk isn't essential, after all. You can easily get the same nutrients elsewhere.
Ethical And Environmental Concerns
The problems with dairy don't just relate to nutrition. Ethics and the environment are highly relevant too.
The dairy industry is extremely controversial in this area. It's been linked to the destruction of many habitats, to elevated levels of pollution, and to substantial greenhouse gas emissions. Plus, farming practices are often unsustainable and rarely try to minimize environmental impacts.
Then there are the animals. While cows don't need to be killed for their milk, the process of milk production still isn't kind to them. To get the needed milk, cows need to give birth regularly and then be separated from their calves. It's an awful process, one that can't be avoided.
Some farms find ways to be as kind as possible to their cows, but most of the large-scale milk production companies don't do this. Instead, they're focused on producing as much milk as they can.
The Benefits Of Plant-Based Milks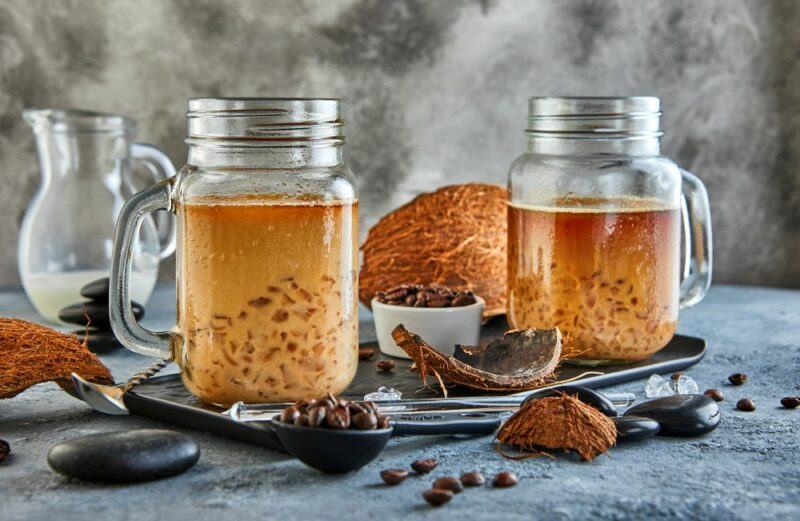 Plant-based milk doesn't just help you to avoid the problems with dairy milk. The various products also offer benefits of their own.
Can Be Excellent For Weight Loss
Most plant-based milks are naturally lower in fat and calories than dairy milk. This makes them an obvious choice for weight loss. Simply swap the milk in your coffee or cereal out for a plant-based product and you've instantly dropped your calorie intake down.
What could be easier?
You can use plant-based milk in your cooking too and even in baked foods, helping to decrease your calorie intake for these foods as well.
If you're not sure where to begin, try checking out a vegan cookbook or cooking blog. Vegan chefs are experts at creating delicious meals using plant-based ingredients. They'll often give you plenty of tips and tricks along the way too.
May Be Better For Your Heart
Plant-based milk is lower in saturated fat than dairy milk, which could be relevant for your heart disease risk. After all, high saturated fat intake is thought to raise LDL cholesterol levels, and thus increase your risk of heart disease.
There's plenty of debate surrounding this topic, including whether saturated fat is truly as bad as we think and whether saturated fat from dairy has the same impact as saturated fat from other sources.
Still… if you're worried about heart health, it's wise to decrease your saturated fat intake wherever you can, which might include swapping from dairy milk to a plant-based product.
Lasts Longer
The shelf life of plant-based milk varies, but the products do generally last longer than dairy milk. In particular, dairy milk is often good for five or so days after it has been opened.
Almond milk, on the other hand, should last for around seven to ten days, and could easily last much longer. The same is true for other types of plant-based milk. After all, plant-based products aren't going to curdle in the same way that dairy milk will.
If you haven't even opened the milk, then a plant-based product could easily last six months, if not much longer.
It's Easy To Find
Plant-based milk is incredibly common these days. You can find shelves upon shelves of different products at your local grocery store and most coffee stores now offer at least one type of milk (often without surcharge). This makes it incredibly easy to make the switch from dairy to plant-based milk.
You could even use the milk at coffee shops to experiment with. Don't want to buy a carton of coconut milk before you know whether you like it? No worries, order coffee with coconut milk instead. If you don't end up enjoying it, try one with soy milk the next day.
The Problems With Plant-Based Milk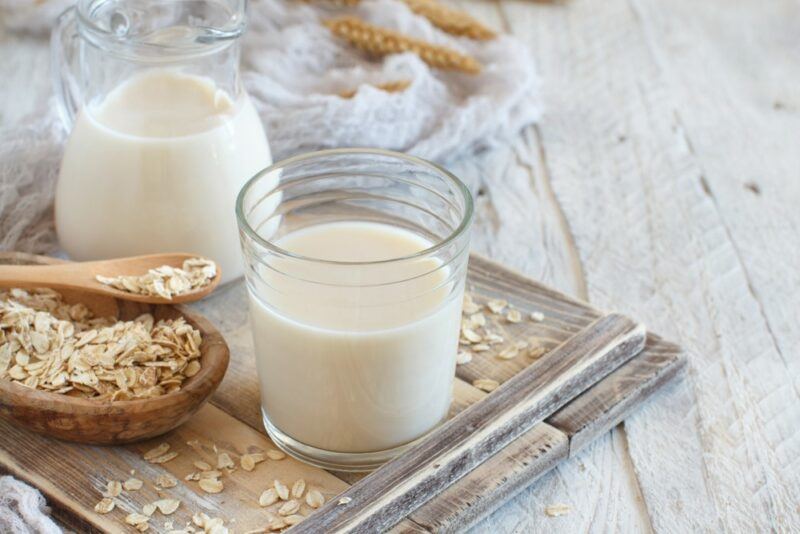 Not A Complete Dairy Substitute
Plant-based milk can function much like regular milk, which is why we use it in coffee and cereal so often. However, it doesn't have the same nutrient balance at all.
Not only are most types of plant-based milk naturally low in protein and calories, but many also have low amounts of vitamin B12, calcium, vitamin A, zinc, and iodine, nutrients that are common in milk and are essential for keeping us healthy.
Plant-based milk is sometimes fortified with nutrients, which helps. Even then, the nutrient composition is rarely as powerful as with regular milk. Plus, nutrient fortification isn't as effective as getting those nutrients naturally from your food.
The nutrient difference is particularly concerning for children and adolescents, as it could lead to lower nutrient intake, which could easily harm their development.
You don't need to avoid plant-based milk because it is lower in nutrients, but it's important to be aware of the difference. After all, nutrients like zinc, calcium, and vitamin B12 are essential for your health, so you need to get them somewhere in your diet.
Most Types Are Low In Protein
Dairy milk is a decent source of protein, giving you around 9 grams of protein per serving. The protein is helpful, as we need it for muscle development and it keeps us satisfied for longer.
Plant-based milk is often much lower in protein. Almond milk, for example, only contains a gram of protein per cup, while oat milk contains around 4 grams instead.
Soy is the closest to regular milk, giving you around 6 grams of protein per serving, but that's still less protein than with dairy milk.
That said, the specific protein content does vary from product to product and some plant-based companies find ways to add extra protein in. As such, you'll need to check the ingredients label to find out exactly what you're getting.
They're Often Highly Processed
Some processing is always needed to make plant-based milk. After all, soy, oats, cashews, and the like aren't even remotely similar to milk in their regular form. At the very least, they need to be mashed and strained to create a milk-like product.
Many companies take the idea much further. They often add a variety of ingredients, including preservatives, stabilizers, sweeteners, and flavors, to give the product the desired flavor and texture.
This approach is always concerning, as ultra processed foods are often linked to poor health. We're told time and time again to cut down our intake of processed food and focus on fruits, vegetables, legumes, and grains themselves.
They May Contain Additives
The additives we mentioned before are concerning as well. These have all been tested for safety, so they shouldn't cause significant harm.
Still… there's a lot we don't know about how additives influence our health. Take sucralose, as an example. This artificial sweetener has been heavily researched and is officially seen as being safe. Yet, it's highly controversial and could lead to a variety of health problems.
Even if the harm from additives is minimal, they certainly don't provide us with health benefits. As such, it's best to avoid them whenever possible. This is one more reason for focusing on unprocessed foods instead.
Some Types Contain Allergens
Soy allergies and nut allergies are common and can be dangerous. People experiencing either type of allergy will need to be careful when buying plant-based milk.
With so many different types of plant-based milk, it should be easy to find one that doesn't trigger your allergies. Even so, be sure to read the ingredients label carefully, as some products have more ingredients than you expect. There's the potential for cross-contamination too, if the company produces more than one type of plant-based milk.
There May Be Added Sugar Too
Plant-based milk runs the gambit for sugar content. Most types are naturally lower in sugar than dairy milk. However, companies often add sugar to create a more palatable drink.
While some companies keep their sugar levels relatively low, others add a considerable amount. Sometimes there's even more sugar than you'll find in dairy milk.
Be particularly cautious of flavored milk, like chocolate or vanilla soy milk. There's a strong focus on taste with these products, so they're likely to be high in sugar.
More Expensive Than Dairy Milk
Finally, plant-based products are often more expensive than dairy milk. This could be a problem if your budget is tight and mean that you have less money to spend on other foods.
Don't forget that plant-based milk is less nutritious than dairy milk too. So, you're paying more money for fewer nutrients. That's not a great equation at all.
Types Of Plant Milk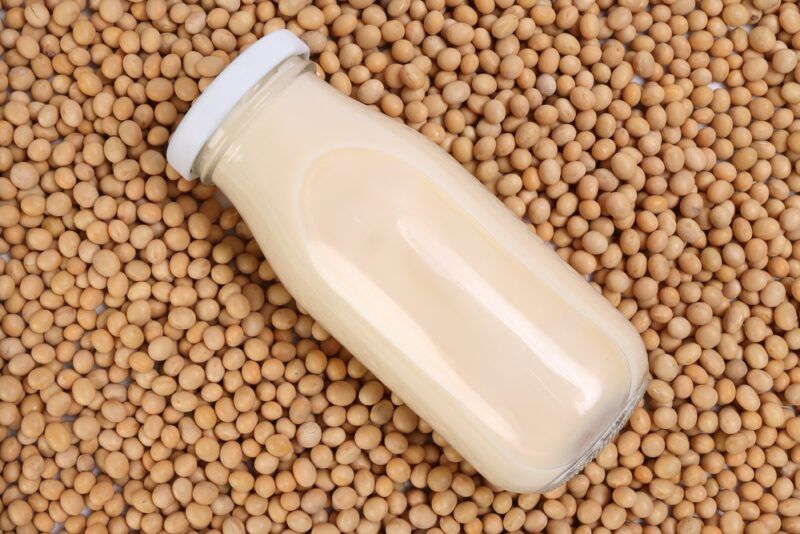 The benefits and risks of plant-based milk are strongly linked to the type of milk that you. We've highlighted the various types elsewhere, so we're only going to run through them quickly here.
Soy milk. Made from soybeans and contains more nutrients than most other types of plant-based milk. It's a surprisingly decent source of protein too. However, soy allergies are common and soy contains antinutrients and isoflavones, both of which are controversial.
Almond milk. Very low in calories and incredibly popular. While the milk is a great choice for weight loss (and can even be used in cocktails), it is very low in nutrients, containing just a fraction of the nutrients found in almonds.
Pea milk. Yellow split peas form the basis of this milk. It's interesting, as the texture is surprisingly similar to regular milk. There's a decent amount of protein present too.
Oat milk. This option is thicker and creamier than most others, with a higher fiber content as well. There is some protein and nutrients present as well, although not as much as in dairy or soy milk.
Coconut milk. This naturally sweet milk is low in protein, but contains more fat than most other types of milk.
Rice milk. This type of milk is less powerful than most, as it's high in carbs, low in protein, and isn't a great source of vitamins or minerals.
There are some other types as well, including milks made from other tree nuts, like cashews and hazelnuts, along with hemp milk. Such products are often low in nutrients and protein, although there's some variation between them.
You'll also see some barista-type milk and products that use multiple plant-based ingredients, rather than just one.
Such approaches help to create a better balance of nutrients and can improve the texture of the product too. In fact, barista-style plant-based milk tend to be higher in fat, so they are creamier and create better foam.
Which Types Of Plant-Based Milk Are Best?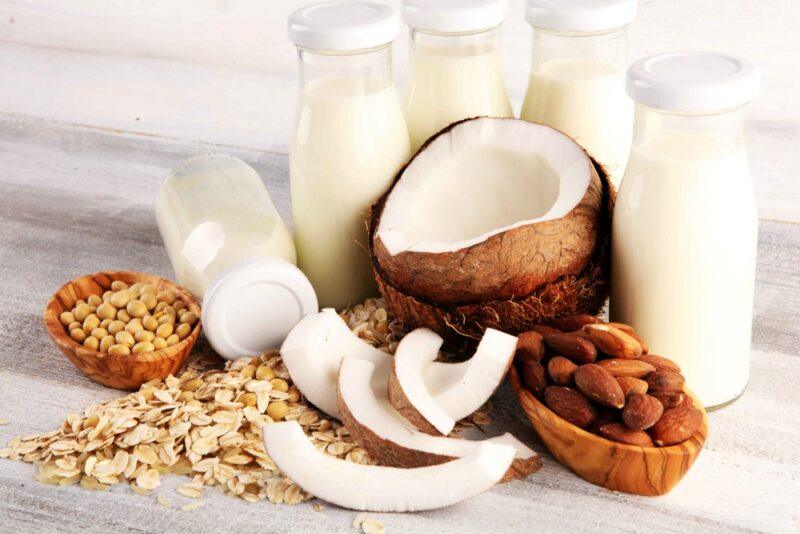 The best type of plant-based milk really depends on your needs.
Soy is a popular choice if you want protein and nutrients, but the legume is controversial, so many people choose to avoid it. Almond milk works well if you want a low-calorie milk replacement and aren't concerned about nutrients, while oat milk is a creamy option that provides some fiber as well.
The best type is going to depend on your needs and how you feel about the flavor. For example, keto dieters will need to stick to the low carb versions, including almond milk, coconut milk, and some soy milk products.
In the end though, it isn't the type of milk that matters the most.
It's much more important to pay close attention to the product you're purchasing. Look for one that doesn't rely on too many additives and isn't ultra-processed. Pay particular attention to added flavors and sugar, as these aren't good for you at all.
Can You Make Your Own?
You can avoid many of the issues we've highlighted by making your own plant-based milk. There are at-home recipes for most types, including coconut milk, almond milk, and even soy milk.
Making these milks at home gives you full control. You get to skip all the concerning additives. You can also choose whether to include flavors and sweeteners, then adjust the type and quantity based on your needs.
Regardless of the recipe you use, you should end up with a less processed product. For that matter, homemade plant-based milk can even be more nutritious than the version you buy at the store. Making the milk does take time and effort, but honestly, doing so is well worth it.
Final Thoughts
Plant-based milk is powerful in many ways. It's lower in fat and calories than regular milk, while also avoiding the potential ethical and health problems that come with dairy milk.
There are also plenty of types to choose from, making it easy to find the right fit for your dietary needs.
The biggest issues are the amount of processing, along with the additives that are used. Thankfully, there are some minimally processed options out there, including some that don't use many additives at all. You could even make your own plant-based milk at home.
Overall, the features of plant-based milk mean that it can be an incredibly healthy addition to your diet. There's an important caveat, however, plant-based milk isn't a complete replacement for dairy milk, as it's lower in nutrients and protein. To stay healthy, you need to make up for those deficiencies elsewhere in your diet.
Frequently Asked Questions
Is Plant-Based Milk Lactose Free?
Lactose is a protein found in milk, so it's never present in plant-based milk. As such, anyone sensitive to lactose or casein can still drink plant-based milk.
Why Is Plant-Based Milk More Expensive?
Plant-based milk typically relies on more expensive ingredients than dairy milk and goes through more processing steps. It's also more heavily marketed than dairy milk, which adds to the costs.
None of this is surprising. After all, regular milk has dominated the market for decades. Plant-based companies must work hard to keep up.
Is Plant-Based Milk Better For The Environment?
Dairy milk has huge negative environmental impacts. Plant-based milk is better in many ways, producing only a third of the greenhouse gasses that as dairy. It uses less land and water as well. However, the effects vary from one type of milk to the next, making some types of milk better for the environment than others.
Does Plant-Based Milk Need To Be Refrigerated?
Plant-based milk needs to be refrigerated as soon as the package is opened. If you buy it from the refrigerated section in the store, you'll need to put in the fridge even before opening.
The main exception is powdered products, like coconut milk powder. These have had their liquid removed, so they're much more shelf-stable than regular plant-based milk.
Is Plant-Based Milk Better Than Dairy?
This really depends on what you're looking for. Plant-based milk is certainly less controversial than dairy. It's better for the environment, isn't a problem for people with lactose intolerance, and doesn't rely on animals. It could be better for inflammation too.
However, plant-based milk tends to be less nutritious than dairy milk, often much less nutritious. So, if you swap to plant-based milk, you'll need to get extra nutrients elsewhere.