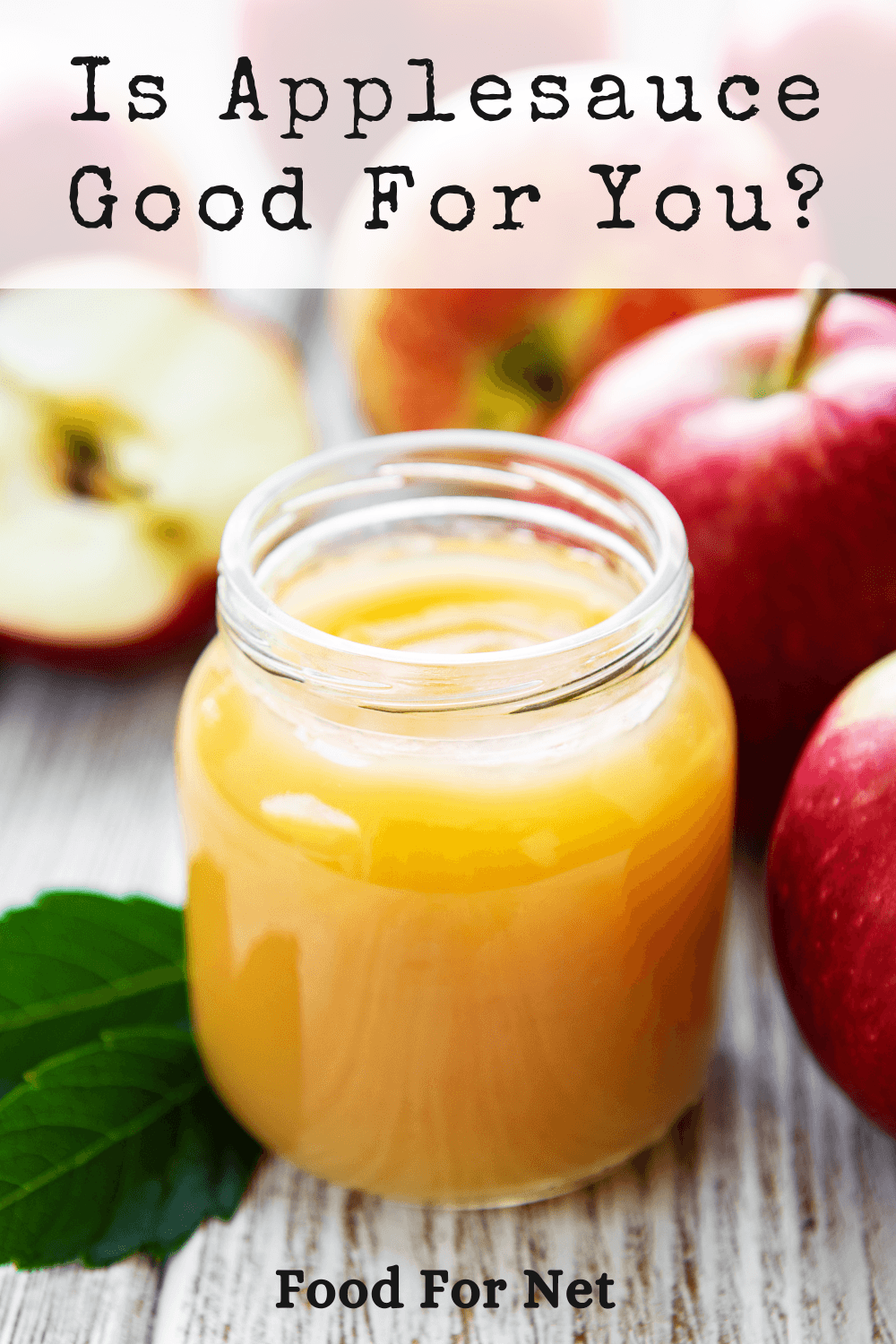 Applesauce is a sweet treat, one that's popular among kids, but is often loved by adults too. It's also an easy choice if you want something simple that isn't difficult to digest. What about the health side of things though? Is applesauce good for you or is it something that's best seen as a treat?
Part of the problem is the variety of products out there. Many commercial applesauce products are incredibly processed. They even use added flavors, extra sugar, and other additives to make the sauce look and taste exactly like they want it to (sometimes creating very artificial-tasting versions in the process).
Such applesauce products are often low in fiber too. Not surprisingly, the processing affects the nutrient content as well.
Still, applesauce isn't all like that. There are plenty of natural products too, ones that rely on fresh apples and few other ingredients. You can even make your own. Such versions of applesauce should offer more benefits and fewer risks than the highly processed ones.
Is Applesauce Good For Your Health?
What Is Applesauce?
Is Applesauce As Nutritious As Apples?
Benefits Of Applesauce
The Problems With Applesauce
How To Choose Healthy Applesauce
Making Your Own Applesauce
Does Applesauce Promote Weight Loss?
Final Thoughts
What Is Applesauce?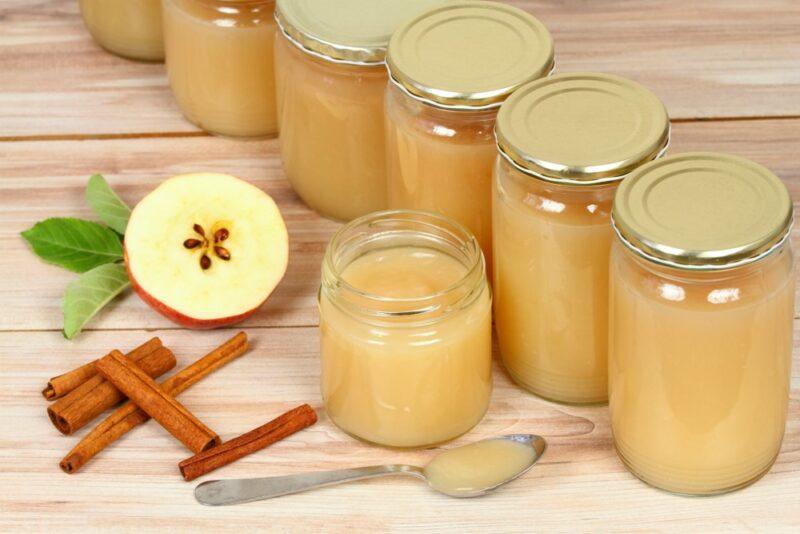 Let's start with the basics.
Applesauce is an incredibly simple dish that's just made by cooking apples in either water or fresh apple juice. The flesh of the apples becomes soft as they are cooked and can then be mashed to create a puree.
Most apple varieties can be used to make applesauce, although highly acidic apples tend to create a finer puree than less acidic ones.
Other ingredients might be added to provide flavor. Spices like cinnamon are a common addition, although some recipes get much more creative. Commercial applesauce might use stabilizers, acidifiers, and other additives to create a shelf-stable product with the right color.
Applesauce can be used in various ways. For example, it's often served with either roast pork chops, alongside potato pancakes, or as part of a dish with chicken and French fries. The sauce can also be used as a dessert or in baked goods. Not surprisingly, how you use applesauce depends on where you live and the traditions that you grew up with.  
Is Applesauce As Nutritious As Apples?
At its simplest, applesauce is just made of apples that have been sliced, cooked, and mashed together. But, this doesn't mean that applesauce is as nutritious as whole apples.
For one thing, applesauce is often made using peeled apples rather than whole ones. This means you lose out on a lot of the fiber, along with all the nutrients present in the peel. Some versions rely on whole apples, but then filter out the skin at the end, which isn't a whole lot better.
The loss of fiber is a blow, as many of the benefits of apples (like decreased diabetes risk, improved gut health, and decreased heart disease risk) are strongly related to the fiber in apples.
Applesauce is also cooked and processed. These steps lower the amounts of some nutrients, including vitamin C.
Thankfully, there is still some fiber and nutrients in applesauce, even if the amounts are lower than in fresh apples. These patterns mean that applesauce isn't nearly as powerful as fresh apples, but you do still get some of the benefits that apples offer.  
Benefits Of Applesauce
Relatively Bland And Easy To Digest
Applesauce is a relatively bland food. It's sweet and delicious, true, but there aren't any bright and bold flavors. This simplicity isn't a bad thing at all. It's partly why applesauce pairs well with so many meals and is just as tasty on its own.
The balance of sweet and bland flavor is also ideal for people who aren't feeling well. After all, rich or spicy foods tend to make you feel worse.
The fact that the apples are cooked helps as well. Cooking apple softens the fiber, making it easier to digest. This is one reason why you might get side effects from raw fruits and vegetables, but not from cooked ones.
It's Comforting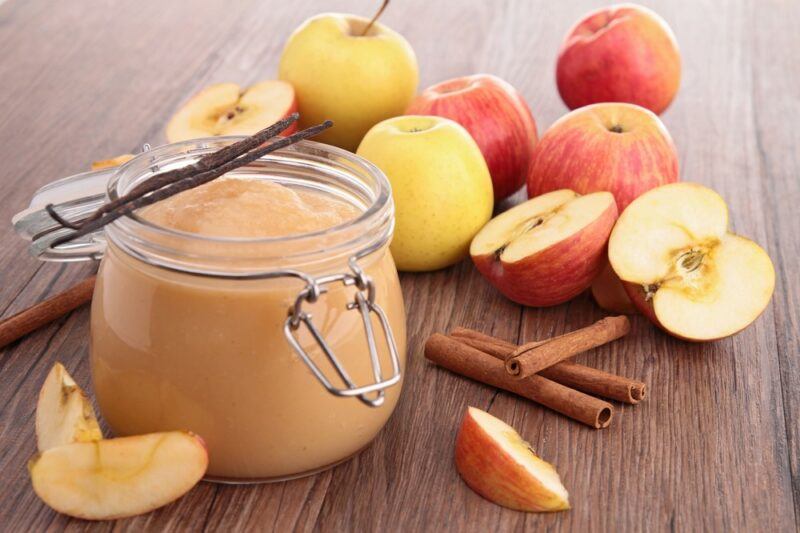 Applesauce is a comforting food too.
This is a surprisingly important feature. After all, when people are sick or feeling low emotionally, comfort food is an easy choice, one that often makes them feel better.
There are plenty of comfort foods out there, but applesauce also happens to be mild, easy to digest, and offers plant-based compounds and nutrients. This combination of features makes applesauce perfect in situations where other choices aren't.
The Nutrients And Antioxidants
Applesauce may well contain fewer nutrients and antioxidants than fresh apples. Even so, you're still getting some nutrients and antioxidants.
The antioxidants are particularly important. You've heard about these compounds, right? They help to fight oxidative damage from free radicals and also decrease inflammation throughout your body.
That combination of effects is powerful. An antioxidant rich diet might even decrease your risk of a variety of health issues, including type 2 diabetes, heart disease, and perhaps even cancer.
The Fiber And Water Content
Commercially produced applesauce is never a great source of fiber. You're often just getting a gram of fiber per serving. Still, every little bit counts and the fiber that is there can still improve your digestion and decrease the blood sugar impact of the applesauce.
The water is critical too. This helps you to stay hydrated and keeps your body functioning well.
You get much more water from actually drinking water, of course. Still, products like applesauce do help, especially for people who are resistant to drinking water regularly.
The Problems With Applesauce
Pesticide Residues
Commercial apple growers often use a chemical known as diphenylamine to treat their apples. While the chemical is often called a pesticide, it's actually sprayed on apples after harvesting.
This practice means that the concentration of diphenylamine on fresh fruit is often high. Apples are even one of the top entries in Dirty Dozen lists of pesticide-laden produce.
The diphenylamine levels in apples are so high that some of it even makes its way into commercial applesauce.
Regulators and members of the apple industry claim that diphenylamine is a harmless treatment, one that simply keeps apple skins looking good. Still, not everyone agrees and there are some concerns about the use of the chemical.
Besides, additives like this are never going to provide you with health benefits. The best possible outcome is that they do you no harm. Why risk that when you can focus on organic products instead, ones where diphenylamine is never used?
Some Brands Add Sugar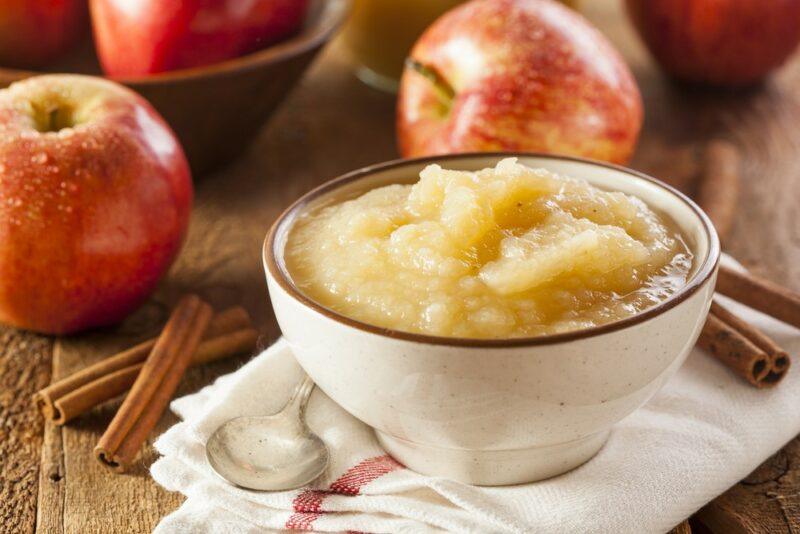 It's always important to check the product label on your applesauce, as some companies add sugar or another sweetener – to make the applesauce sweeter still. For example, Mott's Applesauce Apple contains 14 grams of sugar per serving, 7 grams of which are added. In contrast, their No Sugar Added Applesauce Apple contains just 8 grams of sugar.
The amount of added sugar can vary dramatically, so it always pays to check the ingredients label closely.
Thankfully, no added sugar products are becoming more common.
Can Spike Your Blood Sugar
Not surprisingly, applesauce has a higher glycemic index (GI) than fresh apples do. This is particularly true for sweetened applesauce, but even unsweetened versions might spike your blood sugar.
This means that anyone with diabetes might need to avoid applesauce or at least keep a close eye on the amount that they consume.
Remember too that GI is based on your blood sugar response to eating foods on their own. To reduce the blood sugar effect, try having applesauce with some healthy fats, protein, or fiber. Serving applesauce as a side for roast pork or on top of Greek yogurt, for example, should do the trick nicely.
A High FODMAP Food
FODMAPs are fermentable carbs that we find in a variety of foods. While many of us can eat FODMAPs without an issue, the carbs can cause significant side effects for people with irritable bowel syndrome or some other digestive conditions.
If you are following a low FODMAP diet, then you'll need to avoid apples.
The reason is the fructose. While all types of fruit contain some fructose, the amount is higher in apples and pears than other types of fruit, making apples and pears a particularly big problem.
The Carb Content
Not surprisingly, applesauce tends to be high in carbs. It's often a no-go for keto and low carb dieters. Unsweetened versions can be better, but you're still looking at a decent number of carbs per serving and not much else.
The best way around the issue is to keep your serving size low and have some high fat or high fiber foods at the same time.
How To Choose Healthy Applesauce
If you're looking for health benefits from applesauce, then choosing an unsweetened version is essential. Seriously. The apples provide enough sweetness to make the applesauce taste good. There's no need to add more.
Also look for brands that focus on organic apples and avoid any additives (aside from ascorbic acid, which is simply vitamin C and is included in most products).
The ingredients label should help you to figure out which products are worth trying and which ones aren't. Some, like Mott's Healthy Harvest Granny Smith Applesauce are more processed than they first seem. Taste testers often remark that the applesauce tastes artificial, which isn't surprising, as 'natural flavors' are included as an ingredient.
It's often best to taste test a few different brands to work out which ones you like the most. Even if the company just relies on apples, the flavor and texture of their applesauce can vary considerably, depending on the apples that they use and the processing approaches.
Making Your Own Applesauce

You can also make applesauce yourself. This is often the best approach, as you get control over the ingredients and avoid any additives. Besides, applesauce isn't difficult to make either, so why bother with the processed versions?
Some fantastic recipes, like this one, even allow you to keep the skins on your apples. Doing so dramatically increases the fiber content and should make the applesauce much healthier.  
There is one limitation though – homemade applesauce will generally contain much less vitamin C than commercially produced versions. This is because the commercial products have vitamin C added in. Still, there are plenty of vitamin C rich foods out there, so it shouldn't be hard to get your vitamin C elsewhere.
Does Applesauce Promote Weight Loss?
Apples themselves are a fantastic weight loss food. This is partly because they're low in calories, while containing a decent amount of water and fiber. The combination of fiber and water gives you a filling food, one that takes time to eat.
While applesauce contains most of the same nutrients as whole apples, it isn't likely to have the same weight loss effects. After all, you can eat applesauce much more quickly than apples and it's easy to have too much. This is important, as some of the satiating effects come from the time it takes to eat an apple.
Remember too that applesauce often has added sugar, which won't help your weight loss journey at all.
The main exception is if you're using applesauce instead of a more calorie dense ingredient. For example, some baking recipes use unsweetened applesauce instead of sugar. Doing so decreases the sugar and calorie content of your baking, without changing the flavor too dramatically.
Final Thoughts
Applesauce is a delicious treat, one that's easier to eat than whole apples, but is more processed as well. The reliance on apples does mean that the sauce provides many benefits, including some nutrients, fiber, and antioxidants.
There's also the comforting aspect of applesauce. It's the perfect thing when you're feeling a little queasy or simply don't want to eat 'real' food.
However, the product is also something to be careful with. Far too many companies add extra sugar or flavors into the mix, creating products that aren't that healthy at all.
Making homemade applesauce can help matters, but even then, it's still important to pay attention to your portion sizes. After all, eating two or three apples in a serving would be difficult, while consuming the equivalent in applesauce is surprisingly easy.
Frequently Asked Questions
Is Applesauce Good For Constipation?
Applesauce is often promoted as helping with digestive issues, including diarrhea and constipation. However, some people find that apple juice is better for constipation and applesauce is better for diarrhea. This difference is because applesauce contains a decent amount of pectin, which can make stools firmer in some situations.
Does Applesauce Go Bad?
Not surprisingly, applesauce will go bad. Some products last roughly a week after they've been open, while those with more preservatives may last longer – up to a month in a few cases.
Unopened applesauce tends to last even longer. You might even get a few months out of it, depending on the brand.
Is Applesauce Acidic?
The pH of applesauce generally falls between 3.1 and 3.6. The exact pH is influenced by the varieties of apples used and any additional ingredients, but the applesauce will always be acidic.
Is Applesauce Vegan?
Applesauce uses only a few simple ingredients – apples, water, and lemon juice, so it's naturally vegan friendly. Honestly, there's no need to add any animal-based ingredients to applesauce.
Is Applesauce Good For Diabetics?
Unsweetened applesauce can be a fairly good choice for diabetics, as it contains nutrients and antioxidants from apples, along with some fiber. However, even unsweetened applesauce is fairly sweet, so it can still spike your blood sugar levels.
Because of this, it's important to keep an eye on your portion sizes (or, simply stick to whole apples instead).