Every type of fuel for a smoker has their pros and cons. What makes a pellet smoker different from gas or charcoal? Pellet smokers tend to be more convenient and versatile than wood smokers. It's a lot easier to buy a bag of pellets than it is to gather enough wood to feed your smoker. On top of that, temperature control is a lot easier since your fuel burns consistently.
Portable pellet smokers are just smaller than regular smokers. While a large smoker may be stationary or have a large grilling surface, the smokers I've listed below have wheels for pushing around your yard or could be easily loaded into the back of a truck or a large trunk. If size or portability is not a problem, you should also examine the best wood pellet grills.
These devices have a variety of looks and colors, but all are offset smokers, meaning the pellets are loaded into an auger on the side of your smoker. This makes loading pellets super easy and you can refill the pellets without opening your main smoking area. That means consistent quality smoked meats every time.
If you don't want to deal with the hassle of feeding wood or charcoal into a smoker, then explore the top 5 portable pellet smokers.
Top 5 Portable Pellet Smokers
Camp Chef PG24 Deluxe Pellet Smoker
Traeger Grills Tailgater Portable Wood Pellet Smoker Grill
Pit Boss Grills 440 Deluxe Wood Pellet Smoker
REC TEC Grills Portable Pellet Smoker Grill
Louisiana Grills LG 900 Pellet Smoker
1. Camp Chef PG24 Deluxe Pellet Smoker

Camp Chef's PG24 has all the essentials for a portable pellet smoker. This unit is basically 6 types of cookers in one. With the PG24, you can grill, smoke, bake, roast, barbecue, and braise all your favorite foods on one type of grill.
Let's start examining this smoker by looking at the temperature control, as this is one of the most important aspects of choosing the right smoker. The PG24 has a smart digital temperature control that will help you maintain consistent heat, so you can produce a reasonable amount of smoke for your food. You won't have to constantly monitor the unit with this accurate digital control.
570 square inches are set aside for smoking any type of meat, including a removable upper warming rack that can help you use indirect heating to cook your foods. The cooking area is quite large, and the fact that you can take this smoker with you to different environments will make smoking food much more fun.
Cleaning and assembly are also very easy, so you won't need to waste too much time when using the smoker. All you'll have to do to clean out the PG24 is push a lever. Other smokers require you to physically dump out the ash. Camp Chef also has a walk-through assembly video that will take you through the assembly process, so if you aren't the best with your hands, you need not worry.
Positives
Contains advanced digital control system

Very versatile

Plenty of room to cook

Easy to clean

Easy to assemble
Negatives
Doesn't produce the same smoke taste as other smokers

Durability is average
2. Traeger Grills Tailgater Portable Wood Pellet Smoker Grill
If you look way back into the history of smokers, you'll find out that Traeger was the brand that started the whole "smoker" niche. The Traeger brand created the wood pellet smoker as the most efficient way to produce that wood-fired taste for your meats.
Just like the PG24, the Tailgater offers 6 cooking functions: roast, braise, bake, smoke, grill, and barbecue. These options will give you endless opportunities to try something new, wherever you are. The 300 square inches of portable grilling space offers enough room to cook 12 burgers, 3 racks of ribs, and 2 whole chickens!
Portable smokers are in high demand for people who like to cook outdoors in different environments. The EZ-fold legs make this a very portable pellet smoker combo. These easy-to-use legs will allow you to fold everything up and grill on the move, whenever you want to.
Let's also talk about the digital controller, which ensures consistent cooking. The Digital Elite Controller keeps the temperature within a range of 20-degrees Fahrenheit from your desired temperature so that your food will cook evenly. This is a sturdy, dependable smoker that should offer years of service, but it also carries a higher price tag.
Positives
Versatile

Easy to transport

Has a superior digital controller

Available in bronze and silver
Negatives
3. Pit Boss Grills 440 Deluxe Wood Pellet Smoker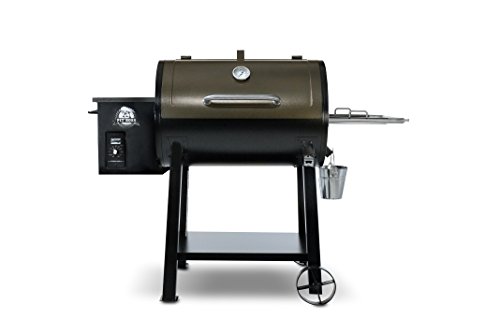 The Pit Boss Grills 440 is stylish, with a two-tone black and copper finish. The heavy-duty 16-gauge steel construction will ensure that all the heat stays within the smoker and cooks your food to the fullest. This smoker also consists of a combination side shelf and a serving tray, as well as a solid bottom shelf and a bottle opener.
Those features are great for those who prefer to monitor the cooking and enjoy convenience, especially with the bottle opener being there. You can even store different accessories like seasonings and wood pellets.
Portability won't be an issue for this wood pellet grill. There are two very large wheels that will help you go wherever you please, regardless of the terrain, and the two front legs ensure the smoker remains steady while cooking.
The LED dial-in digital control will make it easy to set and control the temperature for the smoker. There is also an automatic start and cool down setting which will take some responsibility off your hands. Some people aren't fond of smokers in general because they usually take a while to start up and cook, but with the Pit Boss Grills 440, you can sit back and enjoy your surroundings.
This smoker is built to last. If you do require a replacement part, it could take a while to receive the item. This is one of the only drawbacks regularly mentioned by customers. Luckily, most people haven't run into any issues and love the convenience of the automatic start-up and digital controls.
Positives
Automatic start

Dial-in LED digital control
Negatives
Replacement parts can be difficult to obtain
4. REC TEC Grills Portable Pellet Smoker Grill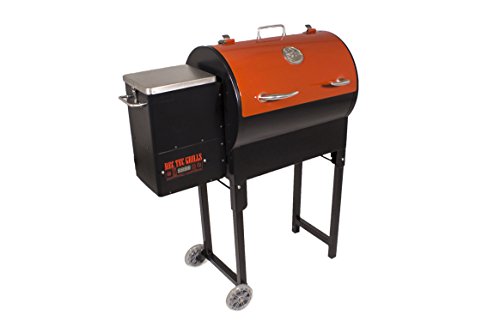 REC TEC released a portable pellet smoker that cooks your food evenly and faster than usual. This unit has a "full mode" feature that can reach temperatures up to 600-degrees Fahrenheit. That is a substantially higher temperature than traditional wood pellet smokers. These higher temperatures can help cut down on cook time, even with all 341-square inches of cooking space covered in thick cuts of meats.
Another advantage is the pellet capacity. At 15-pounds, you can use your smoker often without always needing to add more pellets. This smoker can essentially cook for extended periods of time because it can handle a high volume of fuel, so you can cook a lot of food for you and those around you.
This REC TEC smoker has some fantastic features, but there are some potential drawbacks to be aware of. First off, several buyers have claimed that the finish on their smoker had rusted after a short amount of time. The other issue is the price. This smoker is generally offered at a higher price than some of your other options. 
If the extra pellet capacity and fast heating are major advantages in your book, then you may be willing to pay the higher price for this smoker.
Positives
Can hold up to 15-pounds of wood pellets

341 square inches of cooking space

Folding legs enhance portability

Can reach up to 600-degrees Fahrenheit
Negatives
5. Louisiana Grills LG 900 Pellet Smoker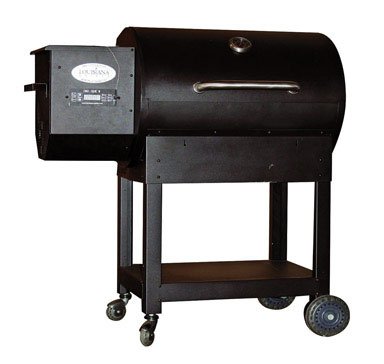 This pellet smoker comes in at #5 for the top 5 portable pellet smokers. The Louisiana Grills LG 900 has a total cooking surface of 913 square inches; 633-inches on the main surface and 280 on the upper surface. This can essentially cook for the whole neighborhood.
The Porcelain Cast Iron Main Grids will last a long time, regardless of how often you use the pellet smoker. The coated surface is also easy to clean.
Worried about controlling the temperature? Don't want your food to get too dry? The digital control center will help you with both issues. You can easily set the temperature and maintain consistent heat throughout the cooking process. The small water pan produces steam to keep the meats from drying.
One feature that helps this smoker stand out in the portability category are the wheels at the very bottom. Instead of the usual 2 wheels that come with standard smokers, the LG900 has 4 wheels (2 small ones, 2 large ones). These extra 2 wheels will help you transport the smoker just about anywhere. 
Positives
Has a large cooking surface

Easy to use digital control center

Durable cast iron main grids
Negatives
Buying Guide for Portable Pellet Smokers
Pellet smokers have gained enormous amounts of popularity in recent time and they're only getting more popular. Granted, these devices have been around for decades, but they haven't really provided value to outdoor cookers until recently.
What do you need to look for before buying the right portable pellet smoker? The following factors are what you need to examine before purchasing a portable pellet smoker. 
First, let's get into the most obvious factor – the price. We assume that you'll want something affordable with a high value. A couple of the smokers listed come in at less than $100, while others can cost several hundred. Before you compare features, you should set a budget for your new cooking unit.
Make sure that your pellet smoker is made of a strong steel material so that it won't rust easily. For example, some people have mentioned that the REC TEC rusts relatively quickly. While this smoker does offer some useful features, the rust can be an issue if you plan on leaving your smoker outdoors.
Cooking space is another part of the selection process. You don't want to be stuck at the smoker all day because you need to cook three or four rounds of food. If you are cooking for a lot of people on the regular, you'll want to choose a smoker that offers plenty of cooking space. 
The next factor to consider is the heat range. Do you cook for a lot of people? Do you need something that will reach extremely hot temperatures? Pellet smokers are very good at indirect heating, but if you want your meat to hit very high temperatures, go with the REC TEC. The durability might be questionable, but you'll be sacrificing that for temperatures that cannot be reached in every pellet smoker.
The final consideration is the digital control. Several smokers contain digital LED displays or digital temperature control for more precise heating. While these features can be useful they can also lead to a higher price.
About Portable Pellet Smokers
What does the smoking rookie need to know about portable pellet smokers? Convenient cooking units that can be used by beginners and grilling pros, pellet smokers are easy to use and perfect for those who want to enjoy smoked food at home or in the park.
The first step in using a pellet grill is to load the pellets. You then set the temperature. From there, the automatic auger will feed the wood pellets into a burn cup – creating the heat and smoke needed to properly cook your meats.
While being around for almost thirty years or so, wood pellet smokers have just now become popular. Traeger grills started a trend that has other companies playing the "catch up" game.
"Portable" for a wood pellet smoker isn't the same as "portable" for a propane grill or an electric grill. Wood pellet smokers tend to be much larger, with wheels and handles that are used to move the smoker around. People are into wood pellet smokers because they offer temperature control, convenience, and taste. You can even find pellet smoker/grill combos.
Big brands are starting to come out with more compact and efficient wood pellet smokers, but even the smaller units may not fit in your trunk. If you plan on transporting the smoker to another location, always examine the overall size of the unit. For those that need a smaller option, consider choosing one of the best portable electric smokers.
When looking at pellet smokers, "set it and forget it" is a commonly used phrase. These smokers are quite simple, as you just need to load the hopper with wood pellets and set the controller.
In the past, pellet smokers lacked the ability to stay hot in colder weather, but with the strong steel material being applied to these devices, you should be just fine whether you are cooking in the heat or in the snow.
Pellet grills typically use indirect heat, which takes longer to fully cook food but does so evenly, so there are no raw or cold spots. Luckily, the more recent digital controls can reach higher cooking temperatures, which will reduce the overall cooking time.
Overall, portable pellet grills are best for the typical cook who hangs out in his backyard and values a smoky flavor and convenience. Wood pellets allow you to take a break from babysitting the grill thanks to a digitally monitored temperature controller. These versatile cooking devices will be a beneficial asset to anyone's cooking arsenal, regardless of experience level.