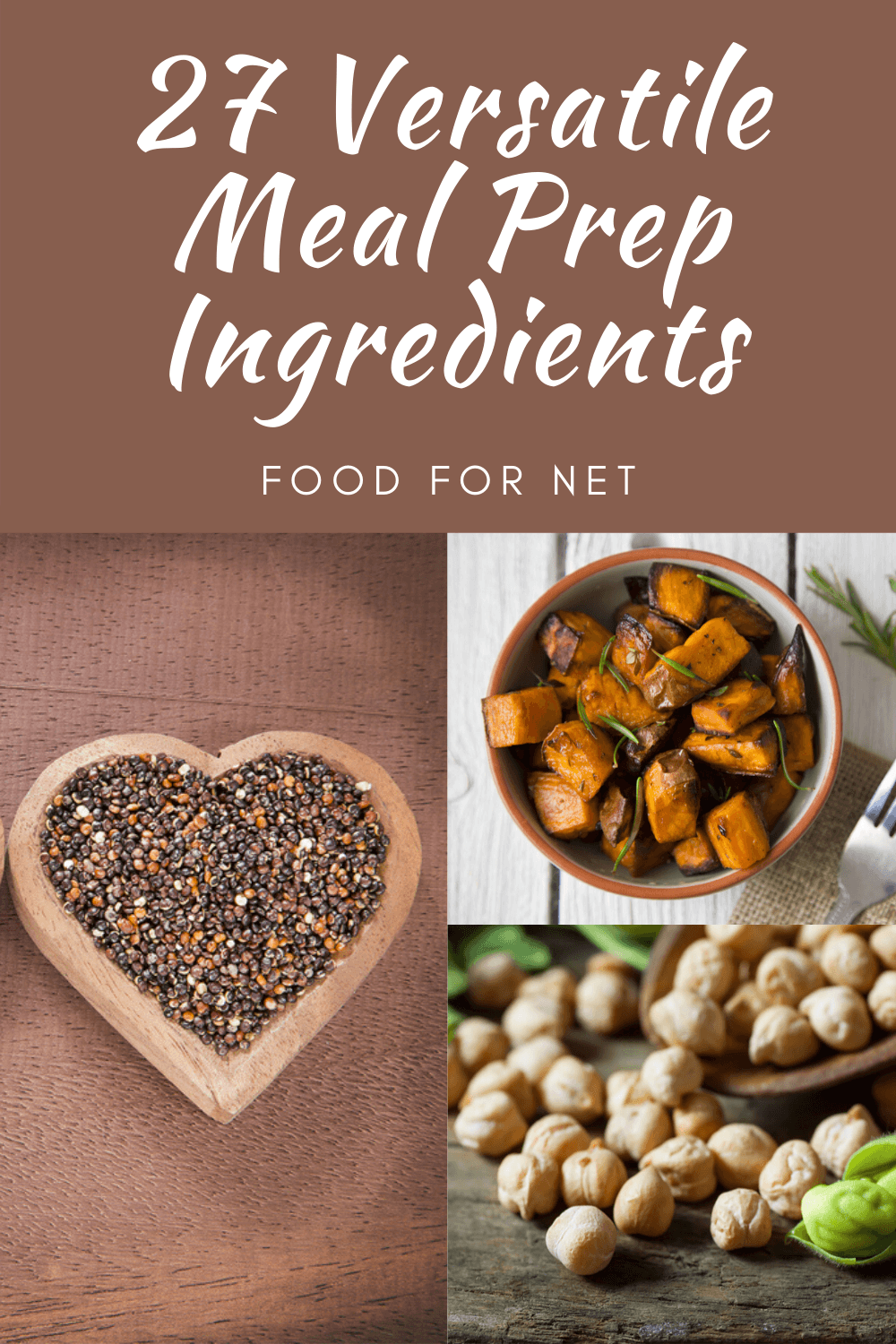 Meal prepping has taken off as a fantastic way to save time in the kitchen, while also making your dinners easier each night. While meal prepping isn't difficult, finding good meal prep ingredients is important. You need ingredients that can be chilled and reheated well, and ones that will last in the fridge.
If you're not familiar with this topic, the term meal prepping doesn't refer to the process of preparing a single dinner. Instead, meal preppers set aside a cooking time each week, where they're preparing multiple meals in advance. You might even do most of the cooking for an entire week in a single day.
There are two general approaches that you can follow.
One is to cook large meals that can then be portioned out. This style is straightforward and may work well with many of the recipes that you use already. Of course, this does mean that you're eating the same meal multiple times, which may not be appealing.
You can also take a more piecemeal approach, where you are preparing various sets of ingredients and combining them in different ways. For example, you could use shredded chicken breast to make tacos one night and as part of a quinoa bowl the next.
Regardless of your approach, the same meal prep ingredients pop up time and time again. In this list, we're focusing on some of the most common and powerful ingredients that you can rely on, along with how to take advantage of them.
Meal Prep Ingredients
Chicken Breast
Rotisserie Chicken
Other Types Of Meat
Rice
Pasta
Quinoa
Couscous
Buckwheat
Eggs
Fresh Seasonal Vegetables
Leafy Greens
Frozen Produce
Chickpeas
Beans
Potatoes
Sweet Potatoes
Nuts and Seeds
Protein Powder
Broth
Oats
Yogurt
Wraps
Granola
Canned Tomatoes
Cooking Oils
Butter
Herbs, Spices, Sauces, And Condiments
Chicken Breast

How can you go wrong with simple chicken breast? Chicken has a fairly mild flavor, so it combines perfectly with many different meals and sauces. Another advantage is that chicken tastes just as good cold as it does hot, making it a versatile ingredient.
Meal preppers often choose to cook a large amount of chicken at once. This chicken can be then used in multiple meals, such as including chicken in a power bowl, adding some into a stir fry and serving some alongside vegetables.
Rotisserie Chicken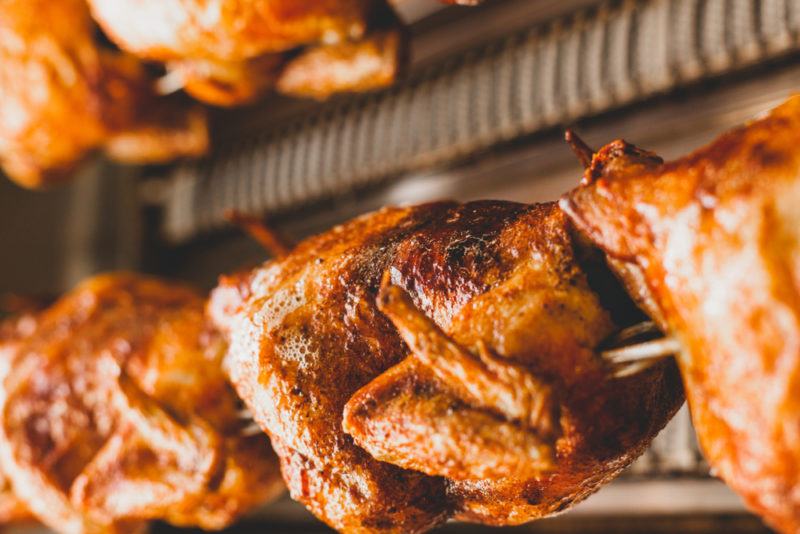 Rotisserie chickens from the grocery store are a fantastic meal prep hack. You end up with a delicious source of protein that requires barely any work on your part.
Seriously, all you need to do is shred the chicken and it's ready to throw in whatever meal you like. Roasting a chicken yourself isn't difficult, of course, but the process does take a while. If you're short on time or energy, a rotisserie chicken is a fantastic short cut.
Other Types Of Meat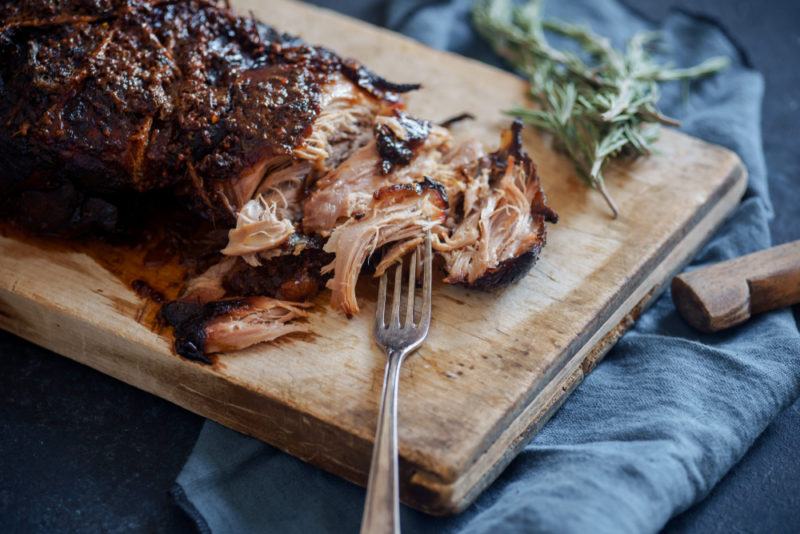 Most types of meat will work well enough for meal prep. You can simply focus on the choices that appeal to you the most.
Meat that you can prepare in bulk works particularly well, such as ground beef, pulled pork or shredded chicken. It's much easier to cook one or two bulk lots of meat, rather than having to cook different types of protein for each meal.
You can then be creative about how you use different types of meat. Take ground beef as an example. It can be used in countless meals, like nachos, spaghetti, and even just served over roast potatoes.
Similarly, it's easy to get creative with shredded pork, beef, or chicken. If you get stuck, just take a look at recipes from food bloggers. You're certain to find plenty of inspiration there.
Rice

It's not surprising that rice is often considered a food staple. Rice is easy to prepare, keeps well, and can be used in countless dishes. Honestly, the number of different meals that rely on rice is pretty astounding.
I'm not just talking about recipes that use rice as an ingredient either. Plain unflavored rice makes an easy side that complements most main dishes.
The main limitation is that rice can be a little tricky to freeze and reheat. The best approach is to slightly undercook the rice initially, this way it doesn't end up overcooked when you reheat it.
Pasta

Pasta is another incredibly popular ingredient. Most of the time you'll be using pasta in a meal, rather than as a side, but regardless you'll normally want to have at least one type of pasta in the cupboard.
Now, pasta doesn't always reheat well, especially not from frozen. One way around this is to make pasta salads, as these are designed to be eaten cold anyway. Meal peppers sometimes store the salad dressing separately from the pasta, then combine the meal together when it is time to eat.
You can also take the same approach as with rice – undercook the pasta. Trying to cook to al dente is a good goal. This means that you can enjoy the pasta as-is and there's no risk of overcooking your pasta when you reheat it.
Quinoa

Quinoa is sometimes called a supergrain because it is high in healthy fats and protein, along with a range of other nutrients (although, technically speaking, quinoa is a seed rather than a grain). Quinoa is lower also lower in calories and carbs than rice, which is another reason for its popularity.
In practice, you don't need to choose between quinoa and rice. Both options have their own advantages and can be delicious. You might choose to use quinoa sometimes and rice other times, depending on the meals that you're making and the other ingredients.
Regardless, quinoa is a versatile ingredient. You can enjoy it hot or cold. In fact, quinoa salads taste amazing.
Couscous

Couscous is pretty similar to quinoa and you'll generally be using it in the same types of meals. One difference is that couscous is made from wheat, specifically from semolina. This means that couscous is basically a type of pasta.
Couscous lacks the interesting texture and flavor of quinoa. It ends up being fairly bland instead, so you'll often need to add in flavoring of some kind. The biggest advantage is that couscous is incredibly fast to prepare, especially if you're relying on the most common small grained version.
Because couscous is wheat based, it isn't as healthy as quinoa. You're basically looking at a simple carb. Still, couscous can work well for meal prep and many people do eat it regularly.
Buckwheat

Buckwheat is another type of seed, one that you generally need to soak before you eat it. Like most seeds, buckwheat is high in fiber, which is reason enough to include it in your diet and meal prep plans.
Buckwheat can also be used in many ways. For example, it is sometimes ground into flour and used in gluten free baking. You can also add buckwheat to dishes that you're already making. The buckwheat will provide a nutty flavor, a bit of crunch, and some extra nutrients.
If nothing else, buckwheat is a good way to keep your meals more interesting. Rice, pasta, couscous, and quinoa all have their advantages, but using the same ingredients all of the time can be pretty boring.
Eggs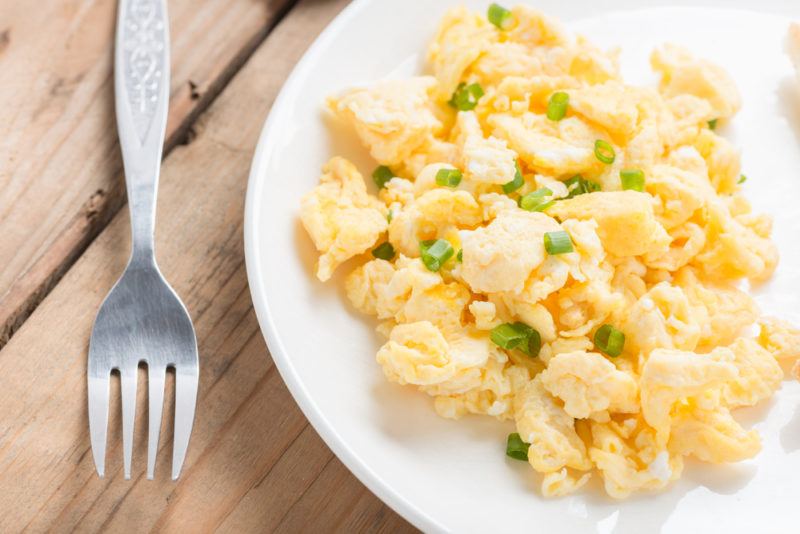 The humble egg is another versatile ingredient that you'll find yourself using time and time again. There are simply so many ways to eat eggs. The approaches won't all work well for meal prep, but many of them will.
Scrambled eggs are a fantastic example. The eggs don't just taste fantastic the first time around, they also reheat perfectly. They make an easy addition to a breakfast burrito or even as part of a power bowl.
Hard boiled eggs are great for meal prep too. You could easily slice up an egg or two over whatever meal you wanted to. What about chopping up an egg and using it on top of a salad?
Those are just two ways to cook eggs. Quiches, omelet cups, egg muffins, deviled eggs, and egg salad are other approaches that you might consider.
Fresh Seasonal Vegetables

While you can use any type of vegetable in meal prep, fresh seasonal vegetables are particularly appealing. These are often bursting with flavor and they'll be easy to find in your local markets.
Fresh vegetables remain an option even for people who can't get out much, as many services will deliver groceries straight to your door.
Relying on seasonal vegetables adds plenty of variation into your meals too. This can be much more interesting than eating broccoli and cauliflower for the umpteenth meal in a row.
Leafy Greens

Leafy greens are a powerful source of antioxidants and other beneficial nutrients.
However, you do need to think carefully about how you're going to use the greens in your meal prep, as cooked leafy greens don't always reheat well. One way around this is to use dark leafy greens in a meal, like a stir fry.
Or, you could skip cooking the greens altogether. You can easily just throw some leafy greens in a salad or a sandwich. For that matter, a bed of dark leafy greens is the perfect addition to many protein-based meals.
Frozen Produce

Frozen veggies are seriously under-rated. Despite common assumptions, the veggies tend to be just as good for you as ones that you purchase fresh.
This is because the veggies are frozen shortly after they're picked. Fresh veggies have often been shipped across the country and may have been sitting in the grocery store for days. Even just sitting around for a day or two can decrease the nutrient content of the produce.
Besides that, you can easily keep bags of frozen veggies in the freezer – bringing them out when it is time to cook. You'll often just be able to toss the veggies straight into a meal as you're cooking it.
Frozen fruit can be useful too. While fruit doesn't tend to freeze and defrost well, you can still use frozen fruit in a smoothie.
Meal preppers often create bags that contain a selection of different types of fruit. If you design these well, you can throw the contents of the bag straight into your blender for an easy smoothie.
Chickpeas

Chickpeas are another versatile ingredient, one that you can use in lunches or in dinners. For example, the site Sweet Peas and Saffron has a post that highlights three distinct meals that you can make using a pound of raw chickpeas.
One of these involves using the chickpeas as part of a curry, one includes them in a salad, and the last one uses the chickpeas in a bento box.
While that particular post focuses on cooking chickpeas from scratch, you can also use canned chickpeas in similar recipes. The ability to choose between raw and canned chickpeas is another advantage of the ingredient, especially as both types have a long shelf life.
Beans

Beans of any type are a fantastic meal prep choice. They're hearty, full of nutrients, and are also versatile. You can use them in countless different recipes, sometimes as a main ingredient and other times as a way to bulk everything out.
Plus, beans are shelf stable. You can easily keep a few different types on hand so that you always have them for your favorite meals. Including beans in chili is a classic example of how useful they are. Beans are also perfect if you're making power bowls and they complement other ingredients well.
With beans, it's important to choose ones that you actually like. Everyone has their favorites, so focus on yours. Seriously, meal prepping only works well if you're making food that you actually want to eat.
Potatoes

How can we go past the humble potato? Potatoes remain one of the most popular fresh vegetables for preparing meals – and with good reason. Their subtle flavor means that they work well in countless dishes.
When it comes to meal prepping, the trick is to look for recipes that can reheat well. Thankfully, there is no shortage of these to choose from. Options like potato bake or double baked potatoes are fantastic, but even regular roasted potatoes can work, as long as you put them under a broiler to crisp them back up again.
The most important thing is to simply think about reheating when you're planning your meal. If you choose meals that are easy to reheat and still taste delicious, then you'll have much less stress at dinner time.
Sweet Potatoes

Sweet potatoes are delicious and versatile. The simplest approach is to bake them and then use the potatoes as a side with your dinner – especially as sweet potatoes are easy to reheat. You could also dice the sweet potatoes and add them to a power bowl.
There are plenty of other options too, including sweet recipes and savory ones.
Plus, like potatoes, sweet potatoes have a decent shelf life. You don't need to worry about using them within a few days of purchasing.
Nuts and Seeds

Nuts and seeds tend to be a powerful source of protein and healthy fats. They're also ideal for meal prepping, as you can often just throw a handful in with whatever meal you're making. Doing so allows you to easily add extra nutrients to your breakfast, lunch or dinner.
For example, raw cashews work perfectly in a stir fry, while you can throw chia seeds on top of a salad (or just about anything, for that matter).
Protein Powder

While protein powder is mostly used in smoothies, it can also be a way to add extra protein to various meals or baking. This is a powerful way to add extra nutrients and to make your food more satisfying.
However, you will need to pay attention to the recipe that you're using, as protein powder won't work well with everything. The type of protein powder matters too. For example, whey protein powder will impact your recipe differently than pea protein powder will.
Broth

Whether you choose to buy broth or make your own, there's no denying that broth is critical in the kitchen. You'll often find yourself using broth as a base for a stew or a soup.
You can also cook some dry ingredients in broth, like quinoa, couscous or rice. This process is an easy way to add extra flavor to your meal.
Bone broth is the ideal type of broth to use, especially if you're making it yourself. The broth gets some extra nutrients from the bones and is thought to help protect your joints.
Oats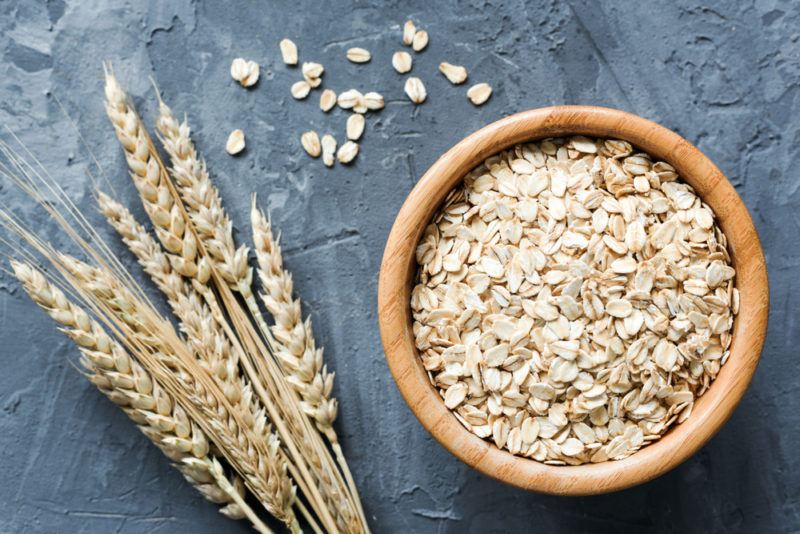 Oats are most popular as a breakfast food, but meal prep techniques do work just as well for breakfast as they do for any other meal, making oats a useful ingredient. Oatmeal bake and breakfast oat muffins are two examples that you can make ahead of time and use throughout the week.
Overnight oats are another style to consider. This is a little different, as you're basically preparing your oatmeal the night before and putting it in the fridge. Still, you could prep most of the ingredients earlier in the week and just combine them when it is time.
Yogurt

You can use yogurt as an ingredient in some meals, especially if you're relying on Greek yogurt, which is thick and delicious, without being overly sweet. Yogurt also works well on the side of many dishes.
For example, you might pack a small container of Greek yogurt alongside a prepared breakfast or as part of a bento lunch box. Yogurt will suit some styles of meal prep better than others, but it is certainly an option to consider.
Wraps

A filled wrap is an easy go-to meal that works well for breakfast, lunch, or even dinner. The trick is really in the fillings. Focus on ingredients that are delicious and nutritious.
You also want to make sure that the wrap will stay good until it is time to eat it. This generally means that you should be careful where you put moist ingredients, like tomatoes, so that they don't soak through.
You can even make freezable wraps that can be easily reheated when it is time to eat. These Freezer Breakfast Burritos from Gimme Some Oven are one example and there are many other recipes out there.
Granola

Granola doesn't just need to be a breakfast ingredient. It is also a good way to add in a little more oomph to your meals. With no shortage of types to choose from, you can easily find a type of granola that's going to fit in your dietary needs.
Another good thing is that you can eat granola as-is, by the handful if you feel like it. This is an easy way to fill a hunger gap between meals.
Canned Tomatoes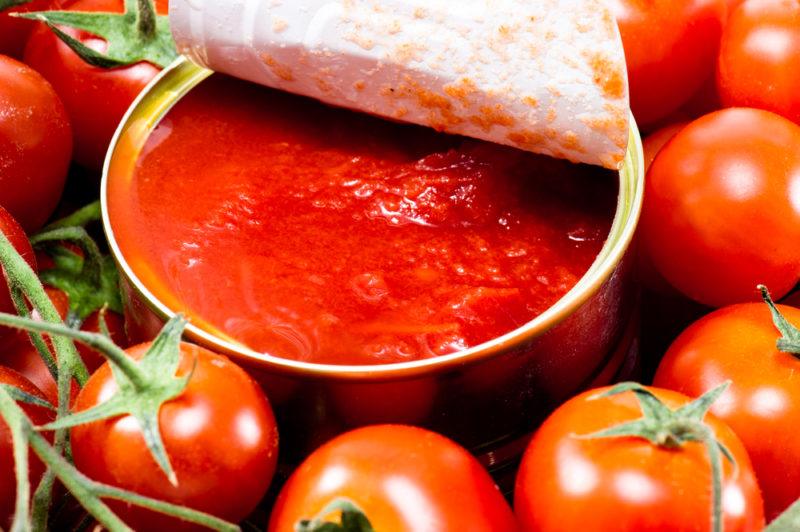 Canned tomatoes are perfect in many recipes and they're often more practical than using fresh tomatoes. Meal preppers often end up relying on canned tomatoes in recipes like chili, soups, and stews.
These dishes are particularly powerful for meal prep, as many of them taste just as good when they have been frozen, thawed and reheated.
Canned food also has a considerable shelf life, which is perfect. You can easily keep a collection of canned food in your cupboard and stock up periodically, rather than needing to replace what you use each week.
Cooking Oils

Food isn't the only important part of meal prepping. You'll also need at least one type of cooking fat to cook your meals in.
Many people end up having two or three different types of oil on hand. Doing so provides more flexibility, as the best choice won't always be the same. For example, you can sometimes use olive oil for low heat cooking, but it isn't a great choice if you're planning to fry food.
Butter

Butter deserves a special mention too. Not only is butter an important fat for cooking, it also adds in a fantastic flavor. Some meals simply taste better when they're cooked with butter. That's all there is to it.
Now, butter does have a mixed reputation. It's still sometimes considered very unhealthy, as it is high in saturated fat.
However, many people actually view butter as healthy, partly because it is much less processed than most cooking oils. The link between saturated fat and heart disease isn't as well proven as you might expect either.
Ghee is another choice that some people turn to. This is a type of clarified butter that is perfect for cooking.
Herbs, Spices, Sauces, And Condiments

Flavoring ingredients are important too, including herbs and spices. These ingredients all add a little extra to your meals. They can even completely transform the flavors, making your food taste simply amazing.
Doing so is critical for meal prep, as you want to be enjoying the meals that you prepare. Bland meals are frustrating at the best of times. They can seem even worse if you're eating the same meal for multiple days.
When you're thinking about seasonings, focus on the flavors that you enjoy the most – and don't be afraid to try out new things. For example, you might find an unexpected spice blend or two that you love.