Many of our classic cocktails come with long and illustrious histories or a deep, meaningful story behind them. This is not the case with the sugary sweet gin-based Tom Collins. This drink is, in fact, named after a crazy joke that turned into a full-blown hoax around 1874.
The "joke" would begin with someone telling their friend a man named Tom Collins was speaking poorly of them for no reason and without even knowing them. Most would, understandably, be upset by this. So, the first friend would encourage them to find the man and confront him. Usually, they would point them in the direction of the nearest bar.
So, the victim would storm off in search of the horrible gossip. Upon arriving at the bar where Tom Collins was allegedly bashing them, they'd angrily ask around for a while before discovering the man didn't even exist. For some reason, people found this just hilarious, and soon everyone was doing it to everyone. It became such a sensation that newspapers were printing articles about it and some less privy to the "joke" were reporting sightings of the mysterious Tom Collins.
It wasn't long before a clever bartender got smart and created a drink with the name Tom Collins. Whenever someone came in asking for the man, he'd hand them the drink instead. It soon became a trend and bars were inundated with these accidental drink orders. Though simple, it's a tasty combination of ingredients and the best gin for a Tom Collins is usually something sweet with a complex profile. Since Tom Collins doesn't have a lot of other ingredients, having several flavors in the gin will make the drink much more interesting.
The Best Gin for a Tom Collins
1. Beefeater London Dry Gin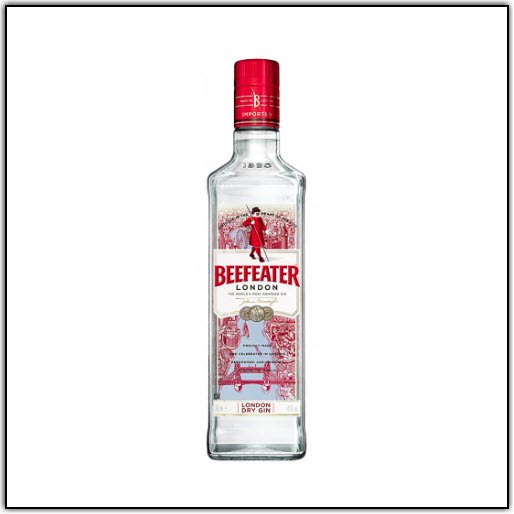 It all started in 1820 when a small distillery was opened in Chelsea, London. Later, it was purchased by James Burrough who was a pharmacist turned aspiring distiller. He's the one who really drove the company forward and created the success of today. He produced many different brands of gin, the most notable being the world-renowned Beefeater brand.
Beefeater gets its name from the Yeomen Warders – more casually known as "beef eaters" – who have been on guard at the Tower of London since 1485. By 1963, Beefeater was responsible for about three-quarters of all gin that was imported into the United States.
The company appointed their best Master Distiller to date in 1995 who was later named the world's most experienced gin distiller. He personally tests more than 200 samples of juniper every year to make sure Beefeater stays on top of quality and consistency.
In addition to juniper, their London Dry Gin contains orange, lemon peel, angelica seeds, almonds, and coriander. The botanicals are steeped for 24 hours before distillation.
On the nose, you'll find a burst of citrus zest followed by the classic aromas of juniper. Citrus follows onto the palate along with licorice and coriander. The gin offers a medium finish with a perfect culmination of coriander, lemon, and juniper notes.
2. Bombay London Dry Gin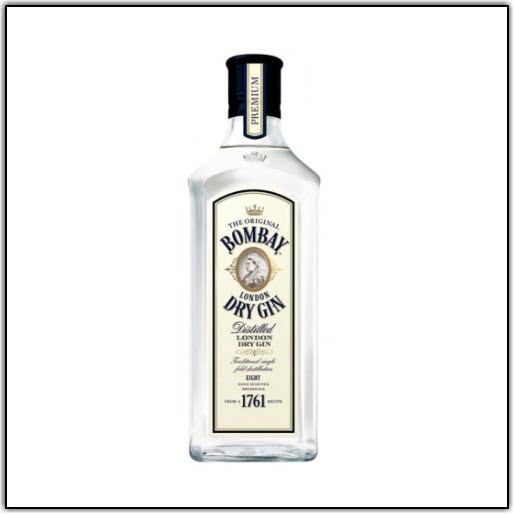 It was 1761 when Thomas Dakin purchased the land which would eventually house the legendary Bombay Sapphire distillery. Shortly after buying the land, he set out to build his distillery from scratch. The whole family worked hard on the project and spent years developing and perfecting the perfect gin recipe.
In 1831 they acquired a proper copper still and adapted it for vapor infusing. This is an artisanal process that traps the flavors and aromas of the botanicals in vapor. It's an old, traditional method but it's still used by Bombay Sapphire in the present day even though the distillery has now changed hands more than once.
The original Bombay London Dry Gin is their take on the traditional London Dry style using eight botanicals. This includes cassia bark, angelica root, coriander seeds, juniper berries, licorice, orris root, lemon peel, and almonds. Not only do these things work together in perfect harmony but the vapor infusion leaves strong notes behind.
The aroma is pleasant and soft with earthy, herbal notes of pine, angelica, and gentle juniper. The palate follows with a distinct flavor of vanilla on the front with lemon zest and juniper soon after. The finish is dry with spicy with a touch of licorice.
3. Plymouth Gin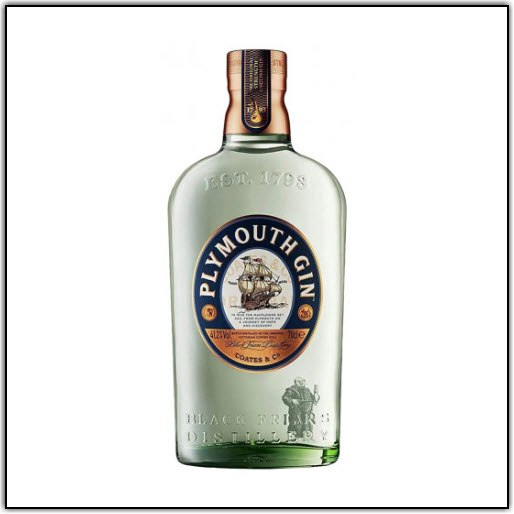 Plymouth Gin is made with seven classic botanicals and is renowned for its versatility and perfect balance. It's made at England's oldest gin distillery and has won many awards including a Double Gold Medal from the San Francisco World Spirits Competition.
The distillery was originally built in 1431 and began as a Dominican Order Monastery. It was made into a distillery in 1793 and began with the Plymouth brand. Although the distillery has now changed hands several times, the classic Plymouth Gin still remains. Not only is it still produced in its original glory but it's just as well-loved and revered for its amazing qualities.
The botanicals used include juniper, coriander seeds, orange and lemon peel, angelica root, orris root, green cardamom, and menthol. Each of these brings a unique set of flavors that contribute to the complex overall profile.
Bitter pine and fresh juniper open on the nose followed by coriander and cardamom. The palate follows with pleasant sweetness with citrus notes. The mouthfeel is smooth and creamy with quite a long finish and many fresh, lingering flavors from the whole palate.
4. Ransom Old Tom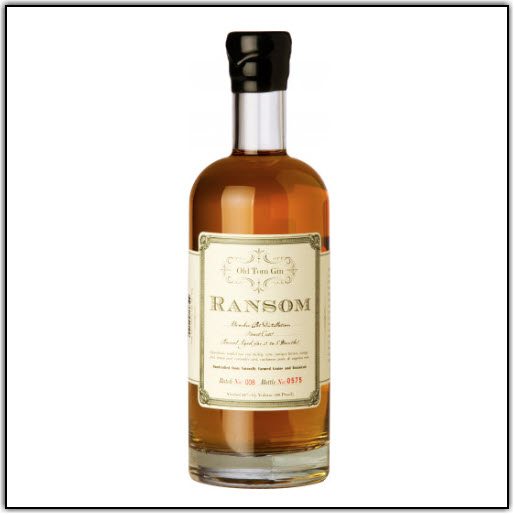 Located just outside of Sheridan, Oregon, Ransom Distillery is a newer establishment, having opened its doors in 1997, but they've made a name for themselves in the American Gin landscape. Founder Tad Seestedt had to take out a loan to start his dream business which is what inspired the name "Ransom." It felt to him that the only way to freedom and independence was with money… or a ransom.
Despite the unknowns involved with starting the business, the distillery became successful. Ransom Old Tom Gin pays homage to the old gins created in the mid-19th century, also known as the golden age of American cocktails. Its unique origin and the 3-6 months spent in barrels work together to set this gin apart from the crowd.
The nose opens with hints of orange and lemon which lead to pleasant, balanced herbal tones. The palate opens with subtle, well-rounded juniper followed by flavors of grain and oak from the barrels and sweet malty notes on the finish.
5. Barr Hill Reserve Tom Cat Gin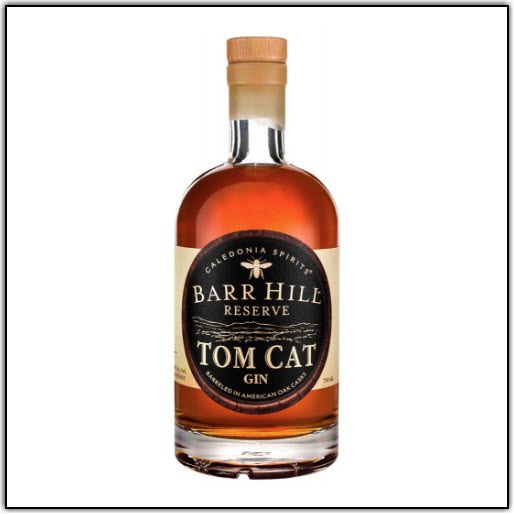 Caledonia Spirits founder Todd Hardie spent more than 40 years as a bookkeeper with a passion for raw, organic honey. Eventually, he decided to incorporate his sweet honey into a craft spirit and this is where Barr Hill Reserve Tom Cat Gin was born.
It begins as the distillery's traditional Barr Hill Gin which is their London Dry style. The base gin is unique enough as it uses only juniper and no other botanicals to achieve its simple profile. The honey is added during the second distillation, imparting new and much more complex flavor notes. Once distilled, the gin is aged in new American oak casks for about three to four months.
The palate features notes of juniper and ginger behind the robust flavor of sweet honey. Also present are hints of caramel and vanilla that round out the pleasant, balanced sweetness of this wonderfully unique bottle of gin.
The Perfect Tom Collins

The Tom Collins is popular for many reasons, one being its simplicity. You don't need anything too expensive or difficult to find. Some discount it as nothing more than lemonade with booze, but it becomes something special when you find the right gin.
To stay true to the original Tom Collins, a sweet and subtle gin is best. But as with any cocktail, this is a guideline at best – there are never any hard rules. You're free to mix whatever you please and the Tom Collins is simple enough that it will showcase any gin you use, even a cheap gin.
To get started, though, you should stick with the original recipe and use a suitable gin. The ones mentioned on this list are a great place to start. Once you're familiar with the drink you can start playing around with different flavors of gin.
Ingredients for a classic Tom Collins:
2 ounces of your chosen gin
1 ounce of simple syrup
¾ ounce of lemon juice
Club soda
The instructions are simple, combine the gin, syrup, and lemon juice in a shaker with ice and shake well. Strain it into a tall glass filled with ice and top with club soda. The amount of club soda is up to you. Using more or less will determine both the strength of the drink and the intensity of the flavor.